ProGrade Digital are the latest company to jump into the CFexpress Type A marketplace with this addition to their line of professional dual-slot card readers. With all my new Sony cameras now using CFexpress Type A, I was keen to see how well this handles those new cards, and how it compares to Sony's own CFexpress Type A reader, the previously-reviewed MRW-G2.
What follows is a detailed look at the design of the reader, including the clever magnetic functionality and stackable design. Then we will take a look at some speed tests and a comparison to Sony's own reader.
Design and Specifications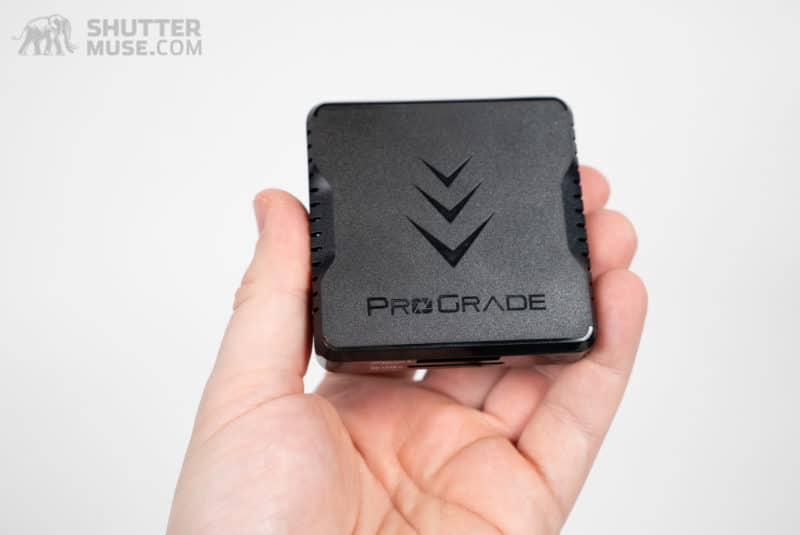 The dual-slot reader is made from a robust plastic with a rubberized non-slip base. Despite the use of plastic, it feels solid and dense. I have been using card readers from this series for several years now, and never had any concerns about durability.
Dual Slots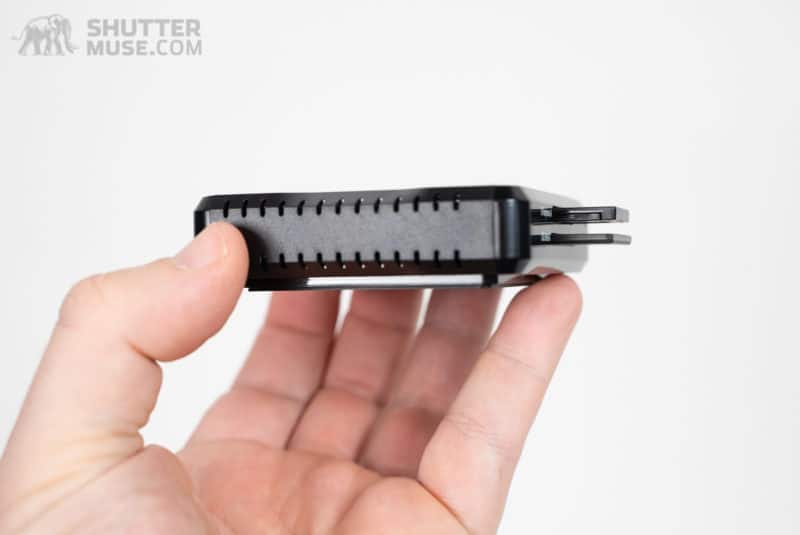 This card reader features a CFexpress Type A slot, as well as an SDXC slot that's compatible with UHS-II speeds. These two slots can be used simultaneously, allowing you to maximize your workflow when using these two common types of cards. I immediately found this useful because I have my cameras set up to shoot video to the CFexpress card, and photos to the SD card. This split card usage is quite useful with the current high price of CFexpress cards.
USB 3.2 Gen. 2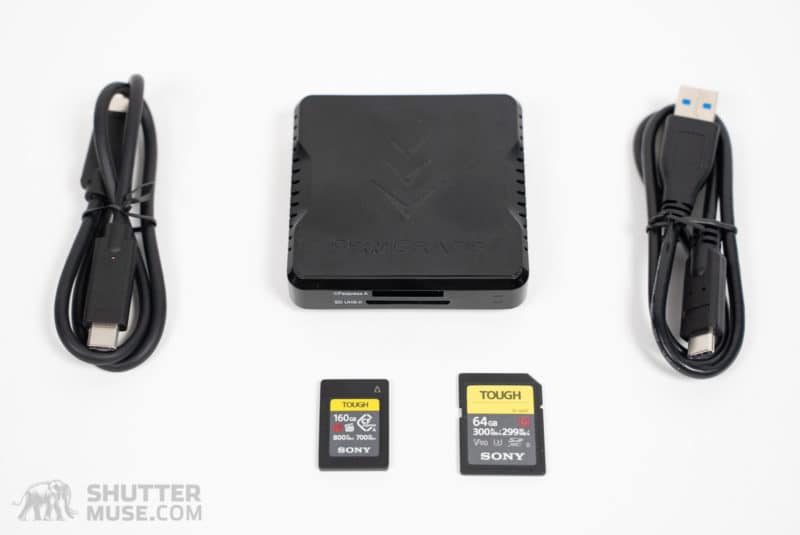 As with most of the previous ProGraded Digital card readers, this one uses a USB-C port with a Gen 2 USB 3 interface that's capable of up to 10Gbps. Both a USB-C to USB-C and a USB-C to USB-A cable are included in the box.
With current CFexpress Type A cards offering read speeds of around 800MBs, this leaves a further approx. 20% overhead in the Gen 2 specification to account for the simultaneous downloading of a UHS-II SDXC card. If you were downloading two cards, you might be ever so slightly bottlenecked by the Gen 2 throughput, with high quality SDXC cards capable of getting close to 300MBs.
In practice, I doubt this will trouble many people. The only alternative would have been to implement a much more expensive Thunderbolt 3 interface with a 20Gbps throughput. This would have driven the cost up, and probably the size of the reader if it were to maintain a dual-slot design. All for a very marginal gain.
Magnets!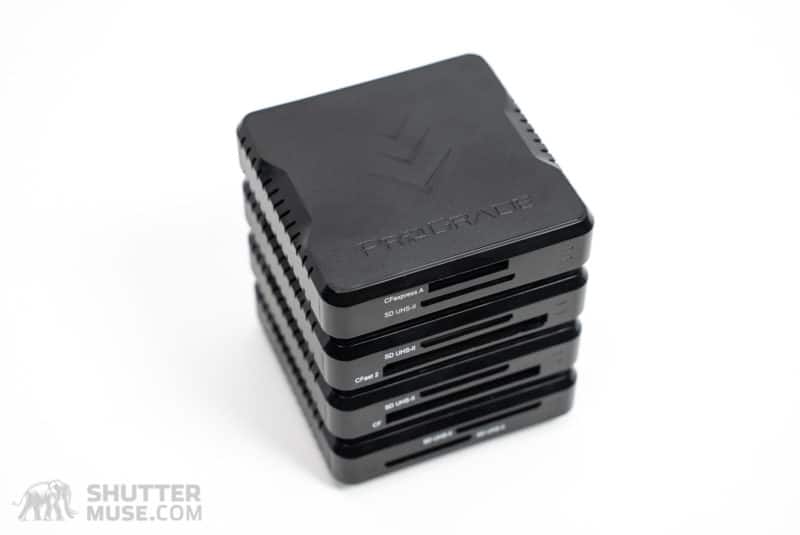 This is a familiar feature for those that have read my previous ProGrade card reader reviews. The base of each reader contains a magnet, and hidden inside the top of each reader is a small chunk of metal to allow them to be neatly stacked on your desk.
A thin metal plate is also provided in the box, and the sticky-backed-plastic can be used to mount the plate to the lid of your laptop. With that in place, you can stick the card reader, or even a stack of the readers, onto the lid of your laptop. For those working in tight quarters such as one a plane or in a media centre, this is a handy little trick.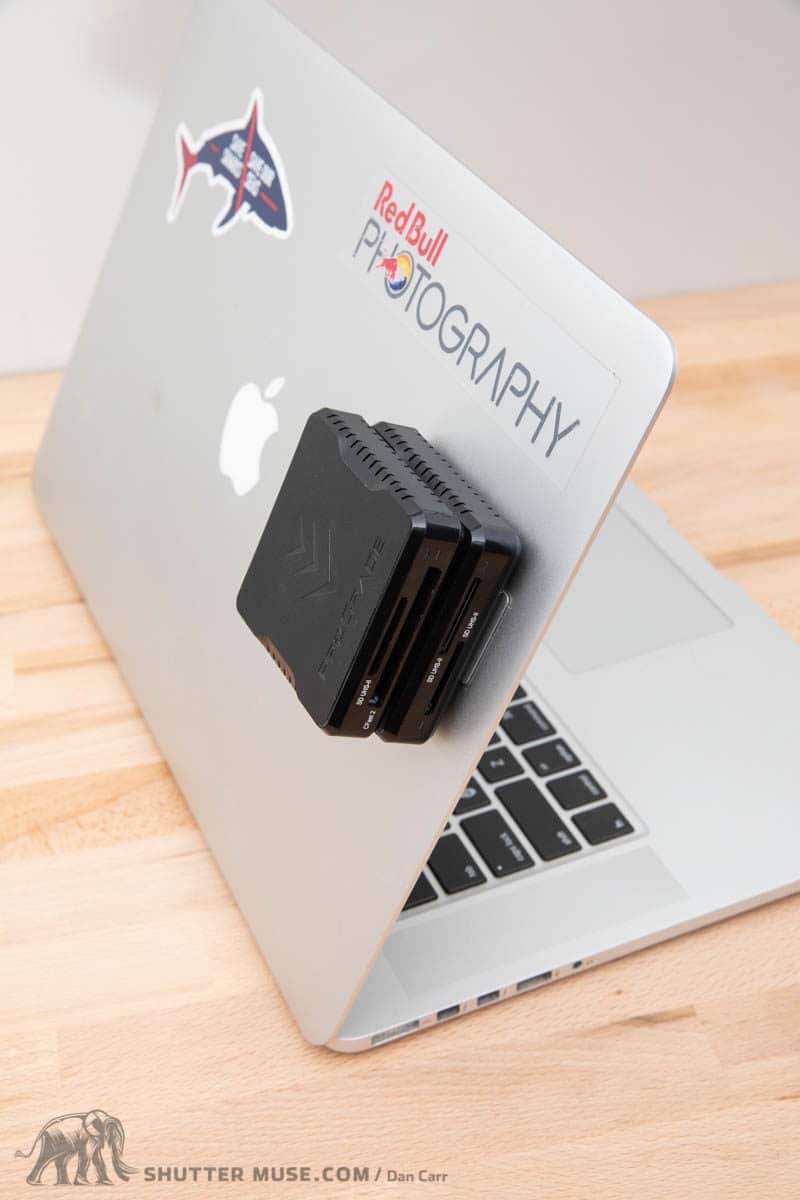 Speed Testing
I ran my usual card tests through AJA's useful speed testing tool. I used a Sony TOUGH 160GB CFexpress Type A card for the test, which was the same card that was used in the previous review of Sony's own CFexpress Type A reader.
During my testing I was able to regularly achieve read speeds in excess of 820MB/s, which is really the most important number to look at when examining a card reader. This is the number that will determine how fast you can ingest your photos and footage.
What's interesting about this result is that the card itself was only rated by Sony up to 800MB/s. This would make it the first time I have ever over-achieved on any memory card or memory card reader testing. This tells me two things: Firstly, Sony was very conservative with the CFexpress Type A card speeds. An interesting fact, but not really pertinent to this review. The second thing of note, though, is that the ProGrade Digital CFexpress Type A reader massively outperformed Sony's own reader. By as much as 9%. It's very clear that yet again, this is an incredibly fast card reader from the folks at ProGrade Digital.
Compared to the Sony MRW-G2
At the time of review, the only other CFexpress Type A card reader on the market is the Sony MRW-G2. I have previously reviewed the Sony reader and found it to be very good, but there are some differences to talk about.
First and foremost, the Sony reader is a single slot card reader. Yes, that single slot can accept either CFexpress Type A or SDXC cards, but unlike the ProGrade reader, you can't use them simultaneously. Whether this is a big deal to you depends on your workflow.
For a while, I was only using a single CFexpress card in my Sony a7S III because the cards are so expensive. I had set my camera to record video to the CFexpress card, and photos to the SD card. A scenario like this might benefit from the dual slots that are available from the ProGrade reader.
In my speed testing of both readers, it was a clear win for the ProGrade Digital reader every single time I ran the test. In some cases, it was up to 9% faster, which is definitely a number worth taking into account when you are investing so much money in the latest, fastest camera technologies. Considering that the ProGrade Digital reader is $40 cheaper than the Sony, $79.99 Vs. $118.99, this makes the former option a much better purchase in almost every situation.
The one area where Sony has ProGrade beat is the toughness of the build. To me, the all-metal chassis of the Sony MRW-G2 feels more robust than the plastic case of the ProGrade. It's not a flimsy hollow plastic by any means, and you would have to really beat the heck out of it to do any damage, but the Sony reader feels tougher. Is that perception worth an extra $40? For most people, probably not.
Conclusion
I'm a big fan of ProGrade Digital card readers and the latest addition to that catalogue further solidifies my opinions. In my testing, this dual-slot CFexpress Type A and SDXC reader produced the fastest Type A read speeds I have yet to see. Even managing to surpass Sony's quoted maximum read speed for the card.
Combine that speed with a very reasonable price point, excellent build quality, and useful magnetic features, and you get an easy-to-recommend product. If you are using a camera with CFexpress Type A cards, such as the Sony a7S III, Alpha 1 or FX 3, buying this card reader to download them should be a no-brainer.
Where to Buy
The ProGrade CFexpress Type A reader is available from: