When Sony launched the a7S III they became the first manufacturer to include a CFexpress Type-A card slot in a camera. In fact, they went one better than that and made both the camera's card slots compatible with either CFexpress cards or SD cards. Now, if you're an a7S III owner (like me) you might also want to read this discussion about whether you should use SD cards or CFexpress cards in your a7S III.
If you have decided to use CFexpress, whether it be for that camera or a future camera, you're going to need a memory card reader for the cards. Thankfully Sony also launched the world's first CFexpress Type-A card reader, the MRW-G2.
Just like the a7S III, the slot in the MRW-G2 card reader is cable of accepting both CFexpress Type-A cards or UHS-II SD cards. I'm immediately appreciative of this because I have no desire to carry around a pair of card readers everywhere I go. While I do love my ProGrade Digital dual SD card reader with its stackable magnetic design for the office, they don't yet have a CFexpress Type-A reader so it looks like I'll be switching to the Sony one for the foreseeable future.
On opening the box of this reader I was pleasantly surprised to find that it has an all-metal chassis. It feels dense and high-quality in a way that simple memory card readers typically do not. This is a good thing when you consider the $100+ price point, but I must admit that I had assumed the high price of the reader was simple "early adopter tax". The price to pay for using the latest, greatest technology. It turns out this isn't all true. The MRW-G2 is also built to a high standard that does go some way towards justifying the price.
On the rear of the reader, you'll find the USB-C port. This is a USB 3.1 Gen 2 interface, which means that it's capable of 10Gb/s. Gen 2 interfaces are currently extremely rare in memory card readers because SD cards and CF cards never needed them, sticking to 5 Gb/s Gen 1. However, Gen 2 is now starting to appear on CFexpress Type-A and Type-B readers. It's actually the perfect interface for CFexpress Type-A because these cards have a theoretical maximum read speed of 1000Mb/s, which matches the 3.1 Gen speeds.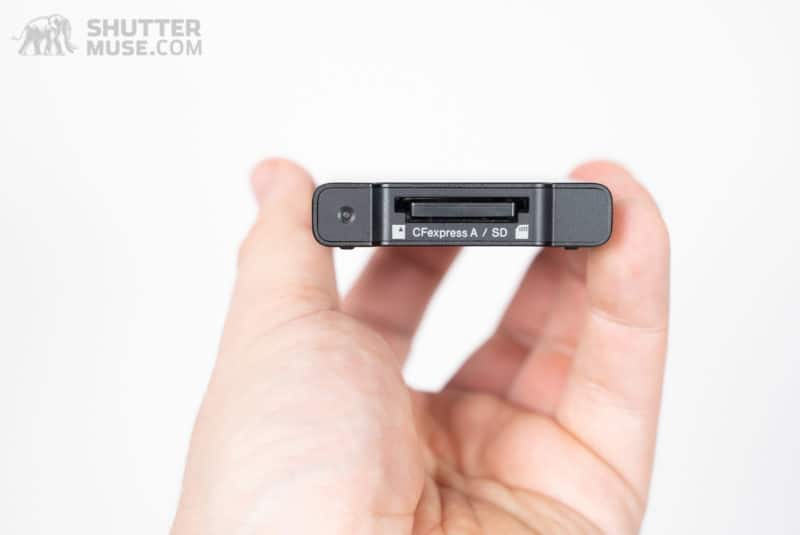 Test Results
I tested the card reader using my usual AJA speed testing tool with both SD and CFexpress cards. For the SD card, I used the previously reviewed Sony SF-G Tough cards. These are Sony's highest level of SD card with a theoretical 300Mb/s read speed and a 299Mb/s write speed. For the CFexpress card, I used the Sony CFexpress Type-A Tough card.
SD Card Test
This card reader produced acceptable read and write speeds when tested with a Sony SF-G Tough SD card – 220Mb/s write, 250Mb/s read. Compared to testing the same card in the ProGrade Digital UHS-II SD reader, the Sony MRW-G2 reader produced slightly faster write speeds, and slightly slower read speeds. However, the speed differences were within 4% of each other and thus not likely to be of any real world significance.
CFexpress Card Test
The Sony CFexpress Type-A Tough cards have a a theoretical maximum write speed of 700Mb/s and read speed of 800Mb/s. During my tests with the MRW-G2 card reader I was able to achieve read speeds that are impressively close to the theoretical maximum, at 757Mb/s. However, write speed, although very fast, fell much further from the theoretical value.
From a card reader standpoint, the main thing that users are concerned with is the read speed. You would very rarely if ever, use a card reader to write data to a camera memory card. So from that point of view, this card reader and CFexpress card is an impressive combination.
This test shows that the MRW-G2 is almost exactly 3-times faster at reading data off the CFexpress card than a fast SD card. If you are downloading a full card, this difference will be a significant workflow time saver, and might be reason enough for some people to switch to CFexpress if their camera allows it.
Compared To The ProGrade Digital CFexpress Type A Reader
ProGrade Digital make a dual-slot CFexpress Type A card reader that also includes an SDXC slot. Unlike the Sony MRW-G2, the ProGrade reader's slots are separate, and thus can be used simultaneously. The ProGrade reader is magnetically stackable with other card readers in the ProGrade range and even sticks to your laptop.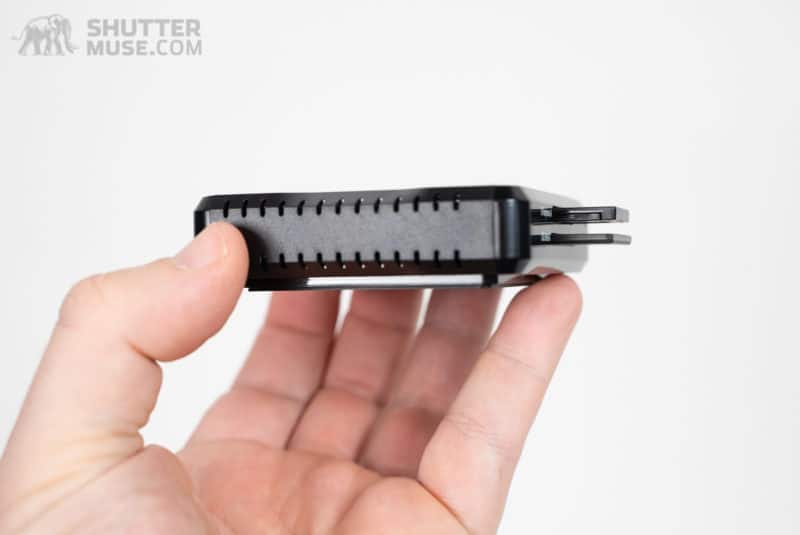 In my side-by-side testing, the ProGrade Digital reader consistently outperformed the Sony MRW-G2 in terms of available read and write speed by as much as 9%. The ProGrade reader is also $40 cheaper than the Sony reader, coming in at $79.99. The all-metal chassis of the MRW-G2 might be beneficial to some people who want a more robust product, but frankly, the ProGrade Digital reader beats the Sony reader in every other way.
Conclusion
The Sony MRW-G2 CFexpress + SD Card Reader is definitely a professional grade accessory in the way it is built. It's tiny, and the all-metal case feels extremely robust. For that, and for being an early adopter of a new card format, you are going to pay a higher price ($120) than you might be used to when buying an SD card reader.
If you own a camera that uses CFexpress cards though, you can also rest assured that your investment in this accessory will be a valid purchase for many years to come. Not only because this reader appears to be built to very high standards, but also because CFexpress Type-A is clearly a card format that Sony is throwing its weight behind. We can expect to see many more Sony cameras using this format in the coming years as a replacement to the ageing SD card format. For now, you have a high-quality reader that will do a great job with both formats.
Where to Buy