Filters are an essential part of any landscape photographer's kit, but they are expensive and often fragile. A good filter case is vital to protect your investment. In this guide, we will look at all of the best photography filter cases on the market, and I'll make some recommendations as to which cases will work best for you. Whether you want to store a few round screw-on filters or a complete filter holder kit with grads and ND filters, there's a solution for you in this guide.
Cases for Multiple Filters
MindShift Filter Hive
Holds 6 square or rectangular filters (100x100mm, 100x150mm)
Holds 6 circular filters (up to 82mm diameter)
Holds 100mm filter holder
The MindShift Filter Hive has a unique 2-piece design. An external padded case has a tripod strap, belt look and zippered accessory pocket. Inside the padded case, you'll find the filter organizer with softly padded slots for 100mm rectangular or square filters, and six more slots for circular filters. Alongside the organiser, you also have room for step-up rings and your filter holder.
The 2-piece design is fantastic. If you place the filter bag in the top of your camera bag, you probably want all the padding offered by the external case. But, if your bag already has a padded internal camera unit, you can extract the filter organiser and put this directly in amongst your cameras and lenses. No other filter case gives you that flexibility.
To read more about this filter case, you can also read my MindShift Filter Hive Review.
Get a free gift when you spend over $50 in the Think Tank/MindShift online store after clicking this link. For more details, or if you have any issues, see this post.
---
Shimoda Filter Wrap
Filter Wrap 100: Holds 4 x 100x100mm or circular filters + filter holder
Filter Wrap 150: Holds 6 x 100x150mm, 100x100mm or circular filters + filter holder
The Shimoda Filter Wrap is available in two sizes: Filter Wrap 100 and Filter Wrap 150. The Filter Wrap 100 has four zippered pockets for 100mm square filters, or screw-on round filters, and a larger padded zippered pocket for your filter holder. The Filter Wrap 150 has six slots for 100x150mm rectangular filters (would also fit 100mm square filter) and a padded zippered pocket for the filter holder. Both models also have a zippered accessory pocket.
At around $35, these filter cases are well-priced compared to others on this list. They are built incredibly well, with rugged, lightweight, waterproof materials. If you don't use graduated NDs, the Filter Wrap 100 is a great choice for a relatively lightweight filter kit with no more than four filters. If you do use graduated NDs, the 150 model gives you a little more space.
Shimoda Designs has offered Shutter Muse readers a 10% discount on anything purchased in their online store. Simply use the discount code ShutterMuse10 after clicking here to access the store.
---
Haida M10 Filter Pouch
Holds 8 filters (100x100mm, 100x150mm, Haida M10 filters or circular filters)
Holds 100mm filter holder
The Haida M10 Filter Pouch is a simple filter case with eight filter slots and an additional larger slot for your 100mm filter holder. For budget-conscious photographers, it offers excellent value for money. For those who use the Haida M10 or M10-II filter holder with its bespoke drop-in filter system, this is a great option.
The downside to this filter case design is that it is bulkier than, for example, the MindShift Filter Hive. The top lid also does not have a zipper, allowing dirt into your filter case if you aren't careful where you store it in your bag.
---
NiSi Caddy 100mm Filter Pouch
Holds up to 9 filters (4 x 100x100mm and 5 x 100x150mm)
Holds 100mm filter holder
The NiSi filter holders are very popular, so many look to the matching NiSi Caddy 100mm Filter Pouch to carry the holder and their filters. At $39.99, this is a relatively cheap filter case for one that holds so many filters, and the smaller slots for 100mm square filters can also be used for screw-on circular filters.
The potential downside to the NiSi Caddy is the simple flap that acts as the closure for the case. Many people prefer a zippered closure, like that found on the MindShift Filter Hive and Shimoda Filter Wraps, because this ensures that no dirt gets into your filter case when stored inside your camera bag.
---
MindShift Filter Nest
Holds 8 circular filters (up to 82mm diameter)
Holds 2-3 step-up rings
The Filter Nest is a smaller version of the Filter Hive. This filter case has slots for eight circular filters and a zippered front pocket for small accessories. Just like the larger Filter Hive, there's also some space around the internal filter holder in which you could store some filter step-up rings. Just like the Filter Hive, the internal holder of the Filter Nest is also removable so that it can be stored directly in a padded section of your camera bag to save space.
---
F-Stop Gear Welded Filter Case
Holds 6 filters (100x100mm, 100x150mm or circular filters)
Holds 100mm filter holder
F-Stop is known for producing resilient products for outdoor photographers. Built from high-denier waterproof nylon, their filter case is no exception. The dedicated section for the filter holder is generously sized and very well padded, offering plenty of protection for a filter holder with an integrated CPL filter. If you know that your regularly-used filters will fit into six slots, the F-Stop filter case is an option worth considering.
The downside of the F-Stop filter case is that it only holds six filters and doesn't have dedicated slots for circular filters. This means your circular filters, even small ones, will have to take up one of your 100x150mm filter slots.
---
Lowepro GearUp Filter Pouch 100
Holds 10 square or rectangular (100x100mm, 100x150mm filters)
Holds 2 circular filters (up to 72mm diameter)
Holds 100mm filter holder
At under $40, the Lowepro GearUp Filter Pouch 100 is one of the cheaper multi-filter cases in this guide. Ten rectangular slots are a significant number, although it would have been nice if the circular filter slots could hold filters larger than 72mm in diameter, given how standard 77m filters are.
The downside of the Lowepro filter case is that the pocket for the filter holder is on the exterior of the bag. If you are using a filter holder with an integrated circular polarizing filter, such as the Haida M10-II or NiSi V7, you would have to remove the CPL filter and store it in one of the filter pockets inside the bag after every use.
An externally stored filter holder also creates an oddly-shaped bulge on the case that makes it hard to slide into tight spaces within your camera bag. Most people will prefer one of the other solutions on this page that have a padded internal pocket to protect the filter holder. This isn't a terrible filter case, but I have mostly included it because people said "what about the Lowepro filter case?" when I didn't include it in the first iteration of the guide.
---
MindShift Filter Hive Mini
Holds 4 square or rectangular filters (100x100mm, 100x150mm)
The Filter Hive Mini from MindShift Gear is the smallest case on the list to hold four 100mm square or rectangular filters. This case is helpful if you already have a filter holder with an integrated circular polarizing filter in its case and need a way to carry a couple of graduated NDs and a couple of square NDs. At around $30, it's also excellent value.
---
MindShift Filter Nest Mini
Holds 4 circular filters (up to 82mm diameter)
The MindShift Filter Nest Mini is a padded but soft-sided filter pouch for up to four circular filters. The accordion-style design is handy. Whether you have one filter in it or four, the bag remains compressible. This makes it a great filter pouch if you usually need to carry one or two filters but want to have the ability to take three or four on occasion. At just $27, the price is right. I have a couple of these and always find them useful when I want to travel ultra-light.
---
NiSi Circular Filter Caddy
Holds 8 circular filters (up to 95mm diameter)
This NiSi Circular Filter Caddy makes it onto the list for its efficiency in carrying up to eight circular filters. Not only is that a large number of filters, but they can also have a diameter of up to 95mm. Although I still prefer the MindShift Filter Nest for carrying circular filters, the slots only accommodate 82mm diameter filters. If you have a lens that uses a large 95mm filter, this NiSi case is your best option.
---
150mm Filter Cases
If you use larger 150mm filter holders for ultra-wide lenses, you'll need a particular case to store those in. Although there are far fewer options on the market for the large 150mm filter systems than the much more popular 100mm systems, there are still a few great solutions to choose from.
Haida M15 Filter Bag
Holds up to 8 x filters (8 x 150x150mm, 150x170mm or large circular filters)
Holds 1 x 150mm filter holder
Haida market this as a bag for their 150mm system M15 filter holder, but you can use other 150mm filter holders without a problem. The bag includes slots for 8 x 150mm filters and a large padded space for the filter holder. On the inside of the lid, there is a zippered pocket for small accessories and filter cleaning gear.
On the positive side, the Haida M15 bag is slightly cheaper than the NiSi Caddy 150mm case. Compared to the NiSi case, it offers more internal volume for filter holder storage, as well as a removable filter sleeve that can be placed directly into your camera bag.
On the negative side, despite having attachment points for a shoulder strap, it doesn't come with one. There's also no built-in way to hang the filter bag from your tripod. Something I always find very useful.
---
NiSi Caddy 150mm Filter Pouch
Holds up to 7 x filters (7 x 150x150mm, 150x170mm or large circular filters)
Holds 1 x 150mm filter holder
Not surprisingly, this 150mm filter case from NiSi is just a slightly larger version of their Caddy 100mm filter case. Although NiSi markets it explicitly as a case for filters along with their S5 or S6 150mm filter holder, there is no reason why you couldn't use it to store other similarly sized 150mm filter holders.
The bag comes with an adjustable shoulder strap and a waist belt to give you multiple carrying methods. It also comes with a filter cleaning cloth and a strap that allows you to mount it to your tripod leg while you work. A zippered pocket on the lid of the pouch makes a great place to store the cleaning cloth and other small accessories.
---
Kase K150 Soft Filter Case
Holds up to 10 x filters (8 x 150x150mm, 150x170mm or large circular filters)
Does NOT hold a filter holder
Unlike the Haida and NiSi 150mm filter cases, the Kase K150 150mm case does not have a space to store the actual filter holder. I wouldn't say I like that as much. Wherever possible, I want to keep my filter and filter holder in the same case. On the plus side, it has ten slots for your 150mm filters, which is more than the Haida and NiSi options. Ten filters is a lot, though! Especially ten heavy 150mm filters.
As you can guess, I'd choose between the Haida and NiSi options, but if you already have a dedicated case for your 150mm filter holder, perhaps you need something to store the filters. Alternatively, you might use the Haida or NiSi cases in the field while organizing a more extensive collection of filters at home in this Kase k150 filter holder.
---
Single Filter Cases
I have covered all of the best filter cases for storing multiple filters and filter accessories. Sometimes, though, all you need is a simple padded case for a single filter. Filter manufacturers often package their circular filters or 100m square filters in hard plastic cases.
These plastic cases are bulky, and hard edges make them tricky to squeeze into tight spaces in your camera bag. If that sounds like a familiar story to you, and you just want to safely store one or two filters in your bag, or colour-code several filters, I have a fantastic solution.
Breakthrough Photography 100mm Soft Case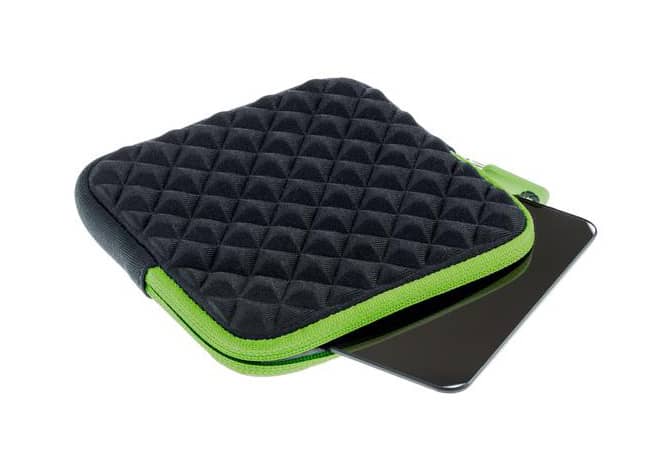 Breakthrough Photography's 100mm Soft Case is the perfect solution for storing a single square or circular filter of 100mm diameter or less. The interior is lined with beautifully plush material, and the padded foam exterior gives you plenty of drop protection. If you buy a 100mm square filter from Breakthrough Photography it will already come in one of these cases. For everyone else, you can buy these for just $10.
The cases are available in four different colours which allows you to organize multiple filters using your own colour-coding scheme. They're also perfect for storing all your filter step-up rings.
---