As well as unveiling their new full-frame mirrorless EOS R system, Canon also proved that there's still life yet in the EF system if you're a professional sports or wildlife photographer. New Mark III versions of the 400mm f/2.8 L IS and 600mm f/4 L IS are due to ship this December with added lens coatings, totally reworked optical designs and significantly reduced weights compared to their predecessors.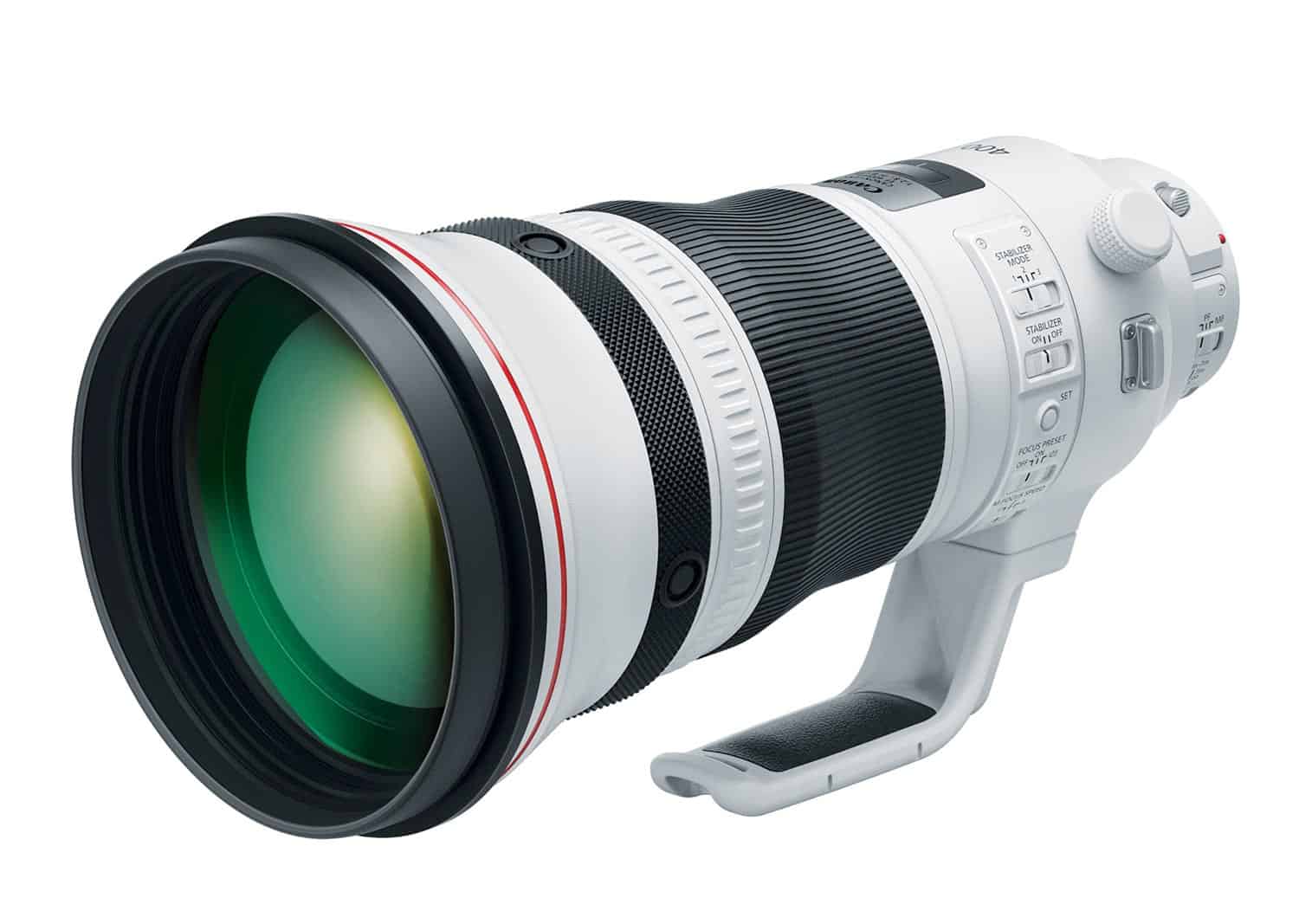 5-stop Image stabilization (up from 4-stops on the II versions)
Huge weight savings (25% on the 400mm, 20% on the 60mm)
New electronic focus-by-wire system
Adjustable focus speed in three steps
New thermal barrier coating to slow down lens heating in sunlight
ASC (Air Sphere Coating) to reduce flare and ghosting
Flourine coatings to reduce chromatic aberrations
Slightly improved MFD
Weight moved towards mount for improved handling
Only work with Version III teleconverters
Shipping in December 2018
EF 400mm f/2.8 L IS III
The new 400mm shaves a gigantic 25% off the weight if its predecessor. While the Mark II version weighed 3,850 g, the new Mark III version weighs just 2,840 g. This is an astonishing weight reduction! In fact it actually makes it lighter than Sony's recently introduced 400mm f/2.8 lens for their E-Mount mirrorless system.
EF 600mm f/4 L IS III
The new 600mm shaves a very-nearly-as-impressive 20% off the weight of the Mark II version. The old Mark II weighed 3850 g, the new Mark III version weighs just 3050 g.
While these lenses look to be nearly identical on the outside, this launch is not like the recent launch of the 70-200 f/2.8 L IS III, which merely saw a change of paint colour and some new coatings. Canon are very clear in the press release for these two lenses that they have totally reworked the optical designs, as well as adding electronic focus control to the focus ring, which I think will be a surprise to many people.
New Short Hood ET-160B
I note that on the product page for the new lenses, a "short hood" is listed as an accessory. This is not something that has been offered before with Canon super telephoto lenses, but for the hefty price tag of $790, you're going to really want to save some weight to get the wallet out for this one!
New Soft Cases
Instead of the typical hard lens trunks that shop with all other Canon super telephoto lenses, these new versions will ship with a soft case, and the hard case will be available as an optional $1000 accessory. This is a good thing, because the lens trunks are too bulky and nobody actually uses them!
New Filters
New W (III) versions of the Canon drop-in filters have also been launched to go with these new lenses. There is no real difference from the W(II) version apart from a very slight change in paint colour.
What happened to the 600mm f/4 DO?
Several years ago Canon showed a working prototype of a 600mm f/4 DO (diffractive optics) lens at a trade show. It has long been assumed that the next 600mm lens would be that lens, but it seems as though Canon has decided to go a different route. DO lenses are expensive to produce, but they do result in a lighter and more compact lens design. Given the huge weight savings that they have managed to achieve with these lenses without going to a more expensive diffractive optics design, I'm actually not that surprised by the decision.
I doubt we will ever see an EF mount 600mm DO lens now. The new RF mount, launched today with the new mirrorless system, is clearly Canon's future. While there will be new EF cameras for a few years yet, they will eventually be phased out and there certainly wouldn't be any point in launching a 600mm f/4 DO just a short period of time after launching this new Mark III lens. These lenses are hugely expensive, and if people buy the Mark III now, they aren't going to switch to a DO version in the short term. My money would therefore be on an RF 600mm f/4 DO at some point, but I don't think that time is anywhere close.
Once again, I have to hand it to Canon's lens designers. These weight savings are absolutely phenomenal, and they will make a real-world difference to how these lenses can be used and transported. Since these are flagship lenses, I'm sure we don't need to worry about the sharpness of the images being any less than they were before, but the fact that they totally reworked the optical design suggests they thought they could improve upon the previous versions. Given the already staggering performance of the predecessors, I'm not sure how they could be better, but I'm looking forward to testing these to find out!