As their name suggests, CineBags make camera bags for the film industry. When I needed to organize my photography and filmmaking tools, I went to their website to see if they had a solution. What I found, and purchased through regular retail channels, was the CineBags AC Pouch (CB03). If you are a 1st or 2nd AC looking to organize your most essential tools, or even if you are a stills photographer sick of having hex wrenches and screwdrivers rattling around in your camera bag, this might be the solution for you.
CB03 AC Pouch Specifications
Exterior Height: 7 inches (17.78 cm)
Exterior Width: 9.5 inches (24.13 cm)
Exterior Depth: 2 inches (5.08 cm)
Interior Height: 6 inches (15.24 cm)
Interior Width: 8 inches (20.32 cm)
Interior Depth: 2 inches (5.08 cm)
Weight: .9 pounds
Belt Loop Size: 2.5″
Colour Options
The CB03 AC Pouch is currently available in grey with orange accents, as well as the Midnight Black version I purchased. The two colours share identical features, but the logo on the main flap is different. CineBags have made a few of their products in Midnight Black, but marketing material often suggests it will be available only for a limited time. I cannot guarantee that it will be available when you read this review.
CineBags AC Pouch Features
The CineBags CB03 AC Pouch is built from heavy nylon that feels like it will last a lifetime. The overall build quality of this product is extremely impressive for the sub-$45 price point. In terms of features, this is a small bag so it won't take me long to go through them. However, what features this bag does have are perfect for a camera assistant's needs.
The bag's main flap uses a velcro closure. Once opened, it reveals a small pocket in the flap, a large central section split into three by dividers, and a pen/tool organizer with six slots. Two of these slots are larger, with their velcro tie-down straps. One side of the bag has an additional pocket perfect for a Leatherman, and the other has a metal D-ring to hang gaffer tape and tools.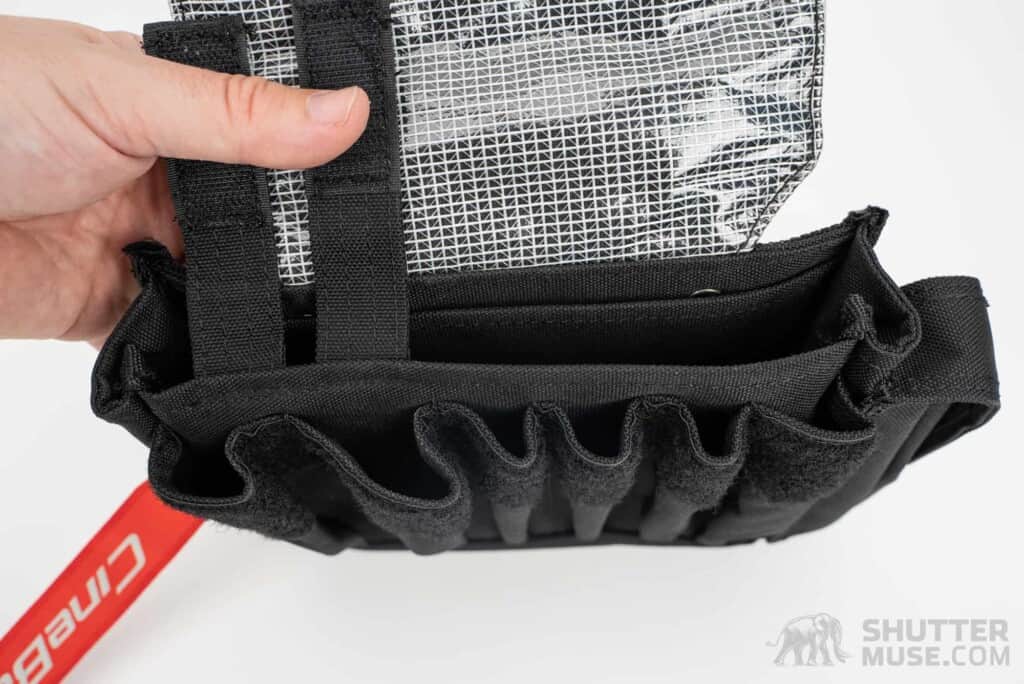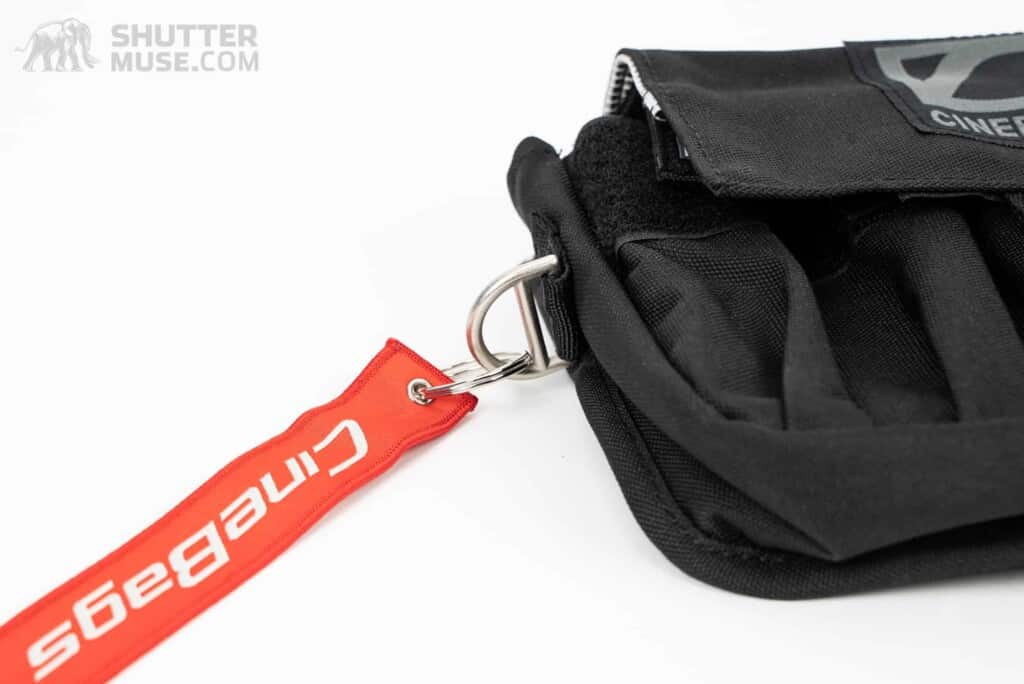 Load It Up
Here are a few photos of my standard AC kit. Pens, a folding knife, gaffer tape, pliers, Leatherman, scissors, large and small tape measures, flashlight, small, large, and stubby screwdrivers, hex keys of various sizes, a GoPro tool, a rocket blower, and a filter wrench.
Need Something Bigger? Try the CineBags CB07 XL AC Pouch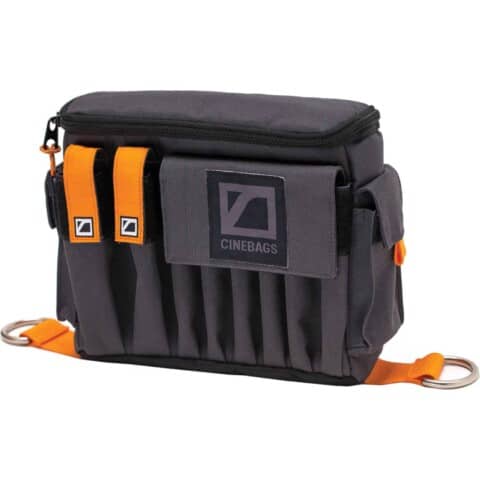 If you think the CineBags CB03 AC Pouch isn't going to be large enough for you, they also make a larger model called the CineBags CB07 XL AC Pouch. This version has a zippered lid, a little more depth, a zippered lid pocket and two large metal D-rings for hanging tools and tape.
For wearing a belt on a busy set, I think the CB03 is a much better size. You can wear the XL CB07 on a belt, but it might be better kept on a camera cart instead of the CB03 or combined with it as an overflow for lesser-used tools. The price might also be a factor. At closer to $100, the CB07 is twice as expensive as the CB03.
Conclusion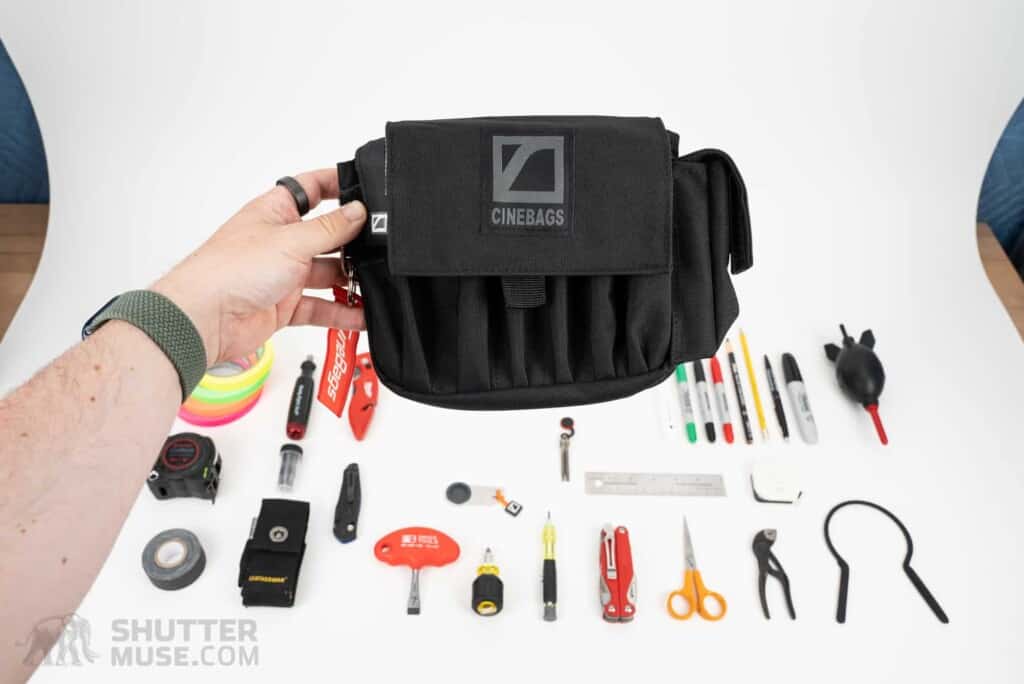 The CineBags AC Pouch is a well-thought-out and incredibly well-constructed bag that is perfect for organizing a camera assistant or photographer's tools. The high-denier nylon feels like it would last a lifetime of on-set abuse. I couldn't be happier with this solution as a way to organize all of my most essential camera tools. When you factor in the very reasonable under-$45 price, this pouch is an easy recommendation.