Accidents happen, and unfortunately the vast majority of people don't have a safe photo backup strategy like mine. If you do find yourself in a situation where you've lost some photos or other files, you have a couple of options: Firstly, if it's a hardware failure such as a dead disc platter, you're only option is to send it in to a data recovery specialist and pay a large amount of money. If your disk or memory card won't even mount to your computer, or it is making a catastrophic noise, this is really your only option and there's no guarantees that it's going to work.
The second thing that can happen is accidental deletion of photos from your disk or memory card. Perhaps you were a bit overzealous with the delete or card format button on your camera, or just used the wrong import options in Lightroom and put your photos on a disk that you later emptied. All of these things are stories that I have heard!
If you fall into the second category, there's actually a good chance that you can get your files back with a minimum of effort and only a relatively small cost. When you use the file delete option, and even the format option on a memory card in your camera, it actually doesn't remove the image at all, merely destroys the part of the file system that shows where it is. Essentially your camera, or a computer, would stop seeing the file, but the data is actually all still there.
There's quite a few applications out there that can help you find these lost images and bring them back from the dead. In the past I have reviewed Stellar Data Recovery, which is an excellent application and did a great job in my testing. This time I'm taking a look at Disk Drill, an application that is available for both Mac and PC via the Disk Drill website, and also available on the Mac App Store.
I'm going to perform a recovery of some photos from a compact flash card with Disk Drill, and then I'll perform the same recovery with Stellar Photo Recovery and compare the results to see which one is better.
Since we are a photography site, I'm going to be concentrating on recovering photos from the memory card, but be aware that this isn't a limitation of the software at all. You can actually scan any drive or device and find all kinds of files, including hidden system files.
Disk Drill Pro also comes with a whole slew of additional tools for managing your drives, such as drive health monitoring, drive cleanup, duplicate finders, boot disk creation and drive duplication. Whilst these are all listed as "free tools" on their website, I think that's just marketing speak because realistically they must be factoring in all these other features into the cost. Disk Drill Pro is $89, which is $40 more than the Stellar software that I reviewed last time. You are getting more tools with Disk Drill Pro, but you're paying for it. It's also worth noting that some of the drive cleanup tools that are included, are also available for free on the Mac App Store in the form of the rather excellent Dr Cleaner app which I often use to great effect.
So, does Disk Drill warrant this higher price than some of its competitors? Let's find out…
Recovery Testing
I grabbed a compact flash card from my card wallet, formatted in in my camera and then ran Disk Drill on it to see what it could find. The card was a 128GB card, and after analysis Disk Drill found 104.63GB of data in the form of over 200o photos. That seems pretty good, and I really enjoyed the clear, yet very detailed user interface that it offered during the scanning process.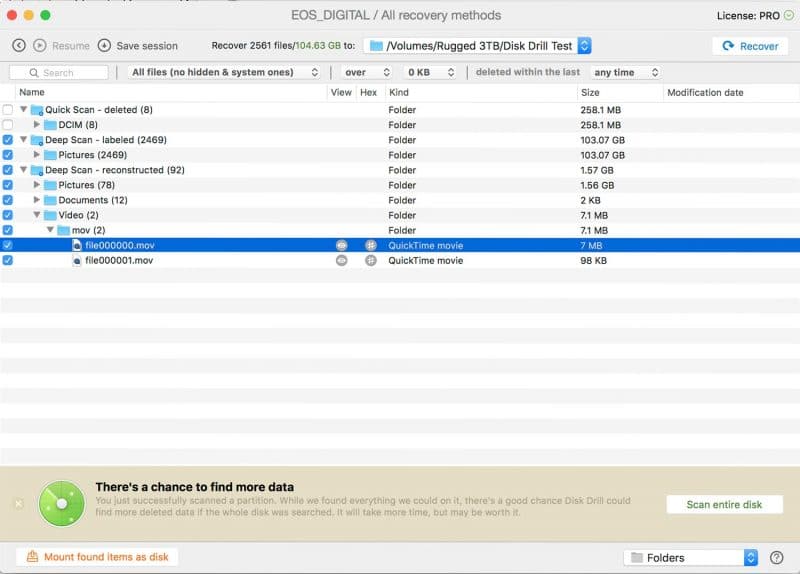 Files are divided up into file types, and you can quickly select the types of files you want to recover. If you're just looking for photos, this is a very useful feature. For my test I selected all the media files that it found, which was mixture of RAW and JPEG photos, as well as a couple of video files. I thought it was really cool that it actually showed the camera name in the new filename, so I could quickly see that it was pulling in old images from all sorts of different cameras.
After selecting a destination to copy the recovered files to, the process was over remarkably quickly and zero errors were encountered during the process. Excellent!
So, clearly this software does at least a reasonable job of recovering images that have been deleted from memory cards, which I suspect is the potential usage case for the vast majority of people who read this site.
Another excellent option that can speed this whole thing up even more, is the ability to define a time period for how long the files have been deleted. If you just deleted the files today for example, you can narrow down your search! This really is awesome, because most of the time you can expect it to find roughly as many photos as there is space on the memory card. So, if you have a 64GB card, you can expect it to find about 50-60GB of old photos on it. If you're just looking for one or two photos that you deleted today, or this week, you can really simplify the search this way, and hence the amount of space on your hard drive that it needs to save the recovered data to. Additionally, you can narrow the search down to specific file types, such as JPEGS deleted within the last month.
Does it Get Everything?
No. And I wouldn't expect it to either. The thing you have to remember is that old images are stored on the card until another image happens to get written over that data, or partially over it. If you deleted some photos from a card last month, and then shot some new photos to the card, there's a chance that those new ones will write over the old data, especially as data for a single file is actually stored in many different places around a disk.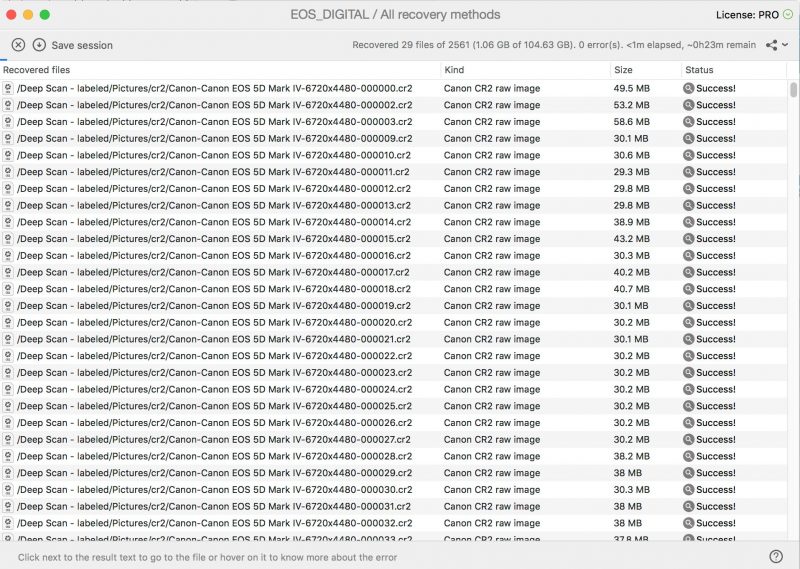 When you run Disk Drill, it creates a separate folder of files that it calls "Reconstructed". I believe these are files that have been partially overwritten, and the software tries to bring something back to life. After my test I found a collection of JPEGs in this folder which were clearly the embedded JPEGs from RAW photos that were unrecoverable. Only about 50% of the images in this reconstructed folder actually worked though. This seems odd, because you would think that the software would just see that the files aren't properly constructed, and not deliver them in the first place. None of the broken files in this folder even had thumbnails when viewed in the Mac file finder, so it was immediately obvious to me that they were broken and of no use.
I'm not saying that they should have been recoverable, some files won't be and that's fine. But the software should do a better job at pruning out the broken files. Definitely something they could improve.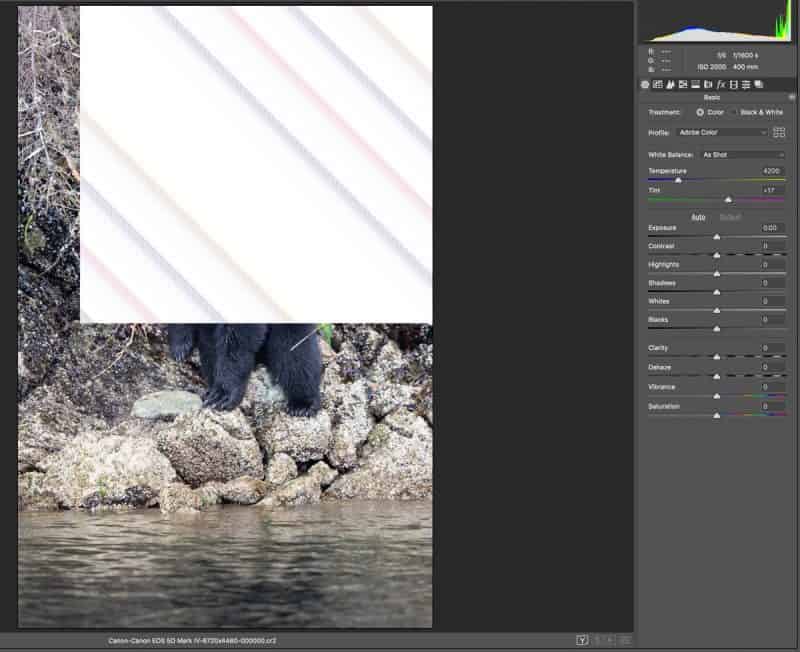 Another thing that I discovered is that even some of the RAW files in the regular "Recovered" folder, were actually corrupted when opened in Photoshop. I guess that these one were not fully available on the disk for recovery, but get included because there is at least enough data to create an openable file. Whether that's useful or not is hard to say. It might get your hopes up that the photo you have been looking for is saved, only to find a big chunk of it is missing. Or the other way of looking at it is that at least it might allow you to save part of a photo, which still might be of some use.
File Creation Time Faults
One strange thing I noticed about the recovered photos from Disk Drill is that the file creation time was wrong on every photo once it was recovered. All times for all photos were 7 hours out. I could not find a reason for this, and had no such issues with the other recovery software I tested. It's a relatively minor thing, but if you sort your photos into date based folders then some of them will end up in the wrong folders and get rolled back to the previous day.
Compared to Staller Photo Recovery
I ran the exact same disk through the Stellar software that I have used and reviewed in the past. The scan took a little longer than the Disk Drill scan did, although it's reasonably unlikely that such a thing would be a deal breaker since file recovery isn't usually going to be time-dependant. File recovery also took a little longer once the scan was completed. In the end, both pieces of software were able to recover the same number of images so in that respect it's something of a draw, although in the recovery window I did appreciate the fact that Stellar Photo Recovery has a column for "File Creation Date" so that you can keep an eye on how old the files are that it is recovering.
Conclusion
I prefer the user interface of Disk Drill but if you are just buying the software specifically to try and recover some photos that you have accidentally deleted, your should probably consider Stellar Photo Recovery instead. Disk Drill is a much larger program than Stellar Photo Recovery, but it's also more than twice the price. If you think you might want some of the other features that it offers (recover deleted text messages from iPhones for example) then it maybe be worth the extra money for you, but you should carefully study the feature list and really think about whether you need them or not.
Those additional features also include all sorts of drive cleaning tools, as well as tools to help backup your files. To be honest, I prefer to use applications that do one thing very well. I will continue to use the cheaper Stellar Photo Recovery for my emergency file recovery solution, Dr Cleaner for maintenance cleaning and Carbon Copy Cloner for some of my backups. If you use a Mac and run Time Machine, then that also negates the need for some of Disk Drills additional backup features, namely the Guaranteed Recovery feature, and the Recovery Vault feature. It's also worth noting that both of those features only work on files that are on your Mac, so they don't offer any protection to accidentally deleted files that are on memory cards in your camera (which is why I didn't bother to detail them in this review). Since this is a photography website, my guess is that this would be one of the major reasons for you guys to need an application like this. You won't be disappointed with Disk Drill, but make sure it's the right tool for you before you lay down your money.