On a previous tripod review, one of our readers left a comment to ask whether I had any thoughts on the Fotopro Eagle Series tripods. At the time, the brand wasn't on my radar, but from experience, I knew our readers are often good at sleuthing out interesting brands. I set out to learn more, and what I discovered left me very intrigued. This was a product that needed to be tested!
Who Is Fotopro?
After a bit of digging, I found out that the Fotopro brand has been around for many years in China, but its availability is more recent in North America. After a quick email exchange with the US distributors, FotoproUSA, they sent me one of their Eagle Series tripods for testing, as well as one of their travel tripods that will be covered in a separate review.
To get a better sense of the Fotopro brand I then spent a long time researching the full product catalogue on the Fotopro website and the FotoproUSA website. One thing that immediately struck me was the broad range of price brackets that their tripods occupy. Fotopro makes everything from sub-$200 tripods, all the way up to $1400 tripods in the Eagle series. This is an interesting tactic that isn't seen from any other support brands that sell in North America. In general, here, a brand will pick a price bracket and stick within it. This is akin to Gitzo or Really Right Stuff making a sub-$200 tripod, or Velbon making a $1000+ tripod.
There's a good reason I'm pointing this out at the beginning of this review. If you're going to spend $1050-$1400 on a tripod+head package, I think there is always, at least here in North America, an element of the purchasing equation that takes into account the prestige of a brand. People lust after Gitzo tripods, and they aspire to own something from Really Right Stuff or ProMediaGear. These are brands that top people's tripod wish lists partly because they are prestige brands that people know to occupy the high-end price bracket.
I feel that if you make tripods for every price bracket, you lose an element of that prestige and it makes it harder for people to swallow a high price on your top models. Before writing this review, I showed the tripod to some photography friends and pitched this hypothesis to them. To a person, they all agreed with me. But, they were also as intrigued as I was about the Eagle tripod I put in front of them.
So here's the important thing: These Eagle Series tripods deserve your attention. They justify the high price points and they bring several features to the table that are simply not offered by even the most expensive tripods from the usual prestige brands.
I'm pointing this out at the beginning because I don't want people to dismiss the brand when they see the cheaper tripods in their catalogue. To do so would be to miss some of the most intriguing, high-quality support products that have ever come across my desk. Got it? Good! Let's get into the review.
Update: What Do Rollei Have To Do With Fotopro?
A few months after publishing this review, I got an interesting comment on this post from a reader in Europe. The reader (thanks Moritz!) pointed out that you cannot get Fotopro tripods in Europe, but they are available under the Rollei brand name, where they go by the name of Lion Rock. Yes, this is a ridiculous name.
After checking out the Rollei website, I was able to find the same Fotopro Eagle products on there, all listed with various Lion Rock names such as Lion Rock Gimbal Head M instead of Eagle E-6H. I find it very frustrating when brands do this because it only confuses the consumer. When people search for information or reviews of products, they search for one brand and not the other. The same can be said when searching for a place to buy the product. As this reader demonstrated, he was trying hard to find Fotopro products in Europe, having no idea they are sold under a different brand there.
What's more, this reader also pointed out to me that the prices for the Rollei versions appear to be less than the Fotopro versions! In some cases, considerably less. Again, this is just annoying for the consumer, because now I'm sure there will be some people in North America having to do that math and figure out if maybe they should be importing the European Rollei version to save a bit of money (be careful about import duties!)
All in all, it is very confusing. I do not know if Rollei is making Fotopro products in their factory, or if Fotopro is making Rollei's Lion Rock products in their factory, but clearly, there is some serious connection between these two brands.
What Is The Eagle Series?
The Eagle Series is Fotopro's high-end tripod offering. Uniquely, these tripods are only available as a package with a gimbal. While you cannot buy the tripod legs without the gimbal, you can buy the gimbals on their own if you want to use one with a set of existing legs.
This will please people who want a gimbal but already a nice set of legs. But anyone who already has a gimbal and is just looking for a good set of legs might be put off. That said, as you will see in this review, there are few if any gimbals that are better than the included Eagle gimbal. So it might be worth selling your existing gimbal!
For my testing, I was sent the Eagle E-6. Technically this product is a combination of the EGL-65 tripod legs and the E-6H gimbal. While I am taking a look at this one specific combination of legs and head, the features of all the Eagle Series tripods and gimbals is the same. As such, I think it's fair to say that you can take this as a review of the entire series of products. Legs and gimbals. And simply choose the size of Eagle tripod that best suits your needs.
Fotopro Eagle Series Tripod Specifications
Fotopro Eagle Series Gimbal Specifications
Note that the weights of the E-6H gimbal in the table below are my weights, measured on my digital scales that I keep in my studio for verification purposes. I found the weight that was listed on the Fotopro website to be inaccurate. These inaccurate weights have then been carried over to sites like B&H, Adorama etc.
A Note On Eagle E-6 Sizing
In the tripod specification table, you will see both an E-6 and an E-6L. While discussing the product line with FotoproUSA, they told me that the E-6 was the original tripod in the Chinese market, but felt that it was a little too short for people in North America. They made a request for a slightly taller tripod for that market and the E-6L was born.
The Eagle E-6 has a maximum height of 55.11in. This is definitely on the short side compared to most other tripods that I have ever tested. I'm 5ft 8″, far from tall, and I found the E-6 to be too short even for me. The Eagle E-6L has a maximum height of 63in, and I honestly think this is going to be the right choice for 99% of people. It is far better to have a tripod that can put the camera above eye level. It means that you can use it on uneven, sloping ground where a downhill leg needs to be greatly extended to create a level platform, and still have that camera at eye level. Quite simply, if you're in doubt, get the E-6L!
Fotopro Eagle Tripod In Detail
Tripod Case
The Eagle tripods come with the best-included tripod case I have yet seen from any brand. Instead of coming in a cloth sack or some cheap throwaway bag, these are delivered in a genuinely useful and well-made padded case. Inside the case, you'll find a pocket for tools and tripod feet, as well as padded slots for every accessory that comes with the Eagle. For added protection, there's is a padded wrap that goes around the gimbal, and multiple straps to secure things in place.
The exterior of the cases is made from a thickly woven canvas, and a nicely padded shoulder strap is located on the back. Not only does this bag put the usually included tripod bags to shame, but it also puts most off-the-shelf $100+ tripod bags to shame, too. As a first impression when unboxing this tripod, you will be very impressed.
Tripod Leg Locks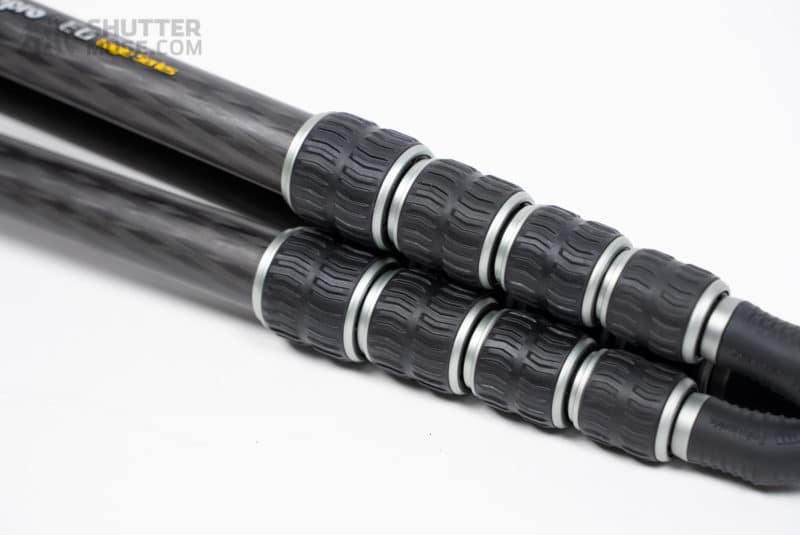 The leg locks are one of few areas I think this tripod could be improved. Although they function smoothly, the rubber that has been used on the grips feels hard and somewhat abrasive. This is exacerbated in cold weather and after long periods of usage without gloves, I could feel my hands feeling a little raw. This isn't the sort of problem that will make or break a purchasing decision, but I do wish the rubber was softer. You could then rely on the material's inherent stickiness for grip, instead of needing such a rough pattern to be used.
One feature of the leg locks that I am impressed with, is the use of dual rubber o-rings behind the lock collars to prevent water and particle ingress. Most tripods don't even have one o-ring here, let alone two. This neat little addition will help to prevent sand and other small particles from getting into the metal threads of the locks.
Tripod Feet
Rubber caps can be removed from the tripod feet to reveal some vicious looking spikes for use on soft ground. You'd think that making a spiky foot would be a simple thing, but for some reason, there are many tripods out there that fail on this simple task. The Eagle Series does not fail here. Not only are they a great set of spikes, but they aren't an additional purchase, and you don't have to carry them around in your bag all the time as you do with many other brands.
In the area of feet, Fotopro scores yet another win here with the simple inclusion of an entire spare set of foot covers. It's a simple gesture, but I love to see that. The rubber feet are securely attached, and I don't think it would be easy to lose one, but if you did misplace one or two, you have a bag of spares to keep in your fancy tripod case.
Leveling Base
The leveling base is locked using the butterfly knob on the side. The lock seems sturdy and I never had any creep from it when used at any angle. The shape of the knob is also a good choice. It's small, but also easily operable with gloves on.
What's nice about having the leveling base built into the tripod. – aside from the cost-saving – is the low profile. If you were to add a third-party levelling base it would increase the tripod's folded length by a couple of inches. This built-in base adds but 1/3 of an inch and much less weight.
Additional Details
A 14″ 20 threaded socket is provided below the leveling base. This is useful for attaching fiction arms that can then be used to support any number of additional accessories. On the underside of the tripod's apex, you'll find a spring-loaded hook. When not in use, springs flip the hook up into an out-of-the-way position. When you want to use it, simply hanging a bag on it will bring it down beneath the tripod's legs. Another ingenious detail!
Fotopro Eagle Gimbal In Detail
The Eagle gimbal comes with the Eagle tripod, but the gimbal can also be purchased on its own. As we have seen so far in this review, the Eagle tripod is very good, but in my opinion, it's the gimbal that makes this system shine. The reason? Innovation!
Fotopro Eagle E-6H Gimbal
Gimbal designs have barely changed over the last two decades. From time to time a new one comes to market that uses slightly different materials or manages to shave some weight off its predecessor, but generally, they all have the same features even if they aren't built to the same standard. The only notable exceptions I have used in the past are RRS PG-01 and PG-02 heads with their collapsible 2-piece design. Well, now I can add the Eagle to that list because this gimbal has more unique features on it than I have ever seen on any tripod head. Gimbal or other. Let me show you.
Side Mount or Cradle Mount
Some people prefer side mount gimbals and some prefer to use a cradle mount. With the Eagle, you can make your own choice without having to buy additional accessories. Here, Fotopro has done the smart thing and simply created a cradle mount that uses an Arca-Swiss dovetail to attach it to your side mount. Why has nobody else ever done this? Even if you primarily prefer a cradle mount, you can quickly decide to lose the cradle if you want to shave a 200g off your tripod weight on a long hike.
Panning Handle
The gimbal is supplied with a metal panning handle that connects to the cradle. This is useful for people using the head with a spotting scope, and also those that want to use it for occasional video shooting. For best results with video shooting, you should always use a fluid head to get a perfectly consistent level of pan and tilt resistance.
The Eagle is not a fluid head, but it is the smoothest non-fluid gimbal head I have used. I wouldn't recommend this head if your sole purpose was video, but it's very useable for occasional shots. Particularly if you are using the panning handle to carefully position a static locked-off shot while viewing the LCD screen on your camera.
Arca Lens Plate
An Arca-Swiss dovetail plate is provided with the gimbal. The plate comes with a pair of 1/4″ 20 screws, and a pair of 3/8″ 16 adapter bushings. The plate is fairly standard but does have nice rubber grips on it. It could have been improved by the addition of an anti-twist tab on one end of the plate for use with lenses that only have a single-threaded hole on the bottom.
Lockable Clamps
Both clamps are screw-knobs, but they have a locking feature that I have never seen before. When unscrewing the knob, it will stop with the jaws only partly opened. This allows you to slide your camera or lens around in the clamp to adjust the balance, but without fear of it falling. If you depress the lock switch, you'll be able to rotate the knob further to fully open the jaws and release the payload. This is a cool safety feature!
Central Bubble Level
If you're using a gimbal on a leveling base, a bubble level is essential. Gitzo didn't bother to put one on their Fluid Gimbal and I flamed them for it in the review. Not only did Fotopro put one on the Eagle, but they also put the biggest one I have ever seen! The larger the bubble, the easier it is to use and the more accurately you can gauge your position.
Panoramic Clicks
The larger of the two knobs on the panning base controls the pan tension and locking. Tightening the second knob engages a click-stop system that gives you noticeable detents as you pan the head. There is one detent at each angle marker on the panning base, and the head will give you a nice click as it slips into each one.
This is a wholly unique feature on a gimbal, and for panoramic photography this is amazing. You can either choose to take your individual panoramic images at specific angles around the panning base, or you can simply figure out how many clicks you need to rotate by, for the next shot.
For example, let's say you figure out that you need to take your shots every 10 clicks on the panning base. You can take your first shot, then quickly count 10 clicks of rotation and take the next, and so on. Having this physical feedback means that you don't need to look down at the panning base at all, and the shots can be taken in far quicker succession. If the light is rapidly changing on a partly cloudy day, your lighting will be more even throughout your series of shots. On top of that, you can perfectly repeat every composition multiple times by simply using the same stop-points on the rotation.
Adjustable Arm Angle
To this point, we have seen a few unique features. but I saved the best for last. On the Eagle gimbal, a push-button at the base of the vertical arm allows you to rotate that are from vertical, and position it at specific angles. For travel, you can rotate it downwards by 180 degrees. If you want to shoot directly up at the stars, simply rotate it back by 90 degrees. If you want to shoot straight down for some macro work, rotate it forwards by 90 degrees. You can even use the 45-degree position to shift the camera backwards and place the lens' nodal point much closer to the point of rotation, thereby making a more accurate panoramic image without the definite need for a nodal slide.
Although this feature isn't strictly necessary for people using the gimbal with long lenses for wildlife work, it does make this head far more versatile. It becomes much easier to use this head as a one-head-for-everything solution. For people who don't want to carry a gimbal and a ball head, meet your new best friend.
Fotopro Eagle E-9H Gimbal
The Eagle E-9H gimbal comes paired with the Eagle E-9 tripod. It has all the same features as the smaller E-6H gimbal, but it also has a larger 66lb capacity, and the ability to adjust the centre of gravity in the horizontal direction using a built-in slider (see above photo).
When using larger super-telephoto lenses such as a 400mm f/2.8, 500mm f/4 or 600mm f/4 on a gimbal in side mount configuration, this horizontal adjustment allows you to place the centre of gravity directly over the middle of the tripod legs. If your lens has a particularly tall tripod foot and you don't make this adjustment, you would find that the weight of your lens is acting downwards off the side of the tripod, potentially causing some instability.
This additional adjustment is a rarity among gimbals. Really Right Stuff offers it on their PG-02 gimbal, but it is otherwise unseen on the market. The fact that Fotopro has cleverly built this feature right into the panning base, within such a small footprint, is impressive.
Gimbal Capacity Recommendations
My capacity recommendations for these gimbals is simple. If you use a telephoto zoom such as the Tamron 150-600mm, Nikon 200-500mm, Canon 100-500mm or Sony 200-600mm, the Eagle E-6H is perfect. You can also use the E-6H if you have a 300mm prime such as the Nikon PF, or any f/2.8 variation from any brand. The Nikon 500mm PF is also a perfect match, as is the Canon 400mm f/4 DO, or 400mm f/5.6.
If you have a 400mm f/2.8, a 500mm f/4, a 600mm f/4 or an 800mm f/5.6, you are going to want the Eagle E-9H almost every time. The exception to this is if you already own a large, heavy gimbal with enough capacity for those lenses, but require an ultralight solution for long-distance hiking or compact air travel. In that situation, you could easily make a case for having an E-6H as a lightweight second gimbal option.
From a capacity standpoint, the smaller E-6H is capable of holding all of those larger lenses, but the motion becomes a little less smooth, and the lens barrel diameter might force you to use the side mount setup instead of the cradle.
Related Post: The Best Gimbal Tripod Heads On The Market Right Now
Gimbal Vs. Ball Head for Landscapes
While gimbals are typically used with telephoto lenses for wildlife photography, they can also be used for landscape photography when used in combination with a leveling head and an L plate on your camera. First, you simply level your horizon with the leveling head. Then you clamp your camera's L plate into the side mount clamp of the gimbal in whichever orientation you require. The panning base gives you control over your left-to-right framing, and the tilt control gives you all the up-to-down framing control you need.
In fact, with the Eagle Gimbal's unique additional vertical arm positioning, you can tilt your camera anywhere from vertically downwards to vertically upwards. A range of motion that far exceeds that of a ball head. Should you be using a heavier lens with a tripod collar, you can attach the gimbal's included cradle mount.
In practical terms, the main difference in shooting landscapes using a gimbal head is that each axis of movement is separated. With a ball head, you are simultaneously controlling pan, tilt and pitch when you loosen the ball locking knob. With a gimbal, each of these movements is done individually. This makes it slightly more time consuming, but has the compensating virtue of forcing you to slow down and consider the exact position of every edge in your frame. I daresay for many people, it would result in a more carefully considered, better image.
Using The Eagle Gimbal With Other Tripods
The E-6H gimbal head can be purchased on its own for $449, and the E-9H can be purchased for $649 so you might well be considering one for use on an existing tripod. You can also remove the E-6H or E-9H gimbal from the Eagle tripod legs if you have purchased them as a kit.
For me, the real star is the tiny E-6H. The small size of this Eagle gimbal makes it an excellent choice for almost any tripod, including travel tripods. There are no other gimbals on the market that I would consider pairing with a travel tripod, but the folding design of the Eagle gimbal makes this an excellent lightweight setup. In my testing, I used it on a Really Right Stuff travel tripod, as well as the Peak Design Travel Tripod. As you can see from the photo above, when you mount the Universal Head Adapter to the Peak Design tripod, it's a perfect match for the E-6H.
Of course, if you do use this gimbal without an Eagle Series tripod, you won't have that built-in leveling head that is so convenient. Those planning on travelling great distances with the tripod on their back might skip this. In general, though, you will always have a better experience when using a gimbal with a leveling head so that your pans can be consistently levelled with the horizon in a few seconds. Without one, you have to tediously level it using the leg adjustments.
Given how great I think the Eagle E-6H gimbal head is, I'm very glad they sell it on its own and that I can recommend it to people that have an existing set of tripod legs.
When I went back to my huge guide to the current best gimbal heads on the market, I was amazed at how well the E-6H stacked up against the competition in terms of pricing. It is cheaper than the rather average Gitzo Fluid Gimbal and cheaper than the also-lightweight ProMediaGear Katana Jr gimbal.
When you take into account the small size, good capacity, middle-of-the-range pricing and excellent set of features, the E-6H should be on everyone's shortlist when looking to buy a gimbal. It's that good.
Fotopro Eagle Tripod Value
It's unusual for a tripod to be available only in combination with a specific head. A first glance at the retail price of these Eagle tripods makes it hard to gauge their value compared to other higher-end options on the market.
Retail pricing for the Eagle Series (tripod and gimbal) is as follows:
Retail pricing for the Eagle Gimbal is as follows:
Subtracting the retail cost of the gimbal from the cost of the tripod+gimbal combo will give you a better idea of how the actual tripod pricing compares to other brands:
Eagle E-6 tripod: $650
Eagle E-6L tripod: $700
Eagle E-7 tripod: $750
Eagle E-9 tripod: $750
Note again that you cannot buy the tripods on their own for this price. This is merely an exercise to reveal the underlying price you might be paying for the tripod within the package.
Laid bare like this, we can see that the value of the tripod is somewhere above a Gitzo Traveller Series tripod, but below a Gitzo Systematic tripod. While this places them in a price bracket above brands such as Induro, Benro, Robus and Feisol, they are below the prices of Really Right Stuff, ProMediaGear and half of Gitzo's catalogue.
It should not be overlooked that the Eagle tripods have a built-in leveling head. A good quality leveling head such as the RRS TA-2U would otherwise cost in the region of $250. When this is factored into the cost of the Eagle tripod, it shifts the value perception to an even more favourable place.
If you are in the market for a high-quality tripod, along with a new leveling head and a gimbal head, you can see that the Eagle Series represents remarkable value considering the exceptional stability, unique gimbal features and quality craftsmanship.
Conclusion
There's very little not to like about the Fotopro Eagle Series. The tripods are built exceptionally well and offer noticeably better stability than tripods that cost only a little less. In fact, in terms of stability, the tripods easily compete with much more expensive models from the likes of Gitzo and Really Right Stuff.
Even when first unpacking the tripod in my office and setting it down on my concrete floor, I was struck by how quickly the legs appeared to dampen vibrations, and how solid it felt for such a compact tripod. Instead of hitting the floor with the hollow rattle of many lightweight tripods, it made a solid 'thunk' noise that caused me to repeat the same motion several times in curiosity. The E-6 and E-6L are barely bigger than most brands' travel tripods, but they offer stability that is leaps and bounds above those kinds of tripods. The inclusion of a built-in leveling base is rare in a photo-specific tripod, but it is welcomed and makes total sense for one that is designed to be used with a gimbal.
The only gripe I have with the tripods is the rubber leg locks. While they function smoothly and even go so far as to include two rubber o-rings to protect from particle ingress, they are not comfortable to use. The rubbed grip is hard, and more than a little abrasive on bare hands in cold weather. If Fotopro can fix that minor niggle, these will be near perfect tripods.
If that wasn't glowing enough, I haven't even got to the gimbal. The Eagle Gimbal is a fantastic tripod head whether you buy it on its own for an existing tripod, or buy it with the Eagle Series tripod. The E-6H is the lightest and most compact gimbal I have ever used, yet it also manages to be both the smoothest, and most feature-laden. The folding design is unique, not only adding to its portability but also greatly to its versatility.
Gimbals are typically used as a second head by most photographers. One that is only pulled from the bag when a telephoto lens is to be used for wildlife photography. With all its features, though, the Eagle Gimbal does the best job yet of being a one-head-for-everything solution. It's great for wildlife, panoramic photography and macro work. In combination with the Eagle tripod's built-in leveling head and an L plate on the camera, it's also great for landscapes. If you find your photography interests cover the full gamut of outdoor subject matters like this, the Eagle Gimbal is very likely the best all-in-one solution on the market.