When the Gitzo Fluid Gimbal Head was announced I was excited to see what such a reputable brand could come up with. Surprisingly this is Gitzo's first gimbal head but if there's one thing Gitzo knows how to do, it's designing a beautiful looking product. The Fluid Gimbal Head is no exception.
The curved lines and mottled grey-silver pattern immediately announce this as a Gitzo product. It looks fantastic, and it looks expensive, but surprisingly this gimbal has a middle-of-the-pack price of just $530. If you have studied my in-depth guide to the best gimbals on the market this year (you should), it would be quickly noted that there are several gimbals out there that cost a lot more than this Gitzo gimbal. This was a surprise to me, as I expected Gitzo to slot their product into the market at, or at least very close to the more expensive options out there such as the Really Right Stuff gimbal.
Of course, when I saw the pricing I was even keener to test this gimbal. Gitzo products are usually very good, but they generally come at a price. Could this be the first Gitzo product that I could actually call "good value"? Let's find out!
Gitzo Fluid Gimbal Specifications
Below are the important specifications of the gimbal.
Weight: 2.98 lb / 1.35 kg
Capacity: 17.6 lb / 8 kg
Base Diameter: 2.36 inches
Materials: Aluminum/Magnesium
Physically the gimbal is on the large side, but the magnesium body has managed to keep the weight down to a somewhat reasonable 2.98 lbs. For reference, this is lighter than the ever-popular Wimberley WH-200 which comes in at 3.1 lbs, and lighter than the Really Right Stuff PG-02 Mk2 gimbal which comes in at 3.2 lbs. However, it's quite a lot heavier than the ProMediaGear Katana Jr. at 2.4 lbs, and the Fotopro Eagle E-6H at 1.9 lbs.
Capacity specifications are always hard to judge because there is no standard. Stated maximum capacity of 17.6lbs is on the low end of the spectrum. RRS gimbals have a 50lb capacity, as does the PMG Katana Jr. The Wimberley claims a 100lb capacity, while even the little Eagle E-6H has a 22lb capacity.
Given the competitive market, I find this low capacity to be a surprise. Although you would be hard pushed to create a camera and lens combination that actually reaches a 17.6lb weight, you should always leave yourself some leeway and this head will allow the least leeway of any of what I would consider being the high-end gimbals.
Features and Design
This gimbal is a cradle mount gimbal, with the lens being supported from the underside. Many manufacturers make both cradle mount and side mount versions of their gimbals, allowing the user to choose their preference. In most cases with those other manufacturers, you can adapt your gimbal to change from one mount to the other as needed.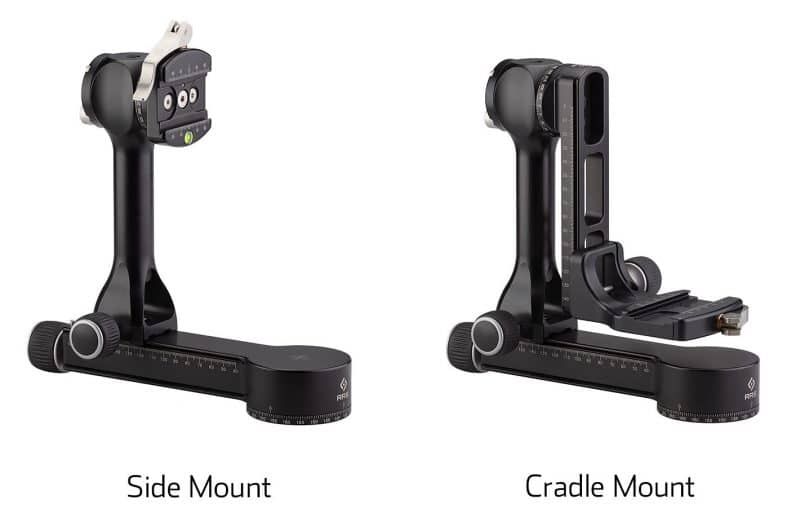 Personally, I prefer a side mount gimbal because they are much lighter and less bulky. It's disappointing to see that Gitzo neither make a side mount version of the gimbal nor give the user any way to adapt the gimbal to a side mount. Essentially every other reasonable competitor to this gimbal has this option – Wimberley, RRS, ProMediaGear, Fotopro etc.
Not only is this a short-sighted omission, but Gitzo has inexplicably crippled the head's ability to be adapted with 3rd party accessories by using a non-standard dovetail width on their supplied cradle. The Arca-Swiss dovetail standard is the de facto standard in the photo world when it comes to clamping lenses and cameras onto heads. While the screw-knob clamp on the gimbal cradle does use the Arca standard, for some reason the vertical arm of the cradle uses a much wider dovetail. Why would they go to the effort of making a slightly wider dovetail for this part of the head? It's beyond me.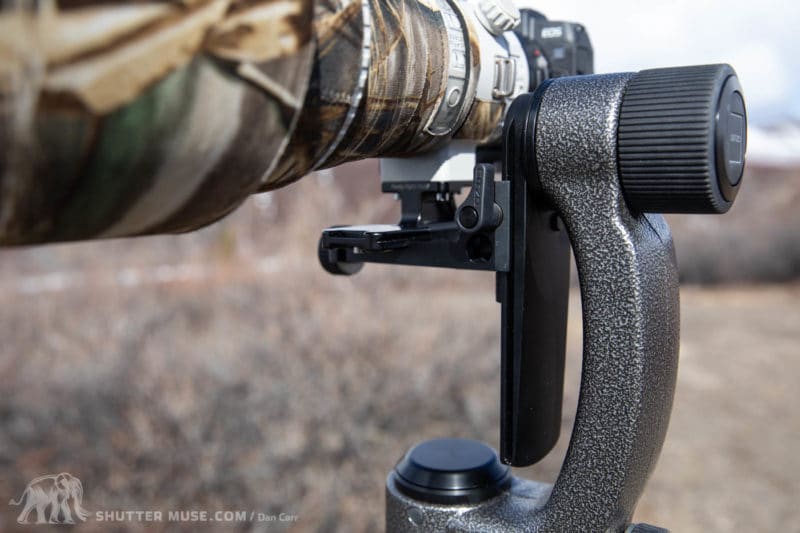 This means that if you wanted to add a lever release cradle to the gimbal such as the RRS cradle clamp, you are totally out of luck. I prefer to have a lever release clamp on my gimbal cradles because it's much easier to clamp the jaws closed with one hand when holding a 10lb 600mm lens in the other hand. The RRS cradle clamp is a popular upgrade for many people who use gimbals from other manufacturers, but you won't be able to use it on the Gitzo gimbal.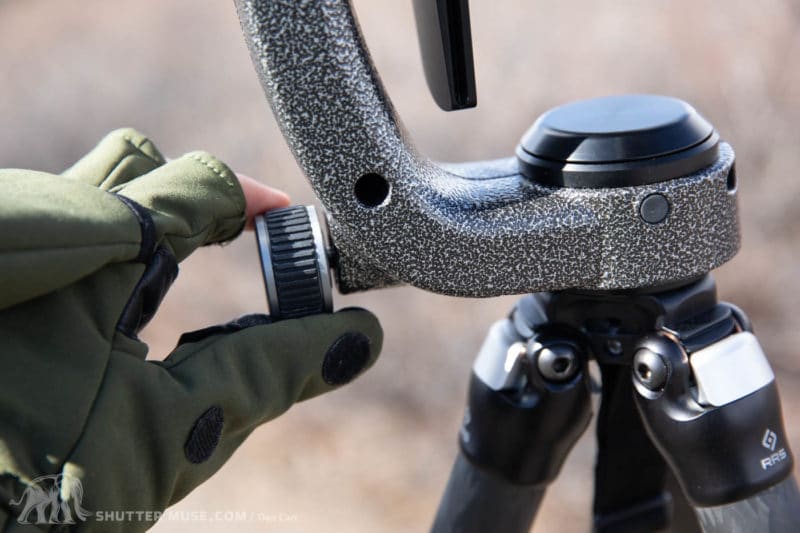 The axis locking knobs of the Gitzo gimbal offer different experiences. The large tilt locking knob is smooth and delivers a nicely variable amount of resistance. On the other hand, the pan lock knob falls short of my expectations. As you loosen the knob it unscrews from the body of the gimbal. Although it is captive and can't actually fall off, the knob develops a wobble as soon as it is loosened even a small amount. it doesn't feel like a high-end component on a Gitzo product.
In the photo above you will also notice the lack of a bubble level anywhere on the lower part of this gimbal. This is despite having the absolutely perfect place to put one on the black plastic cap that covers the panning mechanism.
To use a gimbal properly you must have it perfectly level. This either requires the use of a leveling head on the tripod, or you must adjust the tripod legs to ensure a level pan axis. In many cases, a tripod does not have a bubble level because most ball heads or gimbals have a level. In this situation, you are in trouble with the Gitzo gimbal, as I was when I tested it with my RRS tripod. Below I have included two images of competitor gimbals that do things right and include a bubble in the perfect position.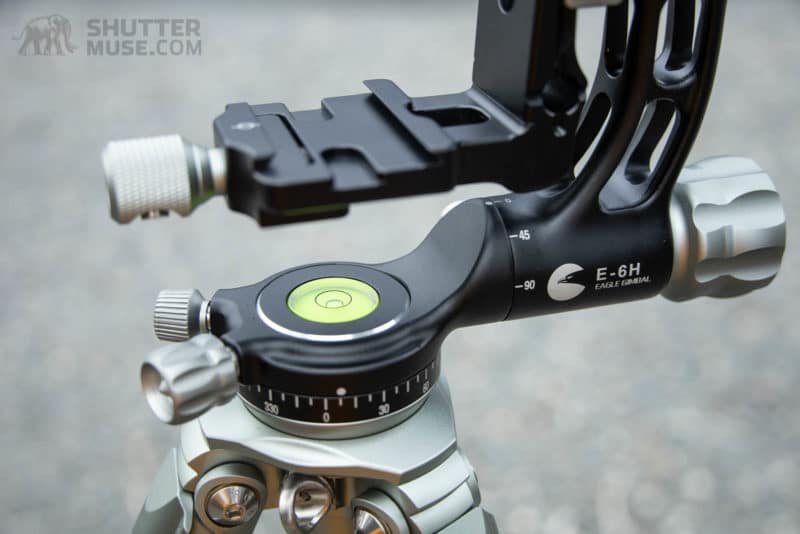 Pan/Tilt Fluid Motion
Almost uniquely in the gimbal head market is the use of actual fluid cartridges in the pan and tilt mechanisms. Usually, fluid cartridges are used in video heads, with the vast majority of gimbal manufacturers sticking to bearings for their motion.
In my testing, I found the tilt mechanism to be incredibly smooth, but disappointingly the pan mechanism felt very different. Where the tilt motion undoubtedly had a lovely fluid feel to it, the panning motion felt no better than a somewhat average set of bearings in any other high-end gimbal. In fact, the panning motion of the Fotopro Eagle E-6H – which is not a fluid cartridge – is much smoother.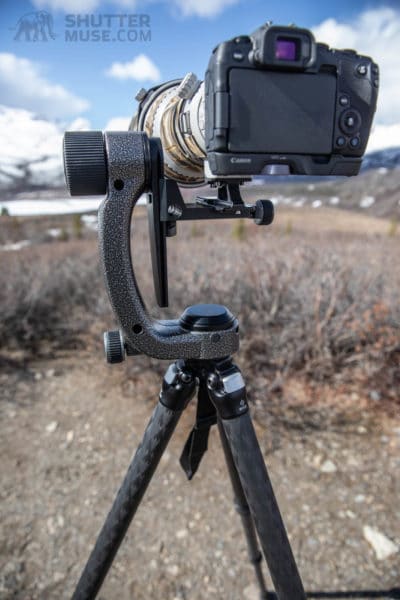 Even more problematic for me was the difference between the feeling in the two-axis. A good gimbal should have the same feel and resistance in both the pan and tilt axis, otherwise, it's much harder to create a smooth motion. In this regard, the Gitzo gimbal failed due to the oddly rough friction in the pan direction.
What I learnt here is that it's entirely possible for a cheap fluid cartridge system to feel worse than a really good set of bearings. It's important to not just read "fluid" as "better".
Conclusion
I have to say that this gimbal was a bit of a disappointment for me. It feels like Gitzo spent far more time making it look pretty than actually giving it to photographers to test in the field. While it performs better than a cheap gimbal, it doesn't live up to the brand's high-end reputation and lacks features compared to its main market rivals.
In theory, the fluid cartridges should make this head buttery smooth, but there is a difference in feel to the pan and tilt axis which hampers smooth motions when tracking subjects. The glaring omission of a bubble level anywhere on this gimbal is almost inexcusable on a head that needs to be level, and the mediocre feel of the pan locking knob is a disappointment from a premium brand.
Gitzo offers no way to use this head in a side mount configuration unlike every one of their main competitors. The vertical dovetail on the cradle also uses a non-Arca standard width which prevents the user from adapting the head with 3rd party accessories such as the popular RRS cradle clamp. When you factor in the large physical size of the gimbal that makes it hard to travel with, and the low maximum capacity compared to all its rivals, it becomes increasingly hard to find a reason to recommend this gimbal over other options on the market.
If you are a huge Gitzo fan and want everyone to see that all your gear is made by Gitzo, sure, buy this gimbal. It's still better than the cheaper brands like Sirui and Benro. But if you want to make a wise purchasing decision on a $500+ piece of equipment, I would recommend you take a look at the similarly priced ProMediaGear Katana Jr gimbal instead. It's smaller, lighter, has a much larger capacity, a bubble level, a side mount option and perfectly matched feel in the pan and tilt directions.
Where to Buy