The Fotopro X-Go Max is a carbon travel tripod with an almost suspiciously low sticker price of around $269 including a ball head. Can you really get a quality carbon tripod at that price? This is a question I was keen to answer, particularly in light of my review of the Fotopro Eagle tripod that I conducted just before putting my hands on the X-Go Max. While the Fotopro Eagle is a much more expensive tripod, targeted at a different audience, I did find it to offer excellent value for money and remarkable-for-its-size stability.
For those unfamiliar, Fotopro is a Chinese tripod manufacturer. Although one of the lesser-known tripod brands in North America, they have been making tripods for close to 20 years and have an extensive range of both heads and tripod legs. Unusual amongst most brands in the photo industry is the fact that Fotopro caters to both ends of the pricing spectrum. Amongst the products in their catalogue, you will find everything from the low-budget carbon travel tripods such as the Fotopro X-Go Max at $269, right through to the previously mentioned Eagle Series tripods that cost up to $1400. Though this is unusual, it might not be a bad thing for the manufacturer of a budget-friendly tripod to know full well how to make an excellent professional-grade tripod, too.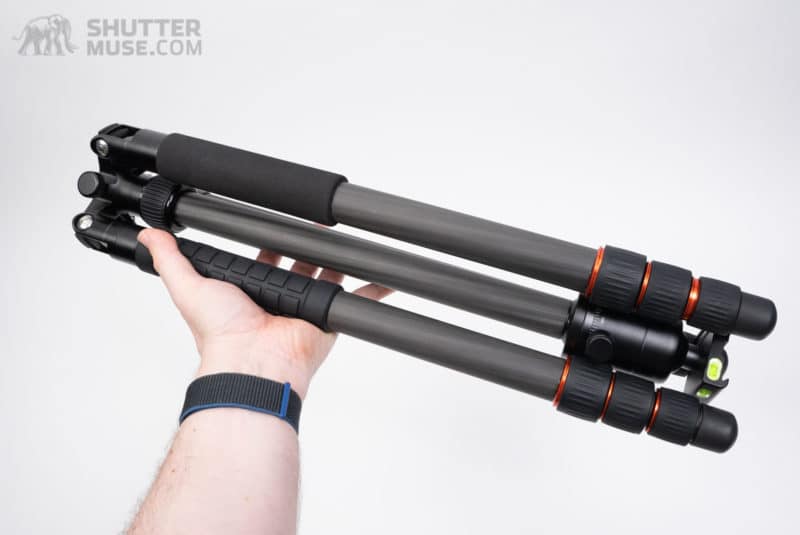 With this in mind, I was excited to get out in the field with the X-Go Max and put it to the test alongside a few other travel tripods that I have around the office. In this review, we will take a detailed look at all the features of the tripod, and then I'll share my thoughts on how stable it is, along with conclusions on quality and value proposition. This one should be interesting!
The Fotopro X-Go Series
The X-Go series consists of several different tripods in both carbon and aluminum configurations. Each tripod has a different maximum height, and includes one of three different ball heads depending on the tripod size. In this review I'm taking a look at the Fotopro X-Go Max. Although this is the largest of the X-Go tripods, it's actually not an overly tall tripod by Western standards. Some of Fotopro's tripods have very short maximum heights and are presumably better suited to an Eastern market. I would say that most people reading this review should be looking at the X-Go Max, which I'm lead to believe is a best seller for them.
Note that in the table of tripod specifications below, the maximum height measurement is achieved with the centre column fully extended. With the column in the extended position, the stability of any travel tripod is significantly lessened. A centre column should be used only when there is little to no wind, or when you are using a shutter speed that is fast enough to counteract the added instability. For this reason, I always strongly recommend that people buy travel tripods by considering the height of the tripod when the column is collapsed to the minimum height. You should never buy a travel tripod to use the centre column extended to its maximum every time you get it out of the bag. With this in mind, it makes it even more likely that the largest X-Go Max model will likely be the best option for most people, even if you are not that tall.
| Model | Material | # of Sections | Min Height | Max Height | Collapsed Length | Weight | Max Load | Ball Head |
| --- | --- | --- | --- | --- | --- | --- | --- | --- |
| X-Go | Carbon | 5 | 350mm | 13.8″ | 1440mm | 56.7″ | 330mm | 13″ | 0.98kg | 2.1 lbs | 8kg | 17.6 lbs | FPH-42Q |
| X-Go Plus | Carbon | 4 | 432mm | 17″ | 1575mm | 62″ | 430mm | 16.9″ | 1.51kg | 3.3 lbs | 8kg | 17.6 lbs | FPH-52Q |
| X-Go Max | Carbon | 4 | 467mm | 18.38″ | 1718mm | 67.63″ | 475mm | 18.7″ | 1.82kg | 4 lbs | 12kg | 26.5 lbs | FPH-62Q |
| X-Go Gecko | Aluminium | 4 | 340mm | 13.4″ | 1443mm | 56.8″ | 325mm | 12.8″ | 0.98kg | 2.1 lbs | 5.44kg | 12lbs | FPH-42Q |
| X-Go Chameleon | Aluminium | 4 | 432mm | 17.01″ | 1575mm | 62.01″ | 430mm | 16.93″ | 1.605kg | 3.54 lbs | 8kg | 17.6 lbs | FPH-52Q |
| X-Go Predator | Aluminium | 4 | 467mm | 18.39″ | 1718mm | 67.64″ | 475mm | 18.7″ | 1.96kg | 4.32 lbs | 12kg | 26.5 lbs | FPH-62Q |
Fotopro X-Go Max Details
Leg Locks
The threads on the X-Go Max leg locks are metal, which is a great thing to see on a tripod at this price point. Metal threads are less susceptible to wear from particulates that get stuck in the thread after using the tripod in dirty or sandy environments. Although a matter of personal taste, I also love the look of the orange anodizing on these parts of the tripod.
The rubber grips on the X-Go Max legs locks are soft and grippy. They even maintain enough softness in extremely cold temperatures, and in fact, I far prefer to them to the rubber shrouding on the leg locks of their far more expensive Eagle series tripod. In my Eagle Series review, the hard and abrasive leg locks were almost the only thing I didn't like about those tripods, so it was a surprise to me that they feel so much better on their budget tripod.
Centre Column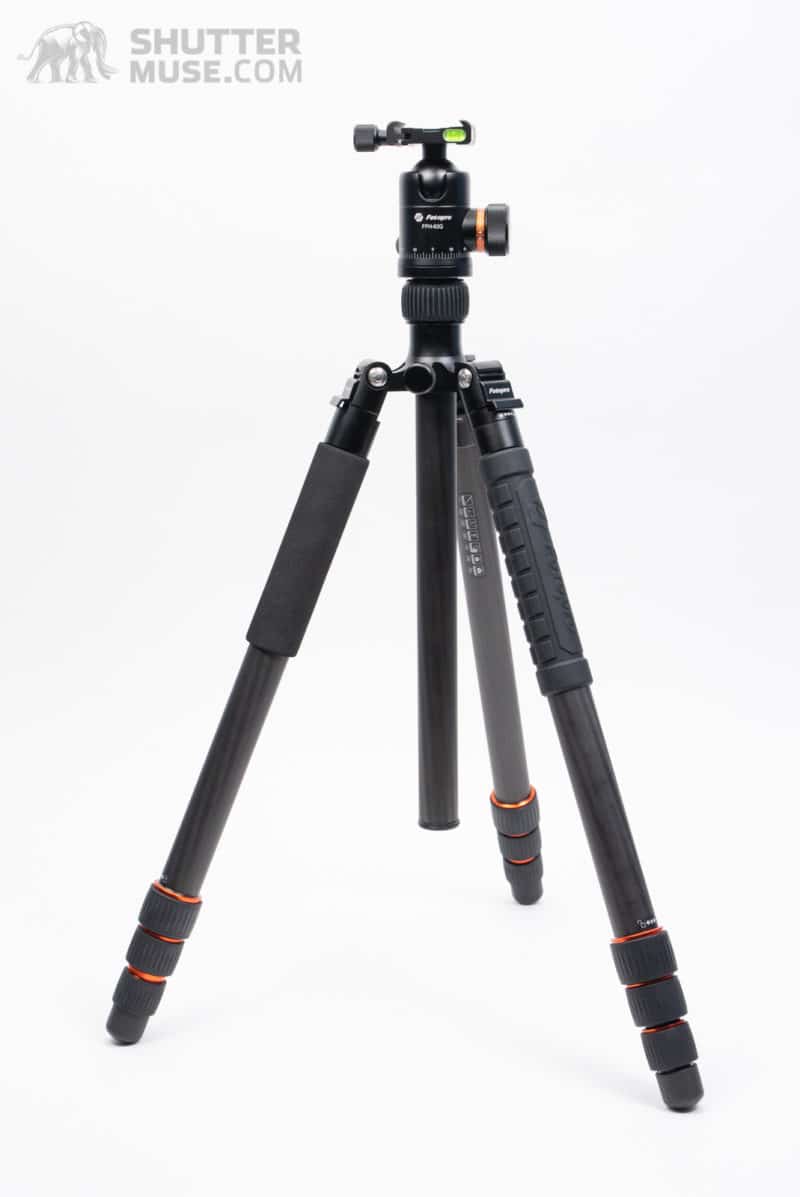 The Fotopro X-Go Max centre column is carbon, and very stable due to Fotopro's excellent carbon tube manufacturing skills. While not immediately obvious, you can unscrew the tripod's top platform. Doing so will reveal that the stud can be reversed to show either a 3/8″ 16 or a 1/4″ 20 thread. Once removed, you can also pull the centre column from the tripod to flip it around for underslung low-level shooting. What you cannot do, is install the top platform without the centre column and leave it at home to save some weight, such as you can with some slightly more expensive travel tripods like the 3-Legged Thing Bucky that was recently reviewed.
One thing that is important to note, is that you must tighten the column locking collar very tightly to prevent the column twisting when you are panning the camera. Unlike some travel tripods, the centre column does not feature an anti-twist groove in it to prevent this rotation. The panning base resistance is also very high on the included ball head (more on that later), so this combines to create a nuance that does take a little getting used to. An anti-twist groove in the centre column would be an improvement to this tripod.
As I have mentioned many times before on this site, a centre column, when extended, will decrease the stability of your tripod. Particularly in high winds. You should only extend the column in favourable conditions, and should therefore consider the dimensions of the tripod with the centre column lowered, as this will probably be how you will mostly use it. At least if you are going to bother following my advice.
Monopod Usage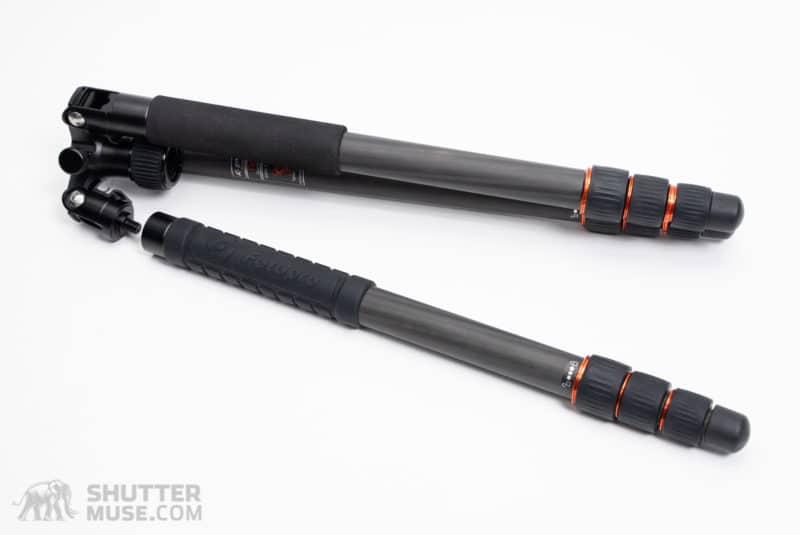 The X-Go Max has one big trick up its sleeve: A built-in monopod. One leg can be unscrewed from the tripod, giving you a 4-section monopod with a maximum height of 52.75″ (1340mm). In order to use this as a monopod, you also need to remove the top plate from the tripod centre column and screw it onto the monopod leg. The threaded stud is reversible, allowing you to have either an exposed 1/4″ 20 or a 3/8″ 16 stud. With that, you can choose to either screw the monopod right into the base of your camera, or add a nice monopod head to it.
The monopod is great and delivers enough value that I think it should absolutely be factored into the purchasing decision. The rubber grip on the monopod is made from the same rubber material as the leg locks and it feels great. Truly, it feels nicer to hold than monopods that cost a couple of hundred dollars on their own.
Related Reading: 4 Times When a Monopod Is Perfect for Wildlife Photography
Many travel tripods have this hidden feature, but often it feels like an afterthought and somehow manages to feel like you are using a single tripod leg instead of a monopod. Not so with the X-Go Max. With this tripod, you could hand the leg/monopod to someone and simply tell them it was a high-quality monopod. They would have absolutely no idea that it is a leg that has been removed from a tripod. It is solid, stable, and a fantastic solution when you want to carry ultralight camera support.
Foot Spikes
Small foot spikes are hidden beneath the rubber leg caps. I like this design a lot because it means you always have spikes with you. Whenever I have a tripod that has removable, optional spikes, they end up being the first thing that gets tossed from my bag when I'm trying to shed some weight. Although these spikes are not long and therefore won't make a difference on sandy surfaces, they are useful in dirt on a windy day.
Weight Hook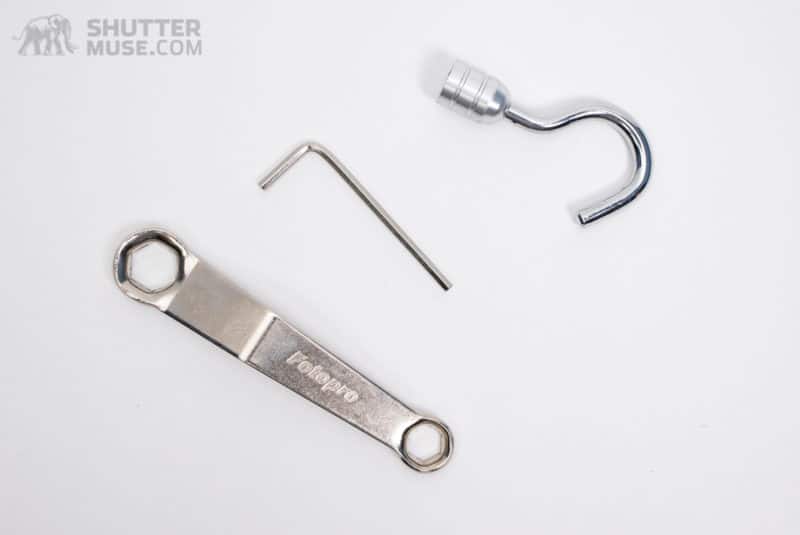 Rotating the small metal collar in the bottom of the centre column will cause a 3/8′ threaded stud to extend from it. To this you can attach the included weight hook that can be found in the pocket of the tripod bag. I doubt many people will bother to use it, but its there if you know you will be shooting in windy conditions that might benefit from some added weight.
Tripod Bag
The tripod is delivered in a cheap, thinly padded case that has a small internal pocket for accessories. While I don't see the bag standing up to a lot of abuse, it's nice that it comes in something that can be used to protect your shiny carbon from bumps and scratches when the tripod is packed into a larger case, or strapped to the side of your bag. After all, there are some $1000+ tripods that don't come with a case at all.
Overall Tripod Strength and Stability
The stability of the X-Go Max slightly exceeded my expectations that were based on its price point. This is an excellent support package that will stand most travel tripod seeking enthusiasts in good stead. I think a lot of the stability comes from Fotopro's excellent carbon tube manufacturing process. Just as they did with their top-of-the-line Eagle Series tripods, they have shown me that they can make carbon legs that have fantastic strength to weight ratios. While I don't know all the ins and out of the carbon tube layup process, I have tested enough tripods to know right away when a company has created a sturdy set of tubes. Fotopro really knows what they are doing in this area, and I think its the key to their seemingly on-the-rise popularity.
Of course, no travel tripod review would be complete without my usual caveat that applies to all travel tripods. If you're going to buy a travel tripod, your primary goal must be to own a tripod that has a short folded length and a light weight. Travel tripods ALL sacrifice some stability to achieve these goals. The X-Go Max is no different. You can spend the same money and get a more stable tripod, but it will be heavier and larger. Tripod choice is always about balancing your priorities to fit your shooting style. Many people choose travel tripods because having something small and light means that they take it with them more often. A light, slightly less stable tripod is still better than the bigger, heavier one that you left at home.
Fotopro FPH-62Q Ball Head Details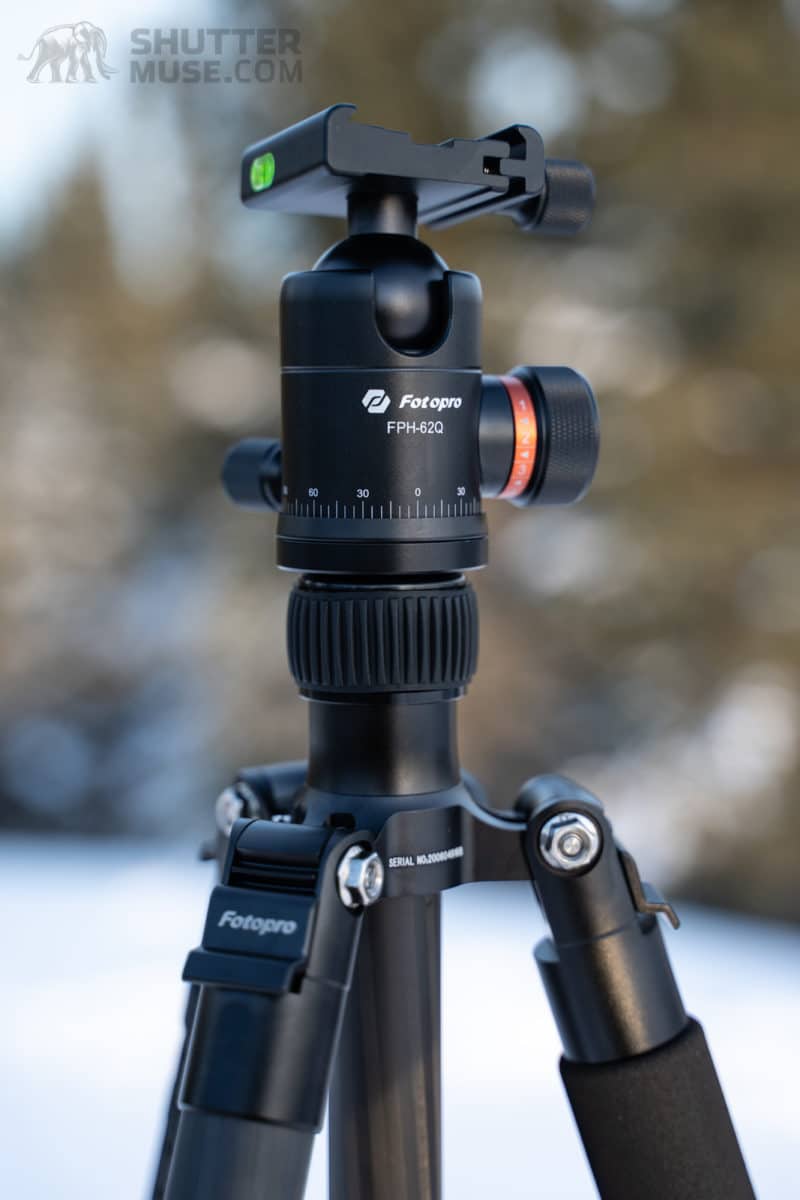 Screw-lock Arca-Swiss Clamp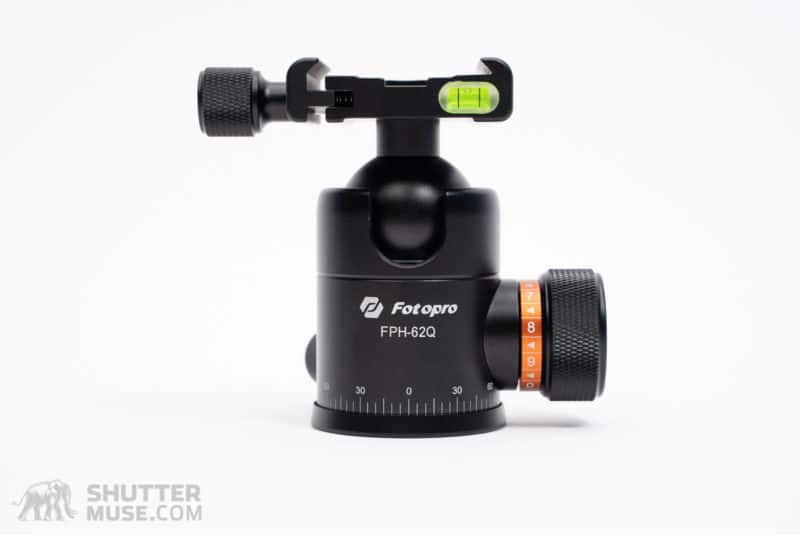 The ball head features an Arca-Swiss compatible quick release clamp with a screw-lock knob. The clamp is nicely machined and includes a pair of built-in bubble levels that actually use thick enough oil in them to be useful when making slight adjustments. The screw-lock knob itself is nicely damped and provides an excellent amount of clamping force. The clamp on this head is likely the best part of the head.
Arca-Swiss Plate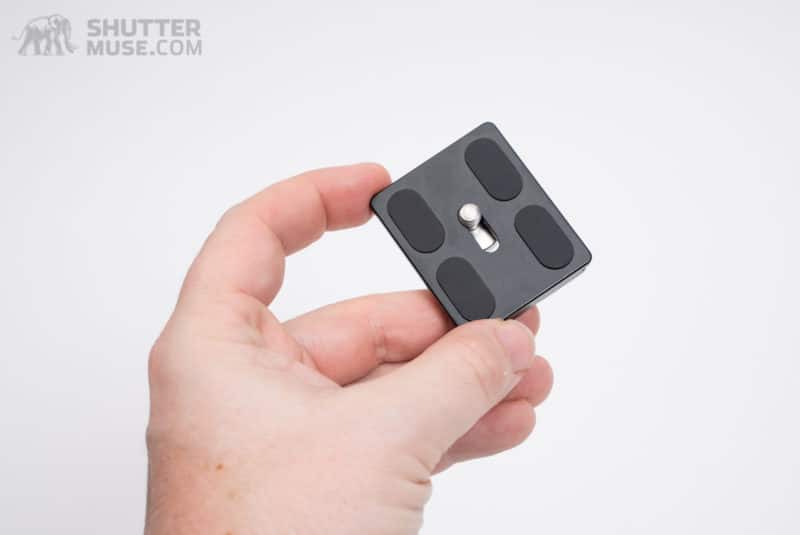 This tripod does come with an Arca-Swiss quick release plate. A point which i need to make specifically because a read one customer review on B&H Photo that stated it did not. It does, but when delivered, the plate is packed inside a hidden pocket on the inside of the tripod case. I must admit that to begin with, I too thought it did not come with a plate for several days until I discovered the pocket. Fotopro should change this delivery detail and put the plate in the ball head like everyone else.
Panning and Ball Lock Control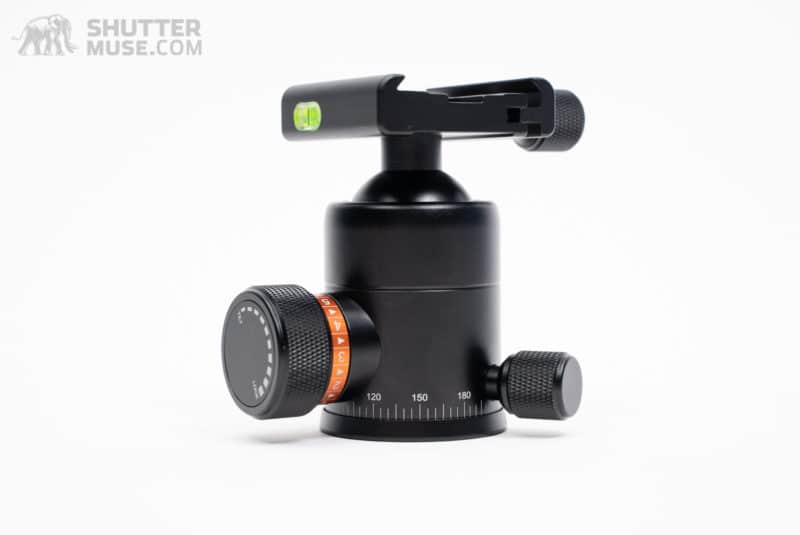 The ball head has two controls: A banning base and a ball locking knob. The panning base lock knob is fairly poor. There's not real drag adjustment at all. It's either on or off. Also, once you do unscrew it to release the panning motion, the knob wobbles around in a disconcerting, perhaps-it-might-fall-off sort of way.
Once the panning base is unlocked, you will also feel a more-than-average amount of resistance to the panning motion which slows down fast adjustments. The resistance will also cause the ball head to unscrew from the centre column unless you tightly tighten the grub screw on the underside of the centre column. This does make some people cringe because you are relying on friction and screwing something into the base of your brand new ball head. It will leave a significant mark! With this head, though, it's a necessity. Partly because of the high level of resistance in the panning base, and partly because there is no rubber grip on the ball head plate at the top of the centre column.
The ball locking knob is better and does provide some drag adjustment. Less of an on/off feeling. That said, I thought that the rotation of the locking knob was a little too much when moving from locked to fully unlocked. I really don't need more than 45 degrees of rotation when going from one end of the spectrum to the other. I also prefer ball locking knobs that give you some feedback as to what the ball lock friction is. With this ball head, the ball locking knob has a constant tension on is as you move from locked to loose, so you have to move the ball around to figure out where you are on the spectrum. The numbers on the locking knob do not serve any use. I find it preferable to have a ball locking knob that also feels looser as you loosen the ball. With that kind of setup, it's far easier to instinctively know how loose the ball is when you are rotating the lock knob.
Strength and Stability
Although i find the controls of the FPH-62Q to be fairly average, there is no doubting that the head is strong and stable. Once the panning base or ball head locking knobs are done up tightly there is no creep. I'm confident in saying that the head will hold way more weight than you should ever consider putting on top of a travel tripod like the X-Go Max.
Overall, it's a no-frills kind of ball head. Not uncommon in "kit tripods" where the head comes with the tripod as part of a package. It's going to get the job done, but it doesn't do it with much finesses. I can see people looking to upgrade the ball head, at least at some point, after using the tripod for a while.
Conclusion
At the time of writing this review, this tripod has a 5-star rating from customers on B&H Photo. This is unusual for what I would deem to be a product very firmly seated in the budget-friendly price bracket. Normally, for products in this price bracket, you get a good number of people who expect too much for their money and then end up leaving bad-to-mediocre reviews. Not so with the Fotopro X-Go Max, and after spending a few weeks with this tripod, I have to agree with the people who left these reviews. This is a remarkably good tripod.
Though the $269 price point doesn't make it the absolute cheapest carbon travel tripod on the market, it is a significantly sturdier and better-built option than the ultra-cheap sub-$200 tripod from the likes of Benro. Spending that little extra money to get the X-Go Max will get you something that should last longer, and will also support the weight of heavier camera setups. It also gets you an excellent monopod, which was perhaps the most surprising thing about this tripod.
For a product in this category, I honestly couldn't find a lot of negative points to mention about the tripod legs. It confidently ticks all the boxes and impressed me with its stability to weight ratio every time. While it would be an improvement to have a groove cut into the centre column to stop it rotating, this is a relatively minor point that shouldn't sway a purchasing decision.
If there is one weakness in this package as a whole, though, it's the included FPH-62Q ball head. While I would rate the tripod legs as excellent, I would only rate the ball head as average. It gets the job done, and is easily capable of holding more weight than you would ever want to put on this tripod. However, Fotopro lists the head as having a value of $95 and there are smoother functioning heads on the market at that price point.
To be honest, this isn't a surprise to me. For some reason, ball heads that are included in packages with tripods often fall short a little short of the mark when compared to heads that can be purchased on their own. I suspect this is related to market pressure to offer carbon tripods at lower prices. Including a cheap-to-make ball head in the package can keep the overall costs down, and marketing tends to focus on the legs and not the head. Those that choose the X-Go Max will have an excellent tripod to use for many years but should keep in mind that they might want to upgrade the ball head much sooner.
Overall, I'm impressed once again by the quality of Fotopro's carbon leg construction. Having had my hands on a couple of their tripods now, I can say that building extremely lightweight but stable carbon tubes is definitely their strength. With the X-Go Max, this is also enhanced by the excellent tactile feel of the rubber leg locks and the monopod feature, to create a total package that outperforms its low-to-midrange price point. A solid buy.
Where to Buy
The Fotopro X-Go Max is available from: