This Gitzo 2-Way Fluid Head was updated in 2019 so I took it out for a test to see how it would work for both stills and video production. I had been meaning to borrow a box of Gitzo heads to better familiarize myself with the brand's offerings, and the launch of this head and the Gitzo Fluid Gimbal reminded me to get my ass in gear and sort that out.
2-way heads, sometimes called "pan and tilt" heads, aren't often used by stills photographers, with most preferring to stick to a ball head design. Whilst a ball head is likely the best choice for many stills photographers as a primary tripod head, there are several situations where a 2-way head, particularly a fluid head, can really shine and make a good case for inclusion in your kit as a secondary head or a head for specialist projects.
In this review, I'll talk about why you might want to consider using a 2-way hear, and which situations lend themselves to this usage. Then I'll give you my opinions on this specific Gitzo 2-way head.
Gitzo GHF2W Specifications
| | |
| --- | --- |
| Quick-release plate and clamp type | Arca-Type |
| Mounting screw size | 1/4″-20 Male |
| Load Capacity | 8.8 lb / 3.99 kg |
| Lateral Tilt | -60° to +90° |
| Panning Range | 360° |
| Base Diameter | 2.4″ / 6.10 cm |
| Height | 2.2″/5.6cm |
| Weight | 1.3 lb / 590 g |
Uses For a 2-Way Pan/Tilt Head
The primary usage for a 2-way head is shooting video. These heads offer a full 360 degrees of rotation on the horizontal panning axis, and they offer varying degrees of up-down tilt in the vertical axis. They do not offer any kind of left-right roll as a traditional ball head would, which makes them perfect for video because you always want your panning motion to be level with the horizon. Simply level your tripod when you're getting set up, then unlock the pan and tilt knobs to allow a smooth vertical tilt and horizontal pan.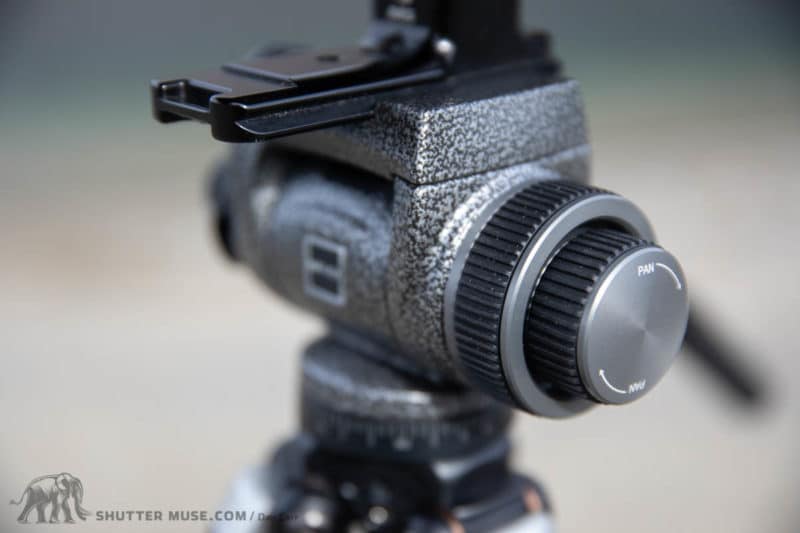 With all DSLRs and mirrorless cameras shooting extremely high-quality video these days, many photographers are dabbling in this different medium of media and need a 2-way head to get started. Whilst you can shoot static locked-off video shots with a ball head, you simply can't use them for panning and tilting while you shoot. 2-way video heads come in all shapes and sizes, but something like this Gitzo head falls into the medium-low priced category and could definitely be a consideration for someone who wants to get started in video shooting.
So 2-way heads are for shooting video, and it's likely that you already knew that. But did you also know that they can be useful for wildlife photography? Most wildlife photographers with big super-telephoto lenses use a gimbal head, another type of tripod head that also limits the range of motion to the same horizontal and vertical axis that we get from a standard 2-way fluid head. Gimbal heads are designed to perfectly balance a heavy camera rig and make it feel weightless while it's moving and tracking wildlife, but such heads are also big and heavy, and therefore overkill for much lighter wildlife photography setups.
A 2-way head such as this Gitzo one can be a great solution for wildlife photographers, as long as you are using a lens that has a tripod collar. The tripod collar is important because you need to be able to rotate the camera from horizontal to vertical orientation using the collar. Then your pan and tilt motion for following the wildlife is handled by the head. You can see in my review photos that I also have a tripod collar that has an Arca-Type plate built into it, and this clamps directly into the Gitzo head clamp. If you don't have this, no problem, the head includes an Arca plate that can simply be attached to your tripod collar with the usual 1/4 20 stud.
Gitzo also promotes the usage of this head for bird and wildlife watchers using spotting scopes. A spotting scope is a high-magnification portable telescope and I can see how it would be great for that usage, although I personally did not test it for that purpose.
Gitzo GHF2W In Use
Upon unboxing the head I was pleasantly surprised by its size and weight. It's a little bulkier than the ball head I usually use on my tripod, but it's actually lighter and considerably less bulky than other small 2-way fluid heads I have used in the past.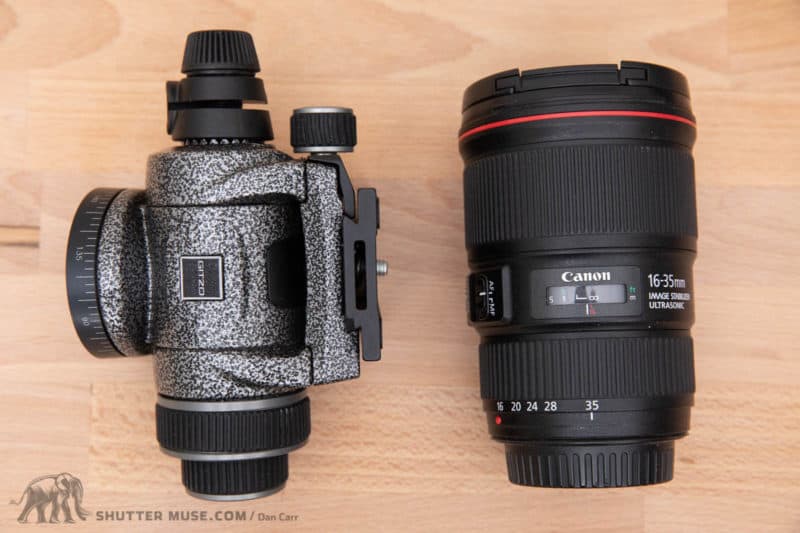 As you can see from the photo, it's somewhat comparable to the size of a medium-sized DSLR lens and I found that useful right away. In my testing I would be primarily carrying this as a second head alongside my ball head instead of my gimbal, giving me something to use for video shooting and following wildlife. Larger fluid heads and even gimbals can be a real pain in the ass to pack into camera bags, but I found this little head easy to pack into a lens slot or top pocket of MindShift BackLight Elite backpack. If your primary focus is video shooting and this head is to remain attached to a tripod, it would pair very nicely with a lightweight carbon tripod to create an ultralight solution for getting out into the wilderness.
The clamp on the head uses the Arca-Type standard and not the Manfrotto standard that is common on so many fluid heads. For photographers, this is great news because it means that many people will already have various plates and accessories that fit the head. If you don't have any plates, a simple Arca plate is provided, and thankfully it also has anti-twist rubber strips on it, something that is inexplicably missing from the Arca plates provided with Gitzo's ball heads.
One thing you'll notice is that the clamp runs fore and aft on the head, and not left to right. This means that if you have a non-square Arca-Type baseplate on your camera body already, perhaps an L plate, this will actually be running in the wrong direction to connect the camera body directly to the head.
To solve this you'll either need to make use of the included Arca plate and mount it perpendicular to the plate that's already on the camera (you could also remove the existing plate) or mount another clamp onto the plate at 90 degrees to the existing one. Much of this depends on how you'll be using the head. If you just want to use it as a gimbal substitute with collared lenses, as in my photos of it with the Canon 100-400mm, then the clamp runs in the correct direction. If you want to use it for all kinds of video shooting and mount the camera body to the head, you'll probably have to commit to using the plate that is provided with the head, even if you already have a plate on the camera. It's not a big deal, but it needs a bit of forethought.
Once I got the camera mounted to the head, though, I noticed something was missing. Earlier on I mentioned that you need to level your tripod head for video shooting, in order to make sure your panning motion is level with the horizon. Unfortunately, this Gitzo 2-Way Head does not provide you with a bubble level to make sure that is the case.
That's a definite disappointment on a $300+ fluid head. Even the most basic Manfrotto heads that sell for around $140 have a bubble level, so I really can't imagine what they were thinking when they decided to omit this simple feature. A bubble level costs just a few cents! You can solve this by putting a hot-shoe bubble level on the camera, but for this price, a built-in solution should absolutely have been designed into it.
On the right side of the head is an attachment for the removable panning handle. Much like the head itself, I was also pleasantly surprised by how lightweight the handle was. It's definitely light enough that you could tuck it into your bag "just in case" and not really notice its presence. If you're shooting video you'll definitely want to use the handle to get smoother results, but if you are using the head as a gimbal alternative you won't need as you'll have your eye to the viewfinder and finger on the shutter button.
On the left side of the head is a pair of nicely sized knobs for controlling the friction of the panning and tilting motion. I really like this design, having both knobs in the same place, and I think it's much better than the standard video head design that sees the panning lock knob positioned on the panning base. It's just nice to have them so close together so that you can unlock both axis quickly without moving your hands around too much.
Now, I use the word "lock" here, but perhaps this isn't quite true. Strangely, I discovered that it's actually impossible to really lock the motion of these two axes, even if you turn these knobs very hard. As someone that is used to using a ball head or a gimbal that can be locked absolutely solidly, this was a real surprise and a disappointment.
The head isn't extremely loose when these knobs are tightened, but I definitely wouldn't call it locked. If you had a camera on it and you put the tripod on your shoulder for a few minutes of walking, you're definitely going to find that the tilt axis has sagged and the pan axis has rotated slightly.
Some people might toy with the idea of pushing the limits of usage of this head and using it for static landscape photography as well as the other usages I have described. After all, a head is simply a way to connect a tripod to a camera, and angles can always be adjusted by changing the length of the tripod legs. While this is a nice idea to create a one-head-to-do-it-all setup, I absolutely wouldn't recommend this head for that purpose, based on the inability to solidly lock either axis. You would definitely stand a chance of getting some pan or tilt creep during a long exposure shot. For the same reason, I wouldn't recommend this head to anyone that plans on doing a lot of timelapse photography. I would definitely worry about pan or tilt creep during the duration of the timelapse. A standard locked-off ball head would be much better for that purpose.
On the back of the head, you'll see another knob to engage a counterbalance system, something that is not often seen on cheaper fluid heads or heads that are this small. Essentially what this does is to allow you to balance your camera on the head whilst not necessarily placing the centre of gravity directly above the head. If the centre of gravity is necessarily fore or aft of the head due to the placement of the Arca plate, you can counteract this with the counterbalance system. This creates an overall smoother motion when moving through the tilt axis, and I found it to work well with smaller DSLR camera setups. Gitzo specifications report that it will balance an off-centre load up to 2.5kg (5.5 lbs).
In use I found the pan and tilt motions to be acceptably smooth with my DSLR and smaller loads, but I was able to push those limits fairly quickly when trying it with a larger load (my 400mm f/4). Initially, this confused me because the overall weight of my camera and lens setup was well below the 8.8lb limit, yet I definitely had issues getting perfectly smooth motion with that larger setup.
In the end, I decided that the weight limit for the usage of this head must assume the weight is all directly centred over the head. When you have a very long lens setup hanging mass well out in front of the head, there is more force applied to the head due to the moment that is created by that mass. Think back to high-school physics class…
With there being no standardized way to test useable tripod head capacities people really have to rely on people like me, or do their own testing. My conclusion after testing this head is that the 8.8lb quoted limit is too high for acceptable results if you go pushing that limit. A RED 8K cinema camera with a lens would come in below this limit, yet I guarantee you that if you're a RED user, you won't be happy with the results you get from this head. It's just not as simple as weighing your rig and comparing it to the quoted limit.
Likewise, if you put a tiny lightweight mirrorless camera on the head and attached a big 6lb super-telephoto lens, you might be technically under the weight limit, but you won't get great results.
My advice is to stick to DSLRs and mirrorless cameras with lenses no bigger than a 70-200 or a 100-400. And then if you do use those lenses, you must balance them perfectly using the counterbalance system, or by mounting the foot of the tripod collar to the head, not the camera body.
In other words, I think a more accurate useable maximum load for this head is somewhere in the 5-5.5lb range for optimal results. If you stick to these smaller setups then this is a really great little head for video and wildlife photography.
Pros and Cons
Pros
Extremely compact and lightweight for a fluid head
Shape makes it easily packable into a camera bag as secondary head
Smoothly damped movement with lighter loads
Arca-Type clamp makes it easy to attach stills cameras
Cons
Pan and tilt axis tighten but do not lock
No bubble level
Useable load capacity appears exaggerated for best results
Conclusion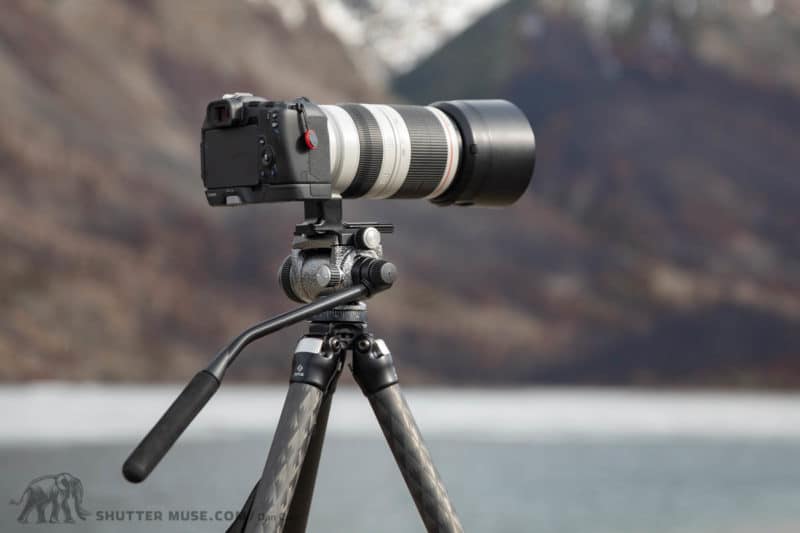 I love the physical design of this head and feel like Gitzo did a good job cramming a fluid dampening system and counter-balance system into a head with these proportions. I particularly like the fact that once the panning handle is removed, the head takes up roughly the space of a typical medium-sized camera lens. It, therefore, fits easily into the slots in my camera cases when I want to carry it as a second head for occasional video shots alongside my stills work. If I was also travelling for an extremely lightweight wildlife shoot with only a 100-400mm lens, I could definitely use this head instead of my usual larger and much heavier gimbal head.
Overall, I think this is a great head if you keep your maximum camera size and weight down at around that of a DSLR and a 70-200 f/2.8 or a 100-400mm. If you push past that and try and maximize the claimed 8.8lb max capacity, panning performance falls off and you'll start to have issues with not being able to sufficiently lock the two axes. It's definitely unsuitable for usage with big super-telephoto lenses even if they technically fall within the weight limit.
Finally, I should also say that having used it for a few weeks, I'm now planning on buying this head myself. That's certainly not an endorsement that gets made at the end of all my reviews, but I can really see this being a useful addition to my kit and it'll be replacing an old Manfrotto video head that performs similarly but takes up twice the space in my bag. I'm always looking to downsize my gear and this will definitely do that.
Where to Buy
The Gitzo 2-Way Fluid Head is available from B&H Photo and Amazon with these links.