Over the years I have tested many hard drive and memory cards, and it occurred to me this week that I've never written a post about the freely available software that you can use to do these kinds of tests yourself. Whilst you might not want to delve deep into reviewing these kinds of products (you can leave that to the real photo nerds like me), it can be useful for testing your memory cards and hard drives when you suspect that one of them might be faulty. In the past, I've also found it useful in testing possibly faulty USB and Thunderbolt cables. If two different cables are giving you vastly different results, you know there's an issue. This kind of thing is becoming more and more useful as we enter the murky and sometimes confusing world of USB-C, which features several different standards (3.0, 3.1 Gen.1, 3.1 Gen. 2) that all use the same type of cable and often require specific cables to get the best results.
Incoming Caveat
I did some SD card speed testing recently and I wasn't able to reach the specifications that were quoted by the manufacturer. Having a good rapport with this particular company already, I reached out to them to ask them why that was. The problem with quoted card speeds is there is no industry standardized testing. This particular SD card company was able to share internal testing results with me that showed their cards registering vastly different speeds when being tested on a Mac, a PC and a Linux machine. In other words, the software and hardware that's used for testing can have a big impact on the result. In my experience, software doesn't seem to make all that much difference. I have regular tested the same drive or card with multiple applications, and got nearly identical results. From what I was told though, it does seem that Mac/PC/Linux thing makes a difference.
What does this mean for you? Well it means that you can probably perform some comparative testing between the cards or drives you own, in order to figure out which ones are fastest, or which ones are broken. As long as you use the same software for all of the tests then the comparative result will be useful. BUT, you probably can't place so much confidence on the actual figures, and it's quite likely that they won't exactly match the speeds quoted by the manufacturers.
One thing you can be a bit more confident about is the read speeds from the cards. High read speed is useful because this is what is one of the things that determines the speed at which data can be copied from your card onto your computer. You can really save time in your workflow if you are using a fast card when regularly downloading large capacity cards. In this instance you can perform the testing with the software mentioned on this page, and then perform a second test to verify the results. For this second test, just grab the biggest file you can, probably a large video file, and put it on the card. Then copy it off the card to your hard drive onto a good, fast SSD. You need to copy to an SSD, such as the internal drive on all recent MacBook Pros, because the write speed for the drive that you are copying to needs to be faster than the read speed you are expecting from the SD card. It's no good trying to copy your file off the fast SD card, but putting it onto a slow hard drive that only gives you 90MB/s write speed, because that's the speed you'll end up being limited to. If you are unsure, you can test the drive speed with the software first!
If you do that, you'll have a good idea of the actual real world performance you might expect from your card in terms of read speed. As for write speed, you could do the same thing, but it's likely that this will be less useful because we don't really know how file writes occur within the camera, nor can we test or verify that.
My Favourite Software
Unlike most other software that is useful for photographers, the best programs for testing drive speed and memory card speed are actually free! In fact most of them don't even offer a more powerful paid version of the program, so it's not as if you are getting a dumbed down free version where you are forced to upgrade to get the useful features. My favourite programs are 100% free, and created by major, trusted brands.
1 – AJA System Test
This is the program I use most often – AJA System Test. It's free, simpler then other options and available for both Mac and PC. It also shows you some useful graphs of read and write speed over time. I always test everything multiple times to figure out an average, and what you also want to see is that the shape of the rad/write graphs also remains consistent. If you see something vastly different in one of the graphs then it can indicate a problem. As with all good disk testing software, you can choose the size of the file that it writes to your card or drive during the test. The reason you want to do this is that speeds often vary from small files to much larger files. In the screenshot below, you can see I selected a single 4GB file. Once you press the start button, the the software begins to write a temporary 4GB file to your card or drive and monitors the rate at which it can do so. Once the test is over, the temporary file is deleted.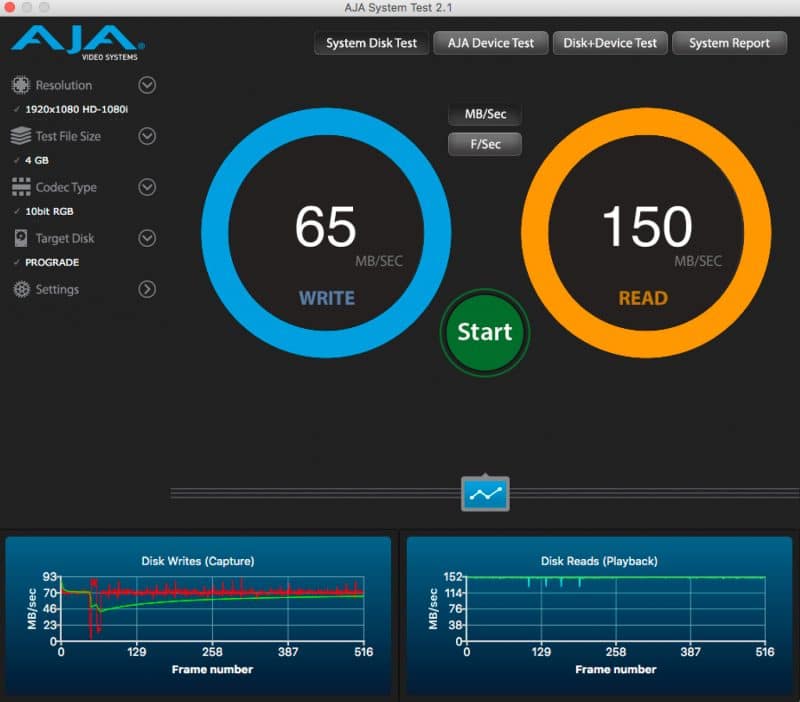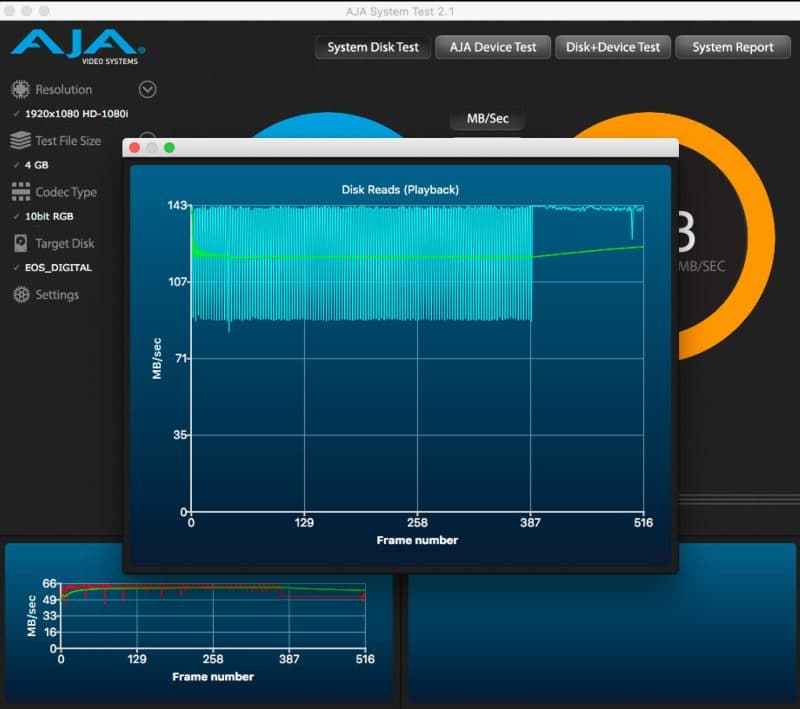 Blackmagic Disk Speed Test
Available on the Mac App Store, Disk Speed Test from Blackmagic Design is a little more video oriented, although if you don't care about that you can still see pretty simple results for read and write speeds. As you'll see from the image below, it calculates the possible data rates that can be used with your card or drive, and then lets you know whether specific video codecs could be recorded or played back without issue.

CrystalDiskMark
This software is only available for a PC, unless you are running Parallels on your Mac. You can get it from their website, but if you are worried that the website is somehow sketchy (because frankly it does look awful), you can also get it from the Microsoft store. What's nice about this software is that you can set up a series of different tests for different file sizes, and then run them one after the other to visually compare the results.