I'm always looking for new solid-state drive technology, and the OWC Envoy Pro FX caught my eye. I have tested several OWC storage products in the past and always found them reliable, well-made and reasonably priced. Aside from the occasional review samples provided by OWC, such as the Envoy Pro FX that we'll be looking at today, I regularly buy their storage products for use in my office. Their RAID arrays hold my entire photography archive. That is to say; they are a brand I trust.
So why did this particular SSD catch my eye? Although fast, it wasn't the 2800MB/s speed that jumped out at me. It was the drive's ability to connect to any computer using either USB or Thunderbolt. Drive speeds of 2800MB/s have been seen before; this is nothing new. But some drives that offer such specifications use Thunderbolt-only connections. This means that you cannot connect those drives to all USB ports. This can be an annoyance if you want to move the drive between a new Mac and an older Mac or plug it into one of the many PCs with no Thunderbolt connection.
With the Envoy Pro FX, OWC has solved this problem. The Type-C connection on this drive will connect to Thunderbolt 3 or Thunderbolt 4, offering a 40GB/s connection. When connected to a USB Type-C or Type-A port, the protocol switches to USB 3.2 Gen 2, offering a 10GB/s connection.
This means you can plug this drive into any Mac or PC, or even a Linux computer, and it will work. And you can do it all with the single, universal cable that comes in the box. In this review, we'll take a closer look at the drive, compare it to some of the other SSD options on the market and run it through some speed tests over both USB and Thunderbolt connections.
Specifications
Operating Temperature Range: 41°F to 95°F (5°C to 35°C)
Non-Operating Temperature Range: -4°F to 140°F (-20°C to 60°C)
Altitude Operating Range: -304.8 m to 3,048.0 m (-1,000 ft to 10,000 ft)
Non-Operating Altitude Range: -304.8 m to 12,192.0 m (-1,000 ft to 40,000 ft)
Weight: 236.0 g (0.52 lbs)
Dimensions (HxLXW): 2.0 cm (0.8 in)x11.0 cm (4.3 in)x6.5 cm (2.6 in)
Bus-Powered: Yes
IP67 rated (dust-proof and submersible in up to 1m of water for up to 30 minutes)
MIL-STD810G drop standard compliant
Aluminum case
Available Capacity: 240GB, 480GB, 1TB, 2TB
Thunderbolt 4 Cable Included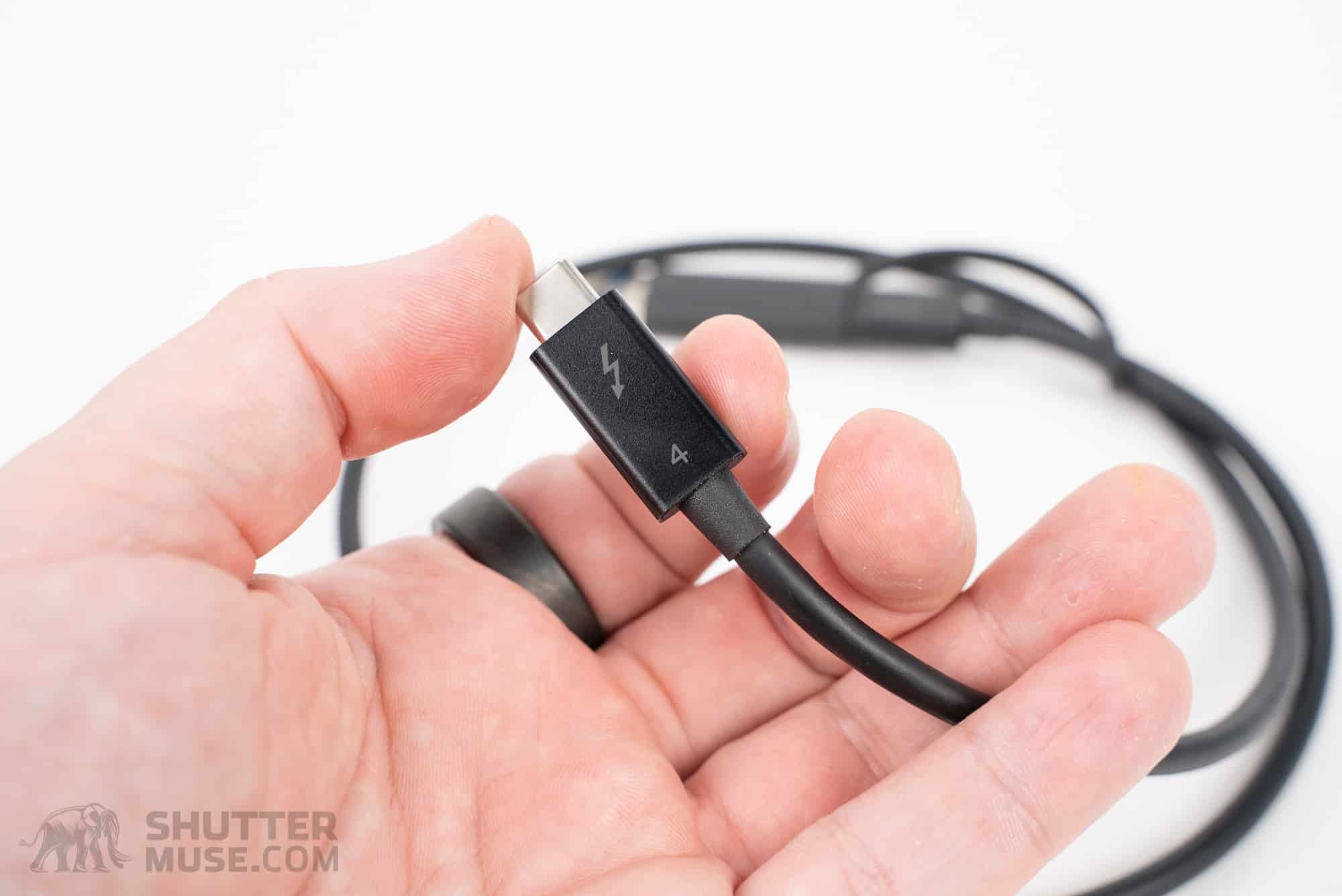 In the box, you'll find a 0.7m Thunderbolt 4 cable with a tethered USB Type-A adapter. This one cable can be used to connect to USB Type-C and Type-A ports of any speed, as well as USB4, Thunderbolt 3 and Thunderbolt 4. A truly universal cable for today's modern standards.
Note: At the moment, the OWC product page and most third-party store listings say that the drive comes with a Thunderbolt 3 cable. As you can see, my review sample was delivered with a Thunderbolt 4 cable. I asked OWC about this, and they confirmed that from now on, a Thunderbolt 4 cable would be provided, as this is the new standard.
Drive Design and Features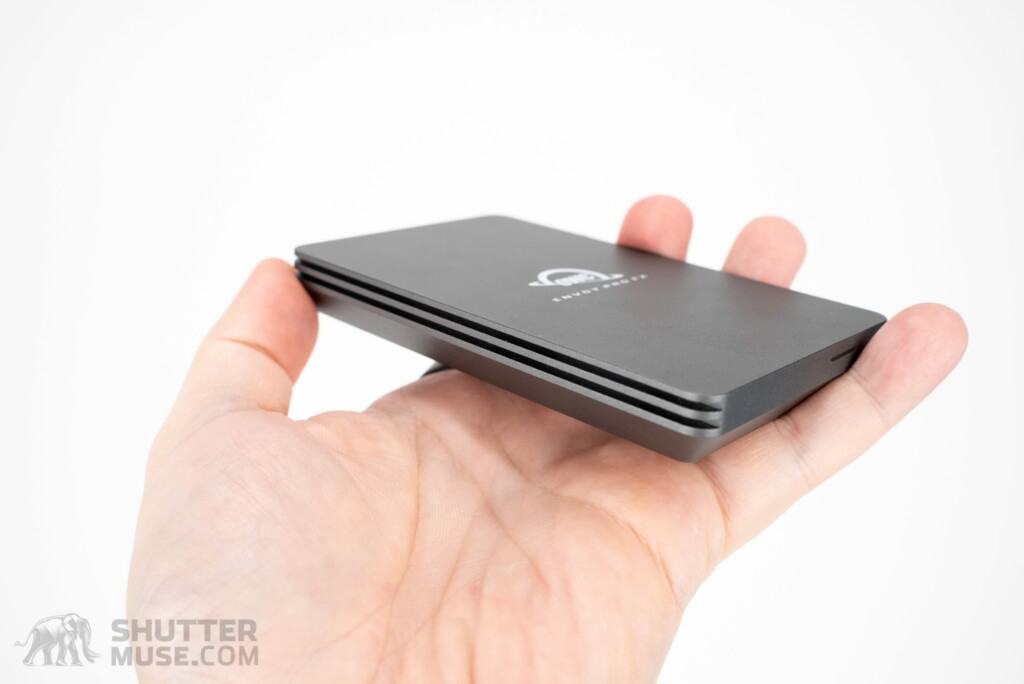 OWCs own Aura NVMe M.2 SSDs are housed inside the solid aluminium chassis of the Envoy Pro FX. The drive feels solid as a rock, and although I'm sure the grooves on the side are designed for heat dissipation, they add the futuristic, premium look of the product.
Being bus-powered, there is just a single port on the back of the drive. As discussed, this Type-C port can connect to Thunderbolt 3 or 4 ports for the fastest speeds and any USB port, delivering up to USB 3.2 speeds.
The front of the drive features a small LED that glows green when connected via USB and blue when connected via Thunderbolt. I thought this was a clever and subtly helpful feature immediately appreciated when I joined the drive to a Thunderbolt hub for testing. It featured five Type-C connections, three of which were Thunderbolt and two of which were USB 3.2. The LED on the front of the drive let me know I had connected the drive to the correct port.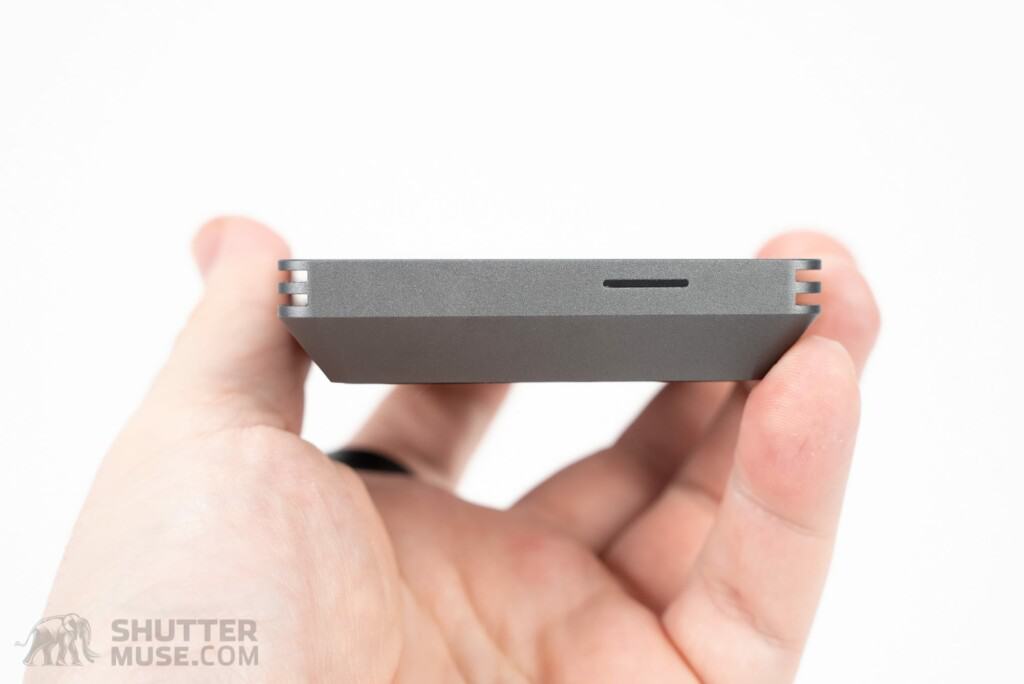 Envoy Pro FX Vs Envoy Pro SX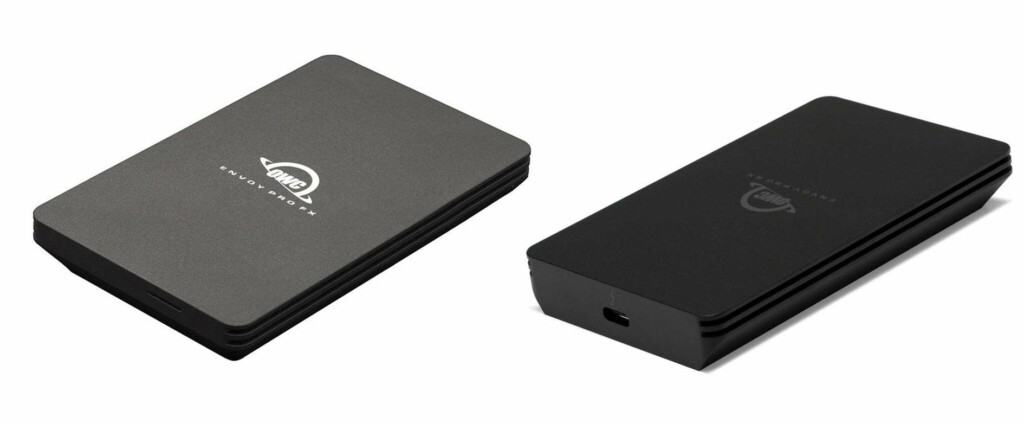 Update: The Envoy Pro SX has been discontinued now.
At first glance, the reviewed-on-this-page Envoy Pro FX looks very similar to the Envoy Pro SX. They are both the same size, conform to MIL-STD810G drop standards, IP67 rated for dust and moisture ingress, and both use OWC Aura NVMe SSDs. The only hint that these are different drives is their slight colour difference.
It's only when you dig a little deeper into the port specifications that things become more apparent. The Envoy Pro SX is a Thunderbolt only SSD. It will connect to a Mac or a PC with a Thunderbolt 3 or later port (Thunderbolt 4). On the other hand, the Envoy Pro FX can connect to Thunderbolt and USB ports. This means it can connect to Macs, PCs and even Linux machines using USB-C or USB-A ports with the USB 3.2 Gen 2 (up to 10 Gb/s) protocol. It can also connect to Macs and PCs using Thunderbolt 3 or later.
In Summary – Which should you buy?
Envoy Pro FX (reviewed in this post) – Universal connection. Connects to Mac, PC and Linux. Works with USB-C, USB-A and Thunderbolt 3 or 4 ports. Theoretical 2800MB/s.
Envoy Pro SX – Connects to Thunderbolt 3 or Thunderbolt 4 Macs or PCs. Depending on capacity, $40 to $50 cheaper than the Pro FX model. Theoretical 2847MB/s.
If you only ever plan to use the drive on a Thunderbolt 3 or 4 machine, you can safely buy the Envoy Pro SX. If you want universal compatibility with USB and Thunderbolt ports, get the Envoy Pro FX. In real-world use, the 47MB/s (1.7%) difference in theoretical max read speed will be unnoticeable.
Remember, while all recent Mac laptops only have Thunderbolt connections, those using the Mac Studio with an M1 Max chip or a Mac Studio display will also have several USB-C ports that are not Thunderbolt enabled.
Envoy Pro Elektron vs Envoy Pro FX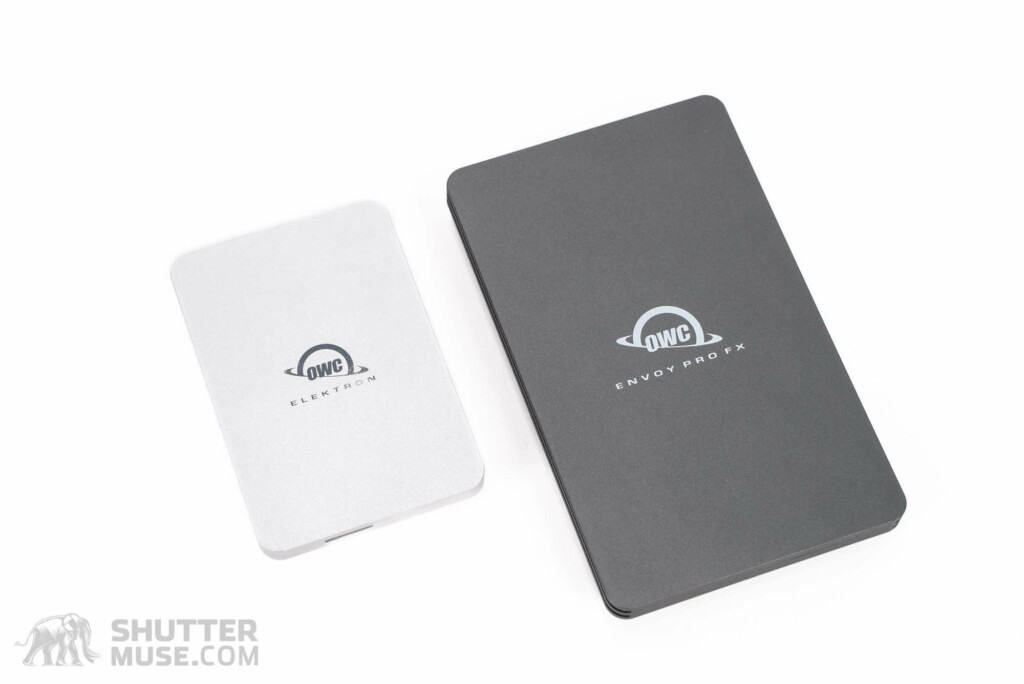 I have previously reviewed the Envoy Pro Elektron SSD on this site and found it a robust USB 3.2 10GB/s SSD solution. Like the Envoy Pro FX, the Elektron is also IP67 rated for dust and moisture protection and available with up to 2TB capacity.
The photos of the Envoy Pro FX on the OWC website do not offer any size comparison, and when my review unit arrived, I was a little surprised to find out how much larger it is than the Envoy Elektron. Although the Elektron only offers speeds up to 1011MB/s, compared to 2800MB/s for the Envoy Pro FX, the Elektron takes a big win in the size and weight department (85g vs 236g). If you plan on carrying a few of these drives in a bag while travelling with your camera, this is noticeable.
If you're looking for the ultimate combination of speed, portable size and rugged build, the Envoy Pro Elektron is still worthy of consideration. Of course, if you're editing 4k and 8k video, the faster Envoy Pro FX will likely win the fight for you. However, the smaller and considerably cheaper Elektron is still an excellent option for photographers or people who simply value the protection offered by the rugged Envoy lineup without needing to move massive files around at the speeds offered by the Thunderbolt-enabled Pro FX model.
Speed Testing
I performed a few tests on the Envoy Pro FX by connecting it to a Thunderbolt 4 connection on a Mac Studio and. Thunderbolt 3 connection on an older MacBook Air. I then connected it to a USB Type-C 3.2 Gen 2 connection on the front of an M1 Max Mac Studio.
Due to some recent controversy around the speed of USB-C devices on Macs with Apple Silicon and Thunderbolt ports, I also tested the drive again while connected to a CalDigit TS4 Thunderbolt hub with Thunderbolt 4 and USB Type-C 3.2 Gen 2 ports. I then repeated the USB tests one more time while connected to the Type-C 3.2 Gen 2 ports on the back of a Mac Studio display, which is also a hub connected to my Mac Studio via the display's Thunderbolt connection.
Of course, I never expect to reach the maximum theoretical results specified by the manufacturers in a drive speed test, but I'm confident that I have tested enough variations to conclude the speeds a regular user can expect in everyday use.
Thunderbolt Connection
M1 Max Mac Studio Thunderbolt Test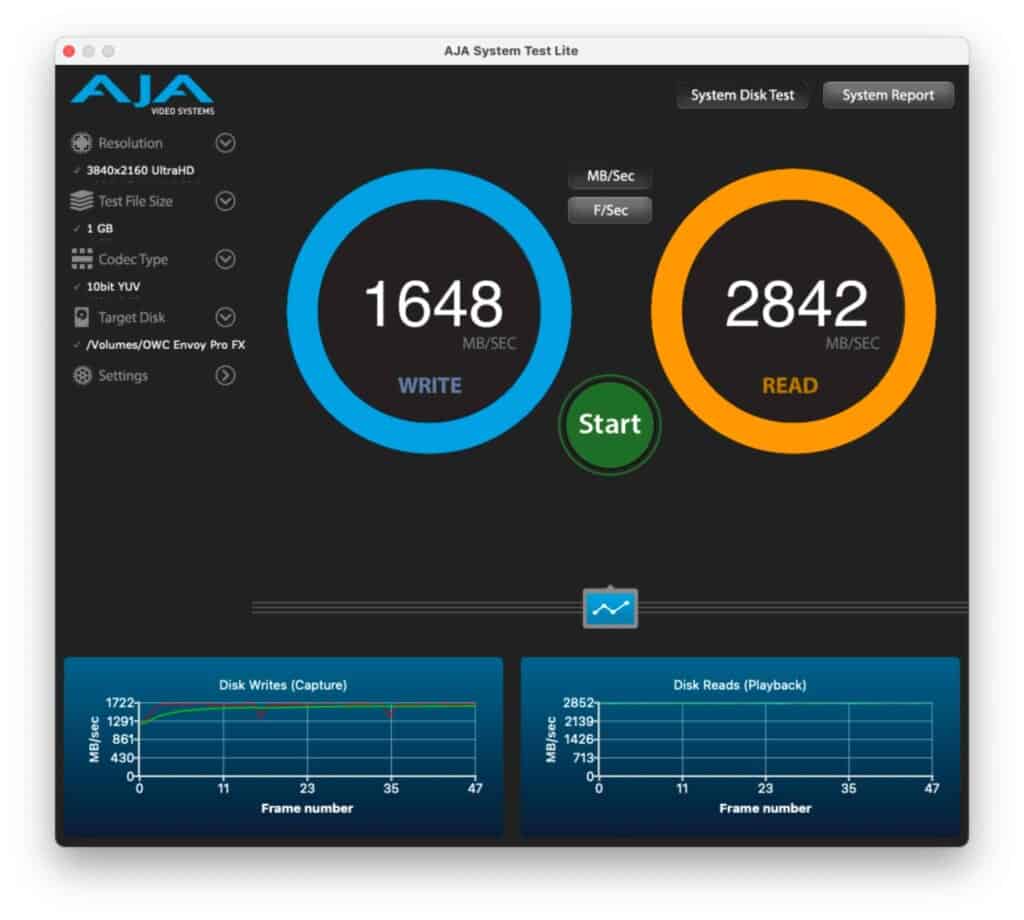 The claimed maximum read speed of the Envoy Pro FX is 2800MB/s. Usually, it would be the case that test speeds do not quite live up to the theoretical maximum figures provided by the manufacturer, but that's not the case here. I was shocked to find AJA's System Test reporting every result with the 1GB file stress test well above 2800MB/S! Astonishing speeds. Moving to a 4GB file test produced very similar results.
Even when I pushed the test to a 16GB file, which I don't usually bother to, I still saw read speeds that easily eclipsed the 2800MB/s mark when connected to the Thunderbolt 4 port of my M1 Max Mac Studio. So far, this is the fastest SSD I have ever tested.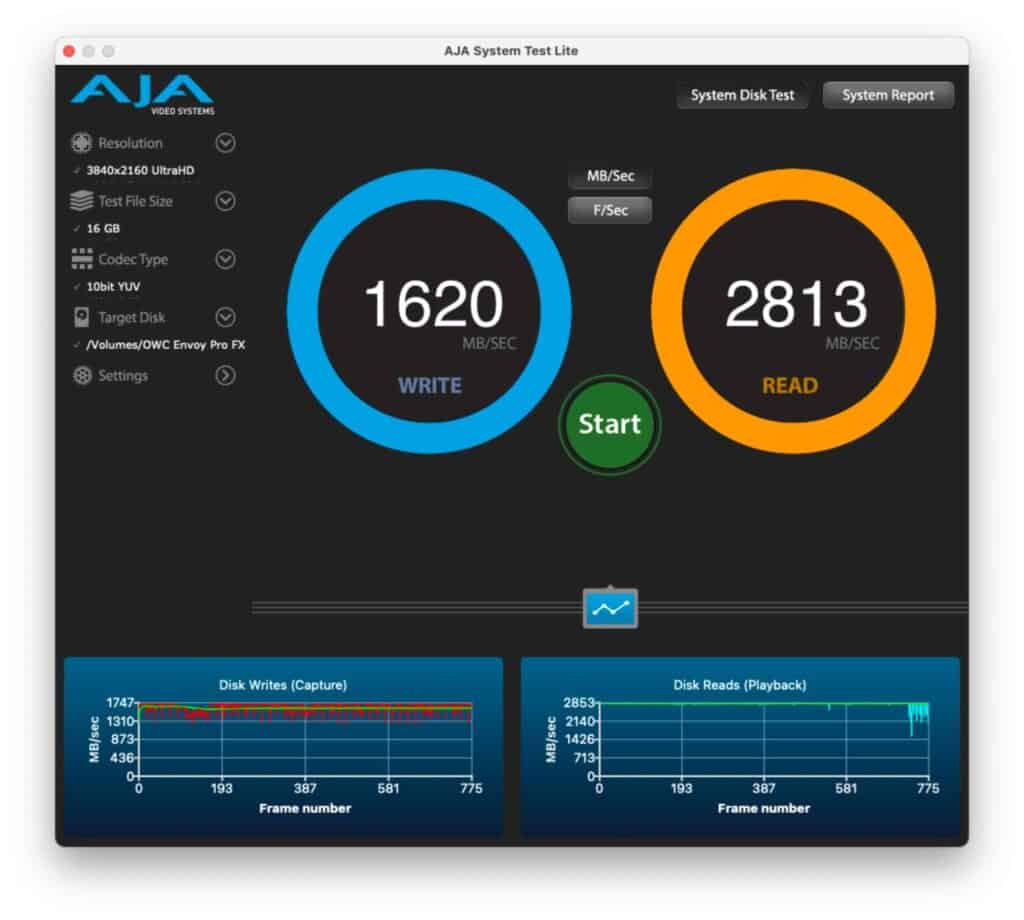 Intel Macbook Air Thunderbolt Test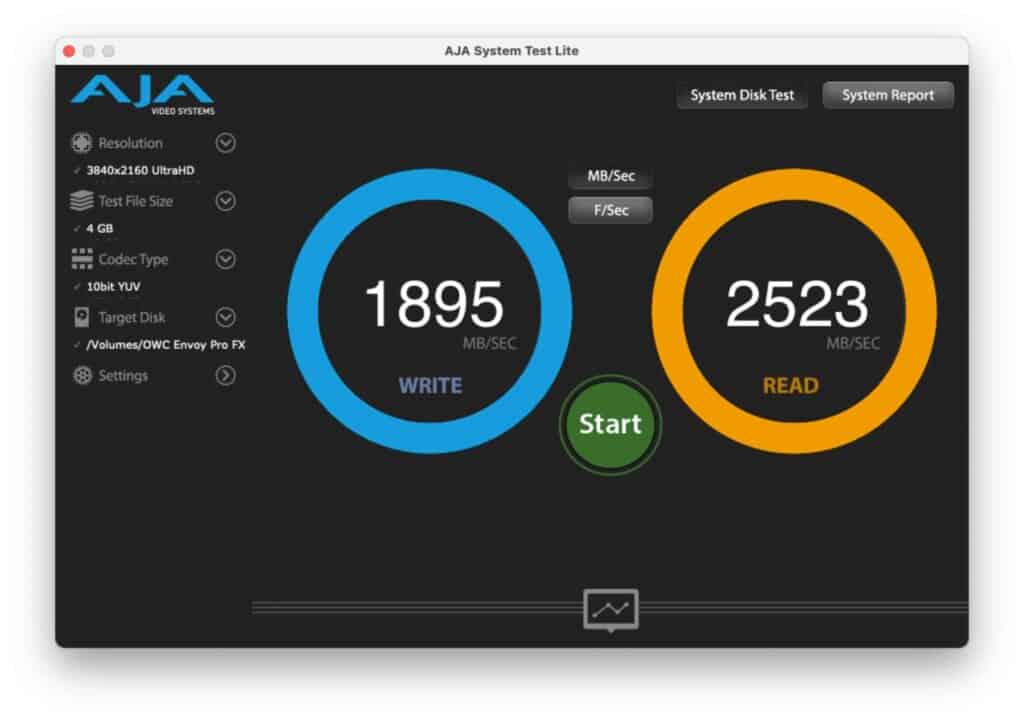 Curious how much of this performance was down to the new Apple silicon architecture, I re-ran the Thunderbolt tests using an Intel Macbook Air. Curiously, I saw faster write speeds across the board with the Intel machine, but the read speeds lagged way behind those seen on my M1 Max Mac Studio. None of the results is bad, but it shows how much of a difference the chip architecture and overall machine power make to read and write speeds.
USB Connection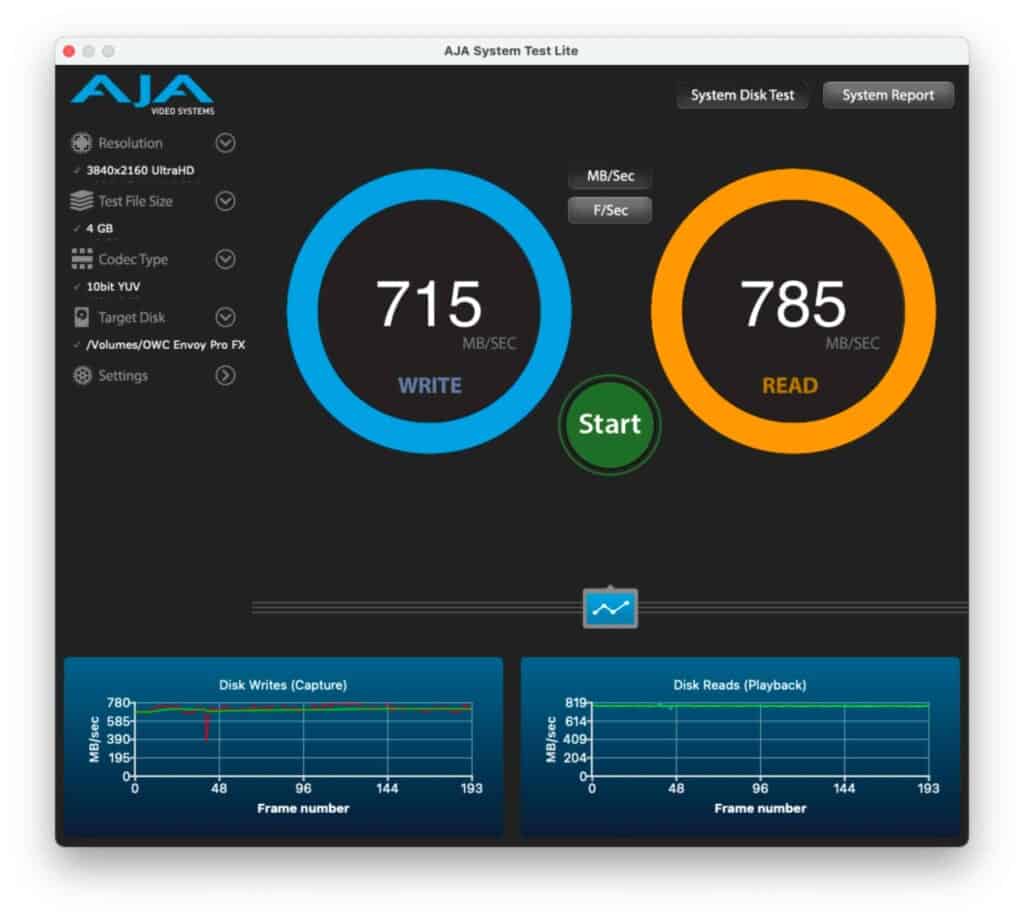 My Macs all have native Thunderbolt connections, so the best way to test the USB connection speed was to plug the drive into a USB 3.2 Gen2 port on a CalDigit TS4 Thunderbolt hub. With the Intel Macbook Air, I could produce results that are roughly in line with what I would expect from a good USB Gen 2 SSD at just below 900MB/s.
The tests with my M1 Mac Studio were another story, but I'm not blaming OWC for this. There have been widespread reports that Apple's M1 Macs cannot deliver maximum speed from USB 3.2 Gen2 devices, and my testing showed just that. Read and write speeds over USB with the M1 Mac were over 100MB/s slower than the older Intel Mac.
I don't want this SSD review to become a review of Apple silicon devices. I think we can say that Apple has prioritized Thunderbolt connections with the development of their new silicon platforms. This will probably not be a problem for most Mac users in the real world. MacBook Pros have 4x Thunderbolt 4 ports on them, as does the Mac Studio. Most Mac users are going to find a Thunderbolt port to use with this drive.
As a Mac user, if you find yourself short on Thunderbolt ports, it's best to get one of the many Thunderbolt 4 hubs on the market to expand your system. OWC make several themselves, as do CalDigit.
Conclusion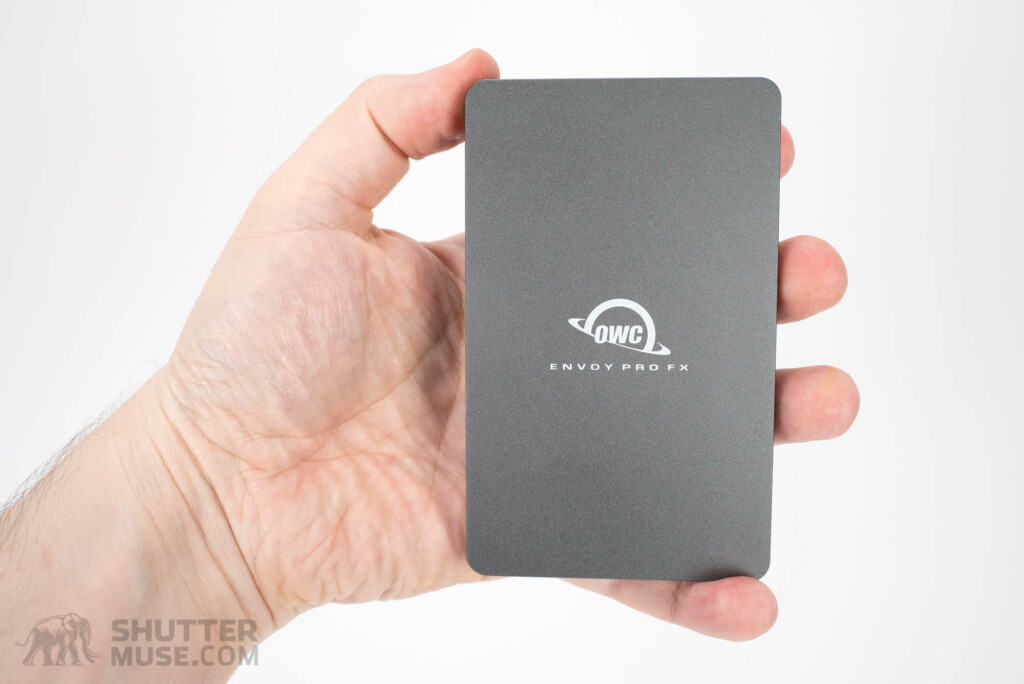 The problem with some portable Thunderbolt SSDs, such as the G-Drive SSD Pro, is that they only work when connecting them to a Thunderbolt port. The OWC Envoy Pro FX solves this problem with a universal Type-C connection that allows you to connect it to Thunderbolt, USB-C or USB-A ports on a Mac, PC or even a Linux machine.
When connected to a USB port, you'll get the speed of a USB 3.2 Gen 2 device. When connected to a Thunderbolt 3 or Thunderbolt 4 port, you'll see the drive's full potential, which in my testing was over 2840MB/s in real-world use. In the creative industry, where drives are often passed around between agencies or workstations, this universal ability to connect to any machine with a USB or a Thunderbolt port is beneficial.
On top of the speed and universality, the Envoy Pro FX is also incredibly durable. It is drop-proof to MIL-STD810G military standards and IP67 rated, which means it can withstand submersion in up to 1m of water for 30 minutes. In short, this combination of features and performance easily earned the Envoy Pro FX a spot on our list of top backup drives for photographers and creative professionals.
Although prices for the 240GB, 480GB, 1TB and 2TB drives are not cheap, ranging from $269-$549 at the time of this review, they are competitive. This makes the Envoy Pro FX more affordable than the Thunderbolt LaCie Rugged SSD Pro and comparable with the G-Drive SSD Pro, neither of which offers the same kind of universal connectivity seen on the OWC drive. The only change I'd like to see is adding a 4TB option to the lineup.
Where to Buy
I would buy directly from OWC if you can. They offer incredible support and service, which is why I often choose to spend my own money on their products. You can also find their products on Amazon and B&H.