With greatly diminished port selection on most modern laptops, a USB hub or "dongle" of some sort has become a necessity in everyone's laptop bags. Over the past few years, I have taken an interest in this topic and tried to find the best USB-C hubs that I can recommend to photographers.
Recently OWC (Other World Computing) asked me if I'd like to take a look at their refreshed USB-C Travel Dock, and since it features a built-in SD card reader I gladly accepted. In this review, I'll walk you through the features and explain the good and not so good about this travel-friendly laptop accessory.
Specifications
5 ports of connectivity: (2) USB 3.1 Gen 1 (Type-A), (1) HDMI, (1) SD card, (1) USB-C power pass through
Power options: Bus powered or use existing USB-C power adapter
Charge while working: Up to 100W pass-through power for a notebook or other devices
Built-in cable storage
Compatibility: USB-C and Thunderbolt 3 notebooks, tablets, and devices running macOS, Windows, Linux, iOS, Android, and Chrome OS
Aesthetically I found the Travel Dock to be a bit mixed. In the photos below you will see three side views which show off the shiny Space Grey sides. From these angles, it has an Apple-esque look to it, but the top view of the dock shows a boring black plastic square that was prone to gunk smudge and fingerprints. It's not my favourite looking dock, and given the number of docks on the market, I think people can afford to be quite picky. Perhaps this is just my personal taste. YMMV.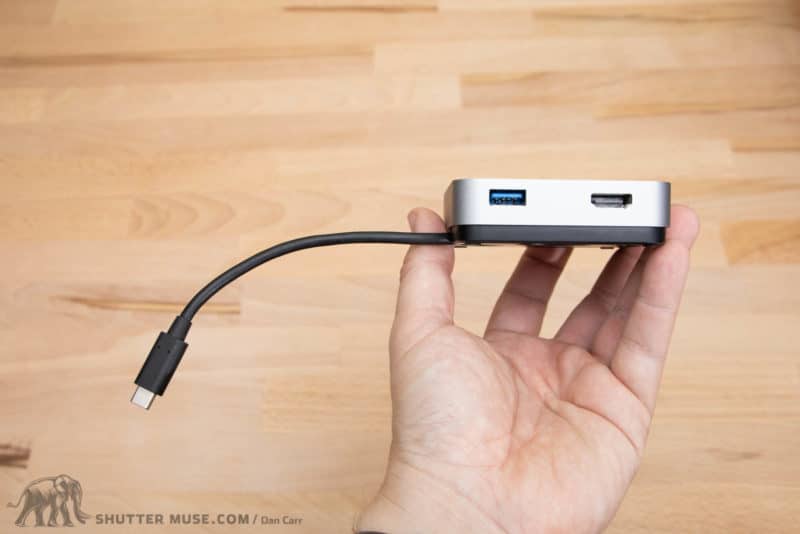 The port selection on the Travel Dock is quite minimal. You get an HDMI port, a pair of USB 3.1 Gen 1 ports, a UHS-II SD card reader and a USB-C input for the power pass-through. Although this does tick a lot of the major boxes that people will need, there are certainly other USB-C hubs on the market that include a lot more than this. Many of them come in cheaper than the $54 price point of this dock, such as the Anker 8-In-1 hub, which even manages to squeeze in an ethernet port, a Micro SD port and an additional USB-C 3.1 Gen2 port.
Flipping the dock over you can see a space to store the attached USB-C cable. I'm in two minds about this feature because the required channel for the cable adds to the already-quite-bulky size of the dock. It's also a little fiddly to put the cable into the slot, and frankly, I never bothered to do it after day 1. I just threw it into my bag where the short cable never gave me any issues.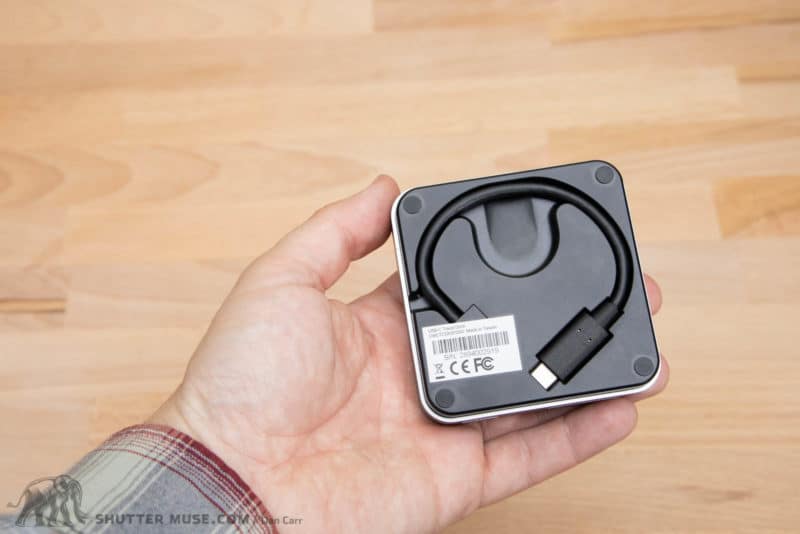 Compared To Other Hubs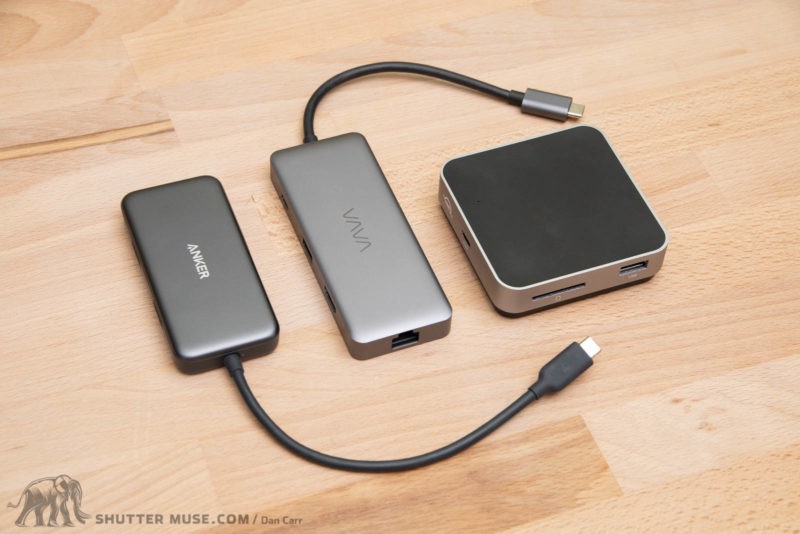 I found the square shape of the Travel Dock to be much bulkier in my laptop bag than any of the other USB-C hubs I have tested in the past few years. Laptop bags tend to have small internal pockets to slide in things like card readers, hubs and cables. The OWC Travel Dock is at a disadvantage here because of its shape, thickness and the relatively sharp edges of the design. It simply didn't fit as well into any of my laptop bags when compared to my other hubs. Ironically, even though this is called the Travel Dock, it has spent more time on my desktop plugged into a Mac Mini. Its broad-based chunky design seemed much more at home there.
Some of the additional thickness of the hub is likely due to the cooling that is necessary with 100w of pass-through power, but it doesn't explain it all. In the comparison photos here, the VAVA hub in the photo also has 100w of power pass-through and it is roughly half the thickness. I also weighed both the VAVA hub and the OWC hub and found the latter to be twice the weight.
I'd like to see OWC work on the sizing and weight of this hub in the future if they are going to insist on giving it the Travel moniker. If it's going to compete on even terms with the other options on the market, it either needs to lose some of that bulk or add some more ports to justify it.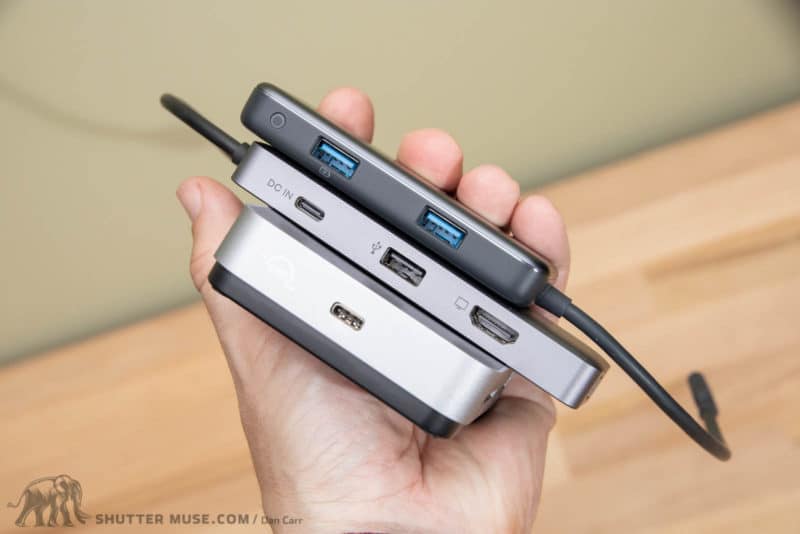 No Connection Disruptions
Having tested quite a few USB-C hubs there one issue that I have constantly come across. In most cases with hubs that feature power pass-through, if you disconnect the USB-C power input, any connected devices that are plugged into the USB ports on the hub will be forcefully and immediately ejected. Of course, this could be a major frustration if you are running backups to connected USB drives, or downloading photos from a memory card reader. Perhaps all you wanted to do was move your laptop across the room, and now everything has been ejected.
In the past, this problem has forced me not to recommend several other USB-C hubs, full stop. But I'm happy to say that the OWC Travel Dock does not suffer from this problem! This is excellent news, and alongside Anker, OWC is only the second company that I have experience with, who has figured out this problem.
Conclusion
The OWC USB-C Travel Dock is a capable travel companion for people on the go. Whether or not this is the right choice for you in an increasingly crowded marketplace, will depend on which laptop you are planning on using it with.
If you use a MacBook Pro 15″ or 16″, you're probably going to want to get one that has 100w so that might steer you in the direction of the Travel Dock. If you are using a smaller laptop such as a 13″ MacBook Pro or a MacBook Air, you should probably consider one of the much smaller options that are available from people like Anker, and feature 60w of pass-through.
Even if you do want 100w, it's still worth taking the time to examine the other options out there. The OWC Travel Dock doesn't stack up all that well against the competition when you look at the number of available ports or physical size. It's definitely possible to get something smaller, with more port options and for the same price or less if you check out the usual suspects such as Aukey and Anker on Amazon.
What you do get with OWC is a product from a US company and the easy-to-reach technical support that they are known for. I'm sure for some people that will swing the tide back again, and you can be sure you're getting a solid and reliable product.