On the test bench this week is the OWC Envoy Pro Elektron SSD, provided for testing by Other World Computing (OWC). This tiny, pocket-sized solid-state drive features the latest NVMe M.2 technology and a universally useable USB-C 3.2 connection that delivers up to 10Gb/s.
Why Photographer and Videographers Should Use Tough Drives
I have always been a big proponent of using so-called "tough" drives for digital content creation. Most drive manufacturers offer specifically designed tough drives or tough versions of their regular drives. Yes, these drives are more expensive than regular drives, but when you take a close look at the pricing, the difference is often less than 30%, equating to just a few tens of dollars.
If you are spending thousands of dollars to travel to the perfect location, or a client is paying you thousands of dollars to capture their perfect day, or a perfect moment, do you not think it is worth spending a few extra dollars to protect yourself from accidents? To me, it seems like a complete no-brainer. It often baffles me why people will happily use a camera setup that is worth $5000 but then shies away from spending an extra $40 on the drive that will hold their photos.
Me? I'm not risking it. Throughout my whole career, I have chosen to use tough drives from the likes of LaCie, OWC, G-Technology, Sandisk and ioSafe. Of course, drives that stay on my desk are a different kettle of fish, but it the drive is leaving my office, it's going to have some sort of protective design and a minimum of IP55 dust and water protection.
Now I've had my usual pre-drive-review rant, it's time to take a close look at this year's contender for the crown of best rugged drive for photographers.
Envoy Pro Elektron First Impressions
This Envoy Pro Elektron isn't just tiny, it's also tough. The drive is IP67 rated, which means that it is impermeable to dust and capable of being submerged in up to 1m of water. Although there is no IP rating for crush resistance, OWC confidently calls this drive crushproof, too.
While there surely must be some theoretical limit to that crush resistance, after handling this drive you will quickly realize that this is a moot point. The solid metal case of the Elektron is incredibly thick and much heavier than you would expect. It is clearly capable of withstanding enormous crushing loads far beyond what people are likely to encounter in the real world. It honestly feels, and looks, just like a solid brick of metal with a USB port in it. It's awesome, and I'm not sure that's something I have ever thought to say about something as mundane as a backup drive!
If you are the kind of content creator who often finds themselves in an extreme environment, or travels in a way that might expose your drives to bumps and knocks, you definitely need to take a look at this drive. I would have no qualms about throwing this thing in my pocket or simply dropping it into the bottom of a camera backpack, duffle bag or Pelican case.
Speed Testing
OWC list the theoretical maximum speed of this drive as 1011MB/s. With so many variables at play in these testing scenarios, you are never going to reach the absolute maximum speed quoted by a manufacturer, but you would hope to get close.
In my testing of the Envoy Pro Elektron I was able to repeatedly achieve write speeds of 949MB/s, and read speeds of between 930MB/s and 938MB/s. These results are less than 1% deviation from OWC's quoted speeds, so I would classify this as a very good result.
It is worth underlining that most M.2 NVMe drives are going to give you very similar speeds during a test like this. At this point in the technology cycle, though, it's more likely that someone is going to be upgrading to a drive like the Elektron, from a 2.5″ SATA SSD or a PCIe SSD. Perhaps even a good old-fashioned spinning disk hard drive like the popular LaCie Rugged drives.
Compared to previous generations of solid-state drives, M.2 NVMe SSDs like the Elektron are roughly twice as fast. The same goes for 2.5″ SATA SSDs – the Elektron is twice as fast. Compared to a good quality portable 2.5″ HDD (hard disk drive), an M.2 drive like this OWC Elektron will be roughly eight times faster!
Imagine offloading photos from your camera's memory card onto an external drive, and being able to do it eight times faster because the drive you are writing to has a write speed that is eight times faster! Not to mention the speed increase for everything else in the workflow, such as thumbnail generation and saving your final edits.
OWC Elektron Vs. Sandisk Extreme Pro SSD
If you're in the market for a highly portable NVMe SSD with USB 3.1 Gen2 speeds, then you'll surely be considering the previously reviewed Sandisk Extreme Pro SSD. During my testing of this newer Sandisk SSD I found it to be a considerable upgrade over the previous generation of non-Pro Sandisk Extreme SSDs (also reviewed here).
The Sandisk Extreme Pro SSD uses the same NVMe technology as the OWC Elektron, combined with the same USB 3.1 Gen 2 USB-C interface to deliver a claimed-by-Sandisk speed of up to 1050 MB/s. In my testing, I was able to achieve 957MB/s. Not bad at all.
Comparing the physical properties of these small drives we can see from the photos that the OWC Elektron is quite a bit shorter than the Sandisk drive, but the Sandisk is nearly half as thick. On the portability front, I don't really think you could call either one a winner over the other. They are both easily pocketable, and I'm sure nobody is going to have trouble finding a slot in their laptop bag for one of these.
On the subject of robustness, though, the OWC is a clear winner. The OWC Envoy Pro Elektron drive feels like a solid piece of metal that could stand up to a real beating, where the Sandisk drive feels delicate and slightly flimsy.
This difference in ruggedness is borne out through the specifications, too. Where the OWC drive is crushproof, dustproof and carries an IP67 rating, the Sandisk is only rated to IP55 for water and dust resistance, while making no claims at all to being crushproof. You can submerge the OWC drive in water and drop it in the mud, but the Sandisk drive will only stand up to what amounts to water splashes. For people looking to use these drives in extreme locations, those things will make a big difference.
IP Rating Reference
IP67 – Protected from total dust ingress. Protected from immersion between 15 centimetres and 1 meter in depth.
IP55 – Protected from limited dust ingress. Protected from low-pressure water jets from any direction. No submersion.
On the subject of price, you would be forgiven for assuming the OWC Elektron will be more expensive, with its solidly constructed metal chassis. But you'd be wrong. The as-tested 1TB Envoy Pro Elektron retails for $199, while the 1TB Sandisk Extreme Pro SSD retails for $30 more, at $229.
The 2TB Elektron is $369, while the 2TB Sandisk is $349, so there is a slight swap in the other direction at this higher capacity. But the Elektron has lower-priced entry points with its 240GB and 420GB versions coming in at $99 and $149. Tha Sandisk drive does have a more impressive 5-year warranty, though, compared to the 3-year warranty from OWC.
In terms of the drive speed, there is really nothing in it. Although the Sandisk Extreme Pro SSD did achieve slightly faster read and write speeds in my testing, the differences were less than half a per cent, and would really show no real-world difference.
Tough Competition From Other Envoy SSDs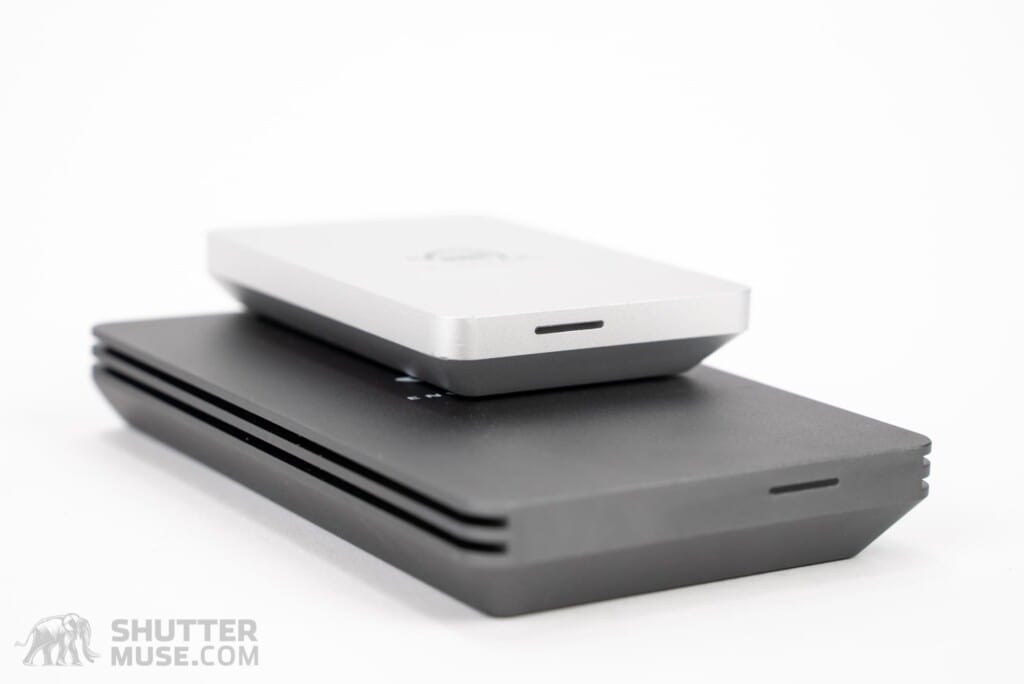 If you're looking for a similarly rugged, IP67 rated SSD with even more speed, look no further than the OWC Envoy Pro FX. Although slightly larger than the Elektron, they share the same design principles and conform to all the same toughness standards.
The main difference between the Envoy Elektron and the Envoy Pro FX is the universal Type-C connection on the FX model. This clever combo-connector can be used with either Thunderbolt or USB protocols. With a USB port (Type-A or Type-C), the Envoy Pro FX delivers similar USB 3.2 Gen 2 speeds to the Elektron (around 1000MB/s). However, when connected to a Thunderbolt 3 or 4 port, it unleashes the full power of the SSD and delivers up to 2800MB/s!
Although the Elektron is considerably smaller and lighter (85g vs 236g), few products on the market can connect universally to both USB and Thunderbolt connections like the Envoy Pro FX. If you have been reading this Elektron review thinking, "this is great, but I wish they did a mega fast Thunderbolt version", check out my Envoy Pro FX review for more details.
Conclusion
The Envoy Pro Elektron is a very impressive solid-state drive that would be the perfect companion to a photographer or videographer who often finds themselves working and travelling in less than ideal conditions. With its tiny pocket-sized footprint, the Elektron is also perfect for people that just want to keep a tight and tidy laptop kit for working on the road. Carrying up to 2TB of photos or video footage in a solid metal case that's smaller than your wallet, is very cool indeed. Given that you will always need to travel with at least two drives to have a safe backup solution, the benefits of the small size are further amplified and appreciated.
With a USB-C 3.2 connection providing 10GB/s of throughput, I was seeing read and write speeds that hovered around the 940MB/s mark. While these same M.2 NVMe drives are capable of higher speeds, you would need a much more expensive Thunderbolt 3 or 4 connection to unlock that remaining speed. If you're shooting photos or recording occasional 4K video, a USB 3.2 10GB/s connection should be more than enough. However, you might consider a Thunderbolt-equipped drive like the OWC Envoy Pro EX, with its 2800MB/s speed, if you are planning to shoot and edit 8K video.
At the time of writing this review, the 1TB version of the Elektron hits a sweet spot in the dollar to capacity ratio. $199 for this drive is an excellent deal, and could only really be made sweeter if OWC offered a 5-year warranty instead of a 3-year warranty, as Sandisk and G-Technology do.
Difference in warranty length aside, the Envoy Pro Elekton scores top marks in every other respect, and I would consider this to be the new king of the hill in terms of rugged, portable drives for photographers and other content creators.
Where to Buy
The Envoy Pro Elektron is available in four capacities (240GB, 420GB, 1TB, 2TB) directly from the OWC store at Macsales.com.