ioSafe is best known for its fireproof and waterproof desktop RAID backup systems, but it also has a portable drive called the ioSafe Solo Hawk. Today, I will talk you through all the features, share some speed test results, and review my time with this drive as my portable photo backup.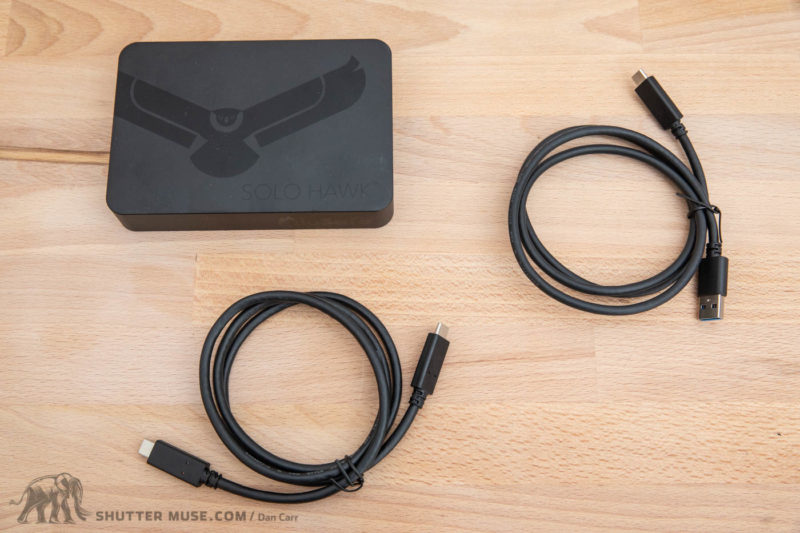 The ioSafe Solo Hawk is a bus-powered solid-state drive (SSD). That means there's no external power supply; you can power it with one of the two included USB cables. The drive has a USB-C 3.1 Gen 2 interface on the rear of it, and a USB-C to USB-C cable is supplied, along with a USB-C to USB-A cable.
USB-C 3.1 Gen 2 as a standard is capable of up to 10 Gbps transfer speed, but this drive will not reach that speed because the drive inside is a 2.5″ SSD with a SATA interface capped well below 3.1 Gen 2's theoretical maximum. This isn't a specific issue with the drive. Still, I always underline this because manufacturers (including ioSafe) have a cheeky habit of putting "up to up to 10 Gbps" on their products and not clarifying that this is a maximum for the interface. Not the speed you can expect from the drive.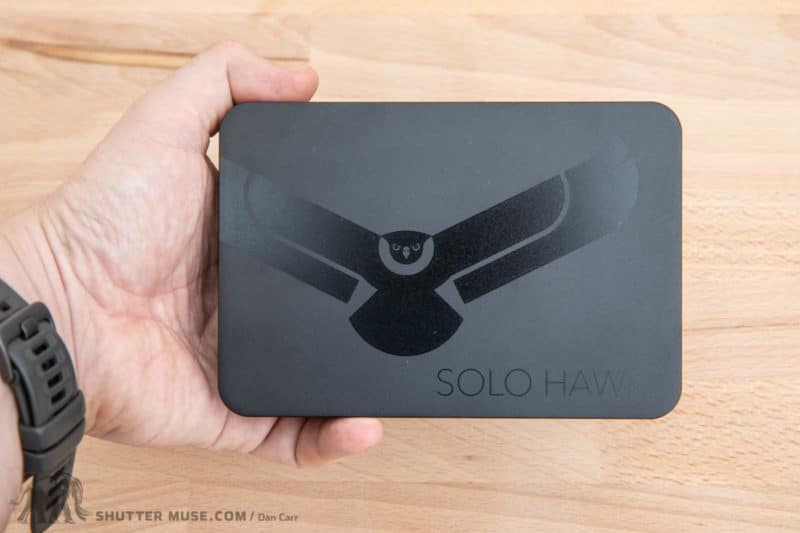 As you would expect from ioSafe, this thing is built like an absolute tank. If you have ever handled a drive like a LaCie Rugged drive and thought, "this seems pretty solid", you haven't seen anything! The Solo Hawk is truly the next level in this regard.
Here are the MIL-STD-810G specifications that the Solo Hawk is certified for:
Crush resistant up to 2500 lbs.
Full suspension in all six axes of motion. Optimized for data loss protection from drop and shock of 10′ per MIL-STD-810G Method 516.5.
Waterproof yet heat conducting barrier to protect against data loss in up to 10′ for 3 days in fresh water or salt water per IP68. Protects data even when USB plug is in. No requirement for a connector cap to retain data protection.
Full immersion in diesel fuel, oils, hydraulic fluids, aircraft fuels, 12′ depth for 1 hour with no data loss per MIL-STD-810G Method 504
Continuous exposure to UV, blowing sand, blowing dust, rain, salt fog, icing or freezing rain, 24 hours with no data loss per MIL-STD-810G Methods 505.4, 506.4, 509.4 and 510.
High altitude operation. 15K ft. (Alum.) and 30K ft. (SSD and Ti.) rated altitudes per MIL-STD-810G Method 500.4
Operating temperature: -20°C to 60°C (-5°F to 140°F)
Non operating temperature: -40 to 85°C
Yes, you read that right. The Solo Hawk can be fully submersed in diesel fuel for up to an hour and submerged in water – fresh or salt – for days. It'll also work just fine at -5°F
With such incredible specifications, it's no surprise that the drive feels bulkier than other drives, but honestly, not by that much. The real difference that you'll feel is the weight. At 1.7lbs, it's roughly twice the weight of other SATA SSDs and 4x the weight of newer NVMe SSDs like the Sandisk Extreme Pro SSD that we reviewed. Of course, if you need the protection, the added weight won't seem like a big deal. The drive still fits comfortably into even the smallest laptop bags.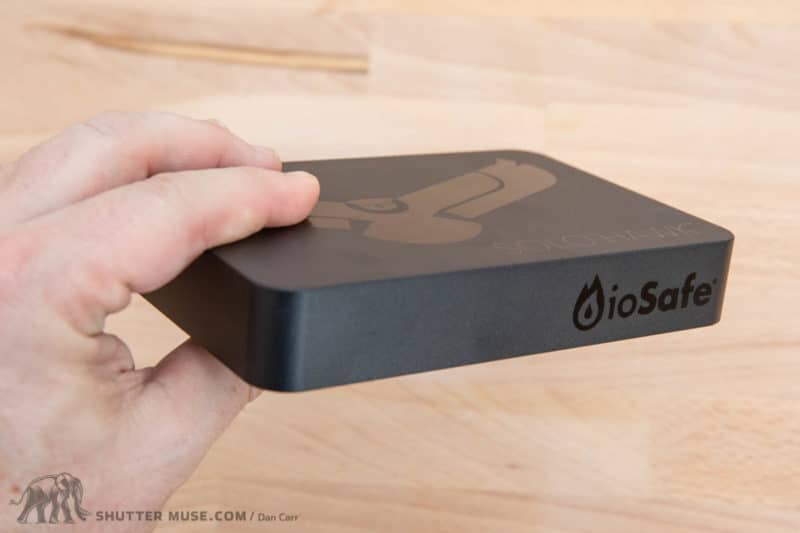 Speed Testing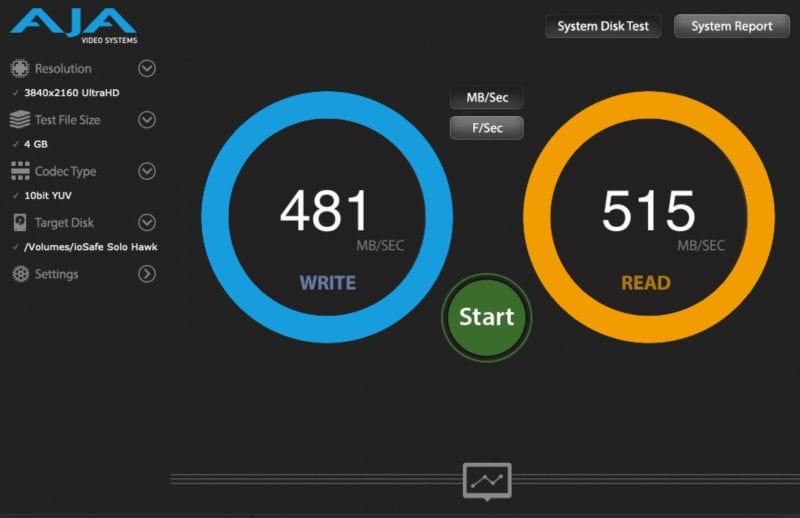 As usual, I performed my speed testing with the free AJA disk speed tool. The drive performed as expected, and you should get these same results for any external drive that utilises the Seagate Barracuda SSD inside it. Speed of the drive is not affected by your choice of either of the provided USB-C cables, nor will it be affected whether you plug it into a USB-C port on a PC or a Thunderbolt 3 port on a Mac.
For comparison's sake, a spinning disk hard drive would produce results in the range of only 130 MB/s for both read and write. Moving to a solid-state drive of any sort is a massive speed upgrade and a durability upgrade due to the lack of moving parts.
Compared to the Competition
The best hard drives for photographers is a topic I have written about extensively before, so I'm well versed in the current market options. A few years ago, I might have recommended a 2.5″ SATA hard drive in my pick list of portable drives, but these days the price of faster solid-state drives has lowered to the point where they are a preferable and viable alternative.
Speed
Solid-state drives come in two different types: NVMe and SATA. The SATA solid-state drives are 2.5″ drives, just like their spinning hard drive SATA equivalents. Newer NVMe solid-state drives use a "stick" of memory that resembles a stick of RAM for anyone that has dismantled a computer before. NVMe drives are much smaller, and if the drive also has a USB 3.1 Gen 2 interface, they are capable of speeds that are roughly twice that of a SATA SSD. Although less common, there are some NVMe dives, such as the LaCie Rugged SSD Pro, that combine this technology with a Thunderbolt 3 port to reach speeds five or six times faster than SATA SSDs.
With the Solo Hawk using this larger and slower SATA SSD technology, potential buyers will have a choice to make. Do they want the robust design of the ioSafe drive, or would the increased speed of an NVMe drive be better?
The answer might not be as clear cut as you think. With all drive-related workflow questions, you must consider the entire data chain to look for bottlenecks. If you are using Lightroom to download photos from your memory cards in the field, but your SD card can only read speeds of up to 250 MB/s, that's your bottleneck. It doesn't matter how fast your external drive is; your card ingest won't happen any faster.
However, if you're using a new CFexpress card with a read speed of 1400 MB/s, along with a card reader that supports that speed, your file ingests would be 2x faster than an NVMe drive with a 3.1 Gen2 interface, and even quicker if you used one that had Thunderbolt 3.
Perhaps the answer to this question is to use both. If you're on the road shooting photos or video, you must still maintain a solid 3-2-1 backup strategy to ensure the complete protection of your data. This means your photos are going to be put onto two different drives. Maybe the first copy goes onto an ultra-fast NVMe drive, and the first backup copy goes onto a Solo Hawk drive to give you that added protection? Something to consider.
Related Post: Best External Hard Drives for Photographers – Including RAIDs and SSDs
Price
Another area that will cause some people to pause for thought, is the price of the Solo Hawk compared to the competition. When writing this review, the 500GB Solo Hawk is $329. The twice-as-fast Sandisk NVMe drive is way less than half the price at $129.
I don't think the Solo Hawk is that expensive for what you are getting. A few years ago, you would pay that kind of money for a bog-standard SSD. But I know people get fixated on prices when they are shopping, and that huge gap will be a hurdle for some people. How much is your data worth? How much did it cost you to travel to your location and get those shots? How much is your client paying for that job? You'll need to ask yourself those questions to decide if the added protection is worth it.
Conclusion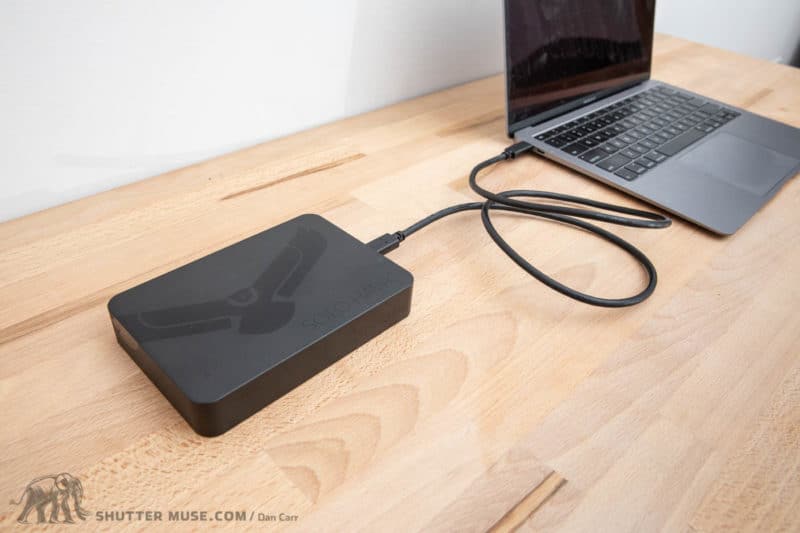 I have used this drive as my portable photo backup for many months now without any issues whatsoever. It gives me great peace of mind that one set of my travel images is located on this device. The weight did take a little getting used to as I was previously using a pair of smaller Sandisk Extreme NVMe drives for on-the-road backup. For the last several months, I transitioned to one of the smaller Sandisk drives, and the ioSafe Solo Hawk as the second drive.
This setup gives the best of both worlds and allows me to keep the small, less rugged Sandisk SSD in my camera bag while the ioSafe Solo Hawk goes into my duffel bag or Pelican case. It's essential to keep both sets of your images in separate locations to minimize the potential for loss.
One of the things I would like to see is a 2TB option for this drive. All the drive's competitors offer this larger capacity. Given that ioSafe is just installing Seagate Barracuda SSDs into their case design, I'm not sure why this still isn't an option after being on the market already for a couple of years. Having examined some photos of the drive's internals, I believe you could install a 2TB drive yourself, but note that you would void the warranty and proceed at your own risk.
Overall, this is a fantastic drive for a very niche purpose. Yes, there are smaller, lighter portable drives. Yes, there are faster NVMe drives, but no, there is not another portable drive on the market that is as rugged as the Solo Hawk. Of that, I have no doubt. If your photos or videos need the ultimate protection on the road, get the Solo Hawk.
Where to Buy ioSafe Solo Hawk