Lowepro's First Travel Bags
Lowepro have been making photography bags for decades, but recently they launched a series of travel bags that applies their knowledge to a new market. I was particularly interested in the Highline series, but it must be underlined that the Highline backpacks in that range are not camera bags at all. They have no internal padding for camera gear whatsoever. It's a Lowerpro bag, but not as you've seen before!
At the top of the Highline series is the x400 roller bag, and this one instantly peaked my interest for a number of reasons. The backpacks aren't of much use to me since I need a photography specific pack to protect my gear, but the roller bag is designed for adventure travel, and of course I do travel around a fair bit. Secondly, it looked like it would be a great compliment to the Whistler BP450 backpack, and potentially allow me to insert the backpack's camera section into the roller for air travel (more on this later in the article).
Build and Design
I've previously reviewed the Lowepro Whistler BP450 AW backpack and I was super excited by the design and styling of that pack. It seems like a departure from the old Lowepro where there was a lot of frankly quite dull looking black bags on many pages of the catalogue. The rugged Whistler pack added some orange accents and a water repellant green material that really stands out as being both highly functional, and pretty awesome to look at. When the new line of travel bags was launched, I was pleased to see that the top-end Highline series borrowed the same design cues and materials from the Whistler pack. Immediately this sets the gear apart from the crowd, both in design, and also ability to withstand some pretty rugged travel – the Whistler pack is easily the most rugged and durable photo pack I've ever tested. The Highline series is designed for people who pursue the same kind of activities that a Whistler BP450 AW owner might be looking to photograph.
My first impression of the bag when I unpacked it was: "How on earth did they make it so light!?". Roller bags tend to be quite heavy, but the Highline tops the scales at 3.1kg which is certainly much lighter than other roller bags I've used in the past. There are fully soft-sided rollers from companies like Osprey that come in a little lighter in the same size, but the Highline x400 actually has a good amount of protection with its moulded "tub" design. Essentially, the bottom section of the pack is one big hard-sided tub with wheels on, and the top section of the pack with the organizer and zippers is all soft and lightly padded. Internally, there is an extremely thin, ultralight nylon covering to line the tub, and it's actually zippered to allow you to store items beneath it. I'm not sure if that is the intended purpose of the zipper, but it does allow you to maximize the internal space by storing things in the area that rests between the shafts of the collapsible handles. Hard drives fit in there very nicely if you are travelling with a few, as I usually do.
Inside the main compartment you're greeted with two smaller, removable bags when you first open it. One is a clear pouch for toiletries, and the other is a packing cube that is again made from some seriously ultralight nylon. The packing cube, when full, takes up about half of the volume of the bag, and it's a great way to separate your clean clothes from shoes and other items. A really nice touch to include both of these with the bag!
The front section of the bag is sectioned to provided organization for a laptop and other smaller accessories. The laptop sleeve is lacking some kind of closure system though, or at very least a small hook and loop "latch" to stop the laptop sliding out of the pocket when the main flap is opened. On several occasions my laptop and tablet spilled out of my bag onto a bed when the flap was opened without zippering that front section. With a large laptop and a ton of other accessories in the front, it's also quite awkward to deal with this whole front section of the bag when you want to open the main compartment. It doesn't miss by a mile, but dealing with a laptop in that front section was definitely my least favourite thing about the bag, and I quickly returned to just putting it in a separate shoulder bag instead. On the plus side, there is a lot of volume to be used in that front pocket, so it makes for a good place to stash clothing that you might need on the journey. You can fit a rain jacket and a change of clothing into that front section so that you don't have to rummage in your carefully organized packing cube mid-journey if you need to switch a few things up. On long journeys where you're potentially using airport showers during a stopover, that's a great way to use the front pocket spacing.
Size Specifications
Sizing is massively important when it comes to bags that are designed to be carry-on compliant. I've written extensively about flying with camera gear before, and if you want to find specific carry-on size regulations for most worldwide airlines then this article includes a list. Attached to the bag is label with an airplane on it and some dimensions. The dimensions read: 14 x 22 x 9 in (36 x 56 x 23 cm). Since there are no international standards for carryon luggage, you can't say with any certainty how many airlines will accept this bag as carry-on, especially as so many airlines have differing regulations for domestic and international travel. What you can do is refer to the list, find your most-used airline and take into account their regulations when choosing a travel bag. It should be noted that I think some of the quoted dimensions are maybe a little on the small side with this bag. The bag is a little bit wider at the base than it is at the top, and Lowepro seem to have gone with more of an average thickness measurement. At the base, taking the wheels into account, I'd say it's more accurately 10 inches in depth and not the quoted 9 inches. By the time you add anything into the front pocket of the bag, like a laptop, you're going to break past theses dimensions. It's not a giant bag, but you might want to keep an eye on it when you're packing and planning. I consulted my list of carry-on dimensions and there's a pretty even split between 9 and 10 inch specifications amongst airlines. The 22 inch length appears to be pretty accurate, but be warned that the stand on the base of the bag is solid plastic, and the "tub" design of the bag itself is pretty rigid. If you were forced to try it, I doubt you'd be able to squeeze this bag into a baggage cage that was, say, 21 inches in length – there's just nothing to compress in the longitudinal directions. Keep it in mind.
Highline Roller + Whistler BP450 AW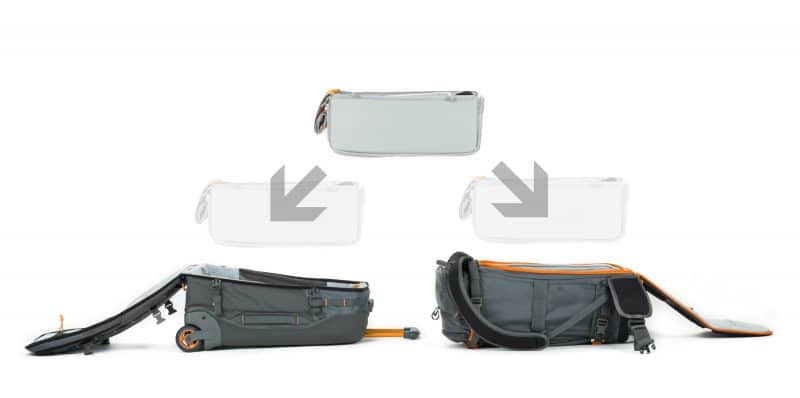 One of the annoyances of adventure photography travel can be solved by pairing the Highline Roller with the Whistler backpack. In general, you want to have a backpack to work out of in the field, but these are uncomfortable to travel with on long journeys. I used to hate struggling with a 40lb pack through the airport as everyone else strolled past me with their roller bags! If you own the previously reviewed Whistler pack, you can remove the padded insert from it and place it into the Highline rollwe while you fly. With the insert removed, the Whistler BP450 packs down nice and flat so you can easily store it in your checked luggage. When you reach your destination, fresh as a daisy after rolling your gear everywhere, you can swap the camera gear back into the backpack for your ensuing adventures. If you're going to be continuously on the move from one destination to another then this doesn't work quite so well, but if you set up a "base camp" at one hotel for a few days or weeks, then this is a totally viable solution. Watch the video below to see the swap in action.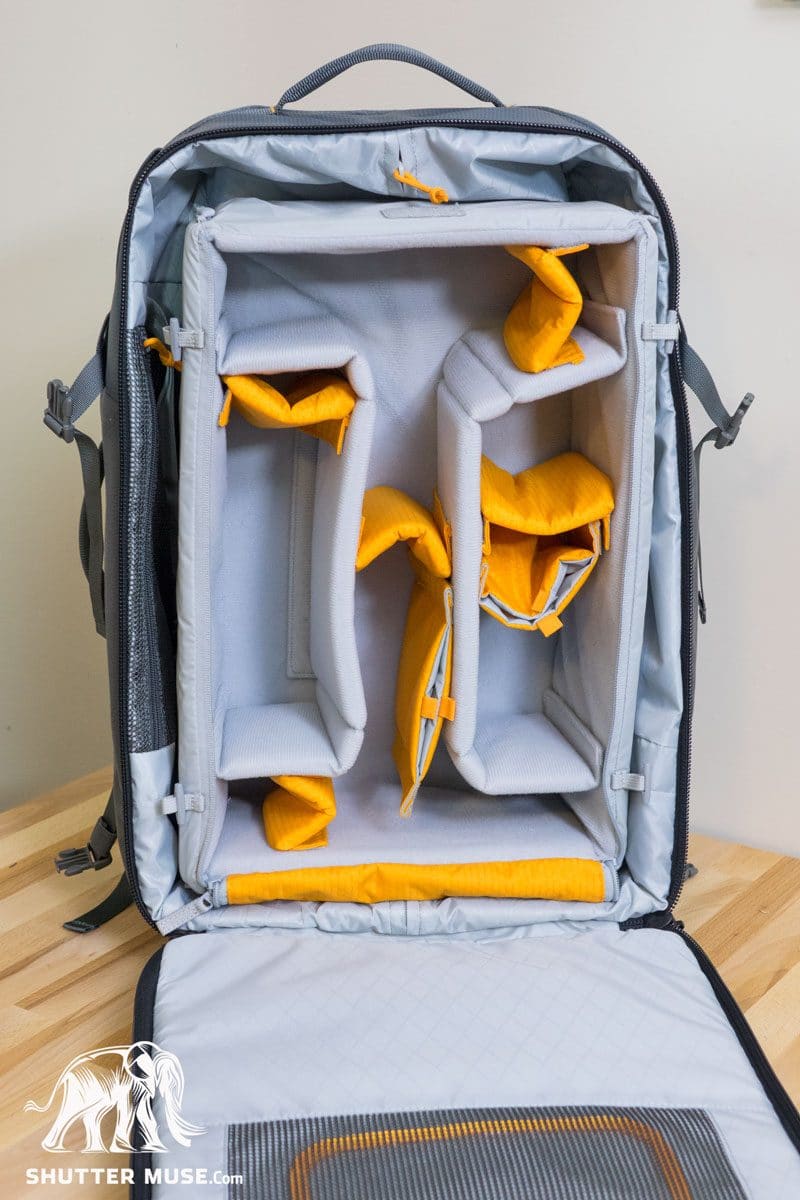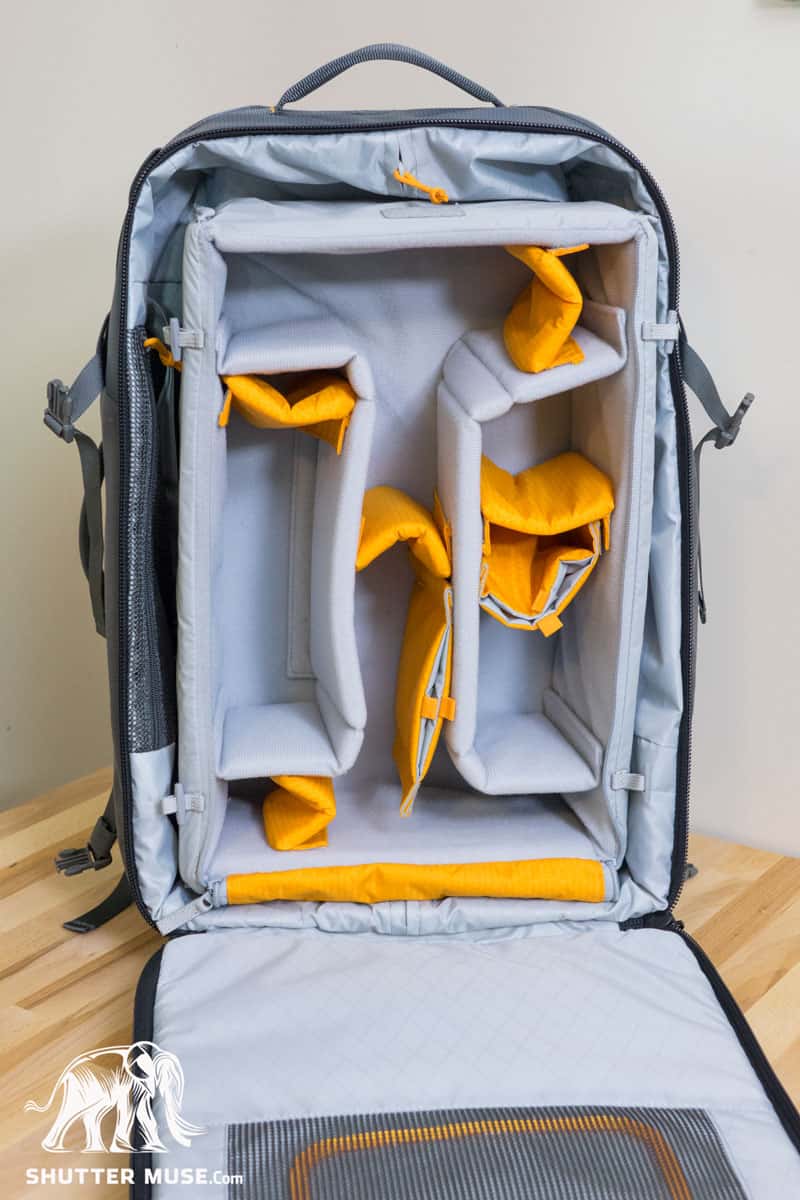 Highline Roller Video Review
Pros & Cons
Pros
Light weight (for a roller)
Includes packing cube and toiletry bag
Rugged face material sheds water on top
Large volume front pocket leaves you options for organization
Locakble zippers (lock not included)
Good ground clearance when rolling on rough terrain
Raincover included
Cons
Laptop lacking something to secure it better in the sleeve
Slightly tapered design doesn't maximize volume
Conclusion
The Highline x400 roller bag is an admirable first entry into the travel bag sector from Lowepro. There's very little not to like about it, and in several months of usage I can highly recommend it for travel so long as the carry-on sizing suits your needs. The light weight of the bag, for a roller, continues to be the standout feature for me. The main area for improvement on the bag is the organizational section in the front. I love that they give you a lot of volume to play with there, and a lot of pocket options, but I'd like to see a more secure way of keeping a laptop and tablet in there so that things don't fly out of it if you open the front flap without first zippering it shut.
Overall, this bag is going to suit two kinds of people: Firstly, anyone who already owns the Whistler BP450AW will find this an excellent companion to that pack, and it'll definitely make airline travel much more comfortable for you. Secondly, if you're heading off on a particularly adventurous trip then this makes a great carry-on partner to those big rugged check-in duffle bags from companies like The North Face, Osprey or Arcteryx. If you're the kind of person that packs gear into those bags for checking in, then this is very likely going to suit your needs for a companion carry-on bag. The North Face actually make their own bag that's very similar to this one, called The Rolling Thunder 22, but to me it's not nearly as good looking, it lacks the organizational options of the Highline, and also the included packing cube and toiletry bag.
Despite it not being a photography specific bag, we photographers are always on the move and travel bags are a necessity. I'm glad to see that Lowepro have designed something that keeps to the spirit, quality and technicality of their high end adventure photo packs.
Buy The HighLine Roller