The CalDigit TS3 Plus is a 15-port Thunderbolt 3 dock that includes a speedy UHS-II SD card reader and a host of improvements over the previously reviewed CalDigit TS2 Thunderbolt 2 dock. In this review, we'll run through those feature updates, test the various ports and card reader, and compare the TS3+ to the older TS2 model to see whether it's worth upgrading.
CalDigit TS3+ Port Specs
2 x Thunderbolt 3
1 x DisplayPort 1.2
5 x USB-A 3.1 Gen 1 (5Gb/s, 1.5A, 7.5W)
2 x USB-C

1 x USB-C 3.1 Gen 2 (10Gb/s, 1.5A, 7.5W) Rear

1 x USB-C 3.1 Gen 1 ( 5Gb/s, 1.5A, 7.5W) Front

1 x SD Card Reader (SD 4.0 UHS-II)
1 x Digital Optical Audio (S/PDIF)
1 x Gigabit Ethernet
1 x Analog Audio In (Stereo)
1 x Analog Audio Out (Stereo)
Charge your laptop up to 85 watts
Supports dual 4K 60Hz displays* or one display up to 5K 60Hz
As with the previous Thunderbolt 2 version, the design of the dock is beautiful, and it feels as well made as it looks. The brushed aluminium chassis is now silver, and that means it blends into a Mac environment even more. Apple has given this dock their stamp of approval by selling it in Apple stores.
The CalDigit TS3 Plus dock contains no less than five 5Gbps USB-A ports and two USB-C ports – one of which is 10Gbps 3.1 Gen2. Then there is a pair of Thunderbolt 3 ports for connection to your computer and daisy-chaining of additional Thunderbolt 3 devices such as monitors or hard drives. The second T3 port can also be used with USB-C devices.
Another essential thing to note is that you can use this CalDigit TS3 Plus dock with a Thunderbolt 2 Mac if you buy the Apple Thunderbolt 2-Thunderbolt 3 adapter. This is actually how I have been using mine for a couple of years before getting around to this review. It works perfectly, and there's no speed deficit to this setup because even the old Thunderbolt 2 protocol is 20 Gbps, faster than any of the devices you can plug into the dock.
The other big update is the inclusion of 85w of pass-through power delivery to a Mac that has a Thunderbolt 3 connection. This is a specific feature of the Thunderbolt 3 interface, so it's the only fundamental feature that can't be used if you connect it to a Thunderbolt 2 machine with the adapter above. For those with newer Macs featuring Thunderbolt 3, you can get 85w of power when plugged into the dock. This will be more than enough for most laptops, apart from perhaps those using the highest-end models of the 16″ MacBook Pro, while running extremely graphic intensive applications for prolonged periods.
You have an SD card reader on the front of the dock, which is very useful for photographers. Even better, it's a UHS-II compatible reader, which makes it potentially twice as fast as the SD card slots that used to be built into MacBook Pros, so long as you are using a UHS-II SD card. I won't bore you with the speed tests here, but I did run them, and it matches the fastest SD card readers that I have tested from the likes of Lexar and ProGrade Digital.
You also get a pair of USB ports on the front, which is handy for hard drives that come and go from your office, negating a constant need to be rummaging around behind the device. Unfortunately, the 3.5mm headphone jack is still on the front, which I find annoying because I use this to hook up my computer speakers, not with headphones that are all Bluetooth now anyway. This leaves one cable constantly plugged into the front of the dock, which somewhat degrades the product's otherwise neat look.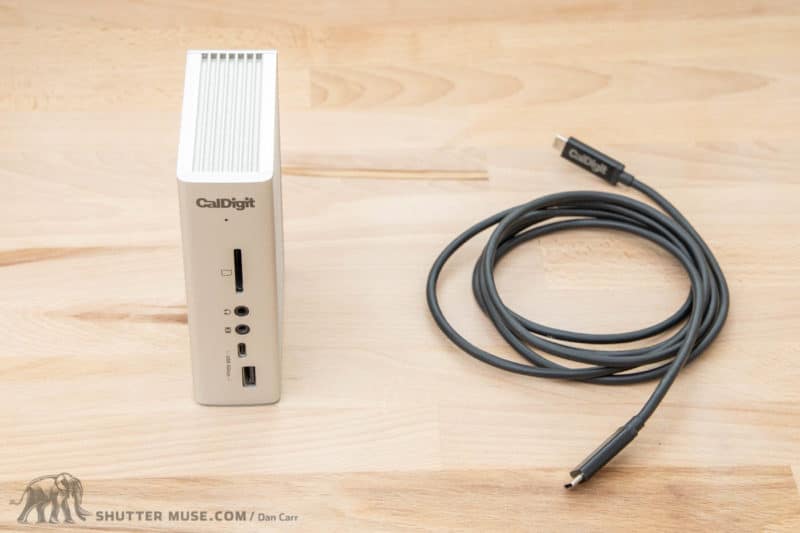 Conclusion
Having been a long time owner of the previous version, I can confidently say that the CalDigit TS3 Plus is a tremendous improvement that both solves my previous problems (not enough USB ports, no SD card reader) and moves with the times by updating to Thunderbolt 3 and USB-C while ditching ageing eSATA ports. I was happy to upgrade and purchase mine through regular retail channels.
If you compare this dock with others on the market from Elgato, Belkin and OWC, you'll find they all offer roughly similar numbers of ports and closely related price points. However, the CalDigit is the best of the bunch due to the much neater vertical orientation and the great-looking design. For Mac laptop users who want to simplify the process of connecting and then disconnecting a vast range of peripherals, this is a great choice.