The Capture lens is an innovative lens carrying device that pairs with a Peak Design Capture Clip quick release system. I've reviewed the Capture Clip in the past and found it to be very useful when you want to have fast access to a camera. This Capture Lens device allows you to have just as fast access to one or two lenses, and should be of particular interest to event and wedding photographers where carrying a big bag of additional gear all day is usually not at all practical.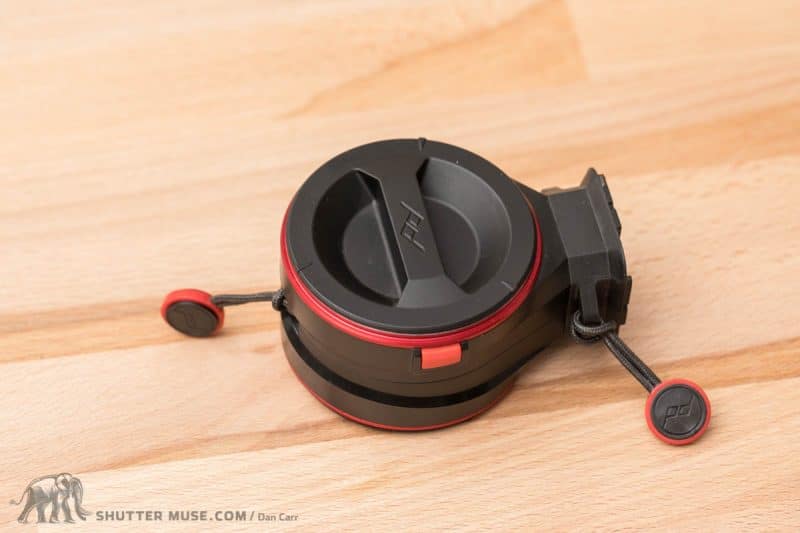 Video Review
If you want to see the Capture Lens in action, check out the video before reading the rest of the review.
Capture Lens Usage
The Capture Lens allows you to attach a couple of lenses at the same time, although you'll find that this is only practical if both lenses are quite small. When using the Capture Clip with a camera, I found that it worked really well on the shoulder strap of a backpack, but this makes much less sense when you use the Capture Lens with it. Instead, I found that using it on a belt is the best method, and I also liked the ability to sling it over your shoulder if you add a shoulder strap such as the Peak Design Leash.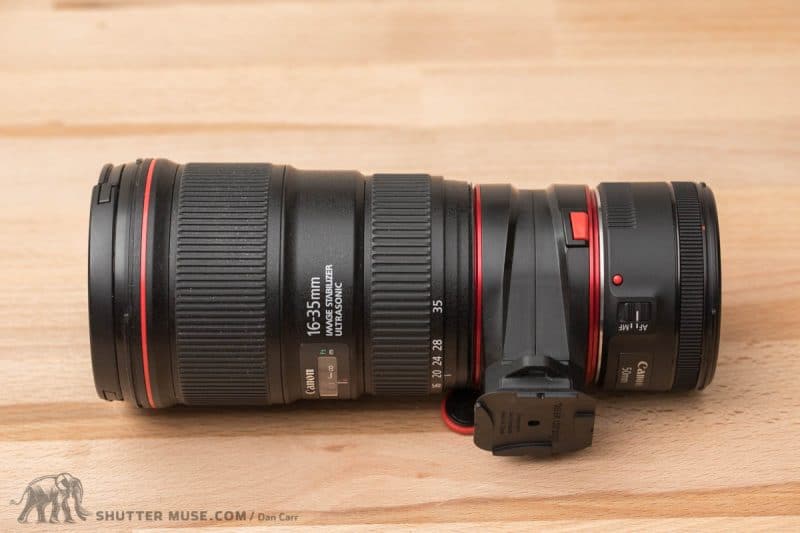 I wasn't overly impressed with the machining tolerances on the Canon EF mount version that I tested. There was definitely some play in the system once the lens was mounted, and as I demonstrate in the video, it is actually possible to miss-mount the lens. You simply must make sure the little red lens release button pops up after you have installed the lens. If you don't hear or feel it click back up, you might not have your lens attached. It's a shame about this little niggle because the rest of the device is solidly made and really well thought out.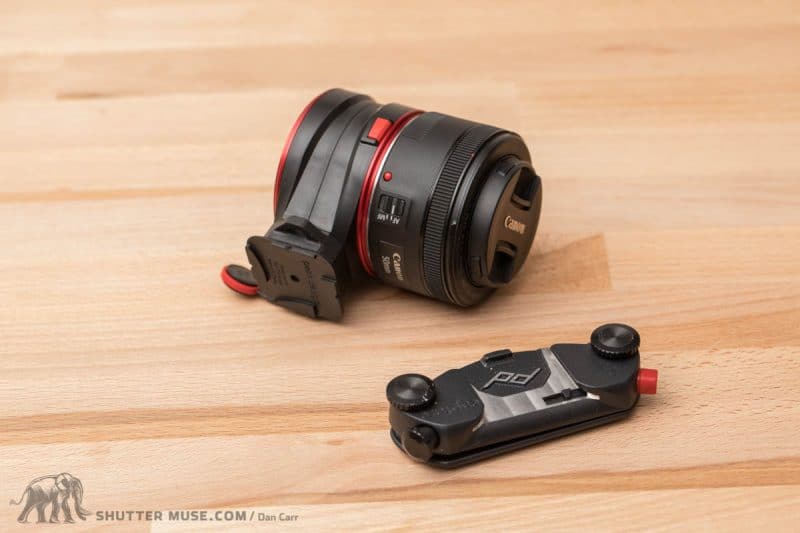 A number of people have asked me whether I feel this could damage the lens mounts in any way and I'd have to say "no". If you mount this thing on your belt with the lenses in a vertical orientation then there's not a lot of stress on them. Certainly no more than if you have a camera over your shoulder with the lens pointing outwards.
Considering Alternatives
For my whole career I have used a belt/pouch system from Think Tank Photo when I want to have fast access to lenses while I'm shooting an event. These kinds of systems, mainly made by Think Tank and Lowepro, can almost be considered a "uniform" of sorts at some sporting events that I've covered – they're that common. In many ways, the Capture Lens is performing a similar function to these belt pouches by providing fast lens access.
The main advantage of a belt system is that it offers some protection to your lenses, and also an element of stealth. In a crowded situation, I'd be very wary of carrying my Canon L-Series lenses on a Capture Lens just in case it was bumped, or a lens was stolen. It would be a one second, near-silent operation for someone to release a lens from behind you, if they were familiar with the device. With a belt pouch, there's a large amount of noisy velcro to release, then a draw-cord and a flap to open. It's a longer, and probably two-handed operation.
The downsides to a belt pouch system are that they require wearing a larger specific belt, they definitely don't look smart or cool, and they are more limiting in how you can carry them. With the Capture Lens you can clip it to the dedicated rail on the end of Peak Design's Everyday Messenger Bag, onto the shoulder strap of a backpack or quickly throw a strap on it and sling it over your shoulder.
Price is also a consideration. If you already have the clip, the Capture Lens will cost just $49 and allow you to carry two lenses. A belt system is going to cost you twice that amount by the time you have purchased a small twin lens pouch and a belt. And yes, I really do think you need the specific non-slip belts to go with these systems. If you leave the bags to float freely around a regular belt it becomes incredibly tiresome as you have to realign them every time they shift when you bend over.
Finally, it should also be considered that a belt pouch can have small pockets for batteries and memory cards, too. No, they don't make you look cool, but boy are they practical!
Conclusion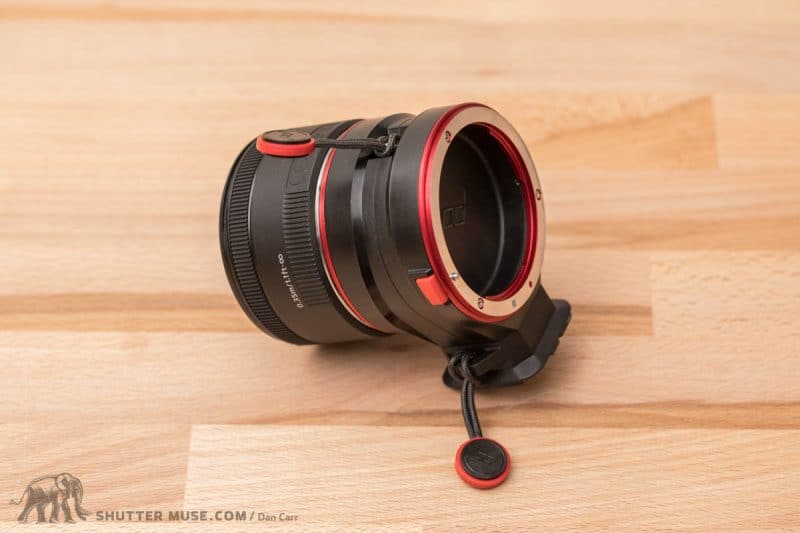 The Capture Lens is an interesting product, but it's ultimately one that will only suit a small number of people. Two conditions have to be met in order for you to be a candidate for this product: Firstly you must have a need to swap lenses in a very short timeframe, and secondly you must have a strong aversion to belt systems such as those by Think Tank Photo. If those two things describe you and your photography, then the Capture Lens is a good solution, and I really did like the ability to add the shoulder strap. Machining tolerances on the mount could be improved, but with careful usage I don't think it would be a huge problem. Finally, you should consider the size of the lenses you want to attach to this thing. Don't imagine you can comfortably carry a 70-200 f/2.8 and a 24-70 f/2.8 for example. I think a small prime and a 24-70 would be about the comfortable maximum.
Where to Buy + Special Offer
As always, it's greatly appreciated when you shop using the links on this page. I might make a small commission when you do this, and that helps me bring you more content in the future.
Option 1: Buy Capture Lens + Capture Clip as a Package
Option 2: If you already own a Capture Clip, you can choose to just buy a Capture Lens