Photologo is a company that will create a hand-drawn logo for your photography business in as little as 24 hours. I'd seen a couple of photographers using Photologos as watermarks on their Instagram images, and considering the low sub-$40 price for the service I was keen to test it out.
I paid full price for the service just as anyone else would do, and I want to share my experience and the results with you in this post, as well as making some recommendations if you decide to use the service yourself
As well as sharing my experience, I'm also going to talk a little bit about how you can use logos and watermarks with your own images, as well as sharing some tutorials on how to apply logo watermarks to your images in Lightroom Classic, Photoshop CC and Luminar. Over time I might re-visit that section and add further tutorials for other software, but for now these are the ones I'm currently using in my own workflow.
Logo or Watermark?
Just to clear up any confusion, I wanted to touch on this question very briefly. You can use a Photologo to be either a logo for your business, or simply as a watermark on your images when you share them online and via social media. Watermarks do not have to be simple copyright statements such as "© Dan Carr 2019" – there's nothing wrong with watermarking your images using your Photologo, and in fact that is what I see many people doing.
[Need a way to watermark images with your new Photologo? Photopolish. is a great dedicated watermarking app for Mac & PC if you don't already own Lightroom or something similar. ]
Pricing and Products offered by Photologo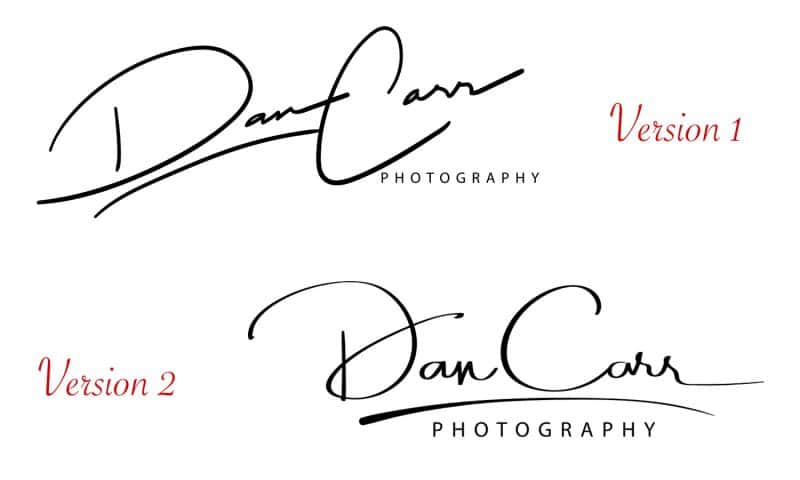 Standard logo
The price for the regular logo is variable depending on how fast you want it. This actually wasn't a "feature" of the service when I had my logo made, but it seems like they have basically added a 24-hour option for an additional $10 which seems fair. Pricing is as follows:
Delivered in 24-hours – $49.99
Delivered in 48-hours – $39.99 (this is what I paid)
Delivered in 7-days – $38.99
File format of standard logo: Standard logo includes 2 x black versions (low and high resolution) and 2 x white versions (low and high resolutions), all in .PNG format with transparent background. The transparent background is important, because this allows you to easily place the logo on top of an image to use it as a watermark. When I received my logos, the resolutions of the PNG files were as follows:
Low res – 1200px x 800px
High res – 7000px x 5000px
The standard service includes one free revision if you don't like the first results from the designer. I actually requested two revisions to my logo, and there was no problem with that when I clearly explained why I wanted to make a couple more small changes. I'm extremely pleased with the results of the final logo, and the Photologo folks couldn't have been more helpful in the process.
As soon as I got the final version of my Photologo I immediately began using it when sharing images on social media, and also on all the images in the galleries on my portfolio. Thankfully Envira Gallery, my favourite WordPress gallery plugin, has a watermark addon that takes care of watermarking all of those images automatically when they're uploaded.
Here's a couple of my photos with the Photologo applied as a watermark – I think you'll agree that it looks great (click to view larger):
After initially publishing this review, I was contacted by fine art photographer Simon Owens. He used the Photologo service and was so pleased with the results that he wanted to share an image sample using his new logo/watermark.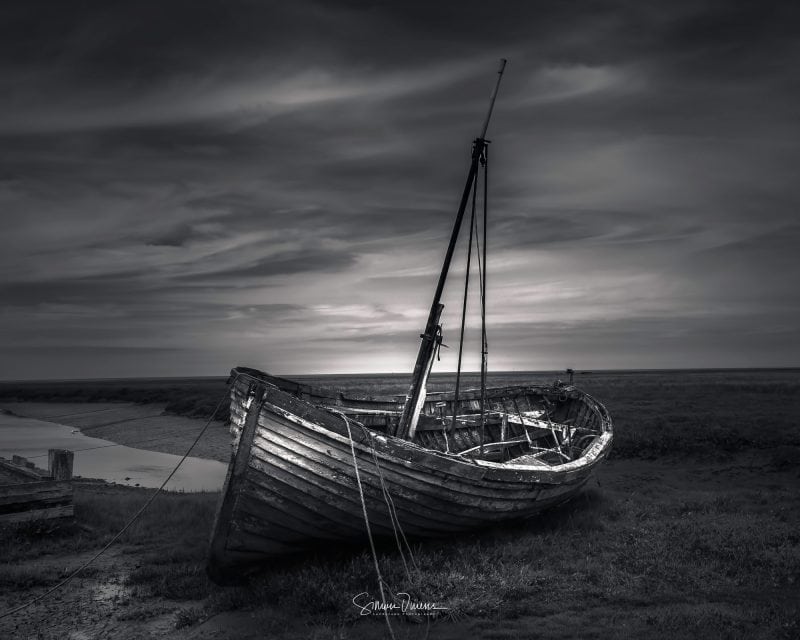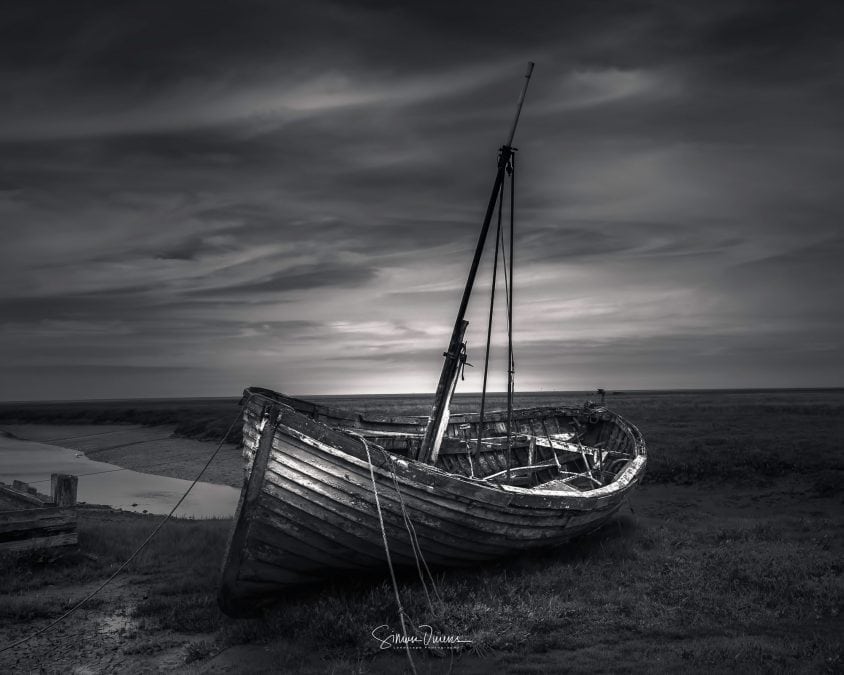 Free Watermark Tutorial Videos
Photologo ai Source Files
During the ordering process there's an option to add the "ai source file" to your order for an additional $15. An ai file is the native file format for Adobe Illustrator, although lots of other design programs can open them, such as Affinity Designer. This file is a vector file, meaning it can be enlarged to any size without any pixelation.
In general, graphic designers like to work with these vector files so if your intention is ever to use your Photologo on a business card, or printed in any other format, I'd definitely recommend spending the additional $15. Even if you just end up stashing the Ai source file away in your archive for a later date, I think a lot of people will end up finding it useful at some point. Just this week I needed the Ai file for a signage company who created some custom vehicle graphics for me. You never know when you'll need it!
Additional Colours (And How to Do This for Free)
You won't see this option until after you have been sent the first design of your logo. You'll get an email with a special link to take you to your download page, and on that page you'll find the option to request the logo in further colours, for $6.99 each.
Firstly, I would imagine that 90% of people are going to be using the logo in either black or white, so the standard logo delivery will be just fine. Secondly, it's a 20-second job to change the colour of the white logo in Photoshop, so if you have Photoshop just watch my quick tutorial video below. The Photologo folks probably won't thank me for showing you how easy it is to do this without paying the $6.99, but obviously my priorities lie with my readers! If you don't have Photoshop, at least $6.99 won't break the bank if you don't know how to do it in your chosen editing software.
Animated Logo

Once you have been sent the link to your download page, alongside the colour choice option you'll also see another button to order an animated version of your logo for $39.99. I was very curious about this option so I purchased it as well, and you can see the results in the looping image above. If you're a photographer who is uploading lots of videos to YouTube and social media, I think this animation option is incredible value. Adding this to the beginning and end of your videos will give it an added professionalism, and help you stand out from the crowd.
I've had video intros and outros created before for production work, and these "bumpers" as they are often called, cost me hundreds and hundreds of dollars. To be able to get something that looks this good, for just $39.99 is truly amazing. Note that what is playing above is a very low resolution animated Gif, and not a video file. Gif
Animation File Formats and Size
On the website there is no mention of the resolution that the animation will be delivered in, so I sent them a quick email after I placed my order to request a 4k version so that they are future proof. The Photologo guys were very helpful, and indeed my animation files were delivered as Quicktime files in a 4k resolution. The files use a PNG codec which I found wasn't natively viewable on my Mac, but they did work in various video editing programs. The PNG codec allows the animation to have a transparent background, but you have to be a little careful that your chosen video editor doesn't automatically try to create an optimized version of the file (I'm looking at you FCPX) because this will then lose the transparency layer.
Lower resolution animated gifs were also included, with a transparent background, and these could be used on a photography portfolio website to create an eye-catching homepage design! Even if you don't create videos and need the PNG video files, the Gif versions are still a great option to make an eye-catching first impression for visitors to your portfolio site.
Review Conclusion
When I decided to buy a Photologo I was somewhat skeptical that I could get something I'd be happy with for such a low price. Having paid graphic designers twenty times as much in the past, it just seemed too good to be true. In fact, I couldn't have been more wrong.
Not only did I get something I'm very pleased with, I also discovered the animated logo addon which they curiously don't mention on their site until after you've purchased the first logo. On top of all of that, their customer service was absolutely spot-on throughout the whole process. They were helpful and responsive to my emails and requests, and really wanted to make sure I got something I was happy with.
Whenever I look at web-based services like this, I'm also evaluating the user experience as well. Photologo has a very simple and clever system for delivering different versions of your files. When your order is placed they send you a custom URL. Clicking that URL takes you to a download page for all your files, whether they are the PNG files, the ai source files or the animations. Even though I purchased my logo over six months ago, my link still works, so I can quickly get my files again if I need to. There's no logging in or having to remember usernames and passwords, the whole system is just so slick!
For $39.99 this is a fantastic way to add a more professional look to your watermarked photos, or the branding for your business. If you're just going to watermark photos using a watermarking app like Photopolish, all you really need is the basic logo package. If you're going to use the logo for printed branding, such as business cards, definitely get the $15 addon for the ai source file – it's well worth it! For the video creators out there, there is no cheaper way to get a good intro to your YouTube or social media videos. I'm so pleased to have discovered this service!