Users of newer Mac laptops and desktop computers will be painfully aware of the need to purchase some sort of USB-C hub or "dongle" to add much-needed ports to the stark interface.
This month I have been testing one such solution from VAVA, a company who sells their products through Amazon and who has many of the top user-reviewed USB-C hubs on shopping platform.
The model that I tested is the VA-UC010 8-in-1 USB-C hub which features the following ports:
2 x USB3
1 x USB2
100W Power Delivery via USB-C
SD/SDXC card reader
Micro SD card reader
Ethernet
HDMI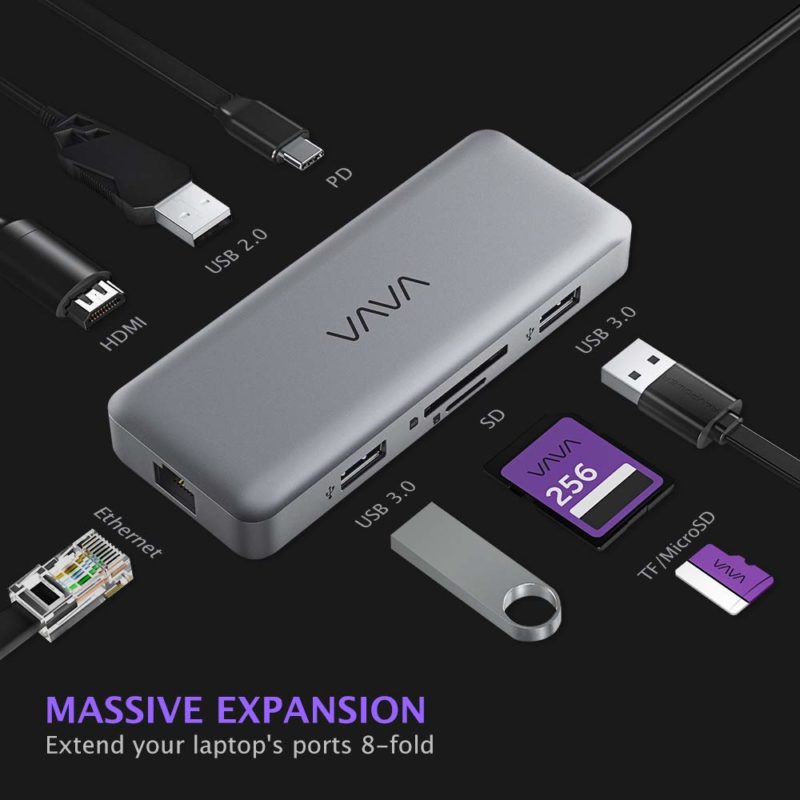 I won't delve too deep in the the confusing complexities of the USB-C and Thunderbolt 3 interface, but all you need to know is that this hub will work when plugged into either a USB-C port or a Thunderbolt 3 port as found on current Mac models.
Whilst there are some hubs that are a little smaller, what's nice about this is that in theory, it has everything a photographer could need, all in one accessory.
Of course this is a photography website so I'm reviewing it with that in mind, and for me that means that it's important to be able to download my memory cards while I'm on the road, and simultaneously back them up onto two external hard drives at the same time. If you shoot with SD or Micro SD cards this is easy. Simply use the built-in card reader and the pair of USB-3 ports for your portable drives.
If you don't use SD cards, you'll need to use a card reader such as the excellent ProGrade Digital readers. Unfortunately the third USB port on the VA-UC010 is only USB-2 speed which is a real shame. In the marketing material they list it is useful for peripherals such as a mouse or keyboard, but I really wish it was USB-3 because USB-2 just doesn't cut it these days for external card readers or hard drives and the vast majority of peripherals are Bluetooth these days.
If your computer has an additional USB-C port then you can always use that for the card reader, but this is definitely something to keep in mind when you are figuring out the size of hub you needs, and what sort of inputs you require.
Card reader speed
The built-in card reader in the VA-UC010 is UHS-I speed. It matches the speed of all built-in SD readers on older Macbook models, but it's half the speed of a UHS-II SD card readers such as the ProGrade Dual Slot UHS-II SD Reader that we reviewed in the past.
If you're coming from a Mac with a built-in reader and you're used to using that, you won't notice a difference. Be aware though, that if you shoot a huge amount of images (shot on UHS-II cards) then there may be a significant benefit to using an external dedicated UHS-II reader to halve the time it takes to download your cards. For sports photographers and photojournalists on a tight deadline this very important to consider.
To my knowledge, at the moment there are no USB-C hubs on the market with UHS-II SD readers in them, although Sony have teased the likely much more expensive MRW-S3 with UHS-II and USB 3.1 for a fall/winter 2019 release.
Laptop or desktop accessory?
I would definitely class this VA-US0101 as a laptop accessory. If you are looking at expanding the ports on a desktop machine that has USB-C or Thunderbolt 3 then I'd look at the excellent CalDigit TS3+ instead. It offers Thunderbolt 3 passthrough, Displayport, 10GB/s USB 3.1 and many more USB-3 ports. It's not even remotely portable, though, so it's not much use for a laptop unless you are using it as a docking station. If that's the case, you will probably want something small and portable like this VAVA USB-C hub to take on the road with you.
Power problems
The VA-UC010 features a 100w Power Delivery pass-through port so that you can charge your laptop while using the hub. While I was testing this configuration, I noticed that if you have hard drives or memory card readers connected to the hub, and you disconnect the power from the Power Delivery port, all of the mounted drives and cards get instantly ejected. Of course this causes a raft of "not ejected properly" warnings on your screen and will ruin any file transfers or card downloads that are taking place.
Rather shocked by this, I emailed VAVA for clarity on the problem and they confirmed that the behaviour is expected. They told me that it happens because when the power is connected to the hub, the attached devices are powered by this power. When you disconnect the power, there is a brief moment as the device switches to receiving power in the other direction, from the laptop's USB-C port.
Unfortunately I think this is a terrible flaw in the product, and while VAVA told me that other devices on the market behave in this same way, I personally tested my own Anker USB-C hub which also has Power Delivery, and it did not eject all the devices when the power was unplugged.
Conclusion and other options
On paper the VAVA USB-C hub has a lot going for it, but in all honesty I can't recommend this product to many people because of the Power Delivery problems I described in the previous section. Given that there are other (cheaper) products on the market that are offering basically the same features and do not have this power issue, I can't think of a good reason why someone should choose the VA-UC010 hub.
My own Anker USB-C hub showed no such power problems and they too make a wide range of USB-C hubs. They don't have a hub that is identical in features to the VAVA hub I tested, but they currently have two very similar ones.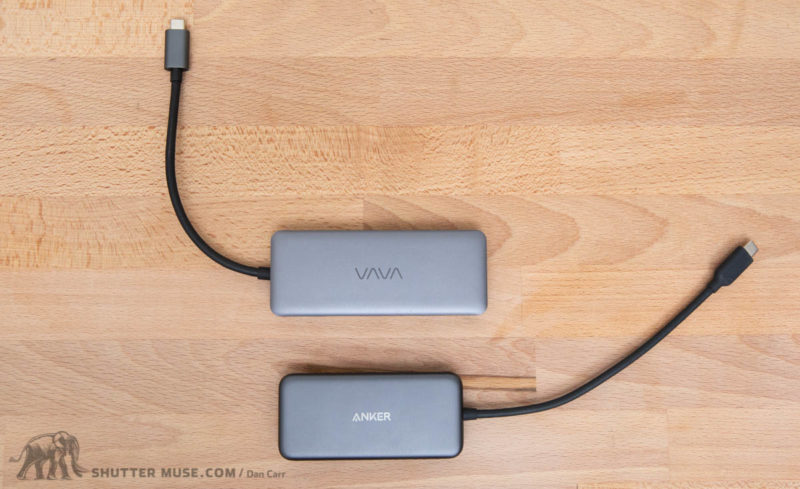 The Anker PowerExpand+ 7-in-1 lacks the (fairly useless) USB-2 port of the VAVA hub but has everything else and also comes in quite a lot cheaper. Another option, if you don't need the ethernet port, is the Anker USB-C Hub 7-in-1 Hub. It actually features three high-speed USB ports instead of the two found on the VAVA hub, and handily one of them uses a USB-C interface. Again, it's also quite a bit cheaper than the VAVA hub.
Given my own excellent experiences with my Anker hubs, and the power problems I experienced with VAVA test unit, I would be inclined to choose one of Ankers hubs and save some money in the process.
The only reason I would ever recommend the VA-UC010 over the Anker alternatives is if you needed (all of) the exact set of ports that the VAVA hub replicates. In which case as I explained earlier, there isn't a totally comparable Anker hub to match. But even then I would be hesitant because I think the power problem has the potential to cause frustration for laptop user who are accustomed to being able to unplug their machines to move them around.