ProMediaGear has just launched a new ball head called the BH50. Weighing in at just 723g, the head has a claimed load capacity of a whopping 150 lbs! Interestingly, this makes the BH50 both lighter, and capable of holding more weight than the American company's only other ball head, the BH1. Nice for consumers is that the new BH50 head is also $80 cheaper than the BH1, coming in at $419.95.
It was only this year that I got my hands on my first piece of ProMediaGear err… gear. The Katana Jr. gimbal head impressed me so much in my review, that I have given it top honours in our guide to the best gimbal heads on the market. Given what I know now about the quality of support products coming from these folks, I expect big things from the new BH50 ball head. Stay tuned for a full review at some point soon.
Check out the BH50 on their website now.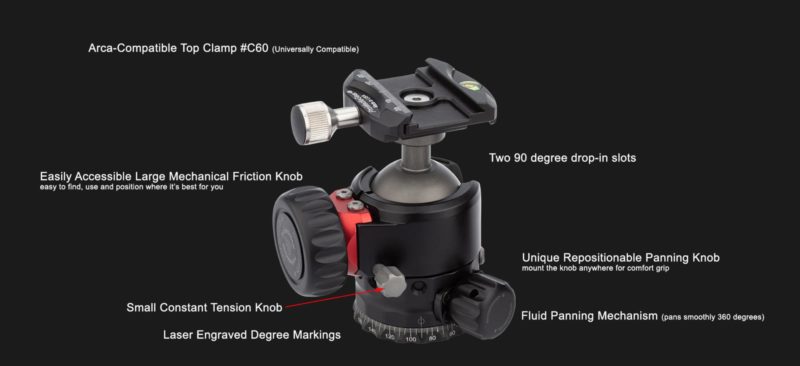 BH50 Ball Head Features
Arca Type Top Clamp C40 version, with bubble level.
Two 90 degree drop slots for portrait orientation
H x W x L : 4.75 x 3.75 x 3.75 inches (123 x 95 x 63 mm), Base Diameter 2.5 in (63mm)
Weight 1.59 lbs, 723 grams
Big Resistance (tension) knob, easily accessible
Small Friction Knob to dial in desired amount of friction, separate from main knob
Reposition-able Panning Knob (see instructions), independently locked, for precise movement
Laser Engraved Degree Markers
150 Pound Load Capacity
Made in USA, 5-year warranty