Sony has announced the new 20-70mm f/4 G full-frame lens, a standard zoom with a first-of-its-kind focal range, and a compact, lightweight design. The lens has a constant f/4 aperture throughout its zoom range and is the first Sony G lens to feature their XD linear focus system, previously reserved for the higher-end G Master lineup.
Although the compact 3.9″ length (99mm) and 17.2 oz (488 g) weight are impressive, it's the lens's headline 20mm focal length on the wide end of its range that steals the show. Compared to 24mm, a 20mm focal length offers an additional ten degrees of diagonal angle of view. The resulting 94° angle of view at 20mm makes this a significantly more attractive zoom range for landscapes and cityscapes. In contrast, previously, 24-105mm lens owners might have needed an additional wide-angle lens in their bag.
According to Sony, another reason they decided to go wider with this lens is to accommodate content creators that want a single lens for vlogging. Although 20mm is only just about wide enough for selfie-style videos, many creators will find it an acceptable trade-off if it means they no longer have to carry around an additional wide-angle lens. With video creators in mind, Sony has also included a de-click button for the aperture ring on the lens.
In total, Sony has packed an enormous number of features into a lens that costs $1098. At this price point, I'm surprised to see the XD linear focus system, two custom lens buttons, significant dust and moisture protection, a manual aperture ring with de-click, and an aperture ring locking switch. Pre-release rumors had this lens coming in at a much higher price point. Instead, Sony has undercut their own aging 24-105mm f/4 lens by $200.
Sony 20-70mm f/4 G Lens Specifications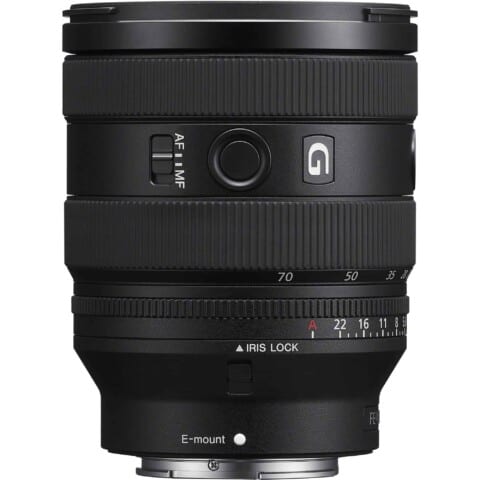 Focal Range: 20-70mm
Max aperture: f/4
Min aperture: f/22
Angle of view: 94°
Minimum focus distance (MFD): 9.8″ / 25 cm
Maximum magnification (MM): 0.39x
Lens design: 16 Elements in 13 Groups
Aperture blades: 9, Rounded
Filter thread: 72mm
Dimensions (ø x L): 3.1 x 3.9″ / 78.7 x 99 mm
Weight: 17.2 oz / 488 g
MSRP: $1098 USD
Sony's YouTube Video About The Lens
What Makes The 20-70mm Focal Range So Interesting?
For many years, the standard midrange zooms were either a 24-70mm f/2.8 or a 24-105mm f/4. The former lenses were much heavier and typically used by portrait photographers, wedding photographers, and photojournalists. The latter, the 24-105mm f/4 lenses, were embraced as perfect lenses for travel photographers, landscape photographers, and general purpose all-in-one lenses for those seeking high image quality and broad zoom range in a relatively lightweight package.
In the last few years, as mirrorless lens mounts have allowed more ingenuity in lens design, we have seen manufacturers experimenting with less common focal ranges for their standard midrange zooms. Nikon decided to go further on the long end when they created their Z 24-120mm f/4 S lens. Tamron decided to bring f/2.8 midrange zoom weights down to the level of the usual f/4 zooms by shifting their focal range to 28-75mm, creating the unbelievably popular 28-75mm f/2.8 G2 lens, a design then licensed to Nikon for the Z 28-75mm f/2.8. Tamron also launched the unique 20-40mm f/2.8, and Panasonic has a Lumix 20-60mm f/3.5–6.3 lens. All this means we now have a much wider choice than we used to when seeking a do-it-all lens.
I own the Sony 24-70mm f/2.8, the Tamron 28-75mm f/2.8, the Canon F 24-105mm f/4, and the Nikon Z 24-120mm; such is the benefit of running all three camera systems for the benefit of this website. This makes me very familiar with this focal range and, more importantly, the challenges associated with choosing one of these lenses for a photo shoot or a photography expedition.
The issue I have always had with standard zoom lenses is that 24mm is often wide enough for general-purpose travel photography but rarely wide enough for all the landscape or cityscape photography opportunities that often present themselves along the journey. It would be almost unheard of for me to pack a 24-70mm or 24-105mm lens in my bag without also needing to pack either a wide zoom like a 16-35mm, or a wide prime like my Sony 20mm G lens.
This is where the new Sony 20-70mm lens shines. Not only is it lighter than any 24-105mm or 24-120mm lens, but in most cases, it negates the need for me to pack an additional wide-angle lens, further increasing the already significant weight savings. Of course, there will be times when I want to go wider than 20mm, particularly on shoots heavily focused on landscape photography. However, 90% of my travels include a wide variety of photographic subjects. For these trips, unless I need a faster aperture for astrophotography, the 20-70mm lens will be a fantastic companion to my longer focal lengths.
Another important consideration when choosing a lens kit for one of my trips is focal length overlap. If you're trying to be efficient with your packing, it doesn't make sense to carry around a lot of overlap. The new 20-70mm f/4 G lens matches up perfectly with a 70-200mm. For many people, it will be a much better choice than the Sony 24-105mm f/4 if they seek something lighter than the 24-70mm f/2.8 GM II.