This bag was recently launched on Kickstarter where it raised over $250,000. It will be available for purchase later in 2020 for people who didn't back the Kickstarter campaign.
Introduction
The Wandrd Fernweh bag is described by the brand as "The backpacking bag for photography & the outdoors". In recent years camera bag manufacturers have paid increasing attention to the comfort of photo backpacks designed for the outdoors.
Alongside the likes of F-Stop, MindShift Gear, Gura Gear and Shimoda, Wandrd now delivers their challenger – the Fernweh – to an increasingly competitive market segment.
To stand a chance of even being considered alongside the backpacks made by the previously mentioned brands (and a few others), a bag in this segment must tick several boxes:
Have a large volume (30L+)
Be built from extremely durable high-grade material
Offer an excellent level of weather protection
Be comfortable with heavy loads for many hours
Offer good options for externally carrying camera or outdoor equipment
Offer enough harness adjustability, or size variations, to fit a range of body types and sizes
In order to offer these foundational features of a truly great outdoor photo pack, none of them come cheap. The Wandrd Fernweh is no exception to that, and this means its features and comfort will be closely scrutinized by potential buyers.
Have Wandrd ticked all the right boxes with the Fernweh backpack? Can it live up to their claims of being a backpacking bag that holds a camera, instead of a camera bag that can go on a hike? In this review I'll dig into these questions and explain all the features of the bag in detail. Let's go!
Wandrd Fernweh Specifications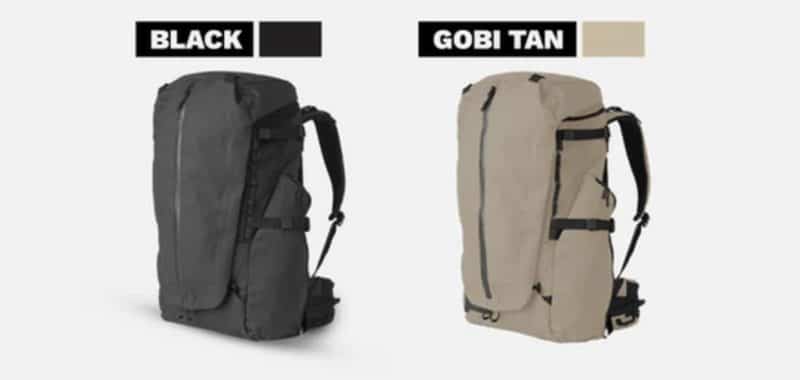 The Fernweh is available in two different sizes to suit people of different heights: M/L and S/M
Frame Size: M/L
Weight: 5lbs (2.2kg)
Volume 50L
Height: 26″ (66cm)
Width: 13.75″ (35cm)
Depth: 9.5″ (24cm)
Recommended torso length: 18″-23″
MSRP: $349 (bag only price – camera cubes are extra)
Fame Size: S/M
Weight: 5lbs (2.2kg)
Volume 48L
Height: 25″ (64cm)
Width: 13.75″ (35cm)
Depth: 9.5″ (24cm)
Recommended torso length: 16″-20″
MSRP: $349 (bag only price – camera cubes are extra)
Wadrd fans and aficionados will know their favourite colour, or lake thereof, is most definitely black. The Fernweh however, is also available in a rather awesome looking Gobi Tan colour.
Design and Features
This bag is absolutely stacked with design features so I'm going to split the bag up into sections to try and organize the photos and discussion.
Lid Pockets
Let's start right at the top of the bag shall we?
The main face fabric is a 420D TPU coated nylon. It starts on the top pocket and and wraps all the way around the front of the bag to the base, providing a durable and extremely weather resistant shell. This fabric feels great to the touch, and you can tell right away that it's built to last. Anyone that has concerns about the bag's value will probably have those concerns put to rest as soon as they put their hands on the bag. It feels every bit as high-end as the price would suggest.
On the top of the bag is a reasonably large zippered pocket that's protected with a YKK Aquaguard zip to prevent moisture ingress. Inside this pocket is a key clip, which of course also works well to secure your memory card case containing all your precious photos.
One thing I did notice at this point is how much black there is on this bag. Of course the exterior is black, but so is the interior of every pocket, as well as the interior liner of the bag. This can make finding small dark items quite tricky, and I would have preferred to at least seen a shade of grey on the interior to help with this.
The lid pocket is a good size, though, and you can easily fit all your necessary quick access items in here. I usually keep a pair of gloves, a hat, my headlamp and my food in here if I'm out and about with my camera. If I was travelling with this bag, I'd be using the top pocket to store my noise cancelling headphones.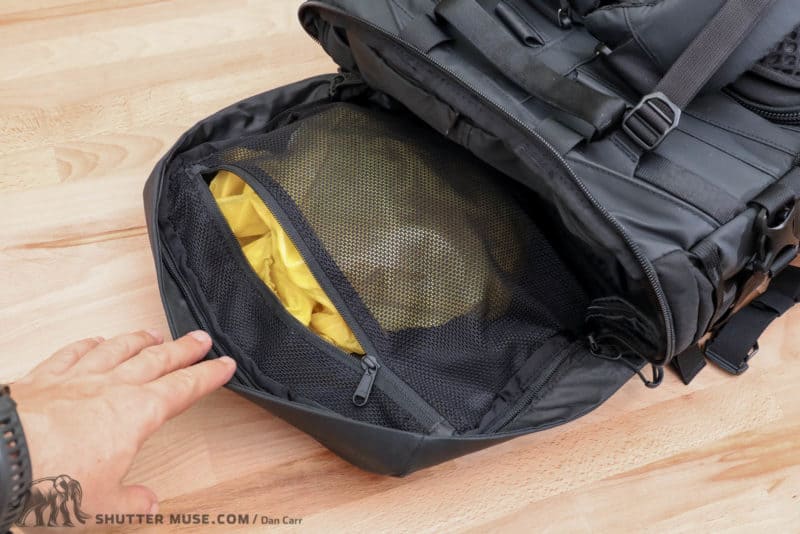 On the inside of the bag's lid you'll find another large mesh pocket. While these kinds of lid and inside-lid pockets are fairly standard affairs on outdoor backpacks, I did find the ones on the Fernweh to be of a very generous size. I tend to think of these as places to stash small items, but on this bag they are quite capable of holding larger items of clothing such as rain pants, a rain jacket or a down jacket layer.
The Bucket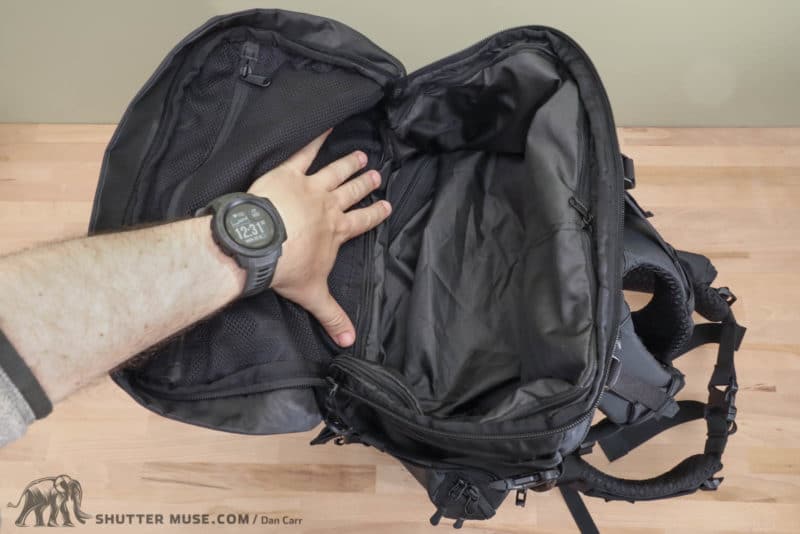 Once you open the top of the bag and peer inside, you'll see that the space in the top half of the bag has been separated into its own section by a lightweight nylon liner, called the bucket. It's very similar to the design we have seen in the top of Shimoda's Action-X backpacks.
This bucket will expand and contract depending on the volume of gear you put in the main section of the bag. Even if you were to nearly fill the main section, thereby shrinking your bucket volume, it still provides a nice section of separated space that could be used to keep things like food or wet gear away from the contents in the main section. If you were using this pack for one-bag travel, this top section could hold your increasing amount of dirty laundry.
The contents of the bucket can also be accessed through a zipper near its bottom. This is useful if you have really packed the bucket with gear, and want to get at something in the bottom of it. While it does require the opening of the main front zipper to access this bucket zipper, it's still a pretty cool feature that shows the Wandrd designers thought long and hard about gear access.
As with the top pocket, I do wish that the bucket material wasn't black. I'm using a flash in these photos to illuminate things, so it doesn't look that bad. But in real life this pocket can get very dark as soon as you bend over the bag. It would have been simple to make the bucket out of a lighter coloured material.
Finally, if you don't want to use the bucket to create two distinct sections of the bag, you can simply zip it out and leave it at home.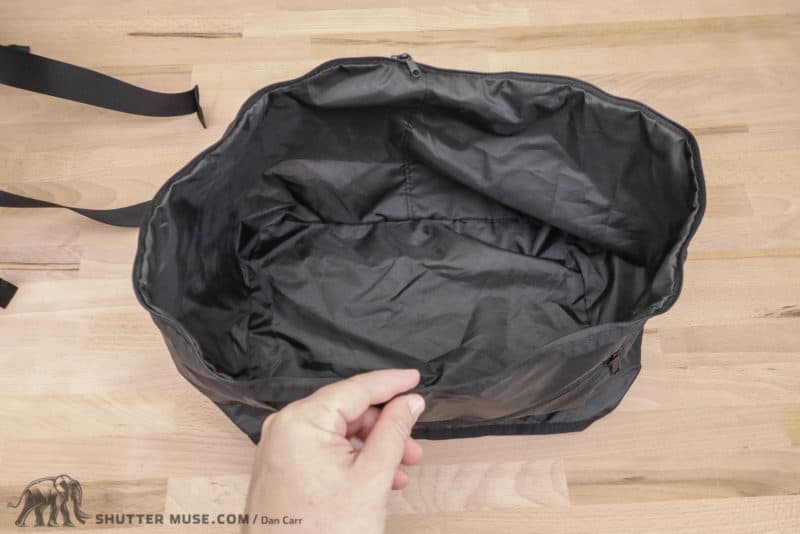 Front Hydration Pocket
The front of the bag features a dedicated hydration sleeve and additional space for compressible items such as rain layers. The important thing about this part of the bag is that it's a totally separate section to the main bag. If your water bladder springs a leak, that water isn't going to get anywhere near your bag.
I tested this with a 3L Platypus bladder and found it to be too big. The bladder extended above the small strap/hook that is designed to support it. I would recommend using a 2L bladder at a maximum in this front pocket.
The hose of your bladder can be routed through a hole, through the main section of the bag and out to the back panel for securing to the shoulder strap. With the bladder pocket being located on the front of the bag, the hose routing is a little convoluted. If you can, I would recommend using a bladder that has a quick detach hose on it. This allows you to pass the thin end of the hose through the various holes, instead of having to pass the rubber bite valve though them.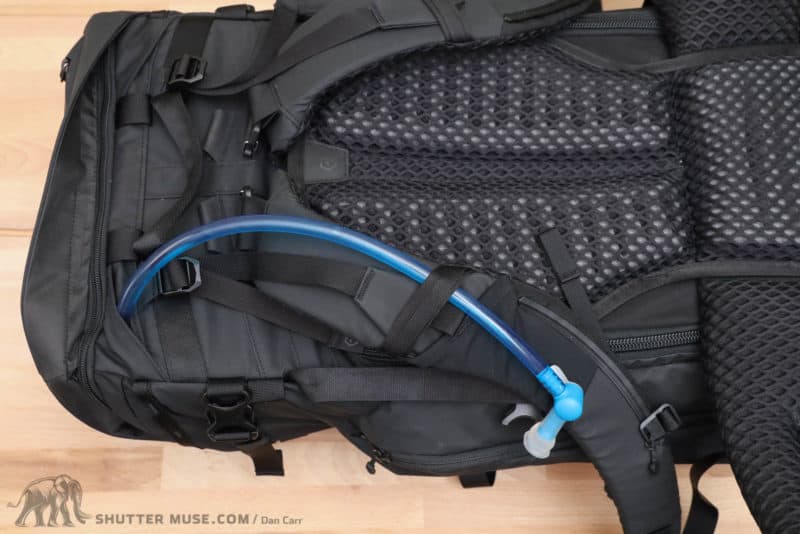 Side Pocket + Tripod Carry
One side of the bag features a tall zippered pocket that can be used to secure the legs of a tripod, or hold a Nalgene water bottle. As you can see from the photos, it works particularly well with an ultralight travel tripod such as the Peak Design Travel Tripod. Most of the tripod is protected in the pocket, while the protruding head gives the side straps something to grip onto for a tightly secured load.
This pocket design is a great example of how Wandrd have managed to create a feature that suits their split target audience in equal measure. A good travel pack should have a water bottle pocket on the side because bladders aren't very practical as you transfer through airports, but a good photo pack needs a great way to secure a tripod.
Side Camera Access
On the other side of the bag is a zippered access door to the interior of the bag. When the Fernweh is used in combination with one of Wandrd's camera Cubes, this provides immediate access to a camera with a lens attached to it.
On the one hand this can be a good way to ensure you take more photos, with the camera being that much easier to reach. On the other hand, side access doors put limitations on what can be strapped to that side of the bag. If you don't think you'll use that side door, that side of the bag then ends up seeming like wasted space.
Personally I don't like using these kinds of side doors, and I would much rather use a camera clip or a holster if I want to have a camera close to hand at all times. Oddly, there is also a side compression strap that runs directly over the hatch zipper. This means you either have to release that strap every time you want to open the zipper, or you're forced to leave it dangling about all day long. It's a head scratcher.
Travel Features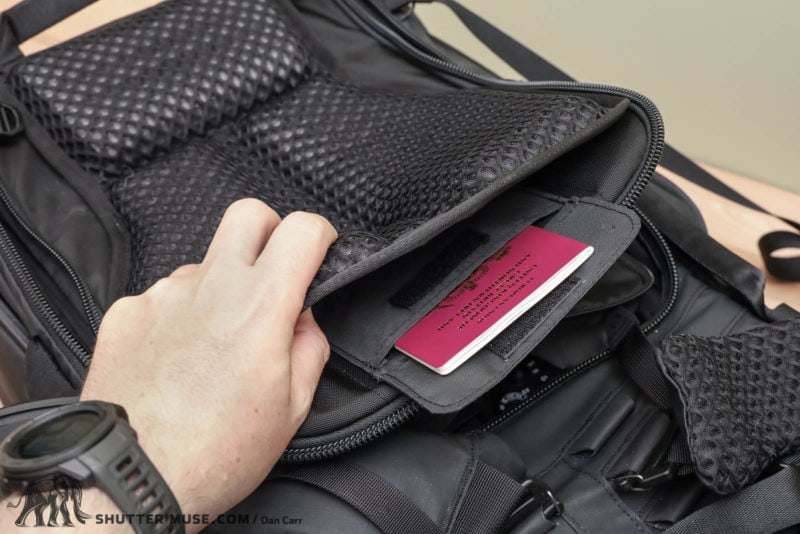 Wandrd don't call themselves a camera bag company. Instead they call themselves a travel company that makes bags that are also suitable for photographers. A considerable amount of though was put into how the Fernweh would handle as a travel bag, whether that be for a traveling photographer, or anyone else who wants to travel the world with a rugged backpack.
The first evidence of this is a hidden passport pocket behind the padded back panel. You could certainly store some money in there, as well as boarding passes. Another nice travel-friendly feature is that the oversized size carry handles work as a luggage passthrough.
We have already discussed how the bucket from the top of the bag is removable, giving you access to the main compartment from above if you want to use the whole bag as one large packing volume. The two other ways you have access to the main section of the bag are from the front or from the back via large zippered openings.
A zippered back panel seen on most outdoor camera bags these days. The reason it is popular is that it allows you to lie the bag down on its front to get access to your gear. If the ground is dirty, it keeps the back panel and suspension system clean so that the dirt doesn't transfer to you once you put the bag back on.
The downside to a back panel opening design is that the size of the rear opening is always constricted. As well as your opening, you also need to find room for your harness attachment points. If the pack has an adjustable back length as the Fernweh does, the space taken up by harness attachment points only gets larger. In the lefthand photo above, you can see how much space is taken up by these attachment points.
For travel usage, Wandrd have solved this problem by also offering a zippered front opening. As you can see from the comparison photos of front opening vs. back opening, you have much easier packing access with this front zipper. If you're using this bag primarily as a travel bag, this is certainly the opening you are going to want to use for packing and accessing your gear.
A thickly padded laptop pocket can be found on the inside of the back panel. The pocket certainly works with a 15″ MacBook Pro, and while I think the 16″ MPB would be a tight fit, the padding is thick and has some give to it so it should be fine. If you remove the bucket from the top section of the bag, the laptop can be retrieved from the bag using the top opening.
Note that you can get the laptop from the rear opening by only opening the zipper slightly at the top, and sliding the laptop upwards. This is definitely how you would want to do it at airport security or on the plane, saving you from opening the entire clamshell.
Overall, as a travel bag I think this is pretty fantastic. The bag sizing should work for most international carry-on regulations, and some careful thought has been put into how you can access this bag's content when it's not being used as a camera bag. That front zippered opening is really the key to turning this from a camera bag into a travel bag. Kudos to the Wandrd designers for managing to make that work, and not make the bag look like it is entirely made from zippers!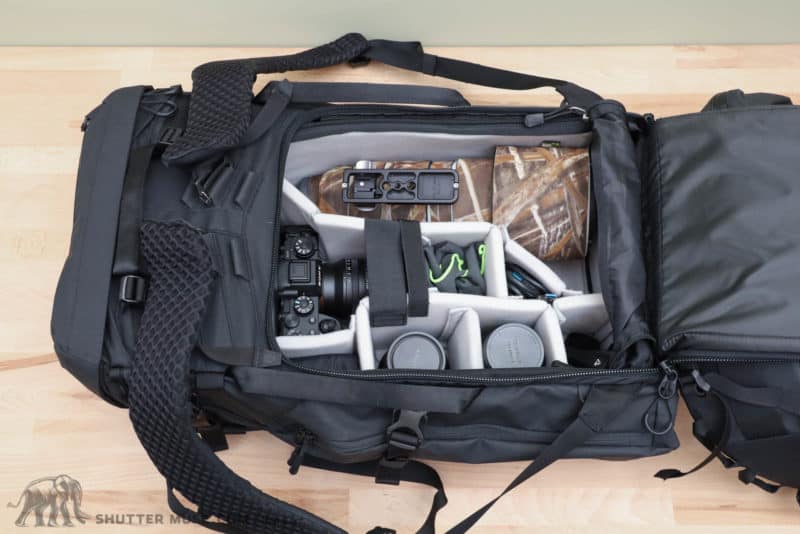 Padding and Harness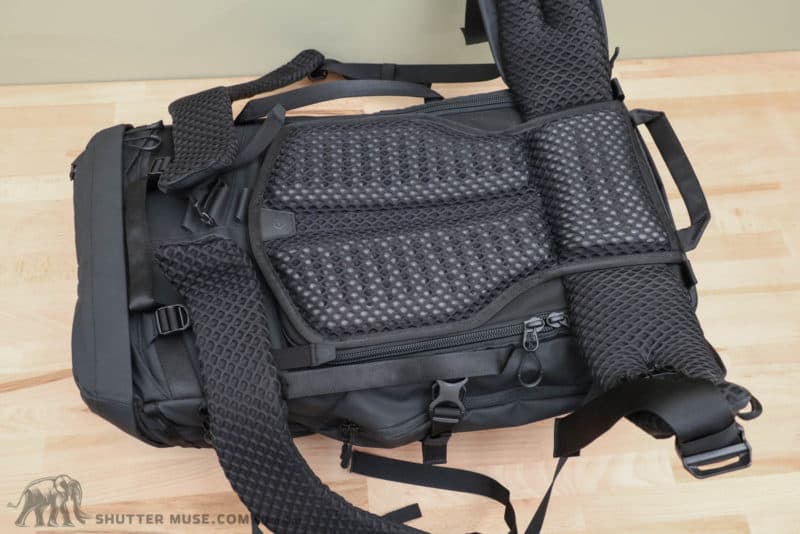 The padding and harness system on the Fernweh is comprehensive. Airmesh is used on the shoulder straps and waist belt, with heavily ventilated foam used in the centre of the back panel and lumbar support.
Although I can certainly describe the harness features and show them to you in the photos, at the moment I'm unable to pass judgement on the comfort of the pack. Due to a shipping mishap, I was accidentally sent a small version of the pack that was fitted with smaller shoulder straps and a smaller waist belt. I did hike with the pack for several hours, but due to the mismatched size of everything, I could not draw an accurate conclusion in terms of carry comfort.
Wandrd are shipping me the M/L size pack this week and I'll update this review as soon as I get my hands on it and take it out for the day. I know some people will be disappointed to read a bag review that currently doesn't comment on the carrying comfort, but I had to make a decision as to whether I should push this out now before the Kickstarter ends, or wait for the larger pack. In the end I figured people would still want to see the bag and get my comments on everything else.
Sternum Strap
The sternum strap is quite unique. instead of connecting in the centre with a traditional plastic buckle, it attaches to a plastic rail on either side. When you want to release the strap, you can choose which side of the strap you release. Both sides can then be connected to the same rail to stop the strap dangling around when not in use.
The designers said that this design came about after feedback from female photographers revealed that central plastic buckles can often be uncomfortable. This solution is both low profile and lightweight. I like it a lot!
Waist Belt
The waist belt is completely removable, which is always a good thing when you travel via plane. Removing a bulky padded waist belt is the fastest way to make your bag look smaller, and sneak past the gate agents without it getting weighed.
On one side of the belt is a zippered pocket which was specifically designed to be large enough to accommodate the largest phones on the market. On the other side is a small mesh pocket that might be useful for some energy gels or chews, but not a lot else.
Wandrd Camera Cubes
Wandrd have been making their camera Cubes for some years now. They fit into several of their other bags such as the Hexad Access duffel, Hexad Carryall duffel and the Prvke backpack. These Cubes fall into three different size categories:
The existing cubes range in price from $49 (mini) to $109 (pro+). The Fernweh pack is priced at $349 on its own, so you'll have to factor the cost of a cube or two into your pricing calculations. In general when a brand offers a large range of cubes like this, I recommend picking up a larger one to hold all your gear, and a second smaller one that'll hold just a camera with one lens. I very rarely find a use for anything in between. When I head out I'm either carrying a full load of camera gear, or a single body with a standard zoom (24-70), and a pack full of other non-photo equipment.
New Deep Cubes
With the launch of the Fenweh pack, there are now two new sizes of camera cube: The Essential Deep and the Pro Deep. These new sizes of cube are able to accommodate pro camera bodies or gripped bodies such as the Nikon D6 or Canon 1D X Mark III. These new Cubes are priced at $89 and $129 respectively. Wandrd camera Cube pricing lands somewhere in the middle of the competition. More expensive than F-Stop's ICUs, but a little cheaper than Shimoda's Core Units.
It's worth noting that most of these camera inserts from the various outdoor photo pack brands perform roughly the same job. If you have existing inserts from another brand, you might want to measure them first and compare them to the dimensions of the Wandrd ones to save you needlessly spending money on very similar products.
That said, the one thing you do need to consider it the side opening flap on the Wandrd Cubes. This is designed to perfectly line up with the side opening of the Fernweh and Prvke packs. If you use an existing insert from another brand, it might not have a side flap at all (F-Stop, MindShift). Or for those that do have side flaps (Shimoda, Peak Design), they might not line up perfectly.
Once again on these Cubes we do see Wandrd's insistence on using black for the interior of their bags. As you already know, i'm not a fan of this decision. I have so many small black pieces of camera gear. I really don't want to store them in small black holes.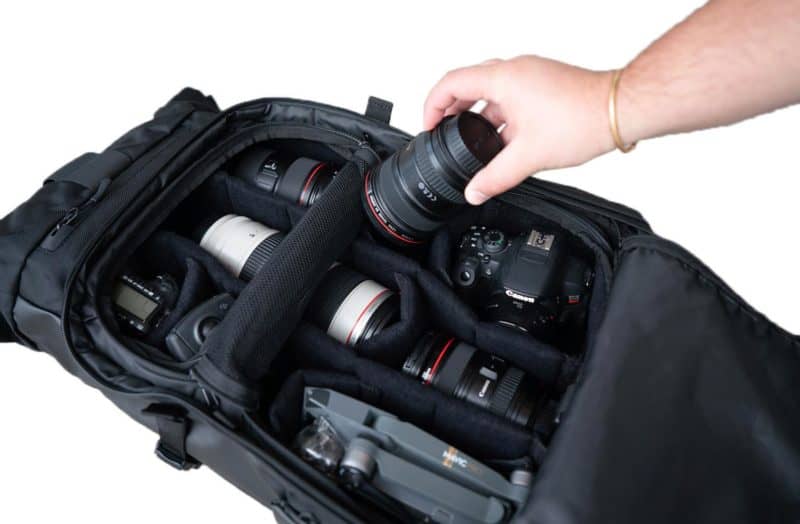 Note: I was not sent any of the camera Cubes with the Fernweh for this review. For camera carry testing I opted to use some F-Stop ICU's that I had in my gear closet. The F-Stop Pro L ICU makes a rough approximation of the new Fernweh Pro Deep Cube.
Cubes are now in the mail to me and I'l update the review as soon as I get my hands on them.
---
Fernweh Accessories
Wandrd Route Pack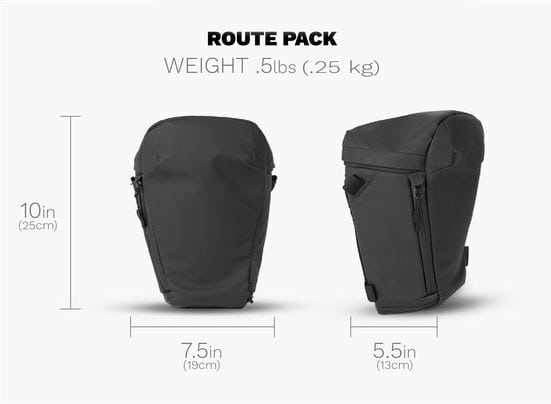 The Route Pack is a new holster style shoulder bag that can also be attached to the shoulder straps of the Fernweh pack. This gives you instant access to a camera body with one lens. In the standard configuration it will hold up to a 24-70mm lens, but there's also a zippered expansion to allow you to use up to a 70-200mm. A small zippered front pocket gives you a small space for batteries or a memory card wallet.
As well as connecting to the shoulder straps of the pack, you can also use a rear passthrough to slide the bag onto the waist belt of the pack. Matching the Fernweh, the Route uses a 420d TPU coated ripstop nylon.
The Route Pack will be available in black or Gobi Tan for $69
Accessory Straps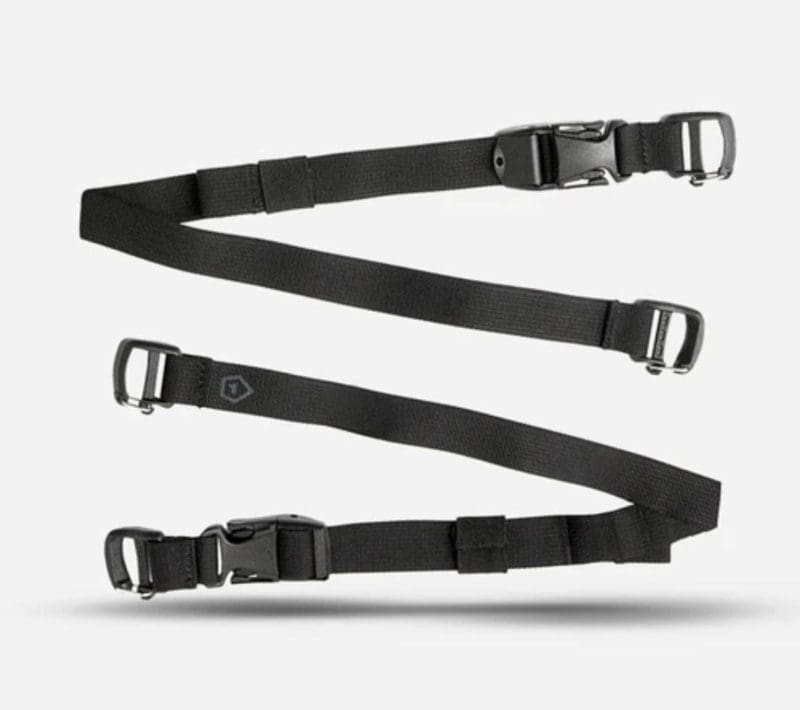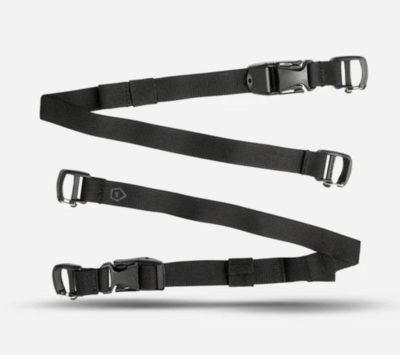 The Fernweh has attachment points all over it that are designed to work with the optional accessory straps. If you really need to add a huge amount of external gear, you can buy these at $15 for a pair. Most people will not need these. There are already multiple side straps, as well as the sleeping bag holder that I have already detailed. Adding anything else to the exterior of the pack would have a negative effect on the accessibility of your gear.
Rainfly
The black rainfly for this bag is an additional $20 purchase. For the price you pay for the bag, I would really have liked to see this included as standard. Some brands are good at including the rainfly in the price (Think Tank, MindShift), but many others are not, and I find myself repeating this is many reviews.
---
Compared to the Competition
It's always worth having a discussion about the other options that people might be considering. Here's a few thoughts on the four bags I think people are most likely to consider alongside the Fernweh.
Peak Design Travel Backpack 45L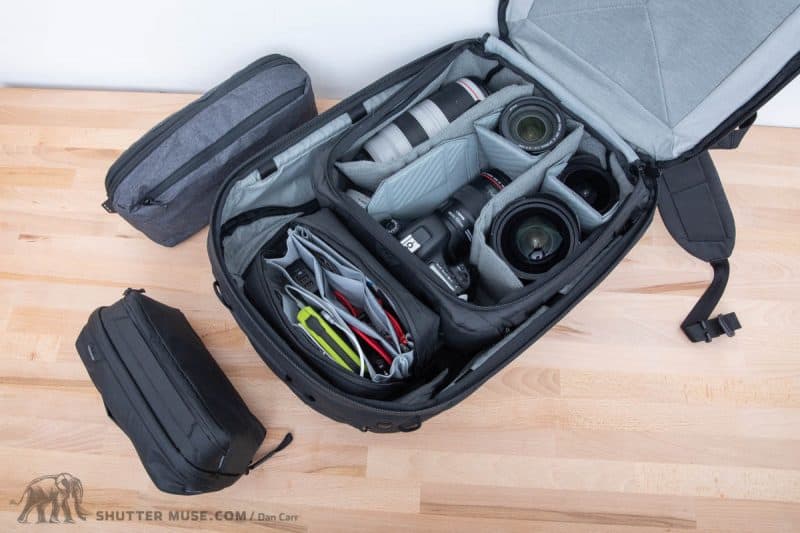 The PD Travel Backpack is a popular travel pack that also has the option to be kitted out with several sizes of camera cube. Although built from impressively rugged materials just like the Fernweh, the PD pack doesn't have a harness system that's really built for prolonged outdoor usage. The harness padding is minimal, and the waist belt is almost non-existent. The compensating virtue is that it is lighter and has far less "dangly bits" on it that the Fernweh, making it a little more travel friendly.
If you want more details, check out my review of the Peak Design Travel Backpack 45L.
MindShift BackLight Elite 45L
The BackLight Elite 45L is another high-end photo pack designed specifically for outdoor photographers. The size of the pack is comparable to the Fernweh, but the bag is slightly lighter due to the material choices. The BackLight features a lot of ultralight sailcloth nylon that has incredible strength to weight ratio, but likely isn't going to be quite as weatherproof as the heavily TPU coated material on the Fernweh. The camera compartment is also larger on the BackLight, making it a more suitable option for photographers who carry super telephoto lenses. At $399 including the internal camera compartment, this is a bag that delivers a ton of value in this segment of the market.
For more details, read my MindShift BackLight Elite review.
F-Stop Tilopa
The F-Stop Mountain Series packs should really be credited with the birth, or at very least the popularization of this particular category of camera bags. A fact that is easily demonstrated by that many photographers that use of the term "ICU" to describe the padded camera blocks which insert into all of these bags. ICU (Internal Camera Unit) is the name of F-stop's own camera blocks, but over the years it has become a near-universal term.
While the Mountain Series contains several different sizes of bag, it's the 50L Tilopa that best compares to the 50L Fernweh. The Tilopa is a highly dependable bag that I used myself for many years. It uses a similarly burly 420D TPU coated nylon, but a simpler harness and a less bulky EVA moulded foam back panel shaves a good chunk of weight off the pack compared to the Fernweh. Another standout difference is the specific straps on all F-Stop Mountain Series bags that are designed to carry skis and snowboards, as well as the front pocket that is designed to carry snow safety equipment for long days in the backcountry.
If the Fernweh walks a line somewhere right between travel and backpacking in the outdoors, the F-Stop Mountain Series bags are definitely more like 10% travel, 90% outdoors.
Shimoda Action-X 50
There's more than a couple of features on the Shimoda Action-X bags that are similar to those on the Fernweh. Since the Action-X bags came first, I'm pretty sure the Wandrd designers must have had their hands on them. The removable bucket system, carrying handles, gigantic side pocket, side camera access and laptop slot placement are all extremely similar between these two. The price of the 50L version? Oh yeah, that's the same too: $329.99 + the cost of the internal cubes.
The biggest difference is the tighter specialization of the Shimoda Action-X bags. They are far more mountain-centric than the Fernweh. They have straps for skis and a snowboard, as well as a moulded back panel that tends to work better in a snowy environment compared to mesh-backed bags that get snow caught in them. The Action-X packs also have a roll-top design that gives some flexibility to the internal volume. In the Action-X 50 you can use this roll top to expand beyond a 50L capacity.
---
Initial Conclusion
If you've simply scrolled to the bottom to read the conclusion, I need to fill you in. When Wandrd sent this pack to me for testing, a shipping error meant that I received a smaller S/M pack instead of the M/L pack that would be the correct size for my height and body dimensions. The small pack doesn't fit me very well, so I'm not willing to comment on the carrying comfort of this bag until I have tried the correct size. Wandrd are sending it to me right away and as soon as I have it, I'll head to the hills and report back!
Despite not being able to draw a complete conclusion yet, I still wanted to get the remainder of this review online as soon as possible. At the time of publishing it there was still a little time left on the Kickstarter countdown clock and I wanted people to, at the very least, be armed with the information that I could give them before they made a decision as to whether they would back the campaign.
In terms of design, build quality and features, Wandrd have done a fantastic job with this bag. As a travel company and not a camera bag company, this is a bag that walks a slightly different line to some of the bags that many will initially compare it to. It's designed for a broader range of uses, and yet it doesn't feel like the photography aspects of the bag have suffered in order to achieve that broad appeal. That's an impressive feat.
I want to reserve my final judgment until I have tested the comfort of the M/L bag that is sized to suit me, but based on what I've seen from my usage of the smaller size, I have high hopes for the Fernweh.
Where to Buy
The back was launched on Kickstarter where it raised over $250,000. Fernweh is now in production and the first run will go to the Kickstarter backers. Once they become publicly available, I will update this post with more information.