Apple recently launched a new 16-inch MacBook Pro that will replace the old 15-inch models and despite the screen size increase, the physical size difference between old and new models is relatively small, thanks to a decreased bezel size on the 16″ model.
While the screen size increase is nice to have, it wasn't actually the feature of the new model that most caught my attention. More than any other MacBook Pro before it, Apple seems to be offering considerable upgrade possibilities to suit professional users. In fact Apple CEO Tim Cook even acknowledged the pro community in his first tweet about the new models when they launched.
Not only can the new 16″ models be fitted with up to 64GB of RAM, you can also upgrade the internal SSD to a staggering 8TB capacity! Large internal drive capacities used to be nothing new when good ol' spinning hard disk drives were the norm many years ago, but with the adoption of solid state drives, price per terabyte increased rapidly and drive sizes took a significant fall. Until now.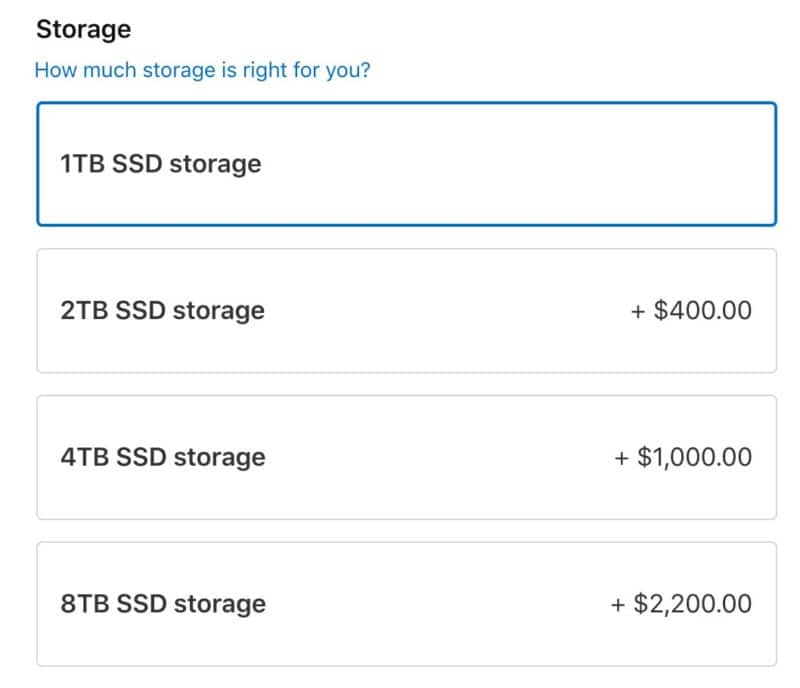 The 2TB, 4TB and 8TB SSD options in the new MacBook Pro are still not cheap, but at least they are now an option, and when you consider the capacity of them they are on a par, if not cheaper than comparative NVMe external SSDs such as the LaCie Rugged Pro that launched recently.
As you can see from the screenshot, the jump up from 2TB to 4TB is $600 which is $300/TB. The jump from 4TB to 8TB is $1200 which is also $300/TB.
The LaCie Rugged Pro 2TB Thunderbolt 3 drive, with a roughly-as-fast NVMe SSD inside it, is $700, or $350/TB.
So yes, the upgrades are expensive, but they aren't particularly overpriced and this got me thinking…
Ever since MacBook Pros moved to SSD storage I have been running the same setup which is as follows when I'm on the road:
Internal 1TB MacBook Pro drive is for applications and general documents, not photo storage.
External drive #1 is my on-the-road photo storage for newly acquired images.
External drive #2 is a backup of external drive #1
External drive #3 is a higher capacity (4 or 5TB) portable drive, usually a LaCie Rugged RAID, that has a copy of all my images from the past two years.
Drives 1 and 2 are self explanatory, you obviously need a backup of your latest images. Drive #3 is there because in my experience, the images I'm most likely to be selling, and need in a hurry, are my most recent images. While I do have online access to my entire archive via a Drobo 5N2 NAS that runs in my office, if the image is available on drive #3 then it's going to be faster to access, particularly if strong internet isn't available to connect remotely to my NAS.
This whole setup is basically derived from the inability to have enough internal storage on my laptop, but with the new late 2019 MacBook Pro 16″, Apple has changed things.
With an 8TB internal drive on my laptop I could easily store all the images from my previous two years of shooting, as well as a primary copy of the images I have just taken on that particular trip. Essentially doing away with the need for drive #1 and #3. Less bulk to carry, less weight to carry, less cables to carry. On top of all of that, all images would then be stored on the blazingly fast internal SSD for the laptop making the editing of new images, or old ones from my recent archive, much quicker. I'm sure this would motivate me to do more of my editing on the road, increasing my overall efficiency when I'm away from the office.
The drives I use aren't cheap, either. The financial saving would at least cover half the necessary SSD upgrade cost when choosing the specs for a new 16″ MBP.
I'm due an upgrade from my current 15″ MacBook Pro very soon, and there's no question I'll be speccing the replacement 16″ MacBook Pro with an 8TB drive.