Transporting large photographic prints can be tricky, I'm sure that I'm not the only person who has wrapped things in bed sheets when picking them up from the framer or delivering them to art shows in my car. When you think about it, it's a bit silly because high-quality prints, not to mention frames, are very expensive. Larger framed artwork is usually sold for many hundreds of dollars and some of my own larger pieces have four figure prices on them.
There has to be a better transportation solution, right?
I think like most photographers, I don't need to transport printed work all that often. A few sales here and there and the odd art show. Probably half of the prints that I sell are packaged unframed in tubes so they are not an issue. Space in my office is limited as well, so I had no interest in owning something bulky that was only going to be used a few times a year. That's where the X-Port expandable portfolios come in because they pack pretty flat, and the larger ones can even be folded up. They definitely fit my criteria for providing a protective solution in a minimal footprint. Now, if you are a photographer who sells prints weekly at craft markets and is therefore constantly transporting large numbers of prints, this might be a different usage case. I'm definitely approaching this review from the perspective of someone who only needs to protect work in this way a few times a year.
There are two distinct styles of case that X-Port make. The first style is available in four different sizes: 12×16, 16×22, 20×26 and 23×31. These sizes are hard-sided on two sides, front and back, while the two smaller sides are soft to allow the cases to be flattened for storage or to adjust to the thickness of whatever you are carrying. As you can see in the photo below, the solid sine panels (corrugated plastic) are removable if needed.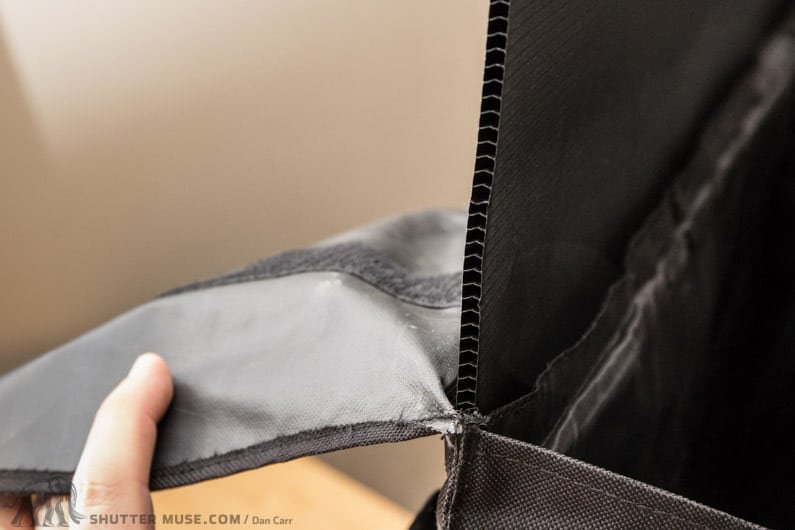 Inside the case there are two elasticated full width pockets that would allow you to secure art pieces that are not quite the full width of the whole case, and it would provide small protection between multiple pieces. No padding, just scratch protection so you still might wrap the pieces in a thin packing foam. On the back of the smaller cases, as in the photo below, is a basic shoulder strap.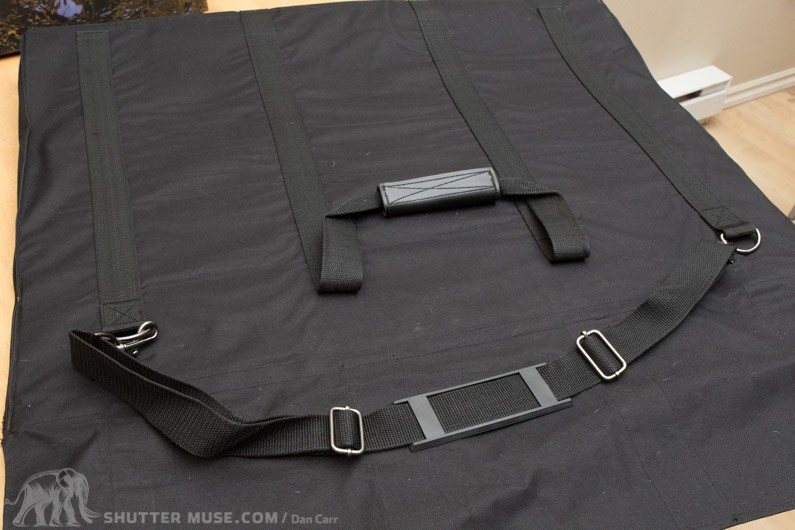 I took delivery of a couple of the cases, courtesy of X-Port, one in the smaller size design and one of the larger design that I will discuss in a bit more detail further down the review. In the small size, I chose the 23×31 because I often print images at 20×30, like the bear shot that you can see in the title image. I was able to comfortably fit two 20×30 canvas prints into the case when they were stretched onto 1.75″ stretcher bars. If you were using a more common 1 inch bar size you could fit three prints in the case without issue, even taking a small foam wrapper into consideration. I do not know the depth of the other small cases offhand, but the dimensions are quoted on the Amazon sales pages which are linked at the bottom of the article. In terms of fit and sizing, I was very happy with this smaller design for my 20x30s.
In terms of construction quality, I'd say the X-Port cases are adequate, but they aren't going to wow you. They do the job in a no-fuss, no-frills sort of way that is reflected in the low price point. The shoulder strap that's provided is pretty basic, but it is very securely fastened to the bag so I don't see it being a point of failure. The lower side handle that you can see in use in the courtesy photo down the page, is a nice touch. I actually preferred carrying the case under my arm in that way rather than using the shoulder strap. I suspect the strap might be good for smaller sizes, though.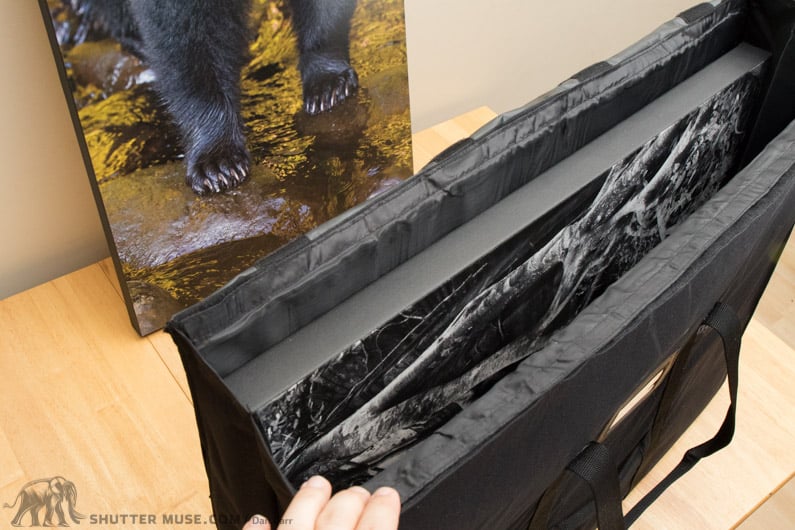 As I mentioned, there is also a larger design and this again comes in four sizes: 24×36, 32×42, 36×48, 41×61. Prices range from $129.99 to $279.99 for these ones. The main difference here is that the larger sizes come folded up so they do not contain the corrugated plastic panels of the smaller design. Shipping would simply not be practical if they were not folded. The good news is that you can get foamcore or plastic sheeting from any good art store or or even Home Depot. I checked my local Home Depot and found 48×96 inch pieces of corrugated plastic, what they called PLASKOLITE, for only $30. I'm also told by the folks at X-Port that for the 36×48 sizing, you can use "project display boards" that are available from office supply stores, the kind of thing used at science fairs. When they are unfolded, they measure 36×48 and a little tape on the seams will secure them from flexing. These seem to be readily available on Amazon as well. With any of these cases, small or large, you could beef them up even more by sliding some gator board into them.
The larger four sizes have zippers that run down both sides of the cases, and also a couple of front pockets for ancillary items. At 6 inches deep, they will hold 24 foamcore boards, or 2-3 large frames art pieces. Oddly there are 6 plastic attachments on the bottom of the case for which I could find no use, nor any mention of them in the product description. If anyone knows, please leave a comment below. It seems as though they could be used to stop the base expanding, but there are no straps to go through the buckles.
UPDATE: A very helpful reader (thanks Lynda!) had pointed out that the loops on the bottom of the larger case are for adding a set of wheels to the case. The wheels are available here on Amazon.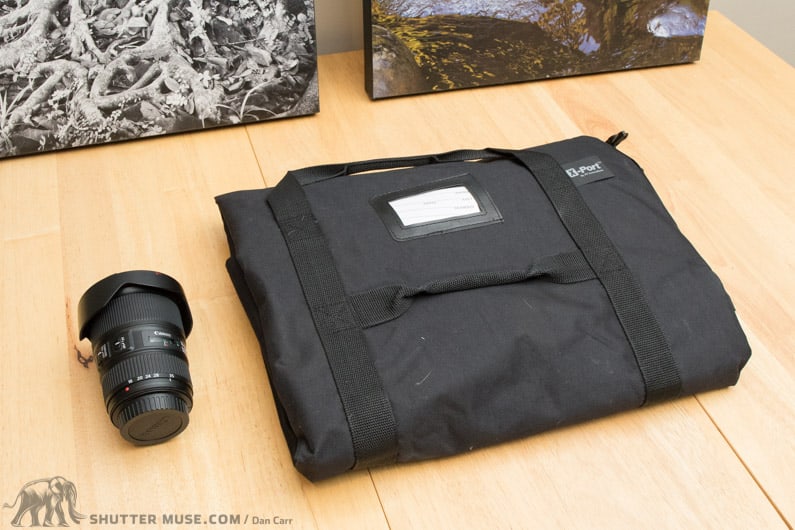 Of course, you could use these for all kinds of things. I note that the Amazon description lists examples like printer or projector transportation so from a photographic point of view, they might also suit an event photographer who is printing on site and just needs something to protect a printer during car transportation.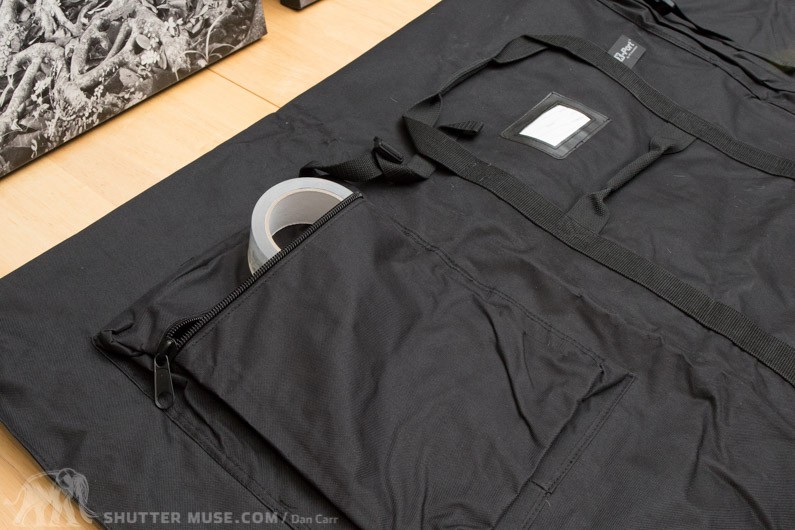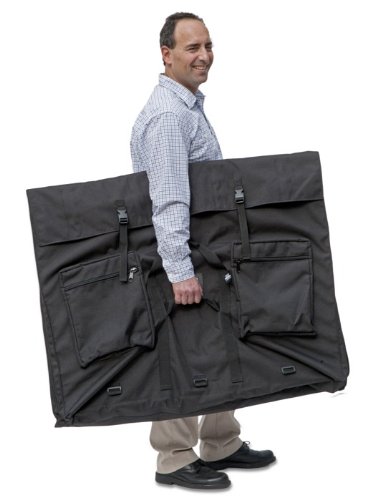 Conclusion
When I look back on picking up thousands of dollars worth of prints from my local fine art printer in Vancouver, and think about precariously wrapping them in sheets on the back seat of my car, I know I'm not going to miss that! I realize that this isn't the most glamorous product I've ever reviewed on the site, but they do a nice job at a decent price point and I feel sure this will be of use to many of you who have print sales as part of your business. To me, the smaller four sizes that come ready to go with the hard sides seem like slightly better value, but you're just going to need whatever size you print. When you get up into those larger sizes, the couple of hundred dollar pricing seems a touch high for the feel of the materials that are used. There's nothing wrong with the construction; it's just that I've spent a couple of hundred dollars on camera bags before that are constructionally much more complex and made from much higher quality hardware and materials. This difference is probably down economies of scale, though, as I doubt these are sold in huge volumes. Nonetheless, they do the job they are intended to do, so you can't really complain. I also noted a good solid number of 5 star reviews on Amazon, so it seems that in general, people are as happy with these cases as I am. I think it's probably the case (no pun intended) that you might not think you need something like this, until you damage a pricey piece of work on its way to a gallery; then you'll kick yourself! Certainly if you aren't printing over 20×30, you should definitely consider grabbing the 23×31 size.
Where To Buy
X-Port portfolios are only available from Amazon.
Smaller sizes
Larger sizes