XTAR has been making a name for itself in the world of camera battery chargers. I have previously reviewed the XTAR VN2. A tiny USB camera battery charger with swappable battery modules capable of charging a pair of batteries simultaneously. Now, XTAR has launched the SN4 quad battery charger.
Please Read
I don't usually preface a review with a comment like this, but in this case, it is necessary. I know some people will not read the full review. While performing my tests with this charger, it became clear that the unit was faulty. A variety of charging problems occurred, followed by a rapid increase in the temperature of the charger and a burning smell.
Closer inspection showed that the back of the charger had begun to melt. Luckily I was there and watching things as part of my testing. Had I not been, who knows what would have happened? After experiencing these issues, I immediately emailed my contact at XTAR.
They concluded that there was a short circuit within the charging hub. I agree with this assessment because it explains why only three of the four available charging slots worked. Plugging a battery into the fourth slot would cause the charger to shut down or cause all of the charge lights to flash uncontrollably.
While manufacturing mistakes do happen, the issue I have is that something as obvious as a short circuit should have been caught at the quality control stage.
An inoperable charging slot caused by a short circuit would have been easy to spot if any quality control had been performed on the finished product. A simple dummy battery slot with an ammeter wired to it should be able to diagnose severe issues like this in mere seconds. This charging hub should never have made it off the production line.
XTAR has requested the faulty unit be returned to them and say "We will let the engineering department disassemble the machine to study the specific reasons and make improvements to avoid this dangerous situation from happening again".
Problems During Testing – Fire Hazard!
Right now, I cannot recommend this product due to a variety of issues I experienced during testing. Including a one issue that I would call extremely dangerous, and an obvious fire risk.
The hub that I received was faulty. Only three of the four charging slots would work, no matter which type of battery holder I attached to it. After about ten minutes of testing, I noticed a burning smell and realised the charging hub was incredibly hot. Not wanting to touch the back of the hub with my hands, I grabbed a knife and prodded it. To my shock, the plastic was so hot that it had melted, and the knife immediately pierced the melted plastic! Had I not been there to oversee the testing, this could have burnt my house down. Totally unacceptable!
Design and Function
The charging hub and charging bays are made of very lightweight cheap-feeling plastic. The build quality is reflected in the relatively low price of the charger. If you are looking for a very robust charger, this will not check that box.
Compatible Battery Types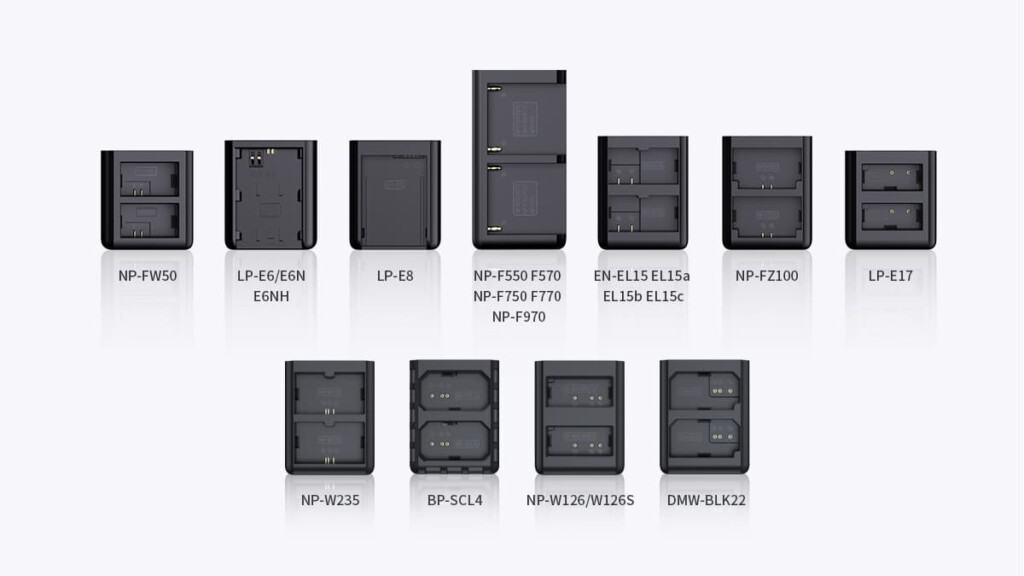 The XTAR SN4 is available in various kits that include the SN4's central hub, charger and a selection of charging modules to suit different cameras. Aside from the bundles, you can also purchase additional battery modules for an impressive range of cameras. Below I have listed the current options and given some examples of cameras that use those batteries. In addition to the currently supported battery types, a GoPro battery module is planned for the near future.
Canon
Canon LP-E6/LP-E6N/LP-E6H
Example cameras: Canon 5D, 5D Mark II, 5D Mark III, 5D Mark IV, 6D, 6D Mark II, EOS R, R5, R6, 90D, 80D, 70D, &d, 7D Mark II, 5DS, 5DSr, XC15, XC10
Canon LP-8
Example Cameras: EOS 550D, 600D, 650D, 700D
Canon LP-E17/LP-E17a/LP-E17b/ LP-E17c
Example cameras: EOS m6, M6 Mark II, M5, M3, 850D, 800D, 760D, 750D, 77D, 9000D, 250D, 200D, 130D, EOS RP, Rebel T6, T6i, T6s, T8i, SL2, SL3, Kiss X8, x9, x9i, x10, x10i, x80, 8000D
Sony
Sony NP-FZ100
Example Cameras: Sony a7 III, a7 IV, a7s III, a7C, a7R IV, a7R III, a9, a9 II, a1, a6600, FX3
Sony NP-FW50
Example cameras: a6500, a6400, a6300, a6000, a5100, a5000, a7, a7 II, a7S, a7R, a7S II, a7R II, a7R III, QX1, NEX- C3, F3, 3N, 5C, 3D, RX10 IV, RX10 III, RX10 II, RX10, a55, a37, a35, a33, a3000
Sony F-Series – NP-F970/NP-F7700/NP-F750/NP-F570/NP-F550
The Sony F-Series batteries are these days, mainly used for third-party accessories such as LCD monitors, camera sliders and audio devices. They are also used in all of Sony's Mini DV cameras, as well as the FX-6 and FX-9.
Fujifilm
Fujifilm NP-W235
Example cameras: GFX50SII, GFX100S, X-T4
Fujifilm NP-W126/NP-W126S
Example cameras: Fujifilm X-T3/T2/T1, X-Pro3/Pro2/Pro1, X-E4/E3/E2S/E2/E1, X-H1X/S10X/M1, X-T200X/T200/T100, X-T30/T20/T10, X100F/X100V, Fujifilm X-Pro2/Pro1, X-T10/T2/T1, X-E2S/E2/E1, X-M1, X-A2/A1, Finepix HS50EXR/HS303EXR/HS33EXR
Panasonic
Panasonic DMW-BLK22
Example cameras: DC-S5, S5K
Leica
Leica BP-SCL4
Example cameras: Leica SL, SL2, Q2, SL2-S
Specifications and Pricing
Weight: 45g (base) + 30g per battery dock.
Dimensions:61.7×52.7×23.2mm (base) 98x52x23.2mm (per charger dock)
Input: 15v
Supported USB protocols: PD 3.0 and QC 3.0
Working Temperature: 0-40 degrees Celsius
Drop protection: Up to 1m
XTAR is offering several kits with the ability to choose whether or not you need to buy the 45W USB-C charger. If you already have a compatible charger, there's no need to buy another one. Anyone with an Apple laptop or iPad charger that uses USB-C already has a charger that will work. Note that the 45W PD charger costs an additional $20. This is a reasonable price for a charger with those specifications, so there is little point in buying a different charger to use with the SN4 if you don't already have one.
As far as I can understand, the single dock kit for $43 always comes with a Sony NP-F battery dock. The 2-dock kit for $49 or $69 will come with two docks of the same type. For example, two Canon LP-E6 docks for a total of four battery slots. With the 4-dock kit, you will always get one Sony NP-F dock, and then you can choose three additional different docks for three different battery types. Yes, I agree that this is a bit confusing, so make sure you double-check what you are buying!
Power Delivery and Charge Times
The XTAR SN4 kit that I received comes packaged with a 45W USB-C charger that uses the Power Delivery protocol. This is the first time I have reviewed a USB camera battery charger that uses a 45W PD charger. Below are the charge times quoted by XTAR. I am unable to confirm these because my charger melted.
The SN4 can deliver a 3A charge to some batteries and only when there is a single battery in the charger. I got this to work with Sony NP-F batteries and Sony FZ-100 batteries in my brief testing. The 3A charging indicator turns on when you have one of those batteries in one of the slots. The charge light switches to the 2A setting if you add a second battery. If you add a third or a fourth, the charging current drops to 1A for each battery. Again, I had no problems using Sony NP-F or Sony FZ-100 batteries. However, this does not work with Canon LP-E6 batteries or Sony FW-50 batteries – the only other types of batteries I had to hand during testing.
I asked XTAR about this, and they told me this was normal. If a battery has too great a resistance, it can never charge at 3A or 2A. The charger first analyzes the battery's resistance and then delivers the charge. In other words, there are many batteries out there that will not charge at 3A or even 2A. Considering the graphic below lists the LP-E6, and FW-50and mentions max 3A charging, I find this to be at least confusing and perhaps misleading.
I would not be surprised to find that some others from the list, such as the Canon LP-E17, also do not charge at 3A. Essentially, if XTAR does not provide a complete list of which batteries charge at which currents, it's unknown how fast they will charge.
Yes, the charger still provides the convenience of charging many batteries simultaneously. Still, it cannot be taken for granted that it will be any kind of fast charge unless it is a single Sony NP-F battery or a single Sony FZ-100 battery.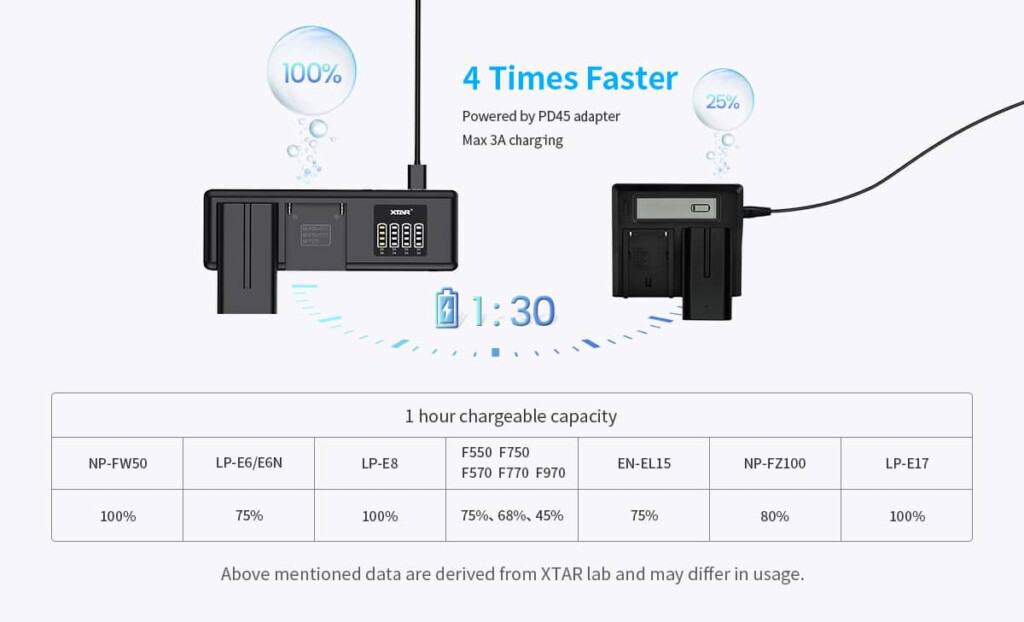 Charging With a USB Battery Bank
If you don't have a wall socket available, you can connect the XTAR SN4 to a USB battery bank. When you do this, you must be aware that for best results, the battery bank should provide 45W from its USB-C port and use either the PD Power Delivery 3.0 standard or Qualcomm QuickCharge 3.0.
If the battery bank delivers less than 45W, charge times will significantly decrease. In my experience, when testing with a sub-45W output on a battery bank, I also saw instances where only one of the charge modules delivered a charge to the battery. For example, a look at the photo above, with the XTAR SN4 connected to a 20W PD output on the Biolite Charge PD battery bank, shows that only the two batteries in the left-hand charging slots are charging. The takeaway here is that you really need to find a portable USB battery bank with more than a 45W output on the UCB-C port. My favourite is the Goal Zero Venture 75 which has a 60W USB-C port.
Conclusion
After receiving a faulty unit with a short circuit that melted when I tried to charge my batteries, I have no confidence in these products. Yes, I have read several other reviews of the product from respected camera websites, and none of them seem to have experienced the same issue. That said, would you trust something like this in your house if you had seen it burn and melt before you? I doubt it.
Another negative about the XTAR SN4 system is the bulky and wasteful carrying case when you purchase the charger as a kit. The case is too big that I can't see anyone using it, which means it'll end up in the garbage. As a society, we are far too wasteful. There's no need to contribute to landfill sites with unnecessary product add-ons. A small fabric pouch to keep everything together would have been more helpful and less wasteful.
Where to Buy
The most accessible place to buy the XTAR SN4 is from B&H Photo. They stock several of the kits and the individual charging modules for additional cameras. B&H ship internationally and offer free shipping for many people. The Sony battery kit (hub and chargers) seems to be readily available for Sony shooters on Amazon, but I had a hard time finding the singular modules or any kits for other brands there. For some reason, at review time, this charger was not available on XTAR's Amazon Storefront, but it might also be worth checking now to see whether they have added the kits and the charge modules.