Lens hoods for super-telephoto lenses are necessary to protect the vast and expensive glass elements at the front of the lens and to shade these elements from sunlight at an obtuse angle that might cause lowered contrast or flare in an image. But there's a problem. If you break one of these lens hoods, an original replacement will cost you between $500 and $1000+.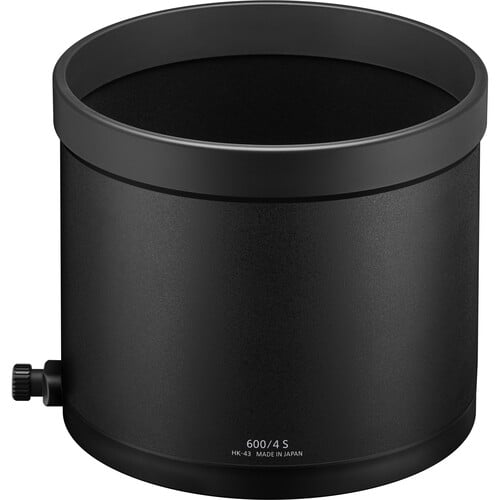 And what do you do if you know you don't need a hood that big while you're shooting indoor sports or working in the confines of a cramped vehicle? In the past, Canon has offered "short" versions of their 400mm and 600mm lens hoods, but they cost over $550 and offer no use to Nikon and Sony shooters. The answer to these questions, and more, might be the replacement lens hoods manufactured by Karl Zemlin of Zemlin Photo and available for just about every super-telephoto lens you could ever think of.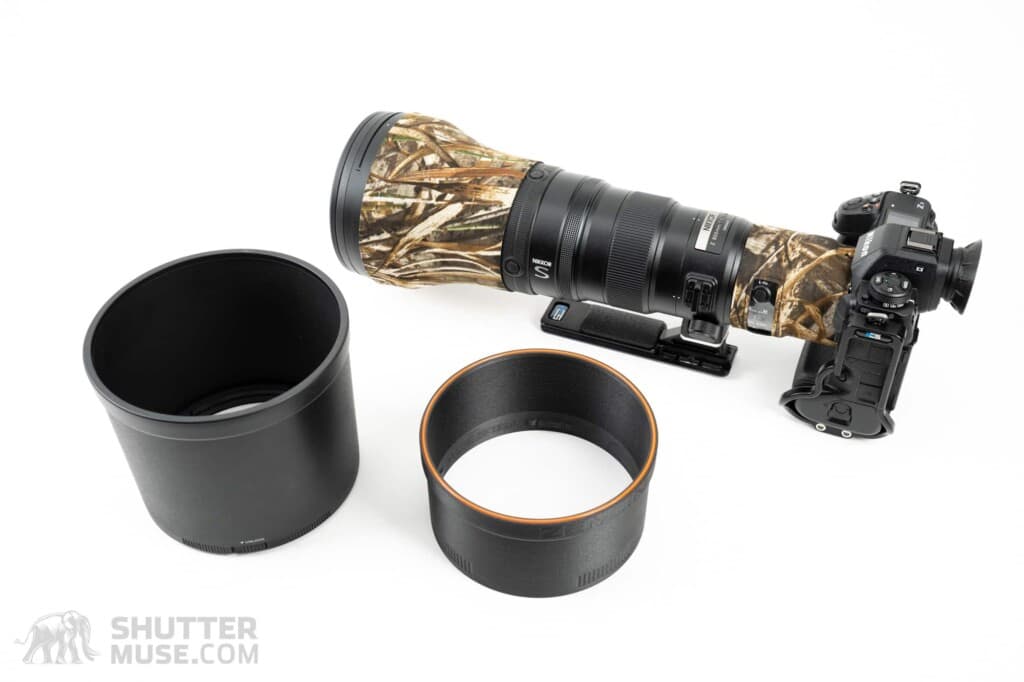 To test them out, I purchased the Zemlin Photo lens hood for my Nikon Z 800mm lens at retail price from their website (and later, another one for my Sony 600mm f/4). Links to the Zemlin Photo site in this review are not affiliate links. In this review, we'll closely examine these replacement hoods. We'll talk about why you might consider buying a replacement lens hood like this for your super-telephoto lens, and I'll give you my opinion on the quality and usefulness of the product. There's also a list of lenses for which Karl is currently making these replacement lens hoods.
Zemlin Photo Lens Hood Design and Features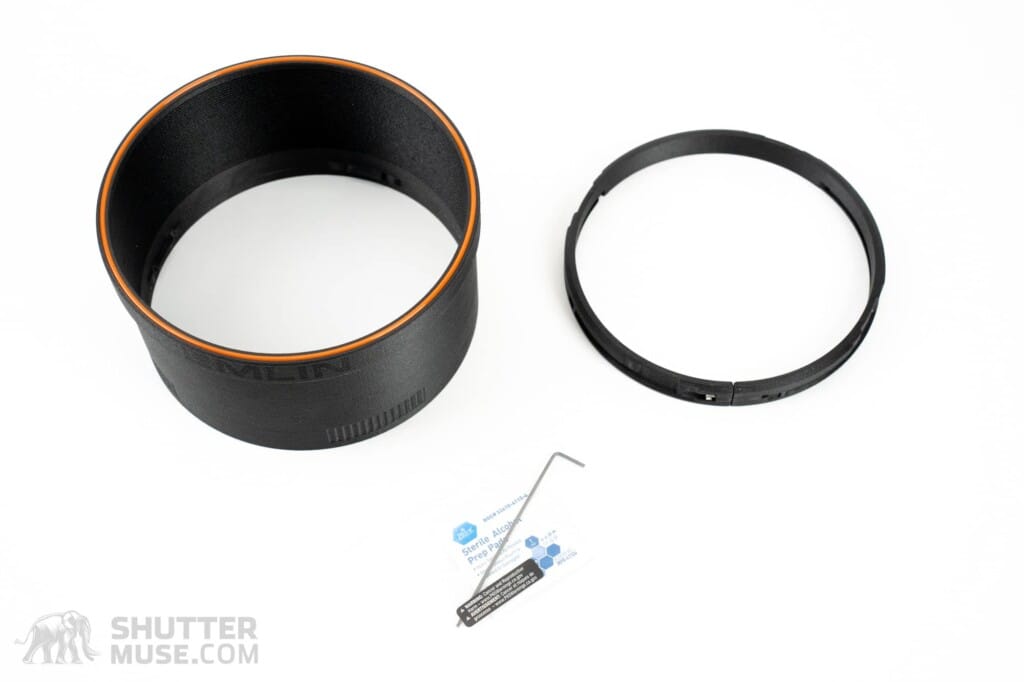 The hoods are made in a 3D printer using fiberglass-reinforced plastic. The manufacturing method gives the hood an interesting textured feel, and while I don't have a lot of experience with 3D-printed products, I was surprised at how solid they felt. I have no qualms about using it to protect my expensive lens investment.
The optional Skid Pad rubber ring in the front of the hood is specified when you order the lens. Including a Skid Plate in your hood is free and offers added grip when the lens stands upright on a flat surface. The possible downside to the Skid Pad is the bright orange color. Wildlife photographers who value absolute discretion might not appreciate an otherwise camouflaged lens picked out by the orange ring.
I didn't think about that potential downside when I made my selections on the website, so I'll have to see if I can remove the ring or blacken it with a sharpie. I mentioned this point to Karl Zemlin and was told that the material he uses for the Skid Pad is not available in black, which is one of the reasons the feature is optional.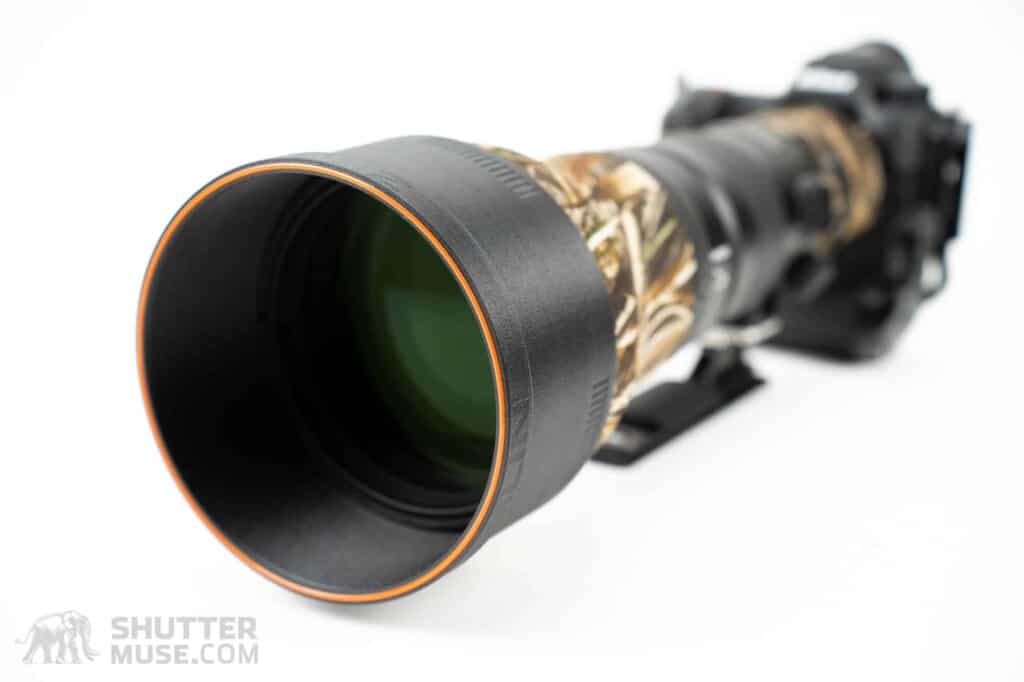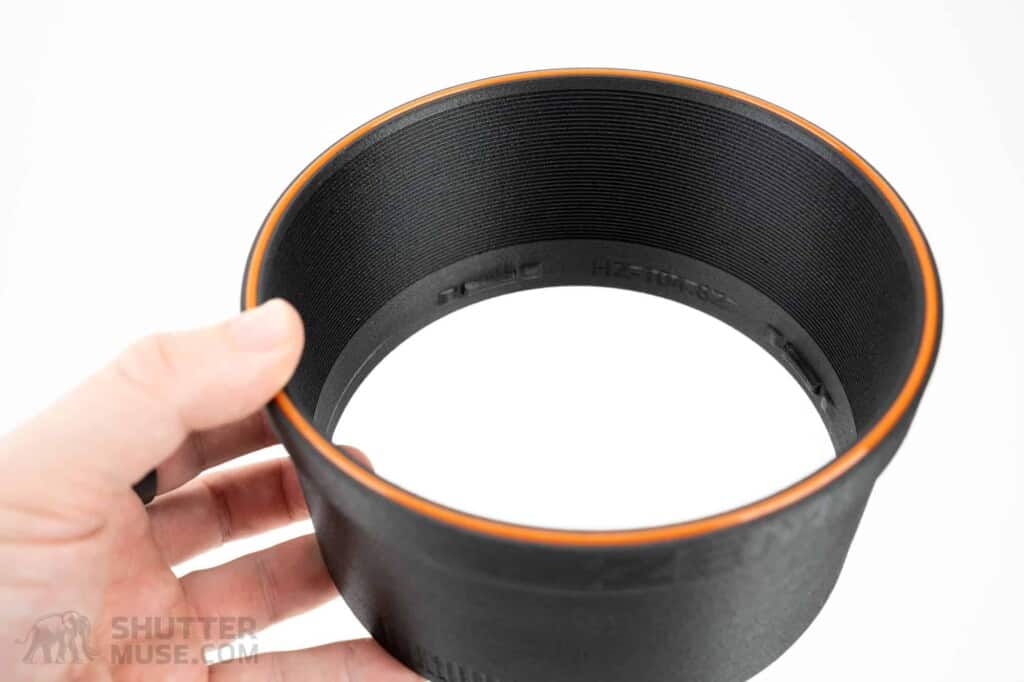 Bayonet Attachment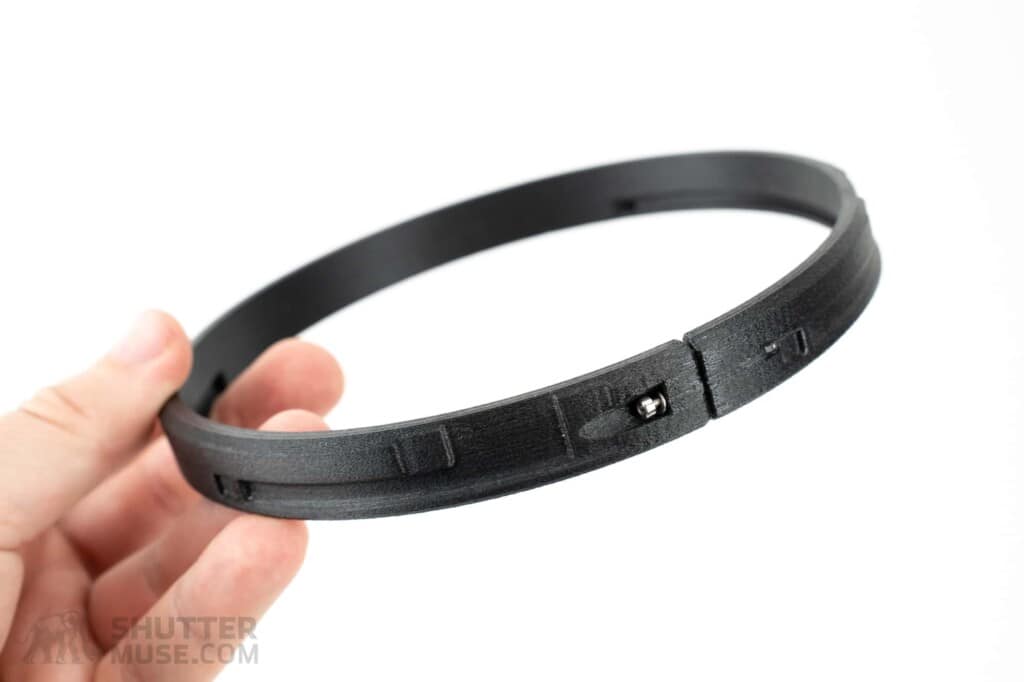 Most of the Zemlin lens hoods use a custom bayonet mount that is much easier to use in the field than the fiddly screw-knob designs implemented by many lens manufacturers. The hood has a custom bayonet ring that can be installed on the lens using the included hex wrench in a few seconds. Once in place, the bayonet ring stays on your lens, and the hood is installed by rotating the hood a few degrees into the bayonet mount, just as you would with a smaller hood on a smaller lens.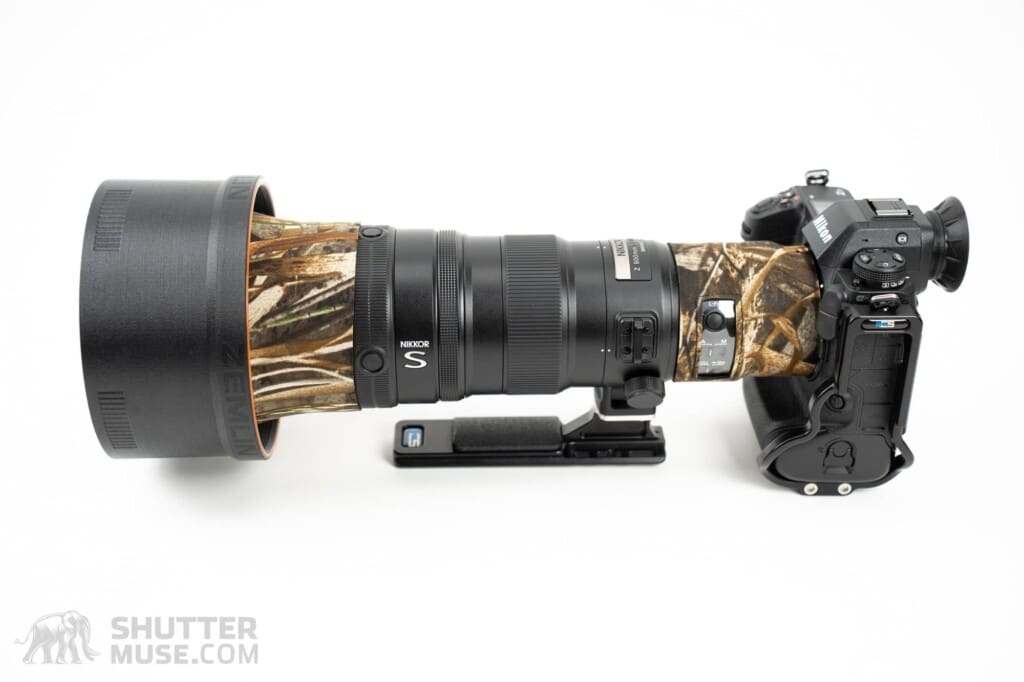 Compared to most 1st-party telephoto lens hoods, this simple, effective solution is much easier to perform with gloves on, and there is no chance of over-tightening anything and damaging your lens. Once the hood has been correctly rotated into the locked position, a loud click is tangible and audible. With a large force required to unlock the hood, there is no chance of it coming loose accidentally.
Zemlin Photo Lens Hood Sizes
Zemlin Photo offers at least four lengths of the replacement lens hood for most lenses, but it is many more for some lenses. I had seven options when choosing a hood for my Nikon 800mm! One thing you can be sure of is that there will be a replacement hood that exactly matches the length of the original lens hood. If you are replacing a lost or broken original hood and were happy with its sizing, this is an easy choice. A second common option is a 2-piece hood that matches the original hood's length when fully extended. After that, there will be several options for shorter hoods and, in some cases, for longer hoods.
Deciding which hood length to choose will come down to what you are trying to achieve. For the ultimate weight savings, the shortest hood makes sense, but it comes with increased risk of glare if you are using the lens outdoors. On the other hand, if you are shooting sports indoors, glare and flare aren't an issue, and you can safely choose the shortest available hood for simple bump protection.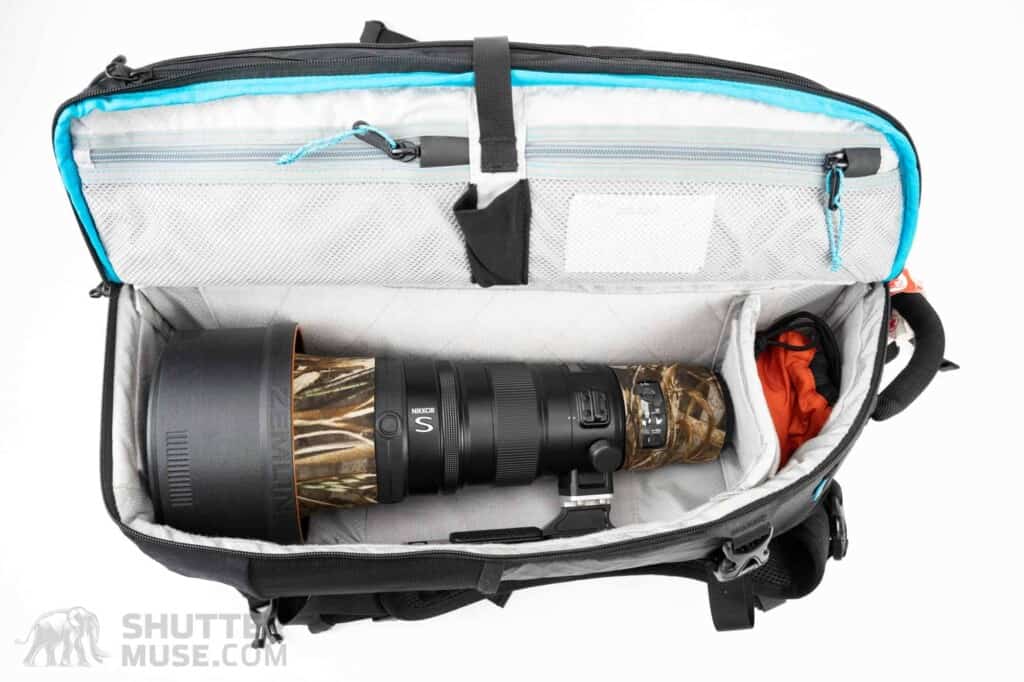 In choosing the hood for my 800mm lens, I chose one that is 3.22 inches long, compared to the 5.71-inch length of the Nikon original. It wasn't the shortest option, but I still wanted a certain amount of shading from the sun since I use the lens outdoors. Having used this length for many days of shooting and four transatlantic flights to Europe, I'm very happy with my choice. The shorter length frees up additional space around the lens body in my carry-on bag. I can use this space to pack smaller accessories around the lens or to have more space for clothing when I'm in the field.
2-Piece Hood Options
In some cases, a 2-piece lens hood design is offered. The two pieces can be assembled to form one longer lens hood, or you can use only the first piece for a shorter option. If you're on the fence about getting a shorter hood or one that mirrors the original hood's size, a 2-piece choice might be right for you. From what I can tell, the only real downside to the 2-piece versions is that if you want to use just one section, that first section will not have the built-in rubber Skid Pad ring.
Available Lens Models
Zemlin Photo offers an impressive range of replacement lens caps for super-telephoto lenses, covering all big lenses from Canon, Nikon, Sony, Fujifilm, Olympus, and more. Even more impressive is the range doesn't just cover the latest designed-for-mirrorless lenses but reaches way back into the DSLR lens catalogs for several decades.
Canon
Canon EF 100-400mm f/4.5-5.6 L IS
Canon EF 200-400mm f/4 L IS 1.4x
Canon EF 200mm f/1.8 L
Canon EF 200mm f/2 L IS (all versions)
Canon EF 300mm f/2.8 L
Canon EF 300mm f/2.8 L IS (all versions)
Canon EF 400mm f/4 DO IS
Canon EF 400mm f/2.8 L
Canon EF 400mm f/2.8 L IS
Canon EF 400mm f/2.8 L IS II
Canon EF 400mm f/2.8 L IS III
Canon RF 400mm f/2.8 L IS
Canon EF 500mm f/4.5 L
Canon EF 500mm f/4 L IS
Canon EF 500mm f/4 L IS II
Canon EF 600mm f/2.8 L
Canon EF 600mm f/2.8 L IS
Canon EF 600mm f/2.8 L IS II
Canon EF 600mm f/2.8 L IS III
Canon RF 600mm f/2.8 L IS
Canon EF 800mm f/5.6 L IS
Nikon
Nikon 120-300mm f/2.8E FL ED SR VR
Nikon 180–400mm f/4E TC1.4 FL ED VR
Nikon 200-400mm f/4G VR IF-ED
Nikon 200-400mm f/4G ED VR II
Nikon 200-500mm f/5.6E ED VR
Nikon 200mm f/2G VR IF-ED
Nikon 200mm f/2G ED VR II
Nikon 300mm f/2.8D IF-ED
Nikon 300mm f/2.8D IF-ED II
Nikon 300mm f/2.8G VR IF-ED
Nikon 300mm f/2.8G ED VR II
Nikon 400mm f/2.8D IF-ED
Nikon 400mm f/2.8D IF-ED
Nikon 400mm f/2.8D IF-ED II
Nikon 400mm f/2.8G VR IF-ED
Nikon 400mm f/2.8E FL ED VR
Nikon Z 400mm f/2.8 TC VR S
Nikon Z 400mm f/4.5 VR S
Nikon 500mm f/4D IF-ED
Nikon 500mm f/4D IF-ED
Nikon 500mm f/4D IF-ED II
Nikon 500mm f/4G VR IF-ED
Nikon 500mm f/4E FL ED VR
Nikon 500mm f/5.6E PF VR
Nikon 600mm f/4D IF-ED
Nikon 600mm f/4D IF-ED
Nikon 600mm f/4D IF-ED II
Nikon 600mm f/4G VR IF-ED
Nikon Z 600mm f/4 TC VR S
Nikon 800mm f/5.6E FL ED VR
Nikon Z 800mm f/6.3 VR S
Sony
Sony FE 400mm f/2.8 GM OSS
Sony FE 600mm f/4 GM OSS
Olympus
Olympus M.Zuiko 150-400mm F4.5 TC1.25x IS PRO
Sigma
Sigma 150-600mm F5-6.3 DG OS HSM Sport
Sigma 500mm f/4 DG OS HSM Sport
Sigma 300-800mm F5.6 EX DG APO HSM
Fuji
Fuji XF 200mm f/2 R LM OIS WR
Not seeing your lens? This list was correct when publishing, and I'll try to update it occasionally. Check the Zemlin website if you're not seeing your lens there. I do not doubt that lens hoods will be produced for all new super-telephoto lenses from all of these manufacturers.
Does a Zemlin Photo Lens Hood Save You weight?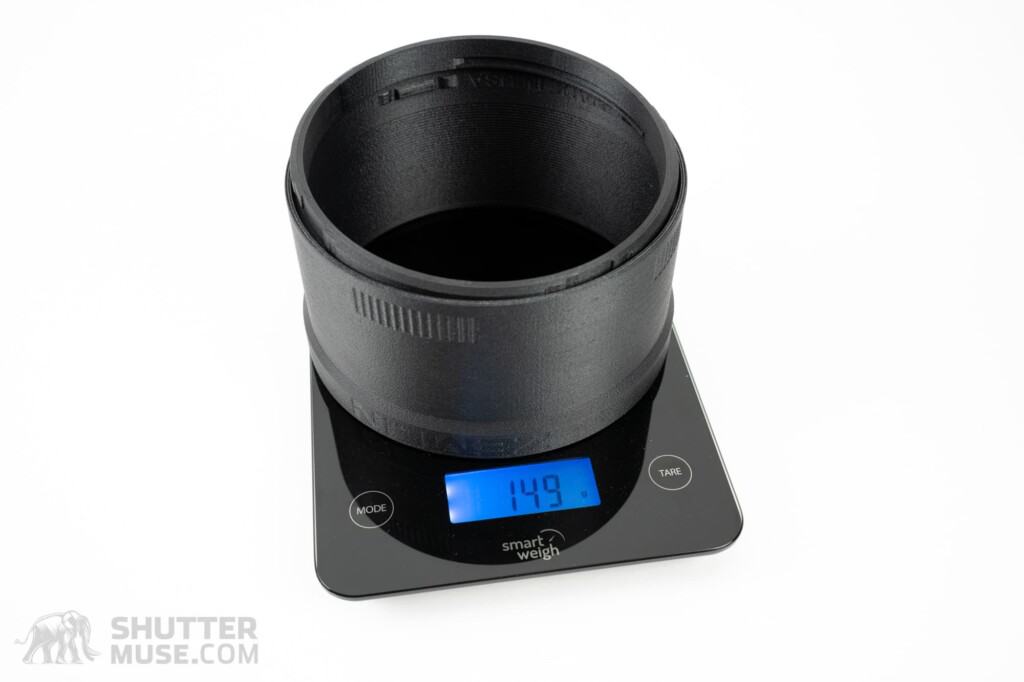 There are many reasons you might want to buy a replacement lens hood for your super telephoto lens, and one of them is to save weight. As airlines continuously clamp down on carry-on baggage allowances, it becomes increasingly important to shave weight wherever possible. Whether a Zemlin Photo lens hood will save you weight will obviously depend on the length of the hood you choose. While I can't say for certain how much weight you will save with your lens, we can take a look at the weight savings I achieved, and I think this will give you some idea of the possibilities.
As you can see from the photos, the original lens hood for my Nikon Z 800mm lens weighed 247g, while the replacement shorter lens hood from Zemlin Photo weighed 149g. A 98g saving may not seem like much, but that's a 40% decrease, and I'm happy to take anything I can get when forced to fly with those pesky airlines that permit a mere 7kg of carry-on allowance. As an estimate, I would guess that if you choose a Zemlin hood that matches the length of your original hood, it will be closely matched in weight. If you choose something shorter, there are weight savings to be had.
Zemlin Photo Lens Cap
Aside from their array of replacement telephoto lens hoods, Zemlin Photo also makes replacement lens caps for all the same lenses. The story with the lens caps is much the same as with the lens hoods. They make life easier, probably save you a little weight and make packing and traveling with your long lenses much easier. Check out my review of the Zemlin Photo Lens Caps for more details, and note that there is a $15 discount if you buy a lens cap and the matching lens hood.
Reasons to Buy a Zemlin Photo Lens Hood
In summary, there are quite a few reasons why you might consider buying one of these replacement telephoto lens hoods.
Faster to attach and detach in the field
Lower profile in your camera bag makes it easier to pack your lens in a carry-on bag
Bayonet mounting won't damage your lens
Almost certainly lighter than your current lens hood
Pack it in your checked luggage without worrying about its value
Prevent damage to the original hood, thus improving the resale value of your lens
A much cheaper way to replace a lost or broken original lens hood
Shorter lens hoods are easy to manage in a vehicle
Conclusion
Zemlin Photo's range of replacement super-telephoto lens hoods offers an affordable way for photographers to experiment using different lens hood lengths. While Canon does offer "short" versions of their lens hood for 400mm and 600mm lenses, they cost upwards of $550. Zemlin Photo's hoods start at around $150 and offer considerably more length options while also opening up the short hood possibilities to owners of all Canon, Nikon, and Sony super-telephoto lenses, as well as a good selection of other manufacturers.
When I first saw photos of the Zemlin lens hoods, I thought they were a great idea, but I needed clarification about the sturdiness. of 3D-printed products. With little experience in this manufacturing method, all I knew was that 3D printing allowed for small-batch production of relatively complex shapes. Still, it leaves a somewhat odd-looking aesthetic compared to typical injection molding or thermoforming. From the photos, I found it hard to imagine what the lens hoods would feel like. Did they feel like a product that could withstand long-term outdoor use and constant travel?
When I unpacked my first Zemlin Photo lens hood for the Nikon Z 800mm lens, any worries I had vanished immediately. These lens hoods are incredibly solid, and it's clear that the fiberglass-reinforced plastic they have chosen for the 3D printing process is durable without being too heavy. Perhaps you want a shorter lens hood for travel or for use in a vehicle, or maybe you are just trying to protect the original hood for a higher lens resale value. Whatever the reason, I think you'll be happy with these Zemlin hoods.
Where to Buy
The Zemlin Photo replacement lens hoods for super-telephoto lenses are only available directly from the Zemlin Photo store.