For years I have wondered how lens manufacturers can get the optics of their super telephoto lenses so right but miss the mark with simple things like the usability of the lens' essential accessories. Lens caps are a prime example. Why should it take me one second to take the lens cap off my 24-70mm lens but thirty seconds to take it off or install it on my 800mm lens? Even the newer Canon and Sony lens caps, though faster to remove, still fall short because you can't use them with the lens hood installed in the shooting position.
Recently, I became aware of a company trying to solve some of these problems. Karl Zemlin started Zemlin Photo and now designs, manufactures, and assembles an array of 3D-printed accessories for super telephoto lenses. After taking delivery of a new Nikon Z 800mm lens, I decided it was the perfect time to test some of Zemlin Photo's offerings, starting with their custom lens caps. I purchased the Zemlin Photo lens cap at retail price from their website. I also purchased a replacement lens hood which is reviewed in a separate article. Links to the Zemlin Photo site in this review are not affiliate links.
In this review, we'll closely examine the Zemlin Photo lens cap. We'll talk about why you might consider buying a lens cap like this for your super telephoto lens, and I'll give you my opinion on the quality and usefulness of the product. There's also a handy list of lenses for which Karl is currently making these replacement lens caps.
Zemlin Photo Lens Cap Design and Features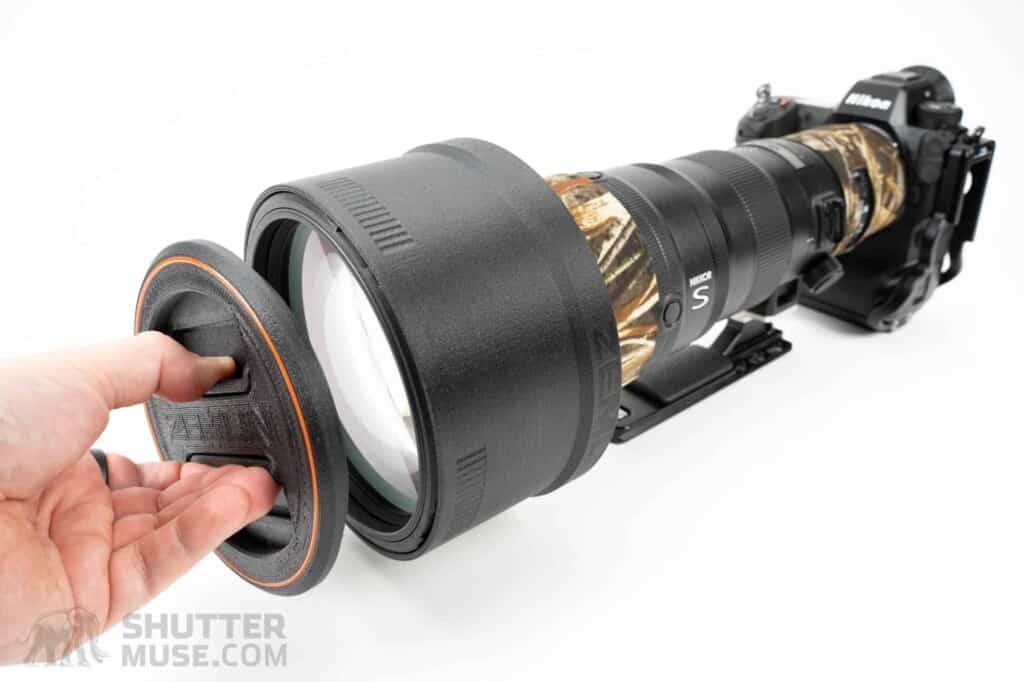 Out of the box, my first impression of the lens cap was positive. It feels solid and durable, yet not too heavy. The spring wire in the pinch-style release mechanism creates a lot of force, securely fastening the cap in front of the lens element. Short of giving it a hefty whack on a solid object, the cap isn't going to come off unless you want it to. Built into the front of the lens cap is a Skid Pad. This orange urethane ring provides grip when the lens is stood vertically on a table or smooth floor.
In use, it took me two seconds to realize I'd be buying one of these for all my super telephoto lenses in the future. As luck would have it, the lens cap arrived just a day before a big international travel trip that required six long flights with my 800mm lens packed into my usual Gura Gear Kiboko backpack. Combined with a Zemlin Photo replacement hood for the lens – a review of which is coming in a few days – there was increased room in my bag, allowing me to pack accessories closer to the lens body. I didn't take more gear with me, but the usual contents of my bag just had that little bit more room. That makes it easier to move things around in the main volume, and keeps the bag looking a little smaller.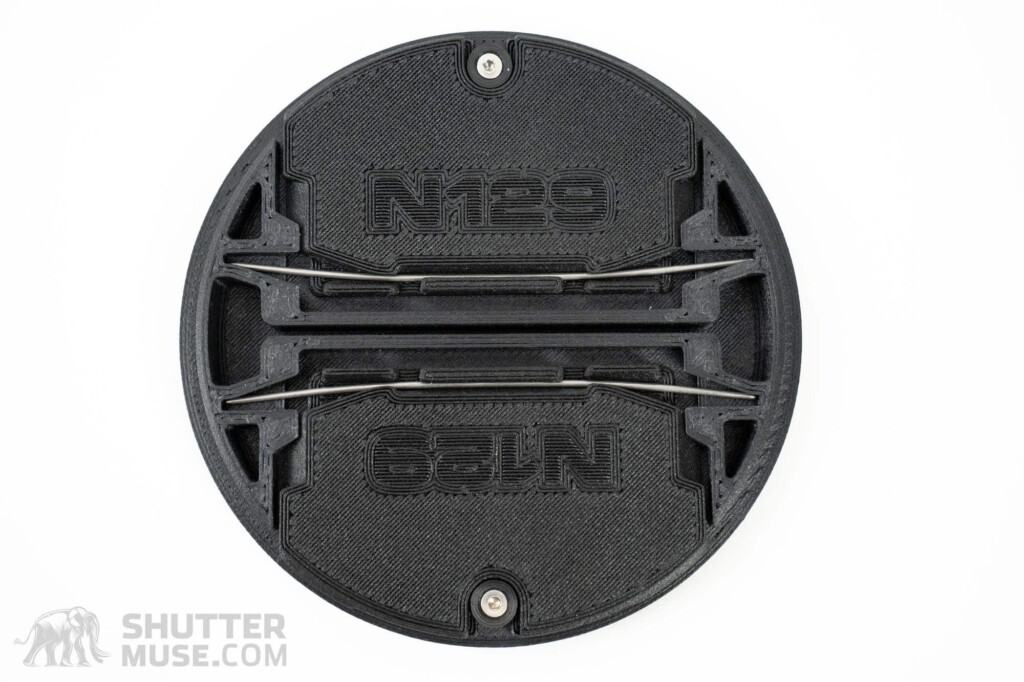 Available Lens Models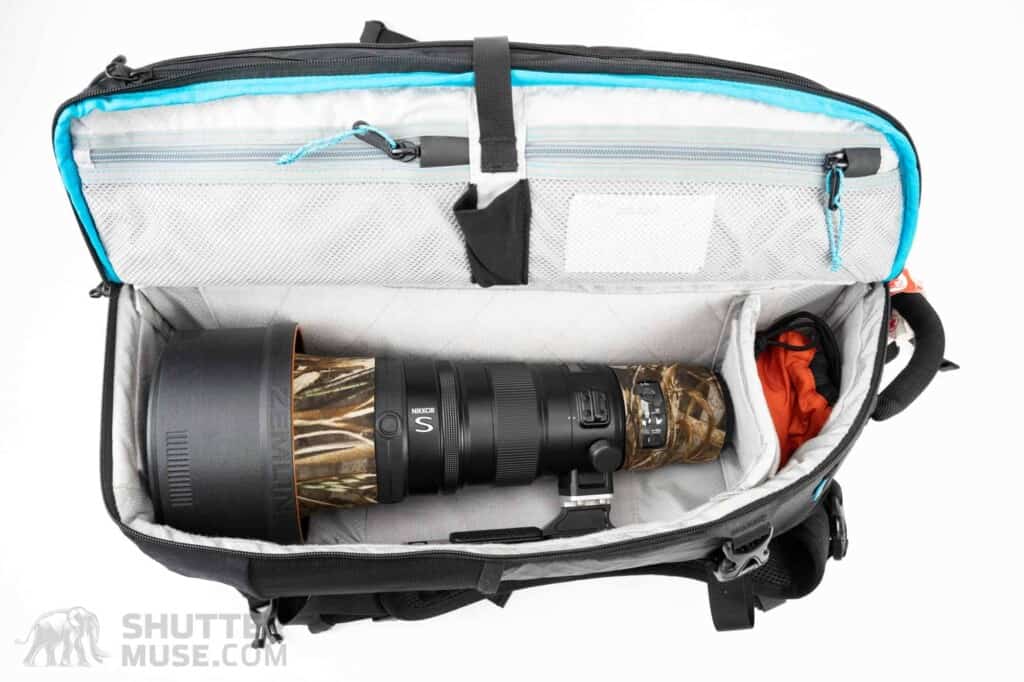 Zemlin Photo offers an impressive range of replacement lens caps for super telephoto lenses, covering all big lenses from Canon, Nikon, Sony, Fujifilm, Olympus, and more. Even more impressive is the range doesn't just cover the latest designed-for-mirrorless lenses but reaches way back into the DSLR lens catalogs for several decades.
Canon
Canon EF 200-400mm f/4 L IS 1.4x
Canon EF 200mm f/1.8 L
Canon EF 200mm f/2 L IS (all versions)
Canon EF 300mm f/2.8 L
Canon EF 300mm f/2.8 L IS (all versions)
Canon EF 400mm f/4 DO IS
Canon EF 400mm f/2.8 L
Canon EF 400mm f/2.8 L IS
Canon EF 400mm f/2.8 L IS II
Canon EF 400mm f/2.8 L IS III
Canon RF 400mm f/2.8 L IS
Canon EF 500mm f/4.5 L
Canon 500mm f/4 L IS
Canon 500mm f/4 L IS II
Canon EF 600mm f/2.8 L
Canon EF 600mm f/2.8 L IS
Canon EF 600mm f/2.8 L IS II
Canon EF 600mm f/2.8 L IS III
Canon RF 600mm f/2.8 L IS
Canon EF 800mm f/5.6 L IS
Nikon
Nikon 120-300mm f/2.8E FL ED SR VR
Nikon 180–400mm f/4E TC1.4 FL ED VR
Nikon 200-400mm f/4G VR IF-ED
Nikon 200-400mm f/4G ED VR II
Nikon 200mm f/2G VR IF-ED
Nikon 200mm f/2G ED VR II
Nikon 300mm f/2.8D IF-ED
Nikon 300mm f/2.8D IF-ED II
Nikon 300mm f/2.8G VR IF-ED
Nikon 300mm f/2.8G ED VR II
Nikon 400mm f/2.8D IF-ED
Nikon 400mm f/2.8D IF-ED
Nikon 400mm f/2.8D IF-ED II
Nikon 400mm f/2.8G VR IF-ED
Nikon 400mm f/2.8E FL ED VR
Nikon Z 400mm f/2.8 TC VR S
Nikon 500mm f/4D IF-ED
Nikon 500mm f/4D IF-ED
Nikon 500mm f/4D IF-ED II
Nikon 500mm f/4G VR IF-ED
Nikon 500mm f/4E FL ED VR
Nikon 600mm f/4D IF-ED
Nikon 600mm f/4D IF-ED
Nikon 600mm f/4D IF-ED II
Nikon 600mm f/4G VR IF-ED
Nikon Z 600mm f/4 TC VR S
Nikon 800mm f/5.6E FL ED VR
Nikon Z 800mm f/6.3 VR S
Sony
Sony FE 400mm f/2.8 GM OSS
Sony FE 600mm f/4 GM OSS
Olympus
Olympus M.Zuiko 150-400mm F4.5 TC1.25x IS PRO
Sigma
Sigma 150-600mm F5-6.3 DG OS HSM Sport
Sigma 500mm f/4 DG OS HSM Sport
Sigma 300-800mm F5.6 EX DG APO HSM
Not seeing your lens? This list was correct when publishing, and I'll try to update it occasionally. Check the Zemlin website if you're not seeing your lens there. I do not doubt that lens caps will be produced for all new super telephoto lenses from all of these manufacturers.
Using the Lens Cap With a Hood in Place
I often carry my long telephoto lenses on my shoulder, either on a monopod or a tripod. Although I try to keep the lens pointed downwards to avoid dust, rain, snow, and other airborne crud getting on the lens element, if you walk far enough, that stuff will inevitably find its way onto your glass.
Although it is possible to put the large Nikon-style lens caps on a lens while the hood is in place, it's cumbersome, and you can forget about doing it if you're wearing gloves. Perhaps more importantly, it can be fiddly and time-consuming to remove them, which is bad news of you suddenly find the wildlife you were looking for. Newer Canon and Sony telephoto lens caps cannot be used at all while the lens hood is in place, as they require the hood release knob as an attachment point, which is located at the rear of the hood.
Zemlin Photo's replacement lens caps solve this problem entirely. Reaching into your lens hood, you can quickly attach and detach your lens cap in seconds. When I first did this, I had one of those "where have you been all my life" moments. Lots of little things can add up to a big thing.
Does a Zemlin Lens Cap Save You Weight?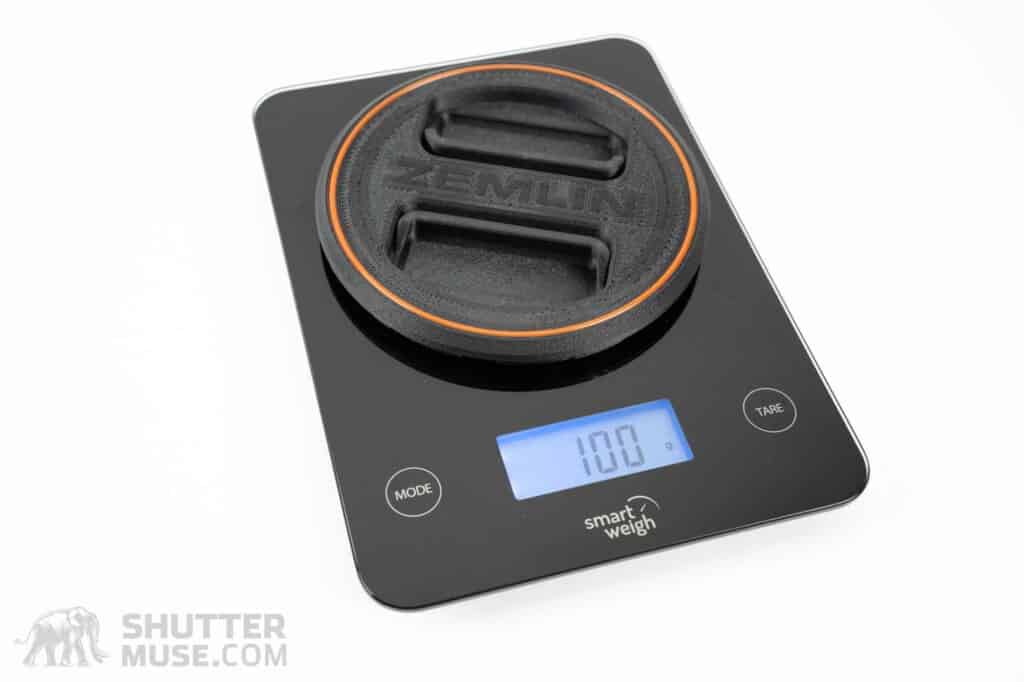 Most photographers traveling with large telephoto lenses are looking to save weight in order to meet ever stricter carry-on limits. Can a Zemlin lens cap help? With manufacturers historically providing a wide array of different lens cap styles with their telephoto lenses, it's hard to answer whether a Zemlin lens cap will save you weight in your bag with your lens model. However, we can get an idea based on my experience swapping the original Nikon lens hood for my Z 800mm f/6.3 with a Zemlin lens cap.
I don't think you'll buy a Zemlin lens cap purely for weight savings. My original Nikon 800mm lens cap weighed 171g, and the Zemlin cap weighed 100g. A 70g saving isn't huge, but I'll certainly take it. Considering that the Zemlin lens cap is also delivering a greatly improved user experience and plenty of time-saving in the field, it's a win-win situation.
Reasons to Buy a Zemlin Photo Lens Cap
In summary, there are quite a few reasons why you might consider buying one of these lens caps.
Easy to use with the lens hood in place
Faster to attach and detach in the field
Lower profile in your camera bag makes it easier to pack your lens in a carry-on bag
Almost certainly lighter than your current lens cap
Rubber Skid Plate offers grip when the lens is standing upright on a smooth surface
Easy to put into a pocket once removed
Conclusion
When I first saw photos of the Zemlin Photo lens caps, I knew they were onto something, but I needed clarification about the sturdiness of 3D-printed products. With little experience in this manufacturing method, all I knew was that 3D printing allowed for small-batch production of relatively complex shapes. Still, it leaves a somewhat odd-looking aesthetic compared to typical injection molding or thermoforming. From the photos, I found it hard to imagine what the lens caps would actually feel like. Did they feel like a product that could withstand the rigours of long-term outdoor use and constant travel?
When I unpacked my first Zemlin Photo lens cap for the Nikon Z 800mm lens, all my fears vanished. These are incredibly solid, and it's clear that the fiberglass-reinforced plastic they have chosen for the 3D printing process produces something durable without being too heavy. If you have ever been frustrated by the oversized, fiddly design of the lens cap on your telephoto lens, I highly recommend the Zemlin Photo replacements. I'll certainly buy one every time I get a new super telephoto lens.
Where to Buy
The Zemlin Photo replacement lens caps for super telephoto lenses are only available directly from the Zemlin Photo store.