Introduction
There comes a point in every photographer's journey where it is time to buy a tripod and a ball head to go on top of it. Most people make the mistake of buying a cheap setup that has flimsy legs, and a ball head that doesn't lock solidly enough to support the weight of their equipment over the duration of a long exposure. Many years ago I made this mistake as well, so I'm all too familiar with the consequences and the frustration of broken tripod legs and creeping, or overly sticky ball heads.
The inevitable result is that you end up looking towards higher quality solutions because when the light is just right for two minutes, or the animal you have been waiting for finally decides to show itself, nobody wants to be messing with failing support gear instead of getting the shot that you likely spent so long waiting for.
People will happily spend thousands of dollars upgrading cameras and lenses for an almost imperceptible gain in image sharpness, without taking into account the massive effect that solid support can have in certain situations. Don't waste time and money perpetually buying low-end support gear that does a bad job and needs to be replaced – spend the money once on a high-quality setup and then you won't need to worry about it ever again.
Discovering Really Right Stuff Ball Heads
If you start to do some research into high-quality ball heads, the name Really Right Stuff is going to appear pretty quickly. This is what happened to me many years ago when I had given up on my crappy, cheap setup and was looking for something that would potentially last the rest of my career. Mechanically, ball heads really aren't that complicated, so yes, a well maintained and high-quality ball head can definitely last that long.
Back when I first encountered Really Right Stuff, it was the BH-40 head that caught my attention, and in particular, it was a review by Scott Kelby where he called it "the ball head of the gods". At the time of writing this guide, that was about 12 years ago and that first BH-40 is still going strong and pictured on this page.
Since that first RRS purchase all those years ago, my career has developed and pushed me in many different directions. I've been lucky enough to purchase a variety of Really Right Stuff products to suit the specific needs of certain photographic projects and interests.
An interest in wildlife photography led me to purchase several super-telephoto lenses, in turn requiring a gimbal head and a larger ball head. At the same time, adventure photography work that required increasingly lighter camera kits also pushed me towards smaller and lighter heads in the RRS lineup.
As it stands today I have all of the available Really Right Stuff heads apart from the video-specific fluid heads. With this collection in hand, it seemed like the perfect chance to perform a group test and thoroughly explain which heads are perfect for which kinds of photography or camera/lens combinations. In this guide, I'm also going to walk you through what I call my "Frankenheads". These are combinations of specific heads and RRS accessories that have solved certain problems for me over the years.
This is going to be a long post, but having used this gear for many years, I'm in a unique position to be able to compare so many of their products after such heavy usage. I trust RRS products implicitly, and whilst I'm friendly with several people in the company, have beta tested pre-production gear and have contributed to their magazine, I'm under no obligations when creating this content. What you'll get, are my honest views on the good things and the bad.
As usual, I may make a small commission if you click through my links and buy your RRS gear from B&H Photo. I really appreciate it when you do that because as you can imagine, this took me an incredible amount of time to create this post. If you found it useful, please consider using those B&H links because it won't cost you a penny, and guarantees that I'll be able to keep bringing you guys this kind of in-depth, free content in the future.
More Megapixels
A solid support system (tripod + ball head) is becoming increasingly more important as camera resolutions continue to climb higher and higher. Critical pixel-level image sharpness is much harder to achieve when you have a camera such as the 100MP Fuji GFX-100, or even the 50MP Sony A1. At these resolutions, every tiny camera movement or vibration is amplified. If you aren't careful, images that appear soft when viewed at 100% are one of the first surprises you'll get when upgrading to a high megapixel camera.
While the resolution of the average mirrorless camera has increased dramatically in recent years, many people have not yet adjusted their understanding of the stability they will require to get a sharp shot. If you are using a high megapixel camera, somewhere in the 50MP+ range, you might be leaving some of that available resolution on the table if you don't have suitably solid support.
Really Right Stuff Ball Head and Gimbal Specifications
RRS R-Mount System – 2021 Update
At the end of 2021, Realy Right Stuff began rolling out a change to their ball heads and quick-release clamps. The change implemented a new way of attaching the clamp to the ball-head, which RRS calls the R-Mount. Where there used to be a tongue-and-groove design on the ball head's stem and underside of the quick-release clamp, this has now been replaced with a rosette design. Here's what RRS has to say about the R-Mount:
The R-Mount's rosette will prevent twisting at the coupling point between the two pieces of hardware over time, and will assist in eliminating "play" that results from regular use on the earlier tongue-and-groove designs.
People that have older ball heads or quick-release clamps need not worry too much their gear is now outdated. In over a decade of using RRS heads, I have never once seen any play in the old tongue-and-groove design. I'm sure there must have been some instances of this, else they would not have bothered to design and patent this new rosette-style interface, but this is not a major change that means you suddenly need to rush out and replace your old heads.
RRS has created simple $10 adapters that you can add to your existing gear to convert them over to the new R-Mount. These adapters come in two different versions:
Ball Head Rosette Adapter – If you have a late 2021 or onwards ball head that has the R-Mount rosette on top of the ball-stem, but you have an older quick-release clamp that features the olde tongue-and-groove design of clamp mounting, use this adapter. It has a tonge on the top that goes into the old-style clamp, and a rosette on the bottom to mate with the top of your ball-stem.
Clamp Rosette Adapter – If you have a pre-late 2021 ball head that has the tongue-and-groove mount on the stem, but you have a new quick-release clamp that features the R-Mount rosette interface, use this adapter. It has a Goove on the bottom to mate with the ball-stem's tounge, and rosette on the top to mate with the R-Mount on the underside of your new clamp.
RRS Ball heads
BC-18 Microball
This small, rather odd-looking head is a tiny miracle. I think it deserves more recognition! If you're looking for a lightweight solution, perhaps to pair with a TFC-14 tripod, then I can't think of anything else that comes close to the capacity of this head, in such a small package.
The BC-18 has a lever on it that unlocks the ball, and a screw-knob clamp for securing the camera or lens. On the bottom, it has a 1/4″ 20 stud which allows you to mount it to the RRS TFA-01 tabletop tripods, the RRS Multi-Clamp or any RRS TFC tripod (detailed in my RRS tripod guide).
Instead of offering 90 degrees of movement in every direction, The BC-18 only offers 45 degrees. This means that you really have to be using an L bracket on your camera if you want to get images in portrait orientation. That said, I always recommend using an L bracket anyway, so I don't think this is a big compromise.
The clamping force on the tiny ball is astounding. In terms of capacity, I put the BC-18 far ahead of the BH-25 ball head. I used to use the BH-25 on my TFA-01 tabletop tripod, but it would often creep over long exposures with a load the size of a Canon 5D and 24-70mm. Not so with the BC-18. It's solid as a rock.
I would not choose to have the BC-18 as my only tripod head. There are often times when a larger head is easier to use, or when you need a head that has a dedicated panning control and tension adjustment. But if you have a dedicated ultralight travel tripod, a tabletop tripod or a multi-clamp, this thing is simply brilliant.
BC-18 and BPC-16 Hands-On Video
For a detailed look at these first two heads in the RRS head lineup, check out this video from our YouTube channel. Subscribe to the channel and give the video a thumbs-up if you like it!
BPC-16 Microball
The smaller BPC-16 Microball was introduced a few years after the BP-18. It adds a 90-degree drop notch to the design, as well as full 360-degree panning. Although I thought that the addition of the drop-notch would negate the need for an L bracket on the camera, in my testing that's not the case. I find that the head is so tiny, your camera tends to bump into the top of your tripod when you use that notch.
This drop notch is therefore not used in the same way as you would usually use one on a larger ball head. It does allow a little more tilt if you angle the notch in the direction you need it to be. Thanks to the panning portion of the head, that is easy. When combined with an L plate, it also allows vertical panoramas to be captured.
The downside to this head is that it is almost too small for its own good. The clamping force is not as high as the BP-18, and the clamp locking knob for securing your camera onto the head is not only tiny, but it also has very fine knurling on it which makes tightening it much harder than the considerably larger knob on the BP-18. I also found that the knob would get stuck easily in cold temperatures.
In almost every situation I would recommend the simpler, cheaper BP-18 over the BPC-16. You can always add the Panning Clamp to the BP-18 anyway (see Frankenhead section further down the page), which is something I have been doing for years.
That solution is a bit more expensive, but it is leagues ahead of the BPC-16 in terms of ease of use and stability. The only person I would recommend the BPC-16 to is someone using a very small mirrorless camera who is absolutely obsessed with panoramic images. If you only occasionally shoot panoramic photos, it's just not worth putting up with the compromises of this little head. I wanted to love it, I used it for months trying to love it, but in the end, I went back to the BP-18 and I'm much happier for it.
BH-25
The honest truth is, I don't have a huge amount of love for the BH-25. The BC-18 Microball is better at holding heavier weights, whilst being smaller, lighter and cheaper. If you didn't have an L bracket to use with the BC-18, and therefore felt forced into using a more traditional ball head with a 90-degree drop notch in it, I wouldn't recommend using the BH-25 with anything larger than a medium-sized mirrorless setup and a small prime lens.
I've circled back to this head many times over the 6 or 7 years that it has been in my kit and every time I've come away wishing I'd used something else. Then it goes back in my closet for another couple of years until I forget why I didn't like it last time. The price difference between the BH-25 and BH-30 is not insignificant at around $90, but the experience is entirely different. The BH-30 isn't just a little better than the BH-25, it's in a whole other league.
I also feel that the BH-25 somehow misses out on some of the RRS magic that most of their other products deliver. All the other heads in this guide are unmistakably RRS. The beautiful machining and the look of the products come together in a package that oozes quality and puts a smile on my face, even after paying the relatively high prices. With the BH-25 I feel as though it could have almost any other brand name on it and it wouldn't feel out of place. It just lacks that added RRS sparkle that their other products deliver.
Having read through the positive reviews of this ball head on the RRS website recently, I'm aware that plenty of people seem quite happy with it. All I can do is relay my own feelings about it, based on my experience with it amongst the rest of the RRS ball head range. I think your money is better spent on the BH-30, or using the BC-18 if going ultralight is your goal.
BH-30
This head pairs beautifully with the RRS Series 1 tripod range, and of course others of a similar size from other manufacturers. As we work our way up in size on the list of ball heads, the BH-30 is the first one to have a dedicated panning knob. This is definitely useful if you want to do some basic panoramic photography without investing in more specific pano equipment.
This head is more than capable of handling a pro DSLR camera body or large gripped mirrorless body with wide-angle lenses for long exposure landscape photography. In fact, it'll handle longer focal length lenses too, but at that point, you're really going to be more limited by the smaller tripod legs that you are likely placing it on.
For most mirrorless users, I think the BH-30 is the place to be in terms of capacity, but this head will also suit DSLR users who are placing a lot of importance on saving weight for travel, hiking and other athletic activities. As I mentioned above in the section about the BH-25, the BH-30 is a considerably better ball head and I think it is well worth the additional cost.
BH-40
NOTE: The BH-40 in these photos is the original design that incorporates two 90 degree notches into it. A few years ago RRS updated the design to make it a little lighter, and in doing so they removed one of the notches. I don't believe this will really make much functional difference, but several people have commended on my BH-40 YouTube review asking what this weird BH-40 version is. Answer: It's the OG 😉
The BH-40 is a wonderful balance of stability and size. It doesn't feel too big for a mirrorless setup if you have longer telephoto lenses, and it doesn't feel too lightweight for professional landscape photography with pro mirrorless bodies and medium format cameras. In short, it's universally useable, which is why it was the first RRS head I ever purchased.
When I bought this head I knew it would suit my current camera setup as well as anything larger that I purchased in the future. If you want to buy just one ball head for the duration of your career or hobby, this is always going to be a brilliant choice. While the BH-40 isn't a lightweight, I don't think the weight would be too restrictive for people in most situations. You can definitely still hike and travel with this head, as I have done many times.
RRS recommend the BH-40 for lenses up to 300mm f/2.8, but I've used it with much heavier lenses and it is still solid. Most people will find that their tripod is the weak link in the support chain when you get up to heavy setups like that. For long focal length landscape photography with a 100-400mm or even a 150-600mm, the BH-40 is an excellent option.
BH-55
Having used both the BH-40 and the BH-55 side-by-side, my conclusion is that the BH-40 is enough ball head for the vast majority of people. Stepping up to the BH-55 doesn't add any immediately perceivable stability, and if you look at the numbers that shouldn't come as a surprise. The BH-40 is rated to carry an 18lb load, and even a Canon 600mm f/4 is only 7lbs. In ten+ years of using the BH-40, I don't think I ever experienced a moment where I thought "this isn't stable enough".
Why did I buy the BH-55, then?
The BH-40 is a great head, but the controls on the BH-55 are much nicer to use. They are more evenly spaced around the head, and the giant, main locking knob is such a pleasure to work with. I find that I simply have more precise control over the tension and drag of the ball head. The larger, more spaced out controls are also much easier to operate with gloves on, and since I live a stone's throw from the Arctic Circle, this is a consideration.
Now, I realise that some people are probably going to roll their eyes at this point because none of what I said makes any real difference to the photo that I end up taking. But it does have an effect on the overall experience of using the product.
Whether or not such effects are worth the price premium over the BH-40 will be for you to decide. This is similar to using a nice Mercedes to drive to the supermarket or using an Aston Martin. Both will get you to the supermarket in comfort, both are excellent cars, but the Aston Martin might just leave you with a bigger smile on your face. If you can afford the Aston Martin, and it brings additional enjoyment to the experience, then why not?
Another reason for buying the BH-55 was the assurance that I had done everything I can reasonably do to get the most out of my camera. I know that technically the BH-40 is rated to hold even the heaviest of my camera setups, and I know that in the history of using that head I haven't had any stability issues. But what if the first time I did wish for more stability was mid-way through a photographic expedition that had cost me ten thousand dollars to execute?
The BH-55 is rated to a gigantic 50lb load, so there's some serious overhead there for even the heaviest camera setup I can imagine. With the BH-55, I'm never ever going to think "would it have been sharper if I'd used a different head?". Perhaps this is psychological, but it's one thing less to think about. I have come to appreciate that, and put a value on it as the years of work go by.
The price difference between a BH-40 and BH-55 is about $80, and when I'm putting it on a $1000 tripod and then putting over $10,000 of camera gear on top of it, you can maybe start to see why these small comforts and assurances are worth the relatively small amount of extra money.
One thing we haven't yet talked about is the weight of this head. At 1.6lbs, it's considerably heavier than the 13oz BH-40. All the stability assurances in the world aren't worth a damn if you give up on your hike before you get to where you're going because you are exhausted. For that reason, I don't take this head everywhere with me, but that's why I have my ultralight BC-18/TFC-14 combination in the gear cupboard.
---
RRS Pano-Gimbal Heads
RRS currently makes two Pano-Gimbal heads: The PG-02 Mk2 and the PG-01. Careful thought has gone into these heads so they can be used for traditional gimbal usage with a telephoto lens and as a single or multi-row pano head. Most gimbal heads on the market cannot be used for multi-row panoramic photos as there is no way to adjust the camera's horizontal positioning to ensure it's rotating around the nodal point. If you need a gimbal for wildlife photography but also like to shoot panoramic images, this fact alone should put one of these at the top of your shopping list.
RRS Gimbals as Ball Head Replacements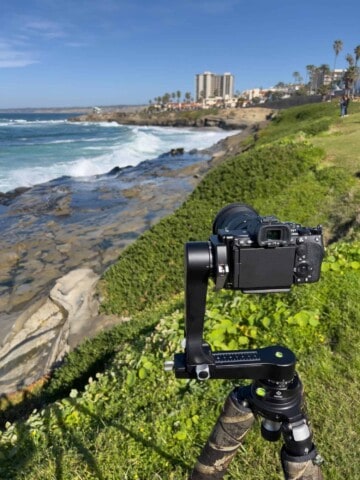 The RRS gimbals can be used in place of a ball head when paired with an L Plate on your camera. This setup gives you individual control of the horizontal and vertical axis, which some people find preferable to a ball head's everything-all-at-once movement. With the PG-01, you can use the built-in leveling device to ensure a level horizon. With the PG-02, you'll need to adjust your tripod legs while paying close attention to the gimbal's bubble level or pair the gimbal head with one of the RRS leveling heads. The latter option is, of course, easier and faster.
Really Right Stuff PG-02 Mk2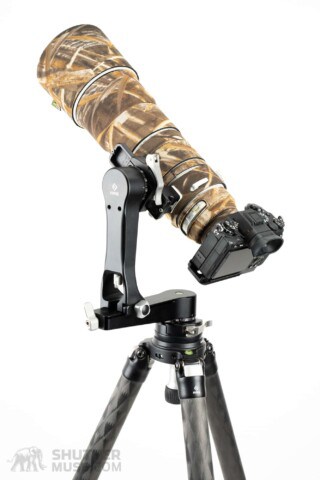 The PG-02 Mk2 Pano-Gimbal head is available as either a Side-Mount or a Full-Gimbal version with a Cradle Clamp. This gimbal was a revelation when I first purchased one for my wildlife photography. It's a breeze to get it balanced with super-telephoto lenses, making it effortless to swing them quickly in any direction while tracking moving animals. It also works exceptionally well in place of a large ball head like the BH-40 or BH-55, making it the perfect tripod choice when taking a trip that involves both landscape and wildlife photography.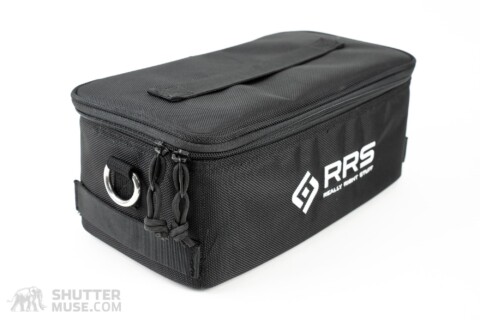 The new PG-02 Mk2 takes everything great about the original and shaves a little bulk and weight off it while maintaining its capacity and rigidity. As well as its slightly more compact design, the RRS designers came up with a brilliant new way to allow simultaneous locking and unlocking of the pan and tilt movements. These updates and a few others are carefully detailed in my extensive review of the PG-02 Mk2. The review also discusses the pros and cons of the Side-Mount and Full-Gimbal versions to ensure you choose what's best for your photography.
Really Right Stuff PG-01
The PG-01 is a compact tripod head for multi-row panoramic photography. Although it is technically in the gimbal lineup and referred to as a Pano-Gimbal head, this head's maximum capacity is not enough to be considered an alternative to the PG-02 Mk2 gimbal for super-telephoto lens wildlife shooting.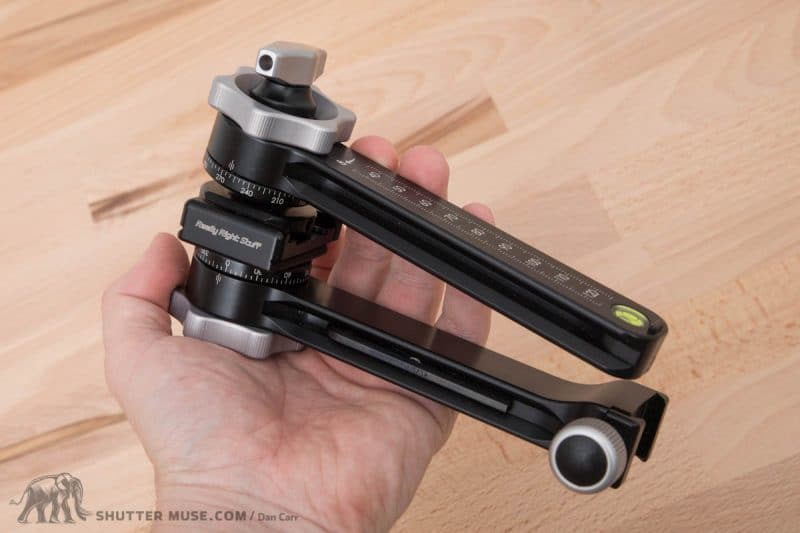 If you want both a pano head and a gimbal for day-to-day long lens usage, the PG-02 is what you need. If you primarily want a multi-row panoramic head, have a camera that falls within my weight recommendations for this head (more on this in a second), and plan to only use the gimbal functionality a handful of times a year with smaller lenses, this PG-01 will work.
Just like the PG-02 Mk2, the PG-01 can be dismantled into a few different pieces for travel. As you can see from the photos, it is considerably smaller and lighter than the PG-02 Mk2, making it ideal for folks that like to hike to their pano landscape locations.
Unlike the PG-02 Mk2, the PG-01 is also available with the option of having a leveling head built right into it. This is great because leveling heads on their own tend to be quite big and bulky, which would really counteract the lightweight design of the head.
There's one feature about the PG-01 design that I don't like and that's the knobs that tighten the panning base rotation and the vertical axis rotation. They are knurled to give you grip, but they don't give you a lot of leverage and I find it hard to tighten them with a heavy load.
This head is ideal with a lightweight mirrorless setup, but I have been disappointed with its stability when used with a DSLR, and you can absolutely forget about using it with a pro-sized DSLR. With a setup like a Canon 5D Mark IV and a 16-35mm or 24-70mm, you are really pushing the limits of its weight capacity, and I think you'll come away disappointed with the performance. It works best with a mirrorless body and a prime lens.
For the very occasional gimbal usage that is possible with this head, the weight consideration is a little looser because you don't actually lock the head. I have used it with a 5D Mark IV and a 100-400mm in this mode, but such a setup would definitely not lock solidly for long exposure landscape photography.
Really Right Stuff FG-02
The FG-02 was a fluid-dampened version of the PG-02 designed for smooth panning and tilting while recording video. It has been discontinued for a few years, but with the release of the PG-02 MK2, many people wonder whether we will see an FG-02 Mk2. I don't have the answer to that question, but I suspect we might see one eventually if enough people ask for it. That said, I do not expect to see it soon. RRS is not known for its speedy product development. They take the time to get things right. Buy a PG-02 Mk2 now if you want a large-capacity gimbal head.
---
RRS Leveling Heads
A leveling head sit between your tripod and your ball head to allow you to perfectly level the ball head in a matter of seconds. Doing so without a leveling head can be tricky because you have to manipulate the three legs of the tripod individually. Whilst possible, it's time-consuming.
A perfectly level tripod head is necessary for panoramic photography, as well as when using a gimbal or a video head. If the tripod isn't level, the image in the viewfinder will dip up and down as the camera is rotated.
Really Right Stuff make several different leveling heads to suit their range of tripods, and all of them have the option to include a lever-release lamp on the top to aid for quickly switching between different types of heads.
TA-2U Universal and Series-2 Leveling Head
In 2016 RRS discontinued the TA-2 series-2 leveling head, and the Universal Leveling Head and combined them both into one new product called the TA-2U Leveling Head. It has a much lighter and lower profile design than the previous heads that it replaces.
This combination design means it can be used in in the apex of a series-2 TVC tripod (see above photo), but it also has a 3/8″ 16 stud on the bottom to give it universal attachment to other tripods. Combining two such similar heads into one new head was a good idea, and leaves us with a much more functional product, as well as a less complicated product line. Watch the video below to take a closer look.
RRS Series 2 Leveling Head TA-2 (now discontinued)
To install the Series 2 leveling head you remove the tripod's apex plate and slot the head into its place. The head has a hook on the underside, but the majority of it is all above the tripod legs, the importance of which will become more apparent when we look at the TA-3 in the next sub-section. The TA-2 offers 30 degrees of movement in all directions once the silver locking collar has been loosened.
RRS Series 3 Leveling Head TA-3
The TA-3 also features 30 degrees of movement in all directions, but this time the locking mechanism is positioned beneath the tripod. The downside of this is that the tripod can't be put flat on the ground, but RRS does offer three different handle sizes to allow you to work with that problem. If you go with either of the two shorter handles, you'll lose having a hook on the bottom. Something to be aware of.
The benefit of this design is that it's easier to clean, and it also features a standard 75mm video bowl as part of the design. If you have a video fluid head that has a 75mm ball on it, you can slot it right into the bowl from the TA-3. I love this leveling head!
RRS Series 4 Leveling Head TA-4
The TA-4 design is identical to the TA-3, just slightly larger in all dimensions. Like the TA-3, you can choose from a variety of bottom handles. With the TA-4, the video bowl element of the head is 100mm in diameter instead of 75mm. It should also be noted that you can use a TA-3 leveling head on a series 4 tripod by using the series 3 to series 4 video bowl adapter. You might want to do this if you have an existing TA-3 head in your collection and want to use it on a Series 4 RRS tripod, or any other tripod with a 100mm bowl.
RRS Series 1 Leveling Head (sort of)
RRS doesn't make a specific leveling head for their series 1 tripod, but you can actually use the BC-18 Microball for the exact same effect. All you need to do is have a dovetail plate on the bottom of the head that you're trying to level. An excellent option is to clamp the RRS Compact Panning Clamp into the BC-18, with a panoramic rail in the clamp. The BC-18 takes care of the leveling and the panning clamp has the necessary bubble level in it to check that. Perfect panos in a relatively lightweight setup.
RRS Monopod Head
As you can tell from the photos, my MH-01 monopod head has been through a lot. Unlike a ball head, this head only allows you to move the camera in one axis, and it works great with super telephoto lenses that have a tripod collar. The collar allows you to rotate the camera between portrait and landscape orientation, and the monopod head simply allows you more freedom when aiming at something that's much higher or lower than your shooting position.
What's great about the MH-01 head is that the base of it has an integrated Arca-Swiss dovetail. If you want to mount a quick release clamp on your monopod, you can quickly add and remove the head as needed. If you want it to be more permanent, it has a 3/8″ 16 thread on the bottom.
If you shoot field sports where you're usually shooting something that is roughly at your level, there's no good reason to buy this monopod head. On the other hand, if you're shooting wildlife then you never really know where things will be. Without a monopod head, tilting the lens up at a severe angle requires an uncomfortable crouching posture that could eliminate all of the stabilization you were trying to add by using a monopod.
In this crouched position, smooth panning is particularly difficult so this head is very useful for photographing birds in flight with a monopod. If I was on a wildlife walk through a jungle, there's also no way I'd be without this setup. Monopod deployment is so much quicker than a tripod, This would give you almost instant stabilization, including the ability to tilt the camera up towards the canopy without awkward body positions.
For the decade that I photographed action sports professionally, I also found a huge amount of use for this head. When shooting skiing, snowboarding and mountain biking I was often positioned above or below the athlete in preparation for capturing their next line. With the MH-01 I could track that vertical descent without having to shift my body around and tilt the monopod.
MH-01 Vs. MH-02
The RRS monopod head is available in two variations. MH-01 has a clamp that can be rotated by 90-degrees using a hex wrench. Most people will want this version, and when using it with collared lenses, you can just set the clamp position so that the lens foot runs parallel with the tilt axis.
The MH-02 is a slightly more expensive version of the head that allows you to change the clamp orientation without the need for tools. If you often need to switch between supporting a long collared lens, and a shorter non-collared lens, the MH-02 speeds up that process. Note that you would need to have an Arca plate on the base of your camera, for connecting to the head when using that non-collared lens.
The MH-01 is a very simple design that doesn't have fancy bearings or greased up balls inside it. This is a definite benefit because it means that you can throw it around in the dirt and not have to worry about it at all. If you do get it filthy, just stick it under a tap for a few seconds and it'll be good to go again.
For the work I've always done with it, that simplicity has been useful. One minute I'll be using the monopod, then the next minute I'll be lying in the dirt trying to get a lower angle, having tossed the monopod quickly to the side. This head has been muddy, sandy, frozen and regularly submerged in water. After all that, it's as smooth as the day I got it, and I have done zero maintenance on it in 10+ years of use!
When buying an MH-01 you'll have the option to choose between a lever-release clamp and a screw clamp. Unlike all my other RRS heads, with this one, I went with the screw clamp. The reason for this is that the screw clamp, when done up tight, is basically impossible to release accidentally.
In regular usage with a tripod, I'm not concerned about accidentally opening a lever-release clamp. However, the way I often carry a monopod that has me more concerned. With a super-telephoto lens on the monopod, I'll often put it over my shoulder while I move to a new location. Most backpacks have a number of nylon loops on the shoulder straps and if one of these were to get caught around the lever of the quick-release clamp, it could potentially release it and send $20,000 of camera gear crashing to the floor. This is the only scenario that I'd ever worry about using a lever-release clamp.
RRS Frankenheads
Over the years, I've solved a number of photographic conundrums using odd combinations of RRS heads and Arca-Swiss compatible dovetail accessories. Some of them have fairly universal applications so I'm presenting these ones to you here.
The Lightweight Pano Head
I use the BC-18 Microball on my Series 1 tripod when I need to travel light. Since there is no Series 1 leveling head option, I usually carry a PC-LR panning clamp or the smaller PC-LR-40 Compact Panning Clamp with me to create this mini pano head.
With a regular ball head, the panning base is below the ball, which means you can't use the ball to level the entire head and ensure a level pan. With this magic little setup, the panning base is above the ball, which means you can perfectly level the panning clamp using the ball, and then use it to rotate the camera for panoramic images. If I'm shooting wide, or with foreground objects then I'll add a nodal slide to this setup to help eliminate parallax and increase image stitching accuracy. If your camera has an L bracket on it, this little combination here is incredibly powerful!
The RRS Frankengimbal (PG-OHWHAT?)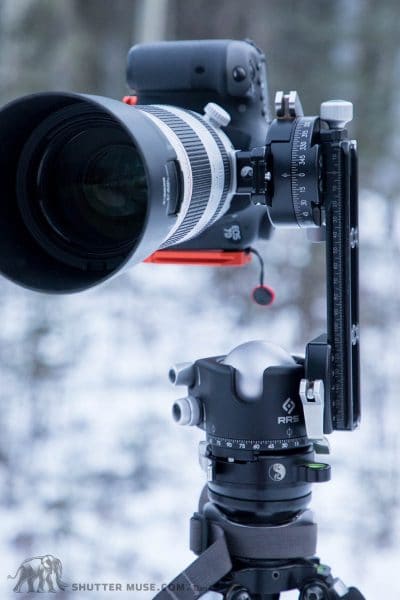 If you don't have the funds to buy a separate gimbal head, or perhaps you are limited by weight when travelling, this is an interesting option that combines a ball head with an MPR-CL II nodal slide and the PC-LR panning clamp. I wouldn't go using this with my big super-telephoto lenses, but it works really well for anything up to the size of a 70-200 f/2.8 or a 100-400mm as in the photo. In the photographed setup above, I'm using a BH-55 ball head at the base, but you can use any ball head that has a separate panning base. Simply flip the clamp of the ball head into the 90-degree notch and lock it there. Then loosen the panning base lock knob to allow free rotation.
One thing you do lack, as compared to the proper gimbal heads (PG-01, PG-02), is the ability to adjust the horizontal positioning of the camera to get it directly above the point o rotation. Not an ideal option for those looking to make spherical panos.
RRS Frisbeepod
Sometimes you need to get really low to the ground for wildlife photography, and particularly if you're on a beach, it helps to have a setup that you can slide along the sand when you need to approach a subject quietly. A few companies make specific solutions for this, but you can achieve the same thing by using a cheap $10 frisbee from Amazon, and the RRS tabletop tripod with a BC-18 Microball ($221 for the package) on it. Believe it or not, both the tripod and the head are weight-rated for this super-telephoto setup with room to spare.
Nodal Alternative
If you have a PG-02 gimbal for wildlife photography, you don't need to buy a panning clamp and a nodal slide for single-row panoramic photography. All you need to do is add a FAS clamp to the horizontal part of the gimbal. The great thing about this setup is that, unlike the nodal slides that have a fixed clamp on the end, like the MPR-CL II, this setup allows you to use both long lenses and short prime lenses that have a very small no-parallax point. You can even use a fisheye lens as seen in this configuration if you're looking to do full spherical imaging.
Monotripod Head
If you combine the RRS monopod head with one of their panning clamps then you have a very functional multipurpose setup, especially if you also have a leveling head on the tripod. The panning clamp does the work of the panning base in a regular ball head, and the monopod head can give you fore/aft tilt. Any small amount of left/right tilt and horizon leveling can be done with the leveling head. If you have an L bracket on your camera, there's actually very little you can't do with this simple setup. If you're on a trip where weight is a consideration, but you want to use both a tripod and a monopod, this is a very workable setup.
Wrapping it Up
I'm not going to talk about RRS alternatives, or pretend like these are all "reviews" of the products. I've purchased all of these with my own money, so clearly I think they must be pretty good. What I hope I've achieved is to help you guys figure out which of these great products might be the one for you. Aside from RRS employees, I doubt there are many people out there that have as much experience with such a broad range of their products, so feel free to ask questions in the comments below.
Where to Buy
Really Right Stuff is an American company and fine folks to deal with directly from their own online store. However, B&H Photo also stocks all their products and likely offers cheaper shipping options for most people. I'm in Canada, and B&H will ship any of these items to me for free and also let me pre-pay all taxes and duties, whereas shipping directly from RRS has always been incredibly expensive. The same can be said for many other international destinations, and free shipping is available from B&H within the US as well.
Occasionally RRS will also have a small amount of inventory available on Amazon for those that prefer to shop with them. This seems to be a "greatest hits" collection of their most popular products, so it often has the main ball heads such as the BH-55, BH-40, and BH-30.
If you decide to buy any RRS gear after reading this guide, I'm always grateful if you click the links on this page. I may make a small commission when you do this, which allows me to dedicate so much time and effort to creating useful resources such as this one.
Part 2: The RRS Tripod Guide
Not unsurprisingly, many people who buy RRS tripods heads are also considering RRS tripods. Not only out of brand loyalty, but because the tripods are designed to perfectly match the dimensions of the various RRS heads described on this page.
To help the tripod hunters out there, I have also written an extensive Really Right Stuff Tripod Guide. The tripod guide covers all of the many tripod options that are available from RRS, as well as offering my advice on topics such as how tall of a tripod you should buy, and how many leg sections your tripod should have.