Note: This bag is no longer manufactured. For its closest replacement in the MindShift Gear range, please read my review of the new MindShift Rotation 22L backpack.
MindShift Gear has just launched a new pack in their Rotation 180 lineup, the Trail. I've had one of these packs for a few days now so I've put together an exclusive first look video which you can watch below. The Trail is a lightweight 16L pack designed for outdoor adventures with a minimalist camera setup. Many readers will be familiar with the Rotation 180 series, but if not, you might also want to check out the review of the R180 Pro and the R180 Panorama.
Exclusive First Look Video
I'm a huge fan of the rotation system so it's great to see it filter down into bags of different sizes. I like to keep a camera with me as much as possible, even if it's just a body and one lens. The R180 Panorama was too much camera bag for that, but the Trail fits the bill perfectly. I haven't spent enough time with the bag to draw a full conclusion though. I'll be publishing a longer review in the coming weeks but already I can see this bag getting more use than my Panorama does. I love the elasticized stuff pocket on the front, and the top loading hydration system works so much better than the side pocket on the Panorama. Since I have the R180 Pro for those days when I want to take a ton of gear with me, perhaps the Panorama was just a little too close to that in size for me. The Trail on the other hand, serves a totally different purpose for me. A simple lightweight one lens kit.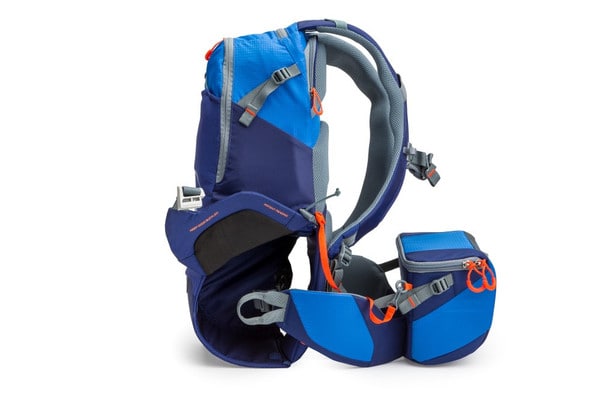 Features
Rotating beltpack for accessing trail essentials: compact DSLR or mirrorless camera system, 8" tablet (iPad mini), binoculars, maps, guide book, energy bars, food, and more.
Dedicated zippered hydration compartment fits any 1.5 liter reservoir or a 2 liter CamelBak
reservoir
2 bags in 1: Removable beltpack can be worn on its own for traveling light
Backpack holds jacket, layers, hat, gloves, lunch and more
Front stretch pocket provides flexible carrying options for quick access
Small tripod carries easily on the side panel
Top pocket for quick access to small items
Mesh stretch pocket fits a water bottle
Bike-light attachment
Beltpack compression straps
Lightweight materials
Breathable padded airflow harness with adjustable sternum strap
Optional rain cover (sold separately) functions with rotation technology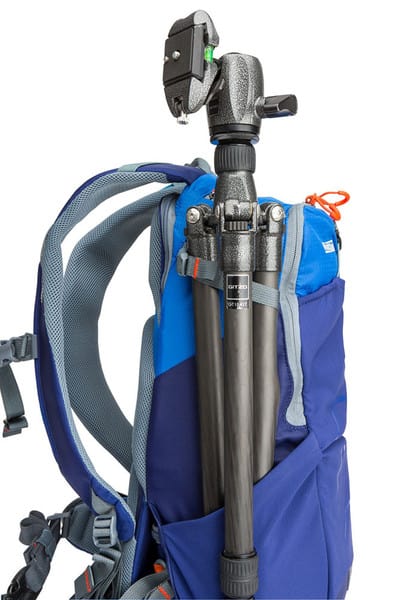 Beltpack Gear Profiles
Hiker: Mirrorless camera, iPad, GPS device, smartphone, radio, headlamp, knife
Bird Watcher: Binoculars, iPad, bird watching book, map, bird list, voice recorder.
Mountain Biker: GPS, GoPro, cell phone, map, energy bars, bike tools, banana, sunglasses
Skier: Energy bar, flask, lip balm, trail map, hand-warmers, liner gloves, sunglasses
Beltpack Camera Profiles
Sony a7 with 28–70mm kit lens attached + 55mm f/1.8 + iPad mini
Nikon D5300 with 18–55mm kit lens attached + 75–300mm + iPad mini
Canon Rebel t5i with 18–55mm kit lens attached + 75–300mm + iPad mini
1-3 GoPro cameras, LCD back, remote, batteries, SD cards, various mounts and adapters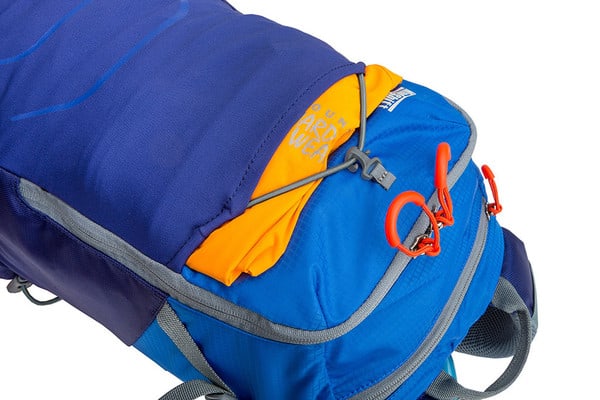 Backpack Profile
Fits a light jacket and an extra layer, hat, gloves, food, sunscreen and more.
Price
The R180 Trail is $179.99.
Get a Free Gift From MindShift Gear (& free shipping)
As a friend of this site, you'll get a free gift at the checkout if you spend more than $50 through MindShift's online store, as long as you click through one of the links to their store on this page, like this one. I may make a small commission if you purchase from them after clicking one of these links, but as always, it's greatly appreciated when you use these and it doesn't cost you a penny more.