MindShift Gear has updated its popular Rotation photography backpack lineup with three new models that replace previous models. In the past, we had the Rotation 180 Pro, the Rotation 180 Horizon and the Rotation 180 Panorama. These have now been replaced by the Rotation 50L+, the Rotation 34L and the Rotation 22L. In other words, the Rotation 22L that we are taking a look at in this review is a direct replacement for the old Rotation 180 Panorama.
The original lineup of Rotation 180 backpacks was developed and released over the span of several years. By re-launching all of the packs at the same time, this new lineup has a much more cohesive look and feel to it by sharing the same design language. The bags all use the same materials, much of the same hardware and the colours have all been updated to match MindShift's other recent releases in the BackLight backpack range.
In this review, we will be taking a detailed look at the smallest pack in the Rotation lineup, the 22L. I'll walk you through all the features, compare it to the other bags in the Rotation pack lineup, compare it to the old Panorama pack that it replaces, and make some recommendations.
Disclaimer: As I have been in the past, I was involved with the development of these new packs, as well as some of the marketing content for the bag's launch. I pride myself on delivering honest reviews, so that is what you're getting. I have not been paid to write this review, and MindShift has no idea what I'm going to say about the bag.
Video Review
Prefer to watch a video review? Watch on our channel below, and don't forget to subscribe!
Rotation 22L Feature Set
Rotating belt pack offers multiple benefits
a. Immediate camera access: Stowed to shooting in 2.5 sec
b. Keep your backpack on while shooting
c. Maintain creative momentum
d. 2 bags in 1: Separate the belt pack and go light when needed
e. One handed magnetic opening with zipper closure for complete security
Torso height adjustment fits a wide range of body sizes
Tripod carries easily on the front and/or side panels
10-point adjustable harness to fine tune how you carry your load
Weather protection: DWR coated fabrics, zipper covers and belt pack elements barrier
Perforated, angular foam back panel for increased airflow and quick-dry
Top pocket for quick access to essential items
Large side pocket fits most 1.5L water bottles
Pack weight transfers to waist belt and moves with your hips
Internal load compression to keep your gear tight and close to your body
Mountain axe / hiking pole loops
Daisy chain attachment points to expand your load
Expand your access: Attach accessories (sold separately) to the belt wing
Enhance your protection: Rain cover for downpour conditions sold separately
Rotation 22L Specifications
Capacity

Total: 22L
Top Section: 16L
Belt Pack: 6L

Photo Gear Capacity: Ungripper mirrorless or DSLR with 2-3 small lenses.
Dimensions

Backpack Exterior: 12.6" W x 20.5" H x 8.7" D (32 x 52 x 22 cm)
Backpack Interior: 11.2" W x 11.4" H x 5.9" D (28.5 x 29 x 15 cm)
Belt Pack Interior: 10.6" W x 6.7" H x 6.1" D (27 x 17 x 15.5 cm)

Weight: 3.9 lbs (1.8 kg)
Materials

Exterior: For superior water-resistance, all exterior fabric has a durable water-repellant coating, plus the underside of the fabric has a polyurethane coating. It also has YKK® RC Fuse zippers, 100D high-tenacity Triple Ripstop material, 100D high-tenacity Ace Twill, 1680D nylon ballistic bottom panel, triangle perforated high-density cross-linked angular foam, 350G air-mesh, nylon webbing, 3-ply bonded nylon thread.
Interior: 200D polyester lining, belly-o mesh pockets, closed-cell cross-linked foam, 3-ply bonded nylon thread

Retail Price: $249 – Optional rain cover $20.
Rotation 180 System Explained
Video Demonstration
The main feature of the bag is, of course, the Rotation 180 system. This clever design allows you to get a camera in your hand in just a few seconds, and then stow it away again just as quickly. All while wearing the backpack. The video below is a quick demonstration using the Rotation 50L+ model.
To release the rotating belt pack you must first grab the dangling toggle on the right of the bag. A quick downward tug releases a magnetic latch and the side hatch springs open. Now reach for the belt pack's side handle with your right hand and swing that hand around towards your front. You might also use your left hand on the waist belt to help with the rotation, depending on how tightly the belt is done up around your waist. Up to this point, little had changed from the first version of the bag. If it ain't broke…
Now the belt pack is reachable, unzip the lid and use the tabs on the side to break the magnets free and open the pack. Wait… magnets? They weren't there before…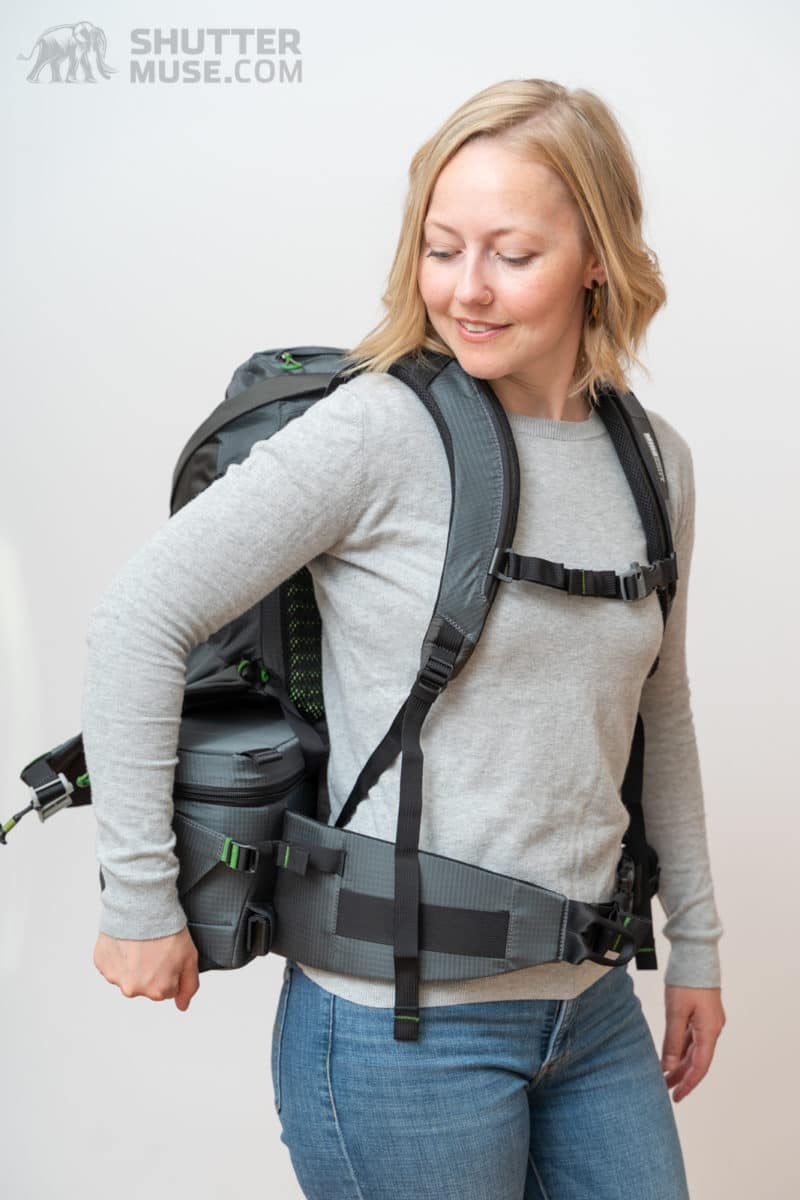 For these new Rotation packs, MindShift has added a series of magnets around the lip of the belt pack lid. When you go to close the lid, these pleasingly strong magnets will suck the lid shut with a very satisfying "CLICK". The general idea of this new feature is that you don't need to use the zippers on the belt pack lid at all. The magnets are strong enough to keep the lid closed, and there's no chance of it coming open when the belt pack is stowed away.
Initially, I was sceptical about this, but in practice, I was put at ease and found the magnets did a great job of securing the lid. Most importantly though, this small design change now makes it even faster to access your camera. Instead of always zipping the belt pack closed, you can rely on the magnets. That means that when you do swing the belt around to your front to grab your camera, you no longer need to use both hands to open the zippered lid as you did with the original Rotation 180 packs. Now you can simply use a hand to grab one of several nylon tabs and give a quick upward tug to release the magnets and open the lid.
With these magnets, there's no doubt that this new version of the pack gives you even faster access to your camera. During my many months with the bag I have never had any issues with this feature, and I've come to really love it. When I'm travelling I do close the zippers on the belt for a little added security, but once I have opened them for the first time on a day of shooting, I then rely on the magnetic closure for the rest of the day until it's time to head home.
Benefits of the Rotation System
Over the years of using various bags with the Rotation system, the biggest thing I have noticed is that I take way more photos when I'm wearing one of these packs. Just think about all those times when you have seen something cool and thought to yourself "I should probably take a photo of that". But then you think about it, and you think about taking your backpack off and unzipping the camera compartment, you think about how it will slow down the group you are with, or you think about putting your gear down on the ground in the dirt. And by that time it's too late. You never take that shot and just move on, telling yourself it wasn't quite the right shot you were waiting for anyway.
With any of the Rotation packs, you can get your camera in your hand, take the shot and put the camera away again in less time than it takes to have all those thoughts. It really is that fast. So not only do you take more photos, but you also have the chance to capture more fleeting moments of light and nature that would otherwise have passed by too quickly.
Without the need to take the pack off your back, you also gain some flexibility in where you can shoot. If you want to wade out into a river and then get your camera out, you can do that. If you want to take photos on a windy day at a beach, without fear of filling your bag with sand when you put it on the ground, you can do that. This gives you some additional creative freedom, as well as protection for your gear.
The final major benefit of the Rotation System is the fact that you not only have yourself a new backpack, but you also have yourself a new belt pack that can be comfortably worn any time without the backpack. I have worn mine on its own while rock climbing, and I have also used it in a small aircraft while doing aerial photography. You can even attach a strap to it and use it as a shoulder bag while you're travelling and don't want the large pack with you at all times.
Additional Features and Design
Top Pocket
The top pocket is large enough to store quick-access items such as a GPS, gloves, granola bars, flashlight, batteries and spare memory cards. In fact, if you rummage around in there you will find a key clip that can be used to securely tether your memory card wallet to the bag for safekeeping. Seriously, I always worry about my card wallet because it's small, but actually contains well over $1000 worth of memory cards!
Main Pocket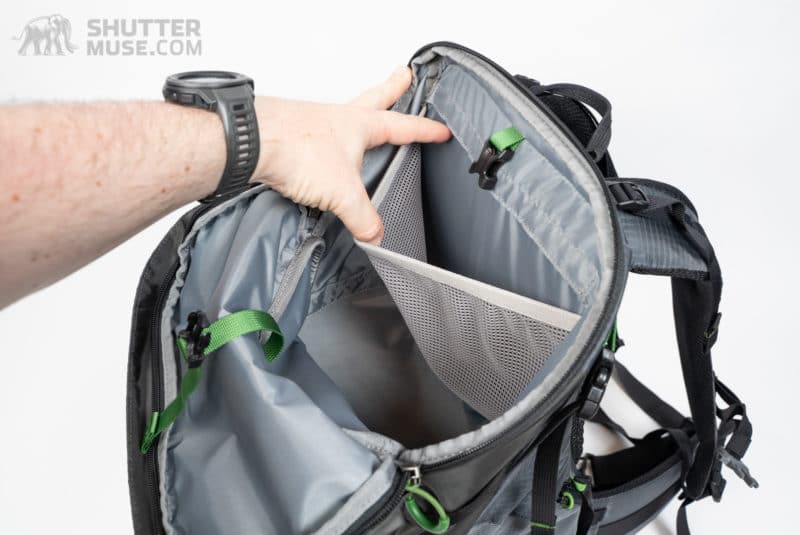 The top half of the bag gives you 16L of space for your non-photographic gear. This will be enough room for a spare jacket, a first aid kit, binoculars and some lunch. Those that live in colder climates might appreciate the added space in the larger 34L pack. When testing the 22L, I found my bulky winter layers would easily consume all the space in this part of the bag.
If you do really stuff the top section, there's a compression strap that helps to keep the bag's shape, and also take some strain off the zipper. You can also organize some of your smaller items in a generously sized stretchy mesh pocket.
Harness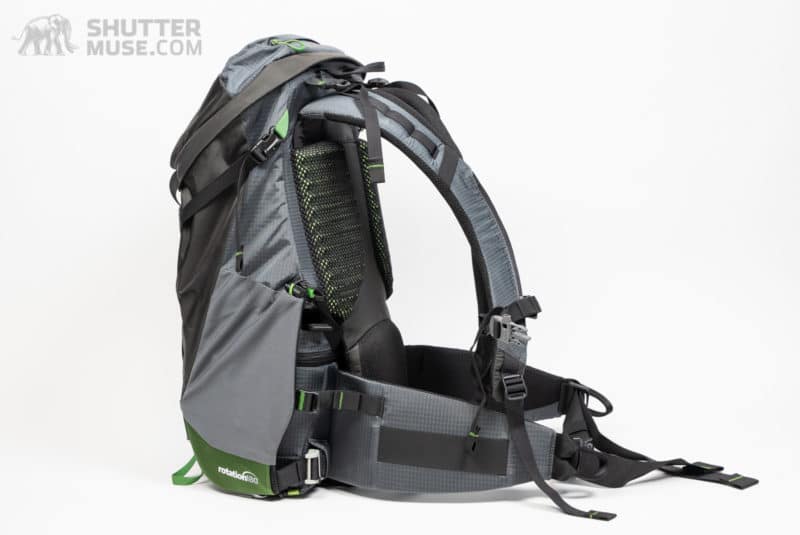 A big change for this new version of the pack is the inclusion of a simple adjustable torso length system which will help the bag to fit more comfortably on a wider range of people. Another major improvement is the inclusion of two large green foam panels that are made from highly ventilated foam. This marginally improves the air circulation around your back but also feels much more comfortable when on the move. We have seen this same material used on some of MindShift's more expensive packs in the past, and I'm pleased to see it make its way down the line onto this smaller pack.
A further improvement on this pack is the size of the hip belt pads. These have roughly doubled in size, and are now comparable with the size of the pads on the larger 34L pack. These are generously sized hip pads for a bag of relatively low volume and short height, making it easy to take a load off your back and spread it onto your hips.
Overall, this is an extremely comfortable pack. By using the same shoulder straps and hip belt padding from the larger 34L pack, the ratio of support and padding to bag volume is truly excellent on this 22L pack. The shallow depth and thin width of the bag also keep the weight close to your spine. Even when the bag is full, you don't feel as though you are fighting its momentum all the time. As such, this is an excellent bag to use for highly active sports such as skiing and mountain biking.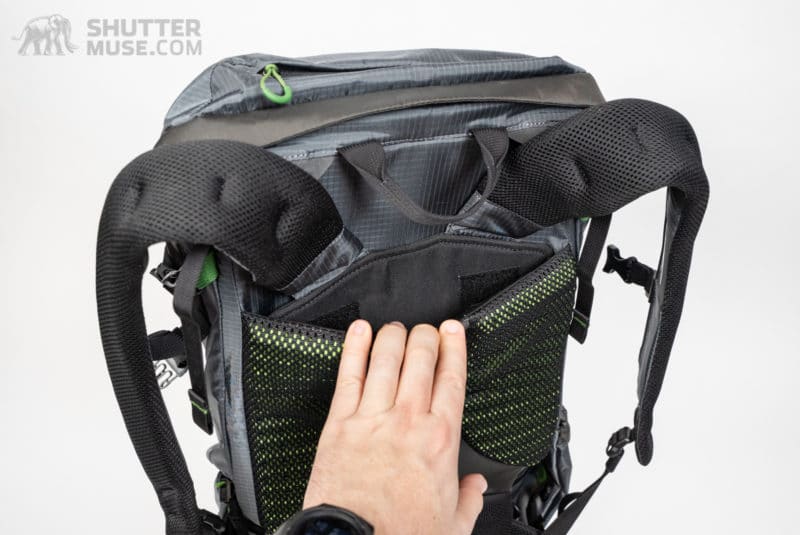 Tripod Carry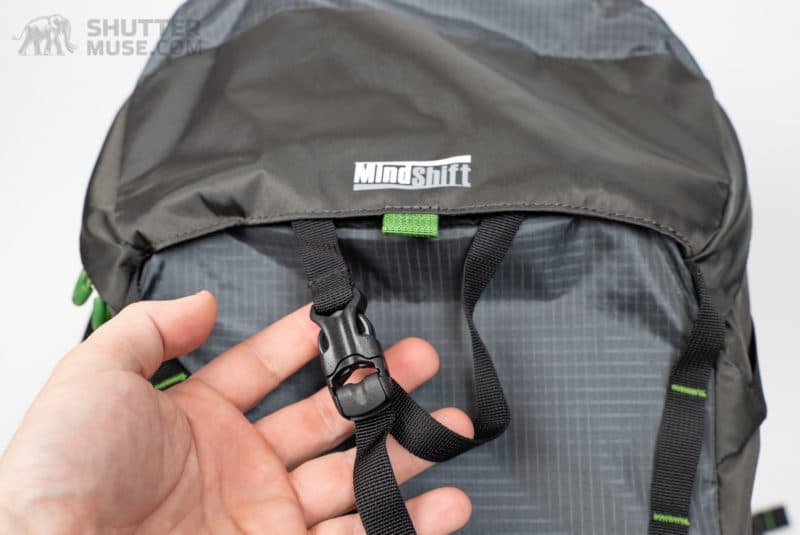 If you want to carry a tripod with this pack you have two options. On the front of the bag, there is a hidden tripod top strap and a hidden lower strap and tripod cup that pulls out from its own pocket. Alternatively, you place the tripod in the sizeable side pocket and secure it with a side strap and buckle.
Due to the short height of this pack, anything over and above the size of a travel tripod will seem unwieldy and is also likely to smack you in the back of the head while you are walking. I used it with a Peak Design Travel Tripod and that was perfect, but I would not really want to go with anything taller than that.
Belt Pack Details
The belt pack is an integral part of the backpack, but it can also be removed and used on its own. I have used these when rock climbing, or to carry binoculars when I'm out looking for wildlife. Due to the rigidity that is required from them to work with the Rotation system, the belt pack offers a huge amount of protection to the gear stored inside it.
In terms of camera capacity, you're looking at an ungripped DSLR or mirrorless body, with one or two lenses. You can leave a lens attached to the camera body, but be aware that with a 24-70mm lens you might need to point the lens sideways instead of pointing it straight down. My usual testing kit was a Tamron 28-70mm for my Sony camera, with a couple of small wide-angle primes. A small mesh pocket on the underside of the lid will hold your spare batteries.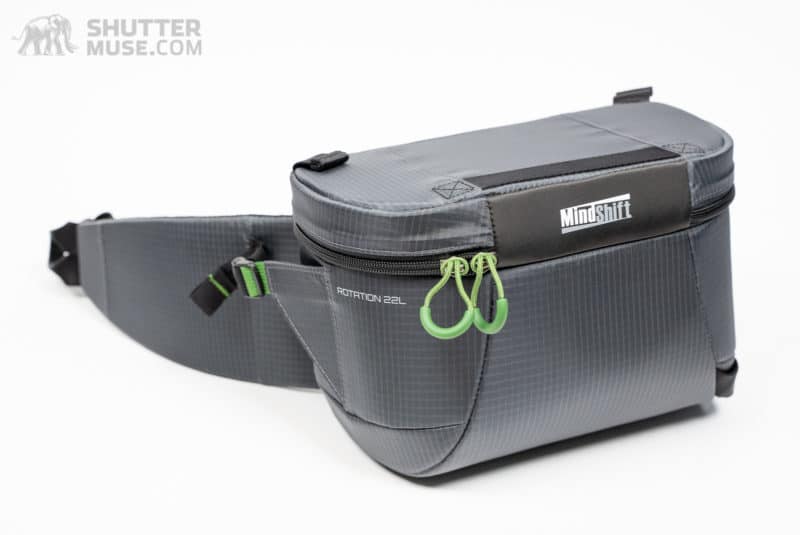 Hydration Compatibility
Unlike the Rotation 50L and 34L, the Rotation 22L doesn't have a dedicated water bladder pocket. Instead, you will have to either stash a water bottle in the top section of the bag or place one in the expandable side pocket. This pocket is capable of holding up to a 1L Nalgene bottle.
Optional: Rain Cover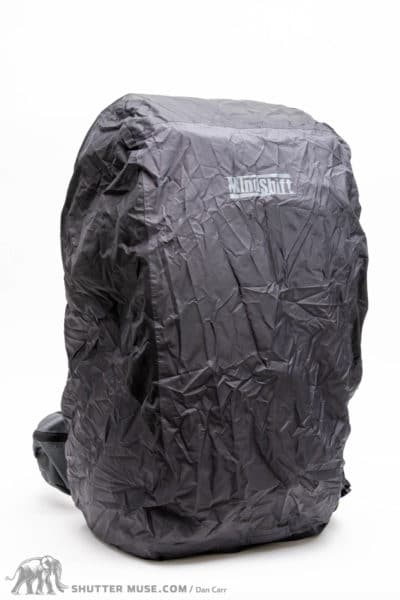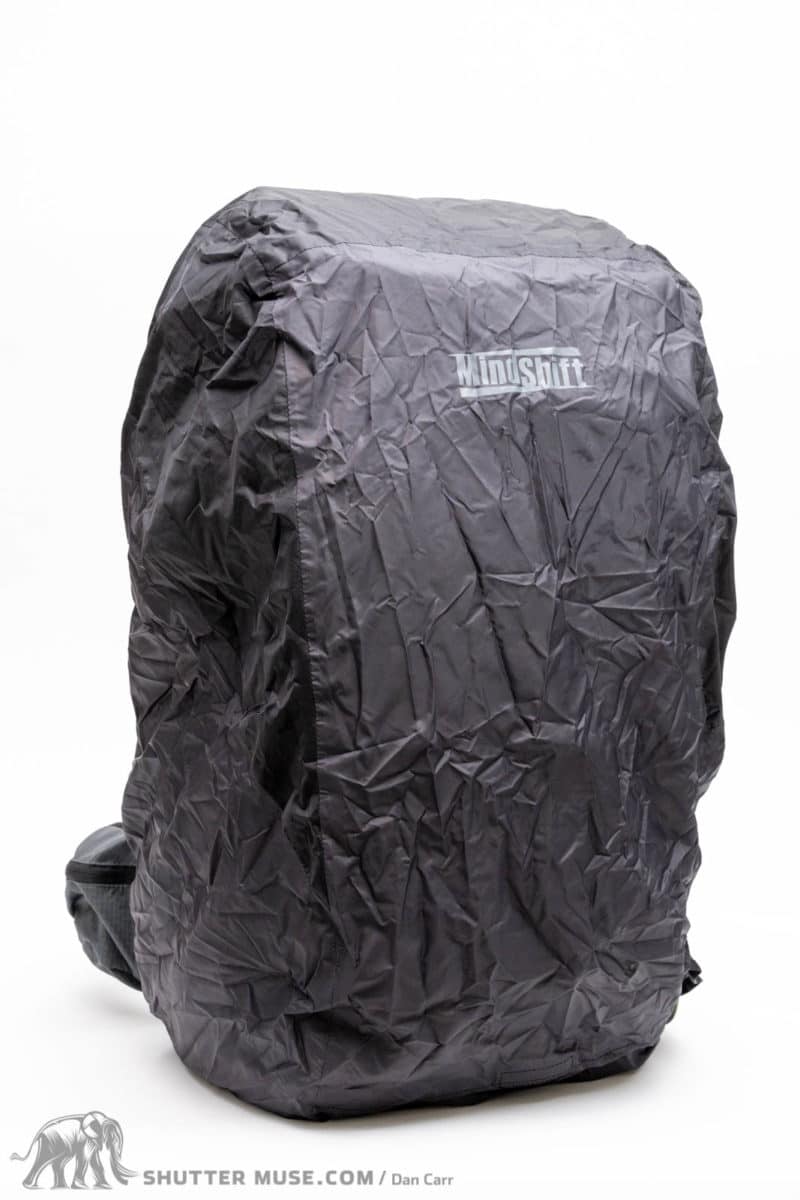 The rain cover for this bag is an additional $20 purchase and comes in two pieces to cover the backpack and the belt pack. Although not waterproof, there is some inherent weatherproofing to the bag's materials. If you get caught in a quick downpour, I would not worry about needing the rain cover. However, if you plan on visiting very rainy parts of the world, or pursuing muddy activities such as mountain biking, it's $20 worth of spending.
Comparison With Other Rotation 180 Backpacks
The Rotation 180 range includes three different backpacks of varying sizes. Since you are reading the review of the middle 34L size, there's a reasonable chance that you might also be considering either the smaller 22L pack or the larger 50L pack. I have also tested these packs extensively, so I'll make some recommendations about those now.
Rotation Pack Feature Comparison
| | Rotation 22L | Rotation 34L | Rotation Pro 50L+ |
| --- | --- | --- | --- |
| Rotating belt pack | Yes | Yes | Yes |
| Adjustable torso height | Yes | Yes | Yes |
| Laptop carry | No | 13″ unpadded | 15″ |
| Hydration compatible | No | 3L | 3L |
| Front zippered pocket | No | Yes | Yes |
| Front stuff pocket | No | Yes | Yes |
| Rear panel access | No | Yes | Yes |
| Removable top pocket | No | No | Yes |
| Extendable volume | No | No | Yes |
| Tripod Suspension Kit compatible | No | Yes | Yes |
| Accessories attach on waist belt | Yes | Yes | Yes |
| Zippered pocket on waist belt | No | No | Yes |
| Retail Price | $249 | $299 | $429 |
Rotation Pack Capacity Comparison
| | Rotation 22L | Rotation 34L | Rotation Pro 50L+ |
| --- | --- | --- | --- |
| Ungripped Mirrorless | Yes | Yes | Yes |
| Ungripped DSLR | Yes | Yes | Yes |
| Gripped Mirrorless | No | Yes | Yes |
| Gripped DSLR | No | Yes | Yes |
| Lenses | 2-3 | 3-5 | 3-5 |
| 24-70mm f/2.8 attached | No | Yes | Yes |
| Additional gear insert | Stash Master S | Stash Master S, M or M Pro | All Stash Masters |
| Additional gear insert | Yes | Yes | Yes |
Rotation Pack Dimension Comparison
| | Rotation 22L | Rotation 34L | Rotation Pro 50L+ |
| --- | --- | --- | --- |
| Backpack Exterior | 12.6″W x 20.5″H x 8.7″D (32x52x22cm) | 13.4″W x 22.8″H x 10.2″D (34x58x26cm) | 13.8″W x 24-31.9″H x 11.8″D (35×61-81x30cm) |
| Backpack Interior | 11.2″W x 11.4″H x 85.9″D (28.5x29x15cm) | 11.2″W x 13.4″H x 7.1″D (28.5x34x18cm) | 11.8″W x 14.1-19.3″H x 8.7″D (30×36-49x22cm) |
| Belt Pack Interior | 10.6″W x 6.7″H x 6.1″D (27x16x15.5cm) | 11″W x 7.7″H x 7.1″D (28×19.5x18cm) | 12.2″W x 7.7″H x 7.1″D (31×19.5x18cm) |
| Laptop Pocket | N/A | 9.4″W x 13.3″H x 1.0″D (24x34x2.5cm) | 10.6″W x 14.8″H x 1.0″D (27×37.5×2.5cm) |
| Weight | 3.9lbs (1.8kg) | 4.8lbs (2.2kg) | 6.2lbs (2.8kg) |
Rotation 50L
Not only is the Rotation 50L+ $200 more than the Rotation 22L, but it's also more than twice the size. To be honest, there should not be many people out there who are trying to choose between these two bags, they are very different! The 50L is one of the biggest camera bags on the market today (it actually expands beyond 50L), and it suits photographers who are looking to carry huge amounts of photo gear while they cover large distances on foot. It's also big enough to carry overnight camping gear as well as your camera gear. Of course, the diminutive little Rotation 22L cannot do these things.
If you are a huge fan of the Rotation system, though, you could make a case for owning both the 50L and the 22L because they are so far apart in size that they function very differently. I would not say that about the 22L and the 34L. They are too close in size, but the 50L has several features that are only found on that larger pack, such as the back panel opening, and expandable top volume. For more details on this pack, you should check out my in-depth review of the MindShift Rotation 50L+.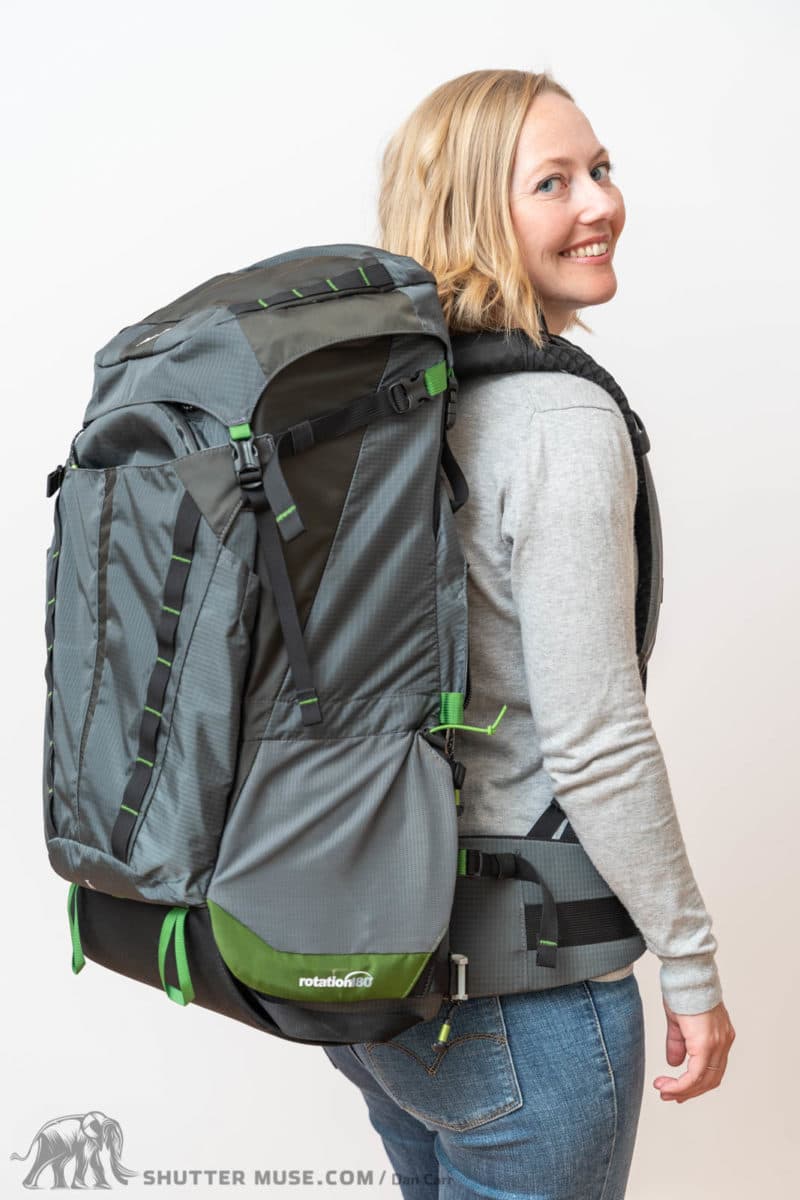 Rotation 50L Video Walkthrough
Rotation 34L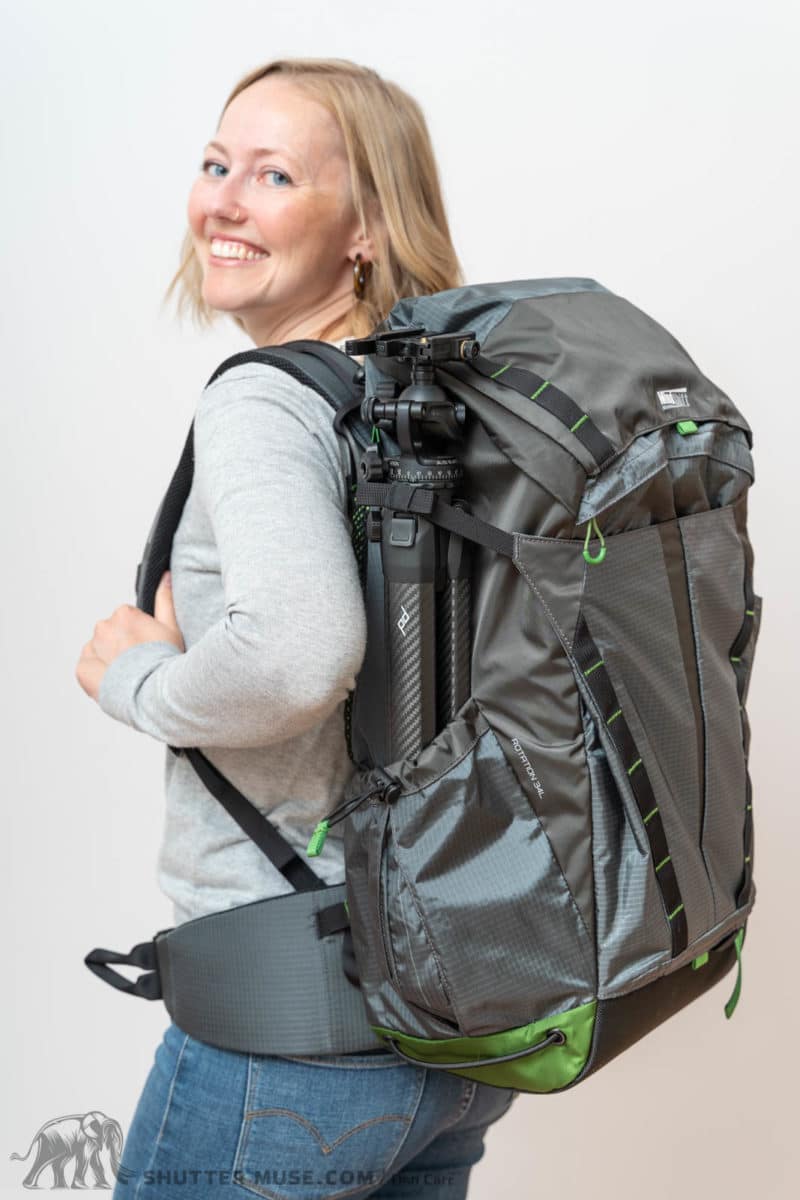 The Rotation 34L is the most popular pack in the Rotation lineup. Although many features are shared between the 22L and the 34L, there are some huge differences. Firstly, the 34L has both a laptop-compatible front zippered pocket and a large compression pocket on the front which is suitable for your emergency layers. The zippered front pocket can also hold a 2-3L water bladder.
In terms of camera gear capacity, the belt pack in the 34L is capable of holding gripped mirrorless cameras or DSLRs, where the 22L is not. Additionally, the 34L has an optional Stash Master accessory cube that fits the top half of the bag and more than doubles your camera gear capacity, as well as giving options for larger lenses such as a 70-200 or 100-400.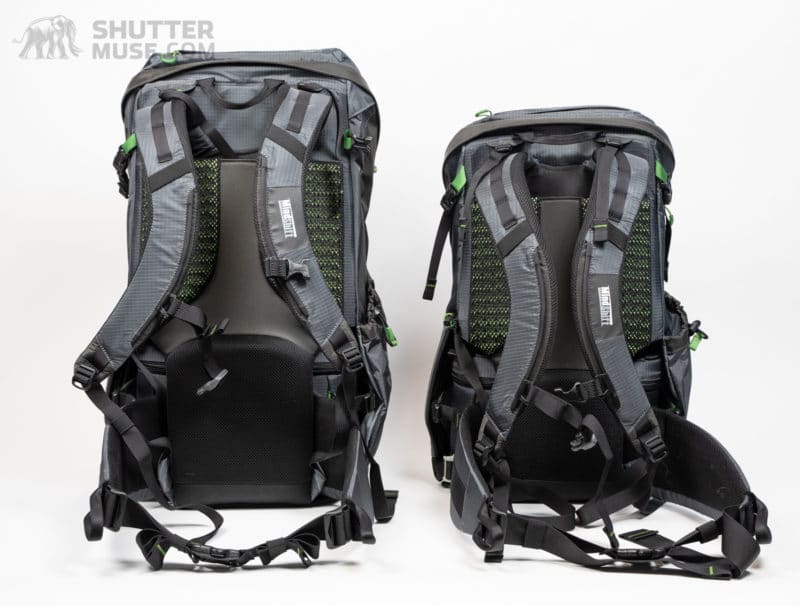 Rotation 34L Video Walkthrough
Additional Comparative Photos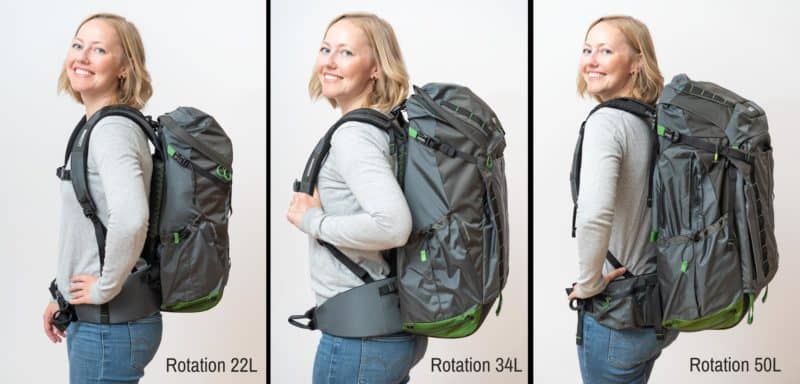 Compared to the Old Rotation 180 Panorama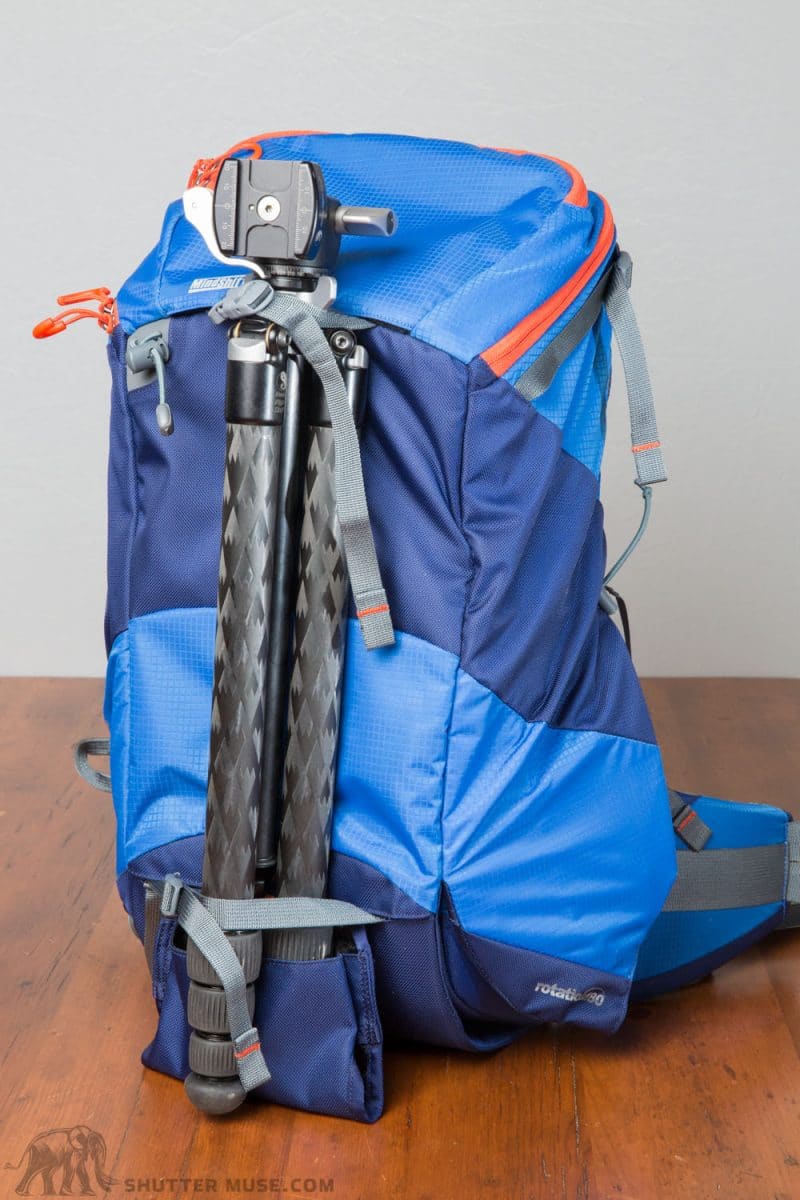 The Rotation 22L has improved upon the old Rotation Panorama in a few ways. Firstly, the 22L now has that all-important adjustable torso length. Secondly, it now has the magnetic closure system around the lid of the belt pack, and thirdly, back panel comfort and ventilation have been improved with the new green foam. Of course, there are many little tucks and tweaks, too, including the colour, but there are the main points.
There is one feature that was removed from the Panorama which I feel might be a contentious issue. The new Rotation 22L does not have a water bladder pocket on the side of the pack as the Panorama did. Personally, I never liked the Panorama's bladder pocket. It was too small for any of the standard 2-3L bladders that I owned, and the design of it always left the side of the back looking bulbous and awkward. I don't mind that it has been removed from the Rotation 22L at all. If I want to carry a drink, I'm happy to stick a 1L Nalgene in the side pocket. Given that the Panorama's old bladder pocket was not capable of holding a bladder larger than this, this is a small compromise. However, I'm pointing this out because I know from feedback already received, that some people are annoyed about the removal of the bladder pocket.
Size Guide
I'm only one size, so it's always difficult for me to answer questions about pack fit for people that are much shorter or taller than me. Thankfully MindShift has created this useful graphic that gives some visual clues as to how each pack will fit people of different heights. Using the adjustable torso length on each pack, all sizes of the pack should comfortably fit people whose height is between 6'4″ and 5'4″.
Torso Length Recommendations
Rotation 22L – 12.3" – 15.5" (31 – 39.4cm) torso height
Rotation 34L – 16.5" – 19.5" (41.9 – 49.5cm) torso height
Rotation 50L+ – 16.5" – 19.5" (41.9 – 49.5cm) torso height
Conclusion
I tested all of the Rotation series packs side-by-side and developed a real soft spot for the 22L version. When the MindShift designers shrunk the 34L design down to create the 22L, they actually kept the same harness system from the larger pack. The result is an extremely comfortable bag that never seems to fight your movement, even when you're moving quickly on your feet or riding a mountain bike. I'd imagine it's great for skiing, too. Although the season wasn't quite right for that when was using it.
If you love the idea of the Rotation system and want to get out into nature with a relatively small camera kit, the Rotation 22L definitely receives my recommendation. And remember, if you're on the fence about the limited camera capacity of this pack, there's always the 34L version to take a look at.
Where to Buy + Deal
The new MindShift Rotation backpacks are currently available directly from the Think Tank/MindShift website:
Anyone who clicks through to their store from one of my links, and spends more than $50 will get a free gift at the checkout. More details here.