A "rugged" drive is one that has been designed to withstand bumps and drops, as well as offering at least some protection from water, whether it be basic splash resistance or full on submersion. Most major drive manufacturers offer some type of ruggedized drive and some, like LaCie and G-Technology, offer a huge range of them. In this article I'm going to explain why I think all photographers should be using rugged drives when they travel, as well as making my recommendations for the best ones on the market.
When I first started taking photography more seriously back in the early 2000s, my very first portable hard drive was a LaCie Rugged drive. That choice to go with a rugged style of drive back then was a very conscious decision, and it's one I have never looked back from. Rugged drives are always a little bit more expensive than regular drives, but to me the added cost is well worth it when you consider both the cost of the equipment you are shooting with, and also the value of the images that the drive will be storing. One of these drives can store hundreds of thousands of photos but the additional cost to move up to a drive like this from a more standard one, is usually only a tiny fraction of the cost of your camera.
Anyone who has read the in-depth guide to my own photography backup routine will know that I take this stuff very seriously, so I'll jump at the chance to further protect my data.
How Expensive?
Like I said, these drive are more expensive than basic portable drives, but that doesn't mean they are unattainable – far from it. To demonstrate this I thought we should look at some example pricing that was gathered at the time of writing this article. What I want you to focus on here is the price difference, not the actual price. The differential hasn't changed all that much over the years, but drive pricing itself has. These prices are correct at the time of publishing, but depending on when you're reading this they might not be. So, remember, it's the differential we're interested in.
Example 1. A portable 1TB 7200rpm G-Technology USB3 drive is selling for $65 form B&H at the moment. A rugged portable 1TB 7200rpm G-Technology USB-3 drive is selling for $89. That's only a $24 difference! For an additional $24, you can give yourself some extra protection for about 25,000 photos. Based on average file size of 35mb, which is actually very generous. Most would find they can fit twice that number of photos.
Example 2. A portable 2TB Seagate USB drive is currently selling for $75 at B&H Photo. A portable 2TB LaCie Rugged USB-C drive is currently selling for $110 at B&H Photo. That's a $35 difference in price, and the LaCie drive actually has the much newer USB-C connection type which will be more practical in the long run.
A $35 step up in price to better protect 2 terabytes of photos?!  Yeah, you bet I'm going to take that every time! A trip to my local Chinese takeout would cost me more than $35, so this is definitely a cost that can be factored into people's budgets if they plan it out.
HDD Vs. SSD
Hard disks have a spinning disk in them and moving mechanical parts. Compared to solid state drives this definitely makes them more susceptible to damage, but it doesn't mean SSDs are infallible. A solid state drive in a bare bones drive enclosure should not be treated as "rugged" and thrown around without a care! SSDs still come in rugged formats too, so the ultimate protection would be a rugged SSD. Unfortunately the high price of SSDs does make this unattainable for many people, and SSD drive capacities are also much less than current hard drive capacities.
If you can afford an SSD and value their additional speed that's great, but most people will be best suited to a rugged hard drive instead, where as we have seen, the price differential is really not too much.
LaCie Rugged Drives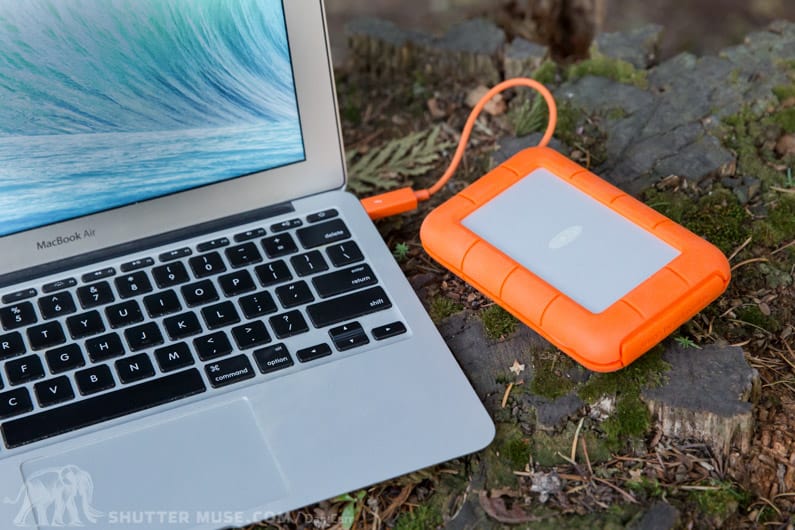 Throughout my photographic career there has never been a time when I haven't had at least one LaCie Rugged drive in my laptop bag. My very first one was USB1, then I had a Firewire drive (remember those?), then I moved on to USB2, then Thunderbolt 1/2 and now I have a couple than use USB-C. In all those years I haven't had a single drive failure amongst them, and before I retired them to the great scrapheap in the sky, the first ones I had were so worn and dented that you'd be forgiven for thinking I was a war photographer.
LaCie offer their Rugged drives with a huge variety of different connection types, and also add models with hardware encryption built in, hardware RAID and SSDs. In short, there's a solution that is going to suit both your needs and your budget. Heck, if you count the similarly designed LaCie/DJI CoPilot drive then there's also one that can backup all your photos without a computer, and let you browse the drive contents via a connected mobile device.


If it's high volume in a portable package that you're after, Rugged drives are currently available with up to a 5TB capacity in their USB-C versions. 5TB in a portable bus-powered (no mains power adapter needed) drive! Amazing.
Rugged RAID
As fas as I know, LaCie are the only company that's making portable bus-powered, ruggedized RAID drives. I have been using a Rugged RAID for many years now and I absolutely love it. Configured in RAID1 mode the drive mirrors data across both of its internal drives to give you some protection from hardware failure, although remember, RAID is not a backup in and of itself. In RAID0 mode, the drives are striped together to essentially double the read and write speeds that would be available from an enclosure that has a single drive. This doesn't move the Rugged RAID into SSD speed territory, but it doesn't get too far off it and it's a noticeable difference when working with large files in Photoshop when I'm on the road. It's a bit of a price jump to get a Rugged RAID, compared to a regular Rugged drive of an equivalent volume size, so make sure you really understand what the RAID will do for you and whether or not that's for the extra cash.
G-Technology ev RAW Drives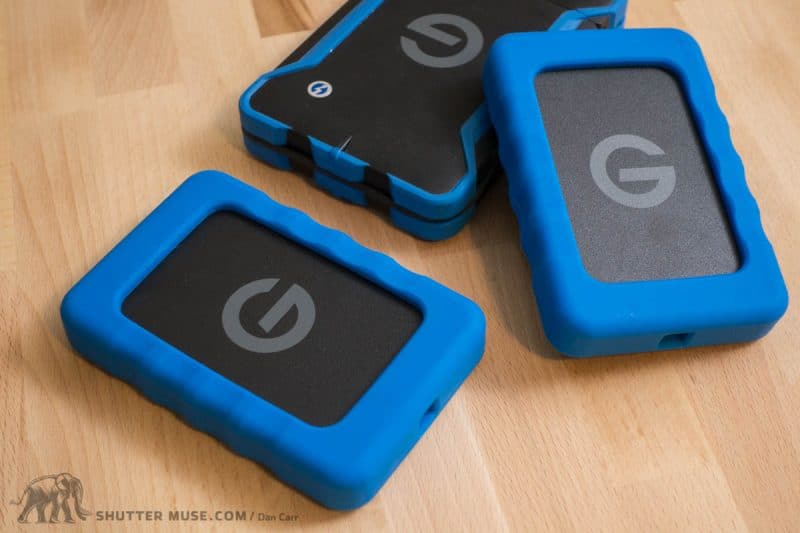 I've had a few of these drives in past years and they have proved to be reliable. Compared side-by-side with an equivalent LaCie Rugged drive though, they clearly aren't as tough. They feel very plasticky and hollow. G-Technology also move at glacially slow speeds when it comes to keeping up with modern standards. Other manufacturers have offered type-c interfaces on their rugged drives for several years now, and G-Tech are still using the old usb3 micro-B port style. When I owned these they only had them in 1TB sizes and lower, whilst other manufacturers had up to 5TB sizes in their rugged drives!
If you use other G-Tech products that allow hot swapping of these ev RAW drives into them, like the Shuttle RAID systems, then they are usable options, but otherwise I'd skip them unless they happen to come up on sale.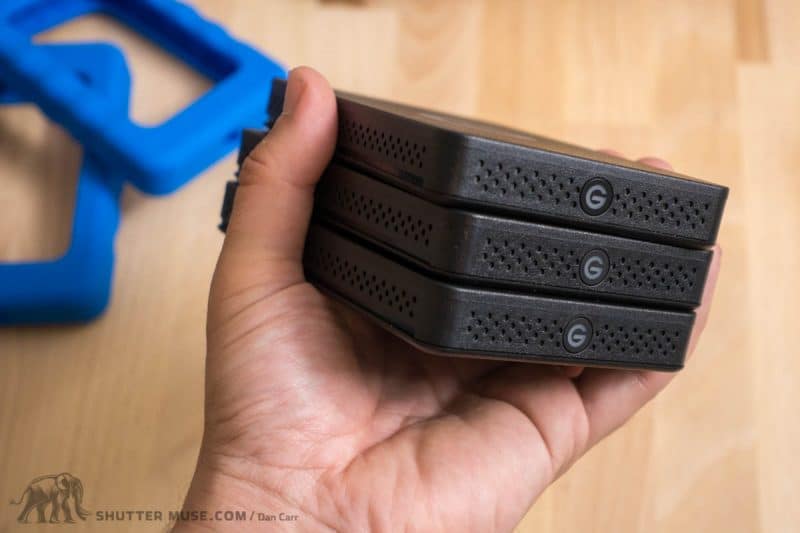 G-technology ev ATC Drives
The ev ATC isn't really a different drive to the above mentioned ev RAW, it's simply a tougher case to put an ev RAW drive into. As I mentioned earlier, the ev RAW drives aren't all that rugged. The rubber bumper is better than nothing, but they don't come close to the robust build of something like the LaCie Rugged drives. Instead, you can buy the ATC version, or buy the ATC case afterwards, and add some additional protection to the drive.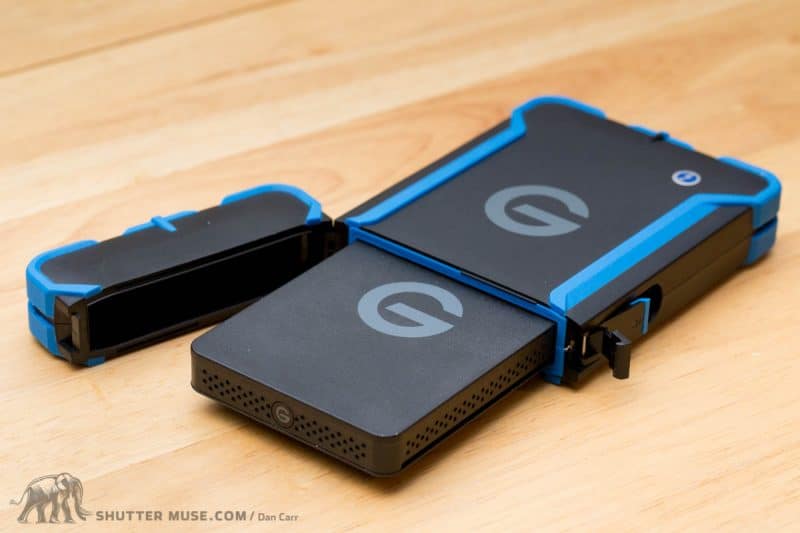 I felt it was worth mentioning this because I happen to have one lying around my office anyway, but I also don't really recommend them anymore. A few years ago I thought it was a neat idea when it first came out, but having lived with it for a while and seen newer products come to market, I don't like it anymore. As you can see from the photo, it's huge compared to the LaCie Rugged drives, and it doesn't have the same waterproof rating as the CalDigit Tuff drive that you're about to read about in the next section. In fact the Tuff drive is also considerably smaller too. I travelled with this ATC drive in my bag for a couple of years but eventually tired of its physical size. As is the way with G-Technology, they are still offering it with old connections standards in the form of Thunderbolt 2 and USB3 micro-b, when everyone else is sticking with the times and using Thunderbolt 3 and USB 3.1 type-c. It's not a bad drive if you happen to find one on sale, but there are better options now.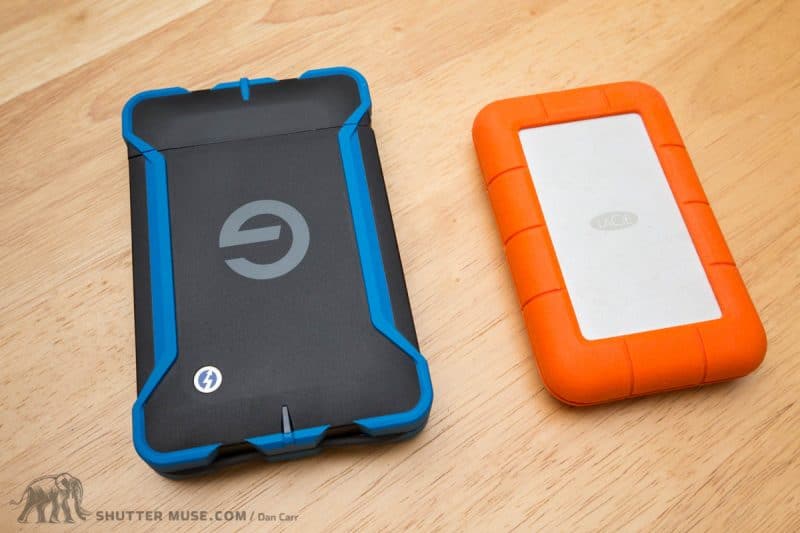 CalDigit Tuff Drives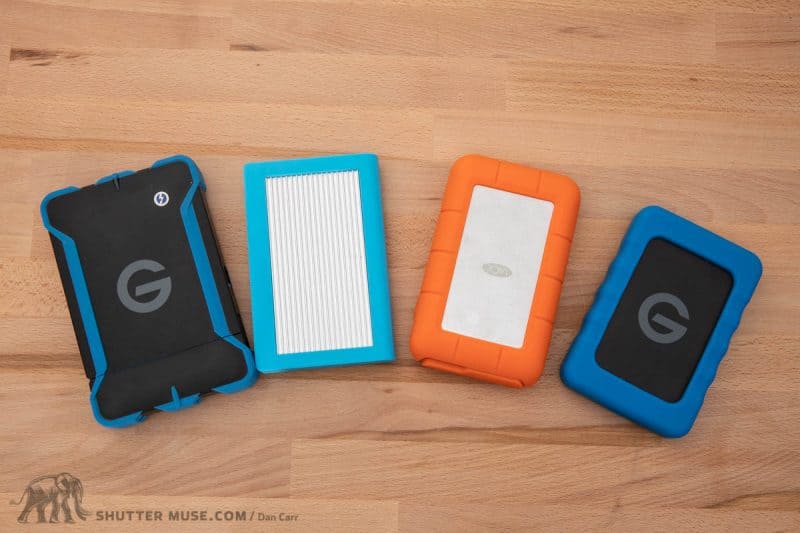 CalDigit is a smaller storage company that doesn't get nearly as much love as I think they should do. A lot of their marketing attention seems to be focussed on the video production industry, but I have used a number of their drives over the years and always found them to be excellent. Also, being a smaller US-based company means that customer service is an absolute breeze to deal with compared to the larger behemoths like Seagate and Western Digital.
CalDigit's lineup of Tuff drives are IP57 rated, which means they actually protect against water ingress when submerged. Very impressive for such a small drive! You can literally drop this drive in a lake, take 30 minutes to find it and everything will be A-ok. I have tested this myself in a bucket of water and the drive was perfectly fine. As far as I know, there are no other rugged drives on the market that are IP57 rated. Of course you could put any drive into a small dry bag or Pelican case, but this rating definitely simplifies things for people who are really going to be out there in particularly wet environments.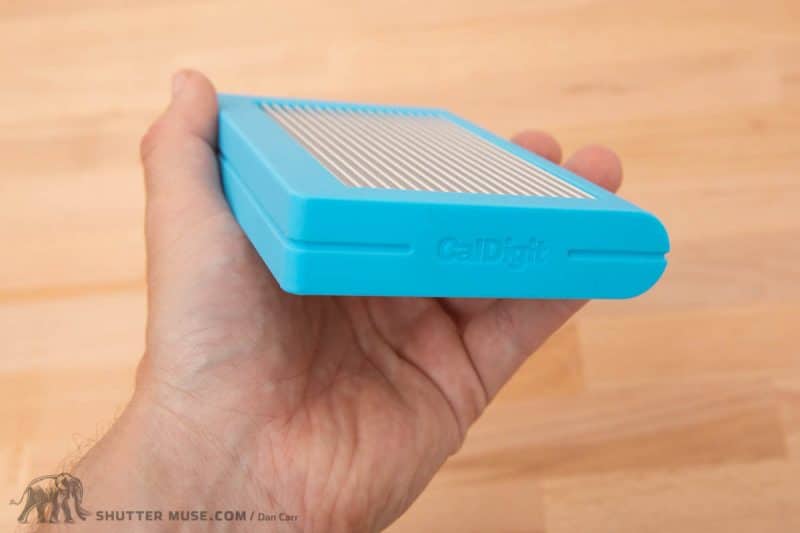 Not only do the Tuff drives inspire confidence in wet environments, but they also offer the most solid drive casing out of any of the drives I've discussed in this article. These are extremely solid feeling aluminum drive cases – a night and day difference to the plastic G-Tech ev RAW drives.


In my opinion, the CalDigit Tuff drives are definitely the toughest ones on the market. I generally recommend using rugged drives to help protect against every day accidents, such as dropping a drive on a hard floor. I would recommend using the CalDigit Tuff drives for that too, but I'd recommend them even more strongly if you know that your drive is going to be subjected to knocks, bangs, dings, drops and/or wet environments.
There's a lot to love about these Tuff drives and they even come with Thunderbolt 3 compatible, USB 3.1 type-c connections. The downside however, is the price. Currently a 2TB Tuff drive is roughly $180, compared to $110 for a USB type-c LaCie Rugged drive. If I knew without question that my drive was going to be subjected to some serious abuse, I'd have no problem paying the price for the Tuff drive. If on the other hand it was more of a general safety net against accidents, it's a harder thing to justify.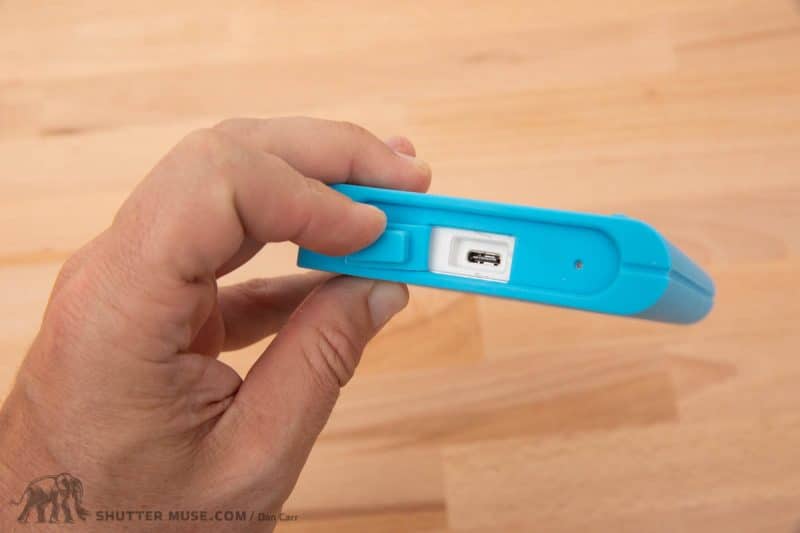 SanDisk Extreme Portable SSD
Available in 256GB, 500GB and 1TB sizes, the Extreme Portable SSD starts at under $100 and has a USB 3.1 type-C port. Being an SSD, the price per gigabyte is considerably higher than any of the rugged hard disks on the market, but if you need faster speeds for editing 4k video footage then they will deliver speeds up to 550 mb/s.


Whilst the price will be prohibitive for some people, you can still store a lot of images on the smallest 256GB model. I also LOVE the tiny sizing of the drive, and the handy carabiner hole on it. This might not seem like a big deal, but it means that I can securely clip the drive into a pant pocket or camera bag pocket. This is nice for traveling because I usually like to keep one set of my images on me at all times, and a second copy back at my hotel. If my hotel room were to be robbed then I have that additional copy of the photo on me at all times. I've always done this with a drive when I travel, but it would be considerably more convenient with something this small. The Extreme Portable SSD therefore makes a perfect, redundant travel backup plan much easier.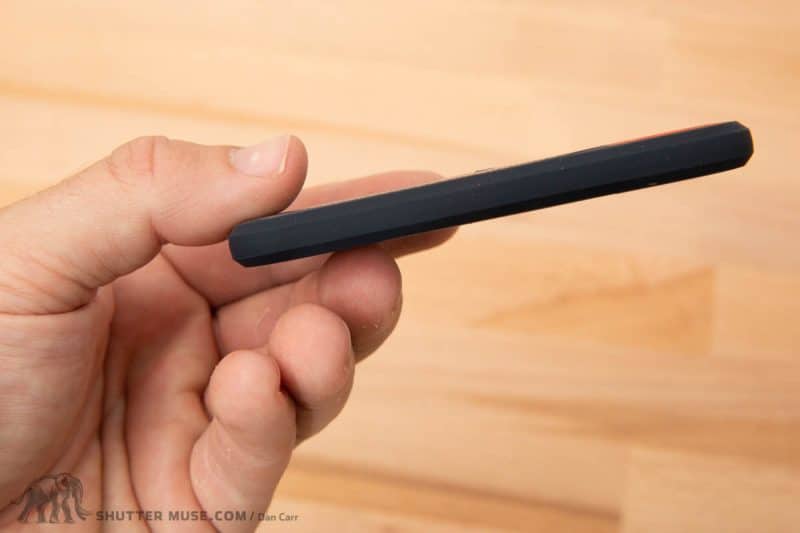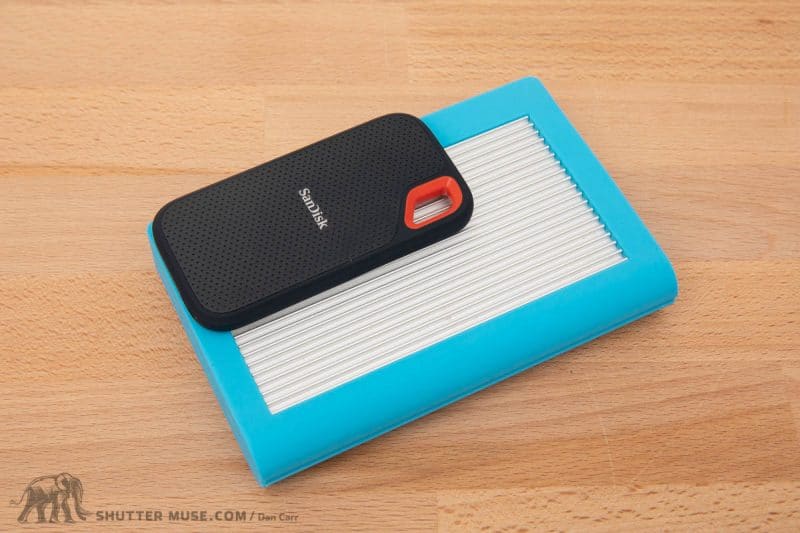 Conclusions
If I was in the market for a new rugged drive at the moment, I'd start by looking at LaCie's extensive lineup. They have an incredible variety of rugged portable drives, and they are usually fast at reacting to technology changes in the marketplace, as well as offering new drive capacities when they become available. At the time of writing this for example, nobody else has a 5TB rugged USB-C drive apart from LaCie – a drive I purchased for my own business not too long ago. The other LaCie Rugged drives in my arsenal are the Rugged RAID drives, and once again, nobody else even offers a ruggedized portable drive with hardware RAID.
Most people will be looking at these sorts of larger capacity drives for bulk photo storage,  but if you do want to dip your toes into the world of smaller capacity, fast solid state drives then the SanDisk Extreme Portable SSD is a remarkably good deal. A few years ago I wouldn't have imagined that it would be possible to buy a tiny, rugged SSD for under $100! The capacity might be quite small, but if you're just using it for backup whilst travelling on a shorter trip, it might well do the trick.
If you're after the absolute toughest portable drive on the market and money is less of an object, take a look at the bomber CalDigit Tuff series with their impressive IP57 rating.