As I searched for better alternatives to SanDisk's portable SSDs, the Crucial X9 Pro and X10 Pro blinked prominently on my radar. In the past, I was more familiar with Crucial's RAM than their portable flash drives. Still, these tiny USB-C drives caught my eye as they launched amidst a flurry of bad press reports concerning SanDisk Portable SSD reliability. Fortuitous timing for Crucial? Absolutely. Do their impressive specifications and speed claims stand up to scrutiny? That's what we're going to find out in this review.
Disclaimer: Crucial provided an X9 Pro and an X10 Pro for testing purposes. No money changed hands, and they did not get to read this review before it was published.
Table of Contents
Drive Specifications
Crucial X9 Pro
USB-C 3.2 Gen 2 Interface
Sequential Read Speeds up to 1050 MB/s (theoretical)
Sequential Write Speeds up to 1050 MB/s (theoretical)
Bus Powered
256-Bit AES Hardware Encryption
Water, Dust, and Sand Resistant (IP55)
Drop Resistance – 7.5′ On a Carpeted Floor
Windows, Mac, and Linux Compatible
Android and iPad Compatible
Dimensions: 2.6 x 2 x 0.4″ / 65 x 50 x 10 mm
Weight: 1.3 oz / 38 g
Crucial X10 Pro
USB-C 3.2 Gen 2×2 Interface
Sequential Read Speeds up to 2100 MB/s (theoretical)
Sequential Write Speeds up to 2000 MB/s (theoretical)
Bus Powered
256-Bit AES Hardware Encryption
Water, Dust, and Sand Resistant (IP55)
Drop Resistance – 7.5′ On a Carpeted Floor
Windows, Mac, and Linux Compatible
Android and iPad Compatible
Dimensions: 2.6 x 2 x 0.4″ / 65 x 50 x 10 mm
Weight: 1.5 oz / 42 g
Crucial X9 Pro Vs X10 Pro
Externally, the Crucial X9 Pro and X10 Pro appear identical apart from having slightly different shades of grey anodizing on the aluminum casing. Internally, the NAND flash chips are identical in both drives (Micron 176L TLC NAND). The significant difference between the two devices is the USB interface. While both the X9 Pro and X10 Pro use a Type-C connector, the X9 Pro offers USB 3.2 Gen 2, while the X10 Pro offers USB 3.2 Gen 2×2. The 4-gram heavier weight of the Crucial X10 Pro can be attributed to some additional thermal mass included in this model to help dissipate the increased heat from the USB 2×2 connection when running at full speed.
What Is USB 2×2?
USB 3.2 Gen 2, as seen in the X9 Pro, has a theoretical maximum throughput of 10Gbps. USB 3.2 Gen 2×2, doubles the theoretical bandwidth to 20Gbps. To access this additional speed, the device and the port it is connected to must be USB 3.2 Gen 2×2 compatible. If a USB 3.2 Gen 2×2 device, such as the Crucial G10 Pro, is connected to a USB 3.2 Gen 2 port, the device will operate at USB 3.2 Gen 2 speeds with a maximum of 10Gbps.
Is USB 2×2 Dead?
USB 2×2 was introduced in 2017. Since then, only a handful of PC motherboards and PCIe cards have supported it. Apple chose not to implement USB 2×2 on any Mac, so the only way to use a USB 2×2 device to its full potential is to build a custom PC. What's more, USB4 is now rolling out across the industry. Apple has been equipping their laptops and desktop machines with USB4 for a couple of years, and PC brands such as Lenovo, HP, and Razer are all launching USB4-equipped machines from 2023 onwards.
Herein lies another issue for USB 3.2 Gen 2×2 devices: They are not entirely backward compatible with USB4. A USB 2×2 device plugged into a USB4 port will only operate at the slower 10Gbps speed of USB 3.2 Gen 2. This means that even if you are one of a minority with USB 2×2 on your computer now, and hence do invest in a 2×2 drive like the Crucial G10, you will lose the performance benefits if you ever upgrade to a computer that uses USB4.
Crucial X9 Pro and X10 Pro Speed Tests
I had no problems testing the Crucial X9 Pro, so you'll find a pile of data in this section that helps us understand the read and write performance you can expect from that drive. Testing the Crucial X10 Pro was a different matter.
As I underlined in the previous part of this review, the X10 Pro is almost identical to the X9 Pro, apart from including a 20Gb/s USB 2×2 port. I'm a Mac user, and I was aware that no Macs support USB 2×2 when I contacted Crucial to request samples of these two drives. My plan with the Crucial X10 Pro was to borrow a PC with a USB 2×2 port from a friend or head down to my local computer store and borrow one of their display computers while I ran some speed tests.
Unfortunately, I was unaware of how poor the USB 2×2 adoption rate had been. I couldn't find anyone I knew with a USB 2×2 port on their computer or a new computer in any computer store in my city with a USB 2×2 port. It's as if that standard doesn't exist! Dell, Acer, Samsung, Lenovo…nothing! Multiple computer store employees had never even heard of USB 2×2 when I asked them. After visiting every store in my city, I had to give up on that plan. If you are a PC user – one of the few with a USB 2×2 port – and you are looking for speed test results of the X10 Pro on a 2×2 port, I'm afraid I can't help. I made a valiant effort but came up short, and it just left me wondering why people like Crucial and SanDisk are even bothering with USB 2×2 drives (more on that later).
That said, it doesn't mean having an X10 Pro to test on a Mac is completely pointless. While I thought I knew the answer to the question before the test, many people online are asking, "Is an X10 Pro faster than an X9 Pro on a Mac?" At the very least, I knew my testing and side-by-side comparisons would be able to answer that question once and for all.
Many of these questions stem from Petapixel's ill-advised recommendation of the Crucial X10 Pro as the best portable SSD for photographers. Their article completely ignores the existence of the Crucial X9 Pro. Theoretically, for Mac users, an X10 Pro will not be any faster than an X9 Pro. Given the terrible availability of USB 2×2 ports, the same can be said for most PC users. If you're a PC user without a USB 2×2 port, you will also get the same speeds from an X10 Pro as you'll get from an X9 Pro, but you'll pay about 20% more for buying the X10 over the X9. The following tests can put this to rest once and for all by comparing the speed of a Crucial X9 Pro and an X10 Pro on a Mac.
Crucial X9 Pro Speed Tests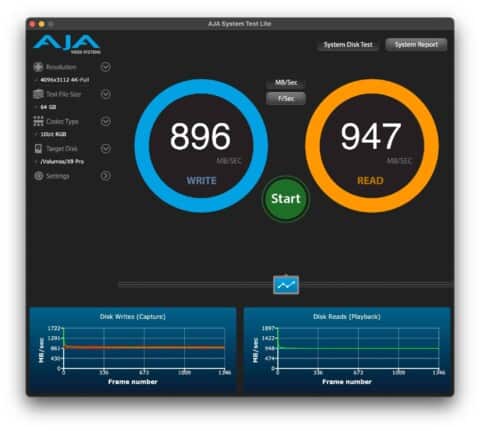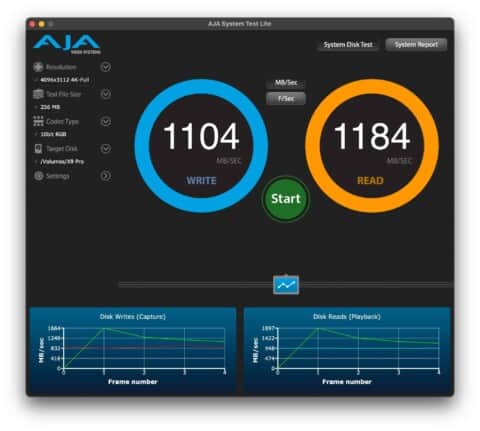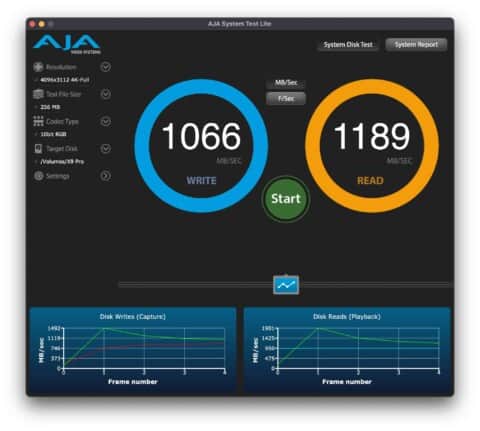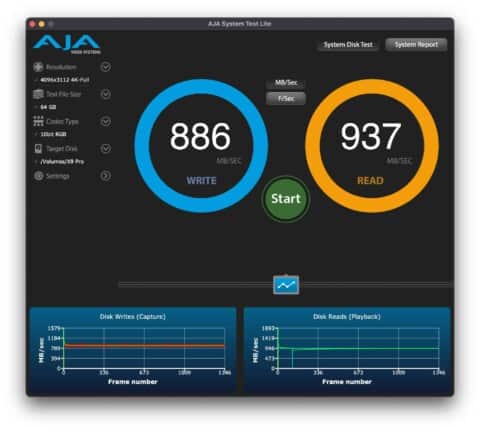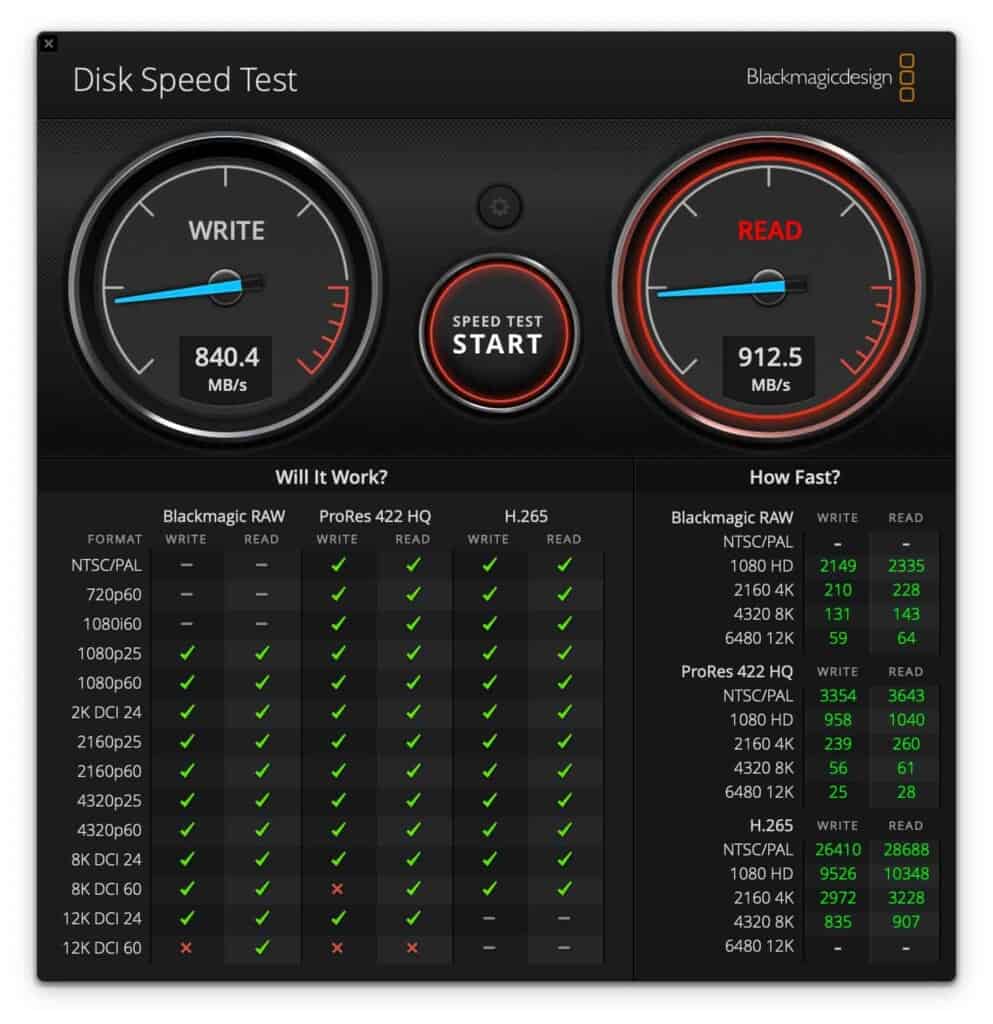 Crucial X10 Pro Speed Tests on a Mac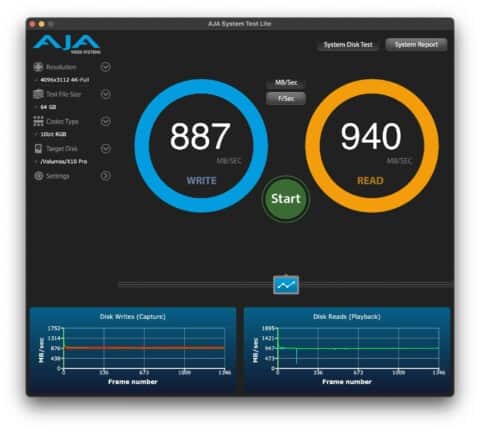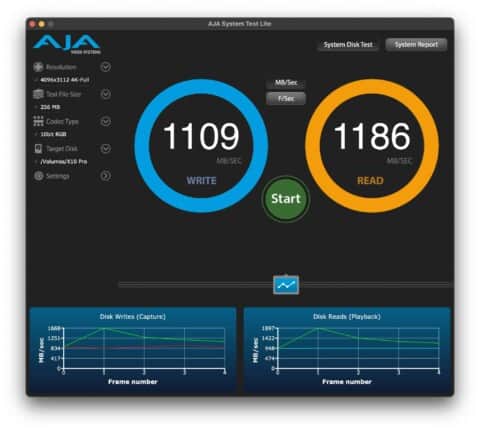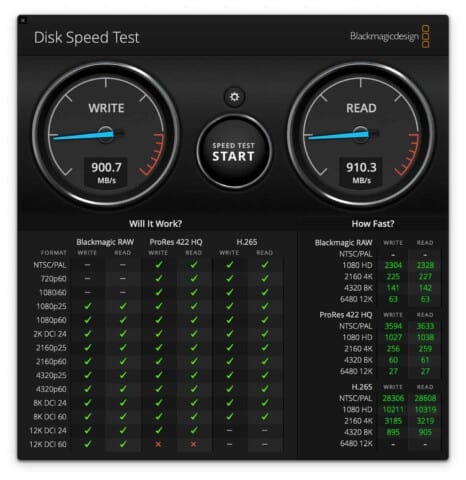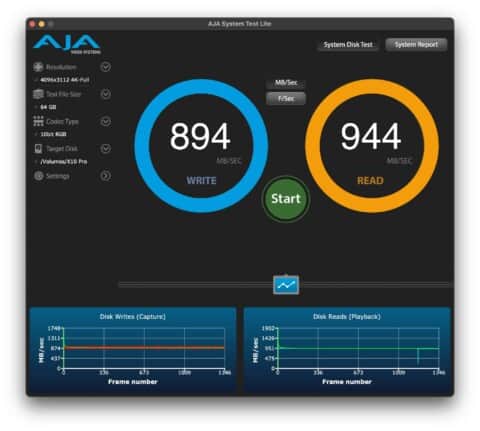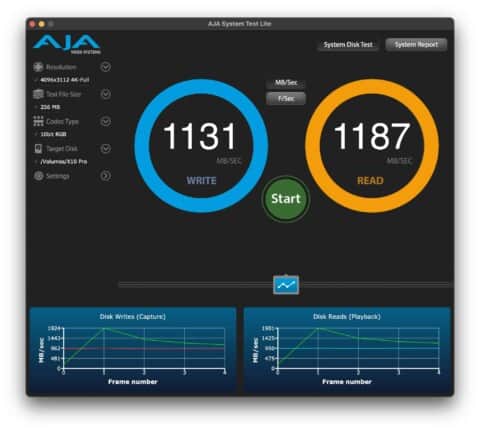 Discussion of Results
First, we can put one thing to bed: The Crucial X10 Pro delivers the same performance as the X9 Pro when connected to a Mac. This isn't a real surprise. Indeed, Crucial even confirmed this to Anandtech, saying, "For all intents and purposes, to date, we have not seen the Crucial X10 Pro perform in a significantly different way over the Crucial X9 platform on Mac platforms." This means we can confirm there is no reason to buy the Crucial X10 Pro if you're a photographer using a Mac. Save yourself some $$$ and buy the Crucial X9 Pro instead. The same results would be true if you are a PC user who doesn't have a USB 2×2 port. And if you're saying, "How would I know if I have a USB 2×2 port on my PC?" you almost certainly don't have one. Very few people do.
With that out of the way, let's consider the performance of both these drives in the context of other USB 3.2 Gen 2 devices. I will refer to the speed of the X9 Pro, but, as we know, the X10 Pro produced the same results. Using my usual test setup, I exceeded Crucial's read and write speed claims for these drives, which is highly unusual. Typically, I'd expect real-world numbers 10-20% below what a manufacturer claims is possible. The fact I was able to achieve consistent 1120 MB/s read speeds and 1180MB/s write speeds with the Crucial X9 Pro and X10 Pro is remarkable. These results make them easily the fastest USB 3.2 Gen 2 portable SSDs I have ever tested by quite some margin.
When I increased the file size to a 64GB test, the drives continued to produce incredible results, delivering speeds with the large-file test that many other SSDs struggle to match with the small-file test. When the drives were loaded up to increase their capacity to 3/4-full to simulate normal in-field photo backup usage, there was no perceptible drop-off in read or write speed. The sheer consistency of the read and write speeds was notable to me. The read and write speeds stayed incredibly consistent during longer operations with larger files, with far fewer drop-outs than I have seen with other SSDs. Quite simply, these are the best SSD test results I have ever seen.
Crucial X9 and X10 Alternatives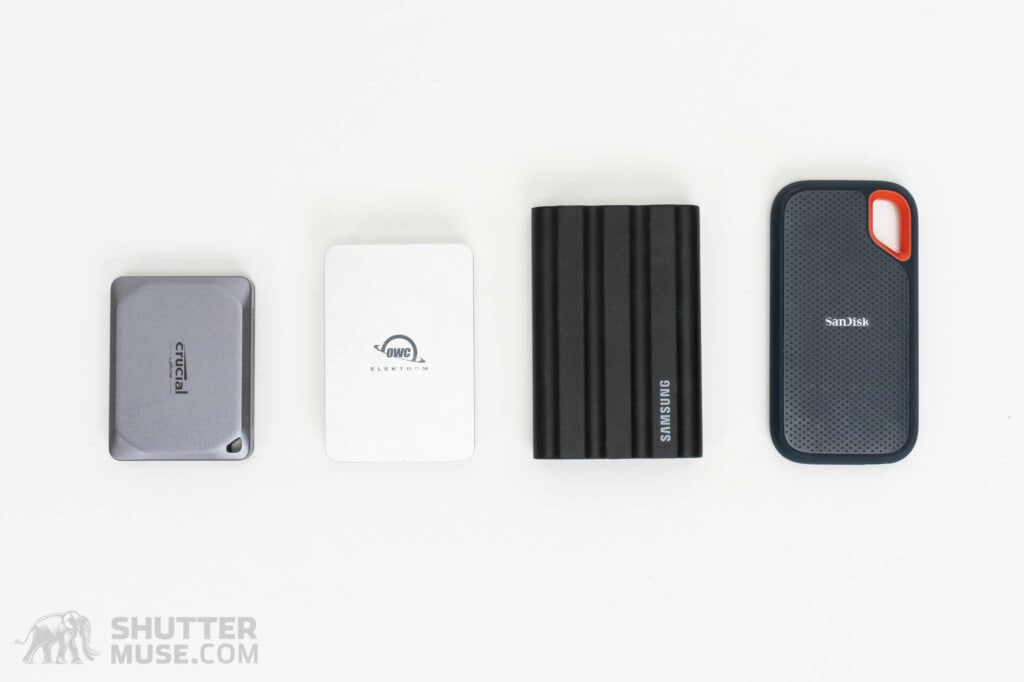 Crucial X9/X10 Vs Samsung T7 Shield
The Samsung T7 Shield is another excellent option on the portable SSD market. Like the Crucial X9 and X10 Pro, the T7 Shield is available in 1TB, 2TB, and 4TB capacities. It is bus-powered, with a 10Gb/s USB 3.2 Gen 2 USB-C port, just like the Crucial X9 Pro. In my testing, I found the T7 Shield to be a very capable performer, and while it didn't deliver read and write speeds that kept up with these Crucial drives, it was not far off. Moreover, the wrap-around rubber casing on the T7 Shield impressed me. The Samsung drive feels more durable, a feeling that is mirrored by specifications: IP65 for the Samsung T7 Shield, compared to IP55 for the Crucial X9/X10. The T7 Shield also delivers better shock resistance: 9 feet, compared to 7.5 for the Crucial, and it does that while still maintaining an impressively small footprint. If you're rough on your gear in the field, this is an alternative worth consideration. Check out my full Samsung T7 Shield review for more details.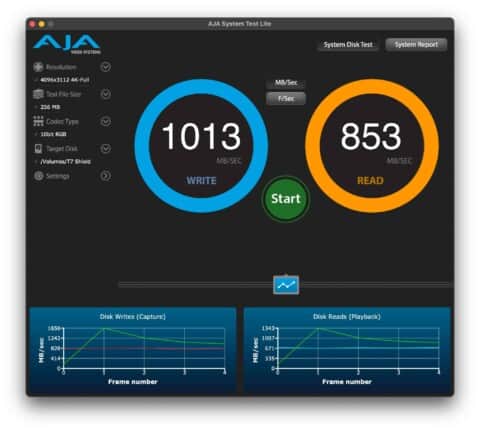 Crucial X9/X10 Vs SanDisk Extreme SSD
After the way SanDisk handled the data loss issues from these drives in 2023, I no longer recommend buying a SanDisk Extreme Portable SSD v2. However, I still have a few kicking around my office, so I ran some speed tests to see how they fare against the Crucial X9 and X10s. The results are pretty straightforward. The Crucial X9 and X10 are faster than the SanDisk drives in every test. The difference with the smaller 256MB file writes is lower, but when you switch to the larger file test, there's a gulf between the write speeds of these drives, with the Crucial X9/X10 delivering a sustained write speed of around 875 MB/s, when the SanDisk dropped to about 525 MB/s. The SanDisk and Crucial drives both have an IP55 dust and moisture-resistance rating.
SanDisk has been aggressively lowering the price of their SSDs, presumably to try and combat the bad press they've had recently. I'd urge you not to be tempted by those sales. The Crucial X9 and X10, or the Samsung T7 Shield are much better options.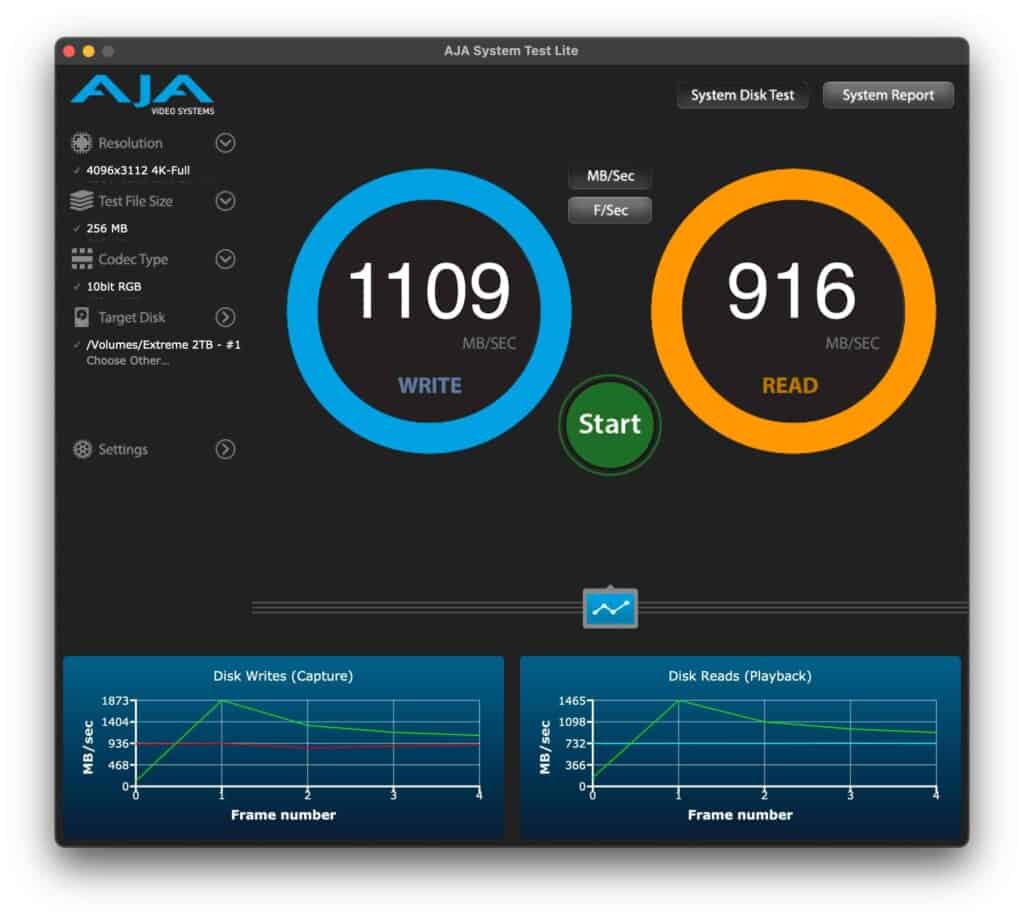 Why Do USB 2×2 Drives Like the Crucial X10 Pro Exist?
So few people have access to a USB 2×2 port that you have to ask why manufacturers like SanDisk with their Extreme Pro SSD v2 and Crucial with their X10 Pro even bother to make drives with this port. I don't have a concrete answer, but I suspect it comes down to marketing. In the end, it looks good to have a drive in your catalog that says it has a theoretical read speed of 2100 MB/s, even though most people will only get half that speed out of it. Unfortunately, many consumers take front-of-the-box specifications as gospel.
At least in the case of the Crucial X10, it takes a real eagle eye to find the merest mention of USB 2×2 on the box. Even then, it is only mentioned in the context of the USB cable included in the package, and nowhere does it explain that the claimed read and write speeds depend on having this nearly mythical USB 2×2 port. The result, I would guess, is that many people see the X9 Pro and X10 Pro side-by-side on shelves or in an online catalog and think to themselves, "Why wouldn't I pay an extra 20% for the X10 if it gives me TWICE the speed?", without realizing that it's almost certainly money wasted.
But you're not going to make that mistake, are you? You're a savvy consumer and doing pre-purchase research on a website that's happy to give you straight answers. As I showed in my tests, there is no point buying the X10 Pro if you are a Mac user, and the same would go for any PC user who doesn't specifically know their computer is equipped with a USB 2×2 port.
Conclusion
The Crucial X9 Pro produced the best speed test results I have ever seen from an SSD, exceeding Crucial's own claims for read and write speeds at around 1120MB/s for read speeds and 1180MB/S for write speeds. The fact that this level of performance is packaged in the smallest form factor I have ever seen for an SSD – for a price that competes squarely with just about every other USB 3.2 Gen 2 10Gbps drive on the market – is remarkable.
While not as rugged as the IP65-rated Samsung T7 Shield or the IP67-rated LaCie Rugged, the IP55-rated Crucial X9 Pro still delivers some protection from dust and moisture ingress and a decent 7.5-foot rating for drop resistance. Unless you are particularly hard on your gear or planning some tough photography adventures in very wet environments, the Crucial X9 Pro should be at the top of your list for portable SSD backups. This is your answer for those out there looking to replace their failed or mistrusted SanDisk Extreme SSDs.
While there are many great things to say about the Crucial X9 Pro and my recommendation is easy, the Crucial X10 Pro needs more thought. The theoretical 20Gbps speeds of the X10 Pro are not accessible to any Mac user, nor are they available to most PC users. In other words, the higher price of the X10 Pro is wasted money for the majority. Without a USB 2×2 port on your computer, something unavailable to Mac users full-stop, and something you'd need to install specifically on a PC, the X10 Pro operates at the same speed as the cheaper X9 Pro.
Even if you build a custom PC and add a USB 2×2 port, the standard is not backward compatible with the increasingly popular, much newer USB4 standard. In short, your higher 20GBps speeds will drop back down to the 10Gbps speed of the X9 Pro if you upgrade your PC's ports to the new USB4 standard. For most people, the Crucial X9 Pro is the right choice, and if you make that choice, you'll be getting the fastest Gen 2 drive on the market to date. I'm immediately throwing my money where my mouth is and buying four 4TB Crucial X9 Pros for my travel and field photo backup needs.
Where to Buy
As always, using our links for your purchases is appreciated. The X9 Pro and X10 Pro are available from these retailers: