Having lost faith in SanDisk SSDs after their well-documented issues in recent years, I looked at the market for alternatives to the SanDisk Extreme V2. The Samsung T7 Shield SSD ticks all the boxes from a specification standpoint, so I ordered one from Amazon to give it a go. In this review, we'll look at the drive's specifications, the build quality, and results from a series of speed tests. Then, I'll compare it to what I consider its main rival on the market to determine if this is a good backup option for photographers.
Table of Contents
Samsung T7 Shield Specifications

Available capacities: 1TB, 2TB, 4TB
Bus powered
Port: USB-C 3.1/3.2 Gen 2
IP65 Rating
Operating Temperature: 32.0 to 140.0°F / 0.0 to 60.0°C
Write speed (claimed): 1000 MB/s
Read speed (claimed): 1050 MB/s
Encryption: 256-Bit AES (Hardware-Based)
Weight: 3.5 oz / 98 g
Dimensions: 3.5 x 2.3 x 0.5″ / 88.9 x 58.4 x 12.7 mm
Price: Check Price
In the Box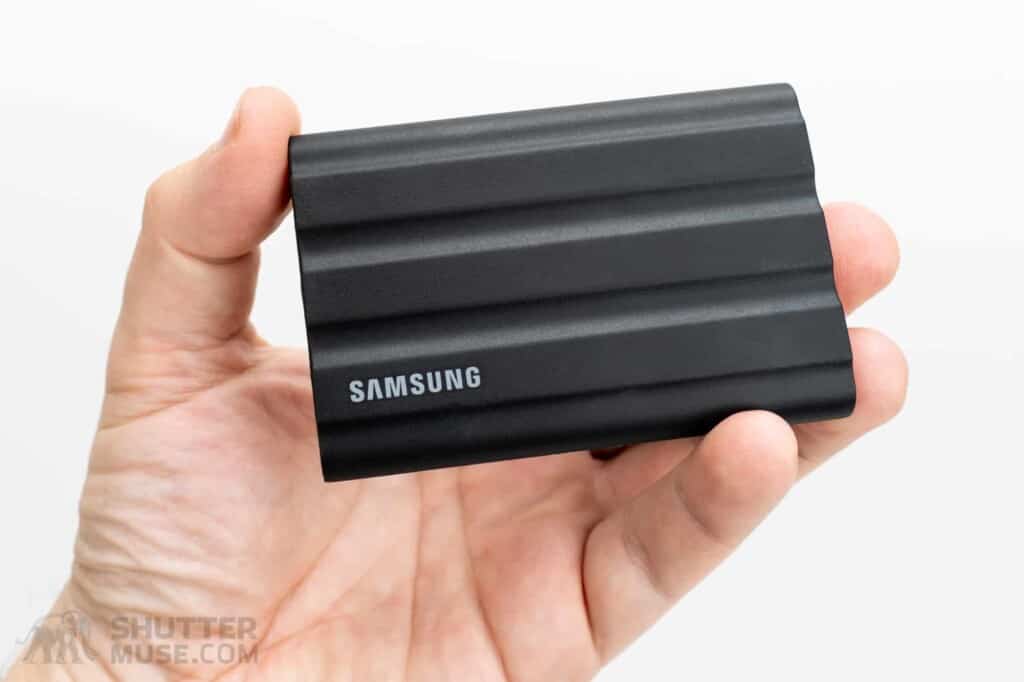 Samsung T7 vs T7 Shield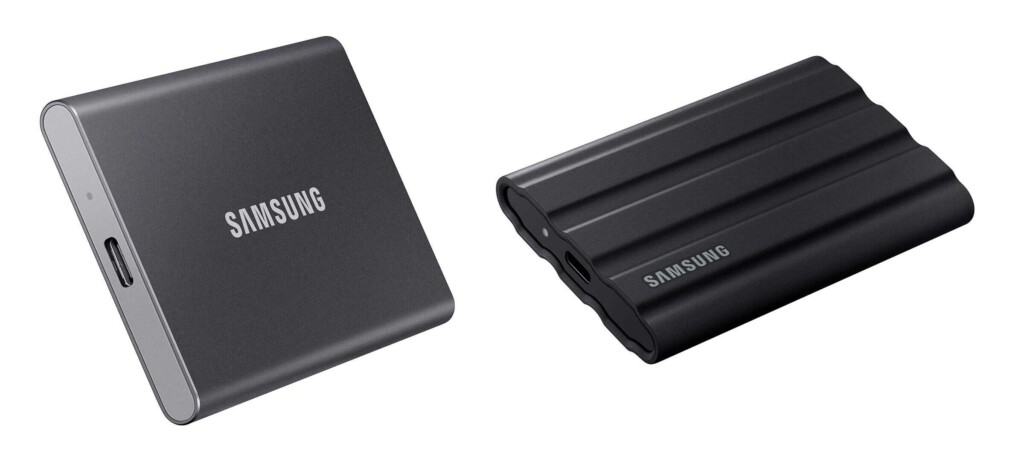 Samsung sells two variations of the T7—the standard T7 and the T7 Shield that is the subject of this review. Internally, the two drives are the same, so they deliver the same read and write speeds. Externally, things are a bit different. The standard T7 features a sleek-looking aluminum case. It weighs 2 ounces and can protect your data from drops of up to 6.6 feet. The standard T7 SSD is available in blue, red, or grey, in capacities of 500GB, 1TB, and 2TB.
The T7 Shield SSD is a more rugged version of the drive, immediately apparent from the rubberized "shield" surrounding it. The T7 Shield protects your data from drops of up to 9.8 feet and has an IP65 rating, meaning it is protected from dust and water ingress. While not waterproof, it is highly water resistant. This added protection increases the drive's weight to 7.44 ounces (210g). While a bit heavier than the rather flimsy feeling standard T7 model, the T7 Shield remains easily pocketable. Important to photographers is the fact that the T7 Shield is available in a larger 4TB capacity.
The size and weight differences between the two models are not enough to sway anyone's decision one way or another. Price is more likely to be a deciding factor. When writing this review, the 1TB version of the T7 costs $89, while the 1TB T7 Shield costs $99. Strangely, the 2TB T7 and the 2TB T7 Shield both cost $159. Looking at this, I can't see any reason to choose the basic T7 SSD unless you only have the budget for the smallest 500GB version – a capacity unavailable in the T7 Shield range. If you're buying the 1TB drive, it's absolutely worth the extra $10 for the added protection the shield model offers. Of course, if you're buying the 2TB, they cost the same, so the Shield version is a no-brainer. The Shield is your only option if you want 4TB of capacity.
Samsung T7 Shield Speed Testing
The first tests were performed on a fresh, empty drive, continuously writing a larger 64GB file. The test was then repeated with a smaller 256MB file. The smaller file results better represent the drive's maximum read and write speeds. In comparison, the larger file results better indicate achievable speeds from large copy and backup tasks. Once these tests were completed, I copied roughly 3TB of data to the drive and reran the tests to see how performance drops off as the drive approaches capacity. Since some people are very familiar with the output of Blackmagic's Disk Speed Test tool for testing compatibility with H.265 and ProRes video files, I also ran that with the largest 5GB file selected.
Video Performance Results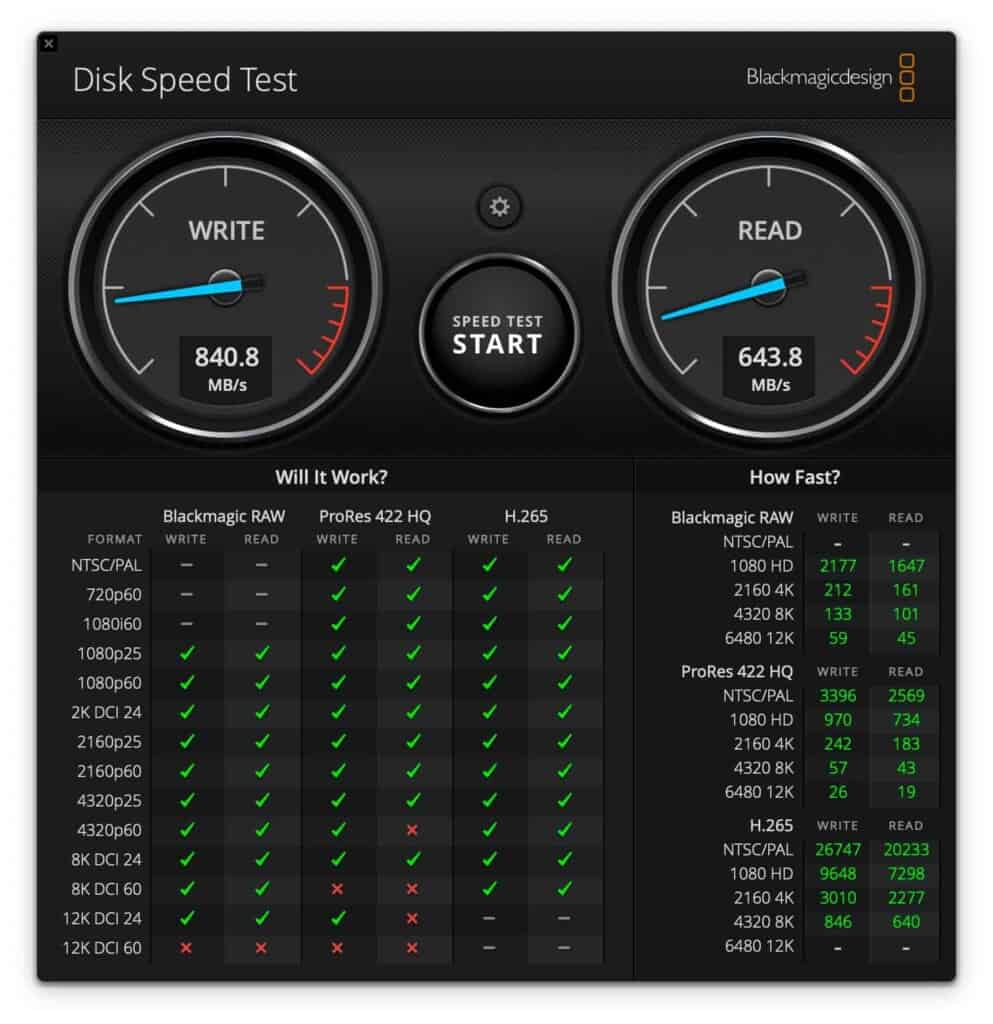 Speed Test Results Comments
Samsung claims the T7 Shield SSD is capable of 1000 MB/s write speeds and 1050 MB/s read speeds. Claimed drive speeds from most manufacturers are on the high side of reality because speeds can vary depending on computer configuration and testing environments. I'm generally looking for how close my test results come to the claimed speeds, how steady the results are across multiple tests, and how they compare to similar drives I have tested myself.
Overall, the Samsung T7 performed well. Peak write speeds were around 1100 MB/s, which is, unusually, more than Samsung claims. Though this drops to about 800 Mb/s for larger files, I still consider that more than acceptable and much better than my old SanDisk SSD, which would fall closer to 500 MB/s. One curiosity is that the T7 Shield's read speed is slower than its write speed. Usually, SSD performance is the other way around. While I'd class the write speed as "good," I'd drop that rating down to "OK" for read speeds, topping at around 835 MB/s for smaller files and 650 MBs for larger files. This makes the T7 Shield a less appropriate drive for 8K video playback.
What happens when the drive starts to fill up? How is read and write speed affected? I copied 3TB of data to the drive to test this and reran all my tests. When the drive was 3/4 full, I saw a tiny increase in read speed for smaller and larger files and a minor decrease in write speed. Similar results were seen in the video file test with the Blackmagic Disk Speed Test tool. This was a good result. You can expect steady read and write speeds using most of the drive's capacity.
These last results surprised me as other sites had reported a significant slowdown of the T7 drive as it approached capacity. All drives slow down just before they become full, but the way it was reported set me up to expect a terrible result, and that's not what I saw. Perhaps others were testing the drives at 99% capacity, whereas I had chosen to test at 75%. A drive's performance when it is almost full is a pointless statistic because you won't be using it long in that state. All I can do is clarify my test parameters and show my test results, which others do not. I'm happy enough with these results to say there are no specific issues with the T7 Shield when you have already copied a large amount of data to it.
Samsung T7 Alternatives
Following SanDisk's fall from grace, I removed the ubiquitous SanDisk Extreme SSD from my list of recommended SSDs for photographers and set about finding some suitable options to suggest in their place. The Samsung T7 Shield is an obvious option from a well-known brand, but what are the other alternatives? I approached this question from a photographer's perspective, and these days, with 60+MP cameras and 8K video, SSD capacity is an important criterion. I won't buy a drive with a capacity of less than 4TB. This requirement culls many options from the field, with one other strong contender remaining from the list of USB-C 3.2 drives: The Crucial X9 Pro or X10 Pro.
The Crucial X9 Pro and X10 Pro share the same solid-state drive but feature slightly different USB-C connections. The X9 uses a USB 3.2 Gen 2 connection capable of up to 10Gbps, while the X10 uses a USB 3.2 Gen 2×2 capable of 20Gbps. To take advantage of the additional speed in the X10, your computer must have a USB 3.2 Gen 2×2 port, and therein lies the Crucial X10s issue. Macs do not support USB 2×2, and finding a PC with this connection type is almost impossible. If you don't have a USB 2×2 connection, the Crucial X10 will run at the same speed as the Crucial X9, so, for almost everyone, the higher price of the X10 is a pointless waste of money.
Samsung T7 Shield Vs Crucial X9 Pro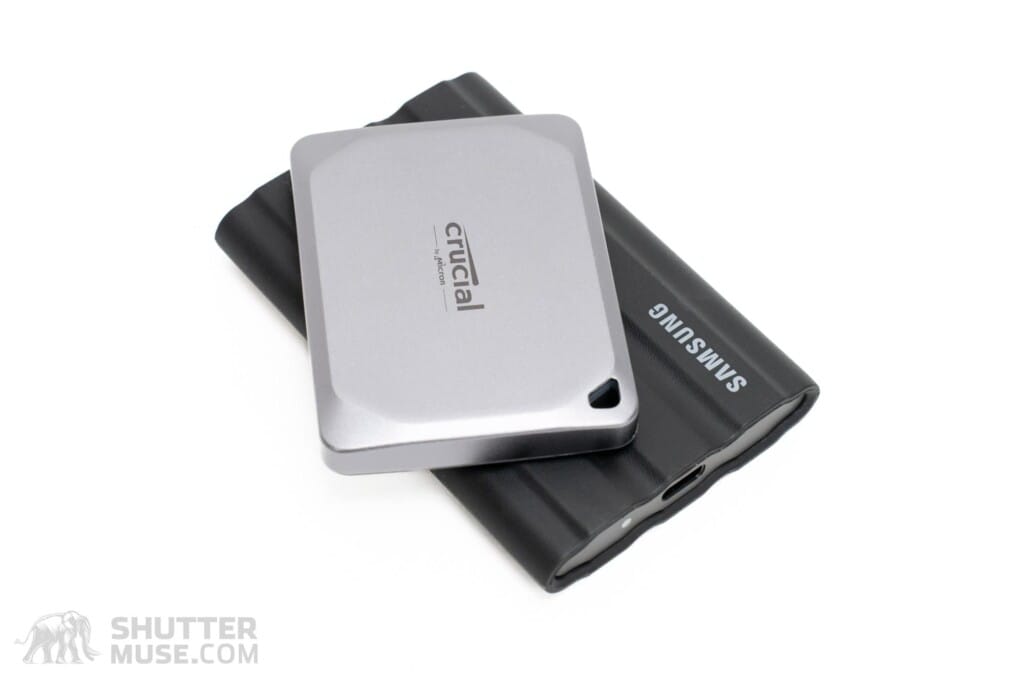 Focusing on the Crucial X9, we find a tiny SSD available in 1TB, 2TB, and 4TB capacities for almost identical prices to the Samsung T7 Shield. Any price difference I have seen has been down to fluctuating sales prices rather than an actual MSRP difference. Regarding specifications, the Crucial X9 is slightly less rugged than the T7 shield, with an IP55 rating instead of the IP65 found on the Samsung and a drop resistance of 7.5 feet instead of 9 feet. In my hand, the Crucial drive feels less rugged, lacking the rubber case of the T7 Shield. From a speed perspective, the Crucial X9 delivers slightly faster read and write speeds than the Samsung T9. Read more about this drive in my Crucial X9 Pro review.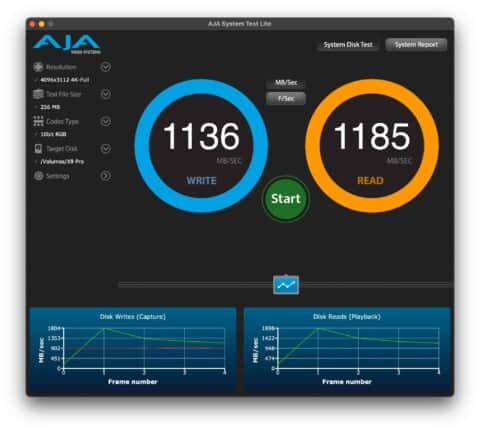 While LaCie does make a 4TB version of their Rugged Portable SSD, it is inexplicably expensive, coming in at nearly double the price of the Crucial and Samsung options. For this reason, I have discounted the LaCie drive from the equation until they bring the 4TB option's price closer to where it should be. LaCie's 1TB and 2TB drives are very close in price to Crucial and Samsung, so there is no reason for the 4TB to be such an outlier. I'm also a massive fan of the previously reviewed OWC Envoy Pro Elektron drive, though, sadly, they do not offer this in a 4TB capacity.
Samsung T7 Shield Vs SanDisk Extreme SSD V2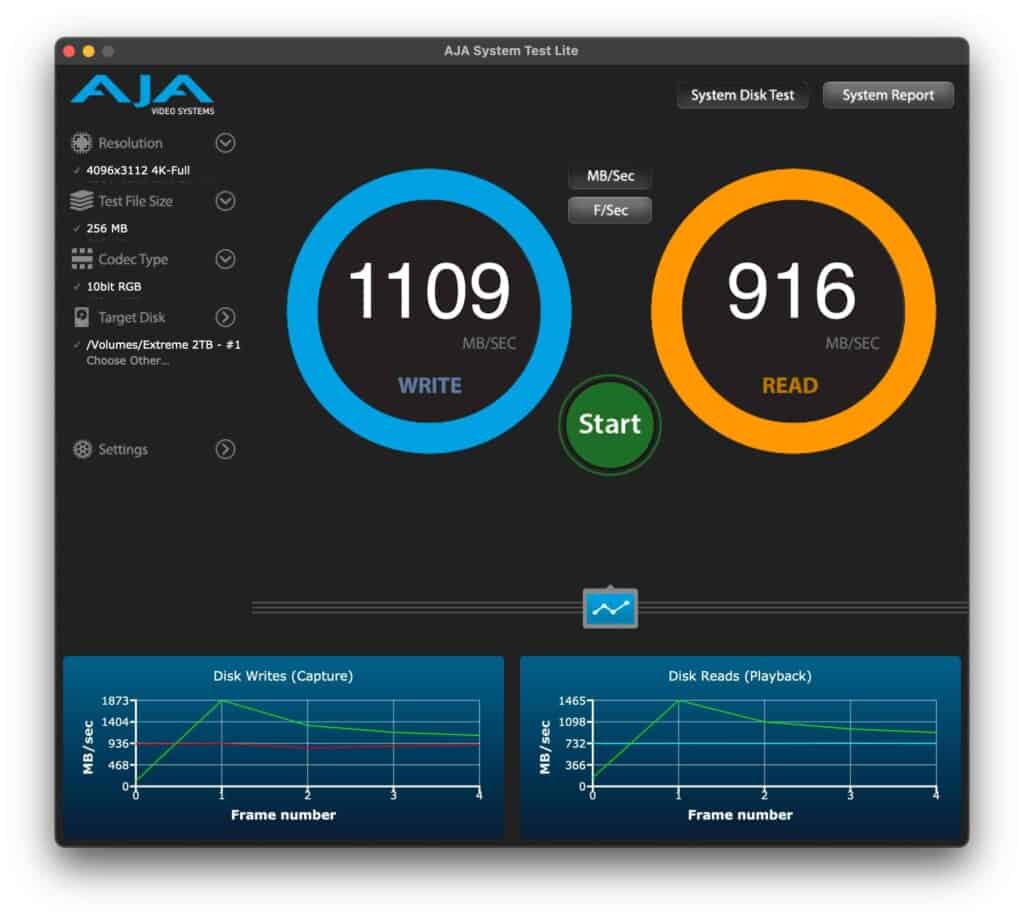 Although I would not recommend buying a SanDisk Extreme SSD v2 anymore, I ran some tests to see how it compared to the T7 Shield SSD. The SanDisk SSD delivered slightly faster maximum read and write speeds than the Samsung T7 Shield with the smaller 256MB file. However, things flipped around when I tested the larger 64GB file. In that test, the SanDisk Extreme SSD showed sustained write speeds far lower than the Samsung T7, approximately 500 MB/s compared with 800 MB/s.
Conclusion
The Samsung T7 Shield is an excellent portable SSD from a reputable company. The build quality and ruggedized enclosure inspire confidence and are welcome features for photographers who like to travel. While choosing a rugged portable drive used to mean huge weight and drive size penalties, that is no longer the case with modern NVMe SSDs. If you're buying these drives for in-the-field/travel backup, there's simply no reason not to choose a rugged drive like the T7 Shield.
During my extensive speed testing of the Samsung T7 Shield, I found the read and write speeds were good but not top-tier. That said, the difference between the T7 shield and the best-performing Crucial X9 is not huge. If you were to find the T7 shield at a significant discount compared to the Crucial drive, the Samsung would still be worth your consideration. If you are particularly rough on your gear or intend to travel to very wet or dusty environments, the balance would tip towards the Samsung T7 Shield for its slightly better dust and water resistance rating, full rubberized casing, and better shock resistance from higher heights.
Where to Buy
As always, using our links for your purchases is appreciated. The Samsung T7 Shield SSD is available from these retailers: