Selling prints online can be a tough business these days. There's a huge number of collaborative stores to compete with that feature the works of hundreds, if not thousands of photographers. How on earth do you compete with those kinds of stores? I've seen this mentioned over and over again in the last few years. Photographers rush to set up online print sales websites with the likes of SmugMug, Photoshelter and Zenfolio, expecting money to come pouring in as soon as they open their virtual doors. The reality is that this almost never happens. Not unless you have thousands and thousands of devoted followers of your work.
I'd been pondering this problem for some time and then one day it hit me. Affiliate programs are the answer.
What Is An Affiliate Program?
Quite simply, an affiliate program is a system that allows you to automatically pay a commission to someone for referring a customer to an online store. The affiliate posts a link to your store on their website or social media channel, and when someone clicks that link to visit your store, it saves a cookie in their browser to say from where they came. If that visitor purchases anything, the shopping cart checks the cookie, and awards a commission to the person who referred them to the store.
The possibility of a financial reward encourages the affiliate to share links to your store or products, which in our case would be your prints. It creates a network of people who are out there sharing and promoting your work! Affiliate programs are absolutely everywhere, but I've never seen artists use them to encourage their fans to share their work before.
How To Get Started

There are a number of ways you could set this sort of system up, but by far the easiest way is with WordPress. If you've already got a WordPress portfolio website for your photography then you're halfway there. This will not work if you are using Zenfolio, SmugMug, Photoshelter and all those kinds of websites to host your images. Unfortunately, since sales are handled by them, we have no way to tie an affiliate program into their system. If you use those kinds of services just for a portfolio, but not for print sales, then you could set up another website for a WordPress print store on a sub-domain of your URL; for example prints.mywebsite.com.
Whether you already have a WordPress website, or whether you set up a new one just for this purpose, we will need to install a couple of plugins:
WooCommerce is an incredibly powerful shopping cart system that allows you to sell anything on your website. The base plugin is free, and they sell extensions to add specific functionality. In our case, we want to purchase the Photography Extension which is designed for selling prints! With this plugin and extension installed, we're ready to sell prints. All we need to do now is add our affiliate program by purchasing the AffiliateWP plugin ($49). This plugin gives you everything you need to manage an affiliate program. Every affiliate has access to their own control panel where they can log in to keep track of their sales.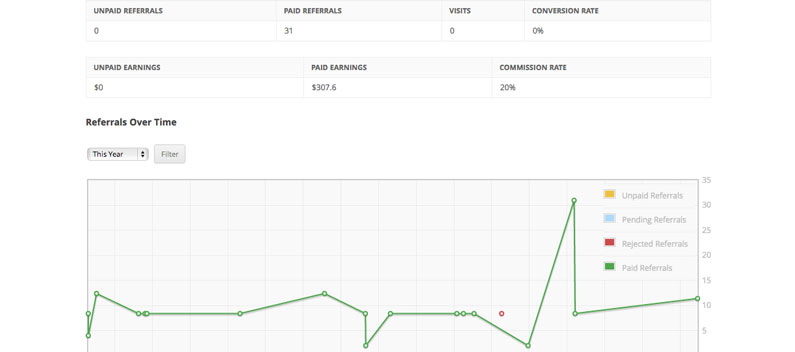 AffiliateWP sales stats are provided to your affiliates
There's also a chapter about WordPress in another free eBook that I'm offering here.
Attract The Attention Of Your Fans

Once everything is set up, you're going to want to create an affiliate sign-up page on your website that explains the program. A lot of people do not know what an affiliate program is, so it's important to walk them through the details and explain to them how they can benefit from it financially.
At this point you are going to need to decide how much commission you want to pay. This choice is entirely up to you, and the AffiliateWP plugin has many options. You can specify a percentage across all of your prints, you can set a percentage manually for each individual print, or you can give different percentages to different affiliates. Most people will take the first option. My recommendation would be to offer your affiliates somewhere between 10% and 25% of your sale price. Depending on your print pricing, this could be a fairly substantial amount of money to pay out, but remember that this would likely not have been a sale at all without the help of your affiliate!
By looking at your print pricing, and the percentage you are willing to offer them from the sale, calculate the maximum amount of money they might earn from a single sale.
E.g. You sell 24″x36″ prints for $995 and pay a 20% affiliate commission. This means your affiliate stands to make $199 if they refer someone who makes that purchase.
The key to mobilizing your affiliate army is to attract their attention, and let's face it, $$$ does that quite well. Use this calculation of how much they can earn, and draw attention to it on your affiliate sign up page. Once you have explained how the program works, and what they stand to gain from it ($), the AffiliateWP plugin will help you to include an application form on the page. You can choose whether you want to approve all applications manually, or you can set it so that once someone has provided their contact details and PayPal email address (needed so you can pay them), they get instant access to the affiliate dashboard that contains their unique link and all your creative resources.
Provide Creative Resources To Your Affiliates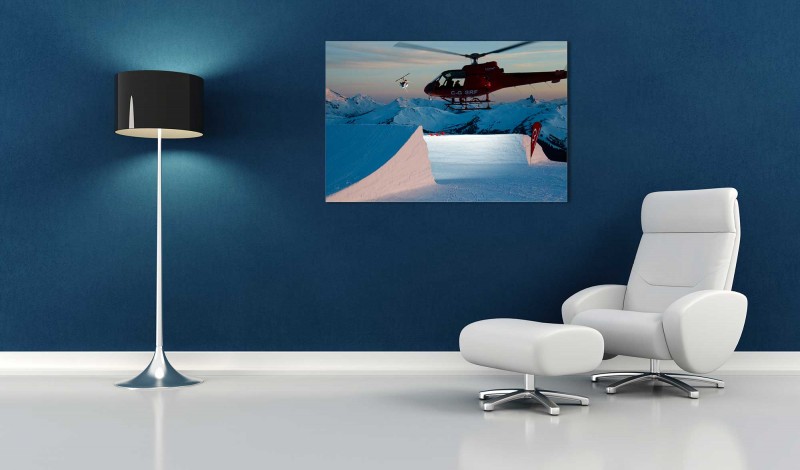 Once someone has signed up to your program, it's really important to give them the necessary resources to do a good job. If you can help them to make more referral sales, they'll commit more time to promoting your work. It's easy for them to share a link on their blog or social network, but this is all about your photos! You need to provide them with some images as well. The best way to promote print sales is by using the methods that I've outlined in a previous tutorial: Improving Your Print Sales Page With Rendered Examples. Whenever you release a new print edition, or a new print collection, take a few minutes to create some of these rendered examples. It's an easy way to get potential customers imagining your work hanging on their walls.
I hope that you have already got yourself a mailing list set up to send bulk emails to fans and past clients, so you can set up a list within this to manage communications with your affiliates. If you don't have a list set up, read the chapter about how and why you need to do it, in my free eBook; 10 Incredible Tools For Professional Photographers. Honestly, and I know I say this a LOT, but not doing this sooner was my biggest mistake with my photography business so please learn from my mistake!
Your email list service will handle communication about new prints with your affiliates, but the AffiliateWP plugin also allows you to host private files on your site that are only accessible by your affiliates. This is where you will store a set of banners and print samples from work that is already available. When a new affiliate signs up, simply show them your creative repository of existing images they can use to promote your work!
More Benefits – Contacting Past Customers & SEO Increase
Platforms like SmugMug are quick and easy ways to set up a print sales business, but they lack a few features. One of the features that I missed the most when using Photoshelter and SmugMug, was the ability to connect with previous customers in an easy manner. With WooCommerce, you can use extensions like WooChimp, which allow you to automatically add your customers to your mailing list. This means that when you release a new print edition or collection, you can very quickly send out a notification to all of your past customers.
The next benefit is a significant increase in your SEO. One of the biggest factors that Google uses to determine your search engine ranking, is how many backlinks there are to your website around the internet. With your affiliates posting links to their own websites and blogs, you'll get a nice uptick in your site's SEO. Win, win.
Get Started
I'm excited about this idea guys! Here at Shutter Muse we work with a number of affiliate programs so I've seen these programs from the perspective of the affiliate. Normally, programs like this are used to sell software or consumer goods. I've NEVER seen anything like this used to sell art before. Selling prints online is a really tough business and I'm always hearing stories of people struggling to make sales. Your fans, your followers, they might be your biggest asset in this regard! There's nothing as powerful as a direct referral from a fan. Imagine if you had 50 affiliates, and each one had a total of 1000 Facebook friends and Twitter followers. If you can get those guys to share your latest limited edition print when you release it, you could be reaching tens of thousands of potential customers in no time at all.
I'm using WooCommerce and AffiliateWP myself, so I know these plugins and I can vouch for their quality. I've had this idea in the back of my head for some time, but what was missing was an easy print sales interface for WooCommerce. Luckily they launched the Photography Extension and that was the final piece to the puzzle.