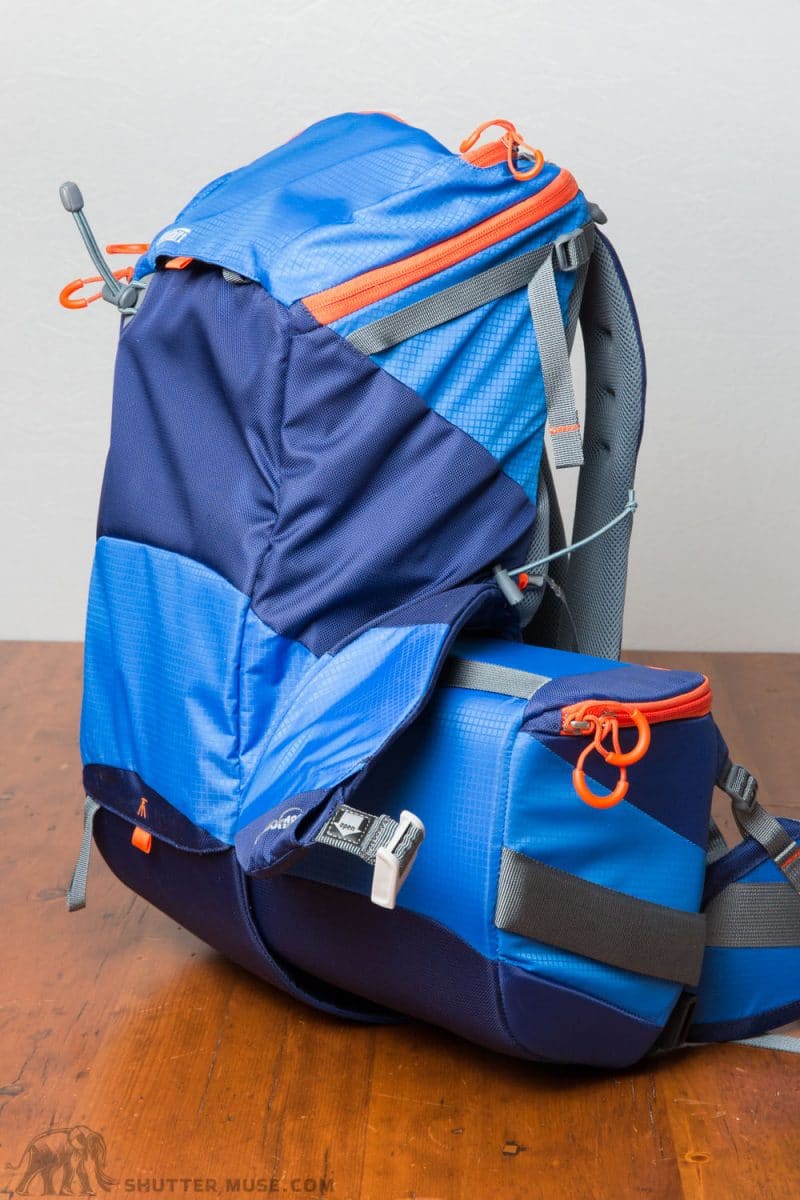 The Rotation 180 Panorama was the second photography pack from MindShift Gear, Think Tank Photo's sister company. After the initial success of the company's first pack, the R180 pro, a lot of people wanted to get the unique patented rotation features in a smaller pack, and the answer to that is the R180 Panorama.
Panorama Specs
Dimensions
Backpack exterior: 9.8" W x 20.5" H x 8.3" L (25 x 52 x 21 cm)
Beltpack interior: 9.4" W x 7.5" H x 4.7" L (24 x 19 x 12 cm)
Beltpack exterior: 9.8" W x 8.2" H x 5.1" L (25 x 21 x 13 cm)
Weight
Backpack: 2.0 lbs (0.9 kg)
Beltpack: 0.9 lbs (0.4 kg)
Total (including padded insert): 3.2lbs (1.45 kg)
Volume
Backpack: 329 cubic inches or 5.4 liters
Beltpack: 1013 cubic inches or 16.6 liters
Total: 1342 cubic inches or 22 liters
Video Review
Backpack Features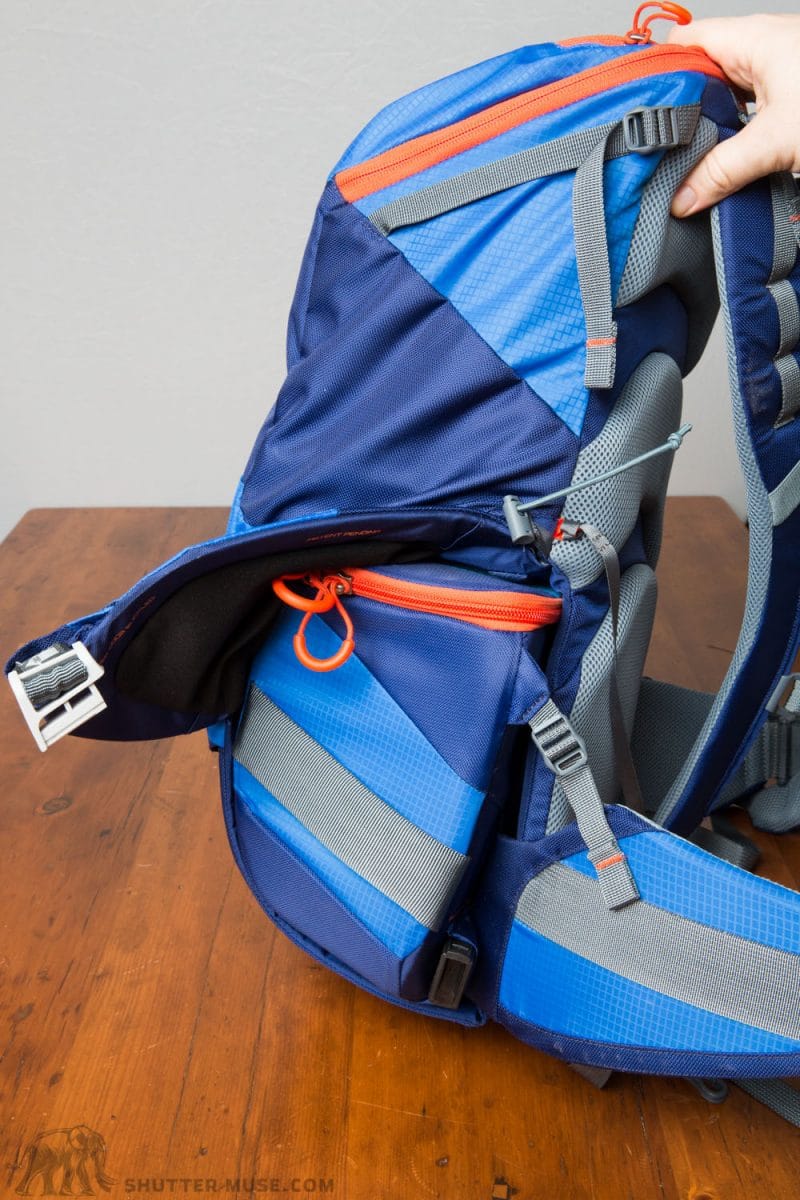 Rotation 180 Mechanism
This is the heart of the Panorama pack, the rotation 180 mechanism that we've also seen on the R180 pro. A simple magnetic latch holds the side flap securely in place but it can easily, and blindly released when you need to get to your gear. The hatch springs open revealing the waist pack inside and it can be quickly swung around to the front using the large handle on the side. Once you've got the shot, simply push it back to your right and a quick tug on the waist belt has it safely back inside the bag. Closing the latch is also a breeze since the magnet is strong enough that it will self attach itself back into the latch once it gets in the right vicinity. The whole process is impressively smooth with the Panorama pack, even more so than it was on the larger R180 pro. A few minor tweaks to the waist pack shaping, and some subtle reinforcements in key areas mean this just glides in and out. In fact it's possible to go through the process of swinging out the waist pack, grabbing your camera for a shot, putting the camera away and stowing the pack, all in under 30 seconds. If you are out hiking/skiing/biking with your buddies you'll be able to grab a photo and catch back up with them before they even realize you stopped.
If you skipped over the longer more in-depth video here is a video that simply demonstrates the important Rotation 180 mechanism:
Camera Capacity
The belt pack portion of the pack will comfortably a standard sized camera with a 24-70mm lens attached. You can then fit another couple or lenses down the sides as well. If you use small primes or a mirrorless system then I'm sure you could fit a total of 4 lenses in there pretty easily. I was able to fit my Canon 24-70 on a Canon 5D Mark 3 with another wide zoom or prime lens which is a near perfect lightweight kit for me. If you only have pro bodies like a 1D or a D4 though you might have to have to move along and look at the larger R180 Professional instead. It's possible to fit a pro body into the belt pack but you have to remove the lens to do so. The lens will fit alongside it but it means you're limited to just the body and one lens in there, or maybe a small prime if you stack two lenses on top of each other. Since I have a 5D it's no problem for me. If I did occasionally want to use a pro body though I might still consider removing the lens, but if I only had pro bodies then likely the larger pack is going to be better for your needs. If you need to carry more camera gear there is the option of an additional padded insert which is discussed in greater detail later in the article.
Tripod Attachment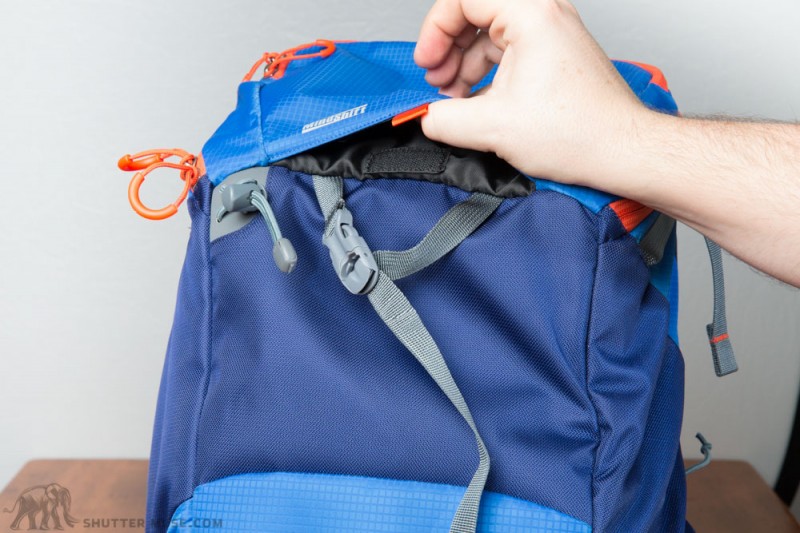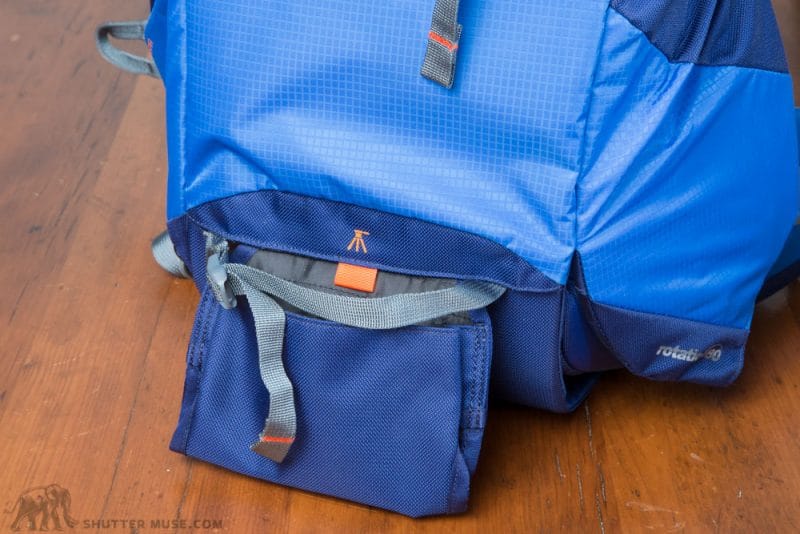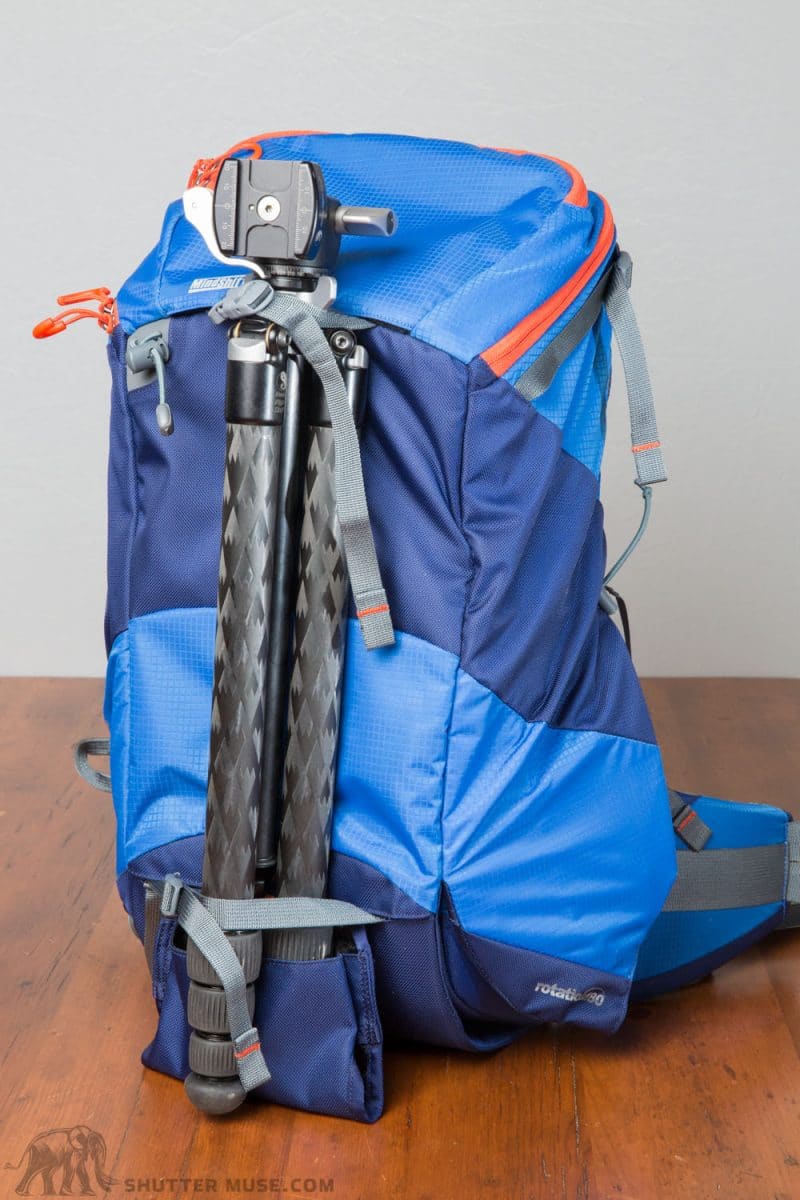 There's three distinct options for carrying a tripod with the Panorama pack. Firstly there's a tripod cup stashed away in a hidden pocket on the front of the bag. Pull this out, then find the tripod top strap in the second hidden pocket above and you're ready to go. I love that this solution is permanently attached to the bag. Too many times with removable options I find myself forgetting to bring this strap or that tripod cup. In the photos below I've shown the Really Right Stuff TQC-14. Normally I dislike putting tripods on the front of packs because it hangs the weight too far away from your center of gravity and creates a moment on your back that causes strain. As far as possible, you should try to concentrate heavy weights close to your spine to that the pack can transfer weight downwards and through your hips. Having said that, the Panorama is a very thin pack, one of the thinnest I've ever used. In combination with an incredibly light travel tripod the disadvantage of the front mounting point is mostly negated. I wouldn't want to hike with my large tripod on the front, but a smaller tripod works just fine and feels really secure.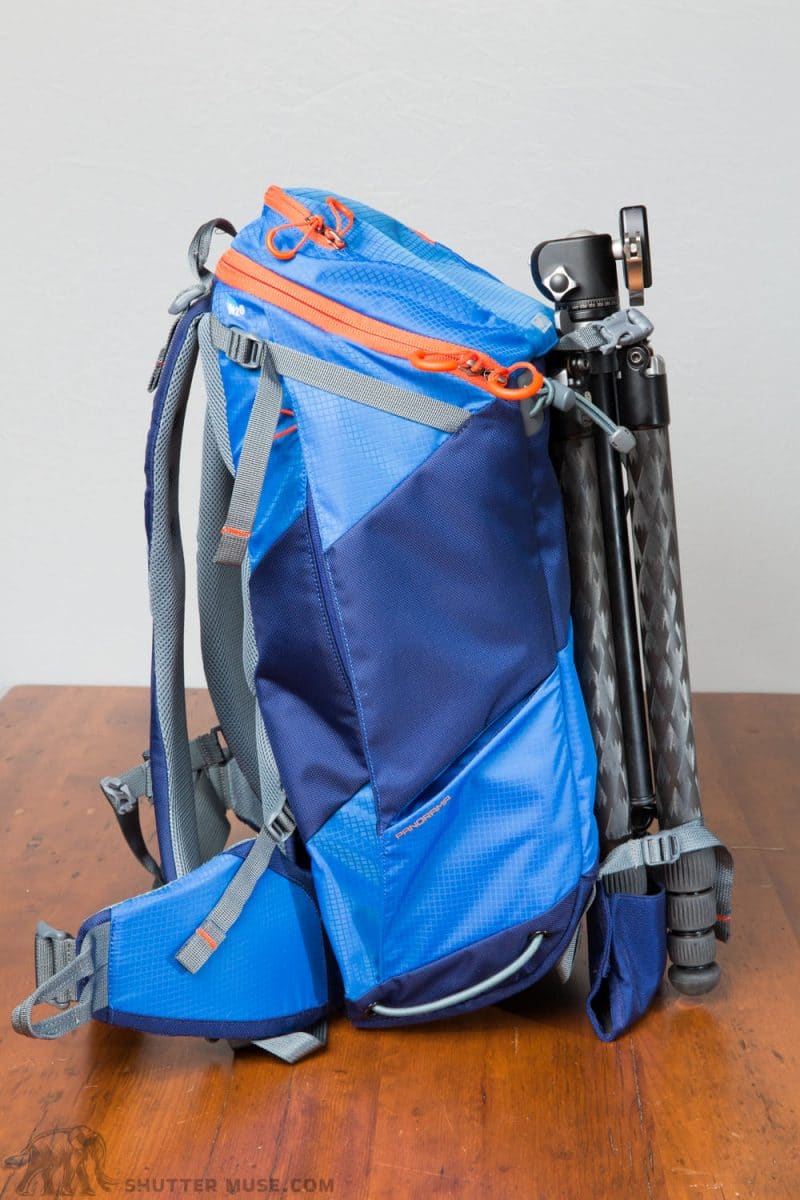 The second option for mounting the tripod is on the side of the pack and this is normally my preferred positioning. On the Panorama though, whilst it is possible as you can see in the photo below, it kind of feels like it wasn't designed to work like this. A cinch strap is provided at the top but it doesn't have a buckle to fully undo it meaning you have to thread the tripod through it. At the bottom there's an elastic cord which is necessary for tripod attachment option #3, the Suspension System, and it can work to secure the feet of a side-mounted tripod as well. It does work with a small tripod but a simple nylon strap and buckle would have been so much better. Threading the tripod first through the top cinch strap and then through the elastic strap is a bit awkward and I worry that a larger tripod could permanently deform the elastic strap if you needed to hook it over all three legs for stability. Another big issue from my point of view is that I often put light stands on the side of my bags. To attach a light stand to a pack like this you MUST have a releasable buckle because you need to pass the buckle through the legs of the stand since they're closed at both ends unlike a tripod. It's simply not possible with the Panorama though and this is a real disappointment for me as even on a lightweight pack I'd like the ability to take a small speedlight setup with me and a compact lightstand.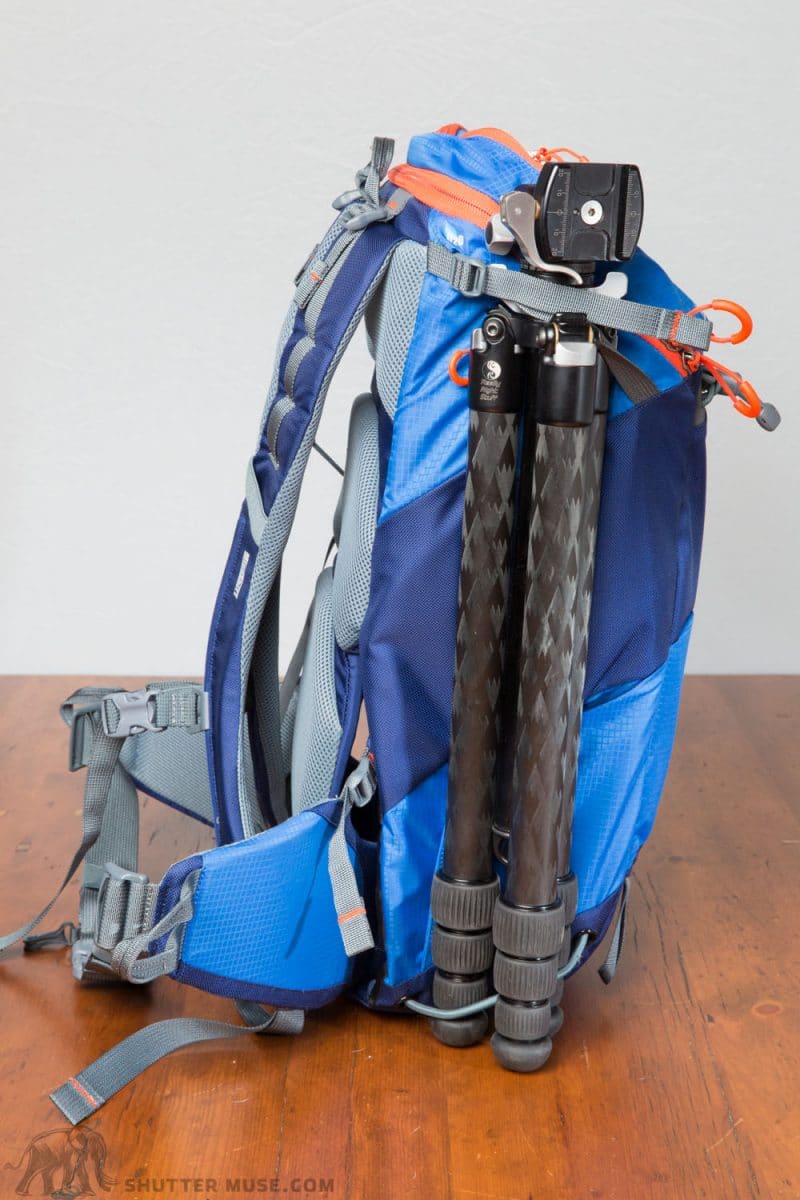 The third way to attach a tripod is to use MindShift's unique Tripod Suspension Kit.  This involves adding a special loop to your tripod and then hooking two pieces of webbing to the front of the pack's shoulder straps.  Tuck the tripod legs into the elastic strap on the left hand side of the pack and hook the webbing onto the tripod loop.  You might be wondering why this elaborate attachment method is necessary?  The thinking is that it's no good being able to access your camera gear without taking your pack off, if you then have to remove it to get to your tripod!  It works very well and the suspension kit very evenly distributes the weight of the tripod.  On shorter walks it's even pretty comfortable to have your arm resting on the tripod.  For longer hikes it's not as practical though as movement is somewhat restricted, especially if you ever need to use both hands to climb or scramble up and down slopes.  In this case you could mount the tripod using one of the other two methods and then switch to the suspension kit when you get to your shooting location.  It works particularly well if you are working in and around water where there's no dry place to put your bag within easy reach.  As a near $50 accessory I wouldn't say this is a must-have item, but if you do find yourself packing your waders or rubber boots when you head out for some landscape photos then it should definitely be a consideration.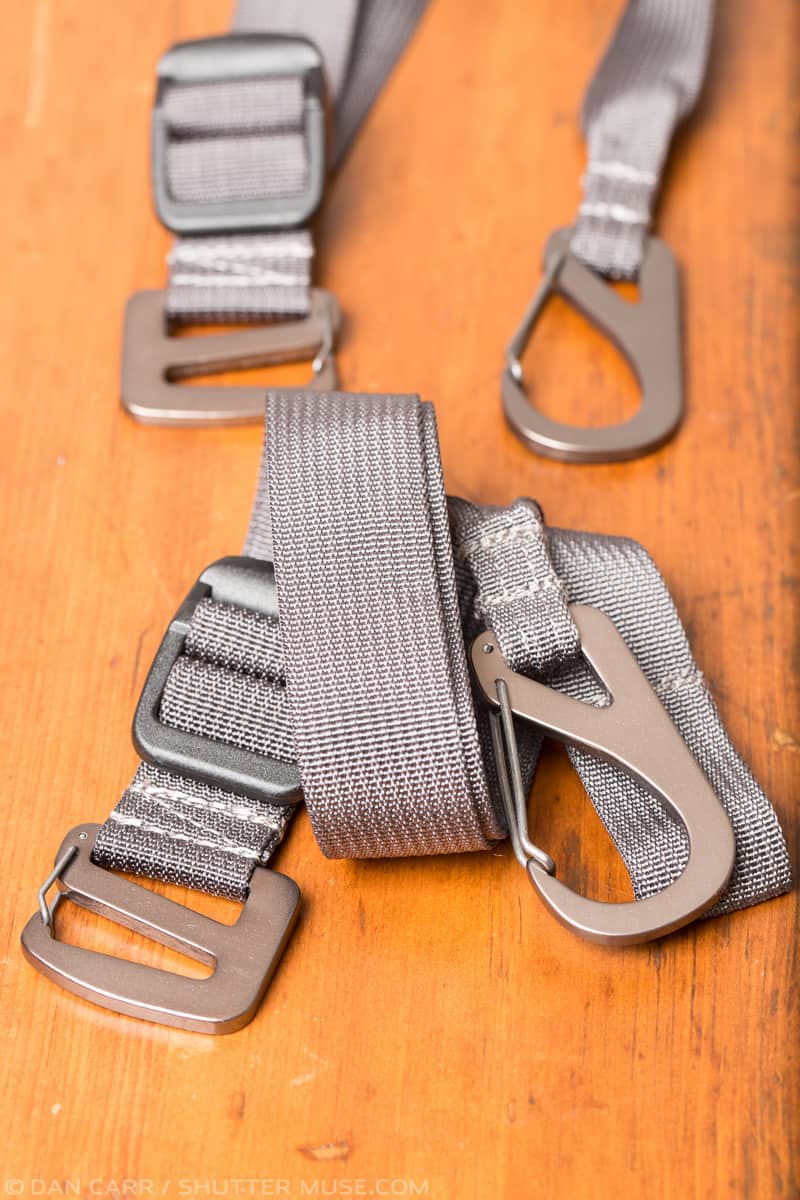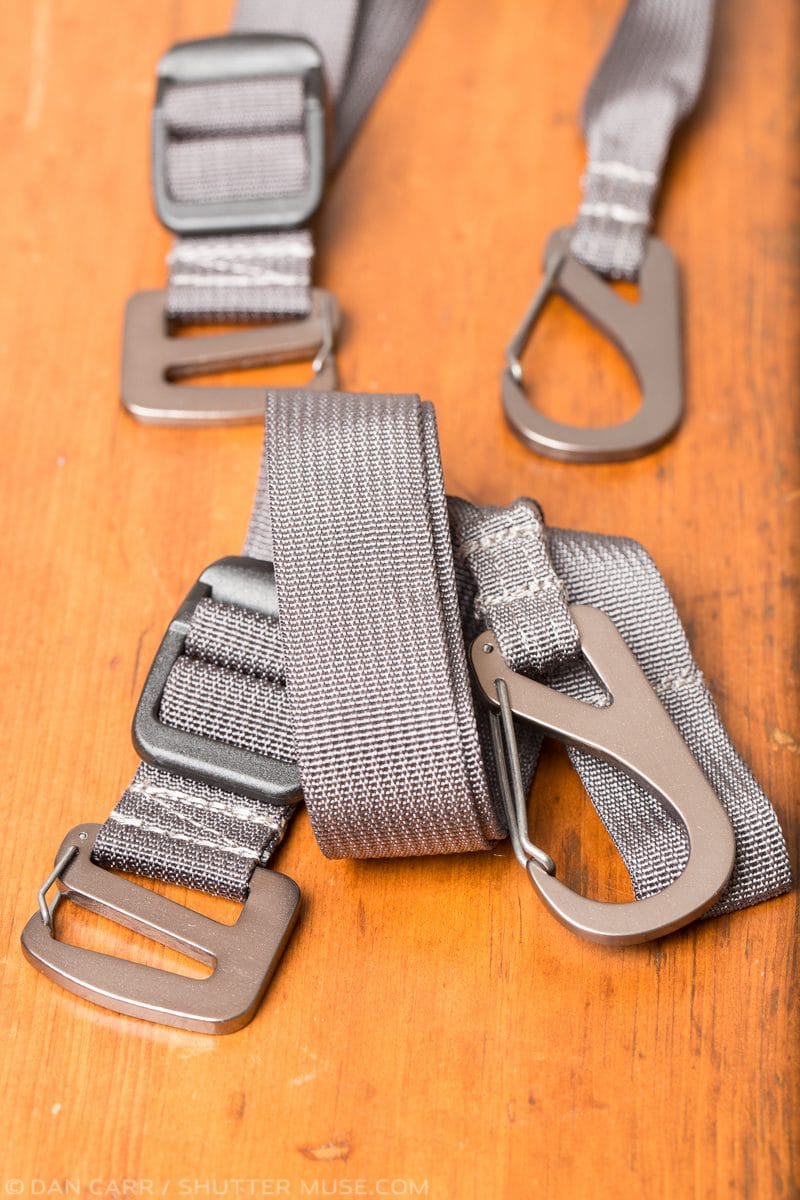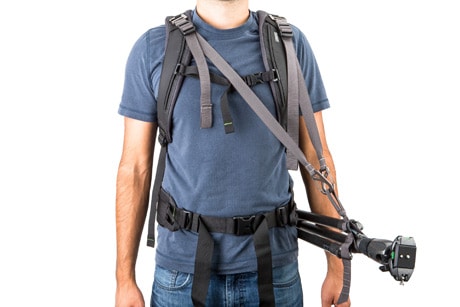 Optional Padded Insert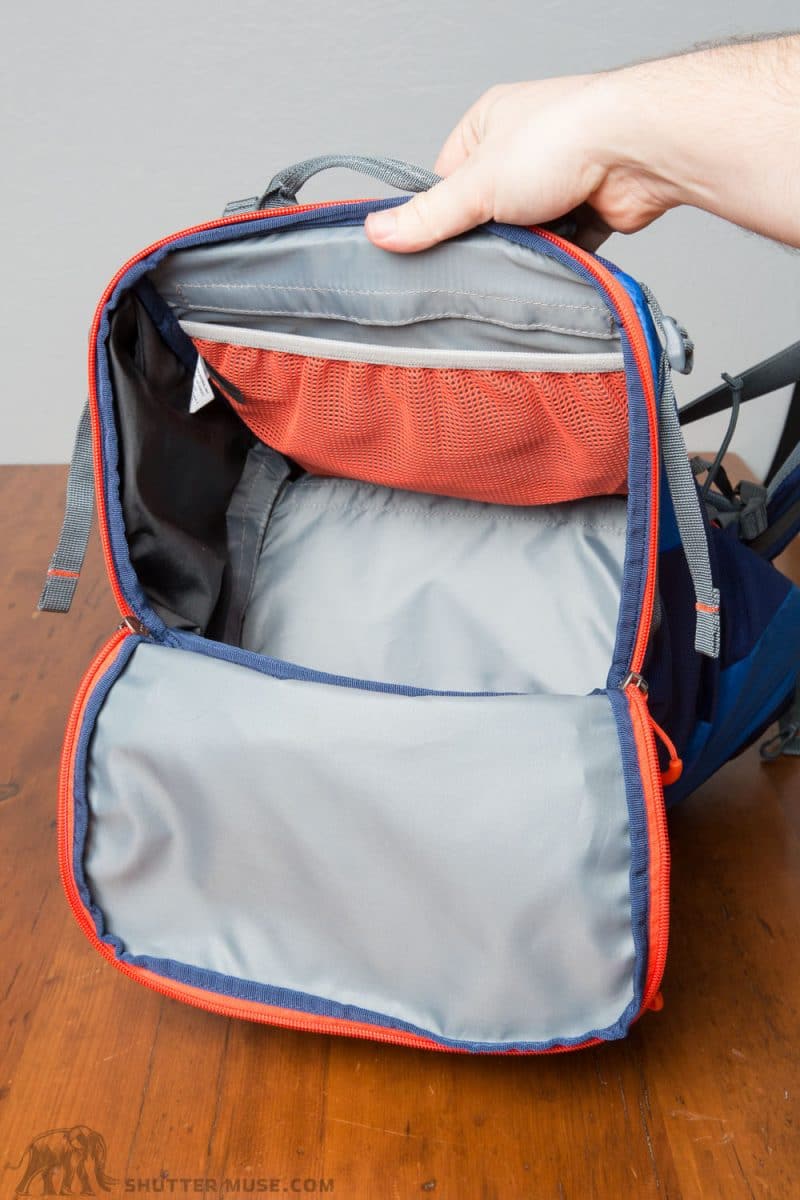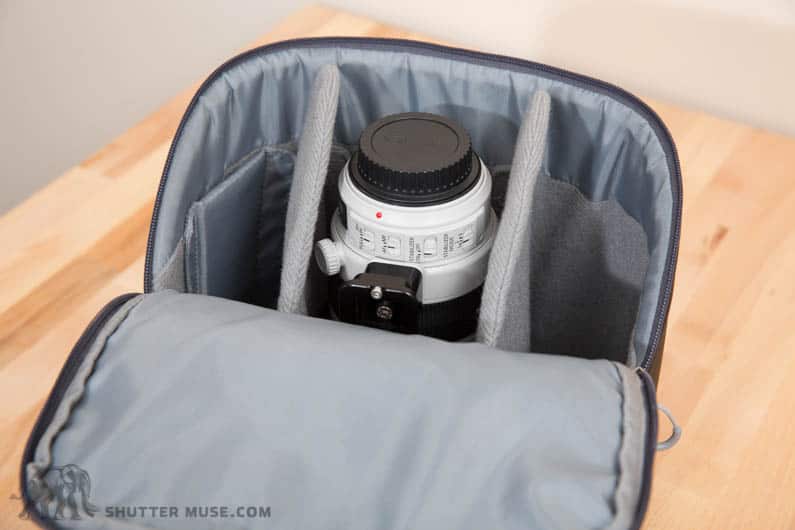 The Rotation 180 system not only provides quick access to you gear but also a great way to segregate your camera gear from all your other stuff.  The top half of the pack is easily big enough to hold a couple of extra top layers, extra pants, food and safety or medical supplies.  The elasticized pocket is a nice addition to stop smaller items falling to the bottom and getting lost under your clothing.  If you want to take a little more camera gear with you though you can purchase an insert for $44.99.  As you can see from the photo, once the insert it in, you're pretty committed to your camera gear though since there's not really any other space in the pack for food or supplies.  The insert is sized to hold up to a 70-200 f/2.8 and you can also fit a standard camera with a 24-70 attached to it.  The insert has a heavily tapered top to it though and with a camera on top as in the photo below, it creates a huge bulge on the lid of the insert and makes the zipper overly tight to close.  With a smaller mirrorless system you wouldn't face this problem but fitting a standard sized camera into the pack in this way felt forced.  The tall top access design of the insert also means that smaller lenses have to be stacked on top of each other.  Mini dividers are provided for this as separators but you lose the ability to instantly see all the gear you have with you when things have to be buried in that way.  The best usage for optional insert is as a way of carrying taller items side by side.  A second body with no lens attached, a 70-200 and a flash make a good example.  in that situation all three items would be easily accessed and well protected.
Do you need the optional insert?
This is an interesting question.  When I reviewed the larger R180 Professional I concluded that most people should get the optional insert for that pack and I use it all the time on that bigger pack.  With the Panorama though, since it's designed as a lightweight pack I really don't see myself using it very often at all.  I don't like the way the top bulges when you insert a camera with a lens attached and since it consumes the whole top section of the pack it doesn't leave a lot of options for other gear.  I never really go out to take photos without at least taking an extra layer or two and using the insert makes that tough to do.   I think if you really plan on using this pack as an outdoor photography pack then you probably won't want to use the optional insert.  If you see yourself using the pack for other situations, or just general storage or travel with you gear then that's when you'd want to opt for the additional insert.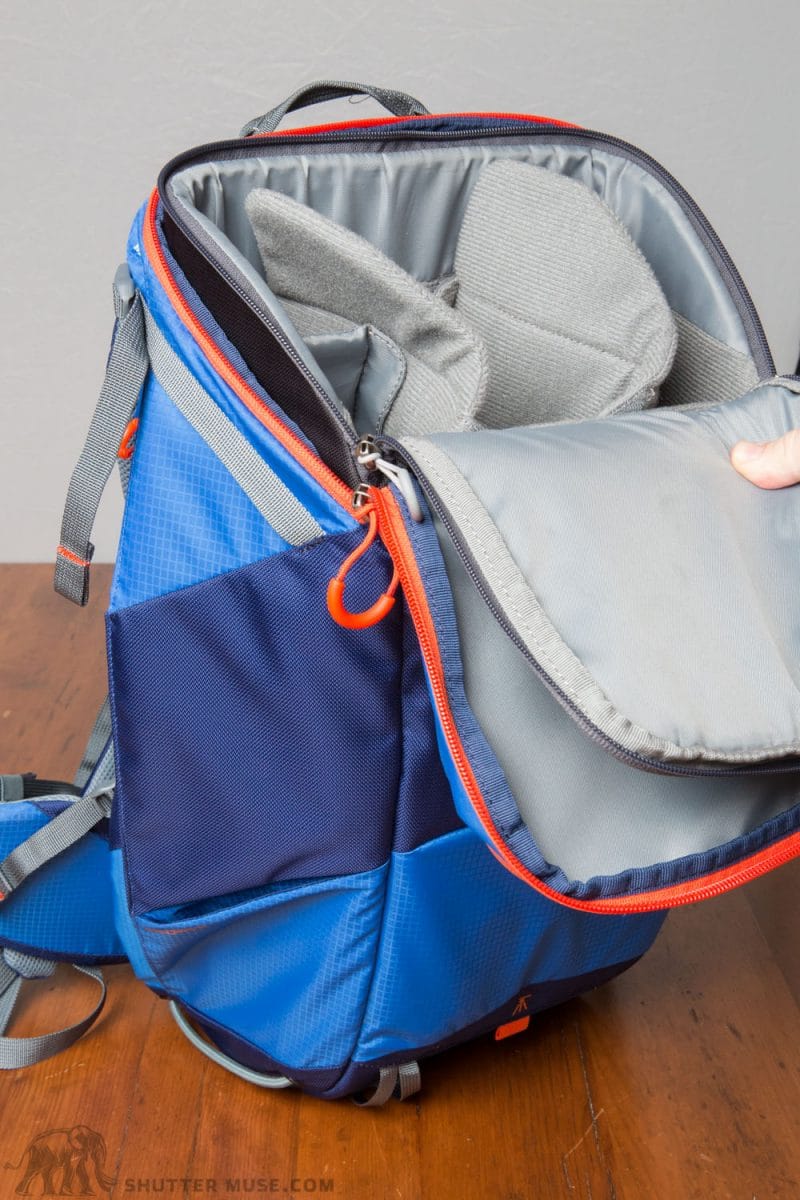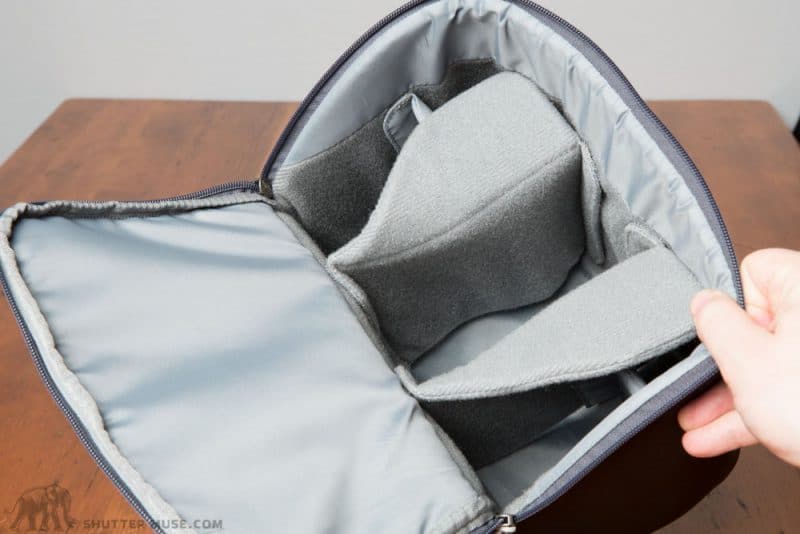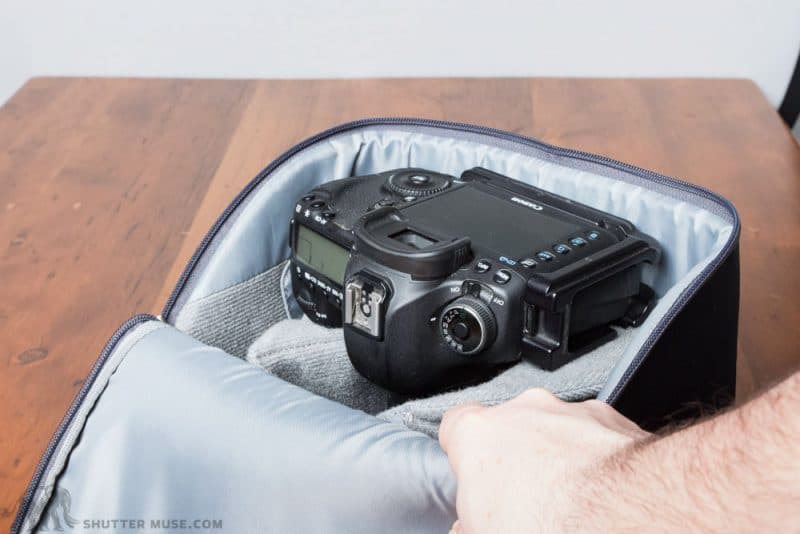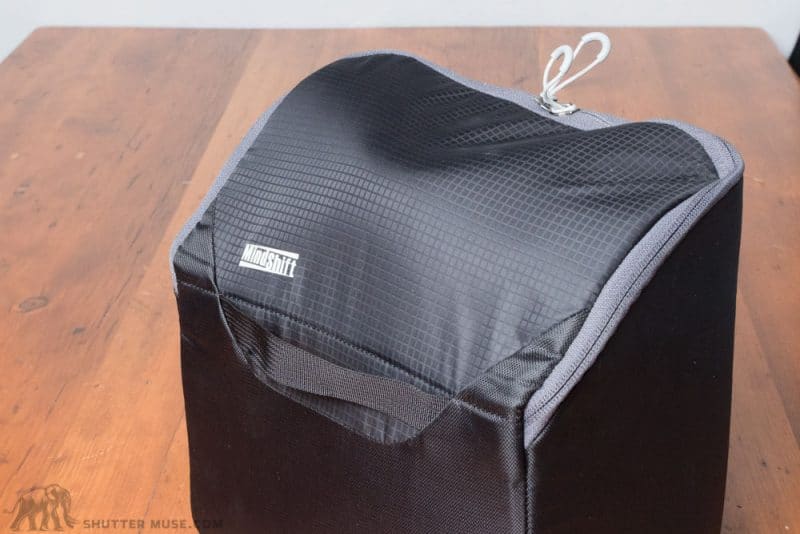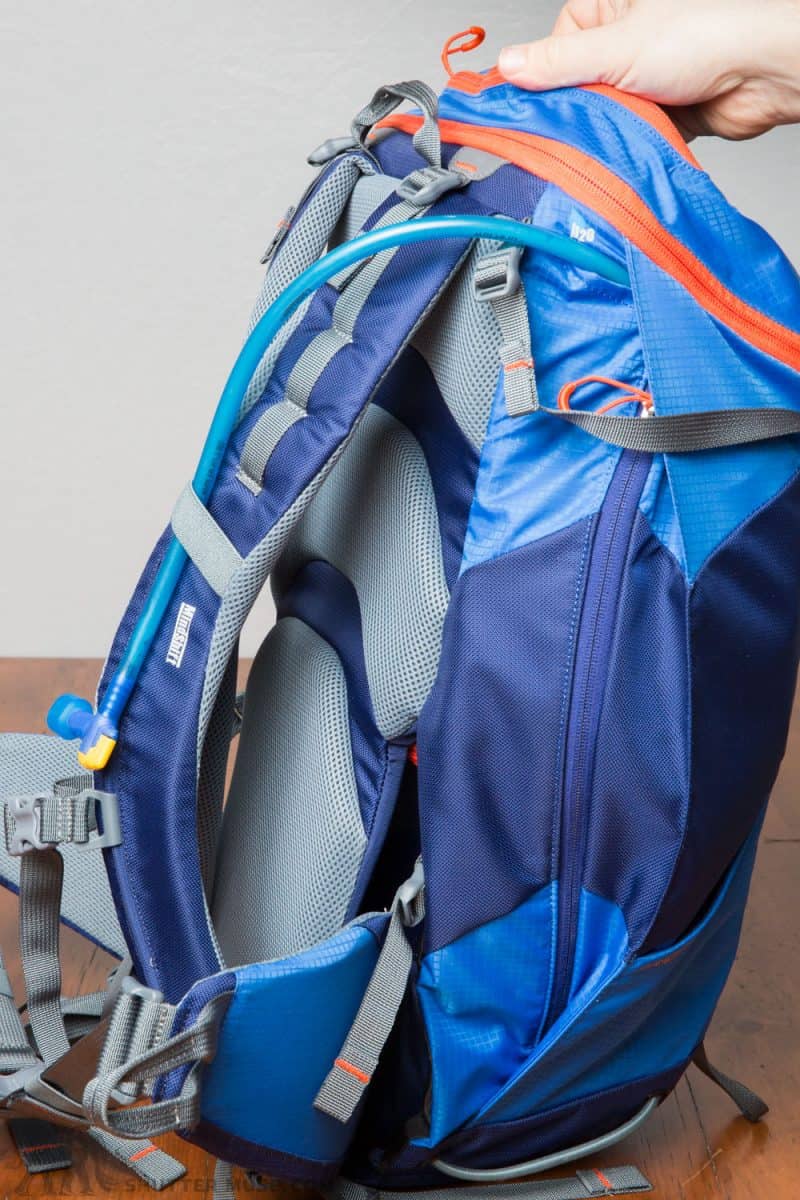 Any pack designed for outdoor usage should have the ability to carry a water bladder, unfortunately on the Panorama I found the implementation to be pretty awkward. It's advertised to be able to fit a 3L bladder but I had to really wrestle to get a 3L bladder in mine that wasn't even full. Perhaps it was the shape of my particular bladder, but it should be designed in a way that accounts for variations in bladder design and mine was a Camelbak one. I don't have an issue with the side positioning of the bladder pocket, but it just felt way too small and the material tapers sharply at both ends meaning I had to squeeze one end of the bladder in first, then squash the thing up and poke the top end through the zip. Since the bladder was also longer than the zipper this just confounded the awkwardness. On the larger R180 Professional the bladder pocket was a simple horizontal zipper on the side that invites you to just drop your bladder straight downwards from the top, letting gravity do the work for you. I wish that the Panorama had a similar feature, it actually seems like an even simpler solution but it works better, nay perfectly, on the larger pack.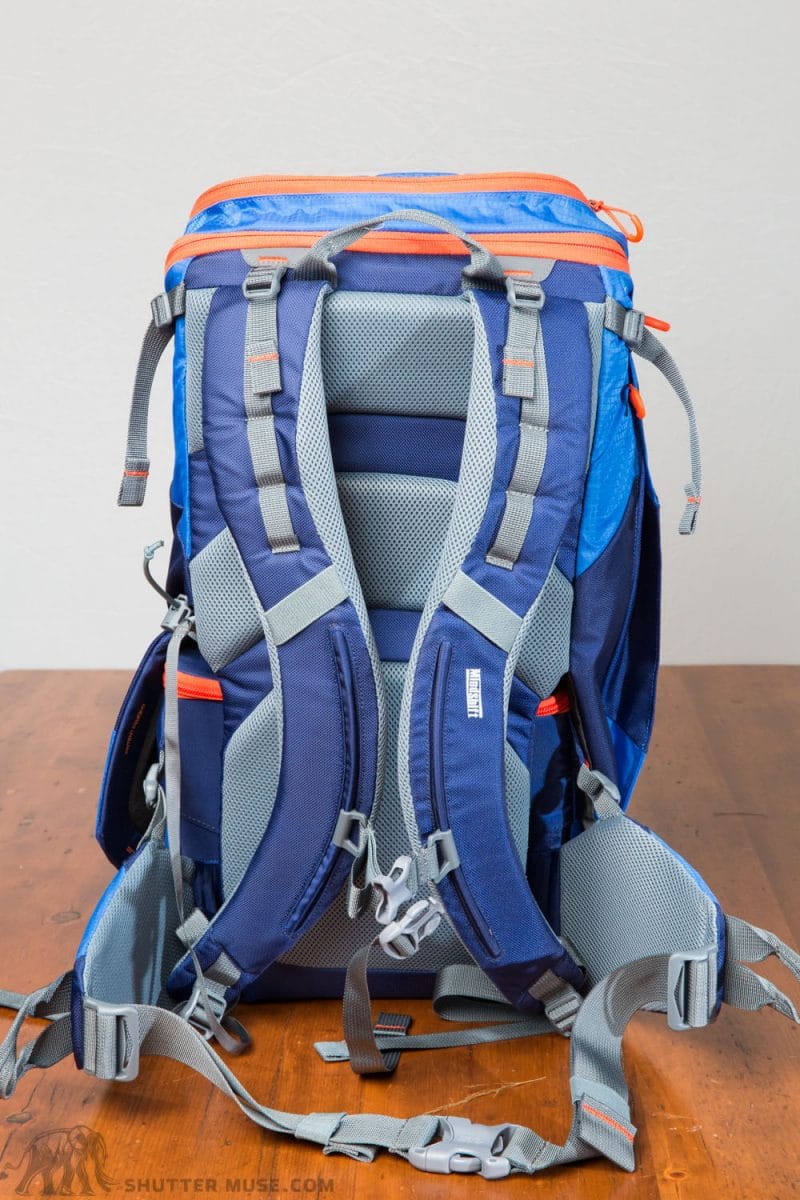 This photo above shows you a great overall view of the harness system. There's always a little design dance to be done when you're trying to make a lightweight pack. Do you add some thicker, heavier padding at the expense of overall weight? Or do you go with a lightweight design and hope that people don't overload the pack to the point where the harness becomes uncomfortable? After a few days with this pack I'm happy to say that I think they nailed that fine line. Certainly with a camera and three lenses in the belt pack, plus a few supplies in the top half of the bag I found it to be comfortable and well-balanced. The overall thin design of the Panorama contributes to this comfort quite a bit, allowing the pack's weight to be kept as close to your spine as possible. The bag feels much more apart of you and less like a burden pulling you backwards and encumbering your movements. This is excellent news for those that want to be active with this pack and it will feel right at home skiing, mountain biking or on more technical hikes that might involve a fair bit of climbing and scrambling around.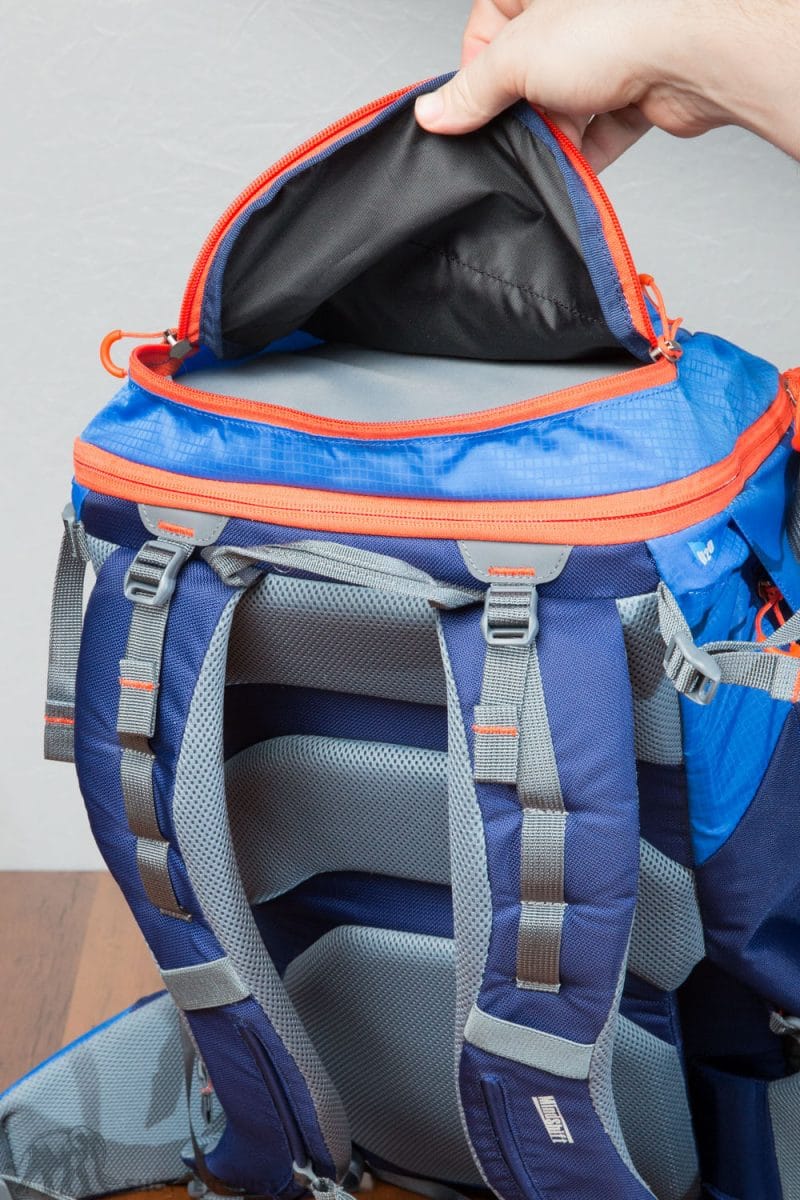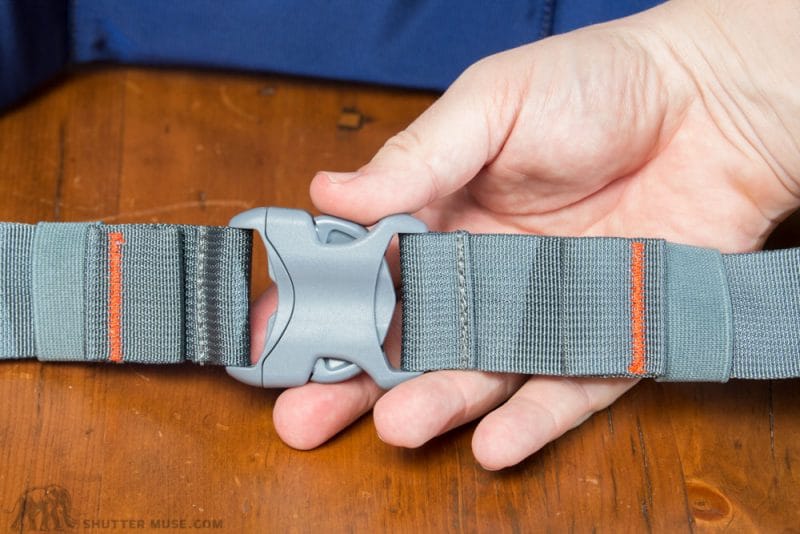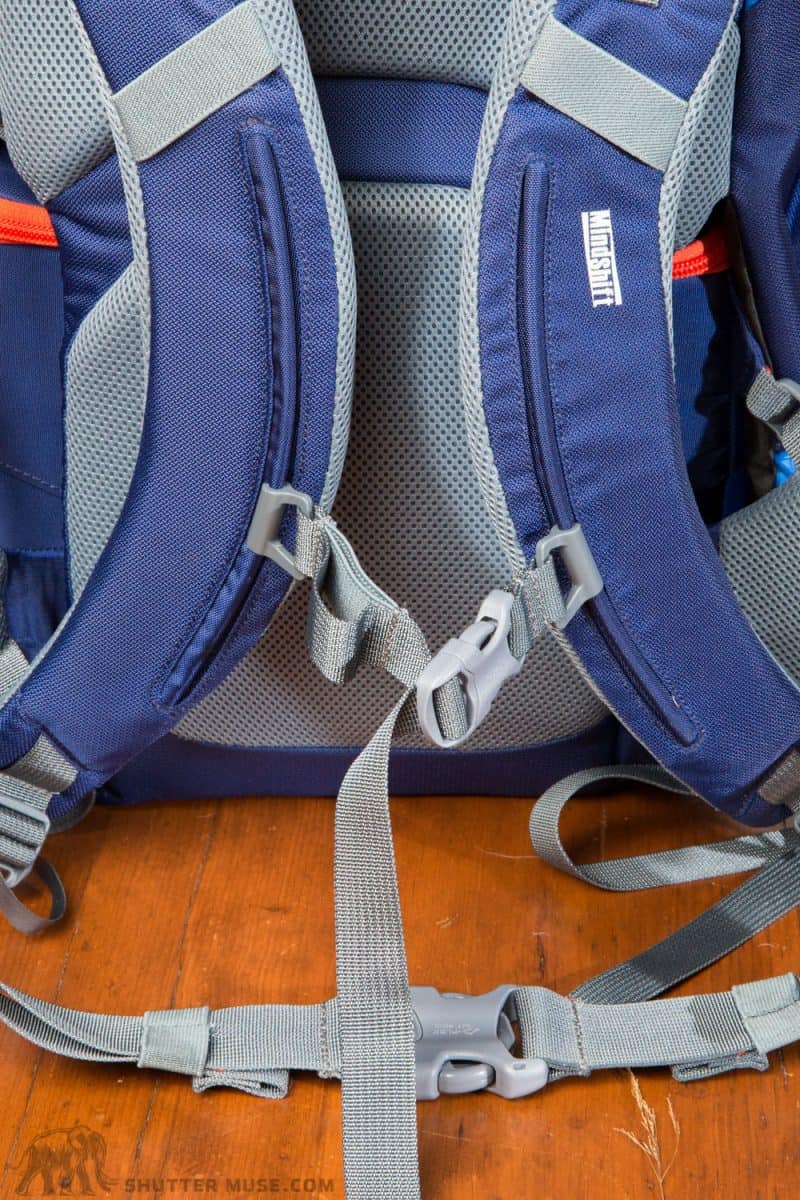 As A Waist Pack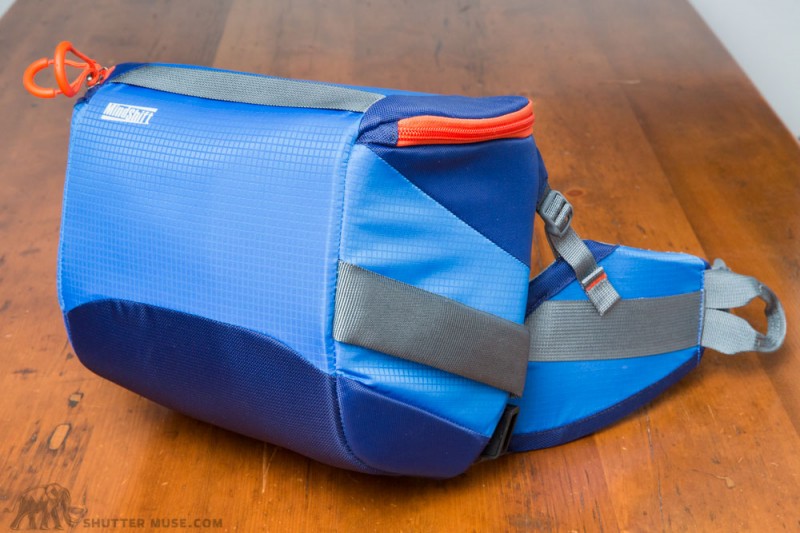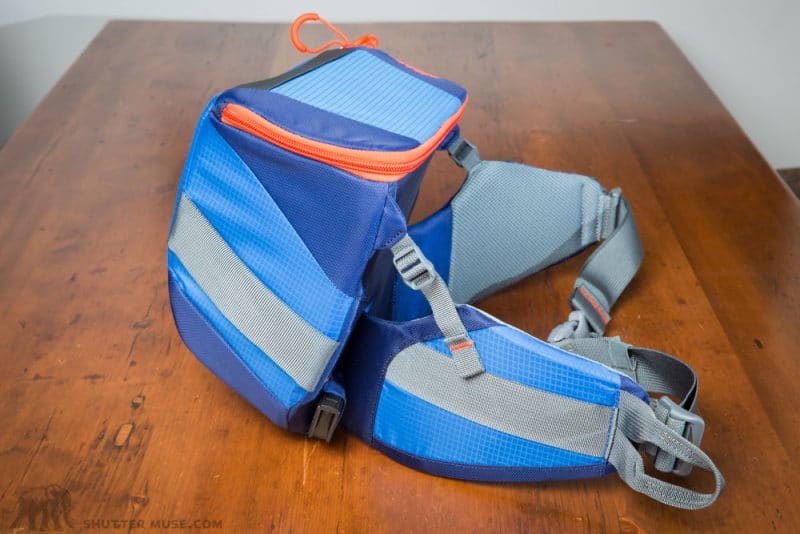 The internally stored belt pack is also designed to serve double duties as a waist pack on its own. When I first started to use the larger Rotation 180 Professional I was surprised how much I used it in this capacity. From trekking through the Cambodian jungles to shooting bears and bald eagles in British Columbia I found it a really useful bonus bag to have around when you need the use of both hands. In Cambodia I found it too hot to have a backpack on so I lightened my gear and wore the waist pack, leaving hands free to hack through the vines. For the wildlife shooting it was a great option when I had my super telephoto lens mounted to my tripod over my shoulder. I just needed a small pack for my gloves, memory cards, batteries and a teleconverter. Being on my waist, everything was easily accessible and importantly I didn't have to put anything on the ground as I was angle deep in rotting salmon during the annual salmon run that attracts that kind of wildlife. My point is that you might not think you need a waist pack on its own, you might never set out with the intention to buy one, but when you have the option there you suddenly find all these opportunities to use it.
The Panorama waist pack features a nice little improvement on the R180 pro version as well with small adjustable straps either side to pull the pack closer to your waist when it's heavily loaded. This prevents sag and stops it bouncing when you're moving around. If you're into climbing then this is going to make a great photo pack and the large handle on the side can double as a place to clip carabiners. Another great use that comes to mind is aerial photography from helicopters. When you shoot from the side of a helicopter it's important to have quick access to certain items and waist pack is the perfect solution. When I do this I tether my camera to myself using a nylon strap with a carabiner on the end and this can be conveniently clipped to the pack's side rail. For such a small usage scenario (let's face it, none of get to hang out of helicopters that often) it might not be worth purchasing a dedicated belt pack but having one handily available inside your Rotation 180 might just come in handy one day.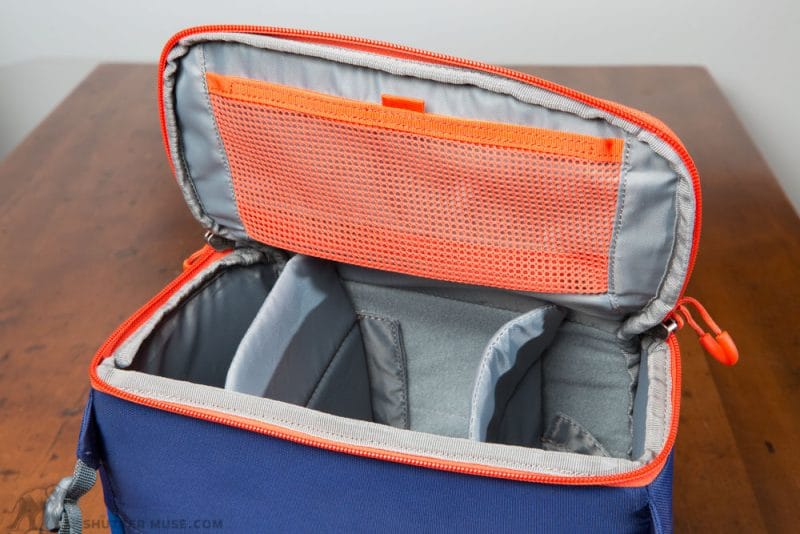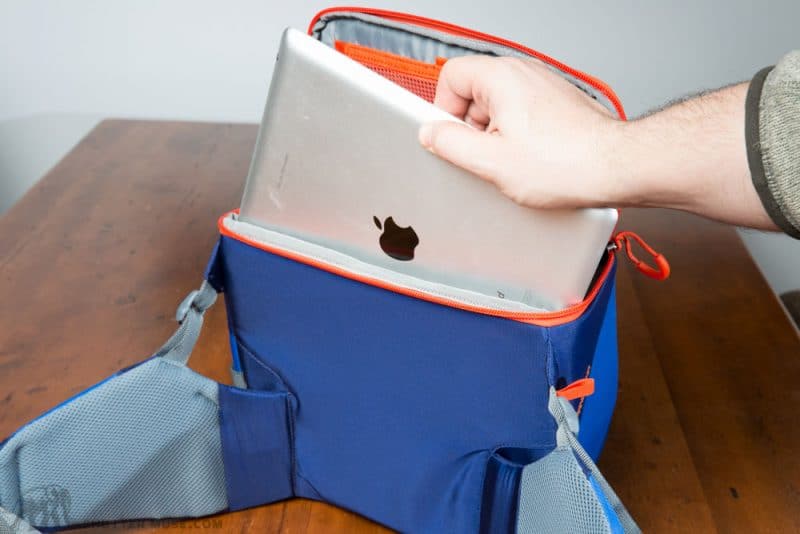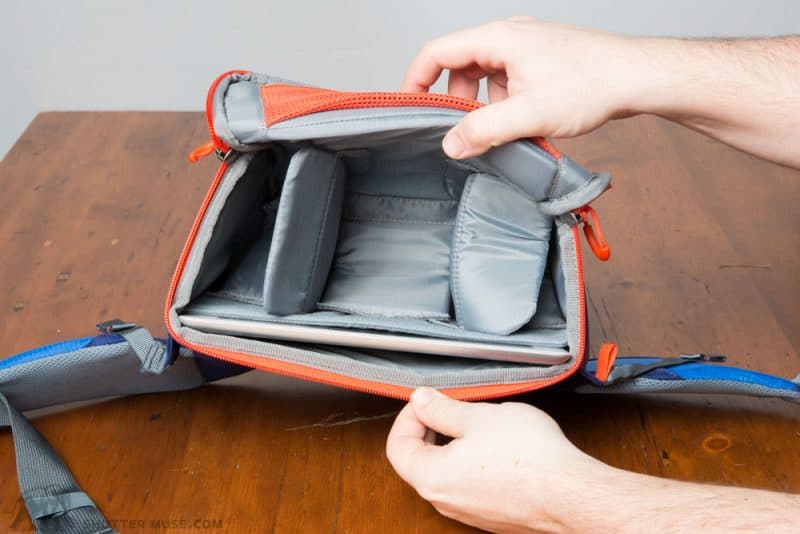 As with the rest of the pack, the waist pack has been lightened wherever possible as evidenced by the shape of the waist belt. It only weighs 0.9lbs so for those times when you want to go on a quick walk without feeling burdened by your gear, a one lens DSLR setup or a mirrorless kit in this pack will be a great option.
For Travel Photography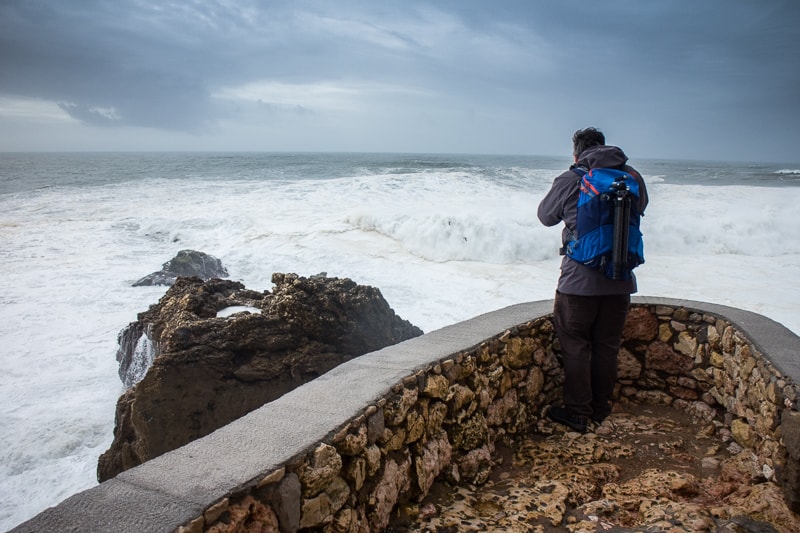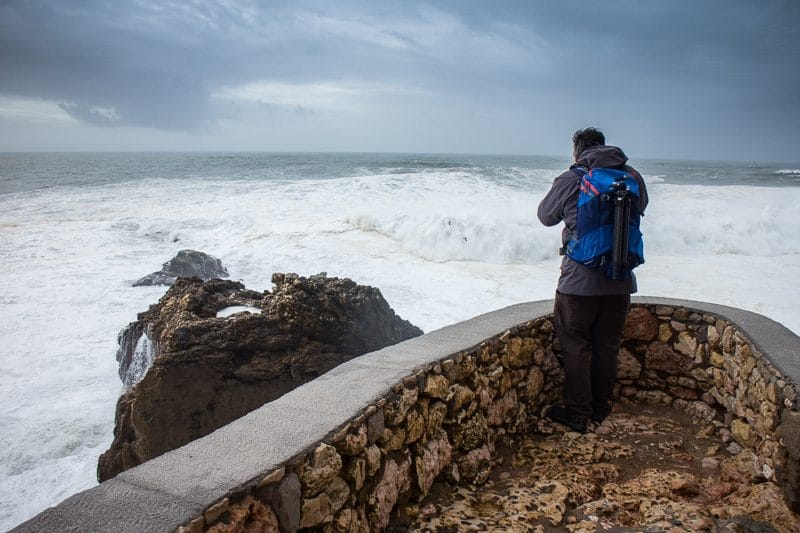 Whilst the Panorama's main design is for outdoor and adventure photography it also has a number of features that make it an ideal travel photography solution. The week this review is posted I'm in Portugal with the Panorama and whilst technically I'm on vacation…. I never go anywhere without my camera and I've had the opportunity to make some great images. I haven't been wandering the countryside or coast line looking for scenic shots though, I've spent most of my time exploring cities, castles and and picturesque villages with the Panorama on my back. For this type of photography I find myself gravitating to my 17-40 and my 24-70, both of which easily fit in the the belt pack along with a small prime lens as well. From a security point of view this is very useful because there's no easy way for anyone to steal my camera gear from that part of the bag. There's a 0% chance of anyone rotating that pack out and unzipping it without my noticing! Not that Portugal is particularly dangerous in that regard though all cities, Lisbon included, have their darker sides after dark.
I've also carried my RRS TQC-14 tripod with me just as in the photos in this review and with the comfort of the Panorama, it's a combination I can happily carry all day without feeling encumbered by my gear. I've also found that it allows you to create photos very quickly which can be useful in some situations. Travel happy photographers will all have come across the 'Tripod Police' at some point or another. With the Panorama on my back and tripod in hand I can so quickly set up a photo that so far I've not had trouble in a single place all week. Not having to take my pack off and put it on the ground really cuts down on how much people pay attention to you. It also gives me quick access to my camera when I see something in the street that I quickly want to capture. Ideally I'd always have camera in hand but that's not practical. As we've seen in the video on this page, I can grab my camera in just about 5-7 seconds from the pack without taking it off. This could easily lead to images that you'd otherwise miss out on. Moving through crowds in cities and subways is a breeze as well due to the low profile of the Panorama compared to all of my other packs.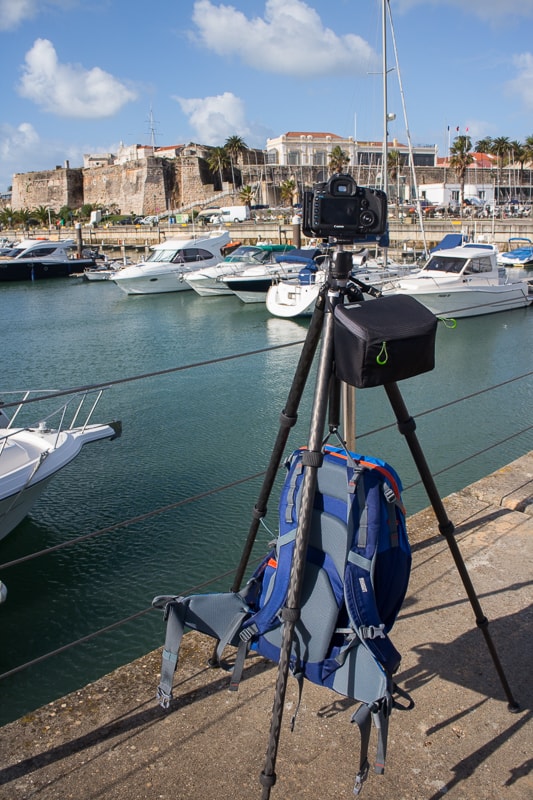 Honestly when I set out on this particular trip I wanted to use the Panorama simply for it's comfort and its light weight.  It's only using it in this way though that's opened my eyes to what a great solution it is to the travel or street photographer.  In the past for this style of shooting I have used a Think Tank Retrospective shoulder bag.  The king of discreet shoulder bags as far as I'm concerned.  It works very well but spreading the weight over both shoulders, as a backpack does, gives you far greater comfort.  It also gives you more volume for carrying extra items like my tripod of a rain jacket (something that I've really needed this week!).  The one thing I would say though is that if you intend on using it in this way, don't pick the bright blue one!  Go for the black and grey one.  A little less conspicuous!
Pros & Cons
Pros
Rotation 180 Mechanism works flawlessly and with much less effort than the larger R180 Pro
Segregated storage is great for organization
Belt pack makes an excellent 'bonus' bag on its own
Overall build and materials feel high quality despite much lower price than the R180 Professional
Thin pack design keeps the pack well-balanced during activity
Cons
Water bladder pocket is very awkward to work with
Tapered design of optional padded makes some packing options difficult
Only one pole strap?
No buckle on side straps means you can't safely attach light stands at all on the side
Conclusion
The guys at MindShift worked super hard to bring the Rotation 180 technology into a pack with a price point that would suit a much larger audience and in fact they even improved upon the rotation technology a little bit in the process.  If you lusted after the R180 Pro, but just couldn't justify the expense then I've no doubt you'll love using the Panorama as long as your camera kit is relatively small.  I've awarded the Panorama a 4-star rating, one less than the 5 stars I gave the professional pack though.  It's still a great pack, but there's a few small tweaks that could have made a huge difference.  The inability for me to safely attach light stands is a disappointment, as is the awkward water bladder pocket and design of the padded insert when used with a camera+lens combination.  Those issues aside though, if I'm looking to carry a camera with a lightweight three lens kit on a long hike, an in-bounds skiing day or a bike ride then this is easily my new favourite option.  The thin design and comfortable harness, along with the subtle improvements in the Rotation 180 system itself make it a real joy to use while you're out exploring the world with your camera.
Get a Free Gift From MindShift Gear (& free shipping)
As a friend of this site, you'll get a free gift at the checkout if  you spend more than $50 through MindShift's online store, as long as you click through one of the links to their store on this page, like this one. I may make a small commission if you purchase from them after clicking one of these links, but as always, it's greatly appreciated when you use these and it doesn't cost you a penny more.
How To Purchase