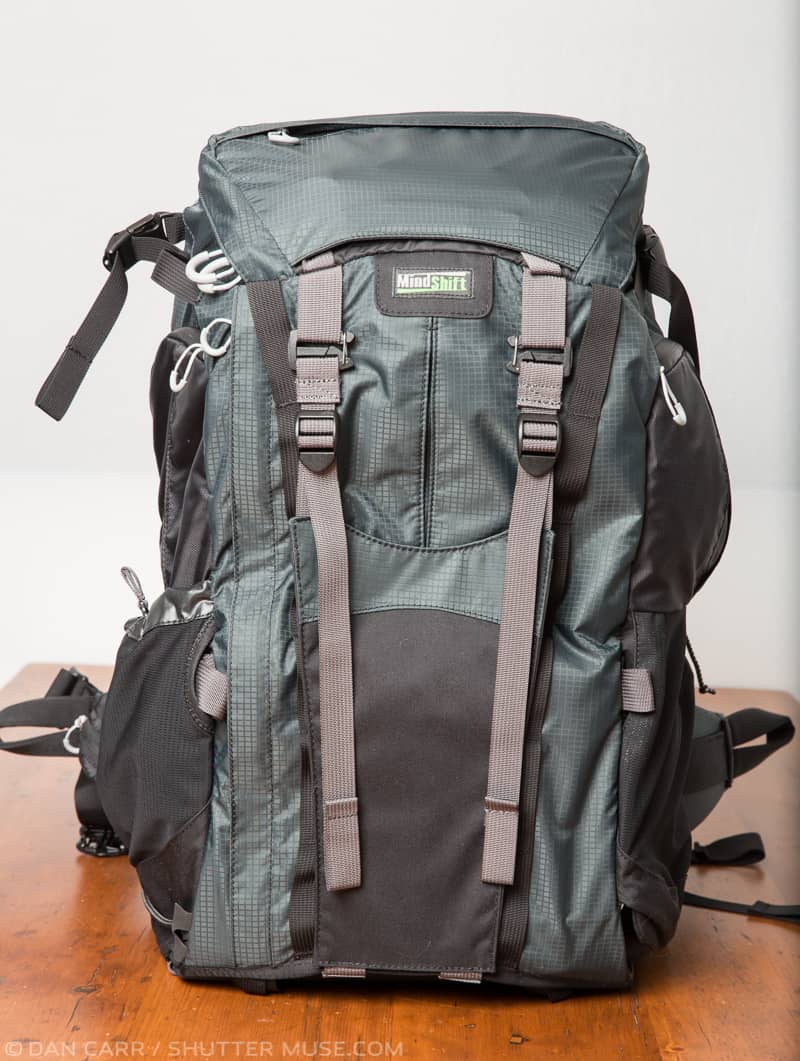 I'm sure you guys all know Think Tank Photo, they make great products for photojournalists, sports photographers and street photographers.  There isn't a press room in the world that you can walk in to without tripping over mountains of their roller bags!  Well MindShift Gear was born from the same office as Think Tank, except these guys will be concentrating on solving the needs of the outdoor and adventure photography market.  Since it's a market that has some very particular needs, it makes sense to have a dedicated team of guys to handle it.  Unlike any other new company though, these guys have been able to draw from Think Tank's considerable design and manufacturing knowledge right from the word go.
The Rotation 180 Professional was the first product for MindShift Gear. Designed as a photography backpack that suits the needs of the avid or professional landscape or outdoor/adventure photographer. It's big enough to carry as much as you would want to carry or an extended hike and it offers a range of ways to carry your photo gear and your tripod. Importantly for an outdoor photography pack, it also offers plenty of options when it comes to carrying your non-photography gear. Extra clothing, first-aid kit, GPS, food, water and even lightweight shelter. For their first product though the designers clearly wanted to come out swinging by bringing something totally unique to the table……….The Rotation 180 mechanism.
The Secret Sauce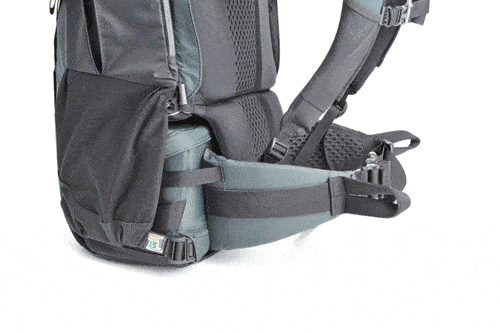 The animated GIF above shows you how the Rotation 180 system works on this bag. What you can't quite tell from it is how the magnetic latch works. You need to push the latch down in order for it to disengage and release the flap. Just pulling it will not open it, so there's no chance that it will come undone accidentally while you're moving around. When you do slide it down, the flap springs out-of-the-way and you can adjust the elastic tension in the flap to control how fast and how far the flap opens. Closing the flap afterwards is a breeze as well since the magnetic is so strong. You just need to get it roughly in the right area and the magnetic will 'suck' the clip back together again and the belt pack will be solidly locked back into the pack.
One thing that's worth noting is that you can't over stuff the belt pack, for obvious reasons. Putting your camera and lenses in it as you see in the photos in this review is fine, but if you find yourself jamming so much stuff in that you struggle to close the zipper, you'll really struggle to get the belt pack back into the hole. One end of the belt pack is also slightly deeper than the other, and this is the end you'll want to use for your camera if you're using a pro-sized body like a Nikon D4 or Canon 1D-X. If you use the wrong end, the pentaprism bulge on the top of the camera can cause a bump in the pack's lid and it might stick a little on its way back into the bag. I wanted to point this out explicitly because I'm the kind of guy who doesn't read the user manual and I know there's plenty of others out there as well who might miss this instruction.
In practice this whole system works very well, though it might take a couple of outings before you're really doing it with your eyes closed. These days though it's becoming second nature to pop it open and grab something without even looking. I can even do it all with thick winter gloves on because the magnetic latch just slides open, and a generous number of loops on the belt pack provide easy places to grip when inserting or ejecting the pack.
Video Review
There's so many features for this pack that it's definitely worth watching the video as well to see how they all fit together.
Features & Design
Tripod Attachment
Yes this definitely deserves a dedicated sub-section in a pack that's designed with landscape photographers in mind. There's a few different options but we'll start with regular side mounting. I find that this is an OK solution for small tripods, but large ones will end up pulling the bag to the side too much and after a long walk you'll begin to feel that. It's there as an option, but not really intended to be the best choice. The main option is to mount it centrally on the back of the pack. There's a very clever little hidden top strap that comes out of its little hole to secure the top of the tripod. It's great because it's long, which gives you options, and it's also permanently attached to the bag so you can't lose it or leave it at home by accident. Simply tuck it away when you don't need it. Using the additional strap package you can then tie the bottom half of the tripod up securely as well. The bag also comes with a tripod cup system which you can see in the photo below, but also in the top opening photo on the page. It attaches to the bag in four spots and allows you stick a couple of the tripod feet into it for support. In practice I found it to be a bit of a squeeze with my biggest tripod but it does work. The secondary benefit is that you can hold all kinds of other stuff to the front of the bag with it as well. Sleeping bag, mat or tent for example. You can also attach a tripod to the other side as well in emergencies. Of course this prevents you using the rotation system, but I have done this to carry a tripod and two lightstands all on the pack at the same time so it's always good to be given the options.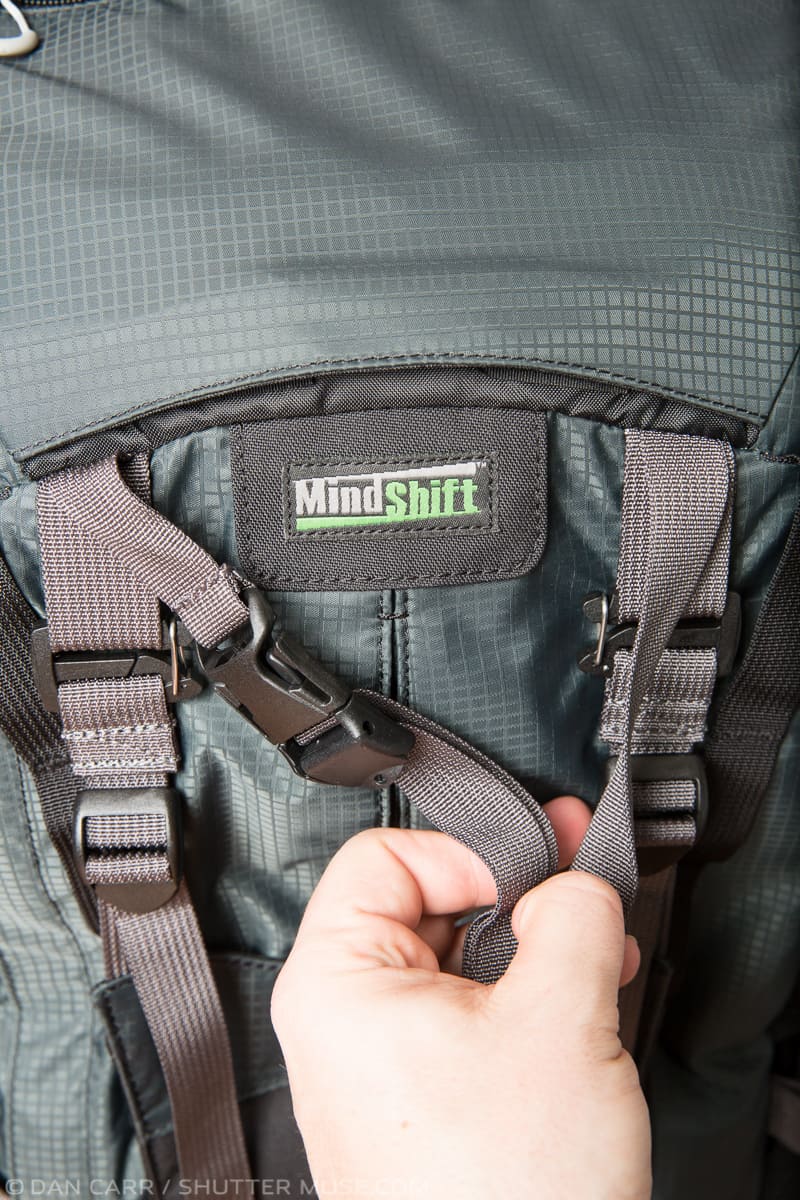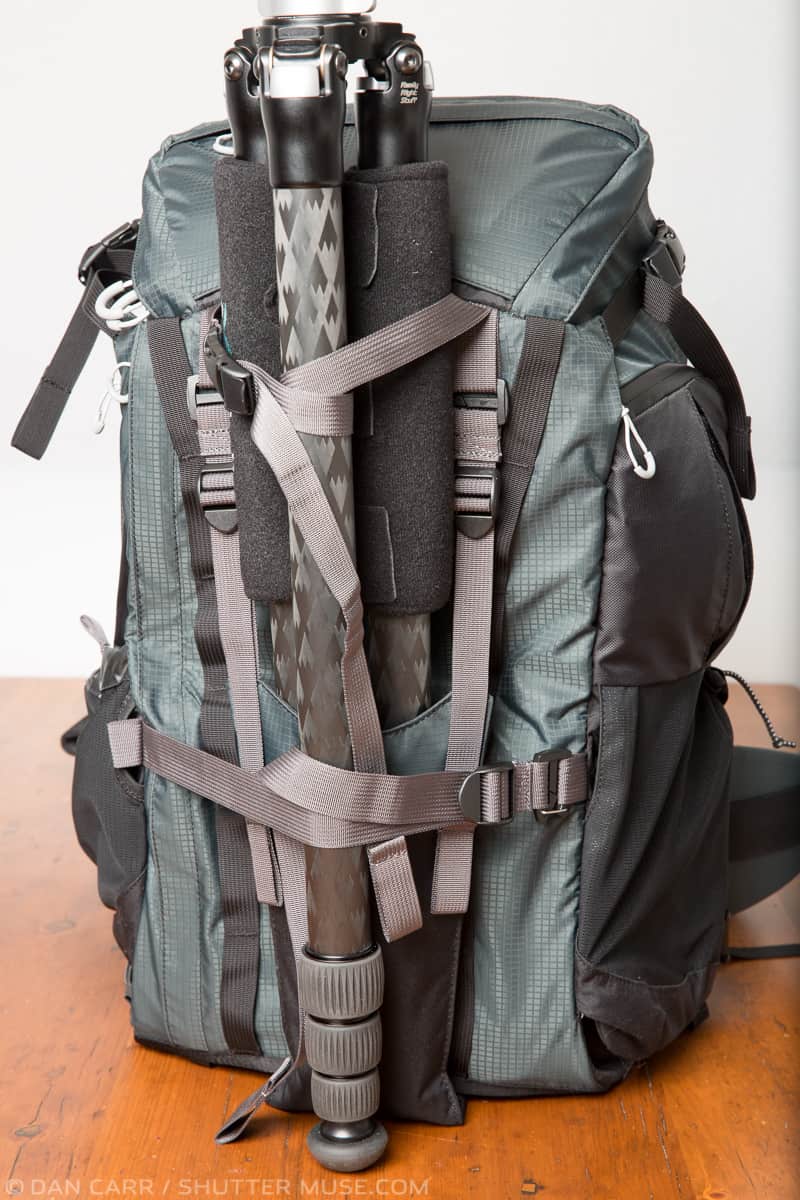 Camera Gear
So how much can you carry in this bag? In the belt pack I can fit a pro body and three lenses, or a regular body and four lenses. Obviously this depends which lenses you use but for landscape missions I can get my 17-40, 24-70 and 70-300 in there so that's got me covered. There's also ample room for batteries and other little things in the belt pack as well. Should you need to carry more then you can use the optional insert (detailed further down) to add protection for 5 or 6 more lenses or perhaps a flash system. I can comfortably carry my Einstein flash head and battery pack in there with room to spare. If you don't need more camera gear then you've got a ton of space up top for all your extra layers, food and outdoor necessities. There is enough room for a lightweight one night trip if you have a compact setup. I was able to carry a tent, sleeping bag, mat and stove in there for one particular star shooting mission.
Pockets For 'Stuff'
For everything else the pack has an interior lid pocket, an interior back door pocket, and exterior top zippered pocket and a large zippered pocket on the front of the bag. Like almost all photo packs, the interior pocket on the back panel isn't a lot of use unless you're carrying something totally flat like a camera manual. The top lid pockets are quite small, but still useful for batteries and memory card holder. The exterior one of the two has an internal clip so you can use something like a Think Tank card holder and know you won't leave it behind. The front pocket turns out to be one of my favorite features on the bag though oddly enough. The material on the front of the bag is pleated in the middle which leaves a lot of excess material for expansion when you need it. As a result, you can fit an enormous amount of stuff in the front. A couple of jackets or a jacket and pants is perfectly possible, and I put my laptop among other things in there when I was traveling recently.
The belt pack has a zippered internal lid pocket which is reasonably sized, and an external zippered pocket that contains the dedicated rain jacket with no room for anything else.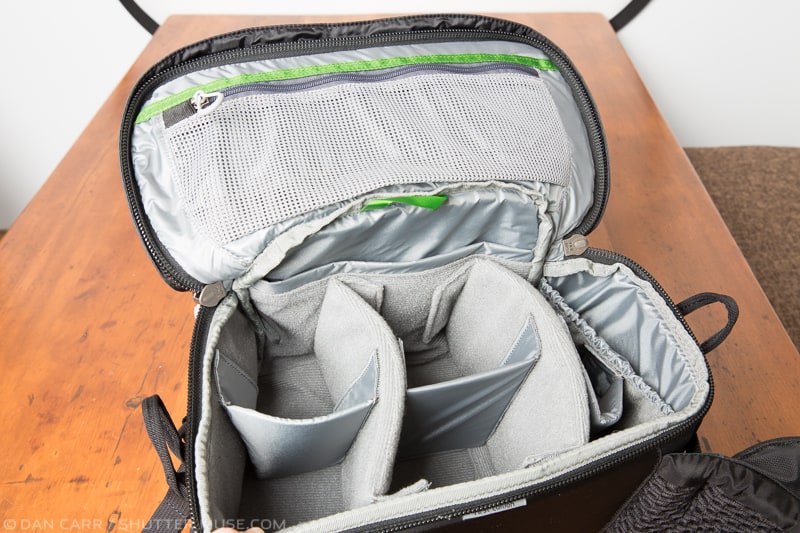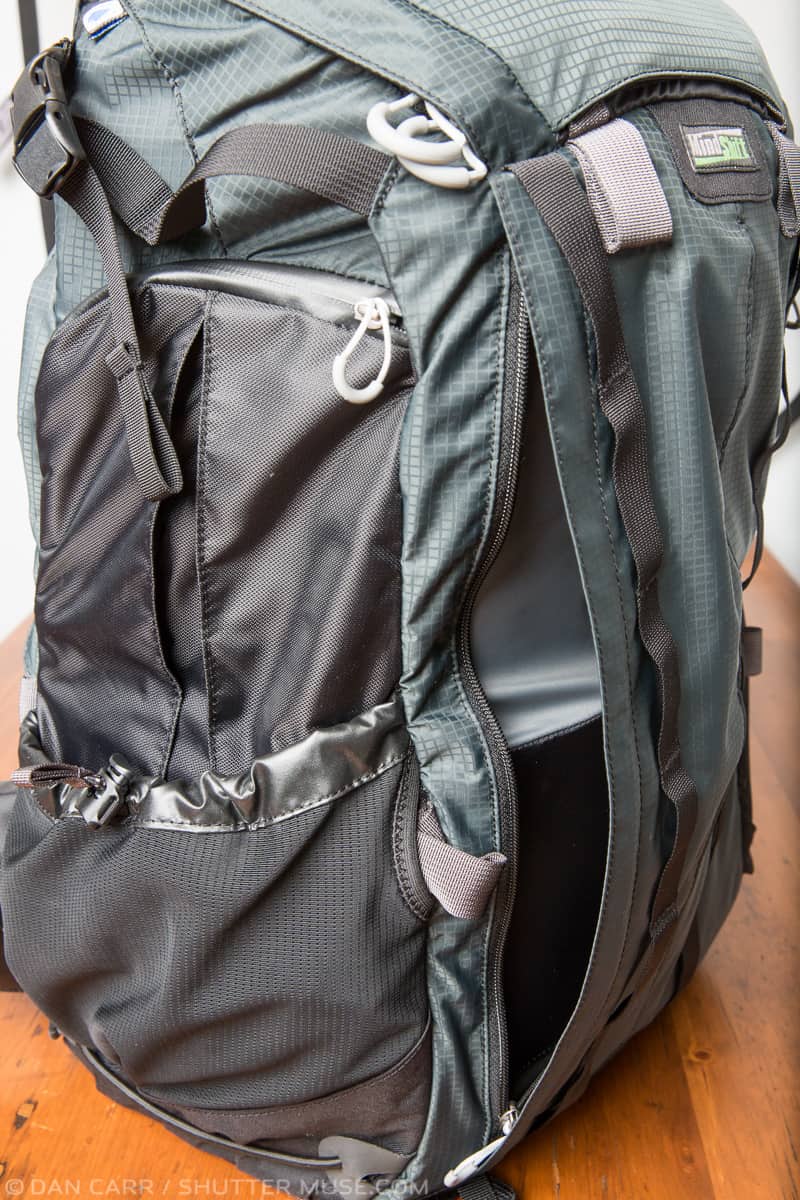 Harness
A memory foam shoulder harness provides excellent comfort on a long day. I've no hesitation in saying this is the most comfortable shoulder harness I've ever used on a camera bag. It's adjustable in all the places you'd hope for and there's a front pocket for your phone or radio. The hip belt is also suitably padded and wide enough to comfortably sit on your hip bone and take the weight of the bag. Back panel padding is also generously thick and spongy and the lumbar region protrudes a little further to keep the bag vertical on the curve of your spine. No complaints in this area at all which is very rare for a camera bag!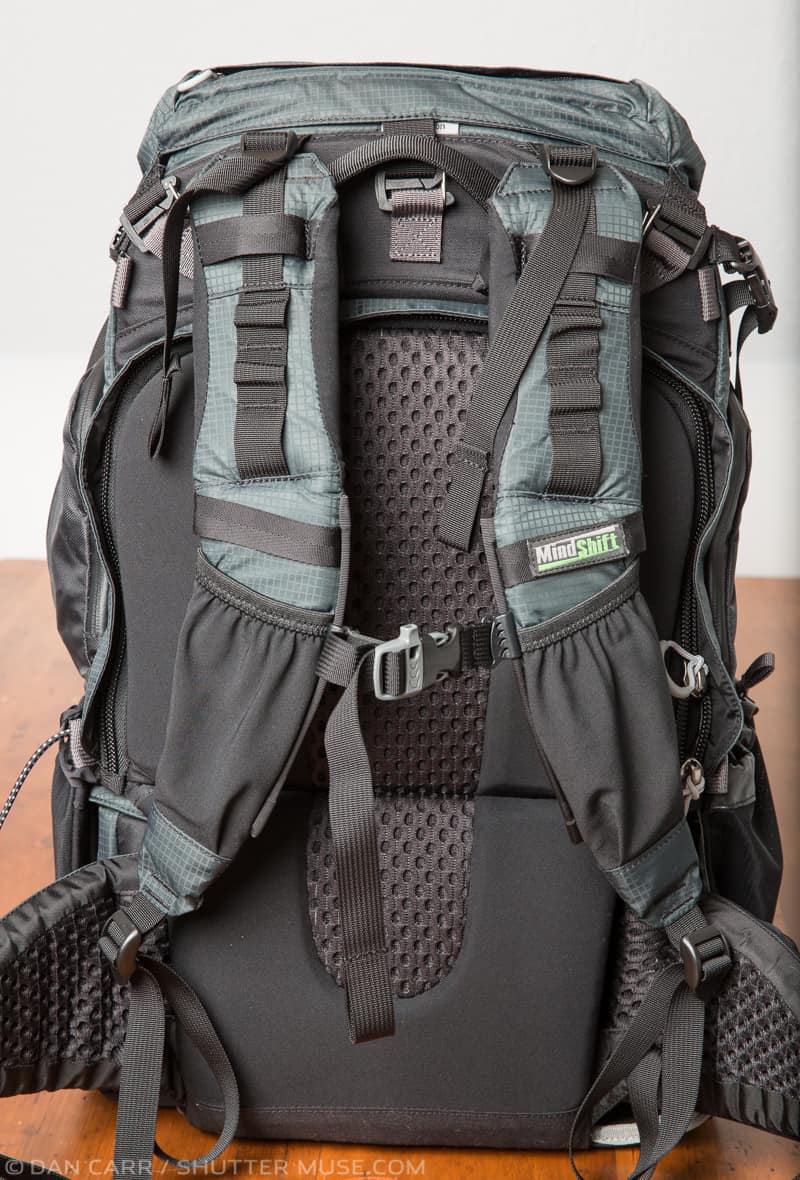 Other Standouts
The R180 Pro has a dedicated hydro bladder pocket on the outside that runs deep enough for all the sizes of bladder I could try it with. I love having this on the side of the bag so if it bursts, it's nowhere near your camera. The pack also comes with a rain cover which is stored, or can be stored, in a zippered pocket on the other side of the pack. It's quite complex to fit compared to most rain covers since it needs to accommodate the rotation element of the bag. In a sudden downpour it can be a bit fiddly, and I'd like to see them find a different way to attach the lower half of the cover other than hook and loop.
Pack Accessories
The Rotation 180 Professional has a number of additional accessories available separately, or as a complete package with the Deluxe Edition.  The Deluxe package is $110 more than the regular one but it includes all of the following accessories and represents a descent saving (about $40) over purchasing them all separately.
Top Pocket – $32.99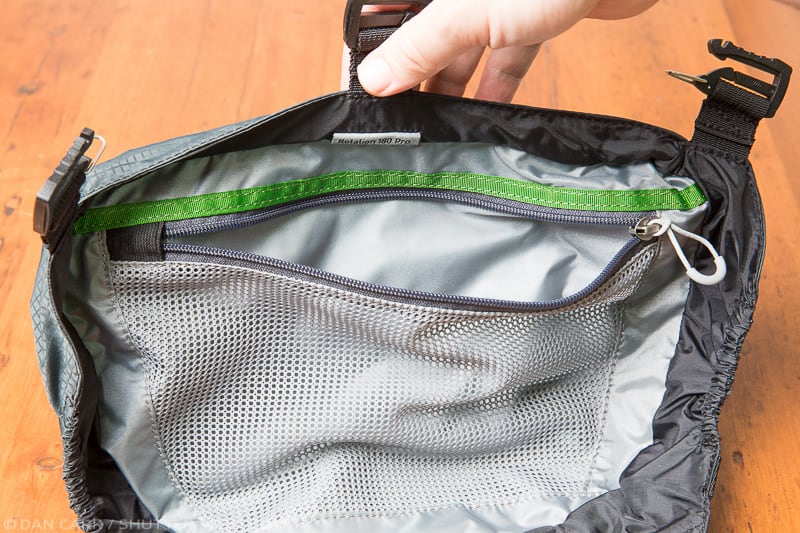 This top pocket attaches securely via three clips on the back of the pack and gives you two more pockets for stashing things like snacks and clothing items that you need quickly to hand. I tend to use the larger side of the pocket to stash gloves and a balaclava when it's cold, and the smaller interior pocket to store extra straps and the tripod suspension system. You can also use it to strap things to the top of the bag like a sleeping mat or a tent.
Tripod Suspension System – $47.50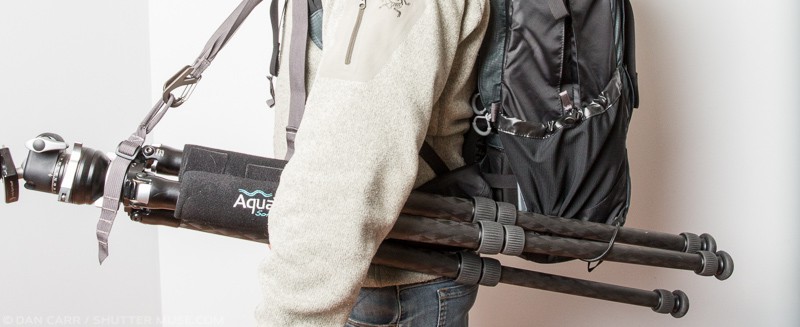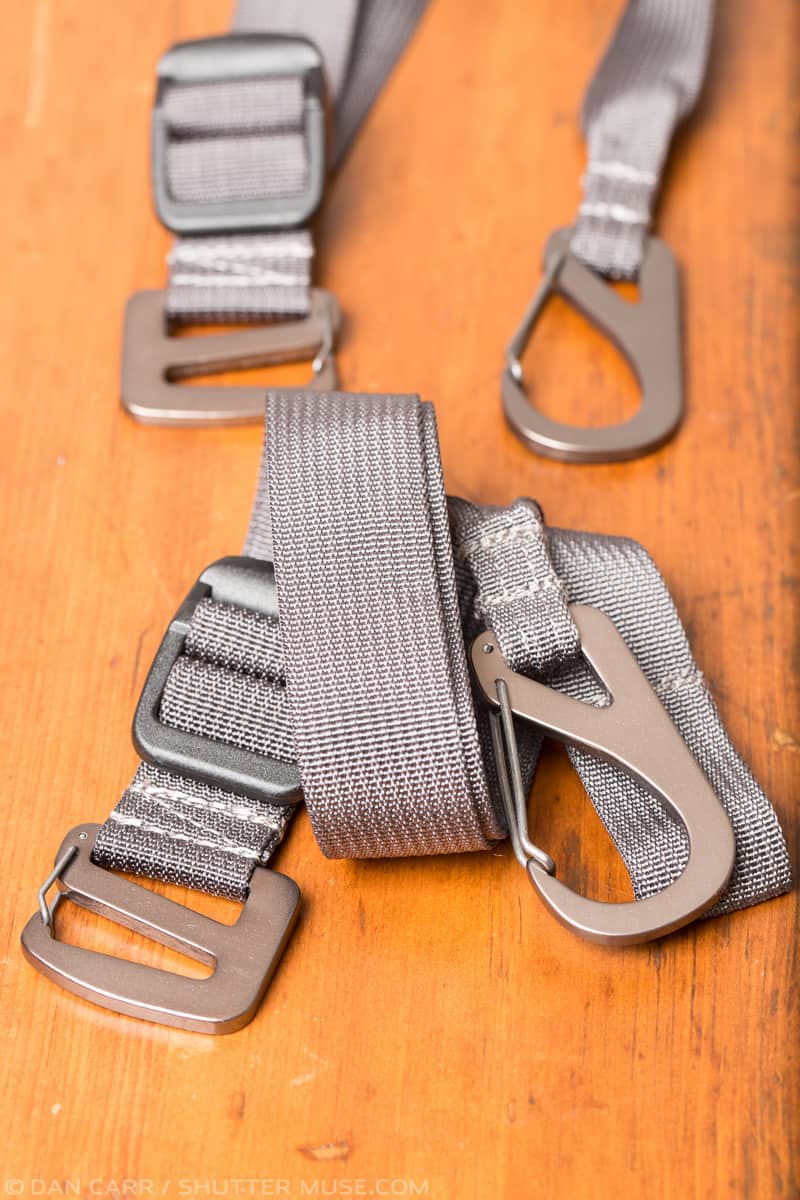 The Tripod Suspension system is the second truly unique feature about the Rotation 180 Professional. The small loop is attached to your tripod and then the straps from the kit clip to the front of the bag's should straps. When you tuck the tripod feet into the elastic loop on the side of the bag, you can clip the straps to the loop on the tripod. Having gone to the trouble of designing a bag that you don't have to remove from your back to get the camera, it would negate some of that smart design if you then had to take the pack off to get to your tripod. The strap suspension system solves this problem. You can comfortably hike with your tripod on your side. It's especially great when you have a really big beefy tripod because the straps transfer the load directly down through the shoulder straps instead of pulling you backwards or sideways as happens when a tripod is strapped to a backpack. I'll admit that it's hard to imagine just by looking at the photos. I was very skeptical myself until I gave it a try. You definitely lose some mobility on rougher terrain, but on smooth trails it's super comfortable and you can even rest your arm on your tripod.
Extra Straps – $16.50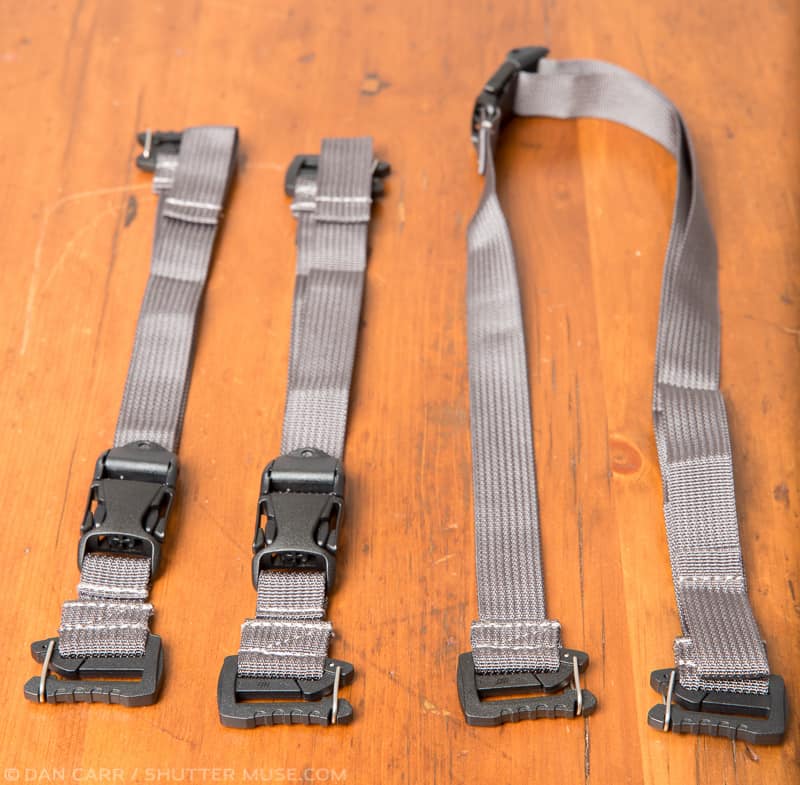 The pack already comes with enough straps to offer multiple tripod attachment options but if you feel like you're going to want to add anything else to the side of the bag then the strap kit is handy to have, and takes up no real room in your bag. I've used it to attach lightstands to the opposite side from the tripod, or a sleeping mat and sleeping bag. The kit consists of two small straps which go on the side of the bag at the bottom, and one longer strap which can reach across from one side to the other.
Professional Padded Insert – $59.99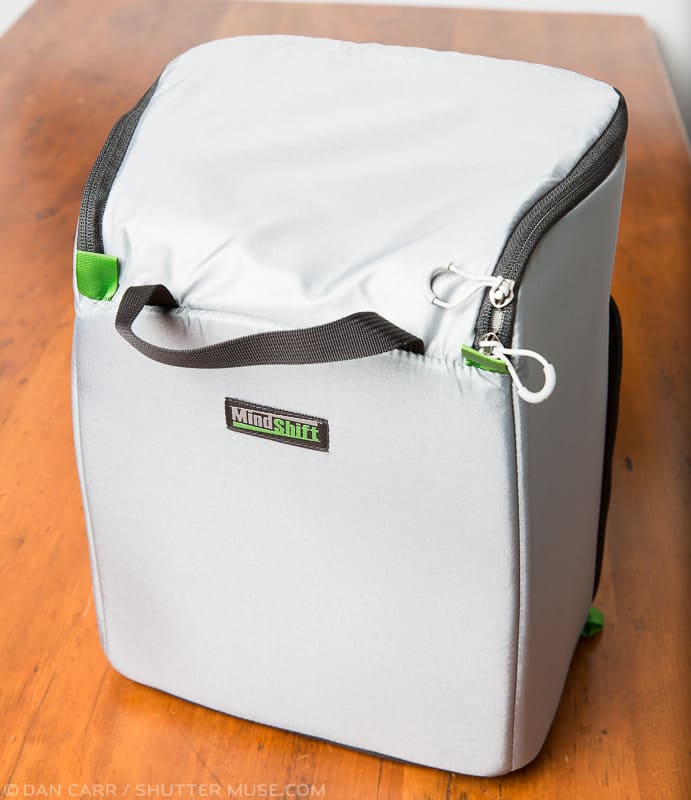 Canon 1-series with a 300mm f2.8
If you want to carry photographic equipment in the top section of the bag then you'll most likely want to get the padded insert. It's lightweight and will hold up to a 300mm f2.8 L lens, or a pro body with a 70-200 attached.  You can access gear from the top, or from the back panel.  For more photos of the insert with various contents, and a more in-depth discussion of its merits, you can check out a separate post about it here.
Tales From The Trails
The proof is always in the pudding though and since I've had this bag for over six months now I feel like I've given it a pretty damn good thrashing. At the tail end of last winter I began using it as my go-to bag for skiing here in my home town of Whistler, BC. I live a stones throw from the ski lifts and as many of you may know, a lot of my commercial work is in the winter sports industry. What I loved about using this bag on the slopes was that I didn't need to take the bag off to grab my favorite combo of 1D with a 70-300 L IS. Anyone who's skied will know that it can be a clumsy affair when you're on steep terrain in deep, fresh snow, to stop and remove a backpack to retrieve gear from. Frankly it's usually easier to take your skis off as well. Well with the Rotation 180 there's no need to take the pack off at all so I can grab a quick shot and be on my way again in just a few seconds. Keeping up with the athletes that I follow can be tough so it's nice to not give them such a head-start.
In the spring time I was shooting some landscapes in Bryce Canyon and Joshua Tree National Park with the bag. This was really where I got to test out the tripod carrying ability, and to use the innovative tripod suspension system. You feel like a bit of a dork when you first start using it but there's no denying the comfort and ease of use. I don't use it all the time though, it really depends on the situation because it can impeded you if you're crossing terrain where you need both hands to scramble about or steady yourself. This spring trip was the first time I could really put it to the test on long hikes though and Bryce Canyon was perfect for this. I loaded it up with food and clothing for each day, as well as a four lens kit with all my filters and my panoramic photography gear. Even after a relatively long day on foot, I was always left feeling relatively fresh since the bag is very comfortable. The memory foam shoulder straps are by far the best I've ever worn on a camera pack.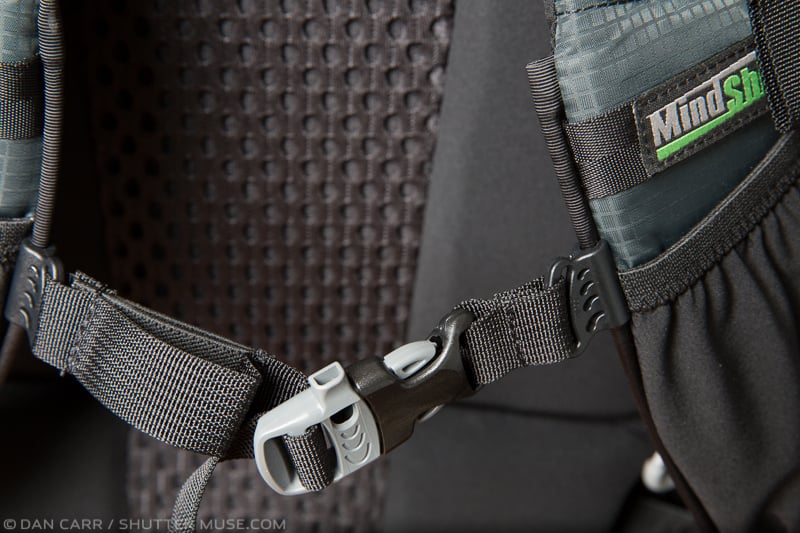 Next big trip saw me on a trip to Asia where I took in Hong Kong and Cambodia. Hong Kong was a brief visit for an awards ceremony ,the real photography started in Cambodia. Just to get there I put a good few air miles on the bag though and it worked well in an air travel scenario. I liked how you can remove the top pocket and the front tripod holder to leave a much sleeker looking bag. This helps for two reasons; it slides in and out of overhead bins much easier, and a sleeker, neater bag looks smaller than one with lots of straps and pockets bulging off it. Looking small is a good tactic to avoid getting your bag weighed by the airline staff! In this travel scenario I also really appreciated the size of the expandable front pocket as well. Since my journeys through Asia were quite long, and solo, I made the decision to travel without a separate laptop bag as I usually do. The front pocket was more than big enough for me to fit my laptop and all sorts of associated accessories into.
Once in Cambodia it was blisteringly hot on a daily basis and as someone who lives year round in a mountain town I'm always sweating when the temperature is 32+ and the rainy season humidity is 80%+. To be fair though, most Westerners I came across were also struggling. Wearing a backpack isn't the most comfortable thing to do though but I'd foreseen this conundrum and taken an extra camera strap with me which I attached to the belt pack from the R180. We traveled mostly by 4×4 and Tuk Tuk and when I got to the location I would just slide the belt pack out of the bag, sling it over my shoulder with the extra strap and then carry my tripod by hand. My guides, also photographers, were extremely jealous of my setup!! In some of the thicker jungle areas I went to it was necessary to hack though the undergrowth so you needed both hands. When this was the case I simply wore the belt pack as a giant fanny pack and put the shoulder strap over me diagonally for additional support.
Back in Canada in the Autumn I set off to look for Bears while I completed by Canon 200-400 F/4 L review. I used the pack again for this trip even though it's not really designed for such long lenses. With my 200-400 in a LensCoat wrap I can fit it safely into the top half of the pack, surrounds by my clothes and supplies for the day. It doesn't perhaps offer as much padding as you might want for such a lens, but it's been working ok for me. I don't fault it though since this really isn't the intended use (long lenses) for this bag but it's nice to have the option. Many people people would be interested in a bag that offers a better ability to carry super telephoto lenses like a 200-400, 500mm or 600mm and you can bet that I have passed this on to the folks at MindShift.
I've used the pack for so many different types of shoots recently that I couldn't possible delve into all of them, but this gives you some idea as to the flexibility of this pack. The fact that I've also been using it for things that it was not intended will give you some idea just how comfortable I find it to use. I have bags designed specifically for long lens use, but I'd rather use the R180 because it's that much more comfortable on a long day.
Pros
Easy access to your gear via back panel or rotation pack
Many tripod carrying options
Hideaway tripod straps when not needed
Supremely comfortable shoulder straps
Plenty of pockets for accessories
Dedicated water bladder pocket
Comes with rain cover
Belt back doubles as bag on its own
Removable camera insert in top half adds flexibility
Tough materials in construction, particularly the base
Cons
There's a pretty high price to pay to get all these features
Small hip belt pocket is unusable
Rain cover a bit fiddly to apply in a sudden downpour
R180 system adds weight
Conclusion
When it comes to talking about camera bags for outdoor and adventure enthusiasts I know there's a lot of eyes on me.  I've tested and reviewed so many in the past that it seems every third e-mail I get is about a bag.  It's therefore not without a lot of consideration that I say the following: this is the best one yet.  It ticks all the boxes for me; it's comfortable when fully loaded, it's durable, it provides easy access and it's large enough to hold everything I want to carry in a wide variety of situations.  I've had this bag about 7 months at this point and even though I have a closet full of other backpacks by people like F-Stop, Gura Gear and Lowepro, I've rarely reached passed the R180 to use anything else.  It'll hold my Canon 200-400 for wildlife missions, it'll hold my Einstein lighting gear for portraiture and it'll hold all the necessary extras I might need on a log days shooting.  I understand that $499 for the full kit will seem like a lot of money for some people who are comparing it to brands such as Lowepro, but then it's competitively priced against offerings from people like Gura Gear and F-Stop and Shimoda who all make great packs for similar shooting situations.  It's far more comfortable than anything I've used from those brands though, and it's more full-featured to boot. This is a real winner.
Get a Free Gift From MindShift Gear
As a friend of this site, you'll get a free gift at the checkout if  you spend more than $50 through MindShift's online store, as long as you click through one of the links to their store on this page, like this one. I may make a small commission if you purchase from them after clicking one of these links, but as always, it's greatly appreciated when you use these and it doesn't cost you a penny more.