In my free eBook, 10 Incredible Tools For Professional Photographers, I dedicated a whole chapter to the power of Photo Mechanic. If you're not yet familiar with the software then I suggest you grab the book and take a look. Honestly, it's a workflow life changer!
The range of possibilities in the software means that there is also an extensive list of keyboard shortcuts to help speed things up even further. Since the whole point of Photo Mechanic is to create a fast and super efficient workflow, it really makes sense to use these shortcuts, perhaps more so than with any other piece of photo software.
Below you will find a list of the keyboard shortcuts, but I also wanted to give you guys something that you can take away and easily refer to in the field (or in the press room!), so I've created an easy-reference PDF that you can store on your smartphone, laptop or tablet and always have it to hand. I know what it's like with shortcuts… we remember the basic ones pretty easily, but after periods of inactivity with specific software we forget a few of the other ones. No need to remember where to look on the internet though with this handy guide!
Get the PDF eBook Version For Free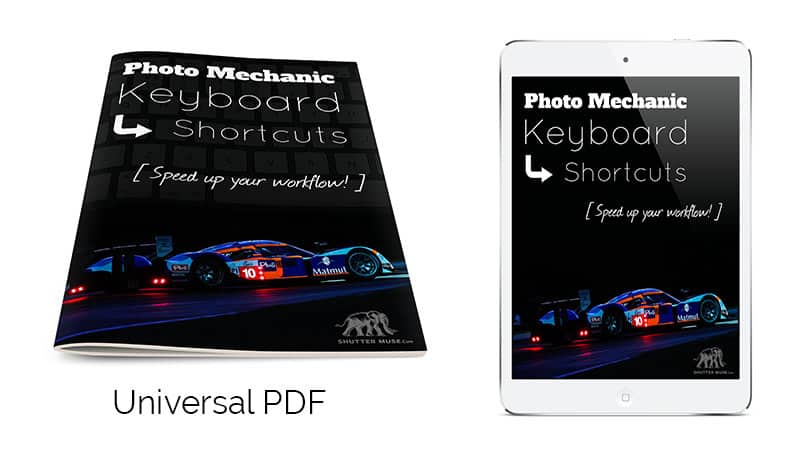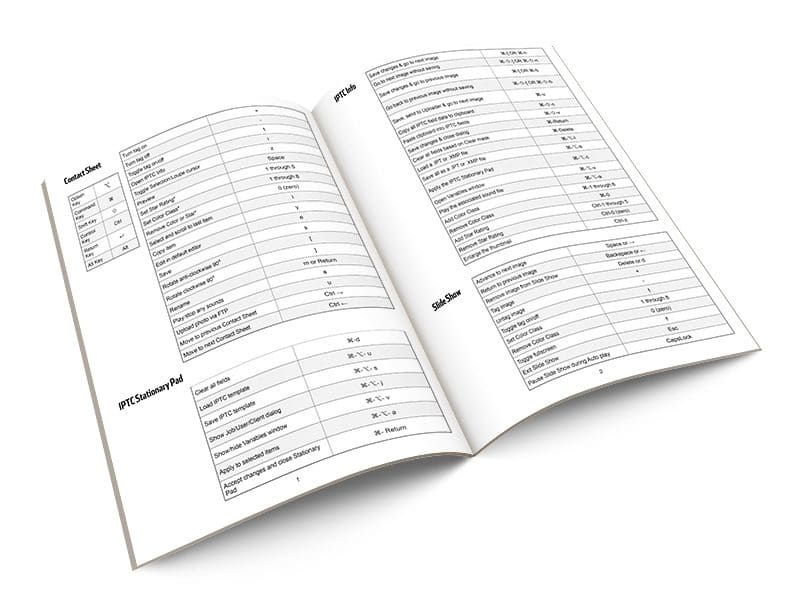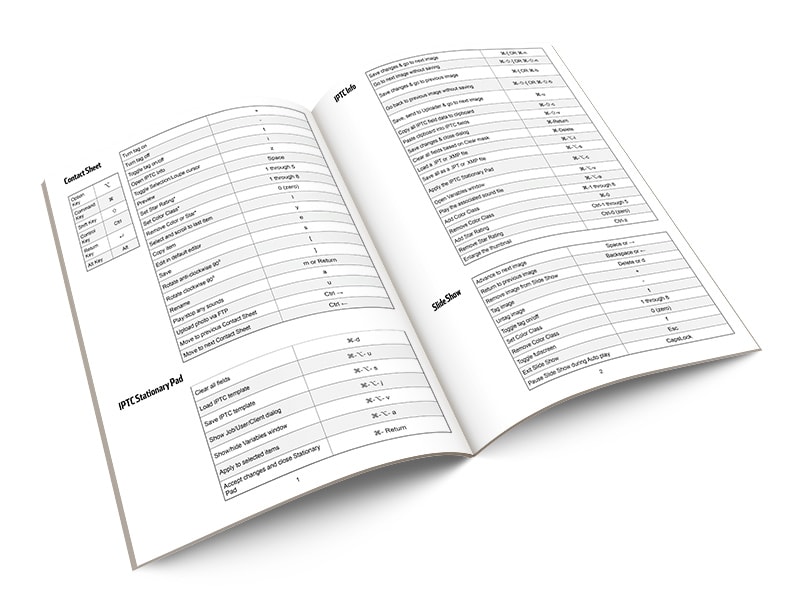 If you want a nice, printable version of this table to keep in your bag, or just on your smartphone, hit the button below.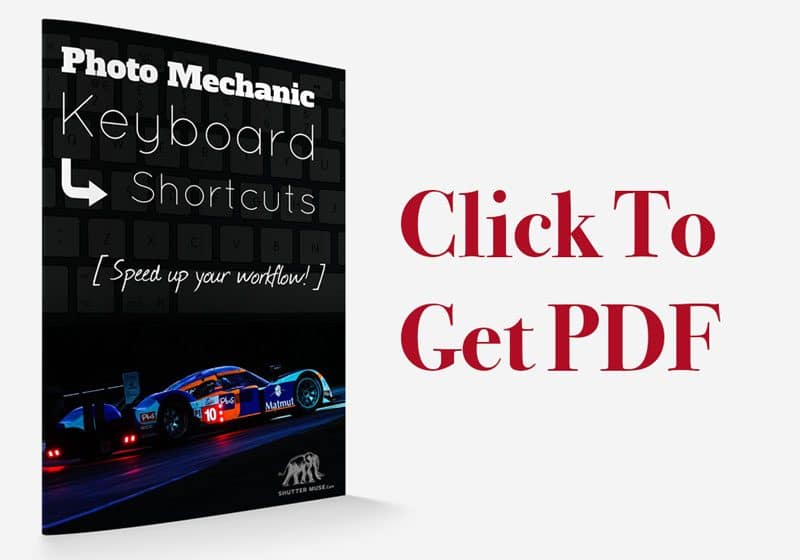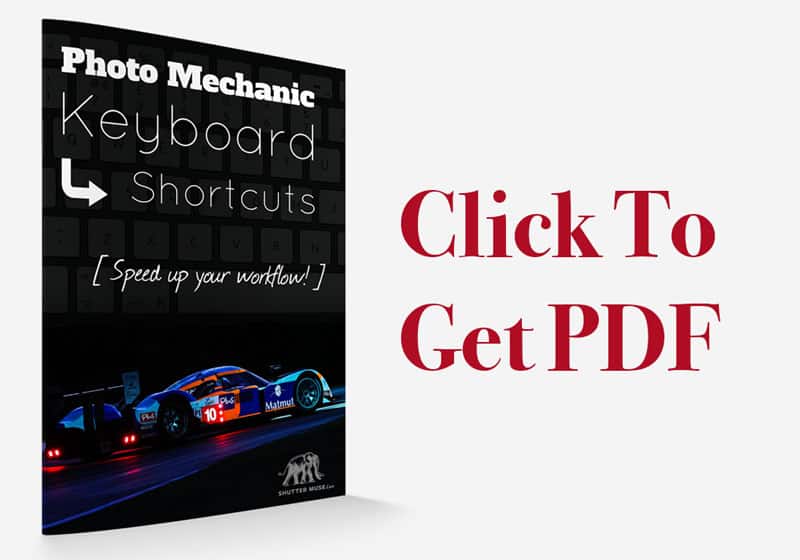 ---
Shortcut List (Mac)
Keyboard Symbols
Click here to skip down to the PC shortcut list.
| | |
| --- | --- |
| Option Key | ⌥ |
| Command Key | ⌘ |
| Shift Key | ⇧ |
| Control Key | Ctrl |
| Return Key | ↵ |
| Alt Key | Alt |
Contact Sheet
| | |
| --- | --- |
| Turn tag on | + |
| Turn tag off | – |
| Toggle tag on/off | t |
| Open IPTC Info | i |
| Toggle Selection/Loupe cursor | z |
| Preview | Space |
| Set Star Rating* | 1 through 5 |
| Set Color Class* | 1 through 8 |
| Remove Color or Star* | 0 (zero) |
| Select and scroll to last item | l |
| Copy item | y |
| Edit in default editor | e |
| Save | s |
| Rotate anti-clockwise 90⁰ | [ |
| Rotate clockwise 90⁰ | ] |
| Rename | m or Return (↵) |
| Play/stop any sounds | a |
| Upload photo via FTP | u |
| Move to previous Contact Sheet | Ctrl – → |
| Move to next Contact Sheet | Ctrl – ← |
Preview Window
| | |
| --- | --- |
| Close Preview Window | Esc or ⌘-w |
| Move back/forward one image | ←, → |
| Scroll thumbnails by page | ↑, ↓, PgUp, PgDn |
| Delete current item | Delete or Backspace |
| Toggle rendering quality (RAW/JPEG) | q |
| Turn zoom on/off | z or * |
| Increase zoom | + |
| Decrease zoom | – |
| Toggle shadow | n |
| Toggle highlight | b |
| Link the two previews | l |
| One up view | o |
| 2-up view (horizontal) | v |
| 2-up view (vertical) | h |
| Switch active pane in 2-up | Tab |
| Toggle color management | c |
| Full screen mode on/off | f |
| Restore from full screen more | r |
| Swap items in 2-up view | g or / |
| Set Color Class* | 1 through 8 |
| Set Star Rating* | 1 through 5 |
| Remove Star or Color* | 0 (zero) |
| Set Color Class | ⌘-1 through 8 |
| Remove Color Class | ⌘-0 |
| Set Star Rating | Ctrl-1 through Ctrl-5 |
| Remove Star Rating | Ctrl-0 (zero) |
| Toggle tag on/off | t or . (period) |
| Upload | u |
| Toggle crop tool | x |
| Remove crop | ⌥-x |
| Rotate anti-clockwise 90⁰ | [ |
| Rotate clockwise 90⁰ | ] |
| Play/Stop audio sounds | a |
| IPTC Info | i |
| Add to selected items | w |
| Deselect | Delete or Backspace |
| Copy | y |
| Rename | m |
| Edit | Esc or ⌘-w |
| Save | s |
| Panning Cursor | Space or ⌥ |
| Pan in the zoomed mode | ⌥-↑, ↓, ←, → |
| Pan faster in the zoomed mode | ⇧-⌥-↑, ↓, ←, → |
| Zoom in and out | ⌥-Scroll |
| Zoom in and center on click | ⌘-click |
IPTC Stationary Pad
| | |
| --- | --- |
| Clear all fields | ⌘-d |
| Load IPTC template | ⌘-⌥- u |
| Save IPTC template | ⌘-⌥- s |
| Show Job/User/Client dialog | ⌘-⌥- j |
| Show/hide Variables window | ⌘-⌥- v |
| Apply to selected items | ⌘-⌥- a |
| Accept changes and close Stationary Pad | ⌘- Return (↵) |
IPTC Info
| | |
| --- | --- |
| Save changes & go to next image | ⌘-[ OR ⌘-n |
| Go to next image without saving | ⌘-⇧-] OR ⌘-⇧-n |
| Save changes & go to previous image | ⌘-[ OR ⌘-b |
| Go back to previous image without saving | ⌘-⇧-[ OR ⌘-⇧-b |
| Save, send to Uploader & go to next image | ⌘-u |
| Copy all IPTC field data to clipboard | ⌘-⇧-c |
| Paste clipboard into IPTC fields | ⌘-⇧-v |
| Save changes & close dialog | ⌘-Return |
| Clear all fields based on Clear mask | ⌘-Delete |
| Load a .IPT or .XMP file | ⌘-⌥-l |
| Save all as a .IPT or .XMP file | ⌘-⌥-s |
| Apply the IPTC Stationary Pad | ⌘-⌥-c |
| Open Variables window | ⌘-⌥-v |
| Play the associated sound file | ⌘-⌥-a |
| Add Color Class | ⌘-1 through 8 |
| Remove Color Class | ⌘-0 |
| Add Star Rating | Ctrl-1 through 5 |
| Remove Star Rating | Ctrl-0 (zero) |
| Enlarge the thumbnail | Ctrl-z |
Slide Show Controls
| | |
| --- | --- |
| Advance to next image | Space or → |
| Return to previous image | Backspace or ← |
| Remove image from Slide Show | Delete or d |
| Tag image | + |
| Untag image | – |
| Toggle tag on/off | t |
| Set Color Class | 1 through 8 |
| Remove Color Class | 0 (zero) |
| Pause Slide Show during Auto play | CapsLock |
File Menu
| | |
| --- | --- |
| New Contact Sheet window | ⌘-⇧-n |
| New Contact Sheet tab | ⌘-n |
| Open Contact Sheet | ⌘-o |
| Close Contact Sheet tab/window | ⌘-w |
| Close window | ⌘-⇧-w |
| Ingest | ⌘-g |
| Live Ingest | ⌘-⇧-g |
| Live Slide Show | ⌘-⇧-i |
| Rename Photos | ⌘-m |
| Copy items | ⌘-y |
| Delete | ⌘-Delete |
| Save As | ⌘-s |
| Burn items to disc | ⌘-b |
| Send items by email | ⌘-⇧-e |
| FTP | ⌘-u |
| Upload | ⌘-Ctrl-u |
| Export | ⌘-Ctrl-x |
| Page Setup | ⌘-Ctrl-p |
| Print | ⌘-p |
Edit Menu
| | |
| --- | --- |
| Undo | ⌘-z |
| Redo | ⌘-⇧-z |
| Cut | ⌘-x |
| Copy | ⌘-c |
| Paste | ⌘-v |
| Take IPTC Snapshot | ⌘-⌥- c |
| Paste IPTC Snapshot | ⌘-⌥- v |
| Find | ⌘-f |
| Find and Replace | ⌘-⇧-f |
| Search using Spotlight | ⌘-⌥- f |
| Select all | ⌘-a |
| Deselect all | ⌘-d |
| Select tagged items | ⌘-t |
| Select rotated items | ⌘-⇧-r |
| Invert selection | ⌘-⇧-o |
| Select Color Class 1-8 | ⌘-Ctrl-1 through 8 |
| Select anything with a Color Class | ⌘-Ctrl-9 |
| Select items with no Color Class | ⌘-Ctrl-0 (zero) |
| Select Star Rating 1-5 | ⌘-⌥-1 through 5 |
| Select anything with a Star Rating | ⌘-⌥-6 |
| Select anything without a Star Rating | ⌘-⌥-0 (zero) |
| Set Code Replacements | ⌘-Ctrl-c |
| Reload Code Replacements | ⌘-⇧-Ctrl-c |
| Enter special characters | ⌘-⌥-t |
View Menu
| | |
| --- | --- |
| Toggle combined RAW+JPEG | ⌘-j |
| View all | F1 |
| View selected | F2 |
| View tagged | F3 |
| View untagged | F4 |
| Refresh | F5 |
| Rescan Contact Sheet | ⌘- / |
| Show/hide info tooltips | ⌘-⇧-t |
Image Menu
| | |
| --- | --- |
| IPTC Stationary Pad | ⌘-i |
| Apply Stationary Pad | ⌘-⇧-i |
| Keywords panel | ⌘-k |
| Structured keywords panel | ⌘-⌥- k |
| Rotate anti-clockwise 90⁰ | ⌘-[ |
| Rotate clockwise 90⁰ | ⌘-] |
| Tag photos | ⌘- + |
| Untag | ⌘- – |
| Preview | ⌘-r |
| Edit items | ⌘-e |
| Slide Show | ⌘-l |
| Set Color Class | ⌘-1 through ⌘-8 |
| Remove Color Class | ⌘-0 (zero) |
| Set Star Rating | Ctrl-1 through Ctrl-5 |
| Remove Star Rating | Ctrl-0 (zero) |
Application Menu
| | |
| --- | --- |
| Preferences | ⌘ – , (comma) |
| Hide Photo Mechanic | ⌘-h |
| Hide other applications | ⌘-⌥ -h |
| Quit Photo Mechanic | ⌘-q |
---
Photo Mechanic Keyboard Shortcuts (PC)
Keyboard Symbols
| | |
| --- | --- |
| Option Key | ⌥ |
| Command Key | ⌘ |
| Shift Key | ⇧ |
| Control Key | Ctrl |
| Return Key | ↵ |
| Alt Key | Alt |
Contact Sheet
| | |
| --- | --- |
| Turn tag on | + |
| Turn tag off | – |
| Toggle tag on/off | t |
| Open IPTC Info | i |
| Toggle Selection/Loupe cursor | z |
| Preview | Space |
| Set Star Rating* | 1 through 5 |
| Set Color Class* | 1 through 8 |
| Remove Color or Star* | 0 (zero) |
| Select and scroll to last item | l |
| Copy item | y |
| Edit in default editor | e |
| Save | s |
| Rotate anti-clockwise 90⁰ | [ |
| Rotate clockwise 90⁰ | ] |
| Rename | m or Return (↵) |
| Play/stop any sounds | a |
| Upload photo via FTP | u |
| Move to previous Contact Sheet | Ctrl – → |
| Move to next Contact Sheet | Ctrl – ← |
Preview Window
| | |
| --- | --- |
| Close Preview Window | Esc or Alt-w |
| Move back/forward one image | ←, → |
| Scroll thumbnails by page | ↑, ↓, PgUp, PgDn |
| Delete current item | Delete or Backspace |
| Toggle rendering quality (RAW/JPEG) | q |
| Turn zoom on/off | z or * |
| Increase zoom | + |
| Decrease zoom | – |
| Toggle shadow | n |
| Toggle highlight | b |
| Link the two previews | l |
| One up view | o |
| 2-up view (horizontal) | v |
| 2-up view (vertical) | h |
| Switch active pane in 2-up | Tab |
| Toggle color management | c |
| Full screen mode on/off | f |
| Restore from full screen more | r |
| Swap items in 2-up view | g or / |
| Set Color Class* | 1 through 8 |
| Set Star Rating* | 1 through 5 |
| Remove Star or Color* | 0 (zero) |
| Set Color Class | Ctrl-1 through 8 |
| Remove Color Class | Ctrl-0 |
| Set Star Rating | Alt-1 through Alt-5 |
| Remove Star Rating | Alt-0 (zero) |
| Toggle tag on/off | t or . (period) |
| Upload | u |
| Toggle crop tool | x |
| Remove crop | ⇧-x |
| Rotate anti-clockwise 90⁰ | [ |
| Rotate clockwise 90⁰ | ] |
| Play/Stop audio sounds | a |
| IPTC Info | i |
| Add to selected items | w |
| Deselect | d |
| Copy | y |
| Rename | m |
| Edit | e |
| Save | s |
| Panning Cursor | Space or ⇧ |
| Pan in the zoomed mode | ⇧-↑, ↓, ←, → |
| Pan faster in the zoomed mode | ⇧-Ctrl-↑, ↓, ←, → |
| Zoom in and out | + and keypad – + |
| Zoom in and center on click | Ctrl+ left mouse click |
IPTC Stationary Pad
| | |
| --- | --- |
| Clear all fields | ⌘-Delete |
| Load IPTC template | Ctrl-Alt- i |
| Save IPTC template | Ctrl-Alt- s |
| Show Job/User/Client dialog | Ctrl-Alt- j |
| Show/hide Variables window | Ctrl-Alt- v |
| Apply to selected items | Ctrl-Alt- a |
| Accept changes and close Stationary Pad | ⌘- Return (↵) |
IPTC Info
| | |
| --- | --- |
| Save changes & go to next image | Alt-[ OR Ctrl-n |
| Go to next image without saving | Alt-⇧-] OR Ctrl-⇧-n |
| Save changes & go to previous image | Alt-[ OR Alt-b |
| Go back to previous image without saving | Alt-⇧-[ OR Ctrl-⇧-b |
| Save, send to Uploader & go to next image | Alt-u |
| Copy all IPTC field data to clipboard | Ctrl-⇧-c |
| Paste clipboard into IPTC fields | Ctrl-⇧-v |
| Save changes & close dialog | Ctrl-Enter |
| Clear all fields based on Clear mask | Ctrl-Delete |
| Load a .IPT or .XMP file | Ctrl-Alt-l |
| Save all as a .IPT or .XMP file | Ctrl-Alt-s |
| Apply the IPTC Stationary Pad | Ctrl-Alt-c |
| Open Variables window | Ctrl-Alt-v |
| Play the associated sound file | Ctrl-Alt-a |
| Add Color Class | Ctrl-1 through 8 |
| Remove Color Class | Ctrl-0 |
| Add Star Rating | Alt-1 through 5 |
| Remove Star Rating | Alt-0 (zero) |
| Enlarge the thumbnail | Alt-z |
Slide Show Controls
| | |
| --- | --- |
| Advance to next image | Space or → |
| Return to previous image | Backspace or ← |
| Remove image from Slide Show | Delete or d |
| Tag image | + |
| Untag image | – |
| Toggle tag on/off | t |
| Set Color Class | 1 through 8 |
| Remove Color Class | 0 (zero) |
| Pause Slide Show during Auto play | CapsLock |
File Menu
| | |
| --- | --- |
| New Contact Sheet window | Ctrl-Alt-n |
| New Contact Sheet tab | Ctrl-n |
| Open Contact Sheet | Ctrl-o |
| Close Contact Sheet tab/window | Ctrl-w |
| Close window | Ctrl-Alt-w |
| Ingest | Ctrl-g |
| Live Ingest | Ctrl-Alt-g |
| Live Slide Show | Ctrl-Alt-i |
| Rename Photos | Ctrl-m |
| Copy items | Ctrl-y |
| Delete | Ctrl-Delete |
| Save As | Ctrl-s |
| Burn items to disc | Ctrl-b |
| Send items by email | Ctrl-Alt-e |
| FTP | Ctrl-u |
| Upload | Ctrl-Alt-u |
| Export | Ctrl-Alt-x |
| Page setup | Ctrl-Alt-p |
| Print | Ctrl-p |
Edit Menu
| | |
| --- | --- |
| Undo | Ctrl-z |
| Redo | Ctrl-⇧-z |
| Cut | Ctrl-x |
| Copy | Ctrl-c |
| Paste | Ctrl-v |
| Take IPTC Snapshot | Alt- c |
| Paste IPTC Snapshot | Alt- v |
| Find | Ctrl-f |
| Find and Replace | Ctrl-⇧-f |
| Search using Spotlight | Ctrl-Alt- f |
| Select all | Ctrl-a |
| Deselect all | Ctrl-d |
| Select tagged items | Ctrl-t |
| Select rotated items | Ctrl-⇧-r |
| Invert selection | Ctrl-⇧-o |
| Select Color Class 1-8 | Ctrl-⇧-1 through 8 |
| Select anything with a Color Class | Ctrl-⇧-9 |
| Select items with no Color Class | Ctrl-⇧-0 (zero) |
| Select Star Rating 1-5 | Alt-⇧-1 through 5 |
| Select anything with a Star Rating | Alt-⇧-6 |
| Select anything without a Star Rating | Alt-⇧-0 (zero) |
| Set Code Replacements | Ctrl-Alt-c |
| Reload Code Replacements | ⇧-Ctrl-Alt-c |
View Menu
| | |
| --- | --- |
| Toggle combined RAW+JPEG | Ctrl-j |
| View all | F1 |
| View selected | F2 |
| View tagged | F3 |
| View untagged | F4 |
| Refresh | F5 |
| Rescan Contact Sheet | Ctrl- / |
| Show/hide info tooltips | Ctrl-⇧-t |
Image Menu
| | |
| --- | --- |
| IPTC Stationary Pad | Ctrl-i |
| Apply Stationary Pad | Ctrl-⇧-i |
| Keywords panel | Ctrl-k |
| Structured keywords panel | Ctrl-⇧- k |
| Rotate anti-clockwise 90⁰ | Alt-[ |
| Rotate clockwise 90⁰ | Alt-] |
| Tag photos | Ctrl- NumLock- + |
| Untag | Ctrl- – |
| Preview | Ctrl-r |
| Edit items | Ctrl-e |
| Slide Show | Ctrl-l |
| Set Color Class | Ctrl-1 through Ctrl-8 |
| Remove Color Class | Ctrl-0 (zero) |
| Set Star Rating | Alt-1 through Alt-5 |
| Remove Star Rating | Alt-0 (zero) |
Application Menu
| | |
| --- | --- |
| Preferences | Ctrl- , (comma) |
| Quit Photo Mechanic | Ctrl-q |