The Platypod Max is an anodized aluminum plate with a variety of 1/4″-20 and 3/8″-16 threaded holes in it. In the centre of the plate is also a fixed 3/8″ 16 stud for mounting a ball head. Four small feet allow you to adjust the height and angle of the plate, and these can be stowed away into a case when not in use. The idea behind the Platypod Max is that it gives you a multi-functional, lightweight support platform that can take the place of a tripod in some situations.
Intrigued about how useful I would find it, I purchased one from B&H Photo and in this post I'll give you my thoughts and explain when I ended up finding uses for it.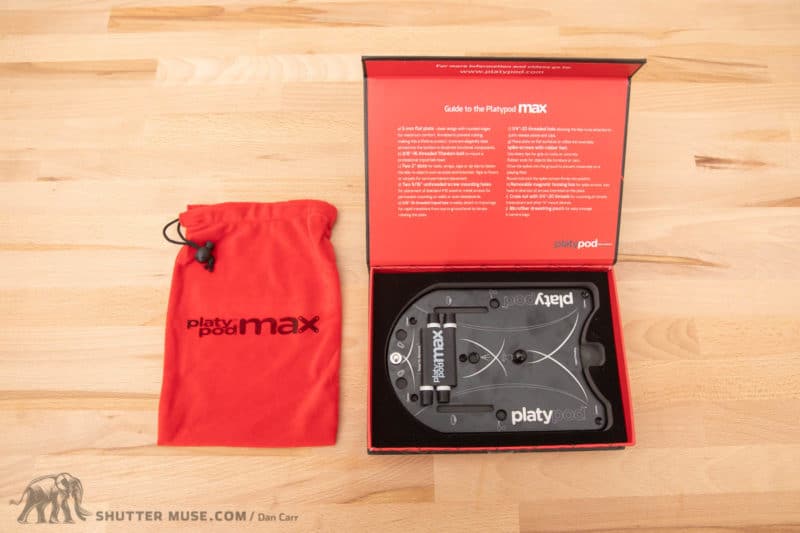 Specifications and Features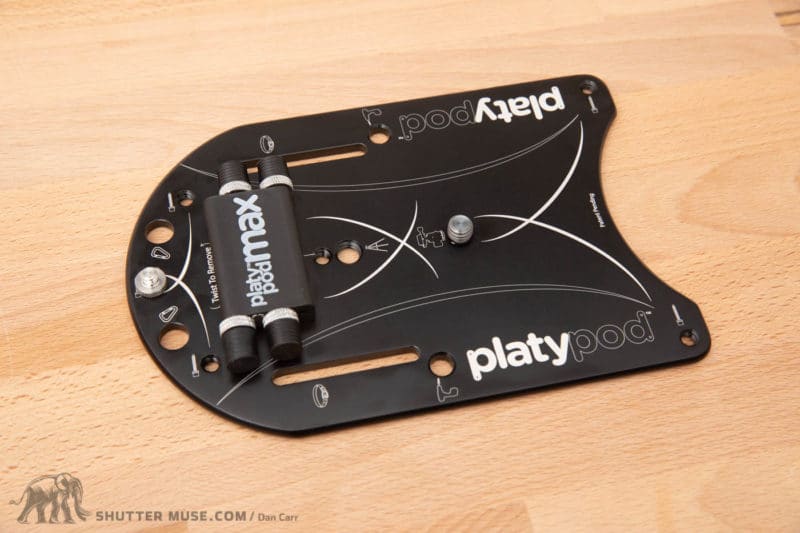 Fiberglass-reinforced nylon removable "bayonet style" storage box that holds four 1/4-20 spike feet. Small magnets hold spikes when stored.
Five 1/4-20 threaded holes to allow use of spike feet in configurations of one, two, three, or four at a time.
Two 2-inch belt slots to secure to any cylindrical object or to tape onto floors for remote camera setups.
Made of 6061 black anodized aircraft-grade aluminum. 5 mm thick. 5.25 x 7.75"
1/4-20 and 3/8-16 accessory threaded holes for attachment to tripods or quick-release devices.
3/8-16 TA2 titanium photographic bolt drilled, countersunk and welded in place for large tripod ball heads, even with spike feet in place.
Two nail/tent peg holes for permanent or semi-permanent mounting.
Weight: 13 ounces, including spikes.
1/4″ – 1/4″ male-to-male crossnut included (you can see it mounted on the front in the photos).
When is it useful?
I have had my Platypod for a couple of years now and found it to be useful in a number of situations, which is why I continually call it a multi-functional support system.
Firstly it's useful for macro photography when you need to get very low. If your tripod has a centre column, that will limit how low you can get to the ground. While I'm aware that most tripod centre columns are removable with tools, in the field this is a pain in the ass and it's much easier to grab the Platypod instead.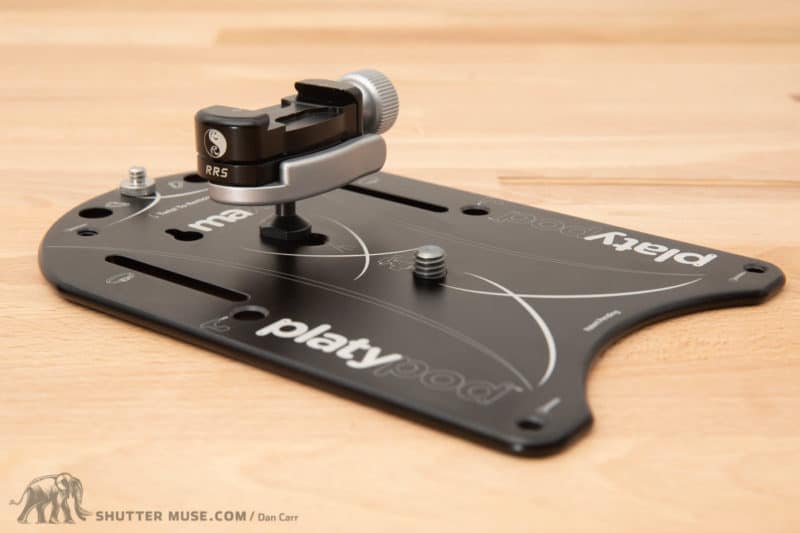 The second use for the Platypod Max is for low angle landscape shots with an ultra-wide lens. With a tripod I found it pretty much impossible to keep the tripod legs out of the shot when using the Canon 11-24mm lens at its widest setting. The Platypod can help you here, as long as you're going for a really low shot, or have a natural object like a rock or log to rest the Platypod on. I'm sure others will have run into this problem with similarly wide lenses.
The third use for the Platypod Max is as a lightweight travel solution when you simply don't have the space or weight allowance to travel with a tripod. Of course there are also many places these days that have "no tripod" rules and the Platypod will help you create a stable shooting platform in these locations. I have never heard of any of these "no tripod" locations having an issue with something like the Platypod because the primary concern of these locations is tripod legs causing congestion and trip hazards. As long as you use the Platypod raised off the ground in some way then you aren't causing a problem.
The fourth use that I have found for it is using it with super telephoto lenses when you need low angle wildlife shots. If you buy a generic plastic frisbee from Amazon, you can place the Platypod into the frisbee and use it to push your setup along the ground to sneak closer to your subject. It works particularly well on sandy beaches with shorebirds. Basically you are creating a version of the popular Naturescapes Skimmer product, but with a larger range of uses. If you find yourself using this particular setup often, you might consider drilling a 1/4″ 20 stud into the frisbee and using that to secure the Platypod. I have also used a piece of rubber in my frisbee to provide a little more grip. The stuff that you put into kitchen drawers is perfect to stop utensils rolling around it perfect.
Finally, I have also been getting into the world of wildlife camera trapping and the Platypod Max is very useful as a support for the camera trap on the ground, or strapped to a tree using a standard nylon ratchet strap. When place on the ground, the corner holes of the Platypod Max can be used with tent pegs to keep the setup solid, even if a curious wolf or bear is having a good ol' sniff of the camera. While I don't shoot professional sports anymore, I would also have loved using this as a remote camera plate in those circumstances.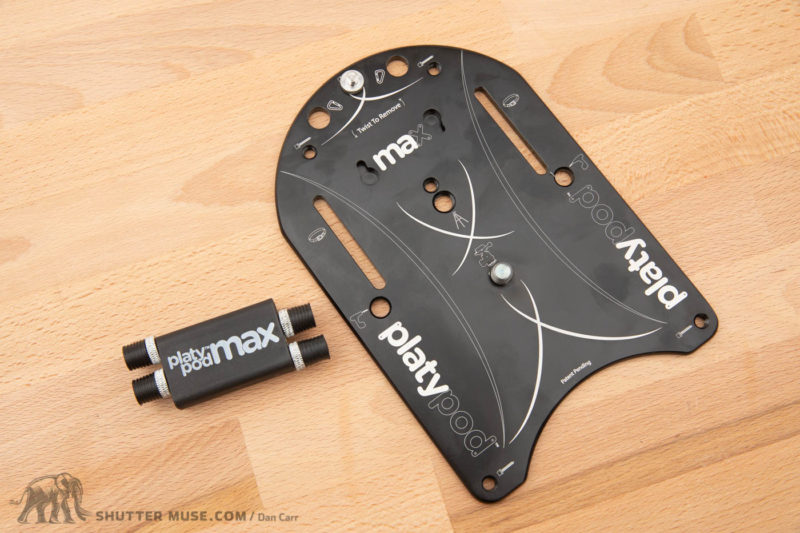 Platypod Ultra Vs. Platypod Max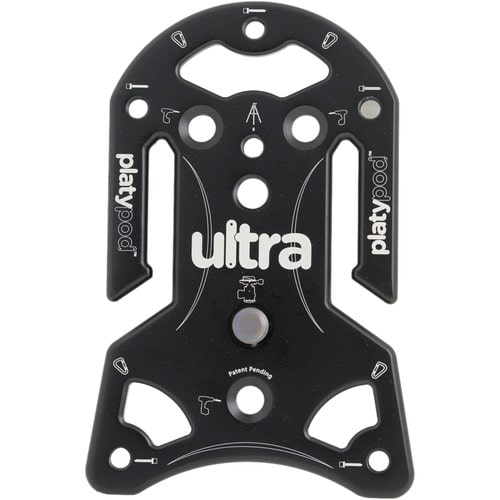 Platypod currently make two models; the Ultra and the Max. They both provide ample size to mount any ball head on the market, but the Ultra offers significantly less surface area when trying to balance a heavy setup with a larger lens. This isn't too much of an issue if you are using the Platypod as a stabilizer, with one hand remaining on the camera at all times, but it would be more of a concern if you want to go hands-off for things such as longer exposures, time-lapses or self portraits. Personally I think the Max offers enough additional stability for it to be worth spending the extra few dollars. Currently the Ultra is $59 and the Max is $99.
Platypod Accessories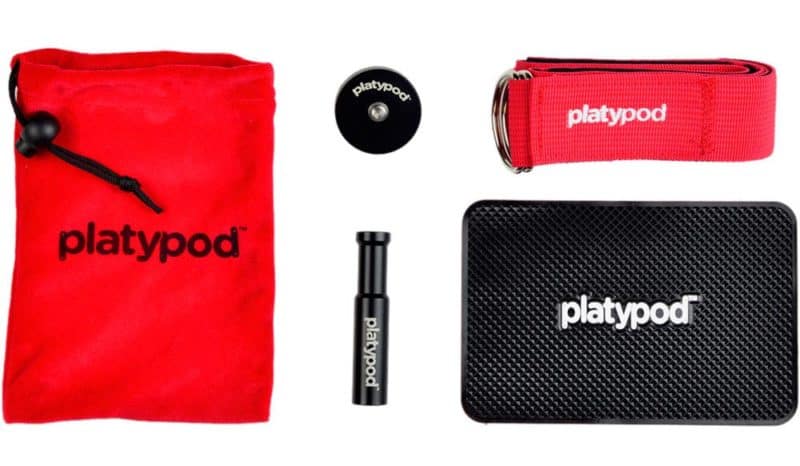 An accessory kit is available for $29. It includes a rubber mat to place beneath the Platypod if you are using it on scratchable surface, as well as a riser spigot to elevate your ball head or lighting gear, and a strap to mount the Platypod to a tree or other large static object.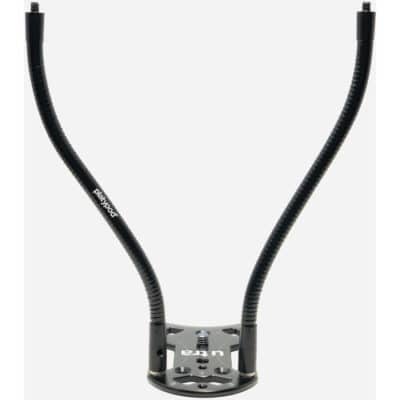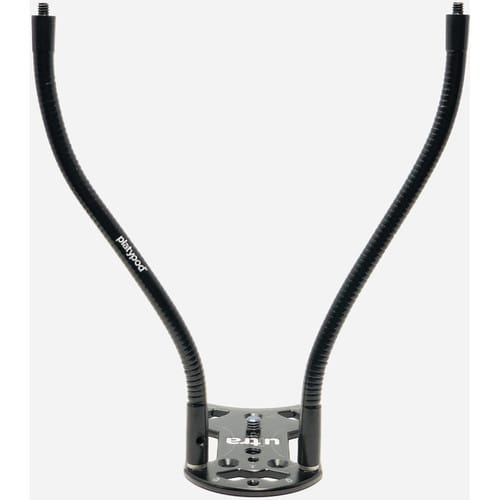 For the macro photographers out there, a pair of matching goosenecks are available for mounting lighting equipment.
Conculsion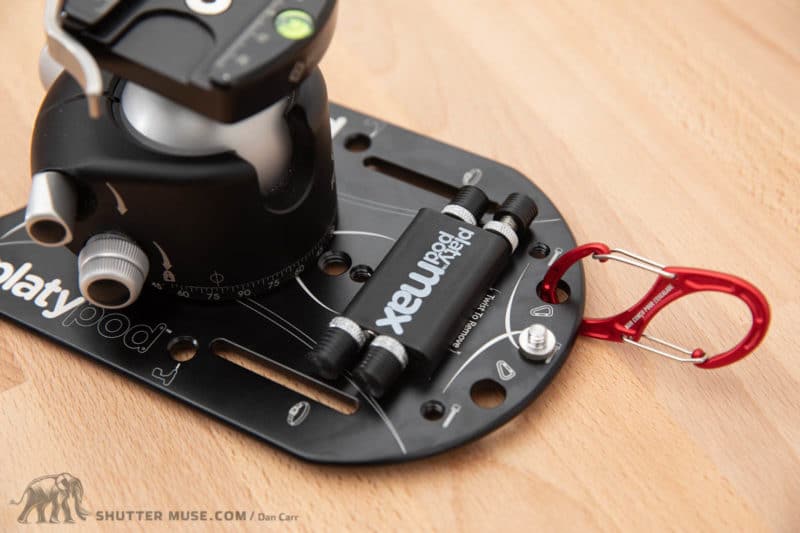 The Platypod Max is one of those photography accessories that you can buy once and keep finding new uses for it, which is why it finds a place in my Best Support Accessories gear guide. I also think the price is very fair for the well-machined, well-anodized, quality feel of the product. In fact I'd say that it has a Really Right Stuff-esque feel to it, which is definitely a compliment. I'm happy to recommend it to readers if any of the usage scenarios seem like situations you have encountered with your own photography.