Think Tank has added three EDC Tech Pouches to their range of organizational products. I liked the look of the open-book design, and I'm always looking for better ways to organize the small photo accessories in my camera bags, so I jumped at the chance to try these out.
Disclaimer: Think Tank provided the organizers for this review, but no money changed hands, and they were not allowed to see the content before it was published.
Table of Contents
Think Tank Tech Pouch Specifications
| Specification | EDC Tech Pouch 5 | EDC Tech Pouch 10 | EDC Tech Pouch 20 |
| --- | --- | --- | --- |
| Volume | 0.5 liters | 1 liter | 2.5 liters |
| Weight | 2 oz (54 g) | 2.5 oz (77 g) | 5.5 oz (160 g) |
| External Dimensions (in) | 5.25 W x 3.5 H x 1.5 D | 6.75 W x 3.75 H x 2.0 D | 9.0 W x 6.25 H x 2.5 D |
| External Dimensions (cm) | 13.3 W x 8.9 H x 3.8 D | 17.1 W x 9.5 H x 5 D | 22.9 W x 15.9 Hx 6.4 D |
| Price | Check Price | Check Price | Check Price |
Materials: Nylon/Poly Double Diamond two tone 210/320, Poly 200D, YKK® RC zippers, 3-ply bonded nylon thread, Durable water-repellant (DWR) coating.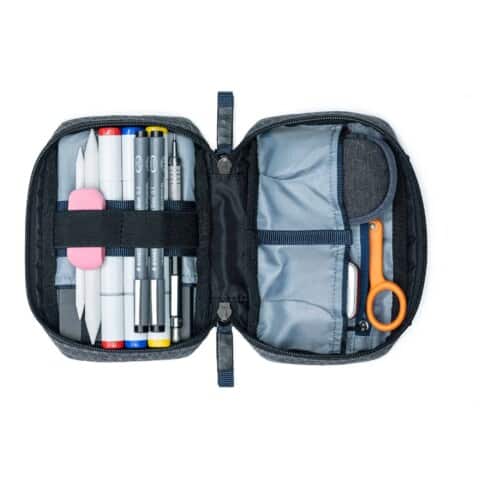 Tech Pouch Design and Features
The Tech Pouch 5 and Tech Pouch 10 have identical configurations, with only a slight size difference to differentiate them. The jump up to the Tech Pouch 20 is much larger. The Tech Pouch 20 is more than twice the size of the 10. It also adds two clear TPU pockets and ups the total interior pocket count by two, compared to the smaller models.
What's great about the design of these EDC organizers is their thin profile. I can easily fit the Tech Pouches 5 and 10 into the pocket of my pants or most internal pockets of my camera bags. The Tech Pouch 20 is quite a lot larger, but it still maintains that flat profile, making it easy to fit into the lid pockets common on many photography backpacks. While I have often struggled to find room for the bulkier accordion-style organizer popularized by the Peak Design Tech Pouch design, I never had such trouble with the Think Tank organizers.
Internal Zippered Pocket
Each Tech Pouch has a zippered pocket inside it. I found this a helpful place to store several small hex tools I use for tripod heads and L brackets. You might also use it as a clean space to keep your lens cloth or a secure compartment for some memory cards if you use them in their original plastic protective cases.
Internal Storage Rails
The internal storage rails are constructed from nylon webbing and elastic. When securing your items, you can choose to use either or both. They're great for storing BlueTooth camera remotes, shutter cables, USB cables, pocket knives, and multitools.
Internal Open Pockets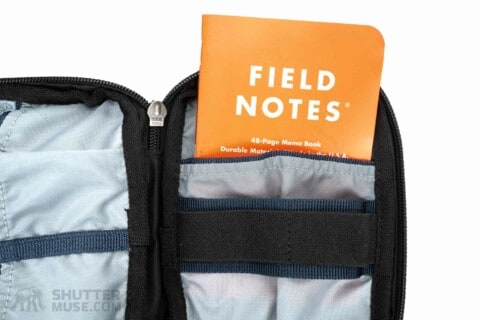 I can't include an exhaustive list of everything that fits in the internal pockets, but here are a few of my favorites. Small camera batteries will fit in the pockets of the smaller EDC TP 5. If you have a pro-sized camera like a Nikon Z9, two of those batteries can fit in the EDC TP 10. Small notebooks will fit in the EDC TP 10, while larger notebooks, A5-sized, will fit in the EDC TP 20. Think Tank's range of memory card holders is also a perfect fit for the EDC TP 10.
Although I have found uses for all three sizes, my favorite is the EDC Tech Pouch 10. The pockets are perfectly sized for all of my must-have accessories for any day of photography. I pack a pair of spare batteries, a BlueTooth camera remote, a wired shutter release, my Think Tank memory card wallet, a pocket knife, a few essential hex tools, and a lens cloth. This small EDC kit can then be transferred from one camera bag to another or even into a jacket pocket. Almost everything is evident in the above photo except the hex tools and the lens cloth in the zippered pocket.
Chunky External Zipper Pulls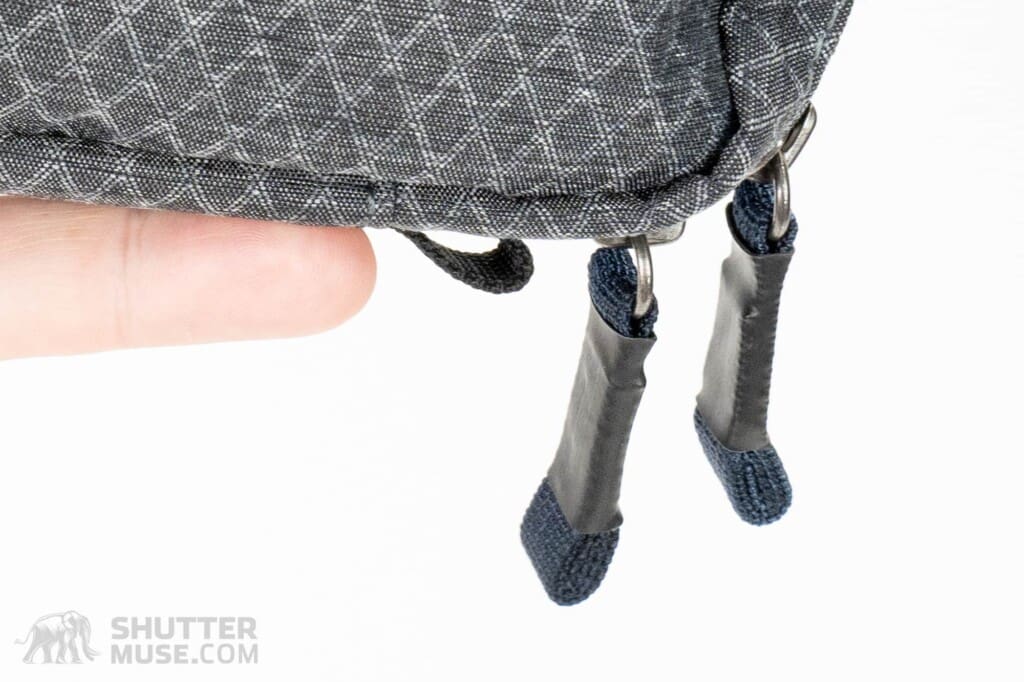 The YKK zipper pulls on all three models are made from chunky, shrink-wrapped nylon. They're easy to grab, even while wearing gloves.
Conclusion
Tech pouches have become a top-selling product in recent years. While some great products are on the market in this category, like the Peak Design Tech Pouch, I have often found them far too big to fit into a packed camera bag. Think Tank's range of EDC Tech Pouches is different. The flat design and range of sizes mean there is a size for every photographer that easily fits into the usual zippered interior pockets in most camera bags. These well-made, tidy little accessor organizers quickly found their way into my everyday photo kit for organizing small items like batteries, memory cards, shutter cables, and lens cleaning cloths.
Since these products are not marketed explicitly at photographers, you may read this review without caring how well they fit into a camera bag. In that case, my point still applies to you. These tech organizers offer a different form factor and, crucially, a smaller size and lighter weight compared to many other tech organizer options on the market. There will certainly be people who, particularly in the one-bag-travel segment, struggle to find space for the bulkier tech pouches from the likes of Peak Design, Evergoods, Bellroy, Aer, Moment, and Alpaka. In that case, the Think Tank EDC Tech Pouches are a welcome addition to the travel accessory market.
Where to Buy
US Customers get a free gift when they spend over $50 in the Think Tank/MindShift online store after clicking this link. For more details, or if you have any issues, see this post.
I appreciate it when you use our links for your purchases. US customers should order directly from Think Tank to get that special offer if they spend over $50. Canadians are best to order from B&H to take advantage of their free shipping deals and the ability to pre-pay the duties. This usually still works out cheaper than buying within Canada.