Think Tank Photo recently launched Version 2 of their StreetWalker Rolling Backpack and when I was reading through the specifications, it got me curious and raised a few questions. Think Tank also makes another rolling backpack called the Airport TakeOff V2, so how do these two bags differ? Why do there need to be two rolling backpacks in the product lineup? After some digging, I found the answers.
Initially, I thought that they must be significantly different in size, but upon closer inspection, they were not. The TakeOff roller is a little wider than the StreetWalker roller, but the latter is a bit taller, so the overall volume is very similar.
To figure this out, I quickly emailed my contact at Think Tank Photo to get his thoughts on it. If I'm sitting here wondering this, other people must be too! I like the idea of a roller bag with backpack straps, but I needed to get to the bottom of this so I could share it with all of you.
After a quick back-and-forth on the email, I had my answer, and it turned out to be simple:
Now it makes sense to me! The primary goal of each of these two bags is very different. On the one hand, you've got the StreetWalker that is designed to live on your back most of the time but can hit the ground and roll through airports and other flat areas. Then you have the Airport TakeOff, designed to roll around airports and media centres but has a set of backpack straps for those times when you need to get up lots of stairs or cross rougher ground that can't be rolled. For example, anyone who has used a roller knows that gravel car parks are their nemesis.
Both bags can carry up to a 16″ laptop, and roughly speaking, they will haul the same amount of gear, albeit in slightly different configurations due to the differences in shape. From a gear capacity perspective, the most significant difference I could find was that the TakeOff could hold two pro-sized bodies (side-by-side at the top of the bag), whilst the StreetWalker can only hold one pro body due to the tapered corners and generally less boxy design.
Which one would be right for you?
Airport TakeOff V2
Internal Dimensions: 13" W x 18.5" H x 5.3– 6.8" D (33 x 47 x 13–17 cm)
Exterior Dimensions: 14" W x 21" H x 8" D (35.5 x 53 x 22 cm)
8.7–9.7 lbs. (3.9–4.4 kg) Depending on accessories used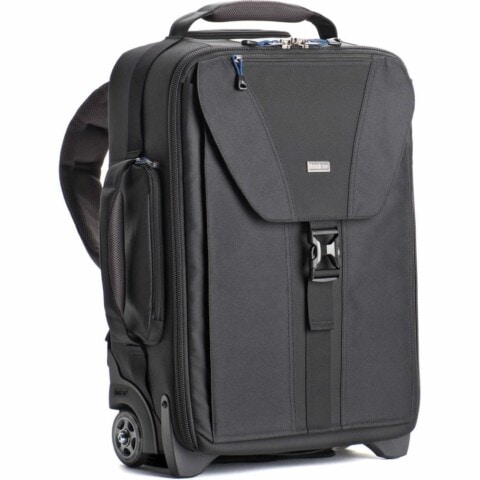 StreetWalker Rolling Backpack V2
Internal Dimensions: 11.8" W x 19.7" H x 6.3–7.1" D (30 x 50 x 16–18 cm)
Exterior Dimensions: 12.6" W x 21.9" H x 9" D (32 x 55.5 x 22.9 cm)
8.2 lbs. (3.7 kg)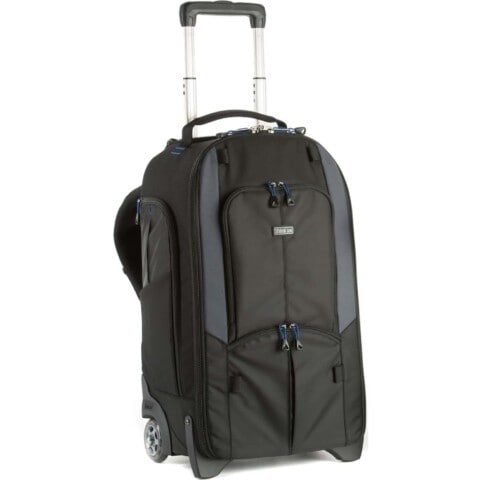 Buy and Get a Free Gift
As always, I appreciate it when you use our links for your shopping. You can find the StreetWalker and the TakeOff bags at the links below. I recommend US readers buy directly from Think Tank to get a free gift at checkout. Canadian readers usually best buy from B&H Photo to take advantage of their free shipping and the ability to pre-pay the duties. This still works out cheaper than buying from Canadian retailers.
US Customers get a free gift when they spend over $50 in the Think Tank/MindShift online store after clicking this link. For more details, or if you have any issues, see this post.