Apple's addition of USB-C ports to iPhones from the iPhone 15 onwards has opened up a world of possibilities for photographers. Initially, I was most excited about plugging a small SSD or memory card reader into the phones and taking advantage of the faster USB 3.2 Gen 2 10gbps file transfer speeds of the Max and Pro Max models. This all works great, and using UGreen's 4-port USB-C 10gbps hub, I can simultaneously connect multiple Crucial X9 SSDs and a card reader to my phone. Brilliant!
Once I had that figured out, I wondered what else might be possible with the USB-C port. With my Sony a7R V set to mass-storage mode in the USB settings (MENU → (Setup) → [USB] → [USB Connection Mode]), I connected it directly to the phone and could grab RAW files directly from the camera, just like attaching a card reader. This is also very useful because the wireless transfer of images from most cameras to a phone is painful. It doesn't matter whether I'm using my Canon, Nikon, or Sony cameras; the wireless file transfer experience is clunky to the point that I barely ever bother with it. Now, it's much easier to carry a short USB-C data cable in my camera bag and connect my iPhone to my camera.
Can You Charge Your Camera From a USB-C iPhone?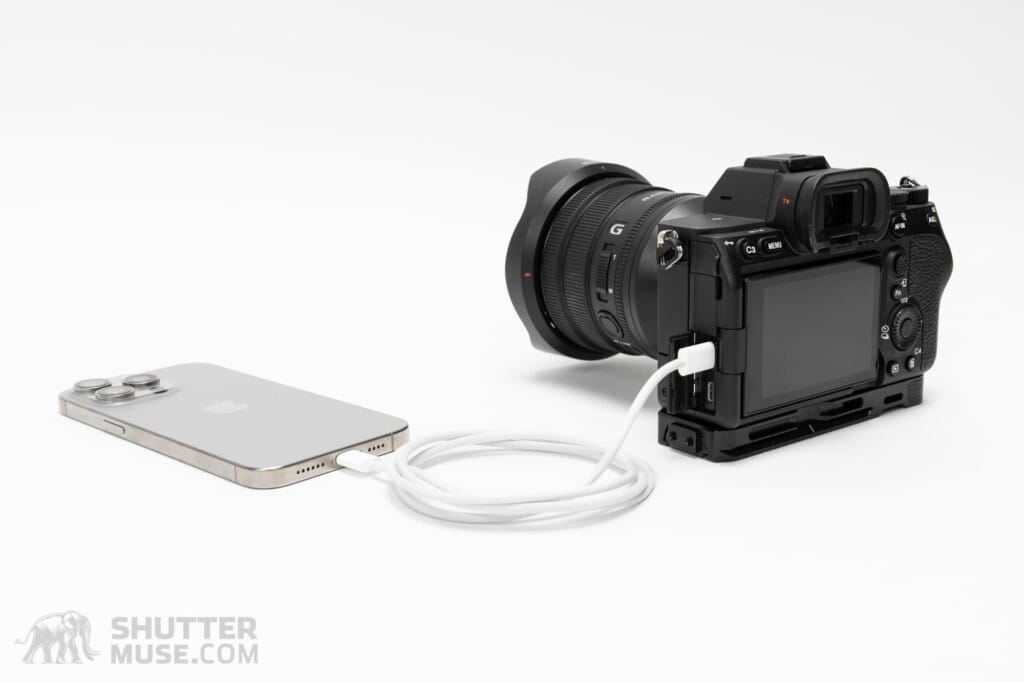 During Apple's iPhone 15 presentation, they mentioned that charging USB-C Apple AirPods from the phone would now be possible—a cool feature. But like most people, I assumed some special Apple device handshake took place and that this power output feature of the phone would be limited to AirPods and other USB-C Apple devices. As it turns out, that's not true.
When I connected my Sony a7R V directly to my iPhone with a USB-C cable and the camera in mass storage mode, I was surprised to see the camera's power supply indicator appear on the LCD screen. While connected to the phone and transferring images, the camera drew power from the iPhone's battery. I then confirmed that as long as the USB power supply is enabled in the Sony camera settings (MENU → (Setup) → [USB] → [USB Power Supply]), the camera will charge from the iPhone. You do not have to perform any file transfer actively for this to happen. Essentially, the iPhone with a USB-C port works like any other USB-C power bank. But you need to know a couple of gotchas, depending on the camera brand.
Thing You Need to Know
The first thing to know is that the iPhone's USB-C power output is limited to just 4.5W. This is much less than a typical USB-C power bank, from which you could usually expect 15-30W outputs. In real-world terms, it means the phone charges your camera quite slowly. So, while you should not rely on this hack to replace your standard camera battery charger, it can be a helpful trick to get you out of a sticky situation. If you forget to bring a spare battery with you one day, and the battery in your camera runs dry, plugging your USB-C iPhone into your camera can give you enough juice to take a few more photos. For example, I charged one of my mirrorless cameras from my iPhone by 10% in about 15 minutes. That would easily allow me another 100 shots from the camera or many more if I shot large bursts. Nothing to be sniffed at!
The second thing you need to know is that the phone will only charge the camera if it has more juice in its battery than the camera. I'm not a USB-C power expert, but I believe this is a function of the power delivery protocol. The same thing can be seen if you connect two USB-C iPhones with a USB-C cable. The phones will negotiate a connection for a split second, and then the phone with the most charge will begin to charge the phone with the least charge. Again, in real-world terms, this means that you won't have any luck with this trick if you are trying to use an iPhone with very little charge left in it, plugged into a camera with a reasonable amount of power. The best scenario is a well-charged iPhone plugged into a dead or nearly dead camera.
Does It Work With All Cameras?
Of course, this is tough to answer. I have about eight mirrorless cameras in my office, all relatively new models with USB-C ports and spanning three brands: Sony, Nikon, and Sony. Testing this array of cameras and brands provided some revealing details. Here's what happened:
Results With Sony Cameras
I had no issues charging any of my Sony cameras directly from my iPhone with the Apple USB-C to USB-C cable. My test cameras included the Sony a7R V, Sony a7 IV, Sony a1, Sony a6700, and the Sony FX30. When writing this, these are most of Sony's latest cameras, so it's a fair bet that current and future Sony models will work this way.
In the past, I found that Sony cameras don't care what kind of USB power you offer them. They will charge and be powered continuously by anything from low-powered USB-A ports that don't have Power Delivery (using a USB-A to USB-C cable) right through to high-powered modern PD USB-C ports on power supplies of power banks. They will draw more power and, therefore, charge faster from the PD USB-C, but they aren't picky and can certainly be charged by an iPhone with a USB-C port.
What About Nikon Mirrorless Cameras Like the Z8?
With Sony testing completed, I moved to the Nikon Z8, the only Nikon camera I own. Like the Sony cameras, this is Nikon's latest and greatest at the time of writing. Moreover, it's the only camera I know with two USB-C ports—one for data transfer and one for USB-C power input and charging. From my experiments in finding a perfect Power Delivery charger for the Nikon Z8, I knew this camera could be picky with power requirements. However, much to my surprise, as soon as I plugged my iPhone 15 Pro Max into the Nikon Z8, the power supply symbol lit up on the camera's LCD screen. It works! I shut the camera down and left it plugged into the PD-labelled USB-C port on the camera, and slowly but surely, watched its battery percentage increase.
After this success, I wondered what would happen when using the other USB-C port on the Nikon Z8. The Z8 has two USB-C ports so photographers tethering the camera directly to a computer over USB-C can supply power to the camera through the second Power Delivery USB-C port, thus preventing any battery drain during a shoot. After more testing, I found that the uppermost USB-C port on the Z8 is data only. Using an iPhone or any other USB-C power supply, you cannot supply power through this port. You must use the lower PD USB-C port.
One thing to be aware of with Nikon cameras is the power supply connection keeps the camera awake. A USB-C power supply of any kind does not charge the battery when Nikon cameras are awake; it is designed to power the camera, and that is all. Theoretically, given enough power input, the battery will not deplete when plugged in and turned on. However, with the Z8, I saw a slow depletion of the battery. This means that, for the Z8 at least, it uses more power when turned on than the iPhone can deliver.
To get the Nikon camera battery to charge via USB-C, plug in the phone and then turn the camera off with the On/Off switch. Nikon cameras can charge over USB-C while switched off, and if you do this, you'll see the orange charge light on the side of the camera and the battery percentage slowly increases. As for other Nikon cameras, I'm not sure. I can't see any issues with this on other modern models, but I can't be sure. If you try it out and have success, please leave a comment to let me know which camera model you are using.
Does It Work With Canon Cameras?
Ok, what about Canon cameras? In this case, I had a Canon R7 and an R6 Mark II on my shelf. Both cameras have a USB-C port. Buoyed by my success with the Sony and Nikon cameras, I didn't think I'd have an issue with the Canon cameras, but, unfortunately, I don't have good news for Canon users.
Canon's mirrorless cameras work the same as Nikon's in that battery charging through USB-C only happens when the camera is switched off. When plugged into a suitable USB-C supply, the green LED on the back of the camera will light up. Only LP-E6N and LP-E6NH batteries are compatible with USB-C charging; you cannot do this with the old LP-E6. Sadly, when I connected my iPhone to these cameras, I could not get them to charge. Even when the cameras were switched on, I could not even get them to display the "connected to power supply" symbol normally seen when connected to higher-power PD battery banks or USB-C chargers.
Canon's Pointless Limitations
After more experimentation with various battery banks and power supplies around my office, I determined that Canon's mirrorless cameras require a minimum of about 27-30W from a Power Delivery device to trigger the battery charging circuitry. The iPhone's 4.5W output falls well short of this. Unlike Sony and Nikon, who make recommendations about minimum power but still charge slowly from lower-power PD devices, the Canon camera appears to have some sort of charging on/off circuitry that only switches on around the 30W level—a bit of a shame and, honestly, something that seems unnecessary.
To underline how arbitrary and pointless this is, I measured the power draw from the R6 Mark II connected to a compatible 30W PD charger and discovered that the camera only draws up to 7.57 watts while in battery charging mode and about 3.5 watts in "power on" mode. So, even though Canon is forcing its customers to find high-powered Power Deliver chargers, it isn't even using a third of the available power! At most, it barely draws more power than the iPhone's 4.5W offering while charging, and less while powered on. Meanwhile, my Sony cameras will suck up juice from whatever you give them—even old, low-powered non-PD USB-A ports. Perhaps I shouldn't be surprised by this. After all, Canon is the company that hasn't opened up its RF Mount standard to 3rd party lens manufacturers, so they don't seem to be huge fans of customer choice.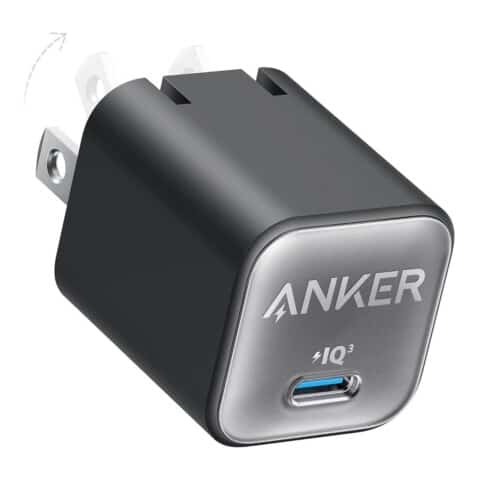 The only reason I can think of for this behavior is to try and force more people into buying the ludicrously overpriced Canon PD-E1 USB-C charger. You should never buy that bulky, overpriced piece of junk. Instead, get this pocket-sized Anker 30W charger for less than 1/5th the price of Canon's wall charger or this Anker 67W GaN 3-port charger for less than half the price. If you want a small battery bank, you can try the Anker 533 30W. I bought all these from Amazon and confirmed they work with the R6 Mark II. While the Anker options are great, you won't be able to top up your camera from your iPhone in the field as Sony and Nikon users can.
Is Your Camera Not Charging?
Unfortunately, the world of USB-C cables and power protocols is very complicated. While all USB-C connectors look the same, the capabilities of the cables can vary widely. If you think you should be able to charge your camera from your phone, but it isn't working, the first step would be to try using a different USB-C cable. The official Apple USB-C to USB-C cable included with the USB-C-enabled iPhones should do the trick. If it still doesn't work, please ensure you have plenty of juice left in your phone's battery. If that still doesn't work, your camera may require a minimum amount of power above the iPhone's 4.5W output. This is the issue I saw with Canon cameras so the same problem might occur with cameras from Fujifilm, Panasonic, Leica Sigma, etc. I cannot test them all.
If you get this to work, or you have trouble getting it to work, please leave a comment below so we can build up some community knowledge around compatible cameras.