ProGrade Digital has been making a name for itself recently with the launch of high-speed, high-quality memory cards backed by 3-year warranties and great US-based support channels. Alongside their various SD, CFexpress and MicroSD cards, they have also launched a series of professional quality dual-slot card readers that offer fast speeds and clever features such as magnetic stacking. I have purchased several of their card readers myself, and their reviews can be found on this site.
Today, ProGrade Digital is launching something different: A highly portable dual-slot UHS-II SDXC and MicroSDXC card reader that features an integrated USB-C connection and is barely any bigger than an SD card. ProGrade Digital offered to send this new PGM0.5 Dual-Slot Mobile Card Reader for testing, but they were not allowed to see the content before it was published. In this review, I'll show you the features of this new SD card reader, we'll take a look at some speed test results, and then I'll compare it with ProGrade Digital's larger dual-slot readers.
PGM0.5 Key Features
Dual-slot memory card reader for SDXC UHS-II and microSDXCcards
Transfer rates of up to 5Gb/s (625MB/s)
USB 3.2 Gen 1 Type-C connector
Operating temperature: -13℉ to 194℉ (0℃ to +60℃)
Warranty: 2 years
Price: $34.99
Design and Features
The PGM0.5 Dual-Slot Mobile Card Reader is the smallest memory card reader I have ever tested, measuring just 35mm x 37mm (1.37 inches x 1.46 inches) and weighing a mere 12g (0.4oz). As you can see from the photos, this makes it barely larger than an SD card.
I use a memory card reader plugged into a laptop or my Mac Studio desktop machine for my photographic work. Still, ProGrade Digital are keen to point out that the target audience for the new Mobile Card Reader is "A new wave of content creators" who increasingly edit photos and videos on mobile devices for a faster turnaround from camera to platforms like YouTube and TikTok.
While you can use the Mobile Card Reader with a laptop, the built-in USB-C connection is problematic, usually obscuring the neighbouring USB-C port many will want to use for power or external hard drive connection. When you consider this, it makes all the more sense that ProGrade Digital is pushing this product toward users editing on mobile devices such as phones and tablets that usually have a single USB-C connection.
In terms of build quality, the PGM0.5 feels solid enough for a card reader at this relatively low price point. Still, users of ProGrade Digital's more expensive, larger, professional-grade dual-slot readers should not expect equivalent robustness. I have no qualms tossing their larger readers "naked" into my laptop bag or travel duffel, but it feels like the diminutive Mobile Card Reader requires a little more protection. I recommend placing it into an internal pocket of your camera or laptop bag or a tech case with your drives and cables.
Theoretical Speeds
Both the SD and MicroSD card slots are SDXC and UHS-II compatible. These two card slots can be used simultaneously, with a theoretical maximum throughput of 625MB/s from the USB 3.2 Gen1 Type-C connection. While many other card readers use USB 3.2 Gen2, which has a maximum throughput of 1.25GB/s, it should be understood that such throughput would be wasted on SD or MicroSD cards. The fastest SD cards on the market have read speeds of roughly 300MB/s, so it's impossible to saturate a Gen1 connection, let alone a Gen2 connection, with two SD cards.
I assume that sticking to USB 3.2 Gen1 allowed ProGrade Digital to keep the costs down. The claim that this choice does not affect the reader's speed compared to their other Gen2 SD card readers will be tested later in the review.
Speed Testing
To test the speed of the Mobile Card Reader, I ran some basic tests using AJA and Blackmagic tools with a store-bought ProGrade Digital 64GB Cobalt Series V90 SD card. Getting accurate indications of card reader speed is notoriously tricky. The speed is affected by the card used, the computer it is plugged into, and the drive to which images are copied. As a result, all I was looking for was highly abnormal results, particularly in the area of read speeds, which is always the most important for a card reader. I was also keen to compare the speeds of this new Mobile Card Reader to the speeds I have seen from ProGrade Digital other card readers.
The ProGrade Cobalt card I used for the test had a theoretical maximum write speed of 250MB/s and a read speed of 300MB/s. Using the AJA testing tool, I consistently got write speeds of 236MB/s and read speeds of 271MB/s. I would consider this an excellent result. The ProGrade SD cards are some of the best on the market, so I'm not surprised to see those read and write figures, but the actual numbers here are unimportant. What is important is that the PGM0.5 reader isn't holding the card speeds back. This reader is easily capable of delivering excellent UHS-II card speeds.
This shouldn't be surprising as USB 3.2 Gen1 throughput is 625MB/s, but it's always good to confirm these things. I'm happy to qualify this card reader as at least as fast as any other UGS-II SD card reader I have tested in the past.
Compared to Full-Sized ProGrade Digital Card Readers
ProGrade Digital make several other dual-slot card readers that offer SD card slots or MicroSD. While they do not make another dual-slot reader that offers both SD and MicroSD, it's worth knowing about these other readers. They might be an alternative for you if you only need one card type or if you are willing to buy two different readers. The current ProGrade dual-slot reader lineup is as follows:
CFexpress Type B & UHS-II SDXC Dual-Slot Reader
Dual-Slot UHS-II SDXC Reader (both slots are SDXC cards)
CFexpress Type A & UHS-II SDXC Dual-Slot Reader
CFast 2.0 & UHS-II SDXC Dual-Slot Reader
Dual-Slot CompactFlash & UHS-II SDXC Dual-Slot Reader
Dual-Slot UHS-II microSDXC Reader (both slots are MicroSDXC cards)
The most significant difference is the size of these readers and the need to use a removable USB cable. These larger readers are supplied with USB-C to USB-C cables and USB-C to USB-A cables, making them compatible with USB-A ports. Something which cannot be said for the smaller Mobile Card Reader. The other significant difference is that using a USB cable does not block the adjacent USB-C port on a laptop.
I own several of these larger ProGrade dual-slot readers, and the SD card slots are all of a comparable speed. To compare their speed to the new Mobile Card Reader, I grabbed one of them and ran the AJA and Blackmagic tests on them using the same ProGrade Cobalt V90 SDXC card used in the previous test. As you can see, I achieved almost identical results using this card reader.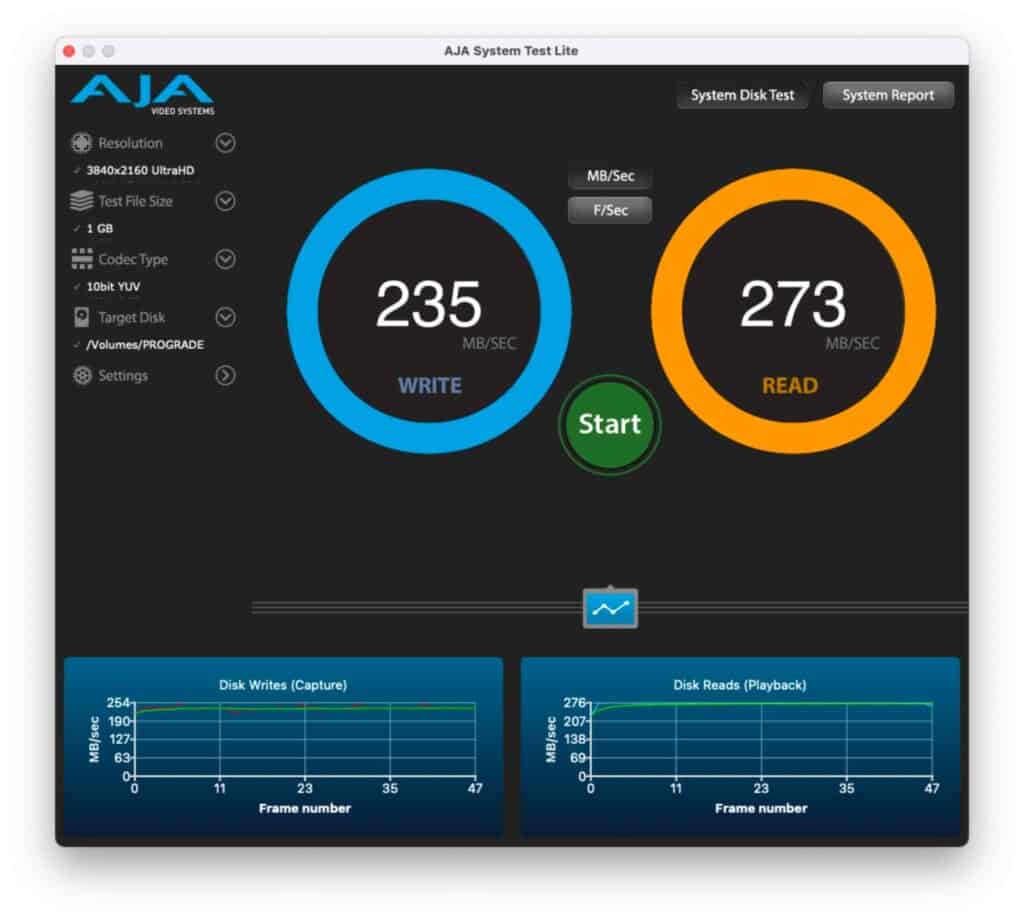 Again, what's important here is not the exact speeds. Those will change depending on the card that is used. It is essential to prove that the new ProGrade Digital Mobile Card Reader is no slower than its other readers, even though the Mobile Card Reader uses USB 3.2 Gen1, while all other Prograde readers use USB 3.2 Gen2.
If these card readers can't even saturate USB 3.2 Gen1 speeds, you might wonder why all of ProGrade Digital's other dual-slot readers even bother with USB 3.2 Gen2. The answer is that some of their other readers support card types that offer significantly faster speeds than SDXC. For example, CFexpress and CFast could theoretically saturate Gen1 speeds, mainly if both card slots were being used simultaneously.
Conclusion
The ProGrade Digital Dual-Slot Mobile Card Reader is an almost impossibly small UHS-II compatible dual-slot reader featuring SD and MicroSD card slots that can be used simultaneously. ProGrades Digital claims that this PGM0.5 Mobile Card Reader is just as fast as any of their much larger USB-C SD card readers, and I can confirm these claims are valid. In my testing, there was nothing to choose between them. The tiny card reader produced impressive results compared to its larger siblings.
If you need a USB-C card reader for SD or MicroSD downloads, no speed is sacrificed by choosing the Mobile Card Reader compared to their larger dual-slot card readers. However, the physical design of the card reader does need to be taken into account. The integrated USB-C connection will cause the card reader to block neighbouring USB-C ports when used on a laptop. For this reason, I would mainly recommend this card reader to those using mobile devices such as phones or tablets with a single USB-C port. Ensure you understand the port usage limitations if you plan to use it as a lightweight card reader for on-the-road laptop usage.
Overall, this is a very impressive card reader, made even more impressive when considering the $35 price point. At less than half the cost of ProGrade Digital's other UHS-II SD card readers, it delivers comparable speed with size and weight that's small enough to go unnoticed in your camera bag.