Note: Updates to this post have been ceased. When I first started to write it, I was under the impression that COVID would come and go within several months. I think it's fair to say that very few people envisaged that the world would be dealing with the virus and its industry effects several years down the road. We were wrong. And at a certain point, it became pointless to keep track of product delays in the photography industry. In the end, everything was delayed, to the point where these delays just became the new normal.
As the spread of the COVID-19 virus continues around the world, I thought I would gather together all the reported effects that it is having on the photography industry. This article will be updated periodically as things change.
Despite many cameras and lenses being manufactured outside of China, many of the other factories still rely on at least some number of small parts from Chinese factories. Rolling factory shutdowns, travel bans for workers, export delays and quarantines are making it almost impossible to make accurate long-term manufacturing plans at the moment.
We can therefore expect to see delays to the majority of products that are thought to be targeted for launch in 2020, including highly anticipated cameras such as the Canon R5, Sony A7SII and Sony A7IV. Popular new products that are already announced and shipping, can also be expected to experience supply constraints. In short, if there is something you really want, or need, there is no better year to think about placing a pre-order for that product and getting in line. Many stores don't even take payment or require a deposit to do this. Got a big trip or project coming later in the year where you think you want to use some new gear? Think about ordering (or pre-ordering) it now.
The majority of photographic accessories are also made in China, such as tripods and camera bags. I know that Shimoda are experiencing delays in fulfilling the orders of the Action-X camera bag from their recent Kickstarter campaign, and other accessory manufacturers have upcoming product launches on hold because they simply do not know when they can get initial stock of those products into their warehouses.
Of course, in a world where the health of many people appears to be at risk, such things might seem trivial. Prioritize all this information as you see fit within your own life. Wash your hands often, and practice self-isolation.
April 15th – Think Tank and Mindshift Launch 20% Off Sale


We continue to see major brands launching online sales, both to stimulate sales for themselves and also help out photographers who are suddenly budget limited for the gear they need. Think Tank Photo and MindShift Gear now have a 20% off sale that covers everything available in their online store. The sale will run until April 30th.
Now would be a great time to pick up the MindShift Backlight Elite… hint hint.
April 16th – Nikon Delays Nikkor Z 24-200mm Lens
More now-predictable lens delays from Nikon. They seem to have been particularly hard hit by production pipeline delays to their lenses. The Z 24-200mm lens is now delayed.
April 16, 2020 Product information

Thank you for using Nikon products. For the Nikkor lens "NIKKOR Z 24-200mm f / 4-6.3 VR", which we announced that it will be launched in April 2020, we decided to postpone the release date due to production reasons. We sincerely apologize for any inconvenience caused to customers who are waiting for this product. The target products for which the release date will be postponed are as follows. The release date will be announced once it is confirmed.
April 7th – Peak Design Giving Profits From Tripod Sale To Fight COVID-19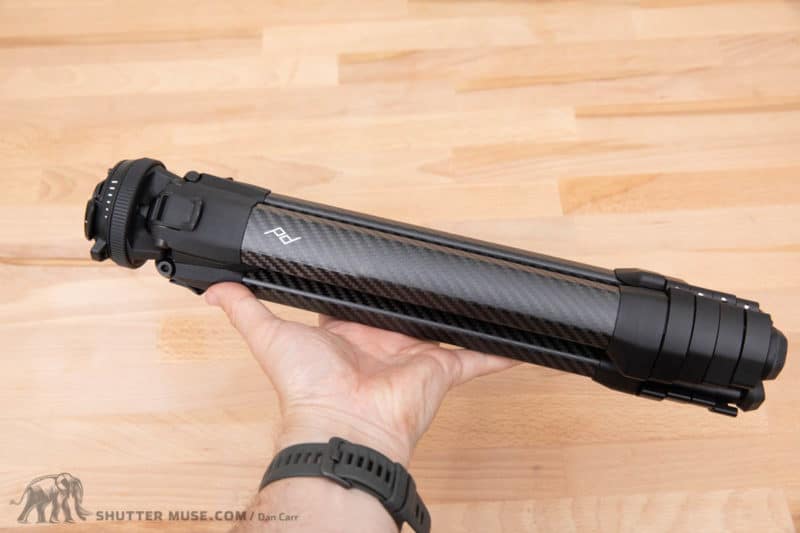 Peak Design just launched their Travel Tripod to the public, and for the first five days of its sale they are giving all profits to help fight COVID-19. This includes sales of the tripod from their website, as well as sale through third-party stores around the world. An incredible gesture!
I was fortunate to be able to test a pre-production version of the tripod on a trip to the Arctic Ocean last year, and can confirm that it is indeed a very good tripod.
April 5th – Photo Mechanic On Sale
The popular Photo Mechanic organization software is on sale right now for both upgrades and new licenses. I don't remember seeing Photo Mechanic on sale before, so this is worth looking at. Details can be found here.
March 31st – Peak Design BIG ASS Sale
Peak Design has launched a huge sale that runs until April 6th at midnight. Almost everything on their site is 20-40% off.
On April 7th the Peak Design Travel Tripod will finally be launching for sales through their website. All proceeds from the sale of the tripod on April 7th, 8th, 9th and 10th will be donated to fighting the COVID-19 pandemic. That's $120 per carbon fiber tripod, $70 per aluminum tripod. Amazing stuff!! This even counts for sales through retailers, not just through their online store.
March 25th – Skylum Donating $5 per sale to help fight the virus
Sklyum software, makers of Luminar, are donating $5 per sale to the WHO Response Fund. You can find out more about this here from their CEO.
March 23rd – Canon Shuts Some Service Centres
Not all Canon service centres are close yet, but it's just a matter of time. For now it is the centres in California, Illinois and New Jersey that are closed. Basically, don't break your gear at the moment!! Nikon have also shut down their service facilities.
Due to the "stay at home" directives from authorities in California, New Jersey, Illinois, and Hawaii, as well as local "Shelter in Place" orders, our Canon service facilities in those states are temporarily closed until further notice. Products needing repair can be directed to our Factory Service Center in Newport News, Virginia. Please note that walk-in service is not available at this location. We apologize for any inconvenience and delays that may occur during this time. We greatly appreciate your patience and understanding. We encourage you to use our online system to set up the service of your product at: https://www.usa.canon.com/repair.

– Canon USA
March 23rd – Nikon Shuts Down Service Centres
We are all experiencing unprecedented circumstances around the world as a result of the COVID-19 pandemic, and our thoughts and prayers are with those affected by the virus. Nikon's top priority is the health and safety of our customers, employees and the communities we serve.

I am proud of the dedication of our Nikon team who are working remotely and remain focused on providing the highest level of support possible at this difficult time. We are closely monitoring the situation and following the guidance of the Centers for Disease Control and Prevention (CDC) and federal/state/local health authorities.

Nikon Inc. has taken steps to ensure the safety of its employees by instituting office closings and remote work strategies in line with state and federal government mandates. These include the temporary closure of our repair service centers to prioritize the safety of our workforce and help limit the spread of the virus.

– Nikon Inc. President and CEO Bo Kajiwara
March 20th – Affinity Photo Discounted by 50%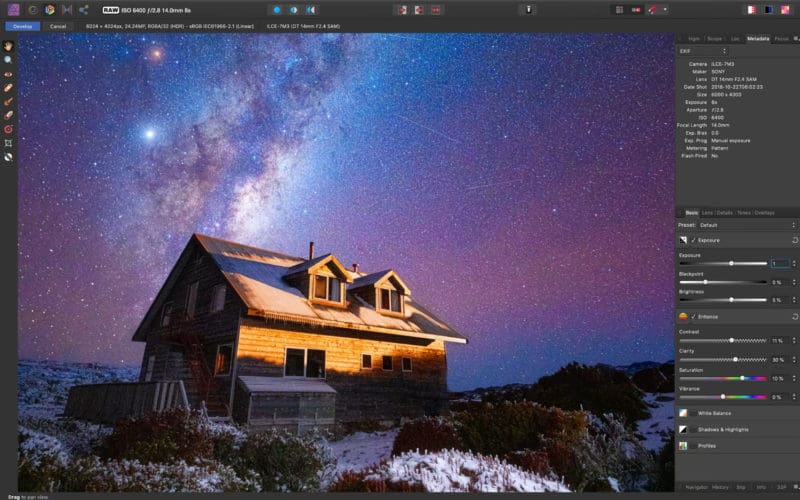 To help the creative community battle the difficulties caused by this virus, Serif has announced a 50% discount to Affinity Photo, Publisher and Designer. This makes each application just $25, an incredible price when you consider that they are cross-compatible with Adobe's file types like PSD files. Want to save some money and not use the Creative Cloud at all? Perhaps the Serif applications are your answer. There are no upgrade fees or subscriptions. Pay $25 now and it's yours for life.
I own all three of their applications already and highly recommend them. They are also offering a 3-month free trial. More details here.
March 19th – Adobe offer 2 free months of Creative Cloud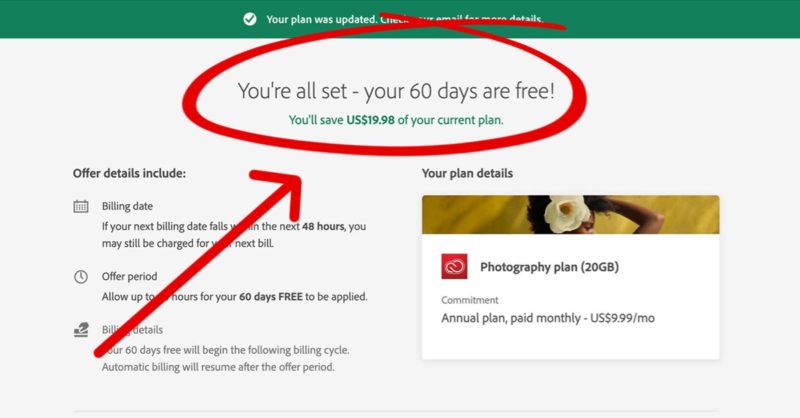 In the wake of the crisis, Adobe is giving people two free months of Creative Cloud. Here are instruction on how to claim it. I have done it myself to confirm that it works.
March 18th – Photokina Cancelled until May 2022!
Photokina was scheduled for 27-30 May 2020. It has now been cancelled, and the next one is scheduled for May 2022. A full two years from now. Honestly, the way trade shows are going these days, I find it somewhat hard to believe that we will ever have another Photokina. It's easier and cheaper these days for brands to simply livestream new product launches.
The management team of Koelnmesse has decided not to organise any own events on the part of Koelnmesse until the end of June 2020 – including the photokina. This decision is supported by the crisis management team of the City of Cologne, which also recommended in its meeting on 18.03.2020 to cancel the trade fairs during this period of time.

This decision also includes the cancellation of photokina, which was planned for 27 to 30 May 2020. The cancellation is also valid for the Imaging Innovation Conference for 26 May 2020. A new date will be coordinated.

We have also received enquiries from you about health and safety at the trade fair ground. The health of all trade fair participants is our top priority.

Added to this is the uncertainty of numerous customers and the complicated travel situation. Against this background it is currently not possible for us to offer a global business and community platform for the imaging industry in the usual quality.

The next photokina will take place in Cologne 18 to 21 May 2022. The 2022 orientation gives us enough time to design the next photokina according to the needs of the market, our exhibitors and visitors. All paid tickets will be refunded. Koelnmesse will arrange this centrally in the coming weeks. There is nothing further for you to do.

Sincerely, Your photokina team
March 18th – Personal Note
At this point it's clear that this is a more serious situation than most people imagined it to be. Essentially all large gathering around the world have been cancelled for the next few months, and many businesses around the world are being forced to close. Of course this will impact sales of cameras, and even if you buy one, I think it's only a matter of time before we see severe postal delays as delivery drivers and cargo airlines become part of the shutdown. Where I live, in the Yukon, we already have scaled back air service which is how most things arrive up here.
March 17th – Nikon Canada Closes NPS Repair Facility
Nikon prioritizes the health and safety of our employees and customers. As the COVID-19 situation continues to evolve, we are always considering what is best for the health and safety of our staff, our customers/members and our community. It is important that Nikon Canada do our part in keeping our community safe.

As such, we have temporarily suspended equipment repairs and NPS loaners at our service facility and are not currently open to walk-in customers. Any equipment reserved from now until April 1st will unfortunately be cancelled at this time.
March 14th – Leica Response
The health and safety of our Leica community is our top priority. With Coronavirus (COVID-19) present across the United States, we at Leica Camera Inc. have implemented precautionary measures to help protect both our community and our team members. Our Leica Akademie workshops, Leica Gallery openings and Leica Store events scheduled through May 5, 2020 have been postponed. We are reassessing dates as needed based on the most current information.

Our stores remain open at this time, however we recommend that you check for updated hours of operation as we continue to adapt to a rapidly evolving situation. For added convenience, our Facebook page (@LeicaCameraUSA) will be updated promptly with changes related to store operating hours and Leica programming. Leica stores and our team members are at your service following procedures suggested by the CDC, including heightened frequency and rigor of sanitizing equipment and high-touch surfaces. For those who prefer to explore and access our products remotely, we recommend visiting our online store at www.leicacamerausa.com.

We've taken preemptive measures to protect our team by temporarily closing our walk-in services for Customer Care, implementing social-distancing strategies in our corporate office and imposing restrictions on business travel. As such, you may experience increased response times from our Customer Care and Technical Service teams.
March 12th – World Press Photo Award Show Cancelled
We have decided, after intense deliberations, that the global situation surrounding the COVID-19 virus, requires us to cancel the World Press Photo Awards Show 2020 and the World Press Photo Festival 2020, due to be held in Amsterdam on 16-18 April…. The winners of the 2020 Photo Contest and the 2020 Digital Storytelling Contest – including the winner of the World Press Photo of the Year and the three other major awards – will be announced on the evening of 16 April 2020 (under embargo until 22:00 CET) and presented to our global audience through a wide range of online and media channels.
March 11th – Canon R5 and R6 Delayed?
As predicted, Canon Rumors is reporting that the upcoming Canon mirrorless cameras are experiencing considerable production slowdown that will either cause a massive initial product shortage, or a delay to their announcement, possibly to August 2020. It is said that Canon has not yet decided which of these two bad options to take.
March 11th – NAB Cancelled
As predicted a couple of days ago, after Nikon and Adobe announced their withdrawal from the NAB show in April, the show has now been cancelled.
NAB, held annually in Las Vegas during the month of April, is the largest broadcasting trade show in North America. While it's typically a show that see the major manufacturers launch cameras that are more targeted towards cinema and broadcast, it has been known for the odd mirrorless camera or DSLR to appear first at the show if it had particularly compelling video features. Think cameras like the Sony A7S, Panasonic GH5, Canon 5D Mark II back in the day…
In the interest of addressing the health and safety concerns of our stakeholders and in consultation with partners throughout the media and entertainment industry, we have decided not to move forward with NAB Show in April. We are currently considering a number of potential alternatives to create the best possible experience for our community

Gordon Smith – NAB CEO
March 9th – The Photography Show (UK) Postponed
Another show cancelled/postponed. The press release calls it a postponement, which is what any organizer would want, but whether that is a realistic hope is another matter. Of course no later date is given at the moment. While it's not one of the biggest global shows, it's a big deal for the UK industry, and it's a show I hold dear to my heart as it was the first big show where I delivered a photographic presentation myself.
To date, The Photography Show & The Video Show has been following Government guidelines regarding the continuation of our event surrounding the outbreak of Coronavirus. However, as the news has been progressing we have listened to the concerns, from all parties, around the health and welfare of their staff.

The wellbeing of our visitors, exhibitors, and staff is of the utmost importance, we have therefore taken the extremely difficult decision to postpone The Photography Show & The Video Show until later in the year, when we will be able to deliver the show you deserve. We are now working through the ramifications of this unprecedented situation.

Press release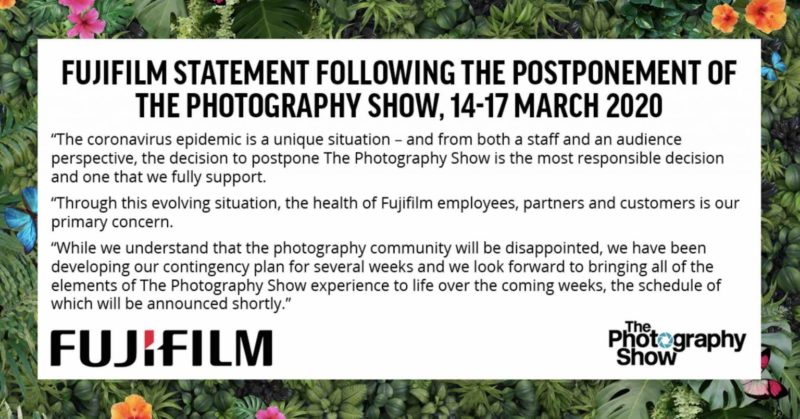 March 9th – Nikon D6 and 20mm f/1.8 Z lens delayed
Nikon has delayed the release of the flagship Nikon D6. Not a surprising move considering they already delayed most other new products. Apparently the shipping date for the new Nikkor Z 20mm f/1.8 has also slipped back to March 27th.
As a result of delays in the procurement of parts and components from a third-party cooperating company due to measures implemented in response to the spread of COVID-19, the release of the new Nikon D6 digital SLR camera, originally planned for March 2020, will be delayed

Nikon press release
March 9th – Adobe Pulls out of NAB
Unsurprisingly, more companies are starting to pull out of NAB following Nikon's announcement. Only a matter of days before the show is cancelled I assume…
While we are disappointed, the health and safety of our employees, customers and partners are always our priority. We look forward to engaging with our NAB community through a digital experience in the near future.

Adobe press release
March 6th – Nikon pulls out of NAB
Nikon has officially announced that they will be pulling out of this show, and it's likely that everyone else will do the same thing. I would expect an official announcement that NAB 2020 is cancelled, to come within the next two weeks, particularly in light of the first COVID-19 cases being confirmed in Las Vegas today (March 6th 2020).
New Nikon Lenses Delayed
Nikon announced that shipments of the recently launched Nikkor Z 70-200 f/2.8 and the Nikkor 120-300 f/2.8 lens have been delayed. As with any new camera and lenses, even when shipments do begin, supplies are likely to be highly constrained. For Nikon, the 120-300mm lens was undoubtedly a priority for the upcoming Tokyo summer Olympics as it is the perfect indoor sports lens. It remains to be seen whether they will get production of this $13,000 lens up to speed before the games. That said, it might become a moot point if the Olympics are postponed or cancelled.
Regarding the NIKKOR Z lens "NIKKOR Z 70-200mm f / 2.8 VR S" which was announced to be released on February 14, 2020, the release time has been postponed due to production reasons. We apologize for any inconvenience this may cause to customers waiting for this product

Nikon
The U.S. availability for the AF-S NIKKOR 120-300mm f/2.8E FL ED SR VR will be announced at a later date as we determine the global impact of the novel coronavirus outbreak. We will communicate updates on timing as they become available

NIkon USA
Perhaps the Z 70-200 was genuinely postponed due to production reasons not related to the virus, but I think it's fair to say that either way it has now fallen into this period of uncertainty.
Canon shuts down 5 factories
According to Nikkei, Canon shut down 5 factories "due to the influence of the new coronavirus". Although the factories are all in Japan, many of the parts supply chains start in China. Initially the intension was for these closures to be temporary, but there is no word yet about whether they have been reopened. Even when they do reopen, I'm sure supplies will be constrained. The factories in question are the ones that produce Canon's cameras and lenses, so there's no question in my mind that this won't have an effect on the timelines for Canon's upcoming mirrorless camera and lenses, such as the R5.
Fuji XT-4 Delays (and X100V?)
Fuji recently announced their top-of-the-line XT-4 mirrorless camera, but immediately stated that they expected initial supplies of the camera to be severely constrained. The XT-4 is manufactured in China. If you want an XT-4, you had better place a pre-order right now to get in line.
Although there has been no official word, I would imagine there will be supply issues with the Fuji X100V as well, since it was launched just two weeks prior to the XT-4. Although some stock could be found a few weeks ago from initial shipments, all online retailers seem to be out of stock at the time of writing. Again, place a pre-order if you want to get one this year…
CP+ Show Cancelled
The annual Japanese trade show, CP+, was cancelled in February 2020. This show is often used by brands to launch their latest cameras and lenses. Among other things, it was expected that Sigma would launch a new 70-200mm f/2.8 for the Sony E-Mount at this show.
What's worse though? Cancelling the show and the brands not having that platform to launch from and present the new products to the press, or launching the products and then not being able to ship them due to manufacturing closures? That's a tough one! I expect most brands struggled with the issue of whether to simply do an online launch of new products instead, or keep quiet just in case they were not able to deliver the new products in a timely manner anyway. Sony did launch the 20mm f/1.8 G lens, and this is already shipping worldwide so it suggests that they were at least confident that their manufacturing of that lens was far enough along that they could meet initial order demand.