The Shimoda Explore v2 series is designed for adventurous travel and landscape photographers. In this review, I will walk you through all the features, and we will also take a look at how the Explore v2 series compares to the Action X v2 series so that you can make a well-informed purchasing decision.
Disclosure: Shimoda sent me these bags to review. No money changed hands, and they did not get to see the content before it was published. These are my honest views about the Explore v2 bags.
Shimoda Designs has offered Shutter Muse readers a 10% discount on anything purchased through their online stores. US, UK, French, or German residents should use the discount code ShutterMuse10 after clicking here to access the store. Australian readers should use the same code on the local Shimoda distributor's site, Maxxum, instead.
Explore v1 vs. v2 – What Has Changed?
The original Explore backpack was Shimoda's first product. It was designed as a do-it-all outdoor camera bag whose broad size range (30L, 40L, and 60L) would suit various photographic pursuits, from travel and landscape to action and adventure sports photographers.
With the Action X backpack's later introduction, a bag targeting those action and adventure photographers more specifically, there was now some significant crossover between the Shimoda Explore and Action X lineups. For the Explore v2 series, a clear target from Shimoda was to clarify the line between these two Shimoda backpack products. The new Shimoda Explore v2 backpacks have been redesigned to accommodate the needs of travel and landscape photographers, with the introduction of features specific to the needs of those markets.
Explore v2 Improvements
New travel-friendly sizes (25L, 30L, 35L)
New Women's version in two sizes (25L and 30L)
Luggage handle pass-through
Filter pocket
Additional handles around the bag for repositioning on the ground
Second front zippered pocket added
12 strap attachment points for accessory straps
Stowable side pockets for tripod and water bottle
Dual access internal document pocket
Aired-out mesh harness
Aired-out mesh back panel
Lockable YKK zippers
Hidden passport pocket
These individual features will all be detailed and discussed as we go through the review. What I can say right away, though, is that the new features are all welcome additions. There isn't a single new feature that feels unnecessary or a step backwards from the original camera bag. This is good news. The Explore v2 isn't just a new bag for the sake of having a new product launch. This is a well thought out update that has clearly taken user feedback and transferred it to an updated design.
Shimoda Designs Explore v2 Specifications
Dimensions and Weight
Explore v2 Sizing
The original Shimoda Designs Explore backpack series was available in three versions with different volumes: Explore 30, Explore 40, and Explore 60. Those bags were launched before the Action X v2 series came to market. Now that the Shimoda backpack lineup includes the Action X v2 in 25L, 30L, 40L, 50L, and 70L sizes, Shimoda Designs has decided to adjust the sizing of the Explore backpacks to re-position them. The Explore v2 backpacks are now available in three sizes: Explore 25, Explore 30, and Explore 35. A dedicated teal-colored women's version of the Explore v2 is available in the Explore 25 and Explore 30 sizes.
Compared to most photo backpacks that cross my desk, I wouldn't classify any of these bags as huge. There are plenty of outdoor photography backpacks out there in the 40-50L range, such as the MindShift Backlight Elite (45L), the F-Stop Ajna (37L), F-Stop Tilopa (50L), Lowepro Pro Trekker 550 (40L) and Think Tank FirstLight 46L+.
This smaller sizing isn't a bad thing at all. What's nice about the new Shimoda Explore v2 sizes is that very few genuinely top-end photo packs are available in these smaller sizes. With most camera bag manufacturers, when you step down to the smaller sizes, you are also stepping down to a lower product tier with a lower price point. The Gura Gear Kiboko backpacks in the 16L and 22L sizes jump out at me as exceptions to that rule, but in general, super high-quality smaller photo packs are harder to come by.
Explore v2 Women's Series
Shimoda continues to lead the way in offering camera bags that fit a wider variety of body shapes and sizes. However, this isn't limited to adjustable torso length and their size booster kit availability. As part of Shimoda's Women's Series, the Explore v2 is available in 25L and 30L, with specially designed shoulder straps, adjustable hip belt padding, and an exclusive Teal color. The women's specific contoured shoulder straps use a twin sternum strap design to alleviate awkward pressure points around the chest.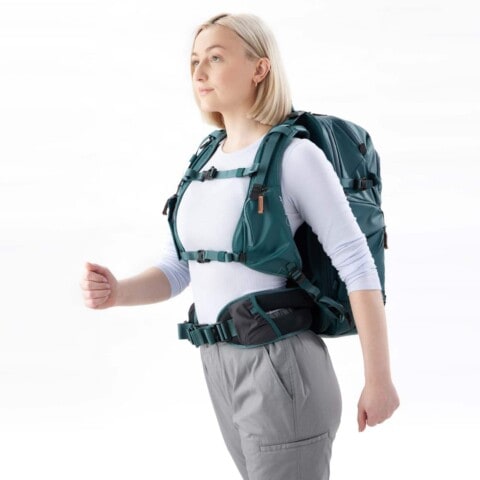 The Women's Explore v2 packs will please female photographers who often struggle to find correctly fitting packs for their smaller frames. I'm glad I can now recommend a smaller camera pack that doesn't compromise build quality and features.
My partner Kait uses the other Shimoda Women's Series bag, the Women's Action X. It uses the same shoulder straps and hip belt as the Women's Explore v2, so it feels the same to wear. Kait doesn't usually pay much attention to the torrent of gear that arrives weekly at our house, but she was smitten by the Shimoda Women's bag as soon as I showed it to her and explained the features. With a big smile, she said, "I LOVE this bag!!" I knew right then we would end up keeping that one for her.
It's not just the only camera backpack she has ever owned that's designed for a woman's body; it's the only backpack, period, that she had seen with these kinds of considerations. Out of over one hundred camera bags I've tested and reviewed, it's the only one she has ever wanted to keep. That says a lot!
Airline Travel with Explore Backpacks
I think Shimoda is playing it too safe with these carry-on definitions. Of course, you should always check allowable baggage dimensions with your airline carrier before embarking on a trip. Still, I have flown countless international trips with bags larger than any of these Explore backpacks. I've even flown with the Shimoda Action X 70 HD, a bag twice the size of any of the Explore v2 models.
The Explore 25 is a very small camera bag, so I don't want people to come away from this review or any of their research into the Explore backpack series, thinking this would be the only one they could take on an international flight. That's nowhere near the case. For example, I checked Air Canada's current carry-on regulations for international flights: 21in X 9in X 15.5in. This means the largest Explore 35 backpack easily falls within the allowable dimensions for that international flight. In fact, the allowable "personal item" dimensions are 13in X 6in X 17in, which means you could nearly take the E25 as your second item on the plane! If you removed the shoulder straps and carried it by the side handle, I think that's well within the realms of possibility.
So, please treat Shimoda's air travel recommendations for the Explore series as one with a significant safety net. I would not say that any of the new Explore v2 backpacks are large bags, and I would not hesitate to take any of them on any airline. The clean, no-fuss external design of these bags also works in their favor and should help them fly under the radar when overweight.
Shimoda Explore v2 Design and Features
Harness
The harness is made from an aerated mesh that is extremely comfortable. It is adjustable in all the right places and crucially features a torso length adjustment in three steps: S, M, L. Torso adjustment is becoming more common on high-end photo packs these days. Still, Shimoda Designs were definitely at the forefront of this concept went the original Explore packs were launched.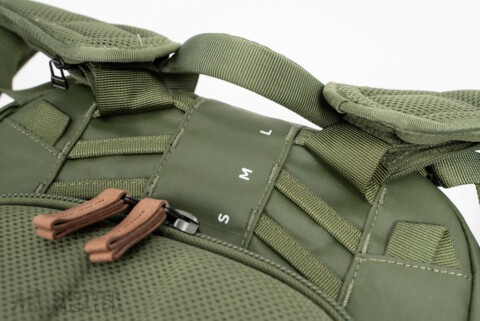 It's worth noting that, at first glance, the torso adjustment feature might look like a construction weak point. Having the bag's weight pass through those small bar tacks is not intuitive. However, I can confidently say that these stitching points are incredibly strong. The same design is used on my Action X50 backpack, and I have regularly loaded that bag with 60 lbs of gear and had no issues.
After putting some miles under my belt with the Shimoda Explore v2 packs, I'm confident these are the most comfortable outdoor camera bags I have ever used in this 25L-35L bracket. The severe contouring of the shoulder straps wraps around my torso in just the right way, and the top attachment point on the torso length adjust mechanism provides some lateral expansion that adds comfort to my very broad shoulders.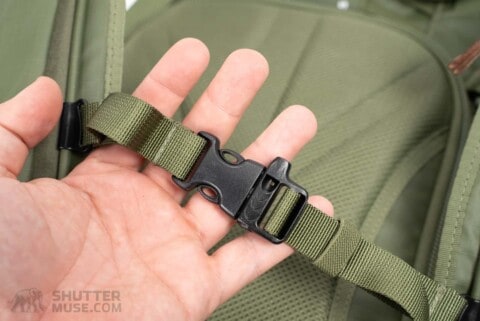 Aside from the general comfort of the harness on these, I'm also a big fan of the pockets' additional functionality. Living as I do in bear country, where a grizzly can be just around the corner, bear spray is a constant companion. The right-hand expandable pocket on the harness is perfect for this! The left-hand pocket is a bit of a tight squeeze with a "Plus" iPhone, but it's still doable if you don't have it in a bulky case. Alternatively, this is a great place to keep your In-Reach or another personal location device.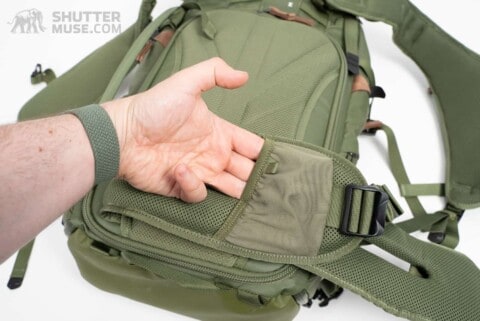 Camera Access
Your camera gear can be accessed through a zippered back panel or a zippered side panel. I'm a big fan of back panel access. For any outdoor photography, this is preferable to a bag with front access as it keeps the back of the pack clean when you lay the bag down in the dirt and therefore does not transfer that dirt to you when you shoulder the pack.
I'm not a user of side access in camera bags. It generally requires you to organize your internal camera unit less than efficiently to ensure the camera can be retrieved through the side door. Of course, its use is also limited because you can usually only retrieve the camera with whatever lens is attached to it. If you have four lenses in your bag, there is a 1-in-4 chance you have the right one. If you don't, you'll need to drop the pack and open the back panel. Or worse, you get lazy and use the lens you have side access to, despite it not being quite the right one for the job.
I have experimented with it many times and always returned to simply opening the back panel. Your mileage may vary. I assume there must be many people who like this feature as it keeps showing up on backpacks that I'm reviewing. Probably the best-use scenario is that you are using the Shimoda Explore 25 with its small Core Unit and only carrying a camera with a single general-purpose lens such as a 24-70 or 24-105.
Front Pockets
For the Shimoda Explore v2, a new lower front pocket was added to the bags. The profile of the pocket is relatively flat and, for travel, would lend itself well to guides such as Lonely Planet books. If you are traveling somewhere where pickpockets are a concern, the contents of this pocket would be the most vulnerable as it has a single zipper and, therefore, can't be locked.
I like the addition of this pocket. More organization is always welcome when travelling, as long as it doesn't make the bag too complicated and fussy. This pocket has been thoughtfully added in such a way, and location, that it doesn't alter the bulk or lines of the bag. If you don't use the pocket, you'll forget it's even there.
Above this, a much larger front pocket is internally divided by a lightweight nylon panel. Useful if you need to separate damp clothing from other gear. At the top of this pocket are two more zippered window pockets for small items such as batteries, USB cables, tripod/camera tools, and lens cloths.
Top Section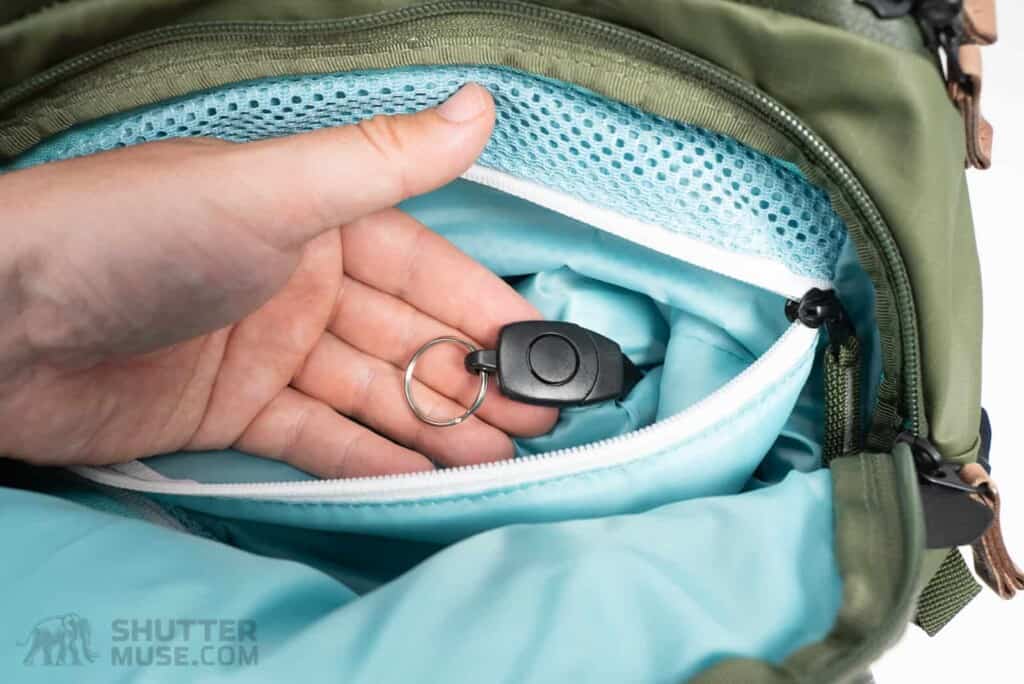 The main top zipper provides access to a gear storage compartment above the Core Unit. The compartment is made from lightweight nylon, and the amount of storage space you have up here depends on the Core Unit size you have chosen for your camera gear. At full volume, this section is large enough to store several extra layers of clothing, gloves, food for a day, binoculars, and more. It's a considerable space.
Inside this top section is two mesh zippered pockets for even more organization. One of these pockets is lightly padded and contains a quick-release key clip that can also be used to secure an SD card wallet. If you decide one day to use your bag for something completely different, you can remove this top section of the bag entirely, creating a regular backpack that uses the complete internal volume.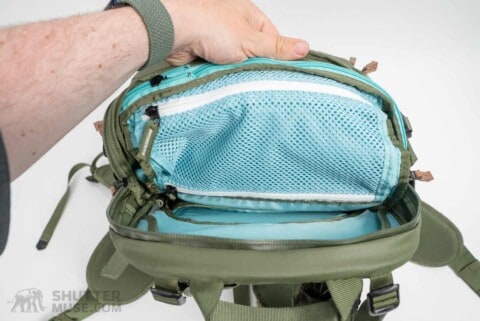 Another addition for the Explore v2 is a semi-hidden document pocket. This pocket is sewn into the rear of the top section. To access it, you either have to open a secondary zipper on top of the bag or get to it through the pack's back panel. This pocket has zippers at the top and the bottom to suit both access methods. In my testing, I found this pocket a good place for items you do not regularly need. The contents are not as quick to get to as things stored in the other two mesh pockets, so it would be an excellent place to store travel documents that are only needed at the beginning or end of your trip.
Side Pockets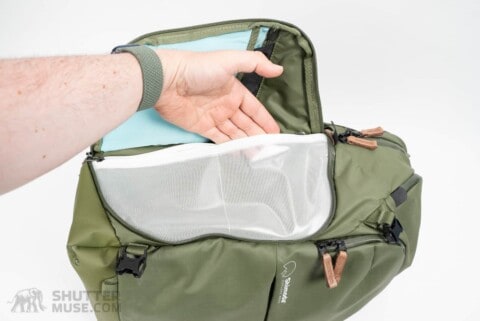 There are zippered openings on both sides of the bag. One of these gives you access to the camera compartment, and within that door flap, there is a secret padded pocket secured with hook-and-loop. If you like to use the side access for camera gear, you might want to slot the Core Unit side flap into this pocket so that it opens with the bag's side flap. If, like me, you don't use the side access for camera gear, this provides a conveniently hidden pocket where you can store cash and passports while traveling.
On the opposite side of the bag, a similar-looking zipper gives you access to a pair of smaller zippered filter pockets. You're also seeing the rear of the pocket that stores the water bottle/tripod holder, and there is room in that pocket to hold additional smaller items if the ten other pockets aren't already enough for you!
Water Carry
The bag's front pocket has a connection for hanging a water bladder, and the hose can be routed through the pack to the shoulder strap. The internal elasticated divider in the front protects your gear should you suffer a total water bladder failure. Alternatively, you can use one of the two hidden side pockets to carry a 1L Nalgene bottle. If you don't need a large volume of water, a third possibility is to use the expandable pocket on the harness to carry a small soft-sided bottle often used by adventure racers and long-distance runners.
Tripod Carry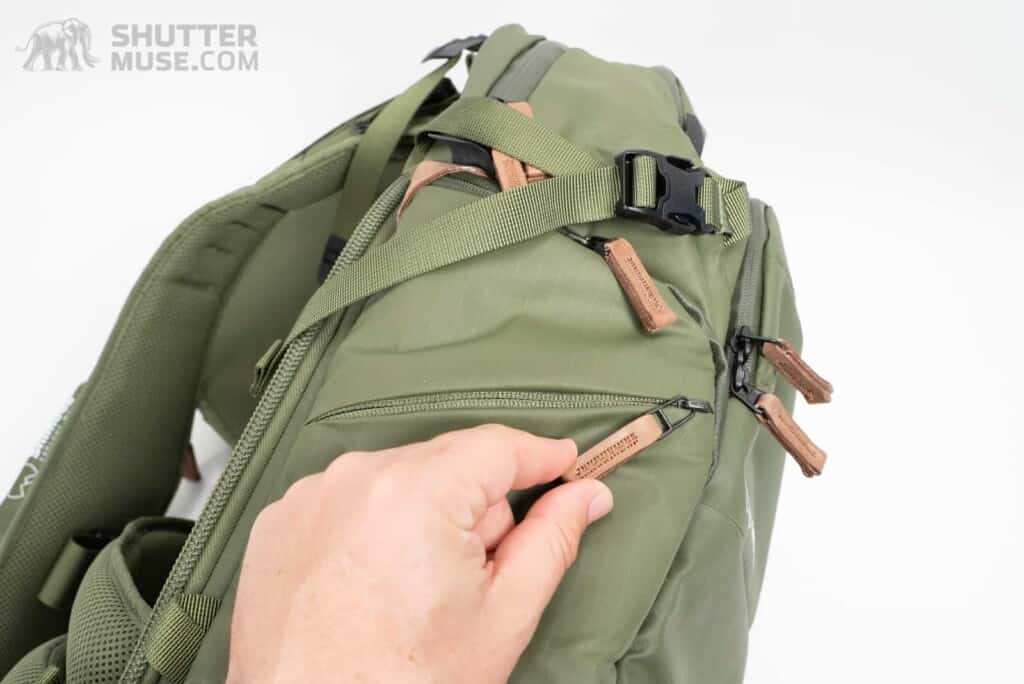 You can use the accessory straps to attach a tripod to the front of the pack, but this impedes entry to the front pockets. A better solution is to use the hidden tripod/water bottle cups tucked away on the sides of the bag. Many photo packs have a side pocket for this purpose, but Shimoda's packs are the only ones I know where you can completely tuck them away when not in use. This is a valuable feature for travel, as it gives the bag a nice clean line and makes it look much smaller.
Laptop Carry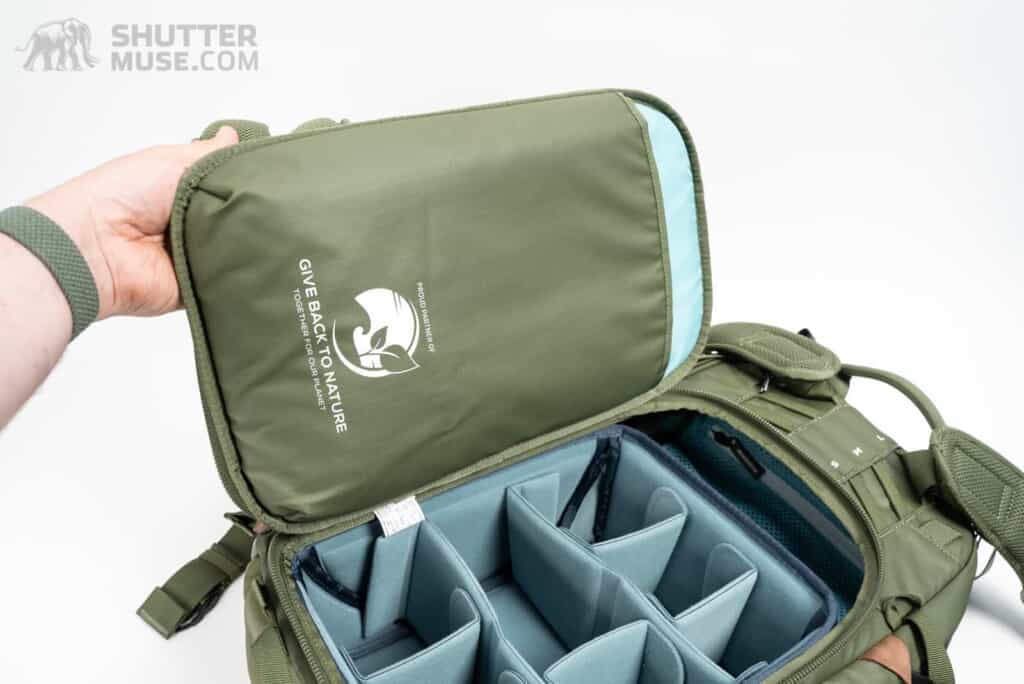 All three sizes of the Explore backpacks feature a thickly padded laptop sleeve on the inside of the back panel. The Explore 25 can carry up to a 13″ laptop, while the Explore 30 and Explore 35 can carry up to a 16″ laptop. The laptop sleeve in this location protects it from theft and bumps. You can easily pull it upwards from the bag by partially unzipping the top part of the back panel when you have limited space, such as on an airplane.
Rain Cover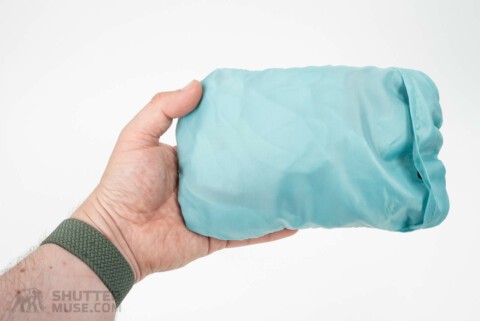 The Explore backpacks are made from highly weather-resistant material and feature YKK AquaGuard zippers. If you get caught in a brief shower, this isn't going to present you with any problems. Eventually, some water would get into the bag, but it would take a big downpour and prolonged exposure. Shimoda Designs does offer a rain cover for the bags for a very reasonable $7.95.
Whether this is worth it to you likely depends on where you live or where you plan to shoot with the bag. On most days, unless rain was specifically forecast, I'd probably risk it and not take a cover to save some room and weight in the bag. If I were traveling to Asia during monsoon season, I'd take a rain cover. For less than $10, it's worth having the cover in your gear closet. After all, these bags are designed for travel, so who knows where you will take them!
Shimoda Core Unit Choices
Compatible Core Units
Explore 25 – Small Mirrorless
Explore 30 – Small Mirrorless / Medium Mirrorless / Large Mirrorless
Explore 35 – Small Mirrorless / Medium Mirrorless / Large Mirrorless / Small DSLR / Medium DSLR / Large DSLR
Core Units are Shimoda's version of camera inserts. Unlike most other camera inserts, these have an internal frame that gives them a lot of structure and allows the walls to be a lot thinner for more efficient use of the bag's internal space. They are available in multiple sizes (S, M, L, XL, XXL) and three depths (DV, DSLR, and Mirrorless). The deepest Core Units, the DV lineup, will not fit in the Explore backpack, only the Action X70 HD, so we will skip over those and concentrate on the Mirrorless and DSLR Core Units in this review.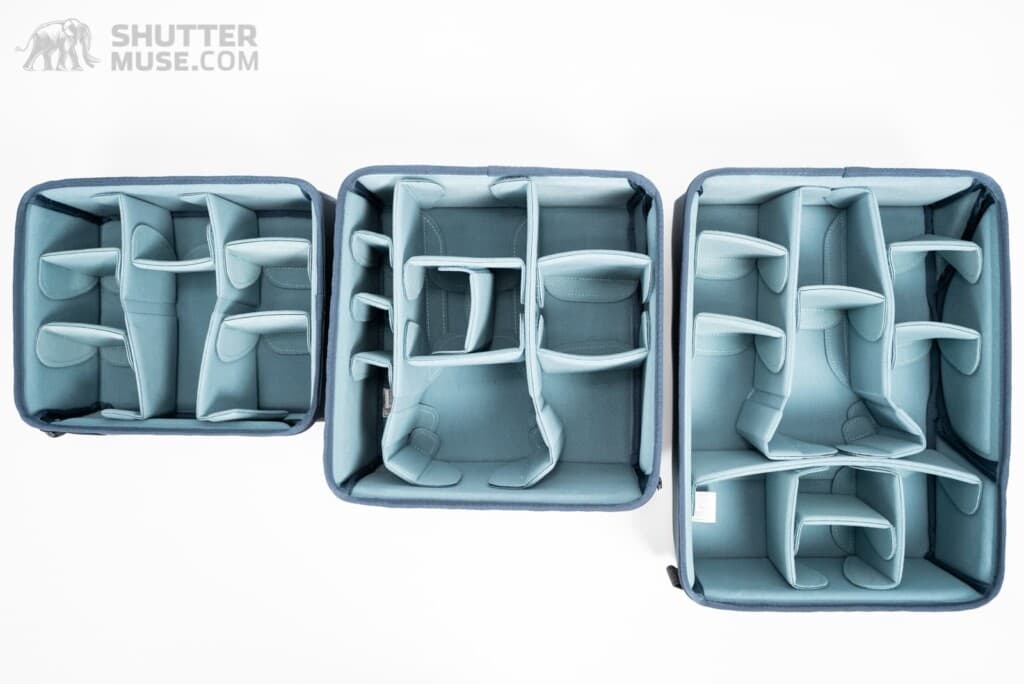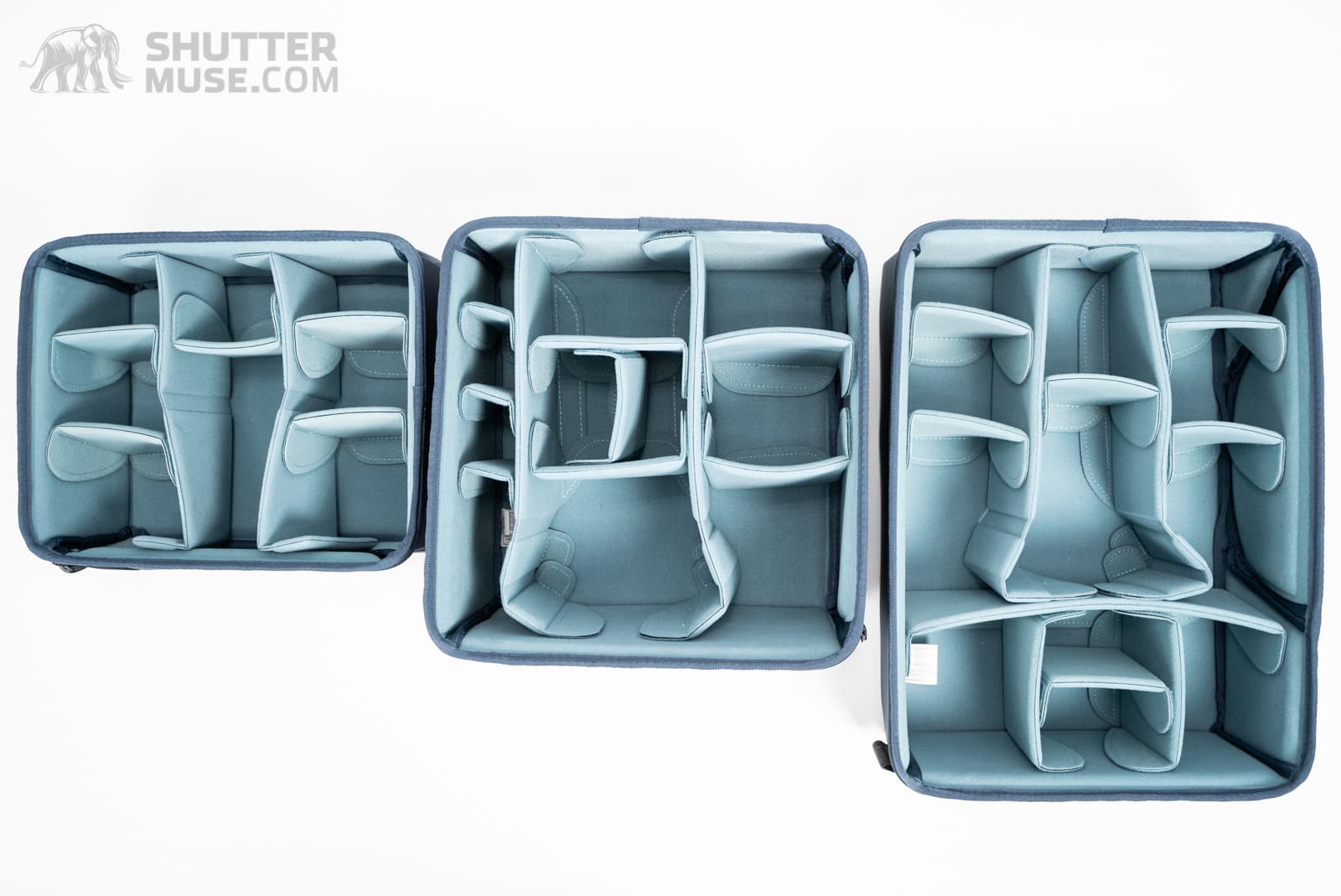 The naming of the depths is a little confusing. The Mirrorless Core Units are the shallowest, but they can perfectly fit a regular DSLR like a Canon 5D Mark IV or a Nikon D850 despite their name. You only need a DSLR Core Unit to use a camera with a battery grip, or a pro-sized body like a Nikon Z9 or Canon R3. The DV depth is designed for cine cameras and super-telephoto lenses. In summary:
Mirrorless Core Units – For mirrorless cameras or DSLRs
DSLR Core Units – For gripped mirrorless cameras, gripped DSLRs, or pro-sized DSLRs/Mirrorless (Canon R3, Nikon Z9, etc.)
DV Core Units – For super-telephoto lenses. These do not fit in the Explore backpacks.
Explore 25 Core Unit
The Explore 25 is the smallest Shimoda Designs backpack. They had to introduce a new Core Unit called the Small Mirrorless Core Unit for this bag. When this Core Unit is used with the E25 backpack, it is used vertically. However, if you rotate it horizontally, it is the same width as all of Shimoda's larger Core Units and therefore fits in the bottom of the Explore 30 and Explore 35.
For those that only want to carry a small amount of camera gear and leave maximum room for adventure gear, the Small Mirrorless Core Unit is perfect. Even though it is the smallest in the lineup, there is still room for a 70-200 f/2.8, a 24-70 mounted to a body, and one additional smaller prime lens + accessories.
Explore 30 Core Units
The Explore 30 backpack shares the same low profile as the Explore 25. This means that you can only use the Mirrorless Core Units in the bag. As well as the aforementioned Small Mirrorless, you can also use the Medium Mirrorless and a new Large Mirrorless Core Unit.
If you choose the Large Mirrorless Core Unit, it will use up most of the bag's internal space. Choosing either the Small or Medium Mirrorless Core Unit will allow you to make better use of the zippered organization pockets in the top half of the bag. The bag works better if you can squeeze your camera gear into the Small or Medium Unit. In other words, don't buy an unnecessarily large Core Unit for the gear you plan to use. Run the smallest Unit you can for the best results.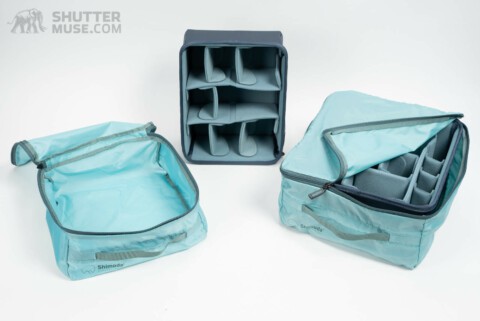 Explore 35 Core Units
For the Explore 35, you can use any Mirrorless Core Units or slightly deeper DSLR Core Units. If you shoot with a mirrorless camera without a battery grip and therefore don't need the extra depth of the DSLR Core Units, you could use the slimmer Mirrorless Core Unit in this bag.
I find the Mirrorless Core Units useful when you have a lot of gear to store in the front pocket of your bag. That front pocket will expand into the main part of the bag and use up the extra space you have vacated by using the slimmer Core Unit. However, if you use a Mirrorless Core Unit in this bag and do not have a lot else in the bag, you will find the Core Unit has a lot of room to move around. You'll also need to use the blue cover over the Core Unit to stop things from falling out as it moves around. This doesn't happen if you use one of the DSLR Core Units that take up the full depth of the bag.
In my time testing the Explore 35, I found the real sweet spot to be the Medium DSLR Core Unit. This gave me a lot of room for camera gear, but also allowed the top half of the bag to be put to full use. When a large Core Unit (Mirrorless or DSLR) is used in the bag, it takes up the majority of the internal volume, and it's hard to put all the pockets in the top section of the bag to good use. I think the Explore 35 with the Medium DSLR Core Unit will be a top-selling combo for this camera bag.
Sony 200-600mm – Which Core Unit?
People asked. I answered.
The Sony 200-600mm will fit in either the Large Mirrorless or Large DSLR core unit. The video shows the slight differences.
Recommended Accessories for Shimoda Bags
Shimoda has a great range of accessories to suit the Explore backpack lineup.
Shimoda Accessory Straps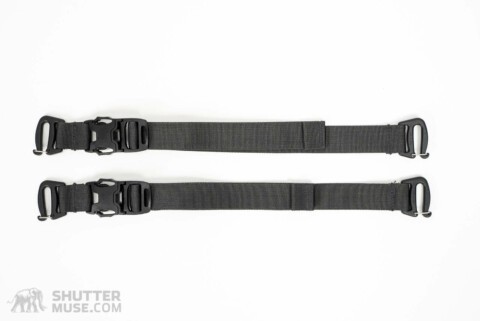 Accessory straps are available for $9.95. These straps can be used in various places around the bag but are most useful when you want to strap something large to the front of the bag.
Shimoda HD Belt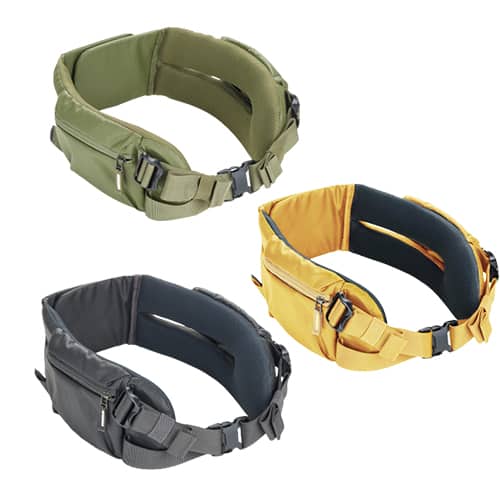 The Shimoda HD Belt is an optional heavy-duty hip belt that provides increased comfort and stability with heavy loads. It also features two zippered pockets, suitable for quick-access items such as snacks, GPS devices, thin gloves, or a winter hat. The HD Belt is available in black, yellow, and green.
Shimoda Top Loader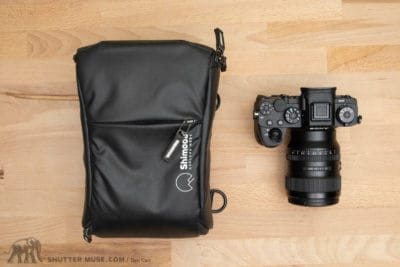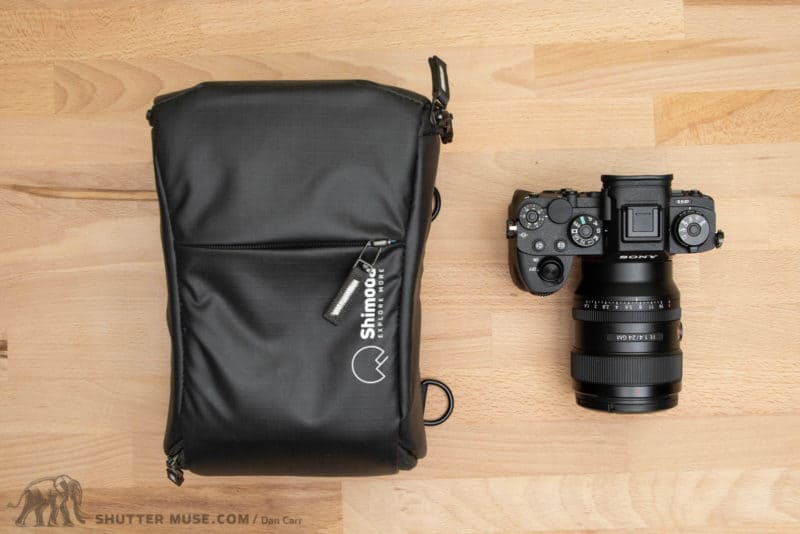 The Top Loader ($64.95) is Shimoda's camera holster. It is designed to work as a chest harness on any of the Shimoda bags, or you can mount it on the waist belt of the bag. It also includes a shoulder strap for when you want to ditch the pack. Check out our review of the Shimoda Top Loader (includes video) for more information.
Shimoda Accessory Pouch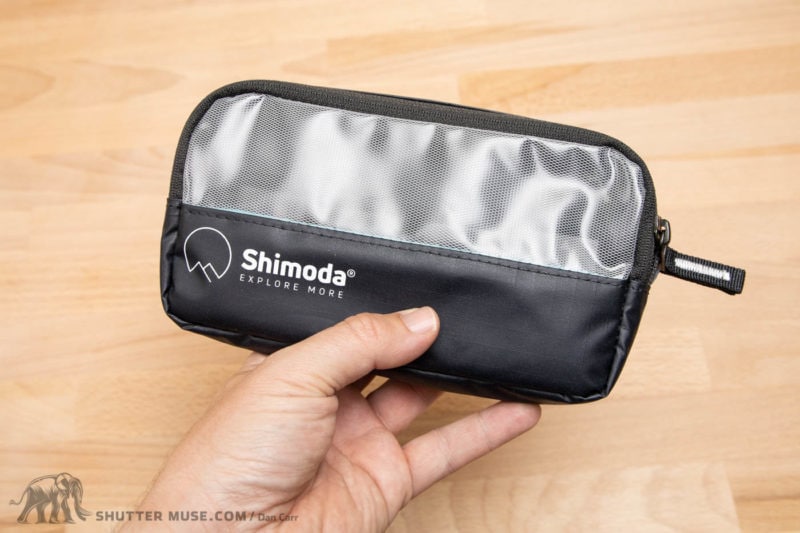 The Accessory Pouch ($22.95) is a useful little organizer to store my camera batteries. The zippered compartment allows me to separate my batteries throughout my shoot, keeping fresh batteries upfront and moving depleted batteries into the zippered compartment. I use a second one to store my on-the-go camera/tripod toolkit. Check out our review of the Shimoda Accessory Pouch for more information.
Shimoda Panel Wraps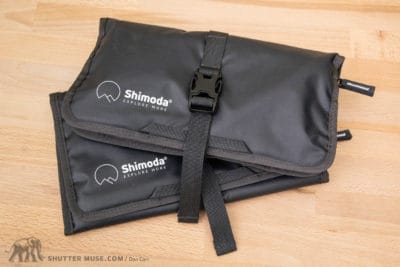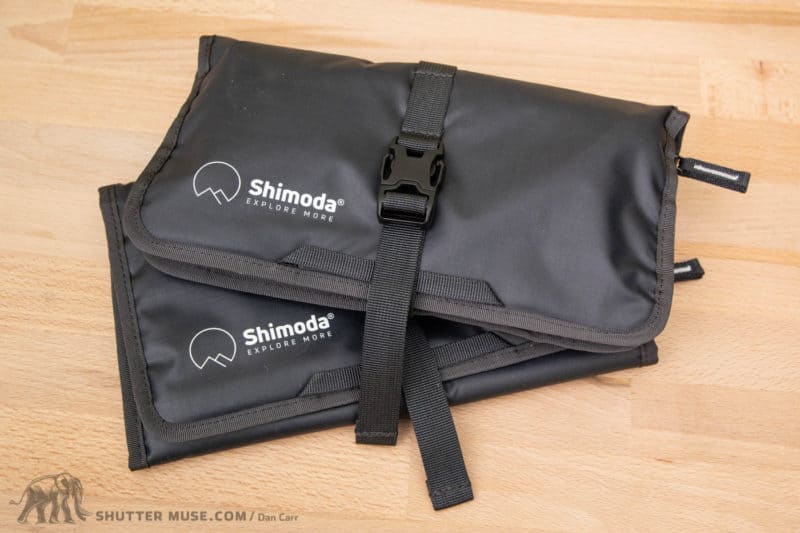 The Panel Wraps (starting at $24.95) are a great way to organize sets of accessories. They are available in three different sizes. Check out our review of the Shimoda Panel Wraps for more information.
Shimoda Explore v2 vs. Action X v2
If you're considering a Shimoda Explore v2 pack, there's a good chance you're also considering a Shimoda Action X v2 pack. The Action X v2 is available in 25L, 30L, 40L, 50L, and 70L capacities, so there is a considerable size crossover with the Explore v2 lineup's 25L, 30L, and 35L sizes. Women's versions of the Action X v2 are available in 25L, 30L, and 40L, compared to the Women's Explore v2, which is available in 25L and 30L sizes.
On the face of it, these two bags are very similar. Both bags are ruggedly built, weather-resistant backpacks for outdoor and nature photography. They both feature the same comfortable harness system with torso length adjustment and the same back panel camera access for use with Shimoda's range of Core Unit camera inserts. Dig a little deeper, though, and some differences stand out. If you're on the fence, I recommend reading my Shimoda Action X v2 review or this detailed comparison between the Explore and Action X bags. A feature summary and comparison can also be found in the table below.
In the table, note some feature differences between the Explore v2 and the Women's Explore v2, with a few of the Action X v2's updates–such as a hidden AirTag pocket–finding their way onto the newer Women's Explore v2. In a way, the Women's Explore v2 is almost like a v2.5 for that reason.
Conclusion
The Shimoda Explore v2 backpack is an excellent update to a great product. In the field, for bags in the 25L-35L range, these are the most comfortable photography backpacks I have ever tested. The heavily contoured and aerated shoulder straps provide all-day comfort, and the adjustable torso length and optional women's shoulder straps ensure anyone can get a good fit with any bag in the Explore v2 range.
If you're looking for a new camera bag for extensive travel and landscape photography, the Explore bags should be on your list. The only potential negative for some people is going to be the price. At $300 to $330 for the shell and an additional $60 to $80 for compatible Core Units, these bags are positioned at the top of the outdoor camera bag market. The superb build quality and a lengthy list of features do a great job of justifying the price, but I'm sure it'll make a few people pause for thought. My 2 cents? You won't be disappointed if you pull the trigger.