The Gura Gear Tembo is a 12-slot memory card wallet built from ultralight sailcloth material and fitted with a weather-resistant zipper. The wallet also features a dedicated Apple AirTag pocket and several additional pockets for a photographer's must-have daily use items. Though the Tembo has been designed as the perfect partner for Gura Gear's camera bags, this is a memory card case that any photographer might consider. In this review, we'll closely examine its many features, and I'll tell you which I liked and what I think it is missing.
Disclosure: The Gura Gear Tembo card wallet was provided by Gura Gear for this review. No money changed hands, and they did not see the review before it was published.
Table of Contents
Gura Gear Tembo Specifications
Dimensions – 6″ x 3″ x 1″ (15cm x 7.5cm x 2.5 cm)
Weight – 2.5oz (71g)
Materials – X-Pac VX21
Zipper – YKK AquaGuard
Price – $34.95
Gura Gear Tembo Card Wallet Design and Features
Materials and Hardware
The Gura Gear Tembo Card Wallet is built from the same sailcloth-inspired X-Pac VX21 nylon used on all of Gura Gear's camera bags. This high-end material is the darling of the gear carry world and will be primarily responsible for this product's slightly higher-than-average price point. X-Pac VX21 is incredibly lightweight yet famously durable. If we're being honest, such material is total overkill for a memory card wallet. Still, it's undeniably awesome to look at and a perfect pairing if you're using a Gura Gear camera bag.
Inside the Tembo, you'll find the same light grey nylon used in the Gura Gear Kiboko backpacks and the Chobe shoulder bag. The light grey material contrasts nicely with most memory cards and other small camera accessories, making it easy to quickly see what's in the wallet. Zipping the wallet closed is a weather-resistant YKK AquaGuard zipper, which helps to protect your precious memory cards from the elements alongside the heavy water resistance of that external X-Pack nylon. This card wallet certainly offers excellent protection.
Card Slots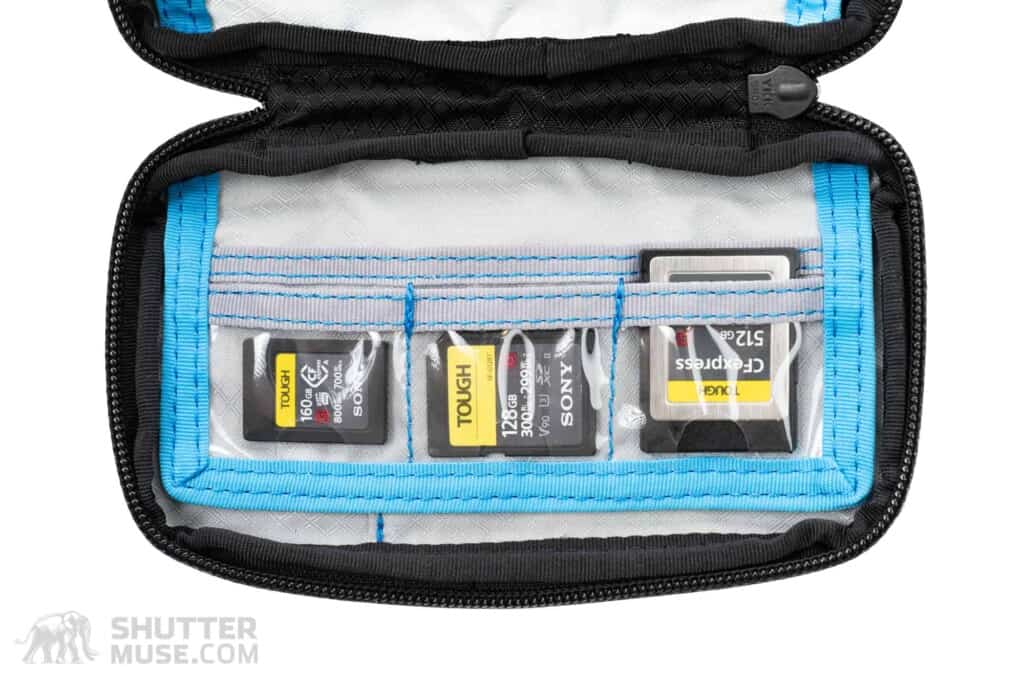 The Gura Gear Tembo card wallet holds up to 12 memory cards. All 12 card slots are the same size and comfortably hold CFexpress Type B cards, SD Cards, and smaller CFexpress Type A cards. If you want to carry a few micro SD/SDXC cards for things like action cameras and drones, I recommend placing them into the small plastic case that would likely have come in the package with those smaller cards. Just to be safe.
Attachment Point
The Tembo 12 Card Wallet features a metal keyring for secure attachment to the inside of your camera bag. If I were to have one minor quibble with this card wallet, it would be the lack of a short 3-4 inch tether attached to this ring.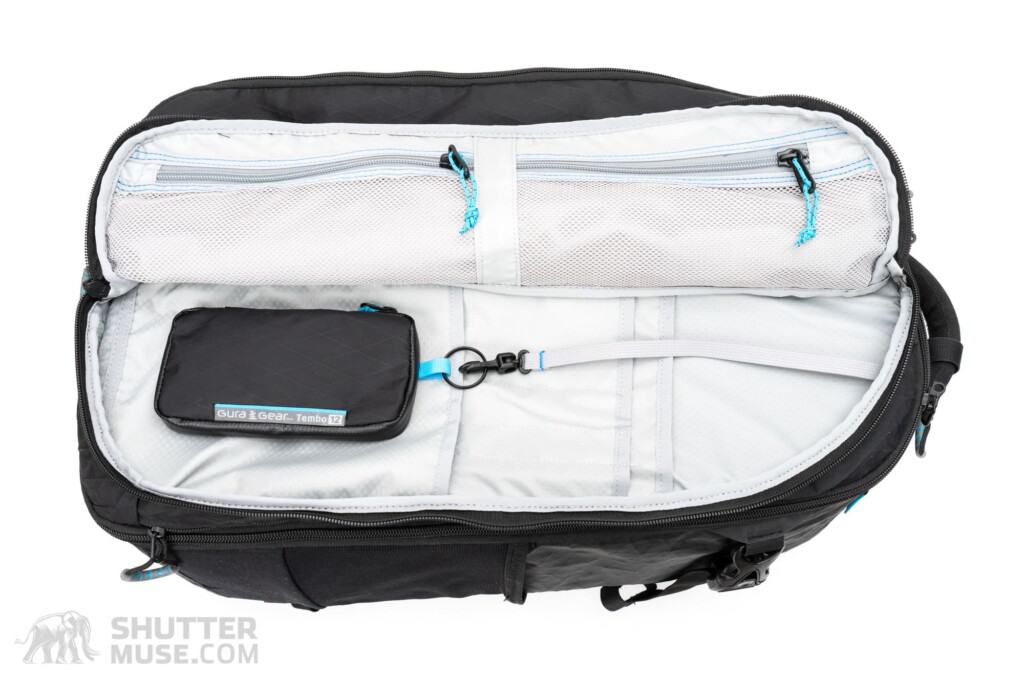 Gura Gear's Kiboko camera packs all feature a long tether with a clip for attaching your memory card wallet and keys. These tethers pair perfectly with the Tembo 12 Card Wallet, so Gura Gear decided a short tether was unnecessary on the card wallet. That's great if you're using the Tembo card holder with one of Gura Gear's Kiboko backpacks; see the photo above. However, most other camera bag manufacturers tend to implement a simple key ring or small plastic clip. In those cases, the Tembo may feel a bit buried and less easily accessible. This is fixable with a few inches or paracord.
AirTag Pocket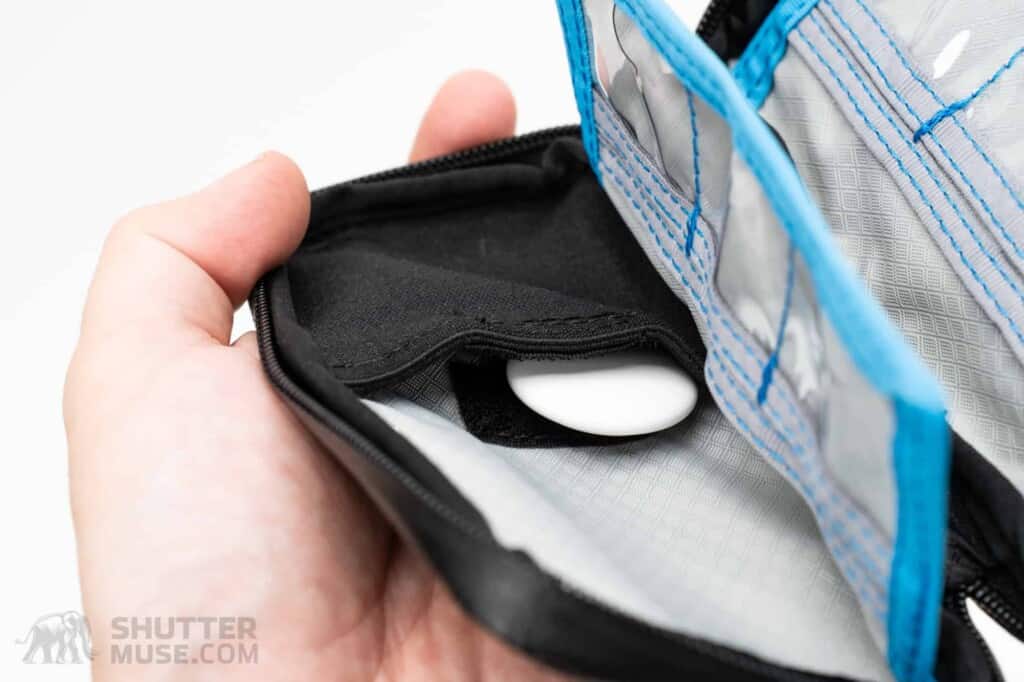 One side of the Gura Gear Tembo Card Wallet features a small velcro-secured pocket for an Apple AirTag or similar tracking device for Android phones. With high-capacity, fast CFexpress cards costing upwards of $300 and sometimes reaching nearly $1000, a photographer might carry thousands of dollars worth of memory cards in this wallet. Not to mention the cost of their trip to create those shots. Spending an extra $30 on an AirTag is the smart move, and smarter still is Gura Gear's decision to include this bespoke feature.
An AirTag in your memory card wallet will help you find it if you accidentally leave it at your shooting location or in a safari vehicle. It also helps you find the whole bag if lost or stolen during your travels. I'm not familiar with the Android equivalents. Still, the Apple AirTags can even be configured to send you a notification if you get too far away from them once you leave your designated home location. If you drop your card holder or leave it behind somewhere, like a hotel, you'll often be notified before you even realize it's missing.
Additional Pockets for SSDs, Batteries, Tools, Lens Cloth, etc.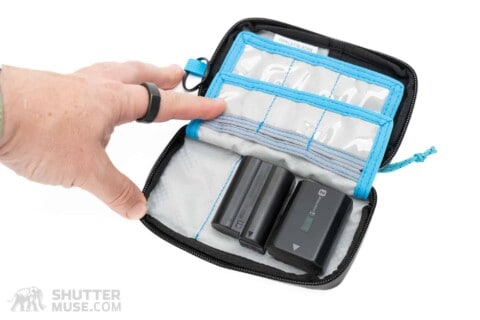 In addition to the AirTag pocket and 12 slots for memory cards, the Tembo Card Wallet also features five more locations to store additional must-have items. The first is a larger pocket on the opposite side of the AirTag pocket. This is a great place to store one or two camera batteries or a portable SSD with a backup of the photos from your current expedition. I tested various combinations in this part of the wallet and found I could store up to three Sony mirrorless batteries or an SSD and one battery. So the Tembo is much more than just a card wallet!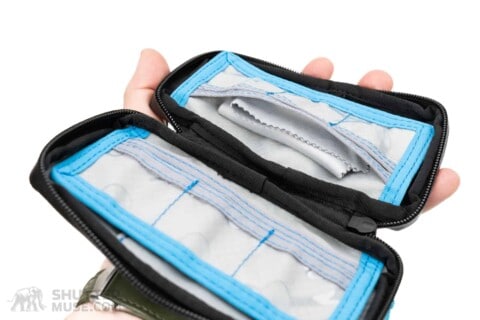 The following storage area is a set of four pockets hidden behind the card slots. These are skinnier than the battery/SSD pocket, being better suited to a small lens cloth and one or two of your most-often-used hex tools for tripod and Arca plate adjustments. What you store in these pockets largely depends on whether you are using all 12 card slots, as the space is somewhat shared between those features. I usually carry between four and six large-capacity CFexpress cards, leaving me plenty of extra room in the Tembo for these other must-have items.
Conclusion – Read It!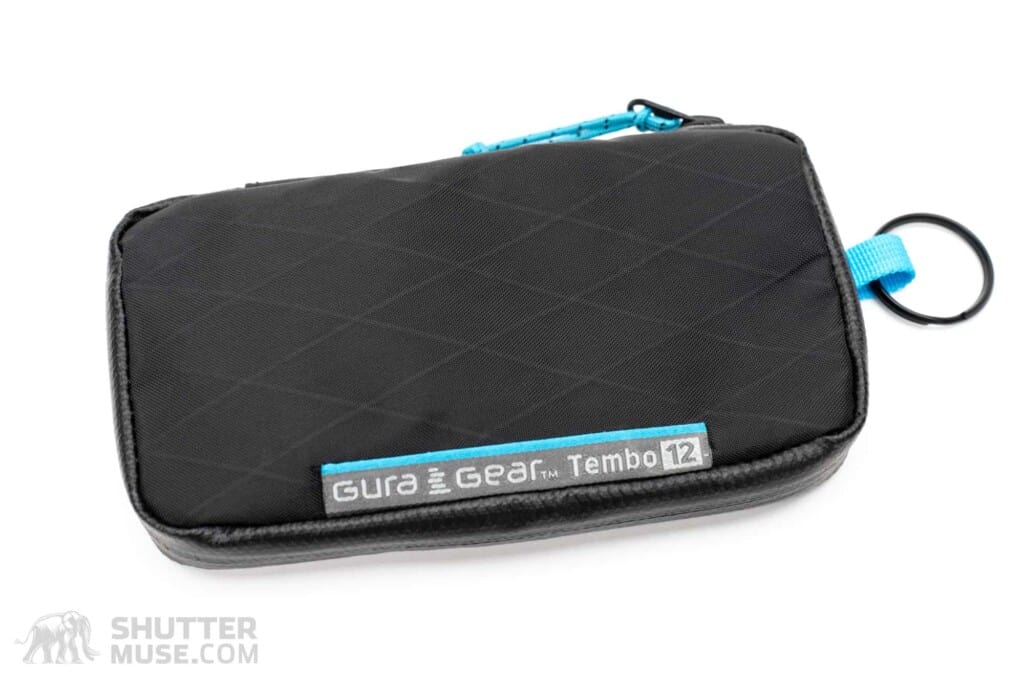 When a new Guar Gear product lands on my doorstep, I expect it to be the best in class. Gura Gear's designers don't shy away from expensive materials and top-end hardware, as evidenced by using a water-resistant YKK zipper and ultralight sailcloth-style X-Pac VX21 on a pocket-sized memory card wallet. The result doesn't disappoint. If you're willing to pay the price, this is the best memory card wallet on the market.
Aside from the exceptional build quality of Gura Gear's products, what constantly impresses me is the attention to detail and the apparent concentration on what photographers actually need vs. what is already on the market. Most companies who set out to make a new memory card wallet would have examined the best-selling 20 card wallets already available and then cobbled something together influenced by the features already available to consumers. We see this repeatedly in the camera industry, not just with accessories. The camera companies themselves are guilty of this, too, and it frustratingly stifles progression.
Gura Gear didn't do this, so we see clever new features such as an Apple AirTag pocket in the Tembo 12 Card Wallet. What photographer wouldn't want to add extra protection to their precious, costly memory cards while they travel on the trip of a lifetime? The funny thing is that I have been jamming an Apple AirTag awkwardly into the slightly too-small memory card slot of the card wallet I have used for many years. I wrote about this when I discussed how photographers can use AirTags. I'm sure I'm not the only one doing that, so Gura Gear picked up on this trend and delivered a card walled with this purpose-built feature.
In addition to the desire to carry an AirTag in a card wallet, Gura Gear's designers also saw that many savvy photographers always carry a small portable SSD containing all the images from their current trip. You should make multiple backups of your photos while you're traveling, and one of those backups should always be on you. Why not give people a place to store that drive alongside their cards? And while we're at it, why not provide them with space for that hex key you always need to tighten your Arca plate and a spare camera battery?
Earlier in this review, I almost wrote that it was as if Gura Gear were reading my mind when they created this new memory card wallet. I cut myself short, though, because I realized they weren't reading my mind at all. The simple reason they came up with the features of this product is that they are photographers themselves. They're out there doing what I do, and we all love to do, and they're taking notes while they do it. I never thought getting excited about a memory card wallet would be possible, but here we are. This is a fantastic product that will always be in my bag.
Where to Buy
Gura Gear has offered Shutter Muse readers a 10% discount on anything purchased in their online store. Just use the discount code SHUTTERMUSE10 after clicking here to access their store.
It's always appreciated when you use our links to make your purchases. The Gura Gear Tembo 12 card wallet is only available directly from Gura Gear at this link. International shipping is available.