The Sony Tough series of SD cards are built with a unique one-piece moulded design that immediately differentiates them from regular SD cards. Instead of having the memory and associated electronic circuits simply sandwiched between to plastic halves, the Tough cards have their components completely encased in the moulded plastic body. As well as the one-piece design, the Tough cards also lack the write-protection switch found on the side of most SD cards (who uses that anyway?!) and the plastic ribs that extend across the card's contact points. When I first saw that part of the design I rejoiced, because the last two warranty issues I dealt with relating to SD cards were both because those spindly fragile plastic ribs had snapped off.
As soon as you unpack one of these Tough cards you can feel the difference. It feels solid, not hollow. This design means the card is rated to withstand a bend force that is 18 times higher than a regular SD card, and the fully encased one-piece design makes the card waterproof in 5m of water for up to 72 hours. On top of that, the cards are designed to withstand a temperature range of 185F to -13F.
Sony kindly send me one of the SF-G 64GB cards for testing, and having read the press blurb and specifications, I knew I wanted to do a little more than just put it in a camera and run my regular speed tests on it…
Sony Tough Card Variations
The Sony Tough SD cards are available in two speeds: Tough-G and Tough-M, with different capacities available in both, per the list below. The rugged single piece design is the same for both cards so you don't need to worry that you are getting something less rugged if you choose the cheaper, slower Tough-M. Comparing G and M cards side-by-side, they are externally identical.
Tough G Series SD Cards – 300mb/s Read, 299mb/s Write (V90) UHS-II
Tough M Series SD Cards – 277mb/s Read, 150mb/s Write (V60) UHS-II
Tough G Series CFexpress Cards – 1700mb/s Read, 1480mb/s Write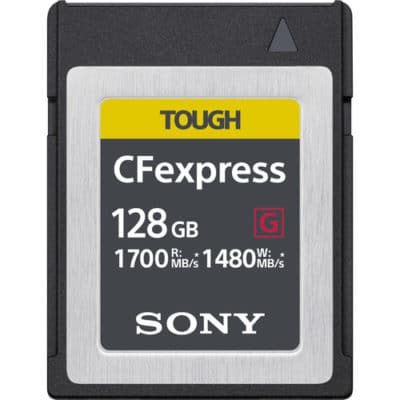 Sony has also expanded the Tough series to a range of Tough-G CFexpress cards for the latest high-end cameras. These cards are next generation, and offer incredible read and write speeds compared to SD cards. I expect the industry to move towards CFexpress as a standard in the next few years, and whilst I have not tested one yet, I thought it would be of interest to mention their availability in this review. They do not appear to be waterproof, like the SD versions, but they are built to be resistant to extreme temperatures, bending forces and X-rays.
Tough Testing
Speed testing is all well and good, we'll certainly get to that, but given that these tough cards are also available in non-Tough varieties for a cheaper price, I certainly wanted to test the claims of toughness. You are paying a premium for it after all.
With the cards officially rated for submersion in water for up to 72 hours, I figured I would take that idea and combine it with the mention of the cards are also designed to handle extreme temperatures. I live in the Yukon, so I'm always thinking about how my gear will survive the cold, so a good freezing seemed like it was in order. But not a quick overnight freezing. No, I wanted to simulate some kind of disaster, such as dropping a memory card in the snow in the winter, and not being able to find it until the spring time. In order to do this I filled a plastic tub full of water and suspended the card in it using a thin piece of thread. This ensured that the card would be completely encased in the ice from all sides. Then I left it in the freezer for four months!
After four months had elapsed, I pulled out the chunk of ice and simply ran it under the hot water tap to strip away the ice. Then I put it into my card reader and… Voilà! It worked! So these cards can survive total submersion in water and freezing in ice for several months. I'd say that definitely earns these cards the right to call themselves Tough , as well as earning my respect for a clever design.
Speed Testing
Along with one of the SD cards, Sony also provided me with one of their UHS-II SD card readers for the test. I also ran the same speed tests with my own favourite UHS-II SD reader, the dual-slot ProGrade Digital reader to make sure test results were comparable, and so that I could get a picture of how they would fit into my own workflow with my own current computer setup. Card speed tests were done using AJA's disk speed software and repeated multiple times.
Tough-M Card Test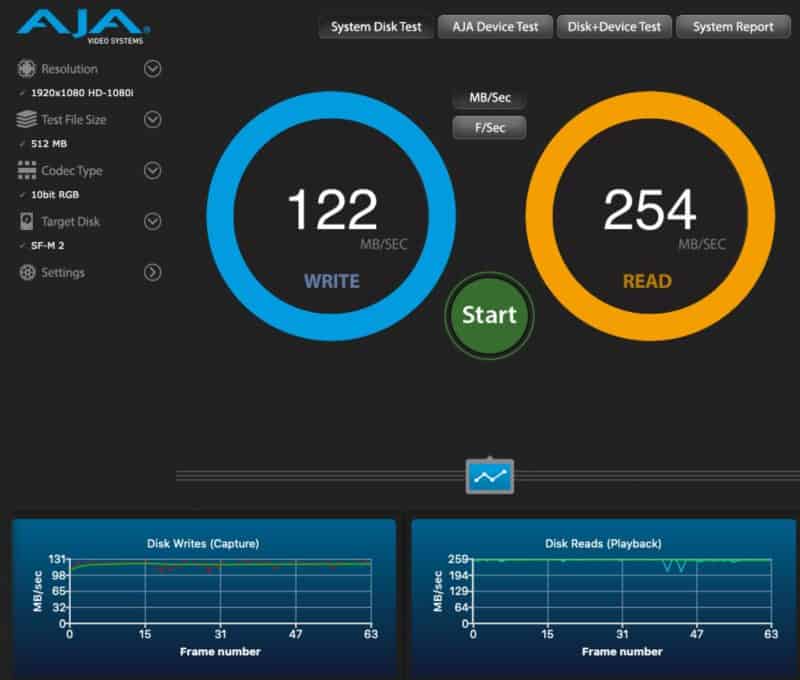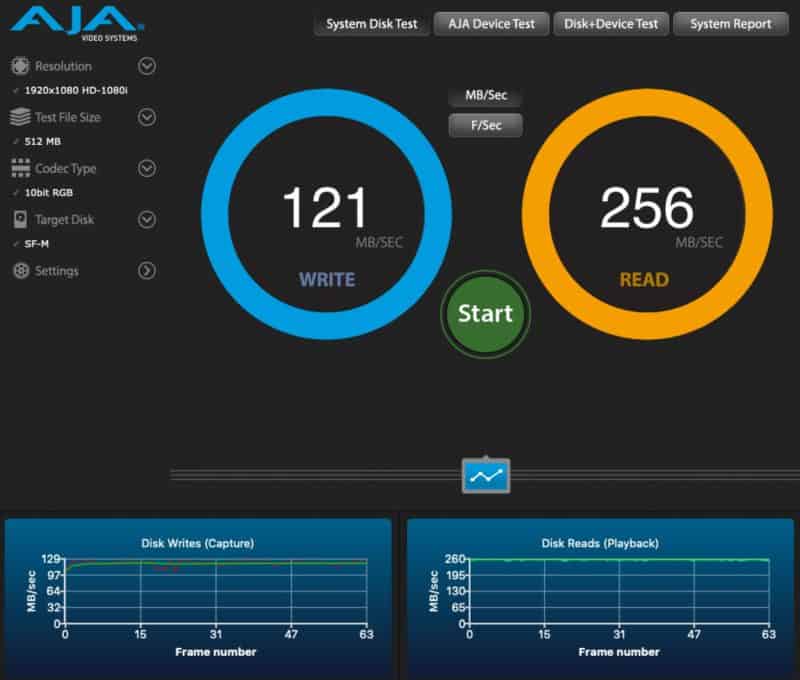 As you can see from the results, there isn't any real difference between the speed offered by the two card readers in the test. I'm not surprised, but since the Sony card reader was provided to me for the test I wanted to be sure. On average the Tough-M card that was tested delivered write speeds that averaged about 121mb/s and read speeds that averaged about 253mb/s. These differ slightly from the theoretical maximums of 150mb/s and 277mb/s that are quoted by Sony, but the difference is actually fairly small compared to tests I have done in the past with some other brands. Without having the identical hardware setup and software setup to an SD manufacturer, you will never reach identical numbers. That said, looking at the graphs in the AJA software I can see the write speeds and read speeds were very consistent throughout the test period which is very good.
I would call these excellent results for an SD card that is not a top-of-the range card in terms of expected speed. The Sony Tough-M cards are V60 cards which means they guarantee a continuous write speed above 60mb/s for video shooting. Just by way of an example, I also recently tested ProGrade Digital's V60 SD card which have a claimed max read and write speed of 200mb/s. With those cards I was only able to record test results of about 80mb/s write speed and 149mb/s read speed. So as you can see, the Sony cards deliver a speed that is much closer to their quoted maximum, albeit at a slightly higher price than equivalent capacity ProGrade Digital cards. Of course the ProGrade cards are not as tough, either, so that definitely accounts for some of the price differential. There are many other card brands out there, and no I haven't tested them all, I merely picked the ProGrade cards as a comparison because they are also what I would consider to be a top-tier brand making reliable cards and I have several of them myself.
Tough-G Card Test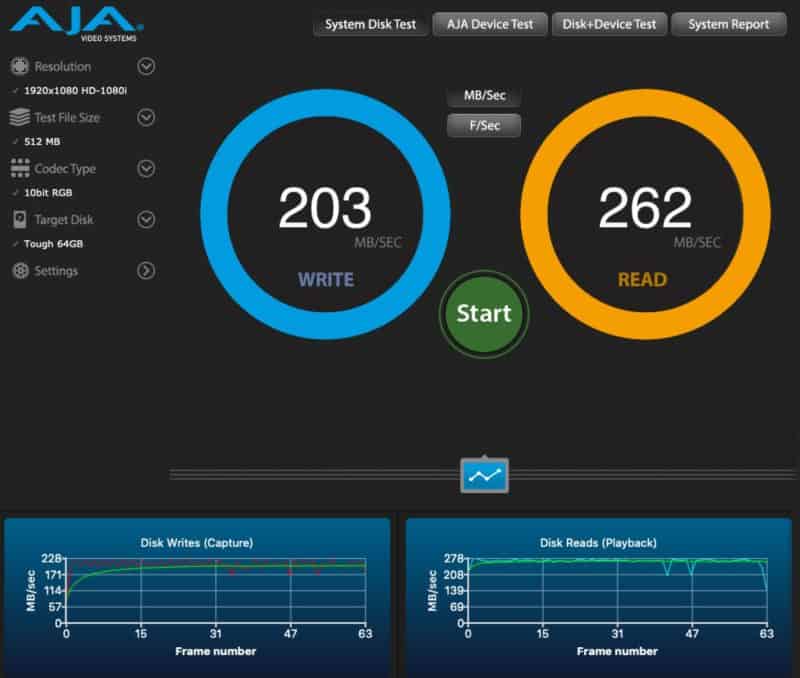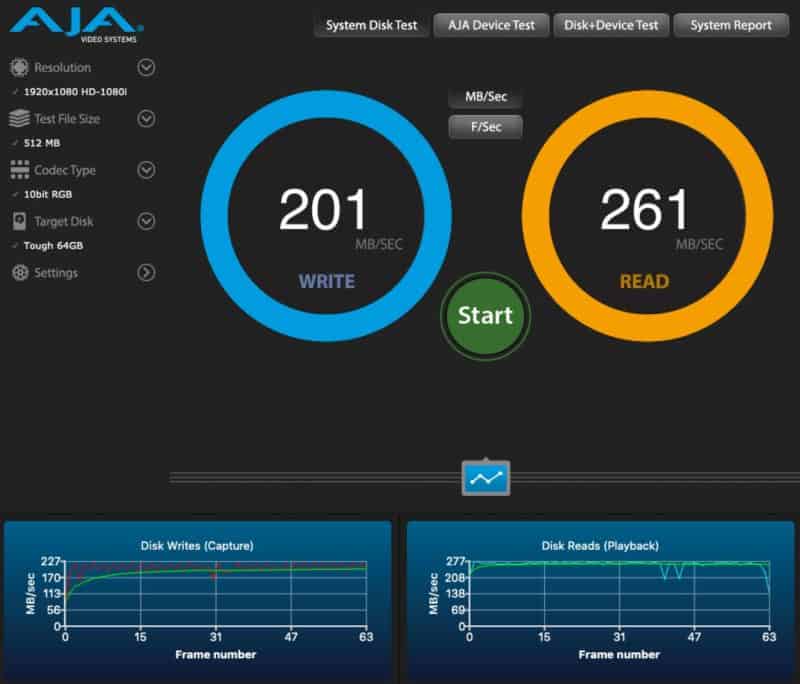 As you would expect, the more expensive G-series Tough card shows both a faster read and write speed than its cheaper M-series brother, averaging around 202mb/s write and 263mb/s read. These read speeds are not significantly faster than the M-series, though, card downloads at the end of a shooting day would not be much master with the more expensive cards. However, write speed are quite a lot faster and this will certainly have an impact on the types of video that your camera will be able to record. Check your camera manual to see whether any setting are restricted to V90 cards only.
The write speed will also have a big effect on how fast your buffer will clear when shooting stills. With fast cameras like the Sony A9 II shooting 20fps, this is important. The same goes for cameras like the A7R IV that simply has huge file sizes.
One interesting point is that the write speeds on the card specifications are listed as 299mb/s and in this case I wasn't able to record results that came anywhere near that. Unlike with the cheaper SF-M card results where I was able to get reasonably close to the quote maximum. I'm afraid I don't have an answer to that. Wouldn't it be nice if there was some sort of 3rd party standard for testing and clarifying card speeds? Anyway, despite that slight anomaly, I would still class these as excellent speeds from the SF-G Tough cards.
Conclusion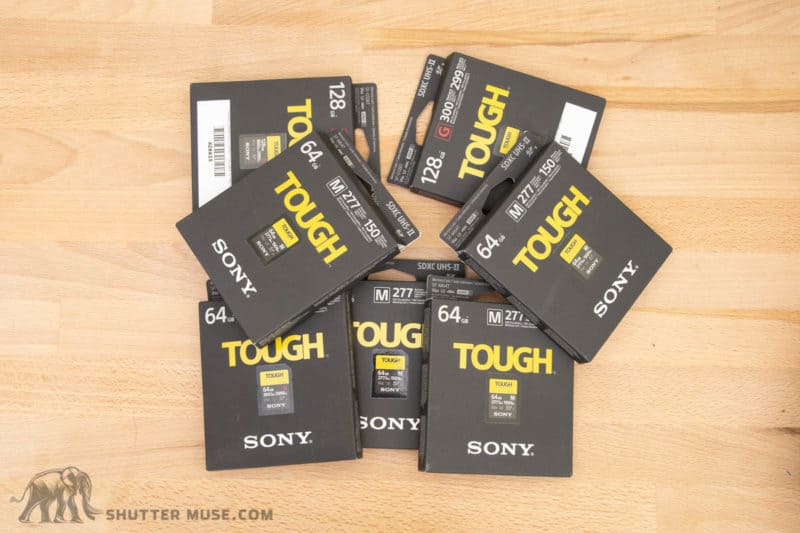 I'm impressed by the design of these cards, and from my testing I think it's fair to say they definitely are tough. But you can't judge these Tough-G and Tough-M cards without considering their regular G and M series SD cards. Internally, the standard G and Tough-G SD cards are the same, producing theoretically identical read and write speeds. The same can also be said for the standard M and Tough-M cards.
This means you have a choice. How much do you value the photos on your cards? Do you value them enough to spend a little extra for the protection of the Tough series versions of the cards? In the case of smaller capacity cards, the difference is very little, and I personally think you'd be mad to not opt for the Tough version of the card. For example, the standard SF-M 64GB card costs $34.99, and the Tough version, the SF-M Tough, only costs $5 more at 39.99. That's a very small difference, and absolutely worth it in my opinion. Even if you up the capacity to 256GB, the SF-M version is currently $104.99 while the SF-M Tough version is only $10 more at $114.99. Again, I think it's absolutely worth the $10 premium to get the more robust card and add an extra layer of protection or insurance to your hard-earned images.
What about the faster G-series cards? Keeping in mind that prices might shift a little after the time of publishing this review, the regular SF-G 32GB card is currently selling for $59.95, while the SF-G Tough version is a mere 4 cents more expensive at $59.99. I don't need to tell you what to do in that case! Oddly, when comparing the 128GB versions of the G-Series cards I found the regular version to actually be more expensive than the Tough version. Again, that makes it a no-brainer. In fact the regular versions of the G-Series cards seem to be a lot harder to find in online stores right now, and I wonder if they are even being slowly phased out in preference for the Tough version.
For those that aren't shooting 4K+ video, and aren't using cameras with insane burst speeds like the A9 II or crazy resolutions like the Sony A7R IV, the cheaper Tough-M cards are a great choice and represent excellent value. For those other situations, you are likely going to need the Tough-G cards. I myself have Tough-G 128GB cards in my A9 II, but I use the cheaper Tough-M 64GB cards in my other slower cameras. A setup I'm very happy with at the moment.
Overall, both these cards (Tough-G and Tough-M) provide great speeds and extreme durability. They are my own go-to card choice and they will be at the top of the list for cards I recommend to others at this point.