About ten years ago when I first started shooting action and adventure sports photos, there was little to choose from when looking for a suitable camera bag. Initially I used a regular hiking pack with another camera bag jammed inside it. After a few years, F-Stop Gear came along and really changed the landscape of photo packs for the more adventurous photographer. Their range of packs was designed with heavy input from the best action sports photographers in the world and it wasn't long before everyone I knew in the industry was using their packs. For a number of years, and through several iterations of their Mountain Series packs, F-Stop seemed to go unchallenged in this space. More recently, we've started to see some other companies taking a keen look at this niche in the photographic world. I took a look at the Gura Gear Uinta pack which used a similar system to F-Stop with their removable internal "camera blocks" available in different sizes. I've also taken a look at a number of bags from Thin Tank Photo's spin off company, MindShift Gear, who have released some incredibly innovative designs which utilize their award-winning Rotation 180 technology. For the last couple of months I've been testing out Lowepro's entry into this market space, the Whistler pack. Appropriate since the mountain town of Whistler (for which the bag is named) has been my stomping ground for the past decade.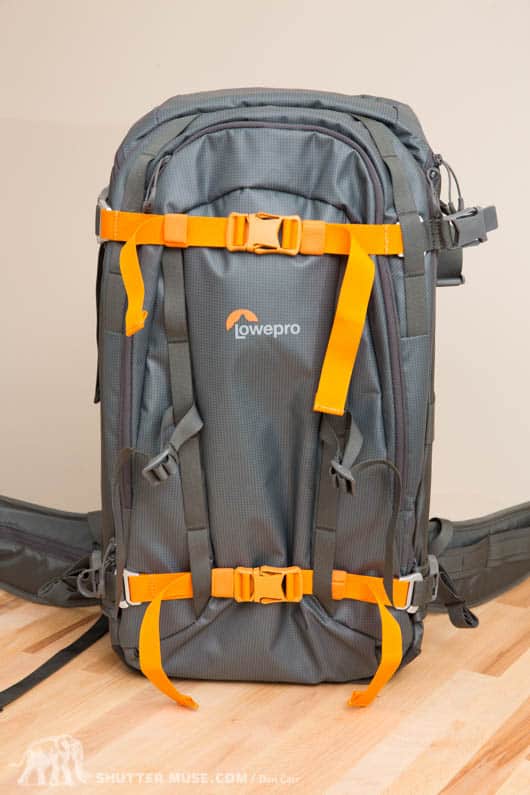 Perhaps the people at Lowepro might disagree with me that this is their entry into this area as they have had bags labelled for outdoor photography in the past, but in all honesty, this pack is a whole different kettle of fish from anything that was previously in their lineup. Unlike a lot of photo packs on the market that try and cover a broad range of uses, this is a pack that knows what it is designed for and it comes prepared for some very specific circumstances.
So what exactly does a good adventure photography pack need? In my opinion, these are the most important items:
• Capacity for both photographic equipment and "other" items. These might include sport specific safety equipment, weather specific clothing and also food and water for a good day of adventuring.
• Rugged materials that can stand up to some amount of liquid without immediately requiring the (hopefully included) waterproof cover.
• Attachment points galore, for photo gear and sport specific equipment.
• High volume. I've never known an action/adventure sports photographer to travel light, and often we want the ability to carry flash gear as well.
• Quality harness system that has a large enough waist belt for dispersing a heavy load that's been strapped on tight.
Something they do not need to have:
• A padded laptop pocket. Nobody needs to take a laptop into the wilderness. Pockets designed specifically for laptops only take up space and add unnecessary weight.
When I first saw the new of the LowePro Whistler pack (available in two sizes – 350 and 450), I was excited to see that it had been a collaboration with local colleague and world-renowned ski photographer, Paul Morrison. Paul spends even more time in the mountains than I do and I was immediately confident that this pack was going to tick a lot of important boxes in the features department. Let's take a look at that feature list:
Lowepro Whistler Video Review
Lowepro Whistler specs and features
Click to view larger
350AW
Internal Dimensions: 23.2 x 16 x 35.3 cm (9.13 x 6.30 x 13.90 in)

External Dimensions: 29.5 x 30 x 53 cm (11.61 x 11.81 x 20.87 in)

Weight: 2.97 kg (6.53 lbs)

Regular size DSLR (such as Canon 5D Mark iii)

Up to 4 lenses: 24-70mm, 70-200mm f/2.8, 16-35mm, 50mm

GoPro® or similar form factor action video camera

Functional outdoor gear and personal items
450 AW
Internal Dimensions: 24.2 x 16.6 x 40 cm (9.53 x 6.54 x 15.75 in)

External Dimensions: 31 x 30.2 x 57.2 cm (12.20 x 11.89 x 22.52 in)

Weight: 3.31 kg (7.28 lbs)

Pro DSLR (such as Nikon D4S or Canon 1DX)

Up to 3 lenses: 58mm f/1.4, 24-70mm f/2.8, 24mm f/1.4,

Flash (such as SB910)

GoPro(R) or similar form factor action video camera

Functional outdoor gear and personal items
NOTE: These suggested kits are from Lowepro's own literature and are pretty conservative. As I'll demonstrate later in the review, it's possible to get an awful lot of gear in these packs, including lenses that far exceed the dimensions of a 70-200.
Click to view larger
Features
ActivZone™ harness system provides targeted padding and support for comfort on the move.

Pack includes a detachable All Weather AW Cover™ to deploy as needed and protect valuable gear from rain, snow, dust and sand.

Hinged back panel/zipper for partial or full access to gear, handy for reaching gear in inclement weather.

A very roomy front pocket expands to fit alpine essentials. A waterproof barrier separates wet gear from the main compartment (drain holes at bottom).

The top pocket is designed with a high-visibilty orange interior. Includes a zippered pocket with built-in key leash.

Main camera/video gear compartment includes MaxFit™ system of customizable dividers, designed for fine-tuning of fit and maximum capacity.

The main compartment /insert is removable so you can dry out the pack between adventures.

Attach heavy gear like skis, ice tools or a pro tripod to the sides of the pack and still have access to the main compartment; the rigid internal structure is built to support this type of gear.

Multiple attachment points make it easy to expand capacity and add trekking poles, a snowboard or other essentials to the front of the pack.

Durable, weather-reistant and resilient outdoor-tech materials and hardware include 420 denier ripstop nylon with TUP face coating, glove-friendly Nifco

®

side-release buckles, all-metal Duraflex

®

hooks and Hypalon

®

base.
Camera compartment
The large camera compartment is removable from the main pack so that it can be dried out after usage in heavy rain and snow. This is a great feature because it can be tricky to dry packs completely, and your lenses will fog up much easier if your pack is damp. Whilst it's nice to think that you can open and close your pack fast enough in the snow for this not to be a problem in the first place, I can tell you from experience that it's not the case. If it's snowing, you're bag is going to get wet inside and out. One clever and unique features of the pack is a split in the back panel that allows you to retrieve gear from the bag whilst only unzipping the panel half way. A clever design that would certainly help in rain/snow/dust.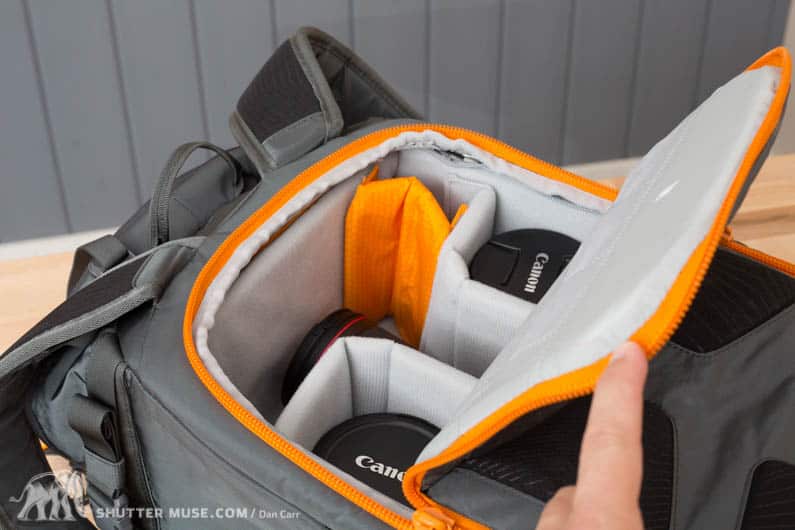 Probably the most disappointing thing about this pack is the fact that there is only one size of camera compartment, where Gura Gear, F-Stop gear and others all offer a variety of sizes. The theory is that having a variety of camera block sizes allows you to tailor how much camera gear you'll bring with you and how much "other" gear. Considering the internal compartment of the Whistler 450 is already removable, it seemed natural to me that there would be other compartments available, but alas this is not the case. I asked Lowepro about this and they said they currently don't have any plans to offer any other smaller versions of the compartment. Of course you can use the internal dividers to separate your camera gear, but with the other packs, I've always found it nice to have a more defined separation by sealing off the camera gear. I can live with their decision because the front pocket and top pocket provide a lot of storing room anyway, but I do think it's a missed trick that wouldn't have taken a lot more to implement.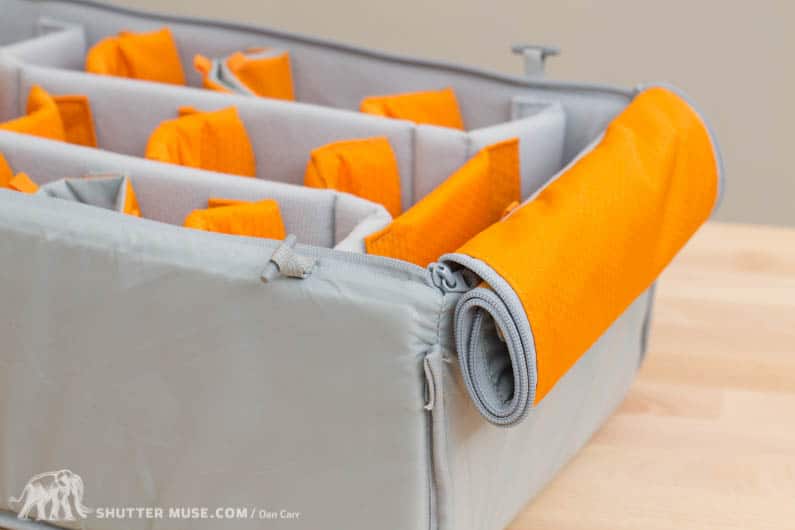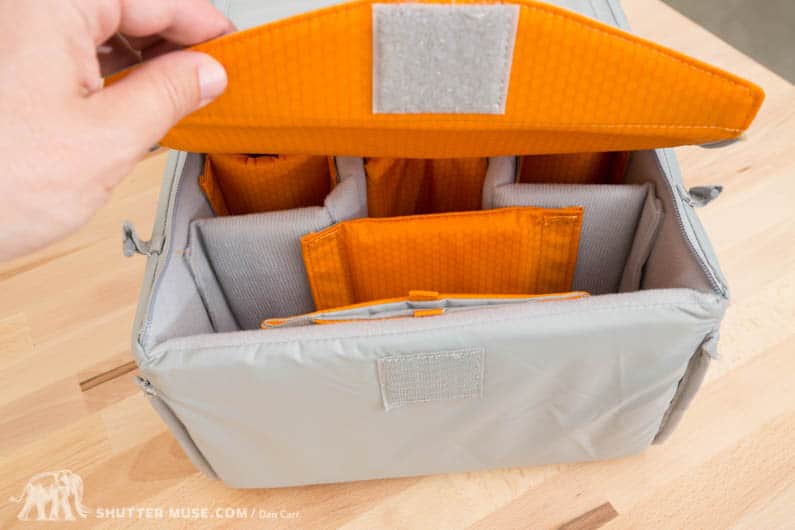 The camera compartment itself is much beefier than similar items from other manufacturers and it has stiff sides that are presumably there to offer protection to your gear in the event of a fall. I'm in two minds about this feature because the result is that it's heavier than other removable camera compartments and that's noticeable in the bag's overall weight. If you're the kind of person that does worry about your gear getting beaten up whilst pursuing your chosen outdoor activity, then look no further because this offers the best protection in its class. My personal preference would have been to make the plastic stiffeners removable, thereby allowing the photography to choose between ultimate protection and a lighter weight pack. 90% of the time I would take the lighter weight.
When accessing the camera compartment via the pack's back panel, you have the option of a secondary flap that is part of the compartment. If you don't want to use that, you can roll it up and use the hook and loop closure point to keep it out of the way. Another thing I appreciated about the compartment is the chosen colour. There's too many packs out there with black interiors whic make hunting for small items and lens caps a daily chore. If you shoot outdoors, it's guaranteed that you'll spend a decent amount of time in the dark before sunrise or after sunset. As well as the right interior colour choice, Lowepro have also hit a home run with the dividers in this pack. It might seem like a less important feature, but this is the best set of camera bag dividers I've ever seen, and I actually started using the spares in some of my other bags as well. (Lowepro, can you just sell packs of these dividers please?) As you can see from the photos, there's a variety of different divider types and sizes. You're given several dividers that have built in pockets, and these are perfect for storing memory card holders and small electronic devices like GoPros. There's also a set of dividers with their MaxFit design which maximizes the number of cylindrical items (lenses) that you can fit in a row inside the bag. It's hard to describe how these work, but if you look at the photos you can see how their design makes the divider hug one side of a lens. The result is a much better fit, and more economically used space within your pack. This isn't a gimmick dreamt up by a marketing department and given a fancy name, it works very well indeed.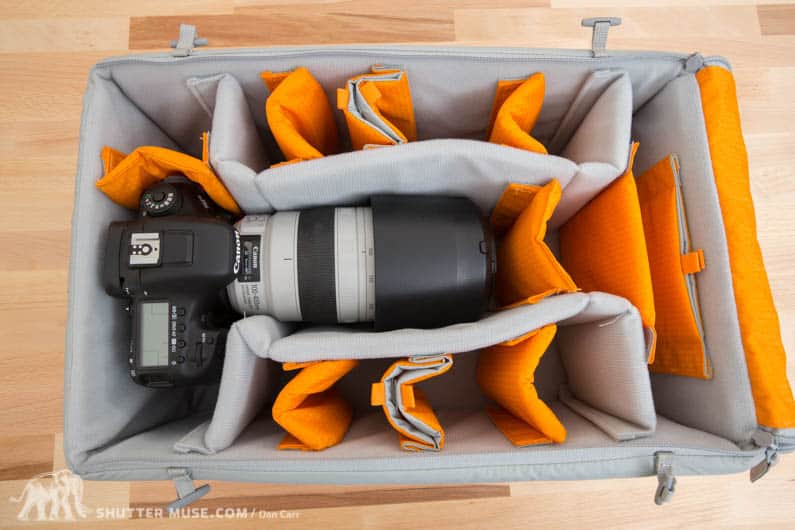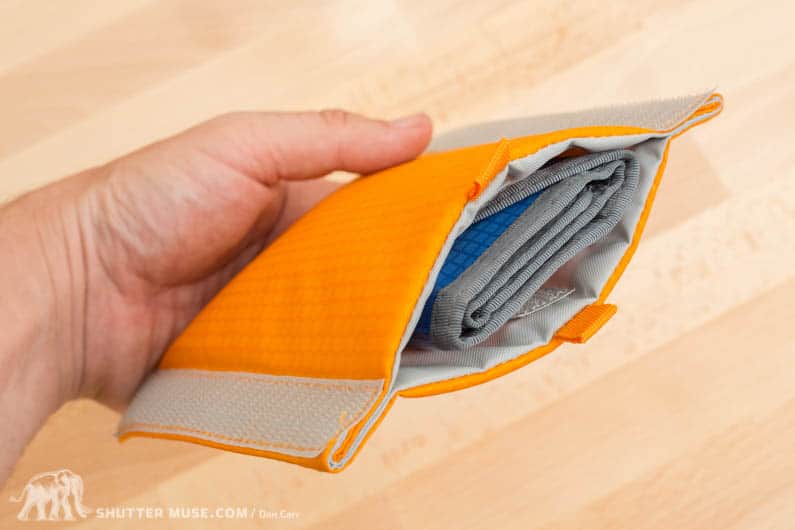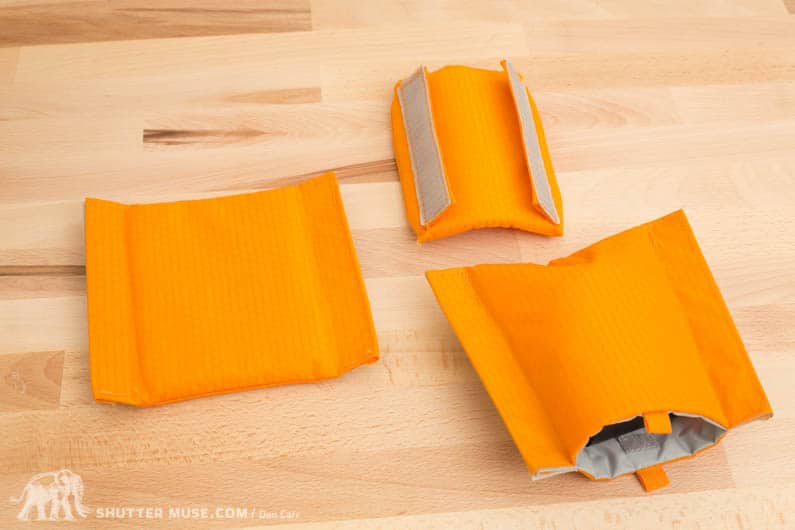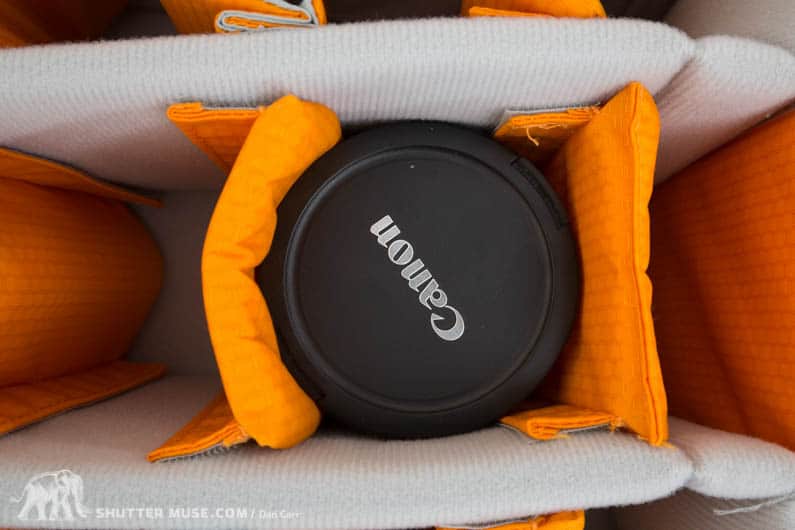 Payload
Right, we've seen the compartment, but what can we fit in it? This is always a tough one to answer because everyone has a different combination of gear and I fully expect to be receiving "can I fit XYZ in a Whistler pack?" emails for the next few years. I was sent the 450 AW for testing, and if you want to shoot with a pro-sized "tall" camera body, or a regular camera with a grip attached, then this is the bag for you. There really isn't much difference between the 350 and 450 packs, apart from the depth of the camera compartment. Personally, even if I planned to shoot mostly with a smaller size of camera, I'd still opt for the 450 size because it gives you enough depth to fit in lenses like a 300mm f/2.8, 400mm f/4 DO II and even larger as you can see in my photo. Given the number of external straps on the pack, it's possible to tighten the whole thing up nicely even when the pack isn't stuffed to the brim. I'd rather have too much room on some days, than not enough on others. The exception to this would be if you are shooting a mirrorless setup like the Sony A7 series which takes up less space and should fit a 350 AW even with a grip attached.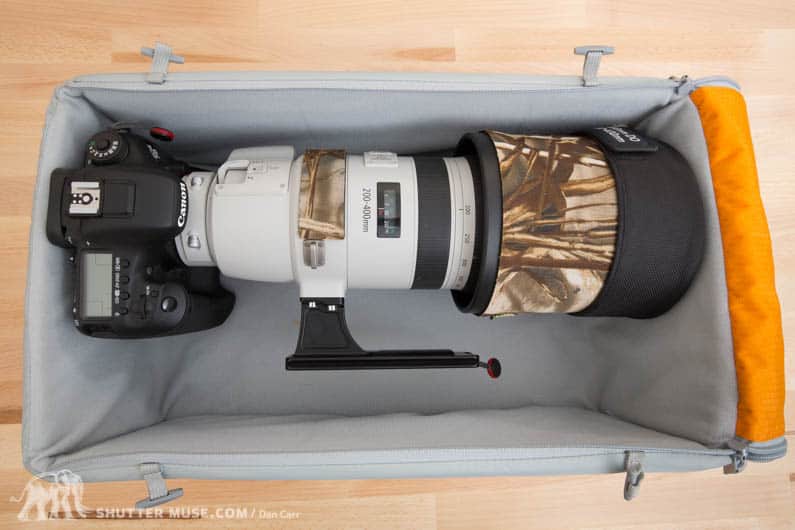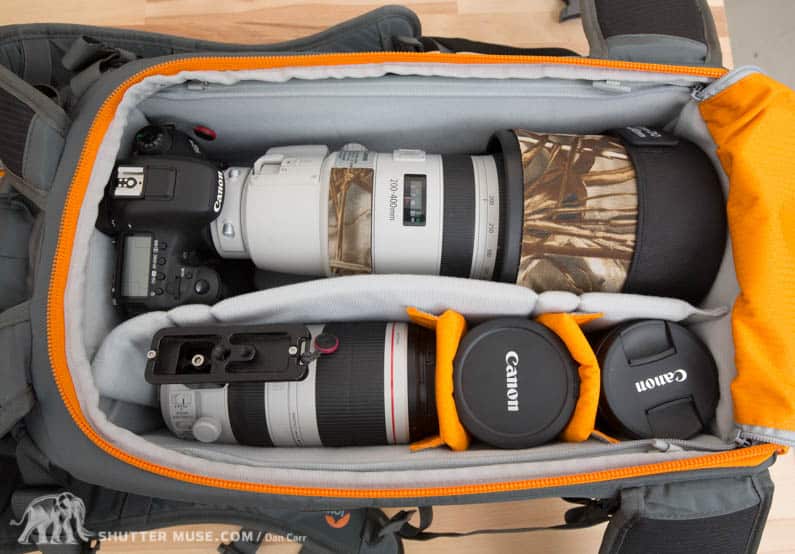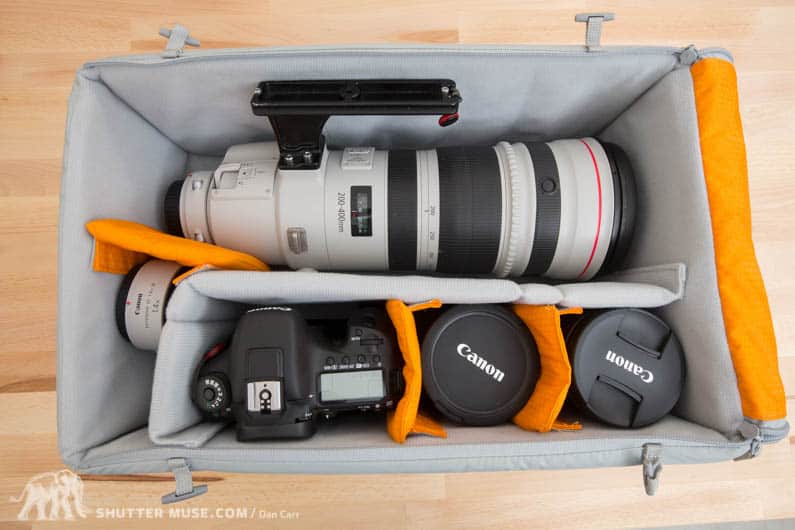 I'd say that an action sports photographer's standard kit consists of something like this: 16-35, 24-70, 70-200, Fisheye, flash and 2x camera bodies. You're not going to have any trouble fitting that kind of kit in the 450 AW, and there's still going to be plenty of space for accessories in the top pocket and front pocket. The top pocket is totally separate from the camera compartment and it has two "key clips" in it. One inside a zippered mesh pocket and one inside the main pocket itself. This simple addition is a great feature that often gets missed by other people. Chances are you probably won't actually clip keys to them, but I use them all the time for attaching memory card wallets, GoPro cases, battery cases, Leathermans, flash lights, gloves and head torches to name just a few items. These are small things that can easily get lost in the snow or in the panic to unpack your gear as the perfect sunset is unfolding. A few packs I've tested recently have either omitted such a clip entirely (MindShift Backlight pack), or hidden them away in the bottom of a tiny dark pocket that renders them all but useless. Top marks to Lowepro for adding two of them in a nice, easy to access area of the bag. It's such a cheap item to add to a bag, but when it's preventing me from losing $500+ worth of memory cards full of priceless images, I'm sure glad it's there.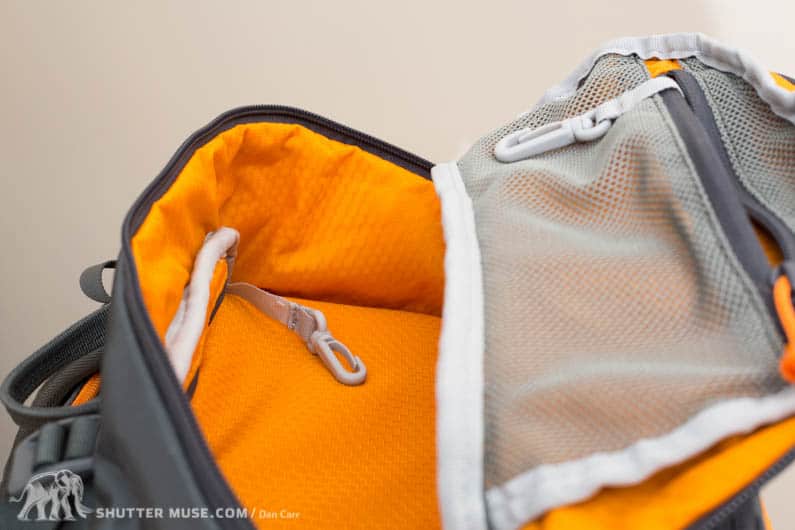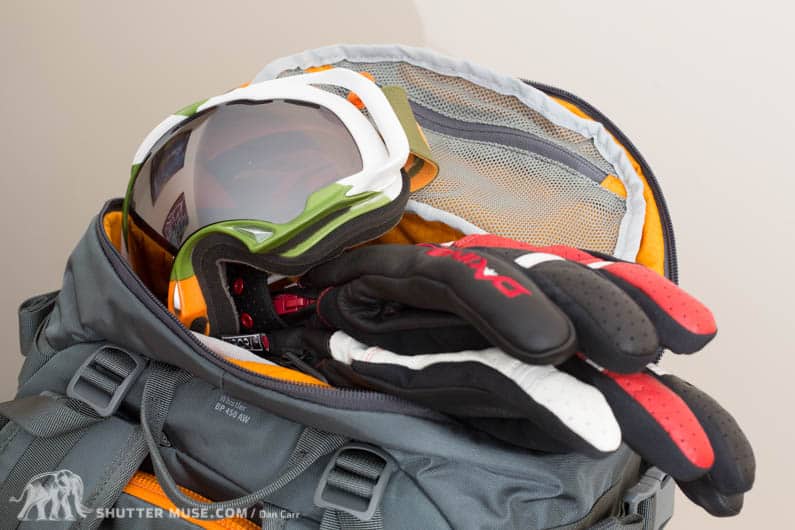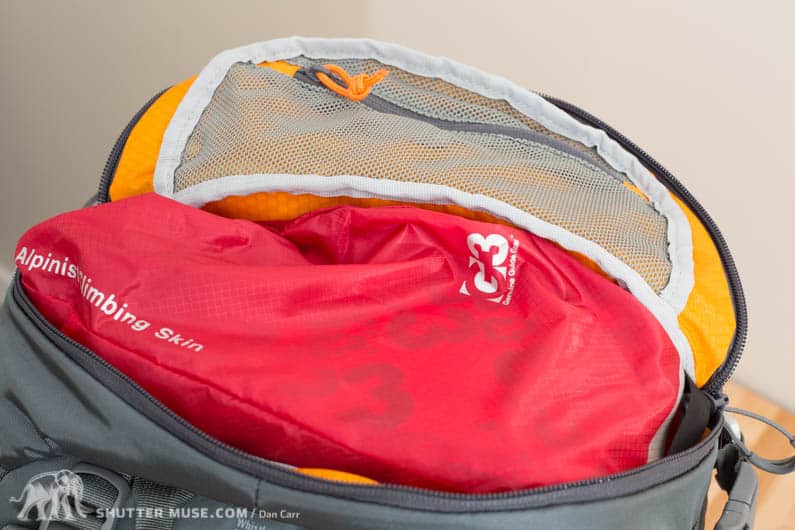 The top pocket itself it sized nicely for goggles and gloves if you're in snowy climates, and also serves as a great place to store snacks and all the aforementioned items I like to put on the key clips. Moving around to the front of the pack we have an expandable pocket for all your clothing and sport-specific accessories such as snow shovel, climbing skins, harnesses, rope or extra clothing. There's even a sleeve for your avalanche probe and shovel handle which can also work for some bike pumps as well. The clever thing about this front pocket is that the barrier between it, and the main camera compartment has been reinforced. This means you can comfortably store very wet items in the front, and also sharp items like crampons, without worrying about your precious camera gear. A drainage hole at the bottom of this pocket will let the water run out from melting snow on your shovel, or waterlogged ropes.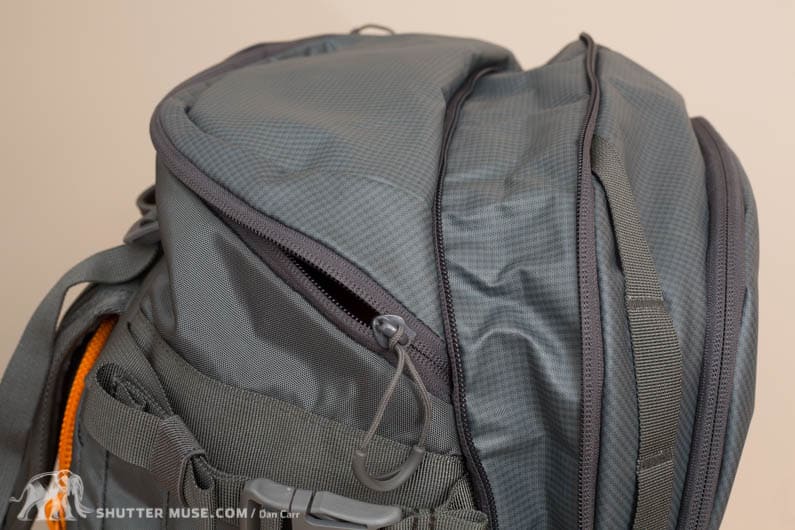 One thing that is missing from this pack is a dedicated water bladder pocket. A small clip is included at the top of the front pocket which allows you to hang any bladder from the major manufacturers, but be aware that it will then be in the front pocket and affect what else you can put in there. No spikey crampons in there with your bladder, for example. The location of the bladder hanger, and the design of the rest of the bag also means that there's no dedicated H20 passthrough for your bladder hose to reach the harness side of the pack. You'll have to simply pass it out through the zipper of the front compartment which could, in a rainy situation, affect the water resistance of the pocket which otherwise features seam sealed zippers. I pondered this for some time with the bag in my hands, and I couldn't think how else they could have done this, unless they put a bladder pocket on the side. The problem with that is that it gets in the way of tripods and skis, and whilst there is a small side pocket, it was likely ruled out of being a bladder pocket for that reason. I think the right compromise has been reached, and I'm glad they included the small bladder hanger clip because again, this is something which other have failed to do. With it's location in the protected, compartmentalized front pocket, you also don't have to worry about a burst bladder soaking your camera gear. Water would simply drain out of the hole in the bottom. When you do pass a hose around to the front of the pack, there's ample nylon loops on the harness to secure it on whichever side you want it. Many snowsports folks don't use a bladder anyway as the types freeze pretty quickly, so I'll be using my usually 1L MSR water bottle stashed in the front pocket anyway.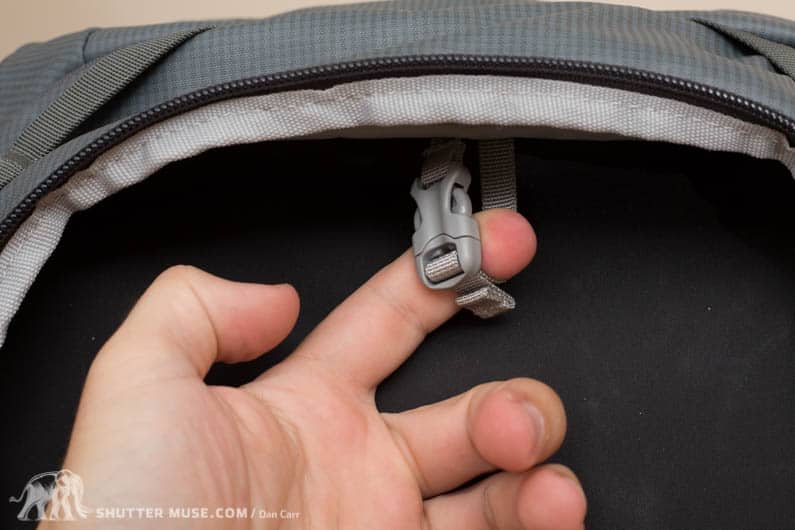 Tripod carrying
Tripods can easily be mounted on the side of the pack, or the front. There's tripod "cup" as you find on some bags, but given the length of the bag, I found that even my longest tripod remained pretty stable when mounted to the front. Typically I prefer to mount it on the side and keep the weight closer to my centre of gravity, I was merely testing front mounting because this is what you'd have to use if you had your skis on the sides. The additional orange coloured straps can be moved around to various places and the quality of the hardware (straps and buckles) is top notch. The addition of a lower strap on each side that can't be undone, is a nice way to secure the legs even more. I stick two feet through that strap and then cinch the third leg down over it with the adjustable one. It's a simple setup for tripods, but it's sturdy and will hold even the heaviest tripod and head combinations for the videographers out there with big fluid heads and tripods with leg braces. On a few packs, you find that there's either front or side carrying options but with the Lowepro Whistler packs it's nice to get both options because it gives you plenty of space to carry light stands as well. It's not unusual for me to want to carry three lightstands for some of my action sports photography setups but that's no problem on this pack.
Other features
The Whistler packs scores pretty highly in the comfort tests as well. For its volume, it doesn't feel too big and the harness straps are wide enough to spread a heavy load on shoulders and hips. It's not the most comfortable pack I've used, but it's still well within the comfort zone. Padding on the shoulder straps is kept to a minimum compared to a lot of other packs, but in this case that's a good thing because thick foam padding holds water and that wouldn't make a good choice for a pack that's got winter on its mind. Instead, the width of the straps helps with the comfort and a non-slip material is added to the thin high density foam to help it stay in place.
One side of the waist strap has a pocket for smaller items, and the other side has an accessory rail that can be used for attaching small bags or gear. It's also perfect for adding a Peak Design Capture Pro for holding a camera while you're on the move. The accessory rails is actually divided into two so you can easily add a couple of different things on your belt if you want to. Lowepro have a line of bags called Street & Field, although my personal preference in small belt bags is the Think Tank Skin series.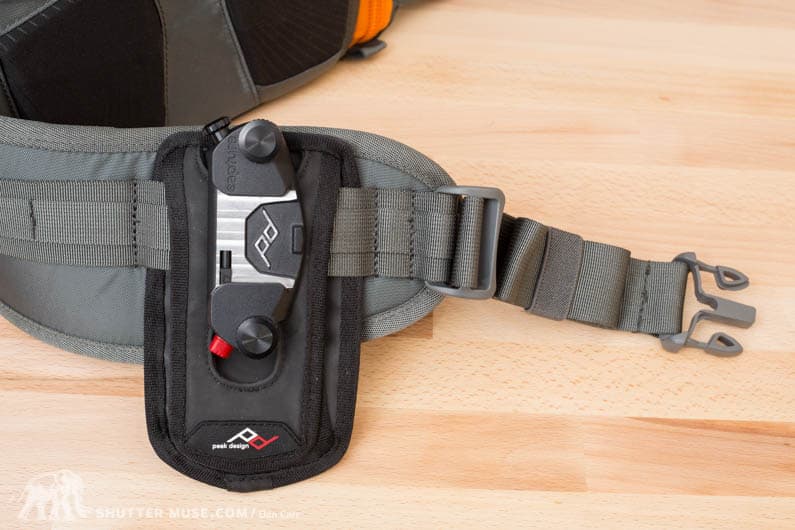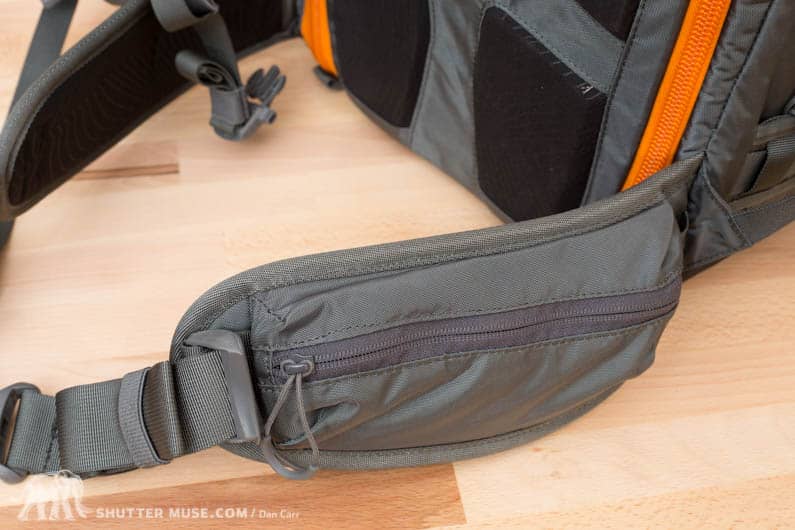 The Whistler packs come with a waterproof cover should you find yourself in prolonged torrential rain, there's a small zippered pocket inside the front pocket which makes for a great place to store it. So far I haven't felt the need to use the cover at all because most of the bag is made from TPU coated nylon. If you aren't familiar with TPU, it essentially means the material has a type of plastic covering over it. TPU is what dry bags are made of, for example. The result is a bag whose material feels very smooth, and one that you could pour water on for quite some time and have it just bead right off. It's not a "waterproof" bag, but it's a darn sight more water resistant than any other photo pack I've ever seen. The TPU also means that dirt and dust has a lot less to stick to and the base of the pack features an even tougher grade of TPU to withstand more punishment when being constantly put down in dirty, wet and rough environments.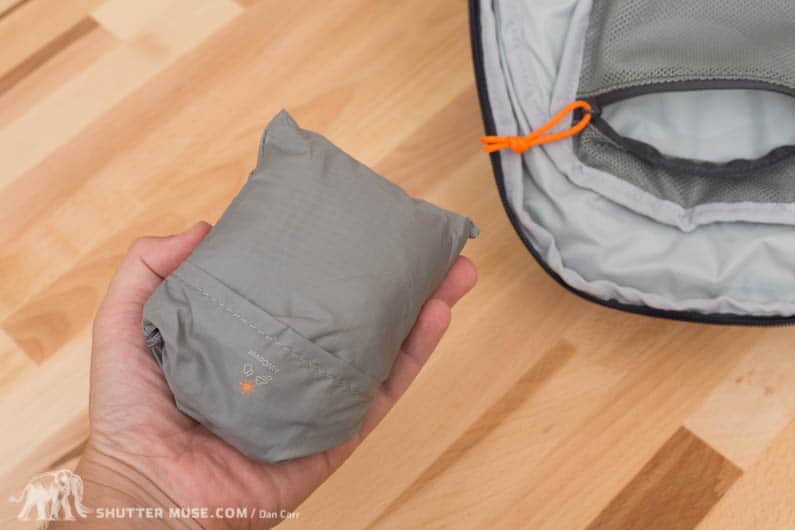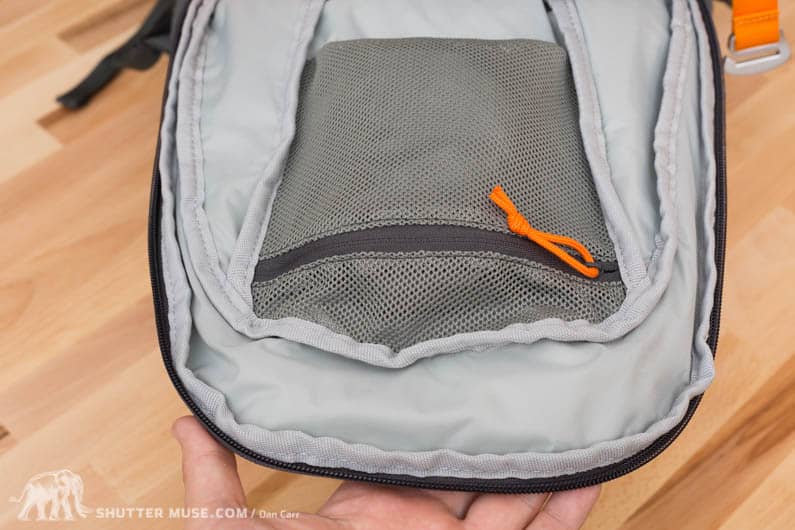 On one side of the bag you'll also find another, somewhat curious pocket. The zipper runs the length of the bag, but the whilst the pocket is long, it's not very spacious. Inside it are two further pockets which are not zippered or securable in any way and I couldn't not for the life of me think what I would want to put in them. Answers on a postcard…or in the comments section! Perhaps some small cables from my remote flash gear, but I definitely would have preferred it if the two smaller interior products at least had hook and loop closure. If you forget to zip the side pocket, the contents of those two smaller pockets is going to fall out in just a few seconds. Since the side pocket itself isn't deep, the material clings close to the bag and a quick glance at the bag won't tell you whether or not you have zippered that side up or not. This is made even harder because the zipper is hidden behind a pleat of material making it even harder to know at a glance whether the pocket is open or not. I certainly refrained from using it at all for that reason, although I wasn't short of space and pockets in other areas of the bag so it wasn't a huge deal. If you're reading this Lowepro designers, can you update it in the future to have a high colour contrast zipper that's not hidden behind the pleats in the materials?
If you are into ski mountaineering, or climbing, then this bag comes up trumps again with it's plethora of places to attach carabiners and other associated gear. One side of the pack features a daisy chain section and the fixed lower side rails won't sag down like a normal backpack side strap does when you load it with gear. The front of the pack also features two more daisy chain sections and another couple on the waist belt. In-short, if you have things to clip onto a bag, this Whistler pack is a great solution. A full traditional climbing setup can easily be stored externally, and the expandable front pocket is large enough for a good amount of rope.
Another thing that's nice to see is the attention to operation with gloves. The important camera compartment zipper has a large glove-friendly tag on it, and all the buckets on the bag are or a design that's much easier to operate with gloves.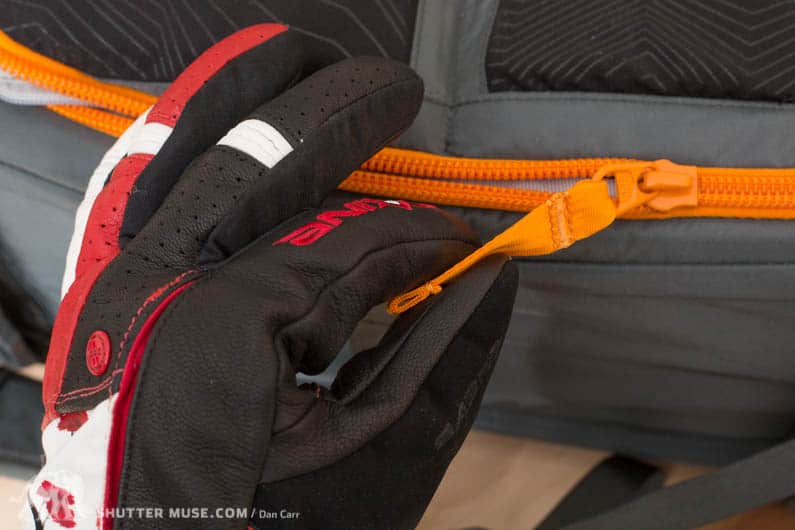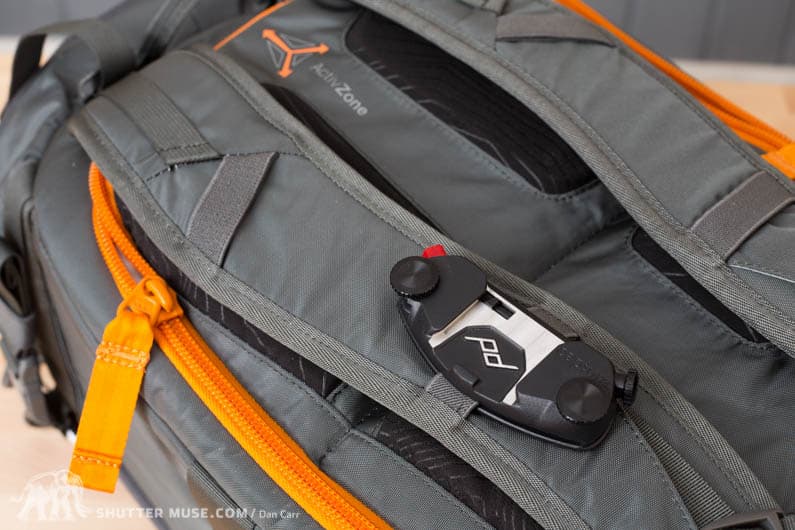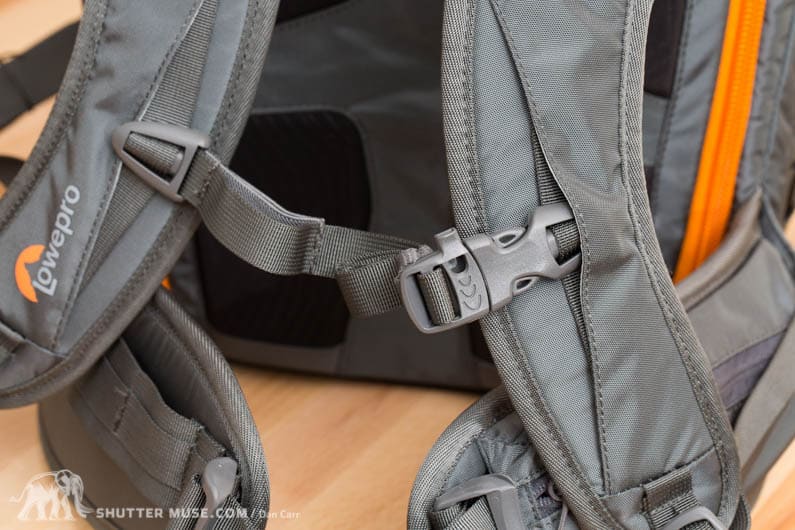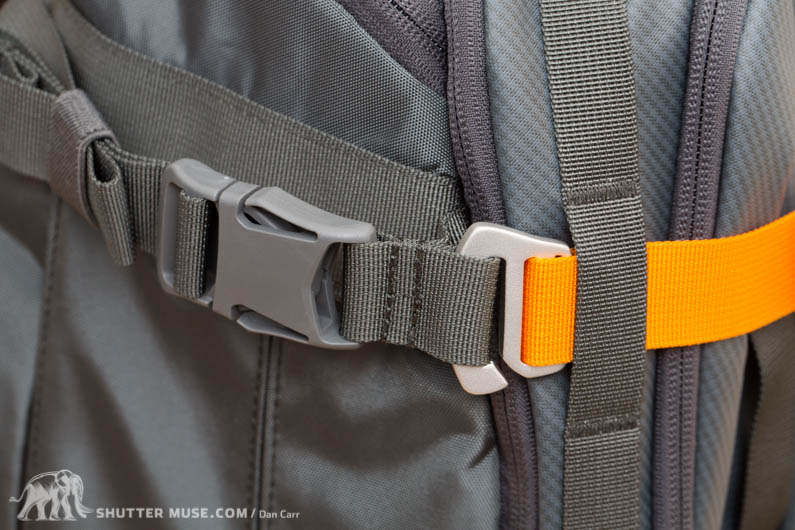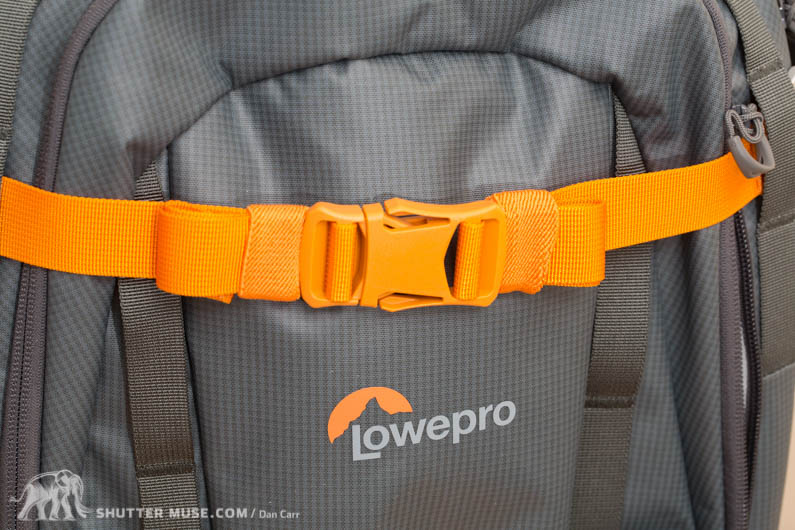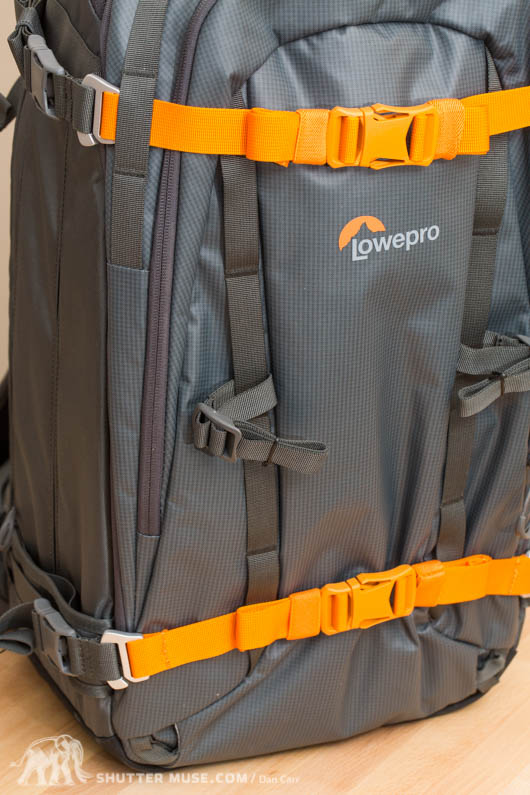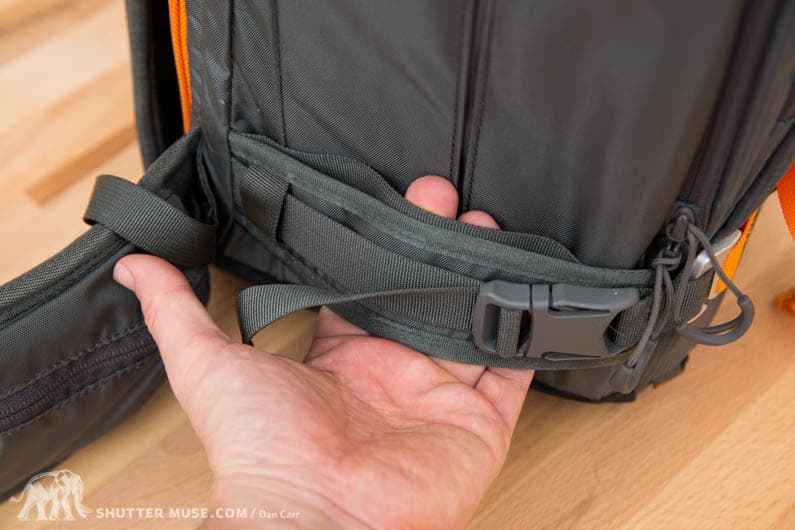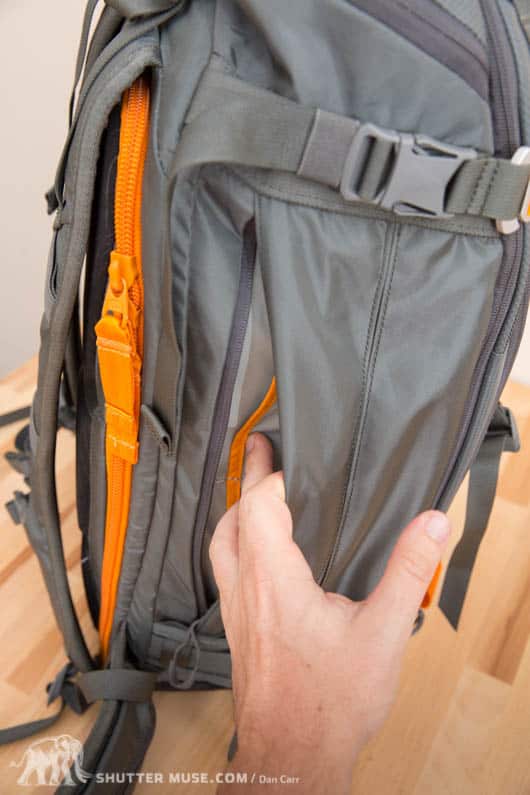 The competition
I always try to include a section about the other options out there when I'm reviewing any product. Obviously it's not possible for me to have tested everything, so there may be some other options that I haven't thought about. I you have other alternatives, please leave a comment at the bottom of the article.
I believe the main competition for this pack will be various packs from F-Stop Gear. The Lowepro Whistler pack sizing transcends a few of F-Stops bags so it's possible that someone might be considering a variety of different ones. F-Stop packs have the advantage of offering several different sizes of camera compartment, and most of them are very slightly cheaper than the Whistler packs. The notorious problem with F-Stop packs has been their availability, though. I wish I had a $ for every person that's read one of my F-Stop reviews and then emailed me to ask for alternatives because "the bag is not in stock". If you can get hold of one, they're great, but they also have a slightly functional feel to them compared to the Lowepro Whistler pack. The Whistler pack just feels a little tidier around the edges compared to any of the F-Stop packs I've tested. I guess that's what the slight price premium is for. The water shedding ability of the Whistler pack's TPU coating is also a distinct advantage.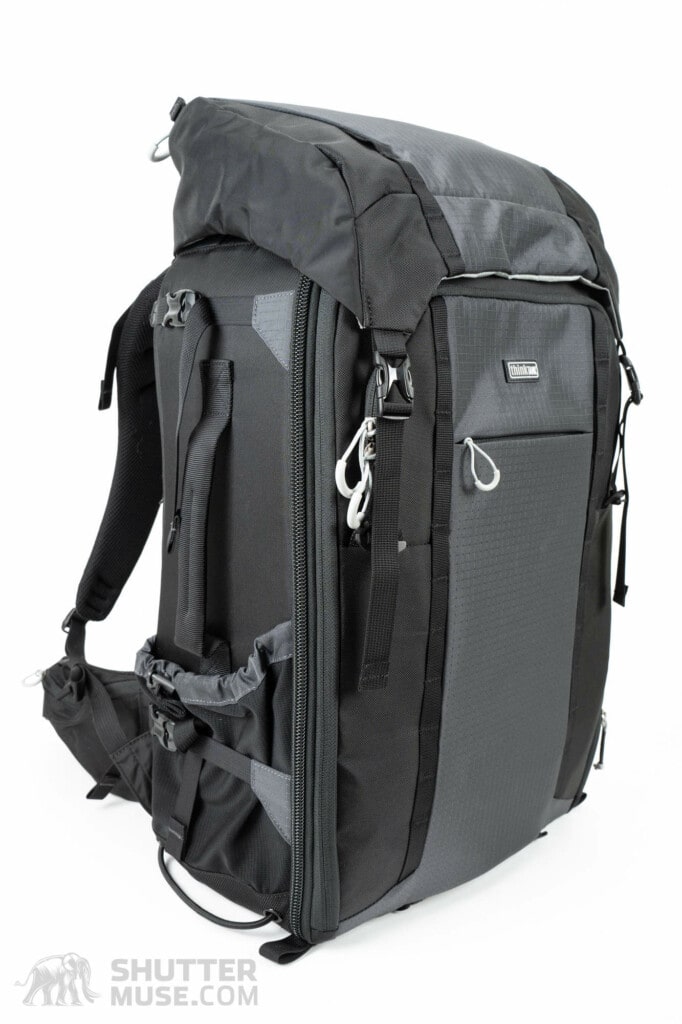 Those of you who follow my social media channels may be aware that I'm currently using the Think Tank FirstLight+ packs for a lot of my work. These packs were designed specifically with long super telephoto lenses in mind, and I'm often carrying around my rather burly Canon 200-400 f/4 L IS 1.4ext. I've shown that this lens can be shoehorned into the Whistler 450 AW if necessary, but it's not a setup I'd use all the time. If you happen to be shooting with that same lens, or a 500mm f/4, you'll be more comfortable with the FirstLight packs which I think are the best long lens bags on the market at the moment. Whilst the FirstLight packs were designed with long lenses in mind, they are very capable bags for any kind of outdoor photography, with the FirstLight 30L being the closest in size to the Lowepro Whistler 450 AW. The Whistler pack is $70 more than the MindShift FirstLight 30L, but it's also a lot more fully featured for adventure sports. Any actions sports photographer should definitely focus on the Whistler pack, but I'd recommend the FirstLight to wildlife photographers for it's comfort with heavy loads and also several features specific to long lenses. Landscape photographers that require the volume of either of these packs won't be disappointed for their price points, and whether the more expensive Whistler pack is more suitable to you really depends on how rugged you need your gear to be. The materials and hardware on the Whistler pack is more robust, but it comes at a price premium.
I could also throw the MindShift Rotation 180 Professional into the mix as well (Rotaion 180 review here) if your main subject is landscapes. The Whistler pack will always be a better option for action/adventure sports, but the Rotation 180 technology of the R180 pro is pretty awesome and it earned this pack a place in my cupboard for eternity. Since the price and build quality is on a par with the Whistler pack, it'll really come down to whether you think you'd use the R180 feature or not. It doesn't make any sense to own the R180 pro unless you actually use the feature. If you don't use the rotation feature, it would just slow down the access to your camera. The R180 pro is a no-go for wildlife folks as it's not big enough to hold longer lenses.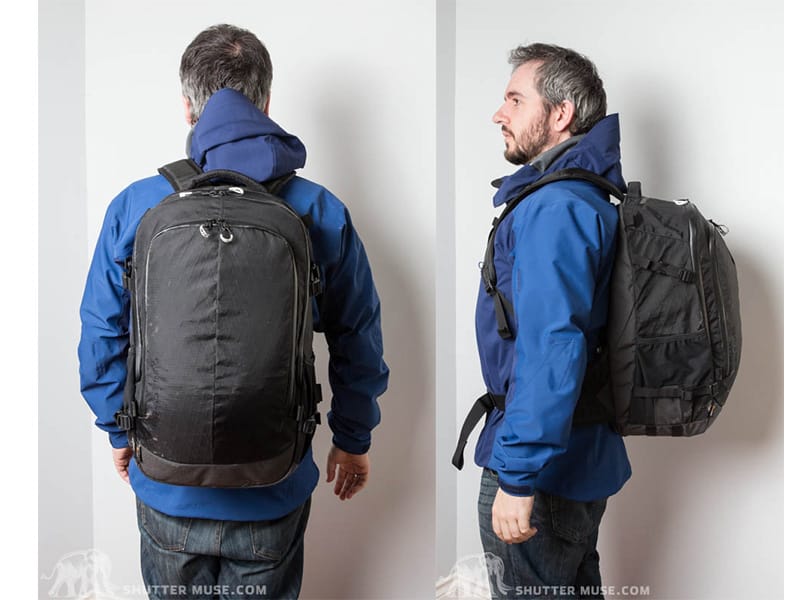 The GuraGear Uinta (review here) is an extremely well made pack, although it lacks a few key features that keep it out of the running in this particular category. The Battaflae pack is also a great pack that I used for a long time, but for long lens carrying, the MindShift FirstLight is much more comfortable, and the Whistler packs are far more suitable for sporty adventures. Click Elite make an interesting pack called the Contrejour, but I haven't used it so it's impossible to be definitive about it. I don't personally like the look of the side loading nature, and it's overall design looks to be a bit unwieldy. It also lacks the seam sealed zippers and more robust, water shedding material of the Whistler pack whilst being at the same price point. It's pitched as a winter sports pack, but the side loading nature of it would mean sensible side mounting of skis wouldn't be possible. If you've used the Contrejour pack, please let us know in the comments!
Lowepro HighLine Series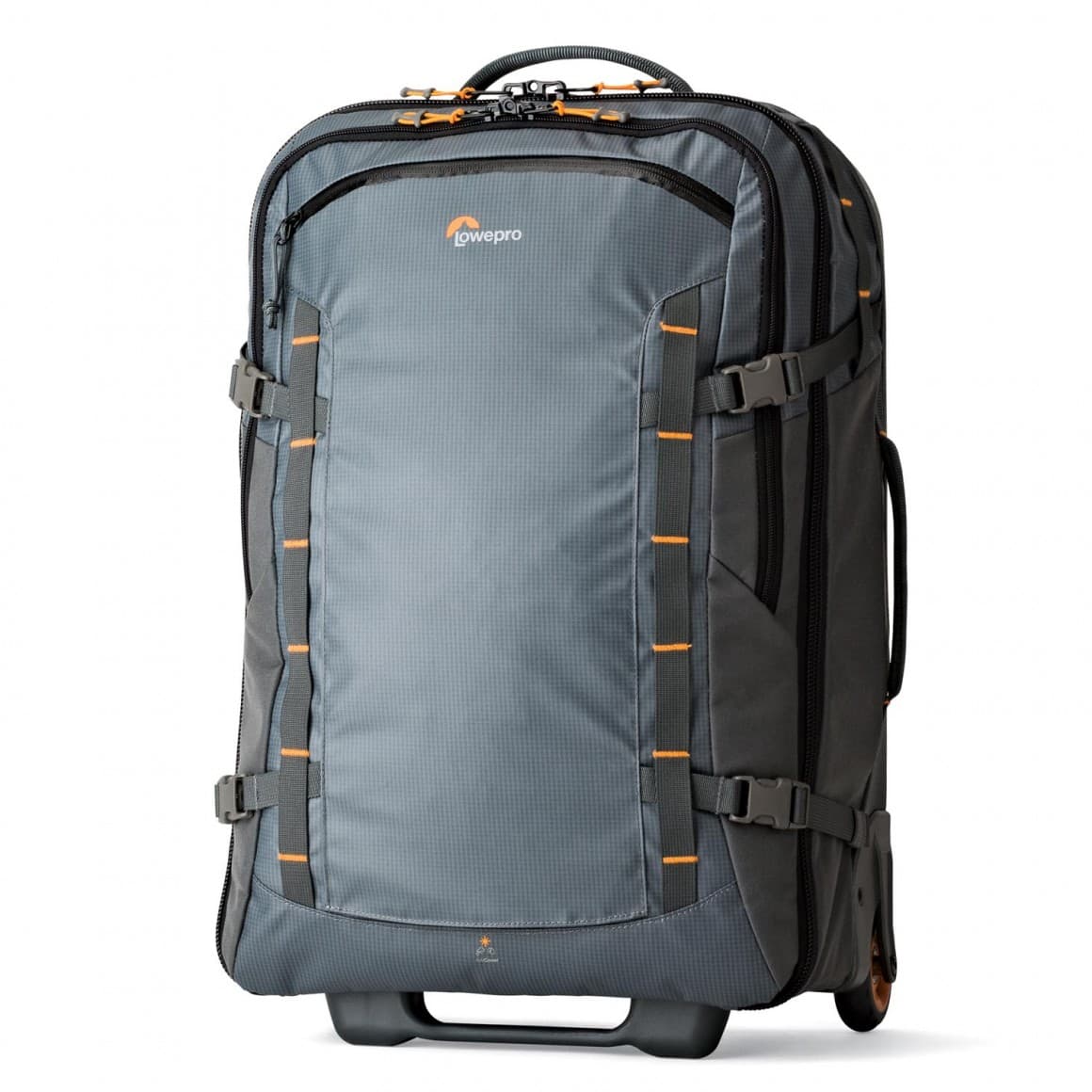 Shortly after publishing this review, Lowepro expanded their product lineup and entered the travel bag market for the first time. Amongst the initial array of travel bags is an adventure-inspired set of bags called the HighLine series, containing two backpacks and a travel roller. The HighLine series shares a lot of the design styles and materials from the Whistler backpack, and in particular, it struck me that the HighLine RL x400 AW roller bag would be an excellent companion for the travelling adventure photographer.
One of the problems for this kind of photography is that the only type of camera bag that makes sense while you're working, is a backpack, but they aren't always ideal when you have to travel with them. I often get wheel-induced jealousy when I see people effortlessly striding past me through terminals with their roller bags, while I struggle along with my 40lb backpack. (Shhhh.. don't tell the gate agent that's how much my bag weights ;))
With the HighLine roller bag, you can remove the camera insert from the Whistler pack and place it into the roller for your travel day through the airports. Just flatten the Whistler pack and put it in your checked suitcase or duffle bag. Now you can cruise around all day with your carry-on roller, and when you reach your destination, simply switch your camera block back to the Whistler pack and get to work!
I'll be testing this out myself with a HighLine roller, and I'll post an update on the site and a full review of it once I've had some time with it.
Pros & Cons
Pros
TPU coated material is outstanding for durability and water shedding
Large glove compatible zipper pulls
Uniquely functional internal dividers
Rain cover included in price
Multitude of straps and webbing for attaching an assortment of gear
Expandable volume front pocket
Shovel/probe compatible for snowsports backcountry usage
Split opening back panel for use in bad weather
Cons
Only one size of camera compartment available
Camera compartment is heavy
No H20 hose routing for bladder hose if you decide to use one
Side pockets are of limited usage.
Conclusion
I know a lot of people follow my ski photography work and have a specific interest in winter sports photography. When it comes to carrying camera gear up the mountains in the winter, there's now a new king. The expandable front pocket is very well thought out for providing protection from crampons and wet gear, it gives you the perfect place to stash all your snow tools and accessories. There's ample options to attach skis and snowboards to the outside of the pack, and whilst some might like to have seen diagonal ski carrying implemented, I don't think it's a real issue. There's also plenty of straps for carrying skis/board as well as a tripod and light stands at the same time. Another feature in its favour for this usage is the TPU coated material that's used on the whole of the pack's exterior. While packs like the F-Stop Tilopa and Ajna have previously used this on the base, the Lowepro Whistler has gone one step further for providing weather resistance. I doubt I would ever reach for the waterproof covering in ten the heaviest of snow storms, and even heavy rain would have to be prolonged for me to think it. This pack is by far the most weather resistant, dirt resistant photo pack I've ever used, thanks to this TPU coating.
What do I conclude for other types of adventurous photography? Whilst a few features of the pack have been designed with winter sports in mind, they all translate well to other types of action and adventure sports photography. Climbers have ample space for gear, both internally and externally attached, and mountain bikers will appreciate the resilient design and its resistance to mud. It's even a great choice for landscape photographers that want to get off the beaten path and people that travel in areas of unpredictable weather (jungle?), because it just feels like this pack could take a lifetime of abuse. The price may stop some people in their tracks if they're used to seeing $100 Lowepro products in their local camera store, but the $390 price point (450 size) falls in the same territory as its main competition and offers a superior set of features. This is a "do anything" kind of pack that'll last many years of travel and adventure and it's by far the most exciting photo pack I've ever seen from Lowepro.