Important Update!
The FirstLight photo packs have now been replaced by the brand-new Think Tank FirstLight+ series. Please head on over to my new review of these impressive, updated camera packs.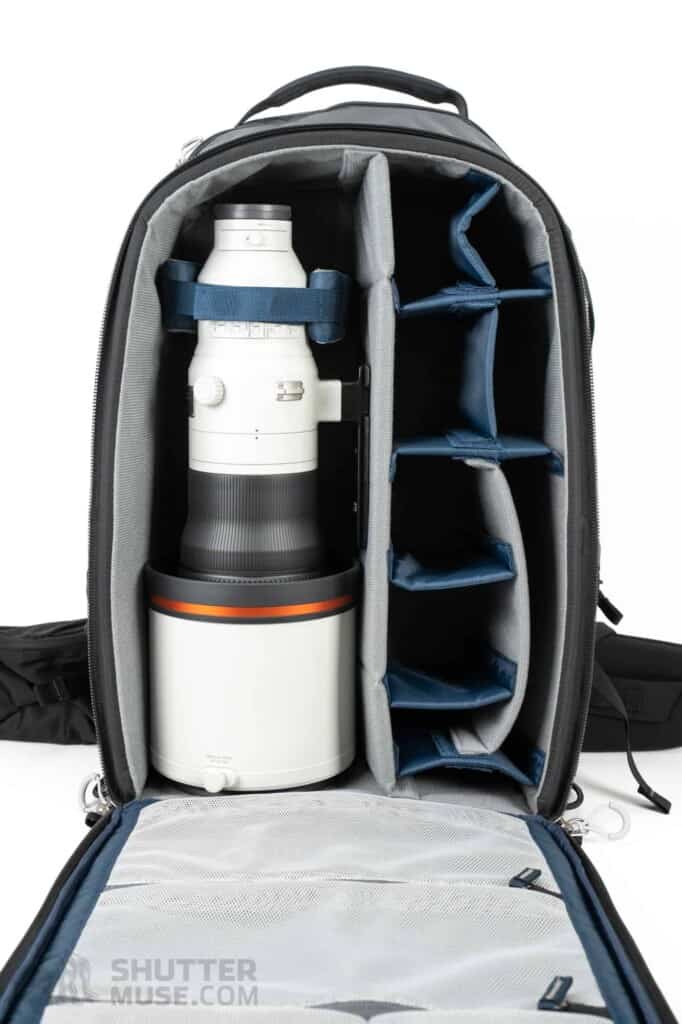 Old Review of the Original FirstLight Model
Table of Contents
MindShift Gear has unveiled an entirely new backpack lineup called FirstLight. I've been secretly using these packs for the last month, so I'm able to bring you guys a giant review already. Surely the first one!
Regular readers of this site should be familiar with the brand, but for those that don't know, MindShift is kind of like Think Tank Photo's sister company. The bags are designed in the same office and assembled in the same factories, with just as much care and attention to detail as the Think Tank products. The only real difference is that MindShift Gear caters exclusively to the outdoor and adventure photography market. Bags for people who cringe when they hear the words "photography studio"! (This is me, by the way.)
The innovative Rotation 180 lineup of packs really put these guys on the map. I've previously reviewed the R180 Pro, R180 Panorama and the R180 Trail.
Whilst the rotation system in those other packs is extremely useful for people who are on the move, the design means that it's not possible to carry large super telephoto lenses in them. You can fit a 300mm f/2.8, or Canon's 400mm f/4 DO II in the top of the R180 Pro, but that's as big as you can go. As soon as MindShift started making their first packs, people like me were clamouring for them to make something that would comfortably carry the "big guns", and the FirstLight series is the answer.
Video Review
Let's take a quick look at the specs: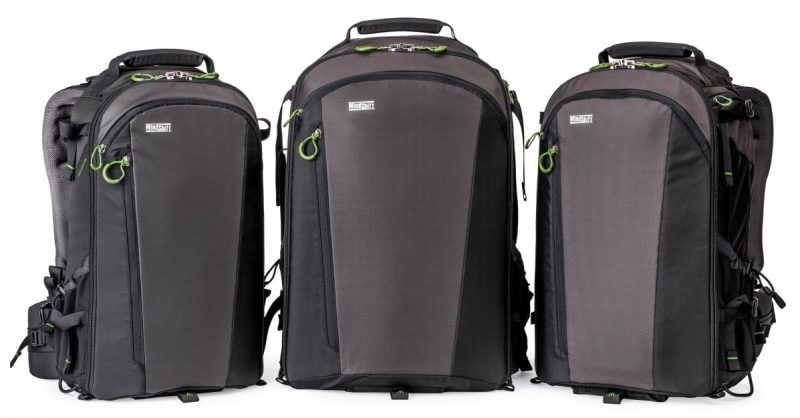 MindShift FirstLight 20L
Exterior Dimensions: 11.4" W x 18.7" H x 7" D (29 x 47.5 x 17.8 cm)
Interior Dimensions: 10.8" W x 17.5"H x 5.3" D (27.5 x 44.5 x 13.5 cm)
Front Pocket: fits up to 15" laptop
Weight: 4.4lb (1.9kg)
Volume: 20 Liters
MindShift FirstLight 30L
Exterior Dimensions: 12" W x 19" H x 8.7" D (30.5 x 48.3 x 22 cm)
Interior Dimensions: 11.2" W x 18.1"H x 7.1" D (28.5 x 46 x 18 cm)
Front Pocket: fits up to 15" laptop
Weight: 5.4lb (2.4kg)
Volume: 30 Liters
MindShift FirstLight 40L
Exterior Dimensions: 13.8" W x 21.7" H x 9" D (35 x 55 x 22.9 cm)
Interior Dimensions: 13.4" W x 20" H x 7.3" D (34 x 51 x 18.5 cm)
Front Pocket: fits up to 17" laptop
Weight: 6.0lb (2.7kg)
Volume: 40 Liters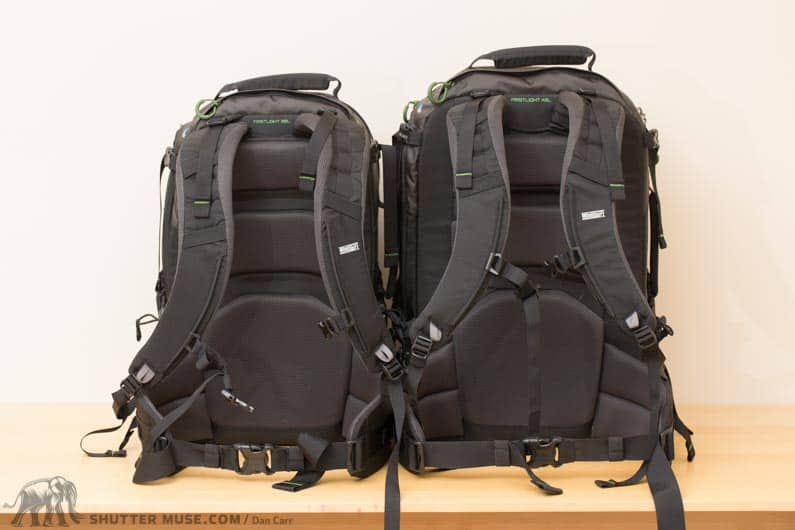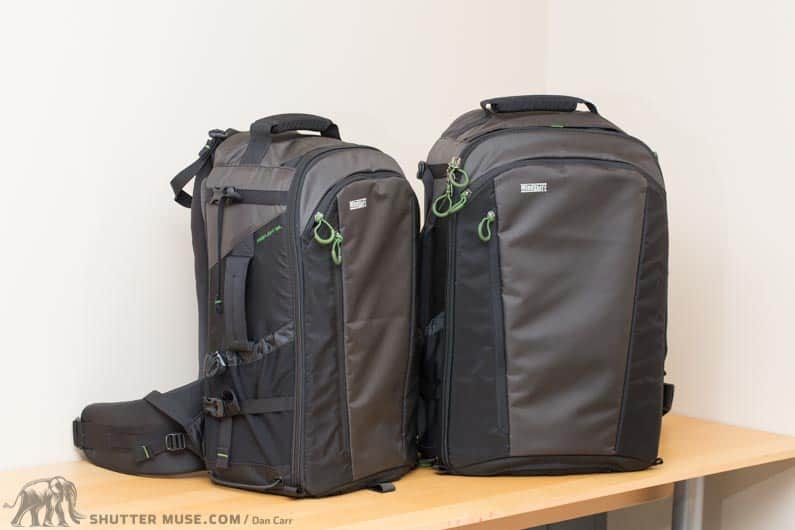 FirstLight Features
I'll bullet point the main features here, but then we're going to walk through them all individually and take a look at some photos. Ok, quite a lot of photos…
Adjustable torso length
Dedicated 3L hydration pocket on side (30L & 40L only)
Tablet or laptop fits into front pocket
Includes tripod/monopod mounting system on front or side
Seamless rain cover (included) doubles as a ground cloth. Also works when tripod is attached.
2 front stuff pockets for travel or trail essentials: extra layers, a light jacket, headlamp, gloves, chargers
Large water bottle or accessory pocket with drains and cinch cord for security
Top zippered pocket for quick access to essentials
Ballistic nylon bottom panel for durability in harsh environments
Shaped aluminum torso stay for additional support
Grab handles on 2 sides make it easy to hoist into an overhead bin, car, or trunk
Interior mesh pockets for storing filters, batteries, cables, etc.
Side compression straps with locking SR buckles for additional lash points
Shoulder straps and waist belt wrap to front for compact storage in overhead compartment
Whistle integrated into sternum strap buckle
Compatible with MindShift Tripod Suspension Kit, Lens Switch Case and the filter cases
FirstLight Payloads
Again, we're going to take a closer look at this further down in the post with my own gear and own bags, but here's a brief overview for those that are hungry for fast details.
One of the main things to note is that the FirstLight 20L is for standard size DSLRs, no gripped bodies or pro bodies in this one. The 20L is actually very similar in size to the 30L in width and height; it's the depth of it where it sheds most of the volume. The decreased depth of the 20L also means that it loses the hydration pocket on the side. It's certainly nice to be able to still fit larger lenses in the 20L, though, including the Canon or Nikon 200-400. This means that a 300mm f/2.8 or a 400mm DO II will work as well. Note that a 400mm f/2.8 would not work because the diameter of the lens hood is too tall for this pack.
I think we'll also see this pack in use by all the folks that are pairing the 7D Mark II with the stunning Canon 100-400 f/4.5-5.6 L IS II. That's a wonderful, lightweight wildlife photography setup that I'm using myself a lot right now!
The next thing to be aware of is that if you shoot with a 600mm f/4 or 800mm f/5.6, your only option is to go with the 40L pack. Something that's not shown in these photos, but would absolutely be an option, is to fit two super telephotos into one pack. For example, a 600mm f/4 and a 300mm f/2.8 would fit in the FirstLight 40L if you put them in top to tail, or used third-party soft lens hoods like this one from Aquatech.
Air travel with this series of packs was a big consideration, so the sizing of even the 40L pack is not too extreme. You'll have to check with your own airline's carry-on restrictions, but I don't foresee too many issues. I've definitely travelled with larger packs than this before, and what the FirstLights have going for them is their uncluttered exterior design. It makes the pack look smaller than it actually is, and keeps the airlines staff concentrated on the big rolling monster cases that people like to try and sneak on.
MindShift FirstLight 20L
Holds 1 standard-size DSLR and 4–6 standard zoom lenses. Holds 2 large Mirrorless or DSLRs and 5–7 lenses plus a flash. Maximum lens size: 200–400mm f/4 or 300 f/2.8 attached. (Photos courtesy of MindShift)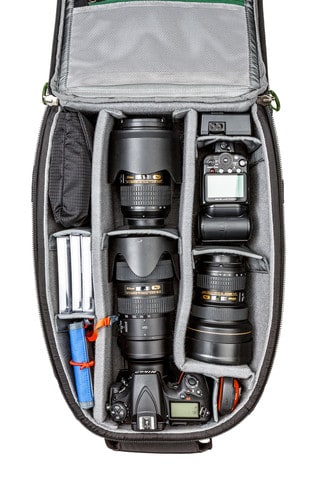 MindShift FirstLight 30L
Holds 1 gripped DSLR and 4–6 standard zoom lenses, and 1 flash. Maximum lens size: 500mm f/4 lens detached or 400 f/2.8 attached. (Photos courtesy of MindShift)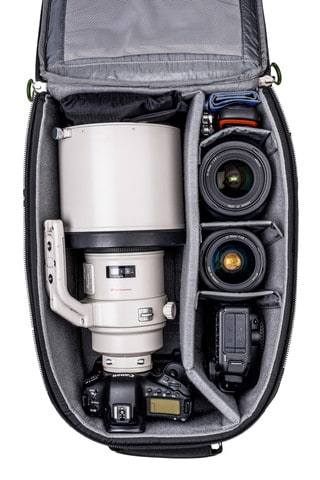 MindShift FirstLight 40L
Holds 2 gripped DSLRs with 6–8 standard zoom lenses and 1–2 flashes. Maximum lens size: 600mm f/4 lens detached or a 500mm f/4 attached. (Photos courtesy of MindShift)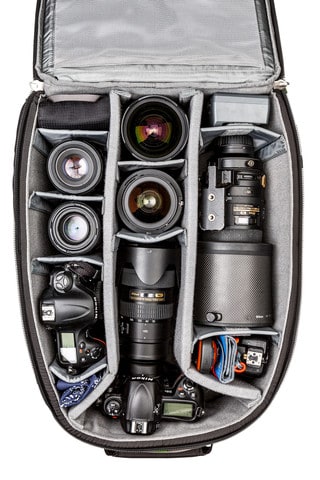 Feature Showcase
Divider Options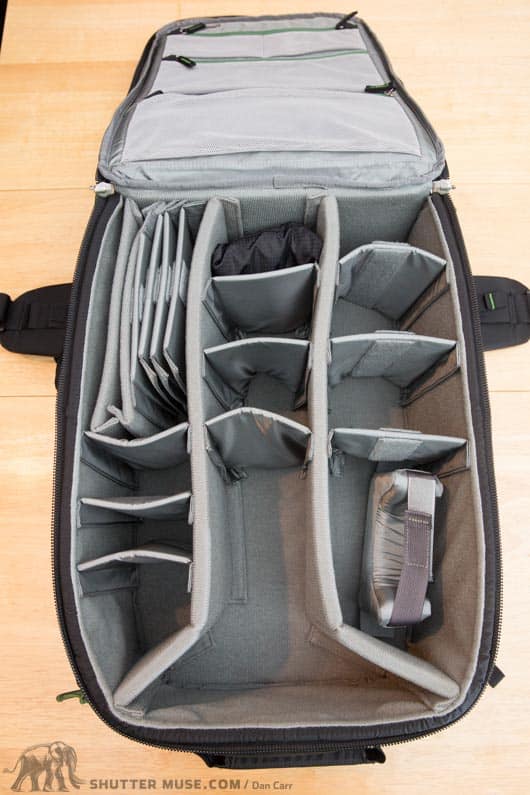 Since I want to be able to use pro-size camera bodies, I've only been testing the FirstLight 30L and 40L. The 20L is nearly identical in its features, though, so I can speak confidently about the lineup as a whole, after using just these two versions of the pack. As you can see, when you first unbox the bags, you have a ton of options for configuring them, including the long lens collar which is provided with all the packs.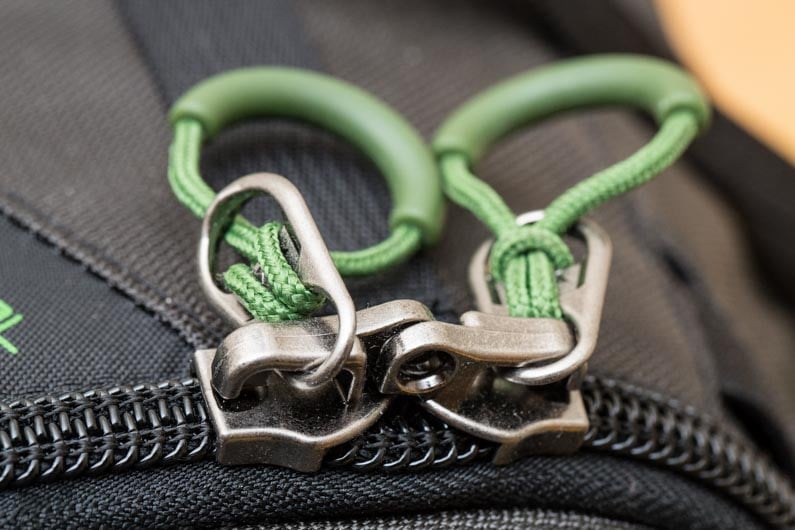 With an emphasis on ease of travel with the FirstLight, lockable zippers are included. I've spend more than my fair share of nights on airport floors, and I like to lock zippers up to discourage opportunistic thieves.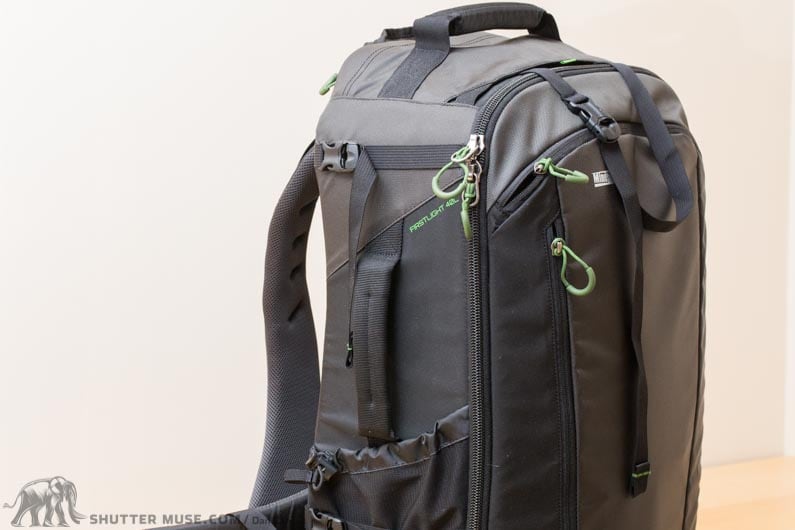 Grab handles on the top, bottom and side of the packs make it easy to hoist a heavily laden pack into an overhead baggage locker. The handle on the top of the pack has extra thick foam padding, making it very comfortable to hold even when fully loaded. The handle on the base of the bag is simple and thin, to prevent it from interfering with the balance of the pack when standing up. Incidentally, these packs do stand up very easily. The perfectly flat base and well balanced design means you can put it in the corner of your office, and it'll actually stay there without tipping over. This sounds like a small point, but I'm not sure I've ever owned such a sure-footed bag before, apart from a roller case. It makes storage a breeze.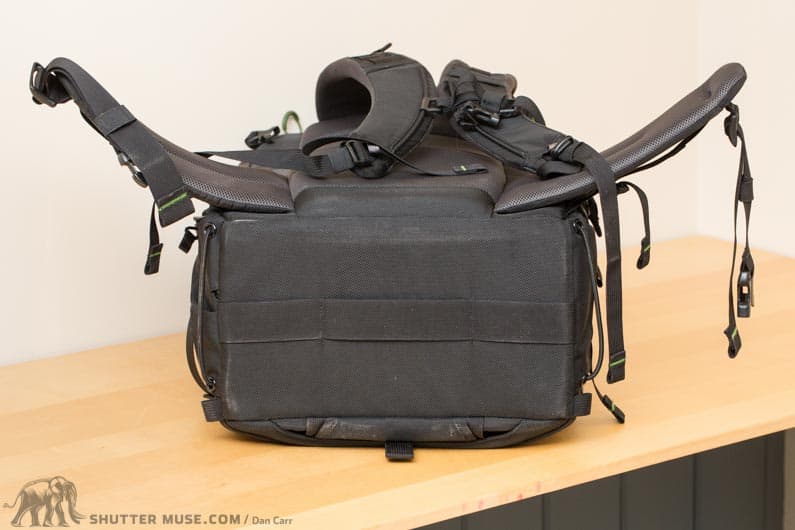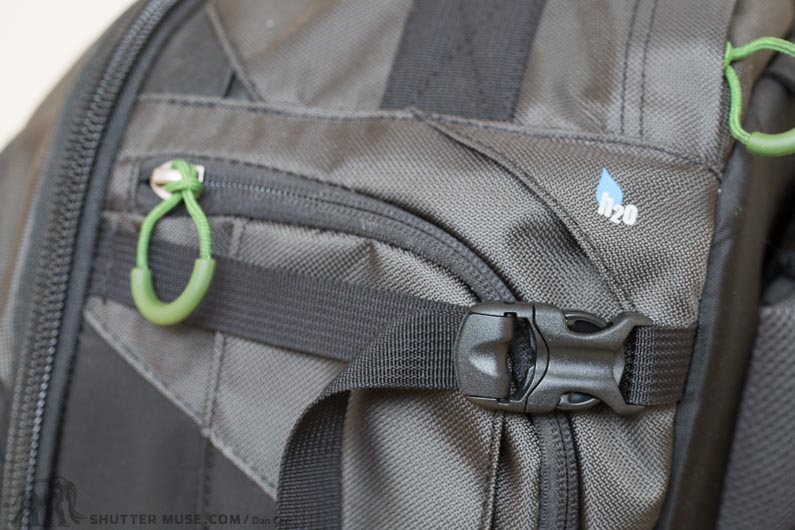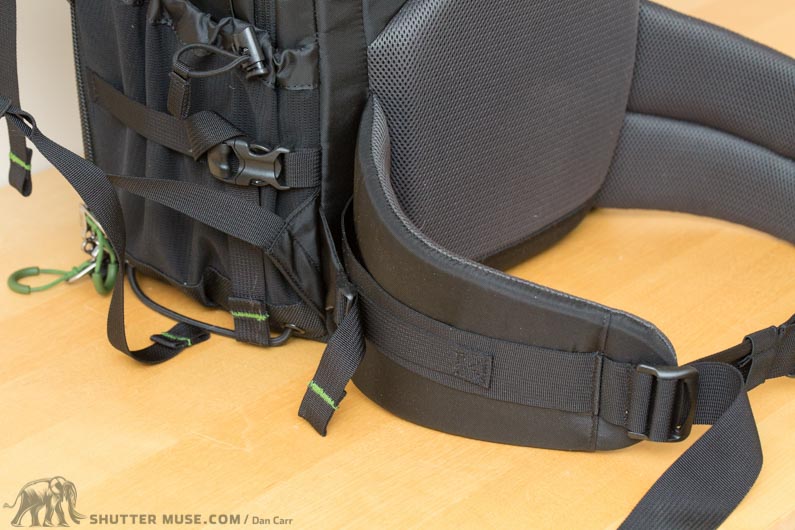 The hip belt has a large surface area and takes the weight of the pack very well. You can also see the adjustment points here, and the accessory rail which is on both sides of the belt.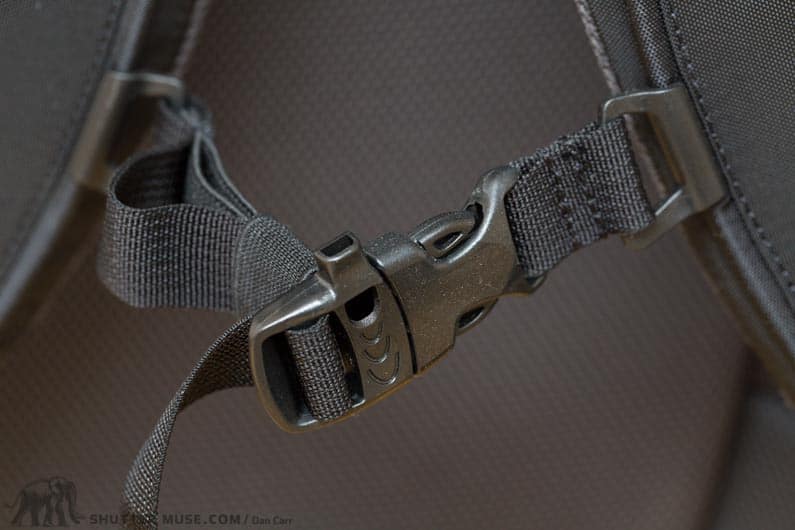 Emergency whistle. Check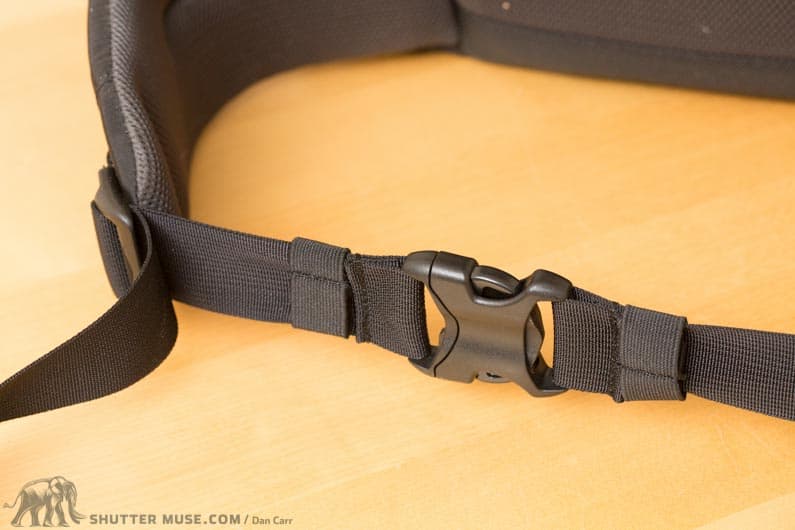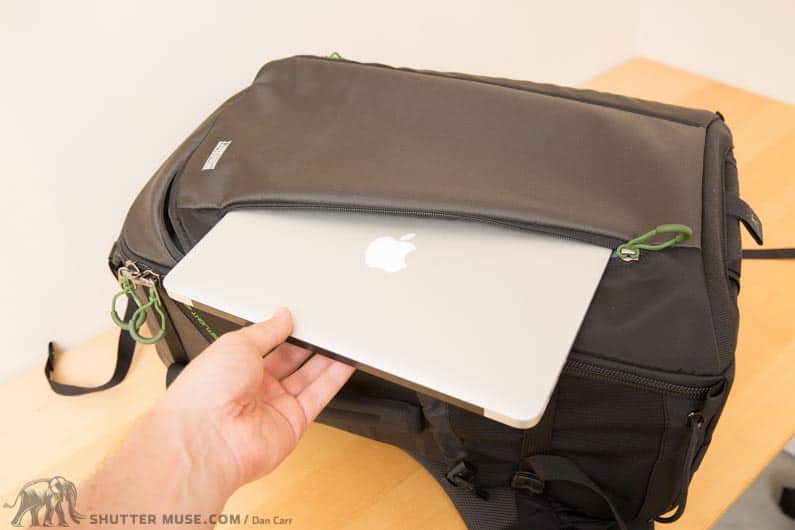 The front of the bag features two pockets. The larger one is designed for a laptop and will fit a 15″ in the 20l and 30L models, with a 17″ fitting into the 40L model. As you can see in this photo above, you can also fit an 11″ MacBook Air into the smaller front pocket, which would also be suitable for a tablet on all models.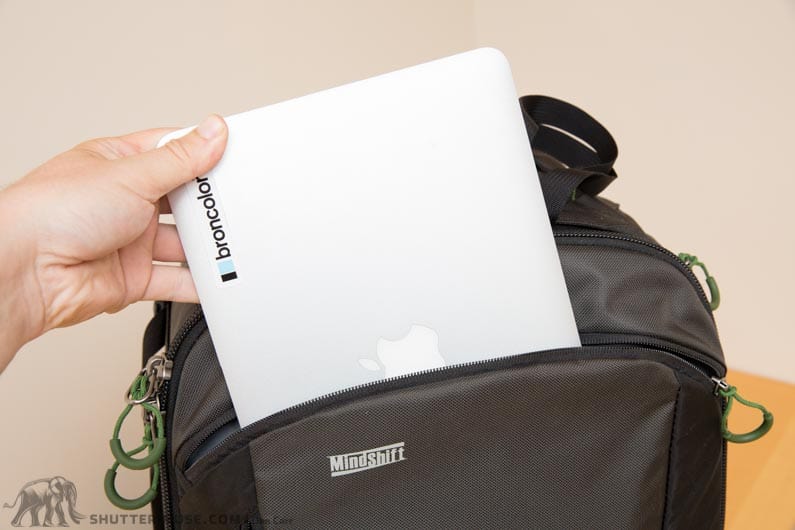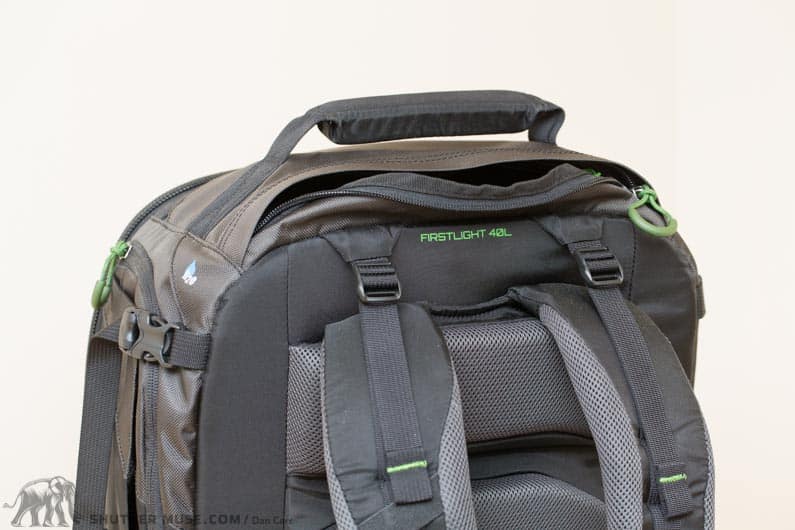 All the packs feature a top pocket that can be used for small accessories or travel documents. It's handy, but it's quite easy to lose small items in it. The opening is limited and you can't really see inside. It could do with being a little more accessible, with a lighter colour material internally to help see what's inside it. It also features a clip for keys or SD card wallets.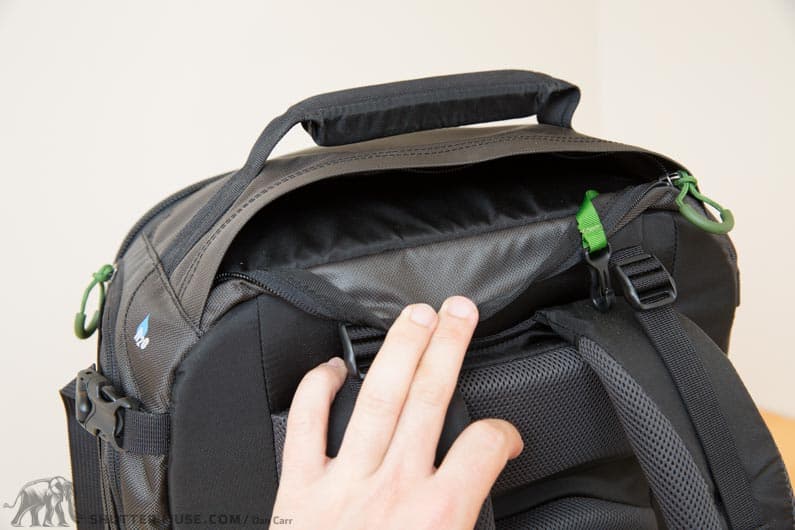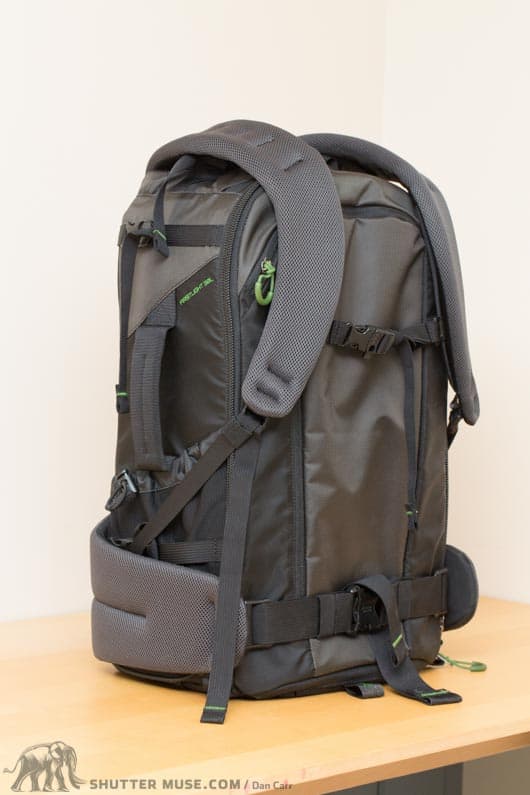 The straps can be easily wrapped around the pack which helps keep them tidy for travel. Certainly, for short distances you can do this, and carry the bag with the side handle. It might be something you'd look at doing just before you board a plane, but I also did this when I loaded them into my car. It's hard to call this a feature, as pretty much any pack can do this, but I'd not considered it before until it was pointed out by the guys at MindShift.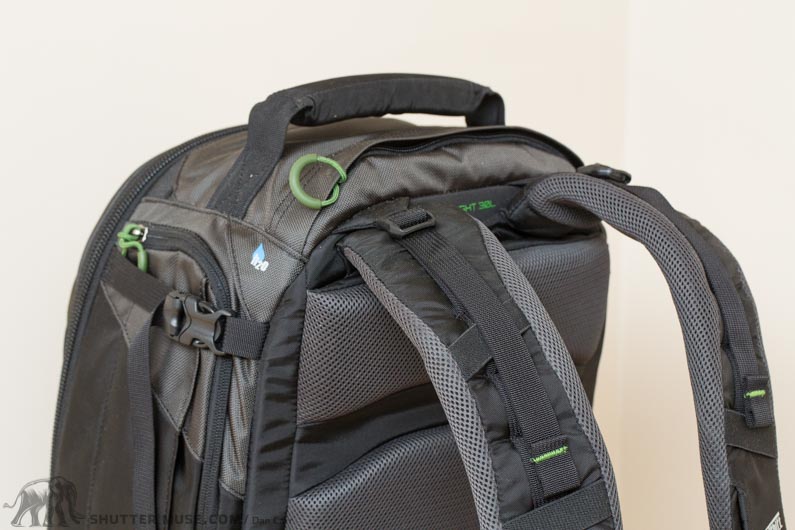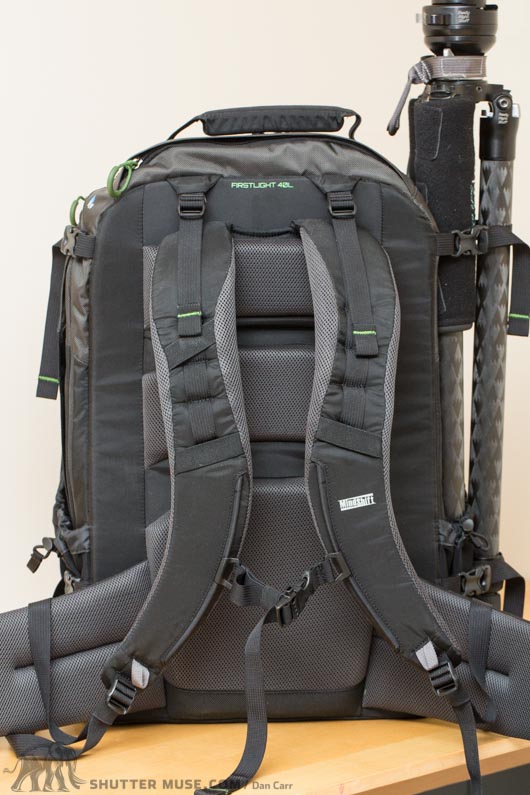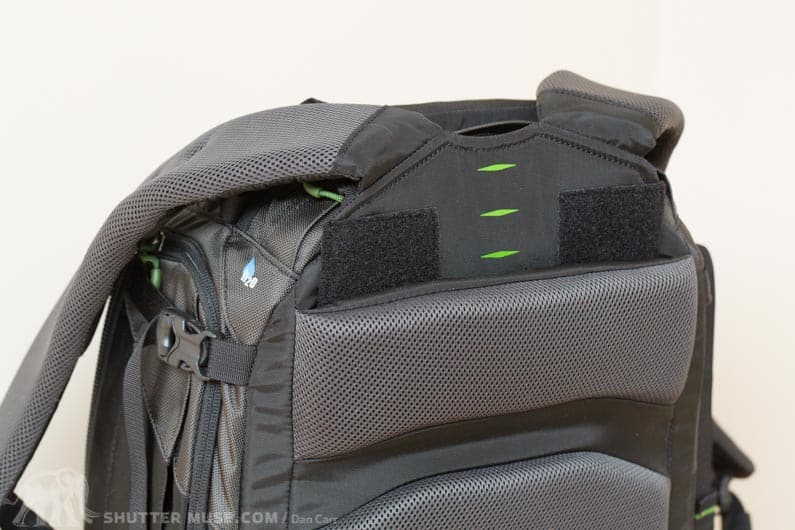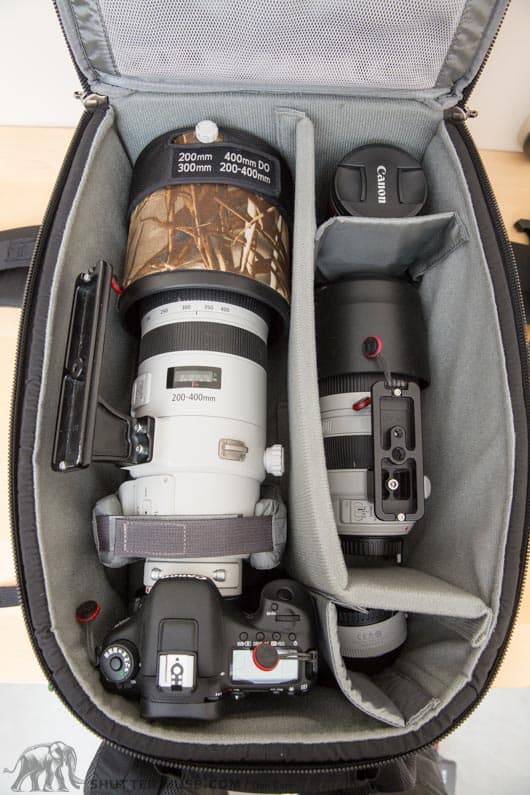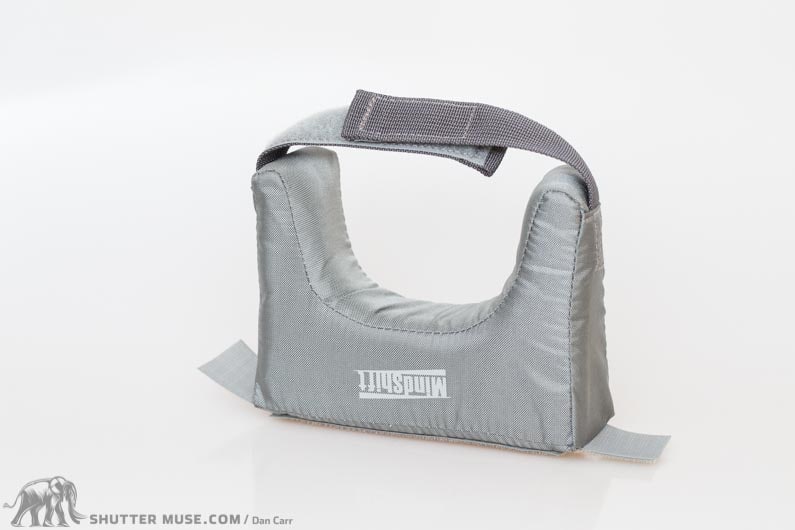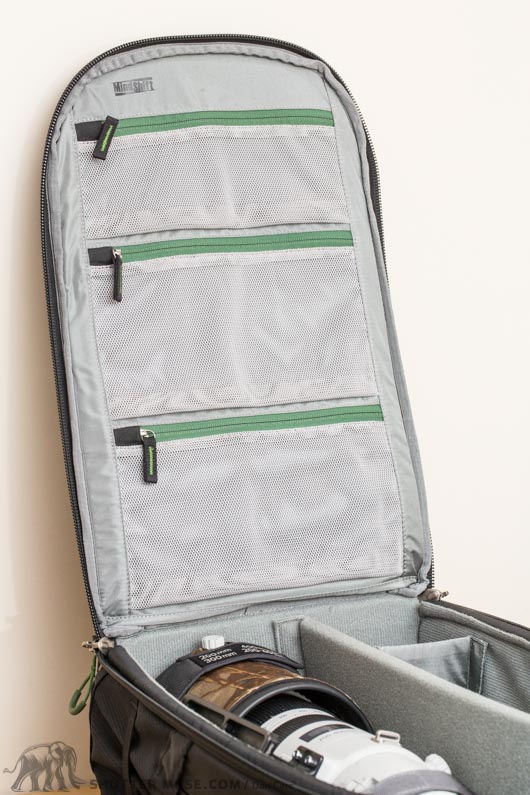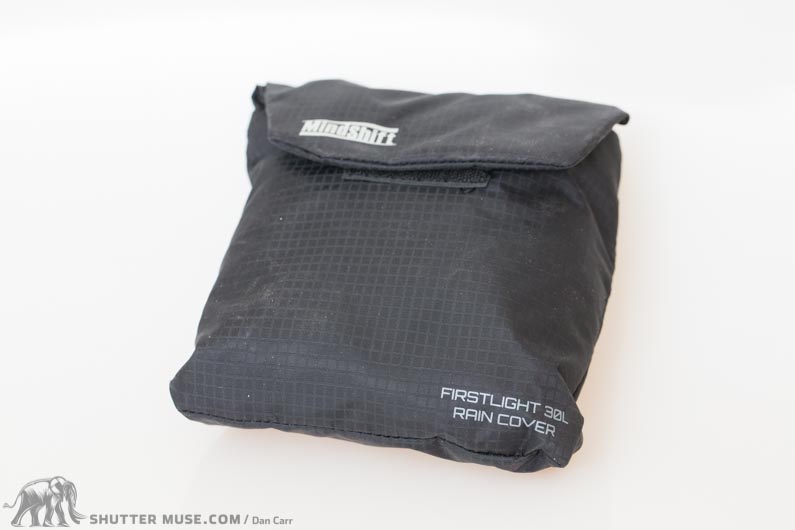 Water Bladder
3L bladders will fit into the dedicated pocket on the side of the 30L and 40L packs. The 20L does not have a bladder pocket, which is a shame. I can see that the change in depth might have made the side location of a pocket less workable, but it shouldn't mean that the pack should go without one altogether. These packs have been designed to be comfortable for extended hiking, after all. You could use a water bottle in the side elastic pocket, but good bottle solutions generally don't provide the same volume of liquid as a bladder does. Another option would have been to use one of the two front pockets for a bladder. All that's needed is a hose exit hole and a small interior loop to secure the top of the bladder.
Those using the 30L and 40L will have no problems with this. The pocket is correctly sized and works great. You can even carry a water bottle AND a bladder, if you really need to stay hydrated in extreme heat.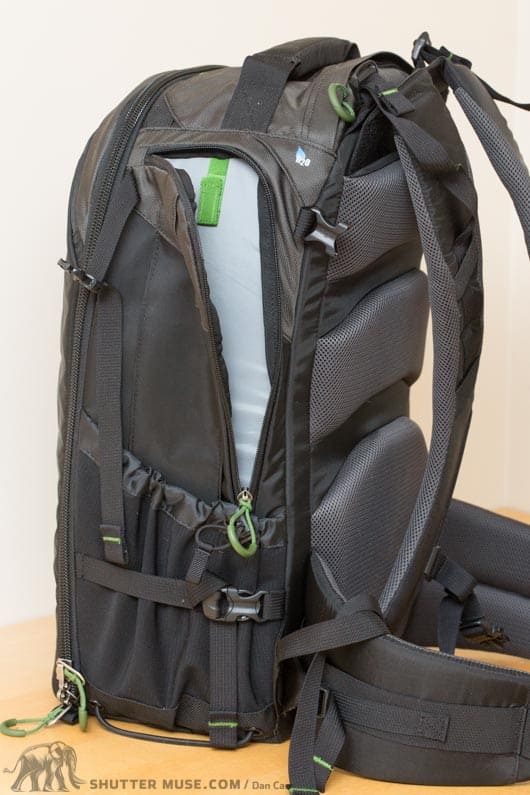 Carrying A Tripod
I often find that this is a place where camera pack manufacturers slip up. It's undoubtedly an important feature, yet I've lost count of the number of times I've had to include "tripod carrying system" in the list of a bag's negative features. For packs such as the FirstLight, where long lenses are the name of the game, capable tripod solutions are a must-have feature.
Thankfully, the FirstLight packs delivers the goods in this regard. On the front of the pack you'll find a generously long, hidden tripod strap tucked away at the top, and a hidden tripod "cup" that pulls out from the bottom. I prefer this kind of system, to the "accessory" system that's available with the R180 Pro. I don't like any opportunity where I can leave something important at home, so having all this stuff hidden away in the pack the whole time is great. My one gripe with this front mounting system is that you have to undo the tripod to open the front of the pack. If you just want to grab your camera out for a quick photo, it's an extra step in the process. I'm pretty sure it was done because it provides a much more secure mounting point for the tripod, though. If this strap had been on the lid, it would have allowed you to open the pack without undoing the tripod, but the weight of the tripod would be constantly pulling on the zippered front flap while you walk. I think the designers have probably found the best available solution.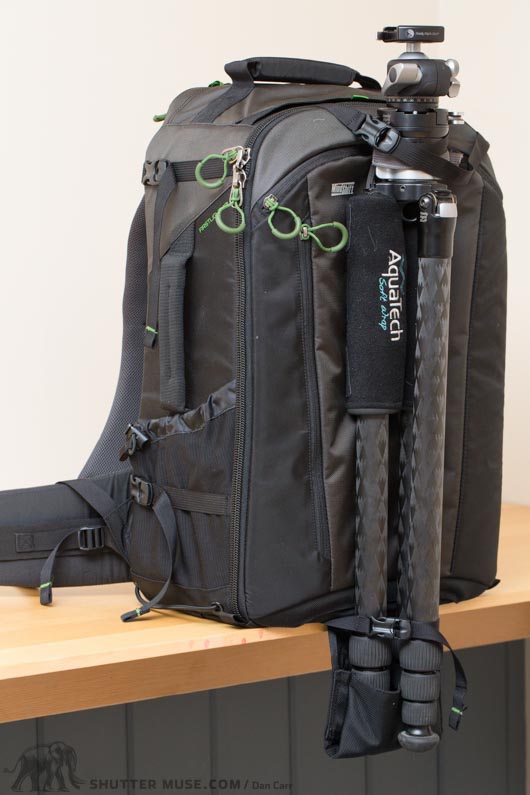 If you don't want to mount the tripod on the front, you can stick it on the side of the pack as well. Short tripods can tuck their feet into the mesh pocket, while securing the top with the usual kind of quick-release strap and buckle. If you have a longer tripod that would stick up too high, there's a lower strap as well that runs on the outside of the mesh pocket, so you can secure the bottom of the tripod with this, and just let it hang off the side.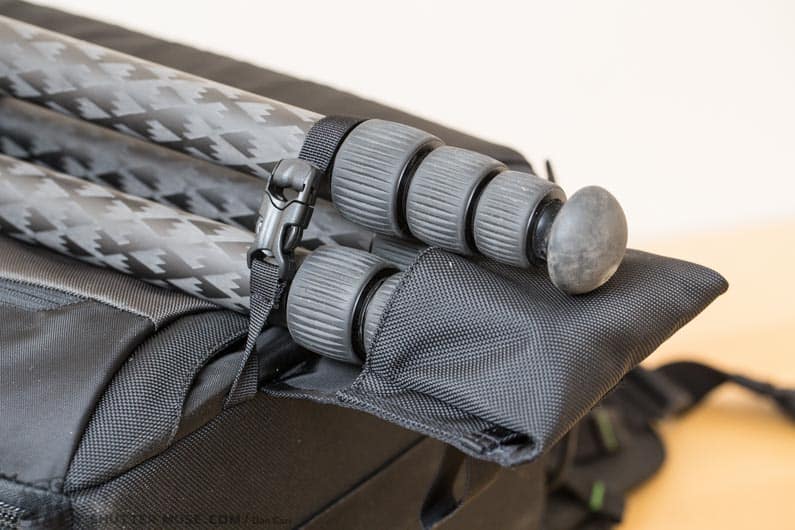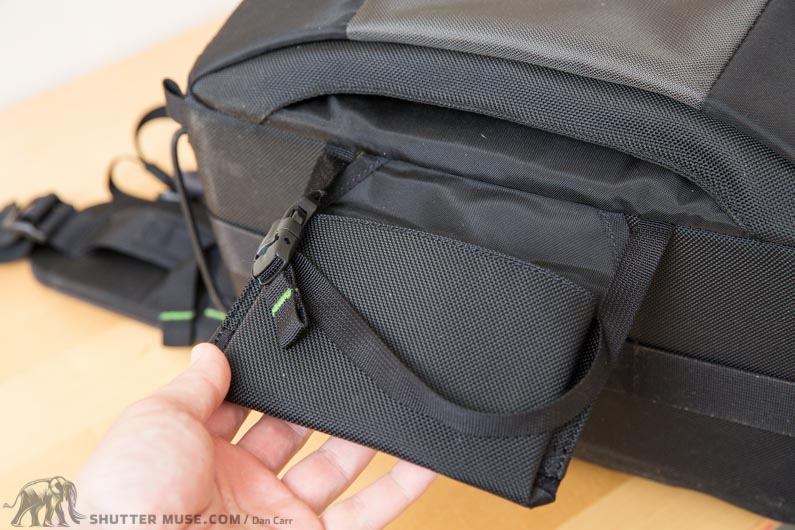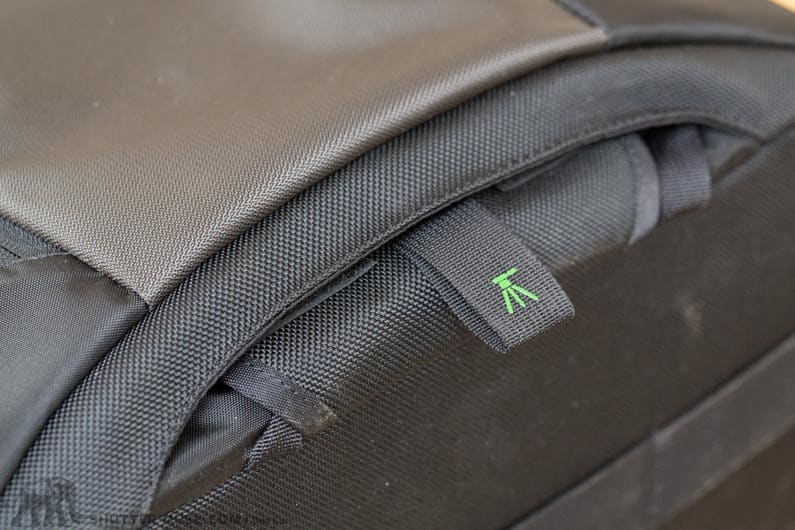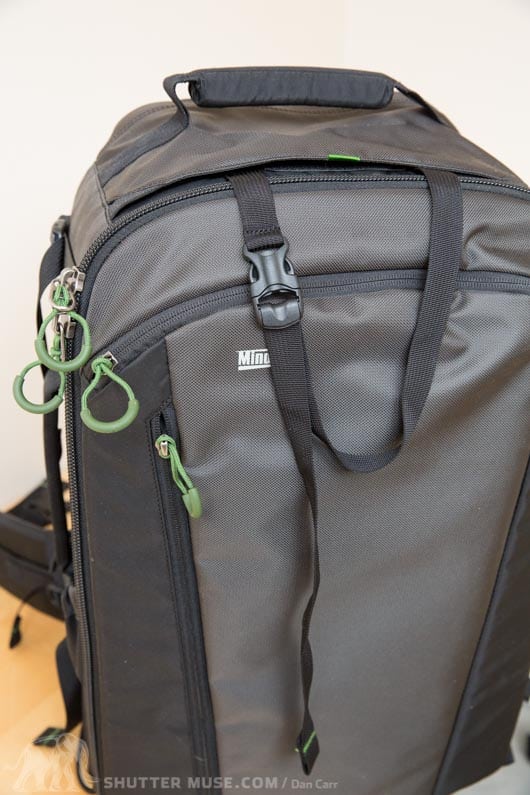 Tripod Suspension Kit
The third option for carrying a tripod is to use MindShift's unique Tripod Suspension Kit. This clips to the shoulder straps of the pack on one end, and then onto a nylon webbing strap on the tripod. It's extremely effective at transferring the load of a heavy tripod, directly down through the shoulders. A big heavy tripod hanging off the back of the back can severely alter your centre of mass but this suspension system alleviates much of that issue. The downside to this setup is that the tripod is in the way if you need both hands to scramble up and down difficult terrain. If you don't need to do that, it's actually a really comfortable way to carry a tripod, and even provides an arm rest while you walk!
Note that the example photos are taken from my review of the Rotation 180 professional, but the system is identical for the FirstLight packs.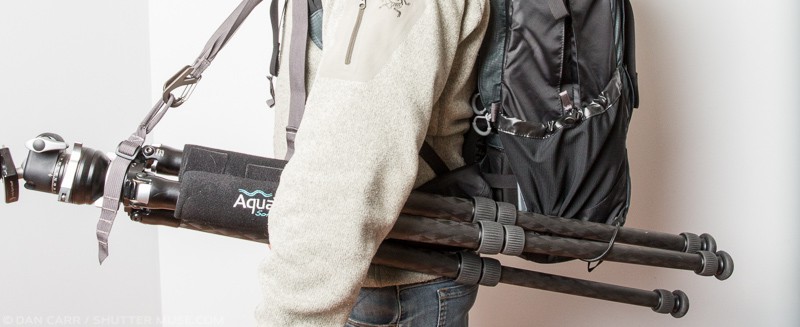 Here you see the lower legs of the tripod slotting through the elastic loop on the side of the pack. The FirstLight packs have the elastic loop on both sides, so you can switch it up a bit throughout your hike.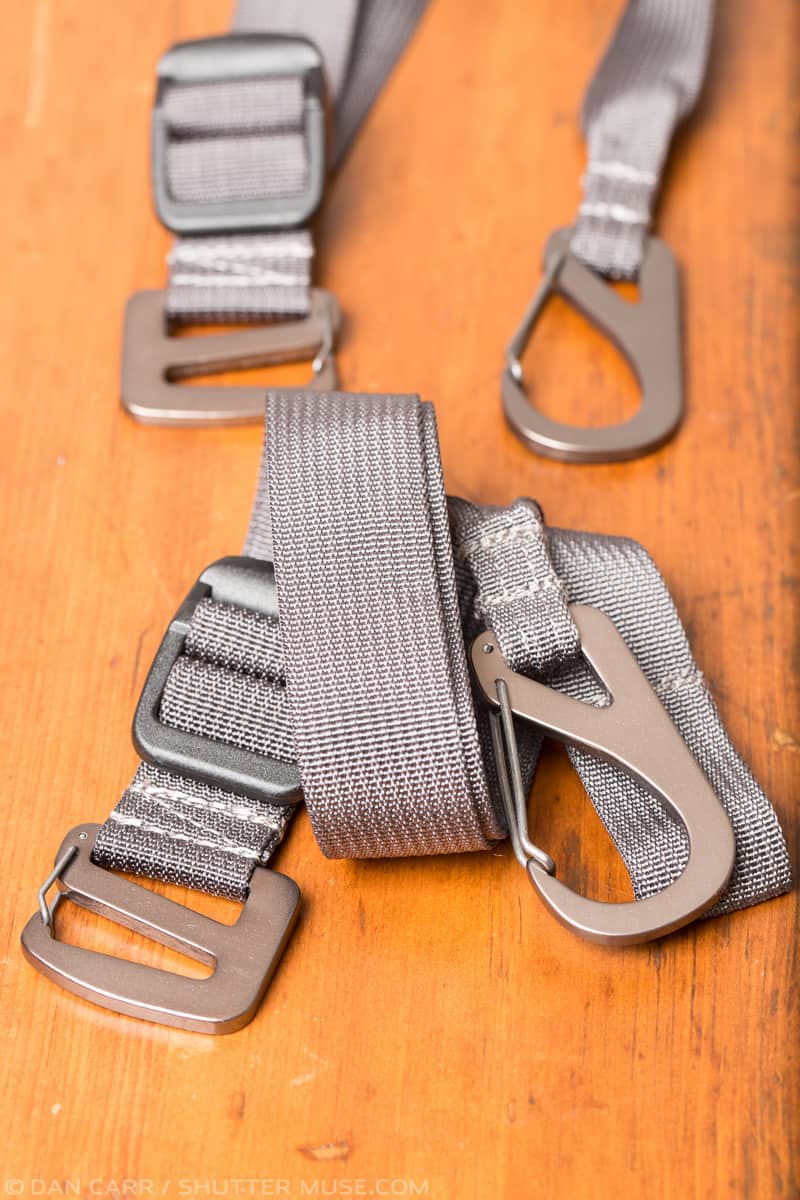 Rain Cover
Another feature of the FirstLight packs is the fact that the rain cover can be spread completely flat, and used as a ground sheet to protect you and your gear. Essentially this is a built-in version of the MindShift Contact Sheet, that doubles as your rain cover as well. The covers have been designed to be large enough that you can use them over a tripod when it's mounted to the pack. The drawback to this is that the covers are very big indeed, and there's a huge amount of drawcord to deal with when the cover is cinched up around the pack. I'm in two minds about this. I've always liked the contact sheet as a product on its own, so it's neat to have that as part of the pack. I did struggle with all the excess cord, though, and felt I needed to be a sailor to figure out some kind of useful knot to tie it all up without tangling it into a ball. Overall, I am glad to see that this cover is included with the pack. Some of their previous covers have been optional accessories, but I don't agree with that for a line of packs that's designed to be used outdoors.
FirstLight Vs Rotation 180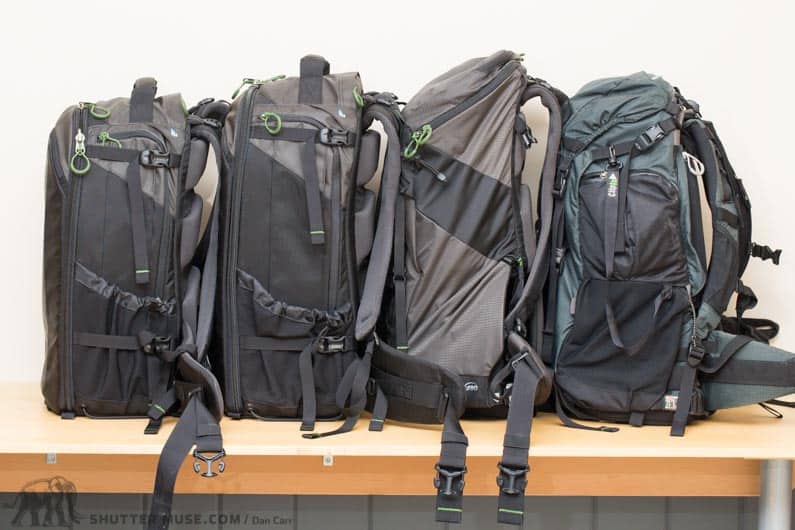 I know this is going to be a difficult, if not perplexing, choice for some people so I'll try and talk through a few options based on my experience with these new packs, and also the full R180 lineup.
My guess is that anyone struggling with this is really going to be concentrating on the FirstLight 30L and 20L. The 40L kind of stands on its own, because even though it is technically only a couple of litres larger than the R180 Pro in volume, the usability of that space is greatly increased because it's not split into two distinct compartments. With the R180 Panorama offering 22L and the R180 Horizon offering 34L of space, these are much more comparable to the FirstLight packs.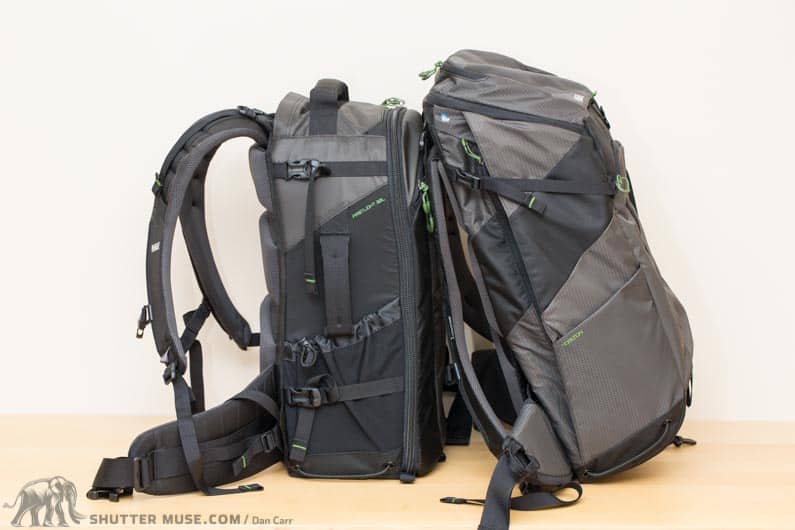 The first thing to underline is that I think the volumes might be slightly misleading when you compare them between the types of pack. Yes, technically I'm sure they are correct, but as I alluded to, the usability of all that space is increased in the FirstLight packs. We all know that packing efficiency is lost in the corners of our packs, where items don't quite fit the pack shape. Well, because the R180 bags are two distinct compartments, there are effectively twice as many corners. Even though the Panorama is 22L, I'm sure you'd be able to pack more into the 20L version of the FirstLight pack because the Panorama has never really seemed like 22L to me. The Horizon pack is also not the most efficient user of its volume because in its top half, it relies on the same padded insert that fits in to the Panorama pack. The result is that there's lots of spare room around the insert, which can be a good thing, but not if you're specifically packing to carry the largest amount of camera gear. For this reason, I'm still sure that I can protect more actual camera gear in the FirstLight 30L, than I can in the R180 Horizon (34L). In other words, if your main concern is simply the amount of gear you can adequately protect, the FirstLight packs are a much more efficient way to travel.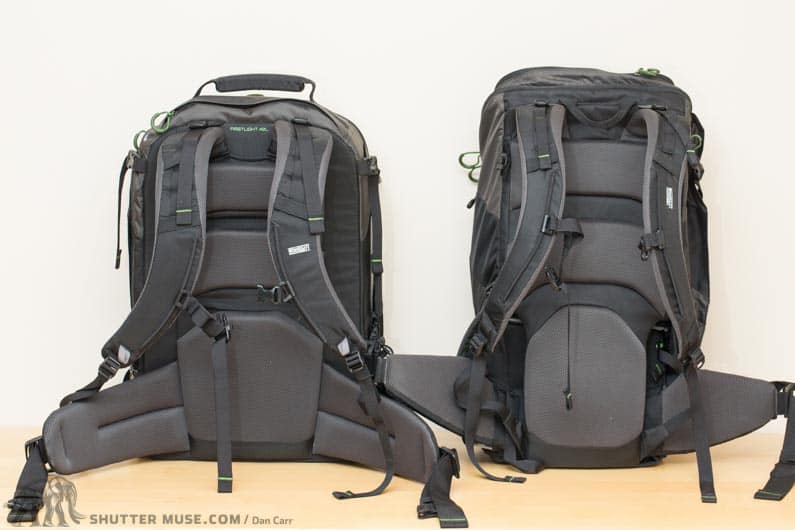 The real win for the R180 packs is of course the R180 system itself. This is no gimmick! It's genuinely been of great use to me on many occasions, and it always draws a lot of ooohs and ahhhs from other photographers when they see how easy it is for me to grab a quick photo. If the kind of photography you are doing has you constantly on the move, then the R180 packs are simply awesome. If you find yourself stopping at a single spot for a long period of time, then the FirstLight packs are probably the way to go. If you're working from a vehicle, then the FirstLight packs win hands down because the it's clumsy to pull out the bottom belt pack of an R180 pack inside a car/van/jeep.
With the FirstLight's eye on easy travel, it's also going to be a nicer experience to travel with them, than it is with the larger R180 packs. I've travelled extensively with the R180 Pro, and never had any issues with it, but the extra amenities like grab handles, and less cluttered design of the FirstLight packs will be better for air travel, and allow a more efficient use of your allowable carry-on volume.
Optional Accessories
Lens Switch Case
The hip belt has a rail system on both sides which makes it compatible with most photography pouch systems. I have a range of Think Tank pouches, but for this I prefer to use the MindShift Lens Switch Case as it's a really versatile option. Perfect size for memory card holder, gloves, point and shoot camera and my monocular when I'm out looking for wildlife. The extendable design means you can fit anything up to a 70-200 sized lens in it as well, and it'll take a small mirrorless camera with an attached short, prime lens. A handy add-on.
Click images to view larger.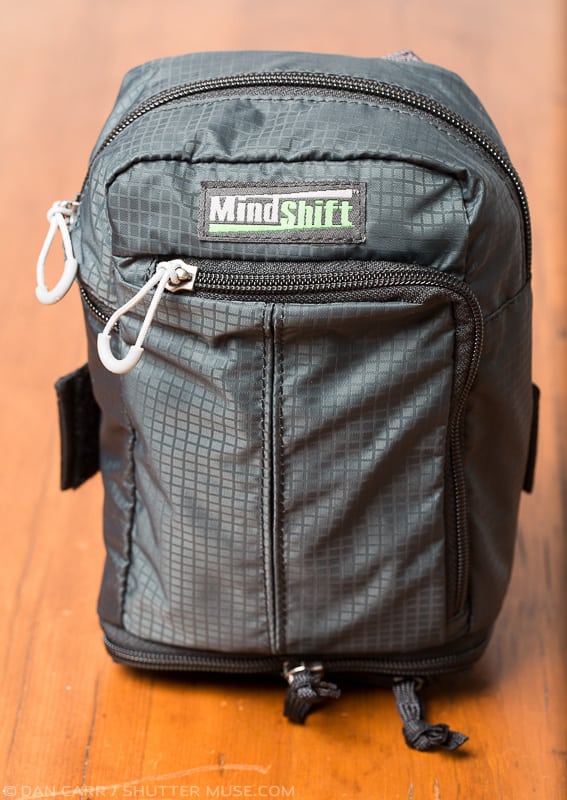 Memory Card Holder
The House Of Cards card holder is another item you might fancy adding to the shopping cart if you want a full MindShift setup. Fits into any number of places on the FirstLight packs, or you can put it in the Switch Case and have it on the hip belt.
Click images to view larger.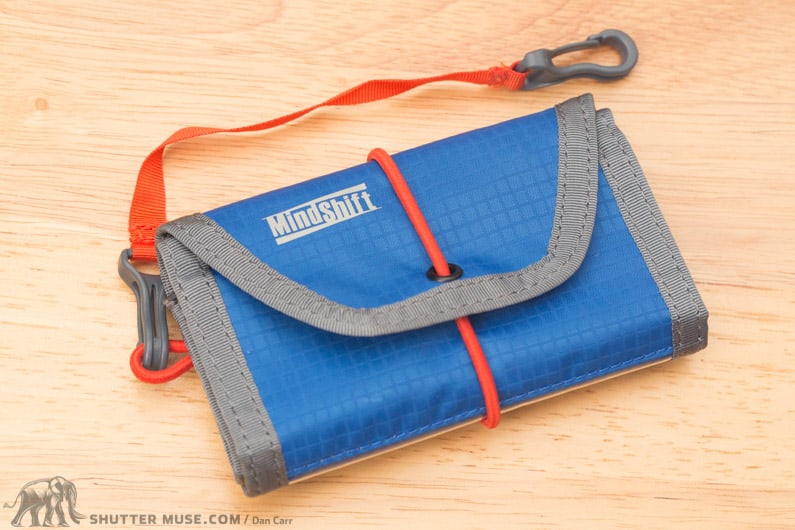 Filter Cases
As well as all the backpacks, MindShift also offers the most complete lineup of filter holder solutions on the market. I'm sure that anyone considering one of these packs is going to have some filters as well, so the filter holder options compliment the FirstLight packs very nicely.
The Filter Hive (review) is the largest, and this holds round filters, 4×6 ones and filter holder accessories. The Filter Nest (review) is similar in design, but just for round filters. Then there are the Filter Hive Mini (review) and Filter Nest Mini (review), which serves as super lightweight holders for 4×6 or round filters respectively. I love these things, and to my knowledge there isn't any other company out there that's actually put the time and effort into creating a full lineup of filter solutions to suit everyone's needs.
Click images to view larger.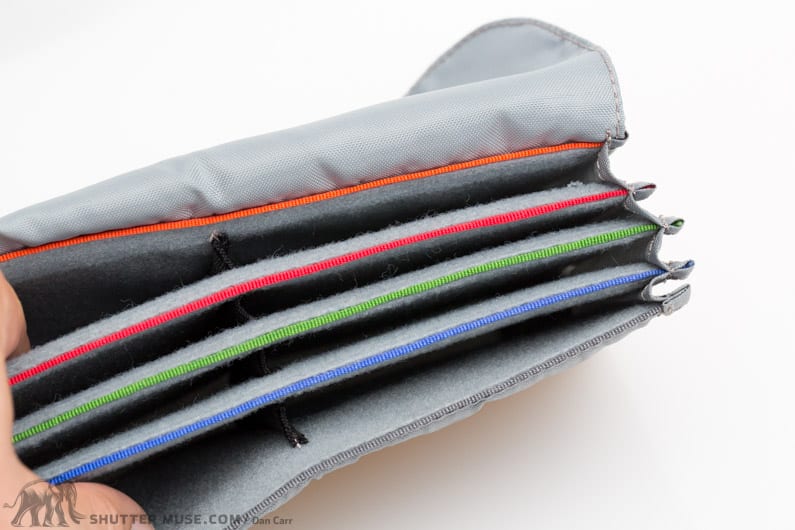 Wheel Or No Wheel

This is something that's worthy of a little side discussion because this kind of gear is far from lightweight, and there will certainly be times during travel when you wish you had wheels. Of course the full range of Think Tank's rolling bags are already there for that purpose, and the thing is, you just can't design a pack that has wheels AND works well for lengthy hikes. Wheels, and the necessary support for them, adds far too much weight to a pack that is designed to spend most of its life on someone's back. If you must have wheels, the best option is to pair one of the FirstLight packs with a small cart, like this one.
Pros & Cons
Pros
Adjustable torso length
Rain cover included
Long lens collar included
Flat-bottom design stands up nicely
Permanent tripod straps
Mesh pocket on both sides
Comfortable grab handles
Lockable zippers
Travel-friendly clean design
Laptop pocket
Cons
20L doesn't have a bladder pocket
Top pocket interior is very dark and has limited access
Back panel padding is comfortable, but warm
Rain cover drawcord is extremely long
Conclusion
You've probably guessed by now that I'm a big fan of these new packs. I know how long the designers have been working on these, and the effort really shows in the final product. They are by far the most comfortable long lens backpacks that I've ever used, and the adjustable torso length will be a great relief to the taller folks out there. My all-time favourite photo pack shoulder straps are the memory foam ones on the R180 Pro. I think that it would have been a nice touch to see that on the larger 40L model to add even more comfort to the one that's likely to end up carrying the most weight. Having said that, I'm sure this would have increased the price point, and the existing straps are still mighty comfortable, so it's not a big deal by any means.
The designers nailed the tripod carrying solution on these new packs as well. I don't like tripod systems where you have to remember to take additional straps or widgets with you, so the hidden straps on the FirstLight packs are awesome, and unlike the R180 Panorama, the side straps can be fully unbuckled to pass through and around tripod legs.
I can't claim to have tested every backpack out there that's designed for long lens usage, but I've certainly tried out some of the main contenders like those from F-Stop Gear and Gura Gear. The FirstLight packs are much more comfortable than the Gura Gear Bataflae (review), and whilst the F-Stop packs are very comfortable as well, they lack the adjustable torso, and just a little of the overall refinement that the MindShift packs seem to have.
As various versions of the Rotation 180 packs have come to market, there have been improvements to things like bladder holders, tripod straps, and front pocket design. The latest R180 Horizon is easily the most complete pack of the lineup for that reason. With the FirstLight packs, though, I'm really not sure where the designers are going to go from here. I don't think I've ever reviewed a first version pack before that's hit the nail so squarely on the head. When I walk into any press room at a major sporting event, I always chuckle a bit because it looks like a Think Tank showroom with their rollers stacked floor to ceiling. I think these packs might just start showing up like that on wildlife safaris and photo workshops all over the world.
Where To Buy
US Customers get a free gift when they spend over $50 in the Think Tank/MindShift online store after clicking this link. For more details, or if you have any issues, see this post.
The FirstLight series had been discontinued and replaced by the newly updated FirstLight+ series. These new FirstLight+ backpacks are available using the links below. As always, using our links for your purchases is greatly appreciated. Of course, if you're in the US, I recommend buying directly from Think Tank Photo to take advantage of the special gift you will receive during checkout if you have clicked our link. Canadian customers should buy from B&H to take advantage of their free shipping policy and the option to pre-pay the duties at checkout.