MindShift Gear has updated its entire lineup of Rotation 180 camera bags. In this review, we are going to take a deep dive into the mid-sized version, called the MindShift Rotation 34L. I was able to use pre-production versions of this pack for over a year before it launched to the public, so I have lots to share. As well as walking through every feature, I'll also compare it to the larger 50L version, and the smaller 22L. There's even a quick comparison to the previous version of the pack so that you can see what has been changed and improved.
One thing to note right away is that MindShift has adjusted the naming of the Rotation backpack lineup with the launch of these newly updated models. We used to have the Pro, the Horizon and the Panorama. These have now been replaced by the Rotation 50L+, the Rotation 34L and the Rotation 22L. In other words, this 34L that we are looking at today is a direct replacement for the old Rotation 180 Horizon backpack.
Video Review
Prefer to watch a video review? Watch on our channel below, and don't forget to subscribe!
Disclaimer: As I have been in the past, I was involved with the development of these new packs, as well as some of the marketing content for the bag's launch. I pride myself on delivering honest reviews, so that is what you're getting. I have not been paid to write this review, and MindShift has no idea what I'm going to say about the bag.
Rotation 180 System Explained
The main feature of the bag is, of course, the patented Rotation 180 system. This clever design allows you to get a camera in your hand in just a few seconds, and then stow it away again just as quickly. All without removing the backpack.
To release the rotating belt pack you must first grab the dangling toggle on the right of the bag. A quick downward tug releases a magnetic latch and the side hatch springs open. Now reach for the belt pack's side handle with your right hand and swing that hand around towards your front. You might also use your left hand on the waist belt to help with the rotation, depending on how tightly the belt is done up around your waist.
Anyone who has used the previous versions of Rotation 180 packs will be familiar with this process. Nothing has changed up to this point. Now the belt pack is reachable, unzip the lid and use the tabs on the side to break the magnets free and open the pack. Wait… magnets? They weren't there before…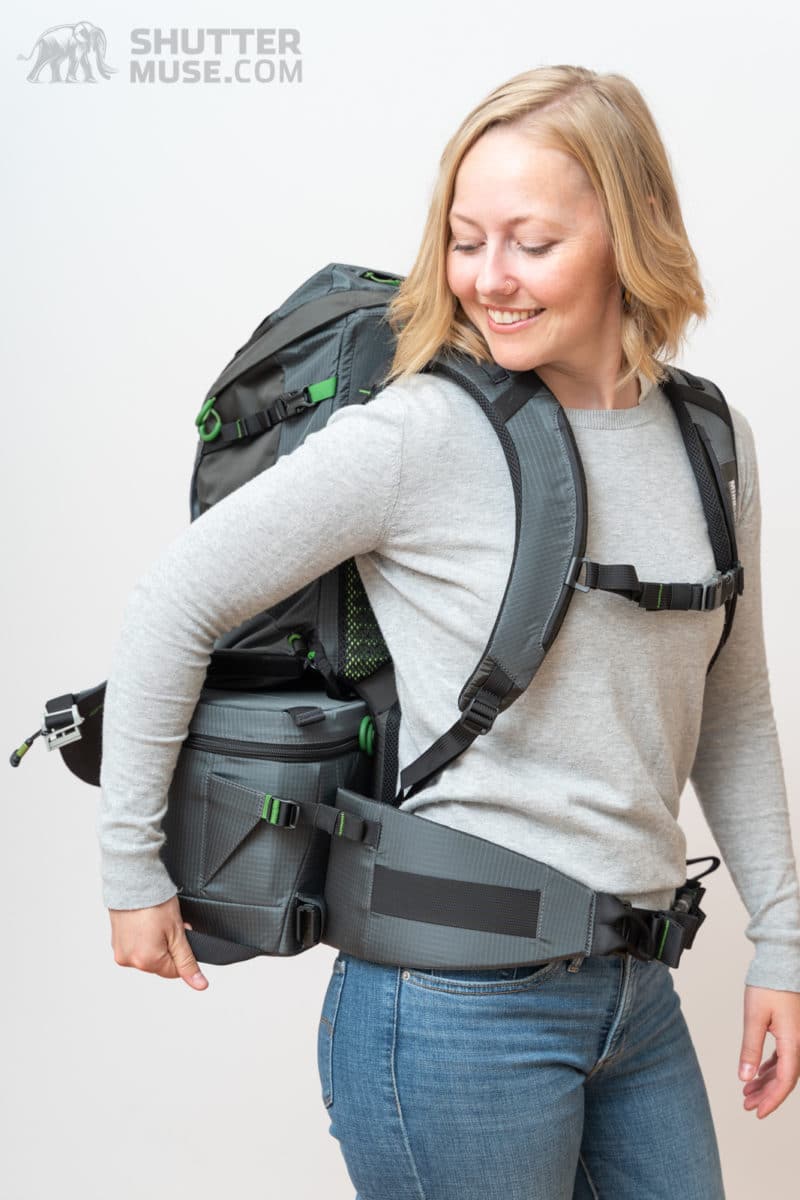 For these updated Rotation packs, MindShift has added a series of magnets around the lip of the belt pack lid. When you go to close the lid, these pleasingly strong magnets will suck the lid shut with a very satisfying "CLICK". The general idea of this new feature is that you don't need to use the zippers on the belt pack lid at all. The magnets are strong enough to keep the lid closed, and there's no chance of it coming open when the belt pack is stowed away.
I was somewhat sceptical about the use of magnets, to begin with. In practice, though, I found the magnets did a great job of securing the lid, and I quickly warmed to the idea. Most importantly, this small design change now makes it even faster to access your camera. Instead of always zipping the belt pack closed, you can rely on the magnets. That means that when you do swing the belt around to your front to grab your camera, you no longer need to use both hands to open the zippered lid as you did with the original Rotation 180 packs. Now you can simply use a hand to grab one of several nylon tabs and give a quick upward tug to release the magnets and open the lid.
With these magnets, there's no doubt that this new version of the pack gives you even faster access to your camera. During my many months with the bag I have never had any issues with this feature, and I've come to really love it. When I'm travelling I do close the zippers on the belt for a little added security, but once I have opened them for the first time on a day of shooting, I then rely on the magnetic closure for the rest of the day until it's time to head home.
Benefits of the Rotation System
Over the years of using various bags with the Rotation system, the biggest thing I have noticed is that I take way more photos when I'm wearing one of these packs. Just think about all those times when you have seen something cool and thought to yourself "I should probably take a photo of that". But then you think about it, and you think about taking your backpack off and unzipping the camera compartment, you think about how it will slow down the group you are with, or you think about putting your gear down on the ground in the dirt. And by that time it's too late. You never take that shot and just move on, telling yourself it wasn't quite the right shot you were waiting for anyway.
With any of the Rotation packs, you can get your camera in your hand, take the shot and put the camera away again in less time than it takes to have all those thoughts. It really is that fast. So not only do you take more photos, but you also have the chance to capture more fleeting moments of light and nature that would otherwise have passed by too quickly.
Without the need to take the pack off your back, you also gain some flexibility in where you can shoot. If you want to wade out into a river and then get your camera out, you can do that. If you want to take photos on a windy day at a beach, without fear of filling your bag with sand when you put it on the ground, you can do that. This gives you some additional creative freedom, as well as protection for your gear.
The final major benefit of the Rotation System is the fact that you not only have yourself a new backpack, but you also have yourself a new belt pack that can be comfortably worn any time without the backpack. I have worn mine on its own while rock climbing, and I have also used it in a small aircraft while doing aerial photography. You can even attach a strap to it and use it as a shoulder bag while you're travelling and don't want the large pack with you at all times.
Downsides of the Rotation System
It's fair to say that the Rotation System does break the mould for typical camera backpack layouts. There are many benefits to the design, but there are also a few negatives that are worth considering before buying.
The first negative to the system is the added weight when compared to other similarly sized backpacks. Without an identical non-Rotation pack to compare it to, I have to make a bit of a guess here, but I'd estimate the Rotation System to add about a pound and a half to the weight of a pack. This includes the side hatch mechanism, magnetic buckle and some of the weight of the belt pack.
The second negative to the system is that there are probably going to be times when the piece of camera gear you need is not in the belt pack. Many people who are contemplating the 34L size are also going to be using the optional camera insert in the top part of the bag. Inevitably this means that sometimes you are going to have to take your camera out of the belt pack, and also access the top section of the bag to get to that other lens, or perhaps the filter kit that you have stored there.
At this point, you will have to remove your backpack – as you would with any photo pack – but once you have put it in the ground you'll also have to pull the belt pack out. At first, this seems kind of messy, and it certainly takes a little longer to do than if you were using a more traditional back panel opening system to get to all your gear.
Again, this is just something you have to consider before you buy one of these packs. Do the benefits outweigh that negative aspect? How often do you see yourself having to do that? Careful packing of your bag can often offset this specific downside. You will always want to keep your wide zoom lens (16-35) and your standard zoom lens (24-70) in the belt pack, for example. I also keep a polarizing filter in there, along with my memory cards, batteries and a lens cloth. If you're using longer lenses and happen to have a second body, keeping those together at the top of the bag can also minimize the times when you need to split the two sections apart.
Additional Features and Design
Front Pockets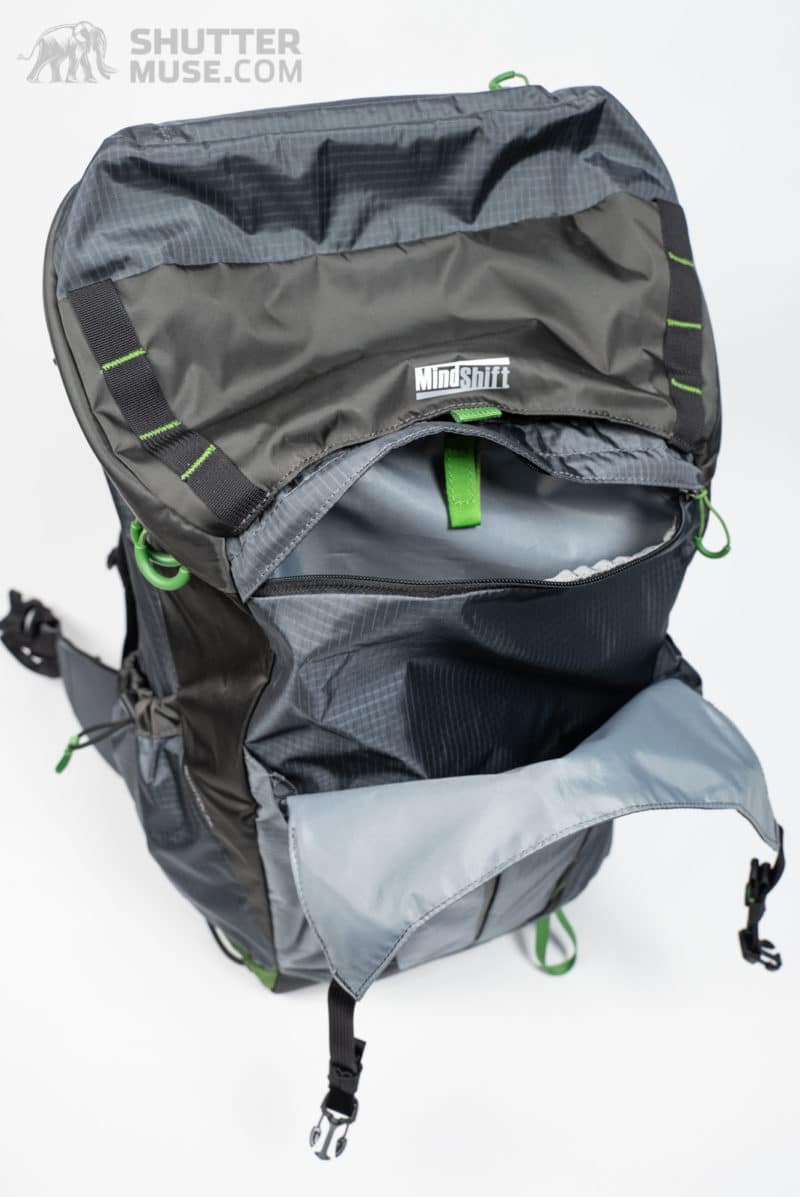 The front of the bag has a new compressible stuff pocket that is perfect for your quick-access rain layers. If they do get wet, you can stuff them back in there and keep them away from the other gear in your bag. This feature that was not on the previous version of this pack, and is probably my favourite addition to the current version.
Once you have unclipped the flap, you will also have access to a zippered pocket that runs the full depth of the pack. This pocket is large enough to store a 13″ laptop, although if you do so, you'll want to put it into a simple neoprene sleeve as it is entirely unpadded.
The laptop option is nice for travelling with one single bag. When using the bag for day hikes, though, I would recommend limiting this zippered pocket to larger items. The opening to the pocket is not very wide, and it's impossible to see down into its depths. As such, this would not be a place to store small items that you might need in a hurry.
Top Pocket
This little zippered pocket is the place to store quick-access small items such as snacks, gloves and sunglasses. If you dig around in there, you'll also find a key clip hidden in the back left corner. I always use the key clip to secure my memory card wallet.
Main Pocket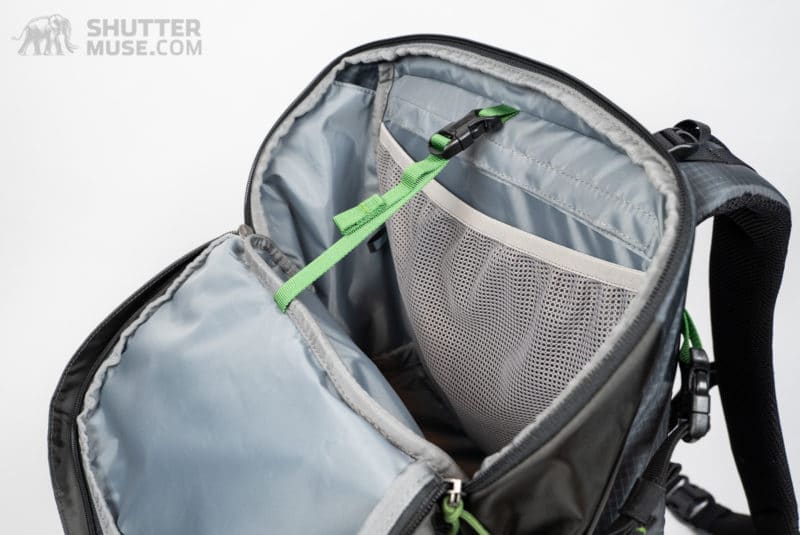 The top section of the bag has a 25L volume and an elasticated organization pocket. Many hiking daypacks are in the 20-25L range, so almost everyone will find the size of this top section to be just right for a long day on the trail. There's enough room here for multiple additional layers, a good first aid kit plus a camp stove and food for a long day of hiking. If you're really stuffing this top section full, there's a strap that can be used to compress the volume slightly, and take some strain off the zippers.
If you want to carry additional camera gear, I'll be covering the optional padded camera insert later in the review. However, I will point out that the insert is best used when you want to carry enough additional camera gear to (mostly) fill the insert. If you simply want to carry one extra lens, such as a 100-400mm lens that will not fit into the belt pack, it's best to just wrap that in a lens pouch or jacket, and bury it into this top part of the bag. Tamrac Goblin pouches do a good job of adding a little scratch protection for lenses stored in this fashion.
Harness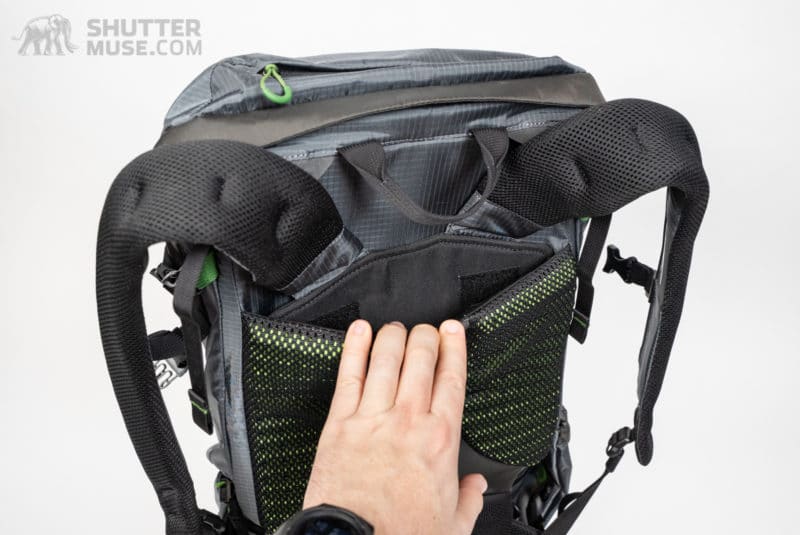 The comfort of the Rotation 34L has been improved from the previous version of this pack in two ways. Firstly this pack now has an adjustable torso length that allows you to dial in the fit to your own body shape. This is a big improvement, and it's not just for tall or short people. I'm of average height myself, but I have shorter legs and a longer torso. This new adjustment system is simple, but it really helps to get the perfect fit. The Rotation 34L is suitable for people with a torso length of 16.5" – 19.5" (41.9 – 49.5cm).
The second improvement is the use of the green ridged foam panels on the back panel. While I do like to see this green foam used on the two top pads, I do wish that they had also carried this through to the lumbar support pad too. I guess this was a cost issue, and the older style of black foam was needed at the bottom to keep the overall pack price down to the target.
Prolonged carrying comfort is a subjective thing. I have a very triangular torso and this means that packs often fit differently on me than they do on other people. However, I can compare the comfort of some of the many other packs I have tested. I don't know quite how the pack will fit on you, but I do know how it fitted on me, compared to these other packs.
With the Rotation 34L, I would rate the comfort as good, but not exceptional. I found that the back panel curved outwards slightly, and this took some getting used to. I never once thought that the bag was uncomfortable while using it, but I also never had that "wow" moment that I have sometimes had when carrying heavy loads with truly exceptional harness systems on some admittedly much more expensive bags. In particular, I regularly tested this bag alongside the larger (and much more expensive) Rotation 50L+. That is a pack that has an entirely different harness system that is much more comfortable with heavy loads.
Tripod Carry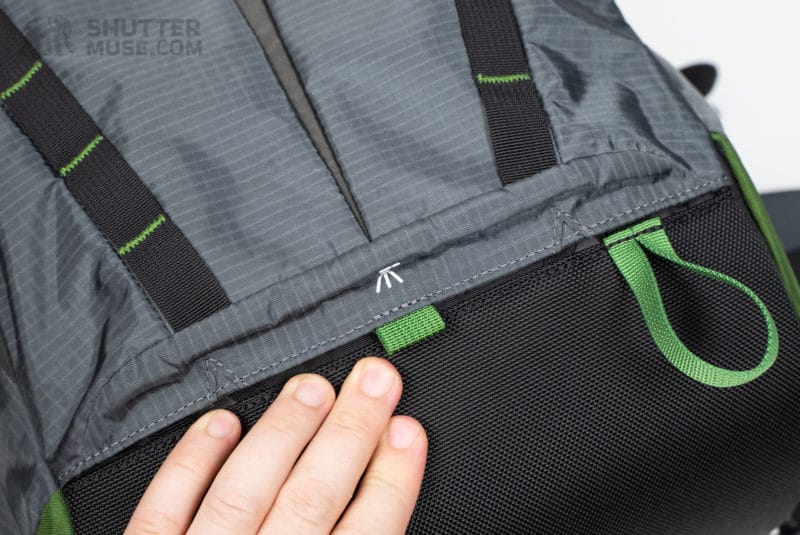 You have two choices for carrying a tripod on this bag. The first is a pair of front-mounted straps and a tripod foot cup that is all stowed away in hidden pockets until you need them. The second option is to use the large elasticated side pocket and the side strap.
I prefer to carry my tripod on the side of the bag for two reasons. Firstly, it keeps the tripod weight closer to my centre of gravity. Secondly, if you are carrying a tripod on the front, it gets in the way of access to the front zippered pocket and the front expansion pocket.
Belt Pack Details
The belt pack is an integral part of this bag's design. You've already seen how it works from a camera access point of view, but don't forget that it's also a great little camera bag in its own right. You can easily remove this and use it on its own if you want an ultralight waist pack for a camera and a couple or three lenses.
Sometimes when I'm bushwhacking with a big telephoto lens on my shoulder in search of wildlife I like to use a waist pack to hold binoculars, batteries and my teleconverters. I have also used Rotation belt packs while rock climbing, too! They can be a very handy accessory to have in your kit, and in the case of this bag, it's almost like getting a freebie 🙂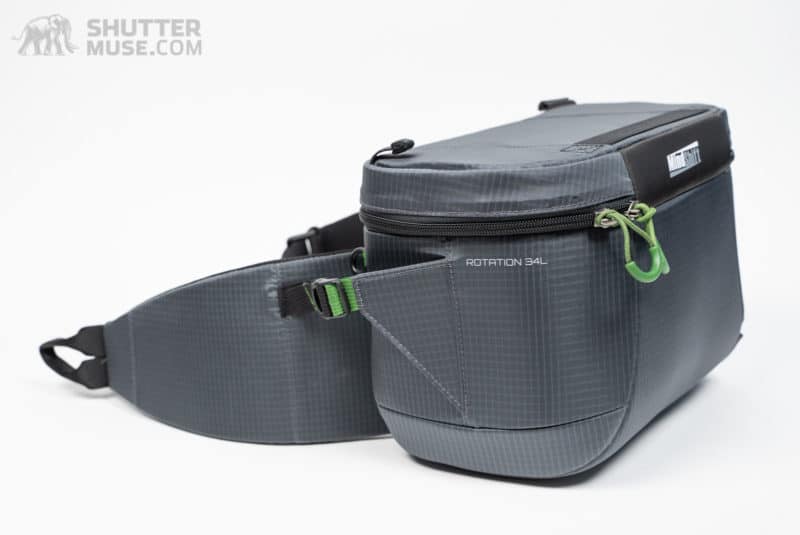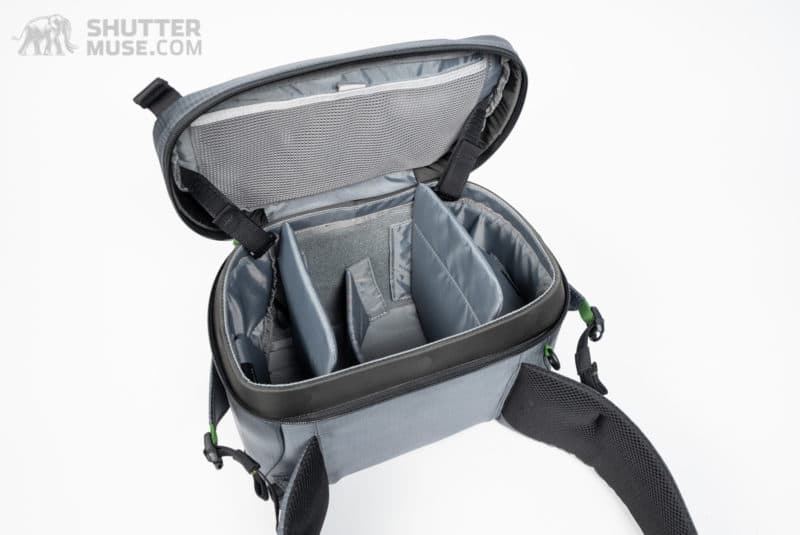 On the inside of the belt pack, you'll find a good selection of dividers that can be configured to stack up several lenses or create a platform for a camera body with a lens attached. In the 34L, you have room for a pro-sized body with something like a 24-70mm attached. Or even one of the new Canon RF 70-200mm lenses.
The lid features a mesh pocket that is useful for spare batteries, and your memory card holder can be clipped to the red nylon loop for security. There's also a thinly padded slot at the back which will take a small tablet such as an iPad Mini or Kindle. Some nature guides will also fit into this slot.
Hydration Compatibility
For carrying water in the Rotation 34L you have two options. The first is to use the large side pocket with something like a 1L or 1.5L Nalgene bottle. The second option is to use the front pocket and hang a 2-3L water bladder on the green loop. I like to carry my tripod on the side of the bag, so I usually opt for the bladder option.
Optional: Rain Cover
The Rotation 34L does not come with a rain cover, but you can purchase one for $24.95. The cover is a 2-piece system, with one cover to go over the main part of the pack and a second cover that goes over the belt pack. Whether or not you should bother to buy the cover is going to be a personal choice. You know better than I do whether you are the type of photographer that is going to be out there in bad weather.
Although not fully weatherproof, these bags do shed some water when it falls on them. If you get caught in a 10-minute downpour here and there, you are going to be fine without the rain cover. The zippers are not water-resistant YKK AquaGuard, but they do have rain flaps covering them so that water doesn't have a direct path to the zipper.
I very rarely find the need to use a rain cover, but I would always pack one if I was heading to a known wet spot. I remember one particular trip to Cambodia in the rainy season where I used a Rotation pack and made regular use of the cover on that occasion.
Optional: Stash Master Top Load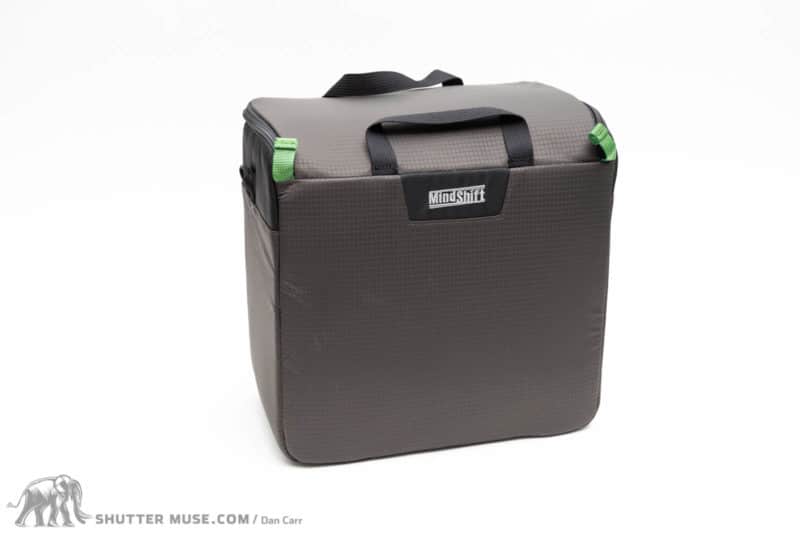 UPDATE: Think Tank has expanded its lineup of Stash Master Photo Cubes, adding new sizes and new features. More details about the new models can be found in my review of the Stash Master lineup.
Stash Master Top Load Specifications
Exterior: 10.8" W x 10.6" H x 7.1" D (27.5 x 27 x 18 cm)
interior: 10.4" W x 10.2" H x 6.7" D (26.5 x 26 x 17 cm)
Weight: 0.8 lbs (0.4 kg)
The optional Stash Master Top Load ($59.99) is a padded camera insert that is designed to perfectly fit into the top half of the Rotation 34L. It's tall enough to hold a 100-400mm lens or a 70-200mm f/2.8 attached to a camera body. The width of the insert will accommodate pro-sized camera bodies, of those with a battery grip attached. The Top Load is supplied with a selection of additional padded dividers, and these can be used to stack smaller lenses.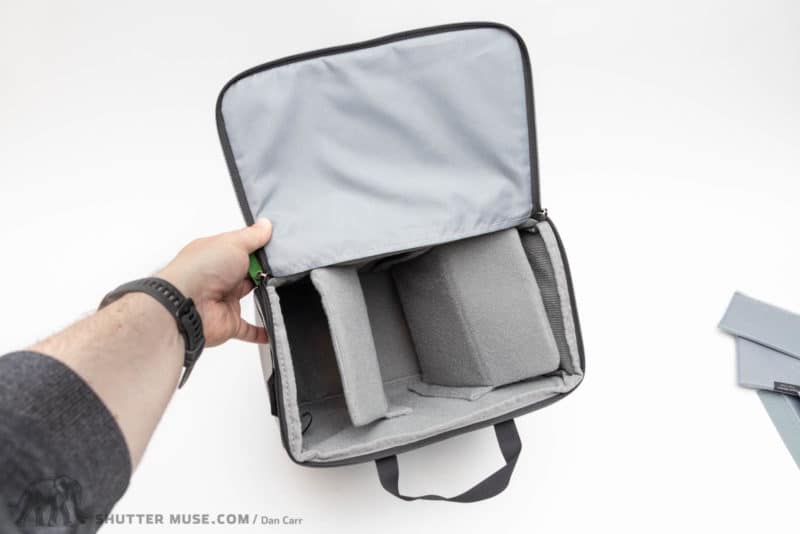 The efficient cubic design means that you can get a surprising amount of camera gear in this insert. Although obviously dependant on lens size, I was easily able to get a spare camera body and an extra five lenses into the Top Load during my testing. The deep vertical design also lends itself well to carrying flashes and would be an excellent organizer for two or three flashes, along with some remote triggers.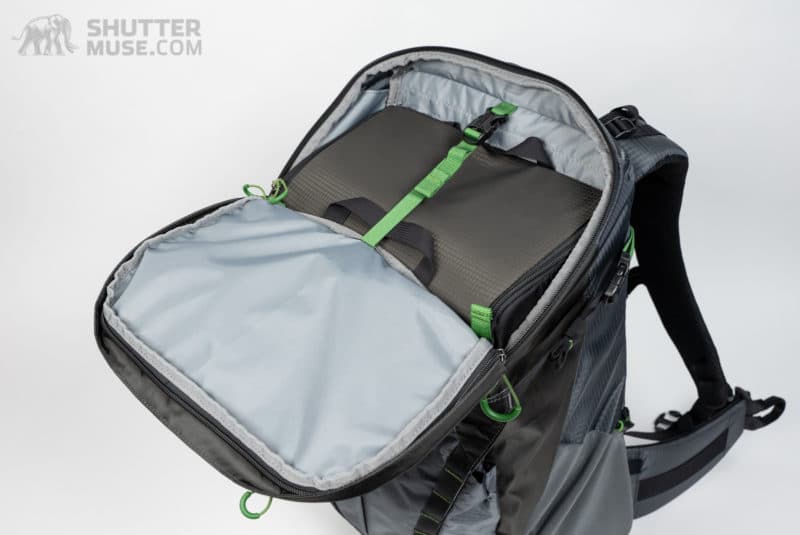 Compared to the Stash Master Pro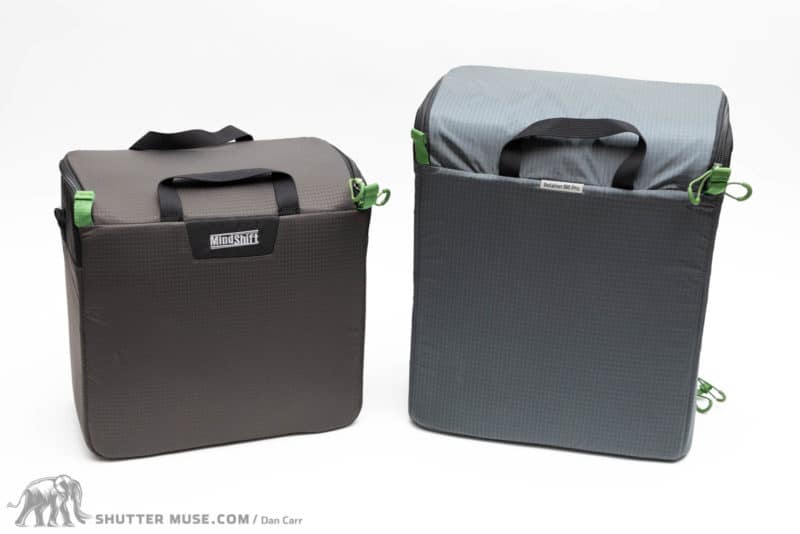 For those of you reading this review and trying to choose between the Rotation 34L and the Rotation 50L+, you will want to know the difference between the Stash Master Top Load (for the 34L) and the Stash Master Pro (for the 50L). You cannot put the Stash Master Pro in the Rotation 34L. It doesn't fit. The Stash Master Pro is slightly longer, and thus able to hold lenses up to the length of a telephoto zoom like the Sony 200-600. The Pro also has an additional second opening so that it works in tandem with the back panel hatch on the Pro 50L pack. The Stash Master Pro is also $74.95, compared to the $59.99 of the Stash Master Top Load.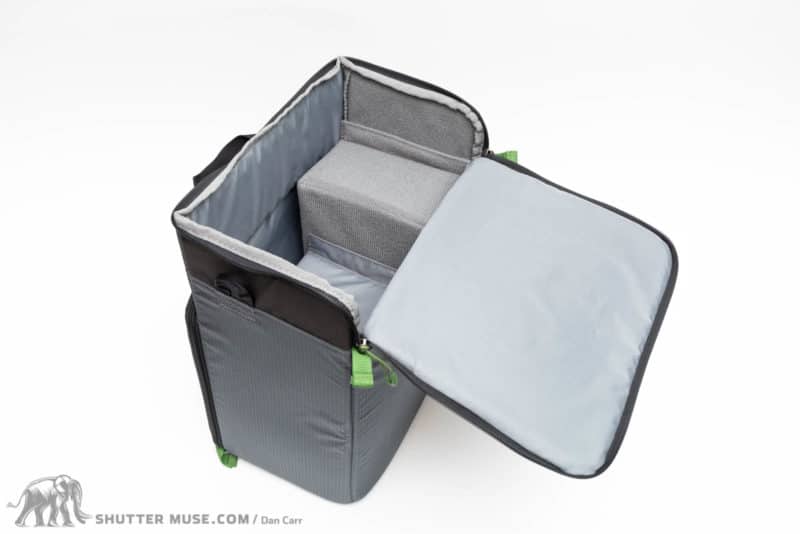 Conclusion
The 34L is a real sweet spot in the newly updated Rotation lineup from MindShift Gear. I do not doubt that this will be the most popular size in the lineup. Now with the inclusion of a torso length adjustment, it will also be a suitably sized pack for a wider range of photographers.
More so than the smaller 22L version of this pack, the 34L has a very versatile size to it. There is plenty of room in the top section of the bag for the non-photographic gear that would be necessary on a very long day hike. Then there is the optional Stash Master Top Load for those that want to carry longer lenses up to a 100-400mm, or perhaps some flash gear. A laptop-compatible front pocket even enables a photographer to travel neatly with everything all in one carry-on compliant bag.
One thing I must always underline about the Rotation packs, though, is the real need to consider how you will use it. The clever Rotation system is fantastic to use, so long as you do actually use it. Due to its design, it fundamentally changes how you have to pack your camera bag, by placing the camera gear in the belt pack at the bottom. If you do not actually use the Rotation mechanism while out walking around with your camera, in the way it was intended, you will find the bag a lot less fun to use. On the other hand, if you embrace the design and do use it as it was designed, there's nothing else quite like it on the market and the speed at which you can access your camera will surely have you capturing more photos during a day of photography.
Where to Buy + Free Gift
US Customers get a free gift when they spend over $50 in the Think Tank/MindShift online store after clicking this link. For more details, or if you have any issues, see this post.
The new MindShift Rotation backpacks are currently available directly from the Think Tank/MindShift website:
Anyone who clicks through to their store from one of my links, and spends more than $50 will get a free gift at the checkout. More details here.